6 Best WordPress Accordion Plugins to Use in 2023

Writing a long and detailed article is a great way to educate your readers and get good search results on search engines. However, sometimes writing long articles may intimidate your readers. You can improve your reader's experience by adding a WordPress Accordion plugin.
What is an accordion?
An accordion is a design technique that website owners can use, in order to display content in a collapsible tab layout.
It makes it easy for readers to get the information they need and improve readers' experience.
We will go over the best WordPress Accordion plugins while we will also cover the importance of these plugins. Stick around, as you will also get information about toggle and accordion in the end. But first, let's see the definition of the WordPress accordion.
What is WordPress Accordion and How It Works?
You may have seen websites where there are blocks of questions and when you click on them they collapse one by one.
In the collapsed section you will find the answers to the questions. If you see the below image you will get a better idea.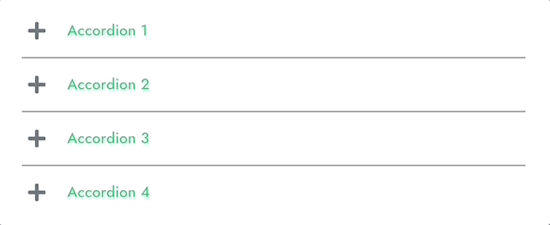 Why Do You Need a WordPress Accordion Plugin for Your Site?


We already mentioned one main reason to use a WordPress Accordion plugin on your site at the start of the article. We are going to add some more reasons why you should add accordion plugins to your website.
Here you go,
Display more content: Accordion allows you to display more content on your page and posts without adding long scrolls. It also shrinks the length of the page.
Different ways to show content: You can use either vertical or horizontal accordions with texts inside each tab. You can use these two types that match your design.
Used to show different content: One of the best things about accordions is that you can use them to display varying types of content, such as:
Step-by-step instructions
Statistics and data
Recipe ingredients
Pricing options
Product features
Navigation items
This keeps your content engaging and short while providing high-quality content.
Break the monotonous tone: If you look at most of the pages that write articles, they have the same type of design. Texts, images, CTA's, etc. By adding an accordion, you can break the monotonous tone and give your readers something fresh.
So you can see when you are using an accordion on your site, you are actually adding value to your site.
6 Best WordPress Accordion Plugins for 2023
After much research and testing more than 10 plugins, we have finally created a list of the top 6 Accordion plugins in the WordPress repository. Here is the list,
Let's see them in detail.
1. Accordion

We start off with the first WordPress Accordion plugin on our list which is "Accordion". The plugin is not complex, it is easy to use. Moreover, you will get a lot of customization options like colour, font size, etc.
The plugin can be used as tab content, FAQ, etc. All in all, it's easy to use, and it includes a lot of features for being a free plugin.
Features:
Limitless accordion and tabs
Display on any page via shortcode
Responsive and Custom icons
Multiple header/content styles
Last but not least, it's compatible with the WordPress block editor and WooCommerce
Pricing: It's available for free.
2. SeedProd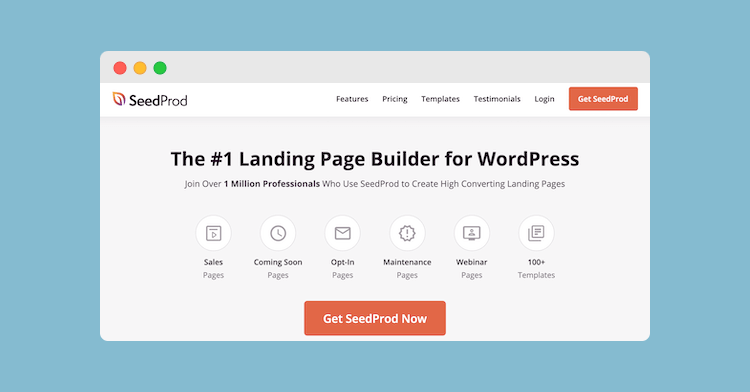 SeedProd is one of the top drag-and-drop page builder plugins in WordPress right now. Over 1 million websites are using this plugin to create their website.
This plugin has an accordion block that lets you add text sections that expand and collapse to any part of your page. All you need to do is drag n drop the accordion block on your page and start customizing.
Features:
Full control over the number of text sections
Unique dropdown icon
Customize typography, color, text spacing
Compatible with WordPress theme
Fast loading without compatibility issues.
Pricing: There is a free version available. It also has premium plans starting from $79.
3. Accordion FAQ

Accordion FAQ is a free FAQ accordion builder. This plugin goes pretty well with sites that write extensive guides. The plugin provides various colour options with an excellent customizer in the WordPress plugin section.
Accordion FAQ is an amazing WordPress accordion plugin with a user-friendly and easy-to-use interface.
Features
Responsive design
Drag-and-drop builder API
Limitless accordion and color options
Bootstrap framework
Font Awesome icons
Multiple advanced custom fields
Compatible with all browsers
Pricing: Grab the free version from the WordPress repository. Buy the premium version for $9/year for a single website.
4. Shortcodes Ultimate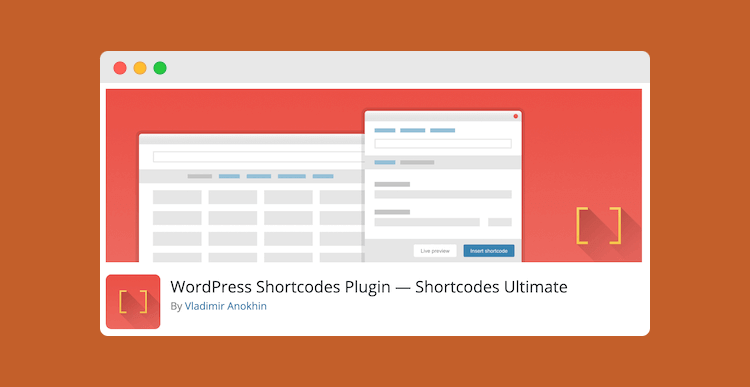 Shortcodes Ultimate is another top plugin on the best WordPress accordion plugins list.
The plugin offers an extensive collection of elements that you can use for adding content via both the block and classic editors, widgets, or any other means. You don't need to write any custom codes for additional functionality such as a scheduler, drop caps, notes, dummy images, and more.
Features
Simple and easy accordions
Fast-loading design
Responsive and mobile-friendly
Compatible with the block editor
Translation-ready
Beginner-friendly interface and documentation
RTL support
Live preview
50+ beautiful shortcodes
Pricing: The core plugin is free. But there are addons available for extra functionalities.
5. Easy Accordion
If you are looking for a fancy accordion plugin that gives a professional vibe then you should choose the Easy Accordion plugin.
This freemium accordion plugin has drag-and-drop functionality. It also provides a great degree of customization and some awesome features. This plugin gives tough competition to many popular page builders' accordion functionalities.
Features:
Lightweight accordion builder
Hover effect
Translation-ready
Multi-site supported
SEO-friendly
Cross-browser support
Expand/collapse icon styles
Keyboard navigation support
Advanced shortcode generator
Responsive & mobile-friendly
Pricing: Download the free version from the WordPress repository or try the pro version for $29 for a single site.
6. Tab – Accordion, FAQ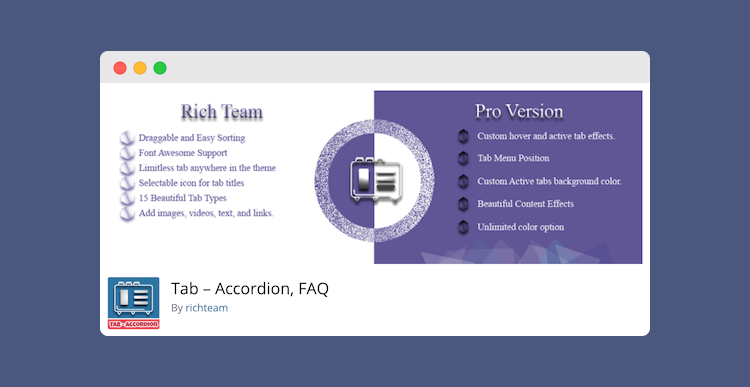 Tab- Accordion, FAQ is a free WordPress Accordion plugin that allows you to add accordion to your site.
With this plugin, you can add responsive horizontal, vertical, animated, and other accordions to WordPress posts, pages, and sidebar widget areas.
It has multiple transition effects, different layouts, drag-n-drop functionality for sorting tabs, and more.
Features:
Animated, Horizontal, Vertical, and Circle tabs
Fully responsive
Transition effects
Variety of layouts
Drag n Drop tab sorting
Easy to use interface.
Pricing: There is a free version available in the WordPress repository. But there is a premium plan starting from $10.
Difference Between Toggle and Accordion
People often get confused by Toggle and Accordion. They think both are the same.
Actually, they are. But there is one big difference between toggle and accordion.
Accordion items expand to display more content as you click on the plus sign. This allows users to see only the items they want to see. This is what an accordion looks like,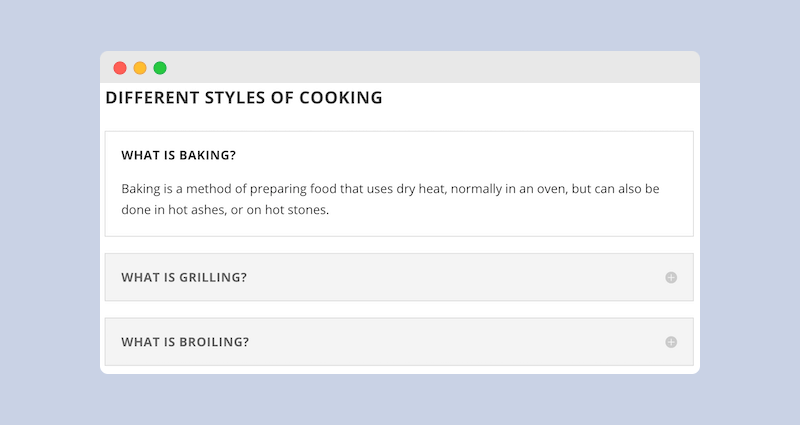 And when you click on the second item, it opens up while closing up the first one.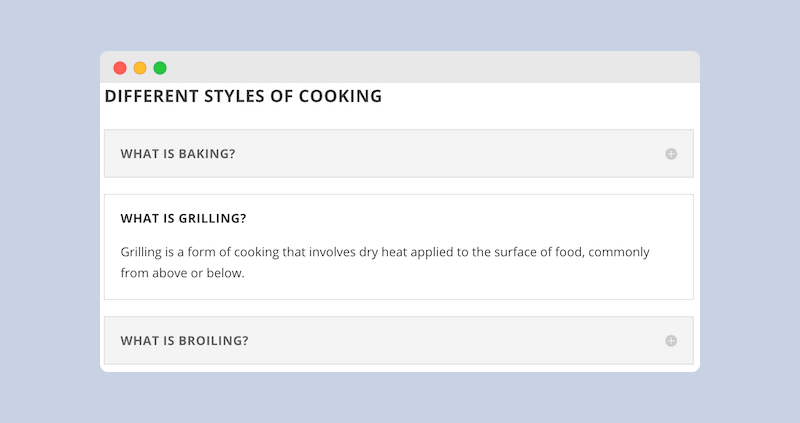 However, in the case of a toggle, it allows multiple items to stay open at the same time. When the items are closed they look exactly like an accordion.
But when you start opening items, each item opens up, and until you click on the minus signs, all open items stay open.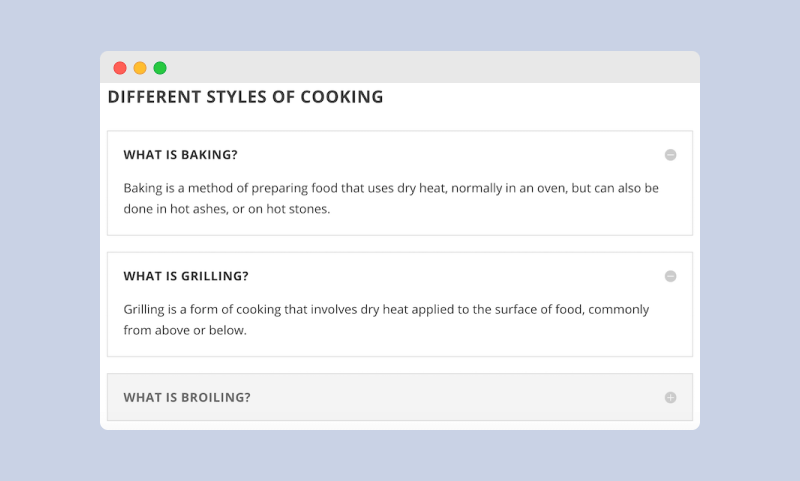 This is the main difference between toggle and accordion.
FAQ(s)
How do I add a shortcode to an accordion?
Make sure the Accordion Shortcodes plugin is enabled. Select the "Add a new accordion group" button. The button will open a dialogue to prepare the overall accordion structure and the markup of the buttons.
What is accordion bootstrap?
The Bootstrap accordion is a component that organizes content within collapsable items.
What is accordion in Elementor?
The Elementor Accordion Widget is used to display text in a collapsed, condensed manner, letting you save space while still presenting an abundance of content.
What is a website accordion?
A website accordion is a vertically stacked list of headers that can be clicked to reveal or hide content associated with them.
What is an accordion toggle?
The Accordion Toggle element allows you to either set the functionality to accordion or toggle.
Choose the Best WordPress Accordion Plugin for Your Site
We have listed 6 of the best WordPress Accordion plugins with their features and pricing. Now it is for you to decide which one is the best for you.
Choose the one that compliments your site and will help you show your content in an awesome way. If you have any questions and if you have decided on the plugin you are going to choose, do tell us in the comment section. It will make other readers confident about their choice as well.
Follow us on Twitter and Facebook to get new and fresh content every week. Also there you can share your feedback with many other talented people like you.
https://wphive.com/reviews/plugins/best-wordpress-accordion-plugins/
Rabbir Shad
Shad is a WordPress enthusiast along with a passion for technology. He loves football, reading books, watching movies, and tv series in his free time.

Subscribe To Our Newsletter