WPForms Review – How It Works, Features, Pros-cons, Price, and More

Since 2016, WPForms has become an icon in the WordPress Community as a form builder plugin.
Today, the plugin boasts a user base of more than 1 million. The success of this plugin comes from a very clever, and a group of dedicated team who are constantly updating the plugin to stay up to the market standard in the WordPress community.


Yet, it has become a challenge for newcomers to understand how suitable this plugin is. That is why today we are here to give you a review of what this plugin is all about.
This article covers the advantages, drawbacks, features, and discusses some tricks which WPForms is not openly known for although it is clearly there.
Features That Define WPForms
WPForms is a lot more than a form. You can create forms for the following purpose:
Newsletter
Survey
Donation
Registration and
Payment Form
Actually there is more, the plugin boasts having more than 100 templates to choose from. Have a look at the image below, you can select your form by filtering your needs.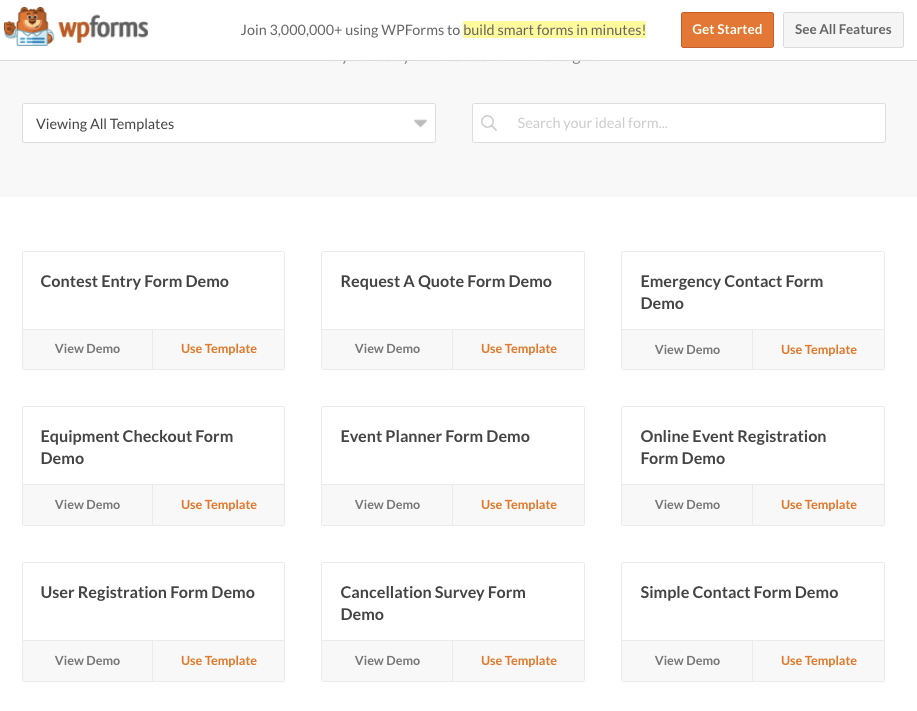 It is great that users can create and customize their form but honestly, most people do not have the time and energy to actually build a form from scratch.
This is why the WPForms is so popular, a lot of the tasks are automated for you if you rely on forms heavily. Even the data of the form is analyzed for you.
For example, you can use the subscription forms and connect them to your email marketing service. This way you know your subscription insight while working on your email marketing. The plugin lets you view all your leads in one place.
It is not uncommon for users to fill out forms on their smartphones. For such a scenario, forms will need to be adjusted. WPForms once again shoulders this burden for you. In addition, your forms are secured because it has the ability to protect your form's data.
Do keep in mind that you need these features mostly in the pro version of the WPForms plugin.
The Interface Of WPForms Plugin
So when you install the WPForms plugin, you will be surprised by how simple it is to use.
I remember installing the lite version and not using any guides or watching any videos on how to implement forms on a WordPress site.
The plugin features are easy on the eye so you do not feel this is a complicated thing to use. Glancing around the interface will give you an idea of what to do. You can easily create a quote form for a digital marketing agency.
This is a plugin where you basically drag and drop blocks of field or select options from the drop-down list.
In contrast to the Elementor plugin, which takes a while to learn how to use, the WPForms plugin is more likely to turn out to be a better introduction to WordPress for beginners.
This is the very reason why it has been able to thrive for such a long time, despite updates- the interface stays loyal and comfortable to its users. WPForms caters to a wide variety of users such as bloggers, email marketers, designers, photographers, and even developers.
Pros & Cons of WPForms
Let us dive into the WPForms plugin by examining the Pros and Cons of using this plugin.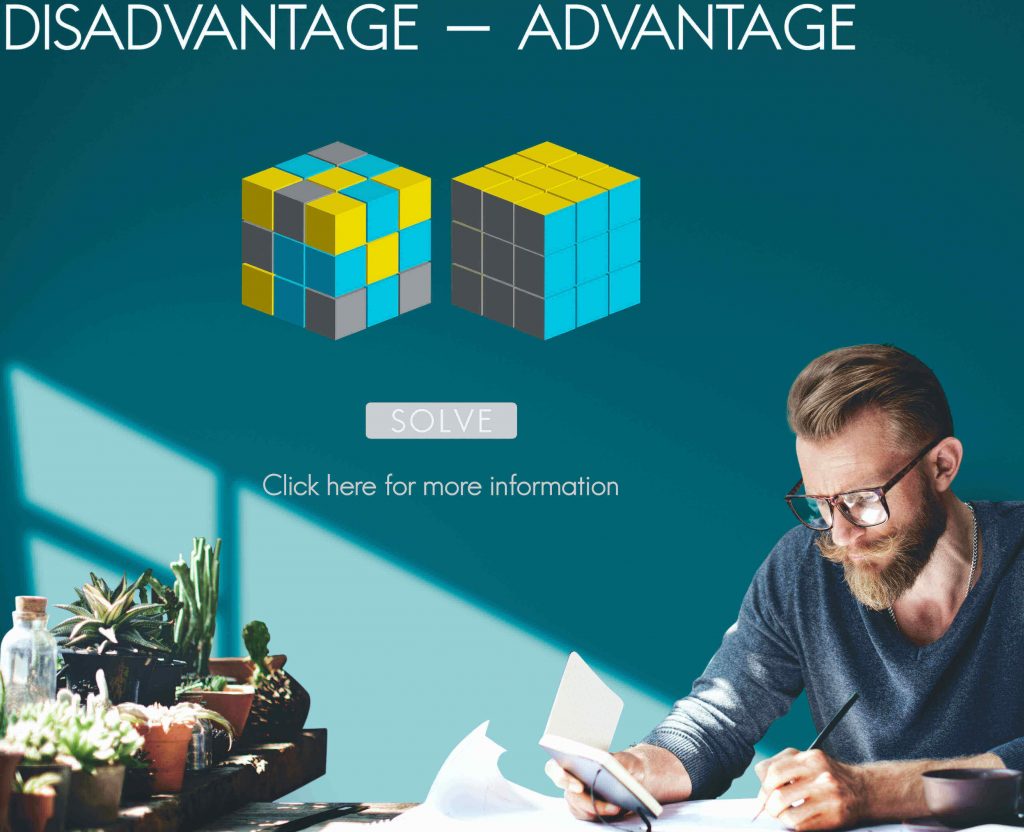 Pros of Using WPForms
Easy to use even for beginners
Simple Interface: Just drag and drop to build forms
Ready-made template forms for instant use
Video Tutorials and Documentation for help
Create an unlimited number of forms
Cons of Using WPForms
Expensive if you are looking for large scale solution
The free version is very limited
If you want to build a form from scratch, you have to figure out on your own.
You cannot upload files all at once.
There is no trial offered to try out the paid version.
WPForms Pricing
With having a free version, there are 3 categories of the WPForms pro version. They are: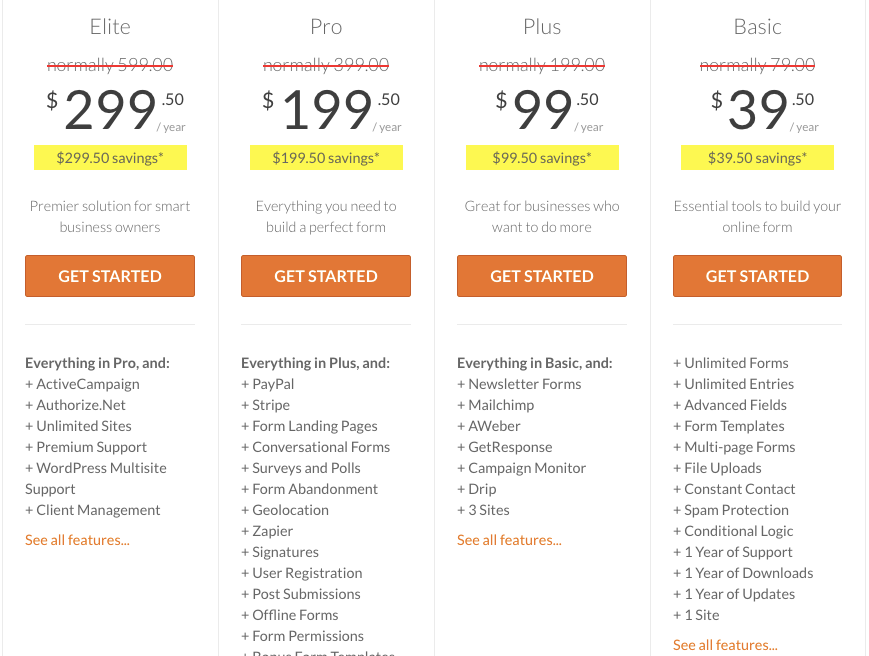 Elite: This version of the WPForms plugin is meant for those who own a business. You can embed the forms in unlimited sites. The version for this covers all the features. So if you are a heavy user who depends on forms a lot, then this is the option for you. Also, this version will allow you to integrate analysis for you to analyze your videos
Pro: This version has a lot of features included including payment options. You can also work with forms that work offline. The pro version is the most popular at an individual and business level. It pretty much covers everything you need for your work. The only thing this does not cover is the Active Campaign Forms.
Plus: This version is also for those who run a business. It has fewer features but is an affordable option for businesses. The plus version covers the basics of the pro version. However, it does not have many features included. For example, there is no payment gateway, signatures, offline forms, and so on.
For more information on the different features available based on price, please click on this link.
Analyzing WPForms with other Competitors Using WPHive
Despite the popularity of WPForms, it is not without competition. There are several alternatives to it. There is a list of the competitors:
These plugin forms are equally as good as WPForms.
For an even easier way to compare and decide on this plugin, there is a smart and quick way to compare these forms.
WPHive is an online platform that lets you compare 2 plugins simply by typing the name of the plugins and let the system compare the results.
But the platform can do a lot more- it can compare memory, technology features, and more. When you scroll to the bottom of the page, WPHive declares a winner between the 2 plugins.
Let us compare WPForms with Ninja Forms via WPHive.
Here is the following result we got by using WPHive:
Comparing Page Speed (WPForms vs Ninja Forms)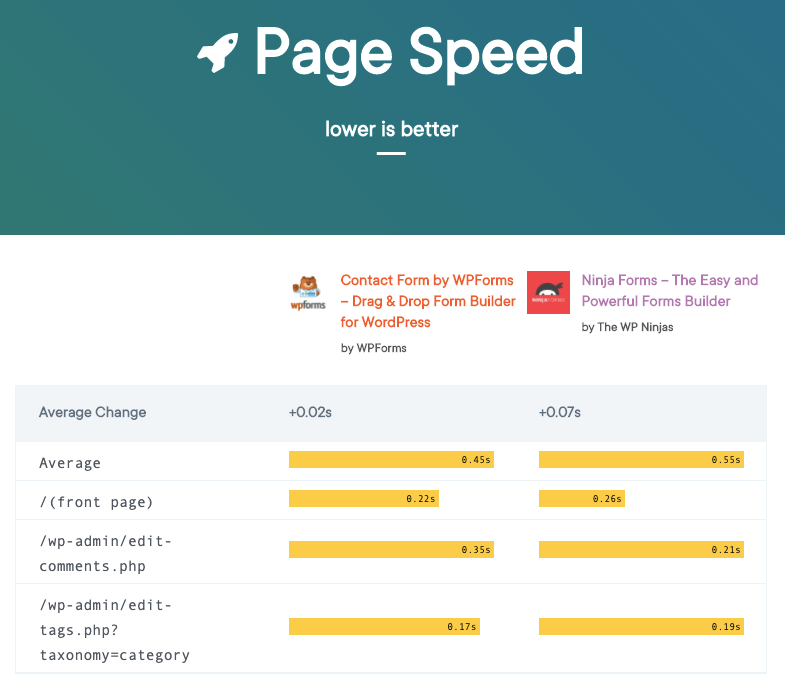 As you can see, based on the analysis using WPHive, Ninja Forms has a higher page speed loading time. This means if you are looking for a plugin that loads faster, WPFroms would be a priority.
But WPHive does not stop there if also lets you dig out the memory usage as well. We will let the image speak for itself.
Comparing Memory Usage (WPForms vs Ninja Forms)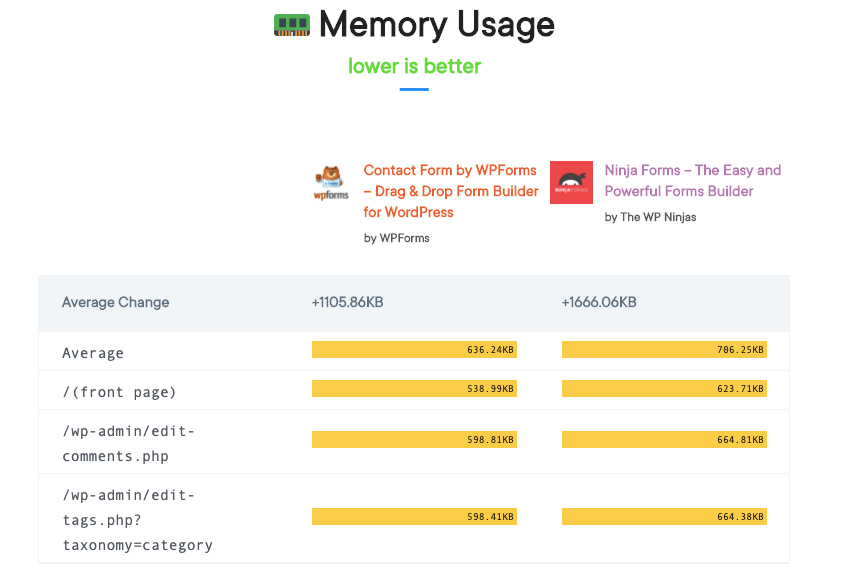 A proper plugin will attempt to reduce memory usage on its own. It should not load your server and slow down your WordPress website.
As you can see, WPForms wins again in terms of memory usage.
Let us move onto the other CRITERIA section of the WPHive comparison page.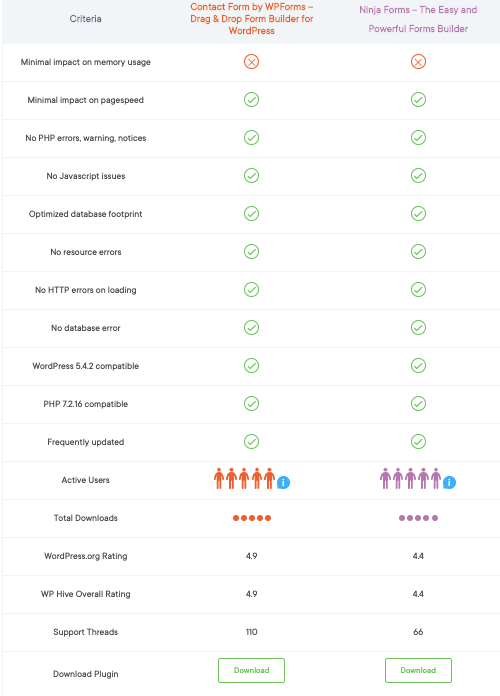 As seen from the above snapshot, both the plugins score well in almost all the criteria.However, in terms of rating and support threads, WPForms has the upper hand.
WPHive lists many other factors all of which are presented visually. It's not just the main factors that are compared, other criteria such as database error, Javascript issues, etc are also compared.
If you would like another example when you can check out the review we did on Contact Form 7. Be sure to check it out if you are looking to choose the right plugin for inserting forms.
Our Verdict
Never choose a plugin without judging your needs. Remember, plugins that are not free have to be paid monthly or yearly.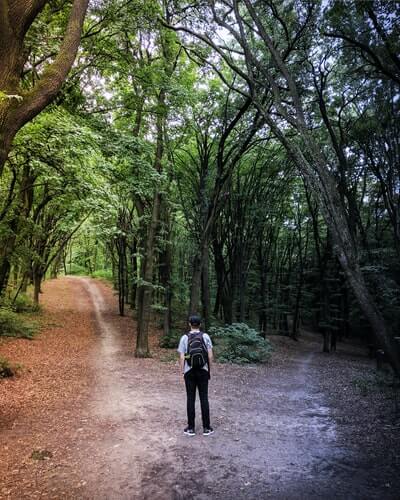 Are you looking to have forms for simple tasks? Or are you looking to implement forms on your site that need sophisticated features?
WordPress is commonly portrayed as an easy-to-use website for those who come from a non-technical background. However, your WordPress site can slow down if there too many plugins.
So it is important to think first about what you need.
Free vs Paid Version Of WPForms: Which One To Use
If you are simply looking to create a humble form for users to fill up, then there is no need at all to use the pro version. Use the lite version which is free to use.
You may not even need WPForms at all. You can simply use a google form to collect your feedback. If you do not have a WordPress website then simply switch to google's forms.
On the other hand, if you are the kind of person who relies heavily on forms that require signatures and payment then it would make sense to upgrade your WPForms plugin.
If you are making a decent income and you need forms that are flexible to your complex needs then you can go ahead with the paid version.WPForms are also frequently on sale so it should not cost you too much if you decide to make a purchase.
Last Thoughts
Although WPForms is a plugin that maintains its standard, it is a good idea to know the alternatives. Many plugins let you go a long way simply by making use of the free version.
In some cases, a plugin may let you get far by using the free version alone. However, getting quality feedback when you are stuck is also vital.
Some plugins have great features but do not have a strong support team that can assist you when you are stuck. This is where WPForms stands out, despite the weight of its price, It has a lot of content in the form of videos and blogs to help you make the best use out of your forms.
It really has stepped up its game by automating almost a lot of its hectic activities involved with creating forms.
So what do you think about WPForms? Is this the best or are there better alternatives?
If you want a full overview of WPForms or make a comparison with any other plugins for a clearer judgment then try using WP Hive to judge plugins without the need to research for hours.

https://wphive.com/reviews/wpforms-review/
Editorial Staff
Editorials from WP Hive staff.

Subscribe To Our Newsletter