Top 10 Tools for Finding Long-Tail Keywords in 2023

Keywords always play a vital role when it comes to Search Engine Optimization (SEO). Although Google puts less emphasis on keywords but having a perfect balance is key. Otherwise, people will not find your content in search engine result pages (SERPs). In this article, we will focus more on long-tail keywords and the best tools for long-tail keywords.
What are Long-Tail Keywords?
A long tail keyword is often a three and four keyword phrase that people search with. Long-tail keywords are used to target specific audience rather than mass audiences. Since they're very specific, they allow you to rank higher in search engine result pages (SERPs).
Why are Long-Tail Keywords Important?
There is a great importance of long-tail keywords in content. According to a the research of Moz about 70% of searches performed on the Internet are considered, "long-tail."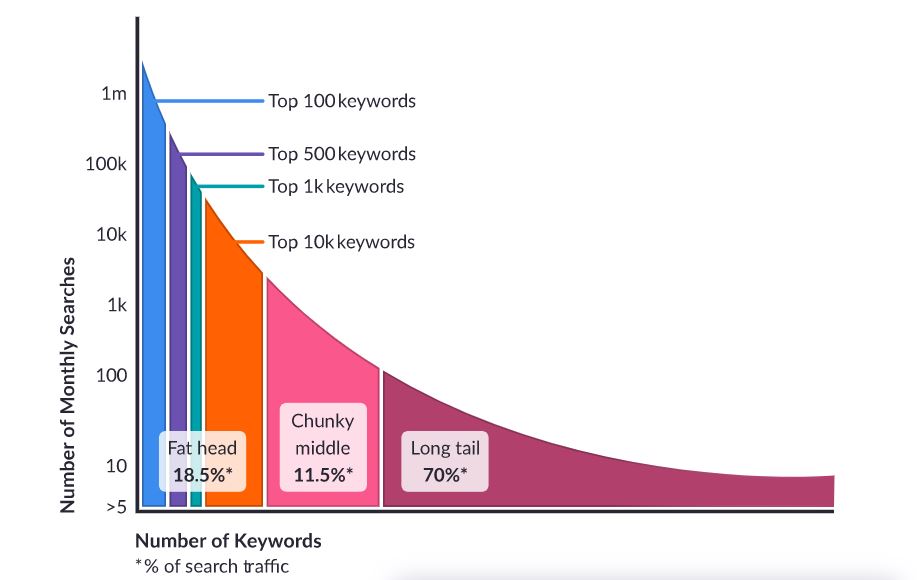 Long tail keywords with lower search volume often has better conversion rate, because searchers are more specific and intentional in searches.
Why Should You Use Long-tail Keywords?
Comparatively Less Competition – When you focus more on long-tail keywords i.e, details, there is less of a chance to compete with others. For instance, "best tools for long-tail keywords" would have less competition that simply "long-tail keywords tools".
Keeping Content Natural – Google loves "natural" and conversational content. Long-tail keywords help both readers and search bots to enhance the experience.
More Focused on Specific Audience – A lot of bounces occurs just because of not finding the exact content visitors are looking for. Long-tail keywords help you to focus on specific audiences.
Less Expensive for Ads – It is very expensive to find competitive keywords in AdWords or Facebook Ads, long-tail phrases often result in lower costs with higher returns.
In reality, long-tail keywords help you to find specific people on the Internet.
What's the Difference Between Regular Keywords and Long-tail Keywords?
Which keywords are useful for your content, main keywords or long-tail keywords? We made a simple difference between main and long-tail keywords to let you know the importance. Here are the differences.
| | | |
| --- | --- | --- |
| Main Keywords | VS | Long-tail Keywords |
| + General to your business | | + Specific to your business |
| + High search volume | | + Low search volume |
| + Lots of competition | | + Less competition |
| These are difficult to rank and get traffic for. The visitors from these keywords are less likely to become leads. | = | These are easy to rank and get traffic for. The visitors from these keywords are more likely to become leads. |
Best Tools for Long-Tail Keywords
Although some of your content is easy when it comes to creating long-tail keywords, it can often become a routine task. That's why using online tools becomes necessary as well as convenient.
There are plenty of tools that help us to find long-tail keywords. Among those, the most important ones are Google Keyword Planner, Google Trends and Ubersuggest. We will also present a couple of other useful tools.
1. Google's Keyword Planner
You can find the Keyword Planner in the Google AdWords tool. The free system will show keyword ideas as well as the competition.
Initially, it was created to help people develop better pay-per-click campaigns. But now a lot of content creators find it incredibly useful for just writing content.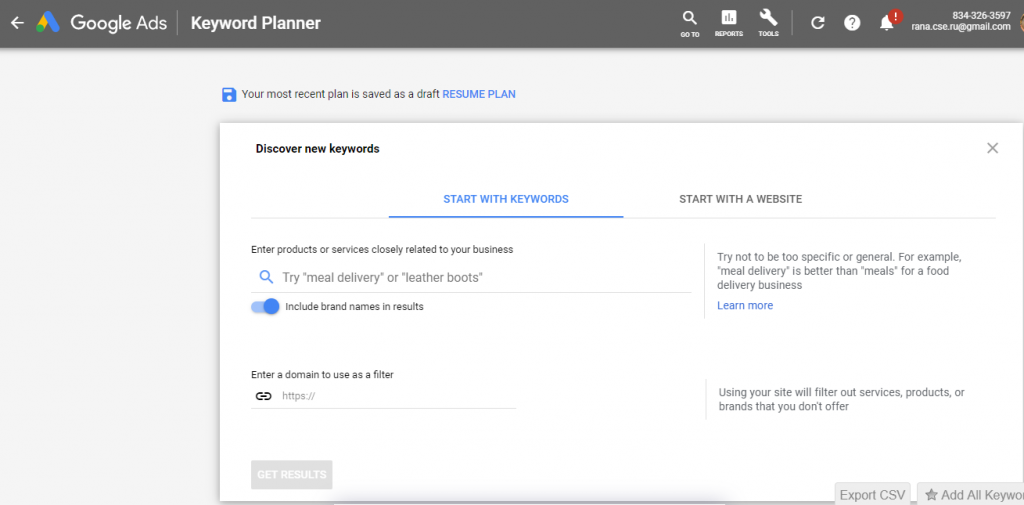 There are a few ways to use it.
First, enter or paste your keywords, one word or phrase per line, or separated by commas.

Then, add any customization preferences.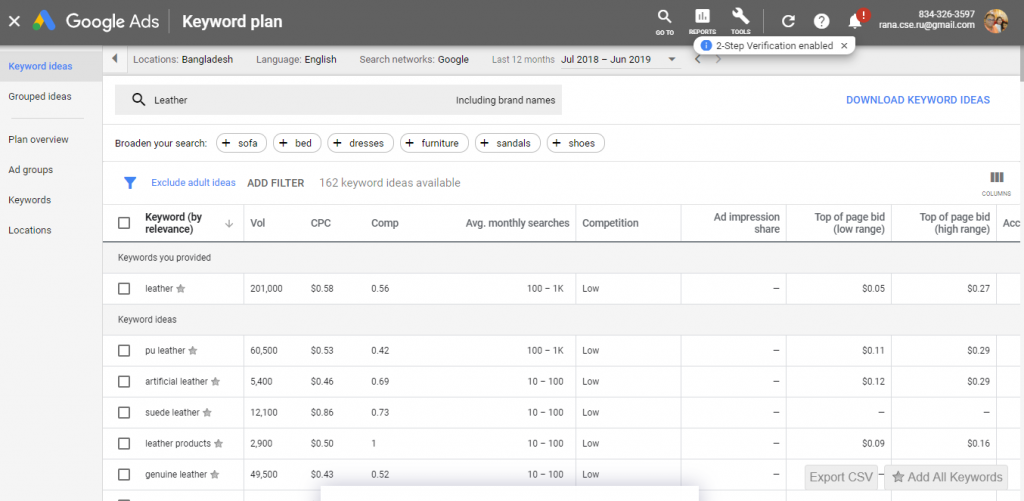 You'll get a list of keywords, along with the monthly search volume and competition level for each.
From here, you can download your keywords list as a CSV file. You can use this file as a starting point for recording all possible keywords.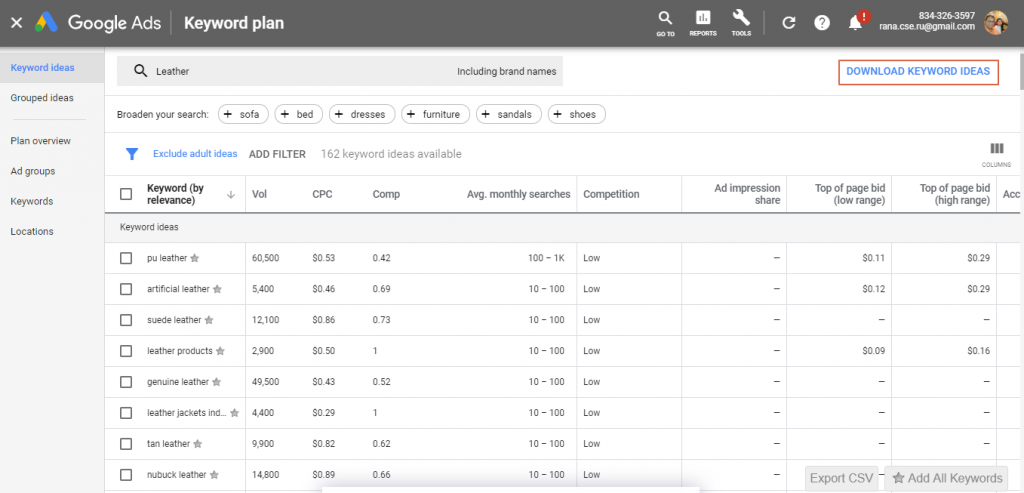 Then, you can continue to add each keyword in a way that works for you.
This is the best starting place for keyword research, as it will provide you the most comprehensive and targeted list of keywords. You can also use it to see what's working for your competitors by entering their URLs into the landing page field.
This will give you the insight into which keywords are working for them — and whether there are any that could also work for your site.
Use Googles Keyword Planner
2. Google Autocomplete
Google has another feature that is greatly beneficial to find long-tail keywords. It's the autocompleted field that appears when you perform any search in Google.
Just visit Google's website and search for your keyword. You will get a list below the search bar.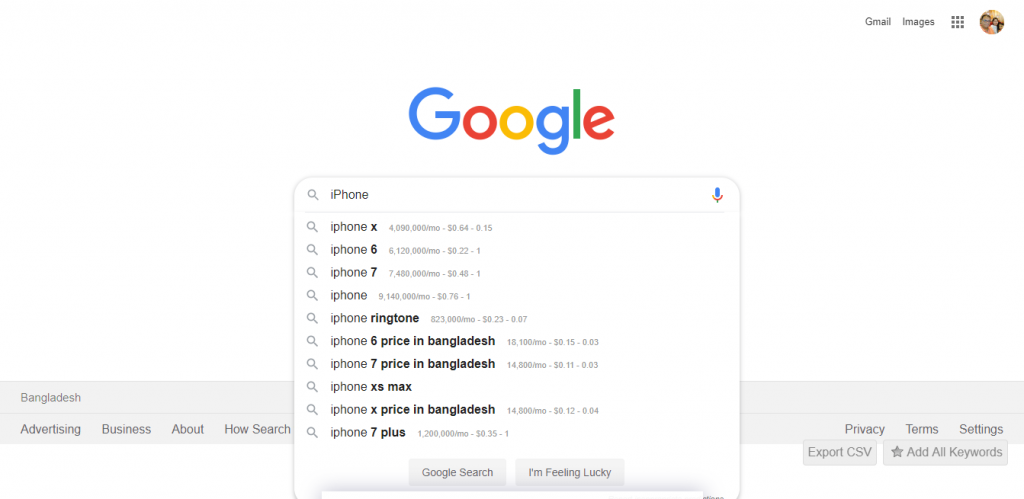 It's one of the easiest and efficient methods to find a shortlist of popular key phrases.
Considering two factors Google Suggest influences your search terms. The search is influenced by the geographical location and your search history. This is why the related keywords are constantly changing.
Use Googles Autocomplete
3. Google Related Searches
Google has a free feature built right into the search results page and it is related searches.
In this section of the results page, you'll get the most common long-tail phrases used when people look for specific information.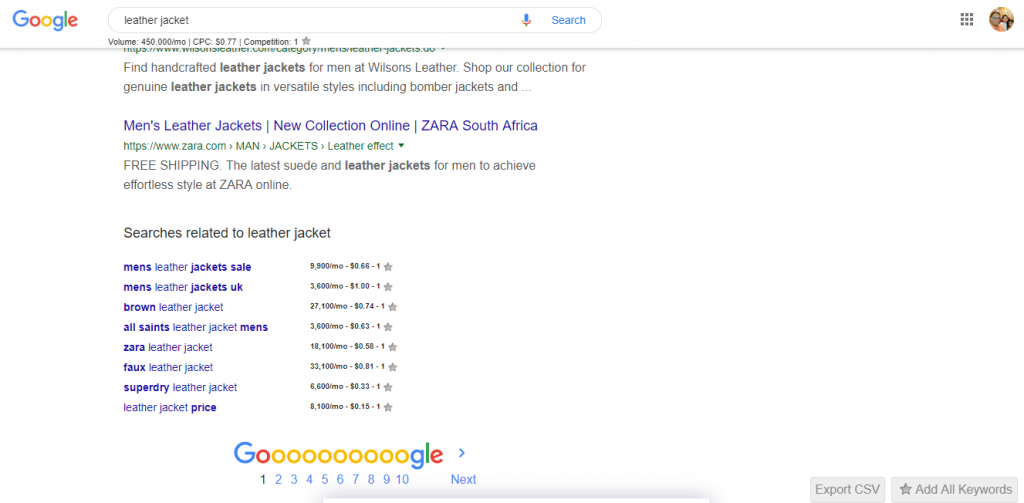 For instance, the term, "leather jacket" has a long-tail phrase of "mens leather jacket sales."
Though, the list of long-tail keywords isn't as long as you'd find in some of the other tools in our list. However, it's a quick and easy way to find relevant keywords according to the search engine itself.
Find Google Related Searches
4. LSIGraph
LSIGraph is a great tool for finding longtail keywords focused on user intent. It's a free tool that provides an extensive list of common terms for your word or phrase.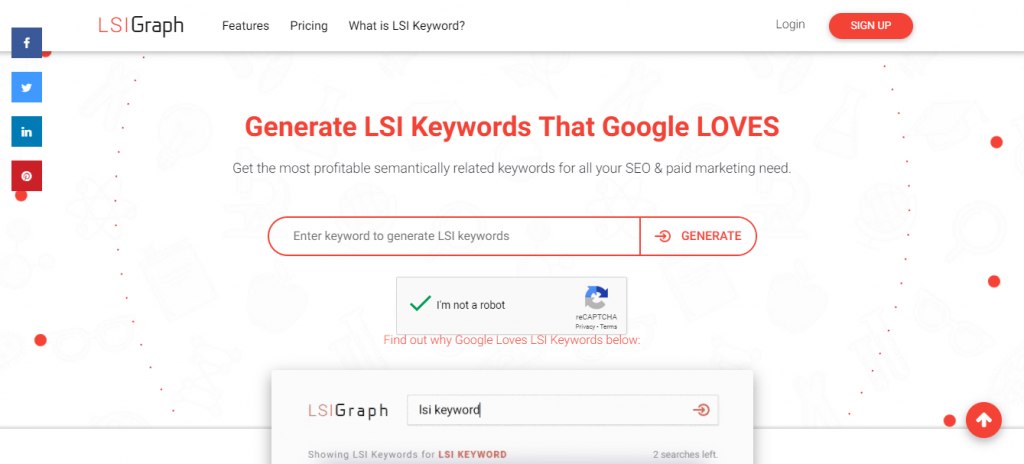 It is very easy to use. Just enter the keyword into the field, click on reCaptcha authorization box and click on "Generate" button.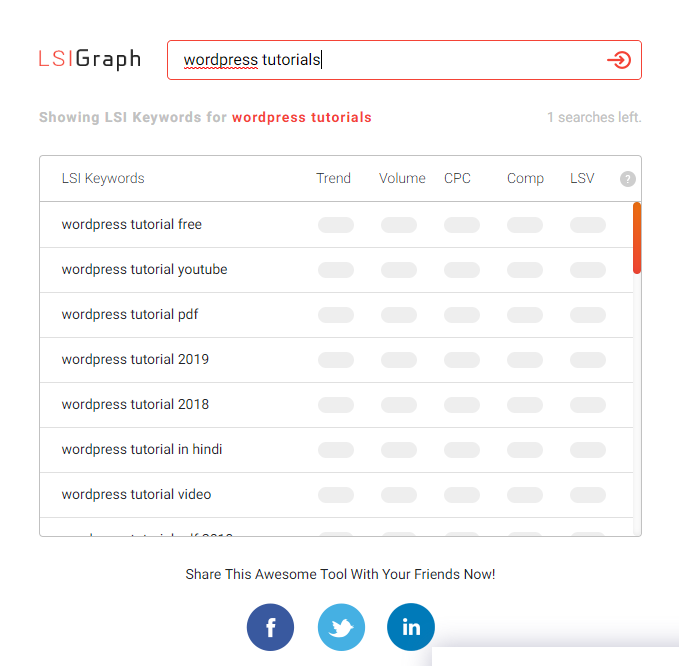 For instance, the term "wordpress tutorials" comes back with a long-tail phrase of, "wordpress tutorial youtube."
Recently, LSIGraph added a limitation to the free version of this tool. You can only use it a few times in a day for free. The premium service offers far more such as Trend, Volume, CPC, and more.
Use LSIGraph
5. KWFinder
KWFinder has a quick search feature that can generate hundreds of low-competition keywords relevant to your search. It also pairs each keyword with an SEO difficulty score, which will help you to optimize your SEO strategy.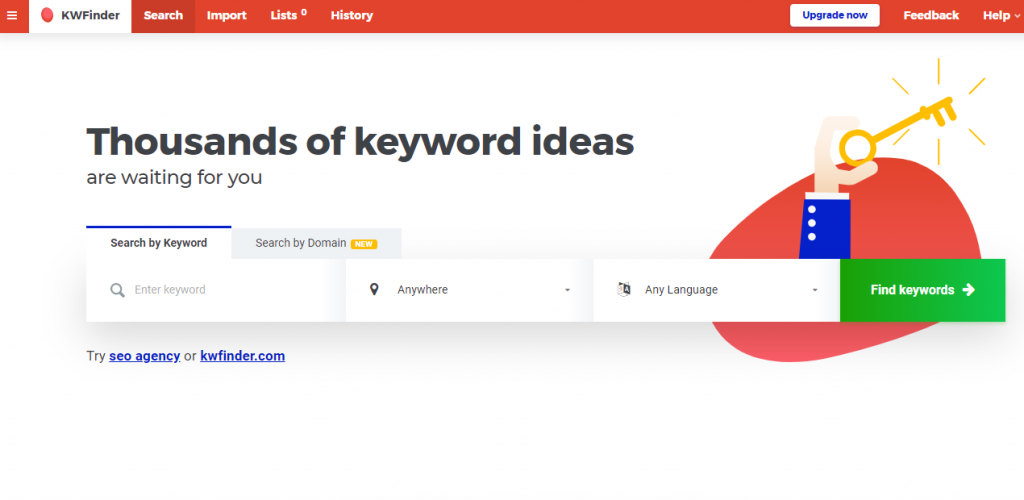 Get KWFinder
6. Keyword Tool Dominator
Keyword Tool Dominator is another popular tool to find longtail keywords for more than just Google search. Just enter the word or phrase, pick your location and the system will do the rest.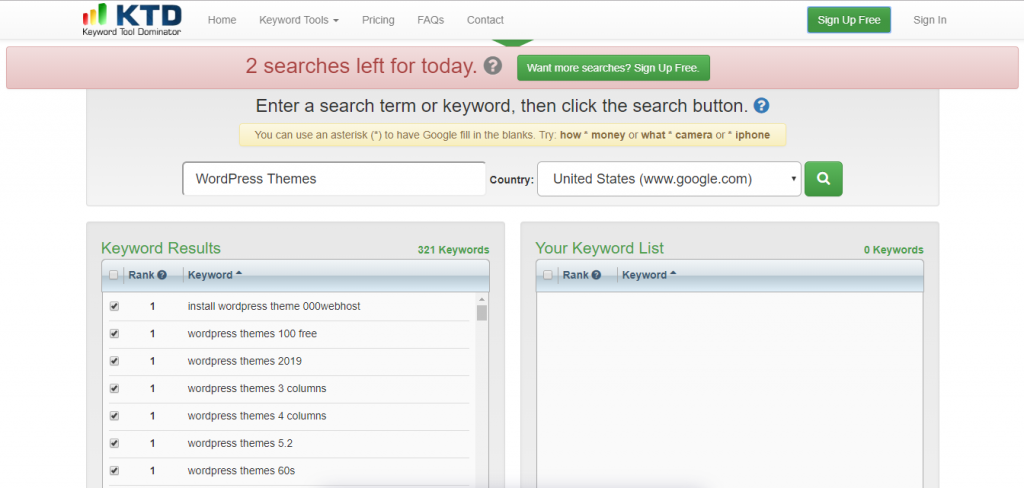 You can also fine-tune your YouTube results, Amazon product sales or enhance your eBay store.
After entering word, Keyword Tool Dominator will deliver results and a ranking number. The lower the score the better it is to use.
In free version you will get three search daily limit. Otherwise, you'll have to sign up for free to expand the number of searches. After that, you can pay the one-time fee for unlimited searches.
Get Keyword Tool Dominator
7. HitTail
HitTail analyze your keyword and suggest more related long tail Keywords based on that. You just need to write content based on those Keywords and see your ranking improved and overall improvement in authority.
Unfortunately, you can only use the tool once for free. Then, you'll have to subscribe and pay a monthly fee which is $19.95/month.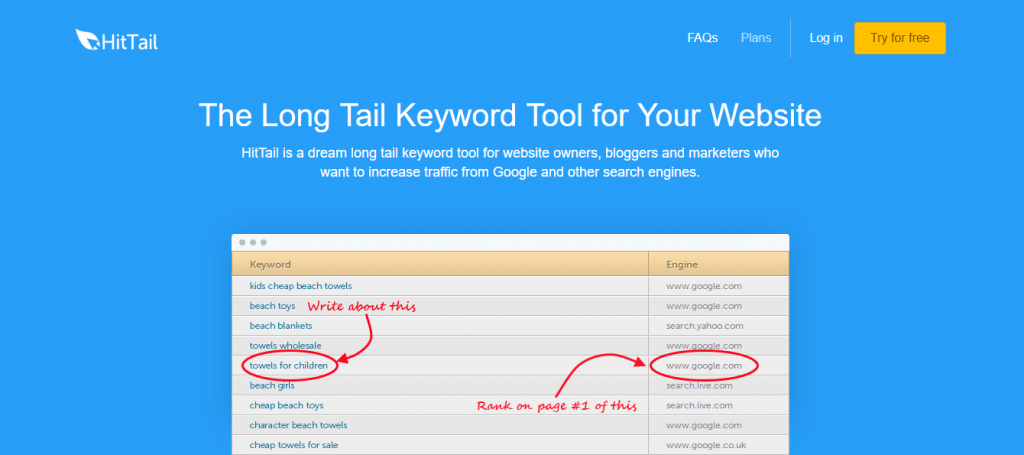 Using the tool is a bit more complex than others in this list. That's why you need to connect your Google Search Console to HitTail. This allow HitTail to continuously analyze your content and how it performs in Google.
At the end of result use the long-tail keywords with your content to engage your visitors.
Get HitTail Pro
8. WordTracker
WordTracker is another easy to use tool that works quite a bit in terms of finding long-tail keywords. After entering your word or phrase, the tool will deliver a long list of the most common words used in search.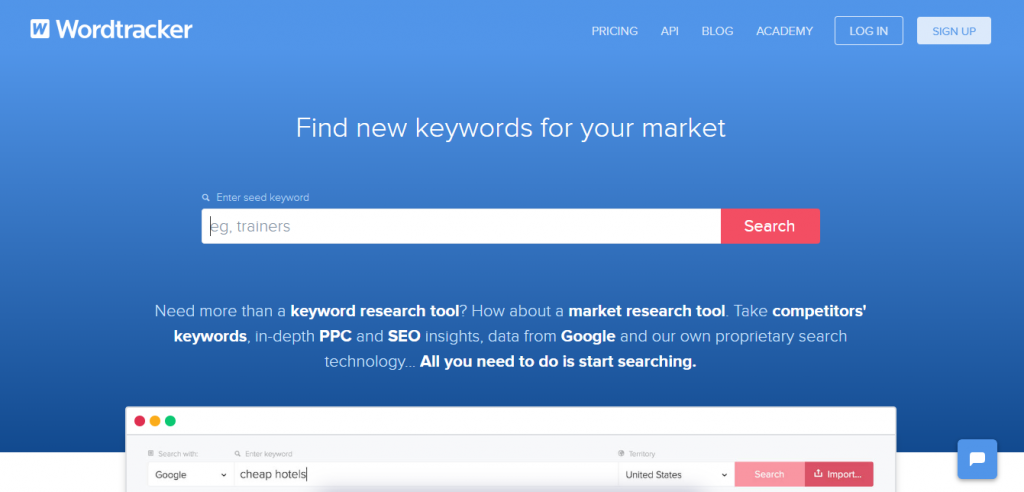 The tool will show the search volume that is performed in the time frame, the competition in terms of PPC campaigns and a rating for cost-per-click. You can also add suggestions from WordTracker to compare search results.
The free version of this tool only gives you 50 suggestions regarding your words. To get unlimited searches you have to purchase their paid version.
Get Wordtracker
Ubersuggest is a free tool to find long-tail keywords. The tool was developed by Neil Patel, who is well-known in the field of digital marketing. The tool offers an extremely quick and easy way of finding long-tail keywords.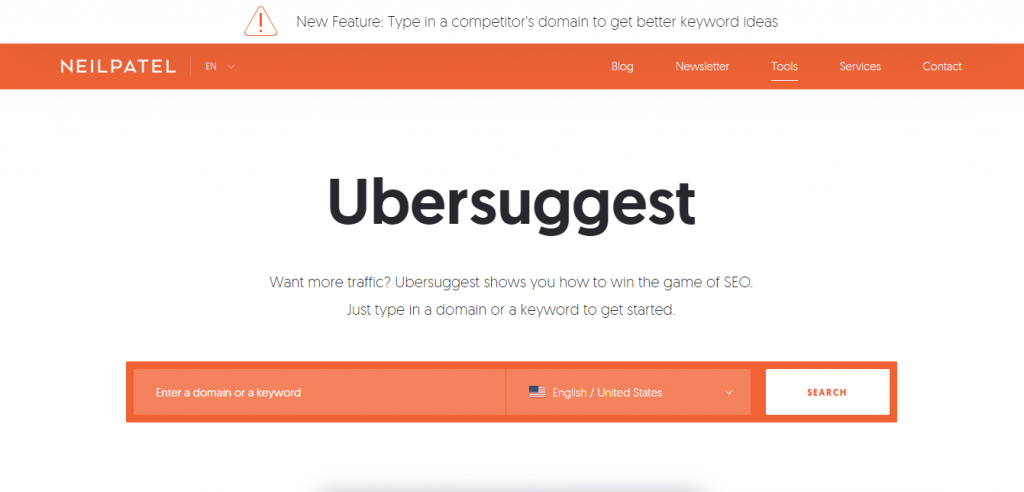 It will also give you an estimate regarding how likely you'll score in the top 20 according to your preferred keyword. In the "Keyword Ideas", Ubersuggest will list off some of the most prominent words related to the term while showing its list.
Get Ubersuggest
10. LongTail Pro
LongTail Pro is a popular tool to help you find incredible long-tail keywords. It comes with a variety of results regarding search volume, competition, and personalized metrics.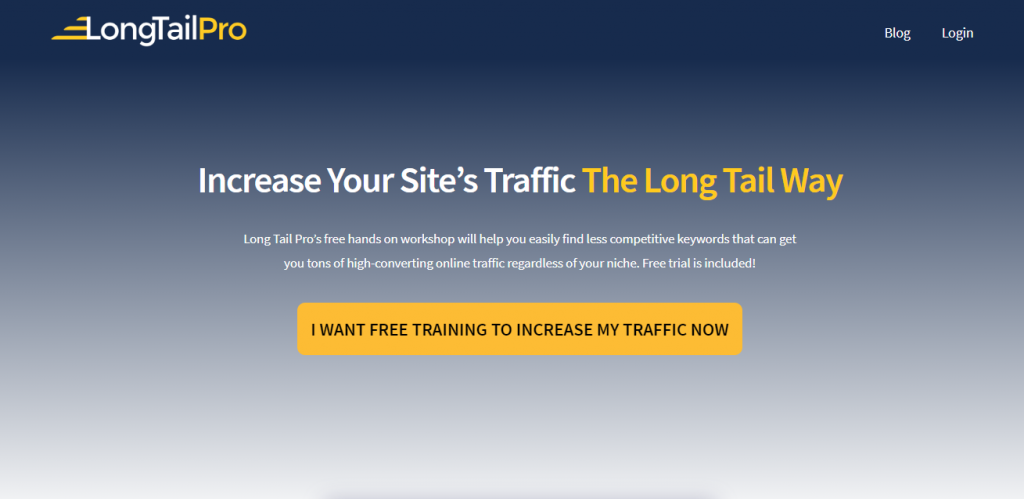 The tool delivers a SERP Availability score that will show a breakdown of the term in relevance to Google search results. This can help you find low-competition, long-tail keywords that have a better chance to become first in the search results.
LongTail Pro will also track your progress with specific words. It will then display how well the words and phrases perform, giving you insight into search trends.
Get LongTail Pro
11. WordStream Free Keyword Tool
WordStream is a free keyword tool to find long-tail keywords. This tool provide result specific to country location.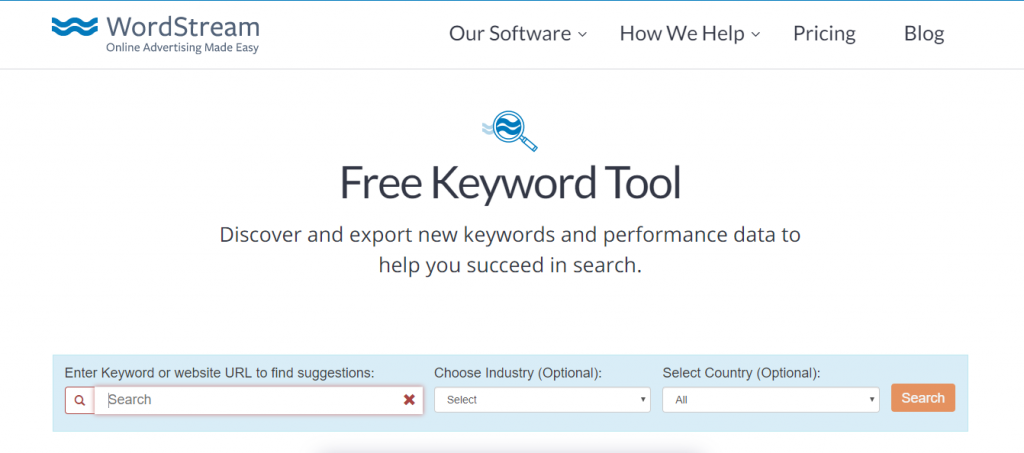 After entering your keyword, WordStream will display the results of your keyword search with Google search volume. However, with the free version, you will get only 10 results and lack a competitive score. For more results and competitive scores, you have to hold a premium account.
You have also an option to get the result through email, but it's not a free service. You have to pay for this. Compared to other pro tools in our list, this tool is comparatively expensive.
Get WordStream Free Keyword Tool Premium version
12. Answer the Public
In many instances, long-tail keywords can be easily determined by the questions people ask in search engines. It is possible through voice search from mobile devices.
With Answer the Public, you can see how people are asking those questions to get a better idea of your long-tail keywords.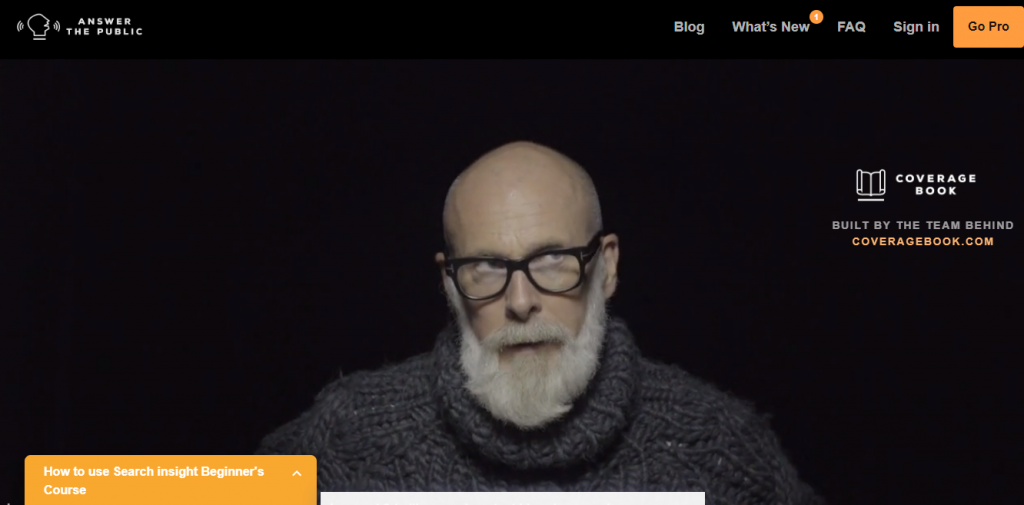 For instance, let's search for "eCommerce themes." The tool will scan through the most common questions on the Internet relating to that word. And finally, it will show the result with questions, prepositions, comparisons, themes name alphabetically, etc.
You will get a very good idea for finding long-tail keywords to use in your content. You can also download all keywords in CSV format. For that, you have purchased the pro version.
Get Answer the Public Pro version
13. SEMrush
SEMrush is the most popular tool for online marketing and backlink research. You can also do keyword research, traffic and spy on your competition's SEO and PPC strategies.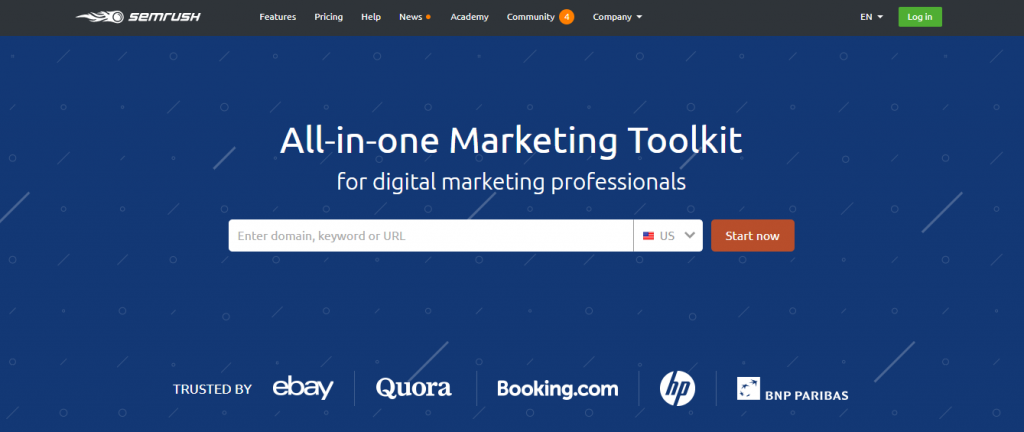 They offer four different plans Pro, Guru, Business, and Enterprise with different prices and features.
Get SEMrush
Narrow the Results for Quality Content
As we mentioned at the beginning of this article, keyword research is an essential part of the SEO technique. But it doesn't mean that the keywords will be complicated. And of course not be expensive.
Here we've enlisted 13 best tools for long tail keywords that you can use to uncover possible keywords for your content.
But before get started, a word of caution is in order.
If you use all of these tools, you'll end up with a lengthy list of primary and secondary keywords, long-tail keywords, and competitor keywords.
That's great!
But how many keywords can you reasonably fit into your content?
Keep in mind that, your goal with keywords should be to incorporate them naturally so that Google can deliver relevant results to their users.
If you "stuff" your pages with the keywords you find, you're likely going to harm your rankings.
Expert Suggestion
So, what you should do with the keywords:
Write your content naturally and place the keywords in where they make sense.
Usually, this will happen automatically since you are creating helpful content. Take into your account that your long-tail keywords will often contain your main or primary keyword. So, you don't need to necessarily use them separately.
Use synonyms or a couple of relevant keywords here and there, but don't overdo it. Don't forget to read our WordPress SEO Guide for a complete understanding of SEO.
https://wphive.com/seo/10-best-tools-for-long-tail-keywords/
Saif Hassan
Product Manager by passion & profession. Lead Product Manager at weDevs, former PM @ Poptin. Passionate about writing & tech. He's an advocate of Human-Centered Design and believes that websites and the tools used to build them should be well crafted, intuitive, and accessible. Cyclist. Reader. A WordPress ninja 🥷, HCI expert & a design thinker 💡

Subscribe To Our Newsletter