8 Best Linkedin Post Ideas That You Should Consider

LinkedIn has more than 550 million users and it regularly ranks as the most trusted social network out of Facebook, Twitter, Snapchat, Instagram, LinkedIn, and YouTube.
So, there's a big opportunity to have your voice heard on LinkedIn and bolster your standing as an expert in your field.
It is a social networking platform specially build for professionals. It's a very suitable place to build a relationship with a global audience and other professionals.
Over 1 million publishers try to contribute to LinkedIn by publishing thousands of posts per week. Here most of the readers are Managers, CEO, CTO, and directors.
79%1 of B2B marketers believe social media is effective for marketing and 80%2 of B2B leads come from LinkedIn.

Business LinkedIn
Now the question is which LinkedIn post ideas are popular and will be perfect to post? To find this answer, check out the below 8 LinkedIn post topics that you must post on LinkedIn.
8 Proven LinkedIn Post Ideas That You Must Post on LinkedIn
Before posting on LinkedIn, you should know which post ideas are compatible to post on this platform. Here, we present some of the proven LinkedIn post contents that you must post on your LinkedIn account.
Let's find the one by one.
Blog posts
Publishing blog post on LinkedIn is one of the successful topics these days. You can't just publish any blog posts on Linkedin.
You have to research your audience before posting. Also, you need to post original posts. Publishing original content on LinkedIn is a great way to get exposure for yourself and your business. Writing articles opens you up to an active audience of content consumers.
Research & Business News
Every business organization conducts new business ideas or products. Sharing research and business news is a smart choice. If you publish your regular business news, you can accurately inform your audience about your current business environment.
Most of the big or small-sized companies, choose LinkedIn to post their business ideas. Therefore when you visit LinkedIn, you will find companies like Google, Microsoft, Uber, Apple share their business news.
Why not you do the same thing to attract your customers?
Howard University announce their new ideas through LinkedIn post.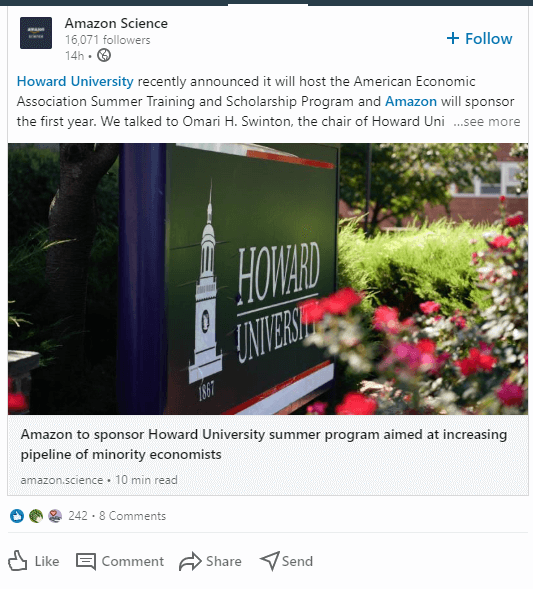 List Style Posts & Procedures
Most people have a curiosity to learn a new subject. The listing post is a great way to drive people who want to learn something new. You can post an in-depth how-to tutorial & guiding posts on LinkedIn.
And these types of posts people love to read and share with their friends and community.
SEO and marketing expert Brian Dean shared a listing post that gained a lot of popularity.

Proven Tips
Proven tips & tricks is also an important topic that people prefer. Suppose you have applied some strategies in your email marketing campaign and got success.
Well, you can share this through a LinkedIn post. People are always looking for these types of posts and like to share with other people. If you have enough knowledge of a topic, you can easily share your ideas with other people through LinkedIn.
weDevs is one of the prominent software companies, here they are sharing tips on LinkedIn.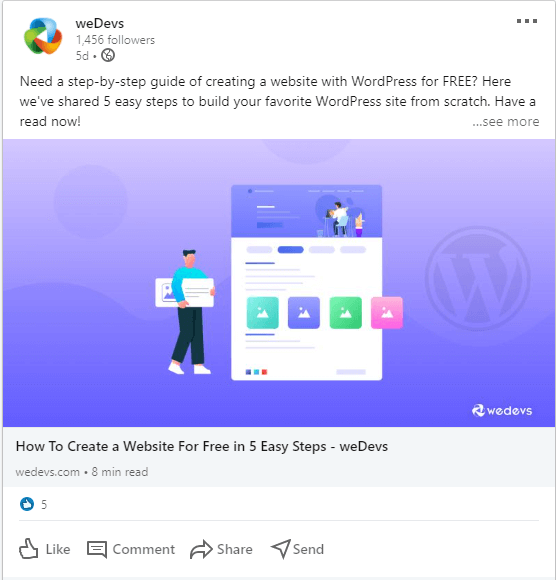 Company Updates
Most of the companies update their business policies. It's very difficult to announce their updated information to their customers at a time. That's why companies are choosing LinkedIn.
If you carefully look at the LinkedIn posts, you find thousands of companies announcing their business-related info. You can also share your new product launch, major updates, business fair, etc.
Samsung shares their company new product update with their LinkedIn audience.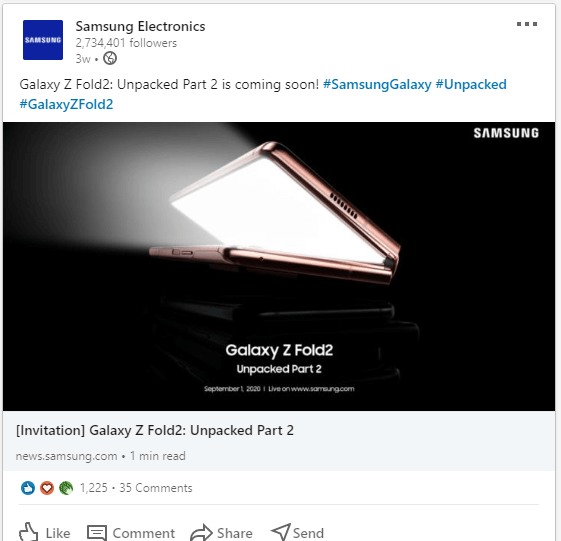 Photos & Infographics
Photos and infographics are very popular topics you can post on LinkedIn. People not only love to upload personal photos of their achievements but also like to share beautiful infographics. In addition, you can post your product photo on your Linkedin account.
You can create an infographic of your content marketing funnel and share it with others using LinkedIn.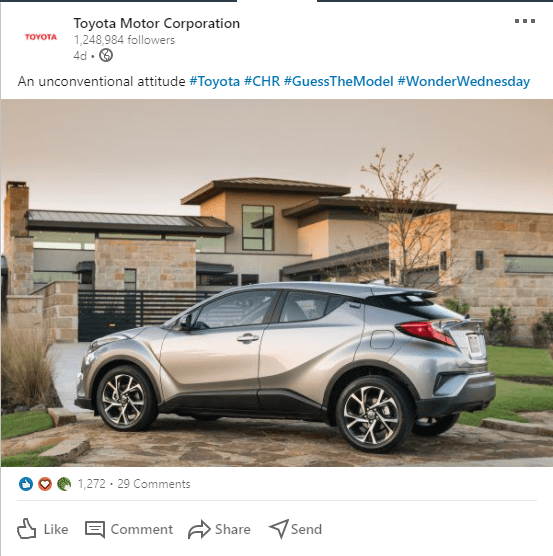 Videos
Video content has become popular on every social platform. That's why you find videos on the website, blog posts, YouTube even in LinkedIn posts. People create many types of videos for different purposes.
Using a video, you tell readers about your business, product, services, and more. You also can post personal and professional videos on LinkedIn to drive traffic. Besides, you can make video tutorials for your audience.
For example, Amazon published a video on LinkedIn to promote its new fresh food at an affordable price.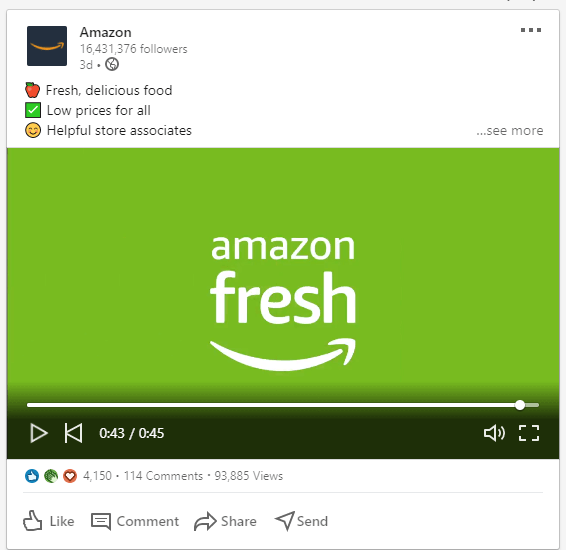 Share Case Studies
Case studies are the personal stories of a person who overcame their problems using your products or services. As a marketer, you feel blessed when you see this type of case study. It's a way to build trust with other clients by sharing real-life case studies.
On LinkedIn, you will find different kinds of cases that people love to study. So share your proven case studies and get benefited.
Microsoft share case study about how many billion article of clothing made before 2020.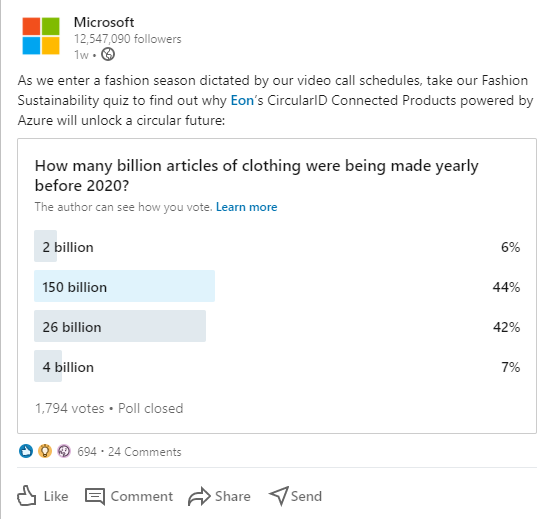 Conclusion
No doubt that LinkedIn is a great platform to talk with other people, find valuable customers, get new business ideas, share your business ideas, and more. It's also a great source to increase your network with people from the same field.
That's why you need to post contents on LinkedIn that are useful to them.
And if you publish the mentioned topics on LinkedIn, you will surely get your desired outcomes.
https://wphive.com/articles/linkedin-post-ideas-linkedin-marketing/
Adnan Khan
Adnan Khan is a passionate writer who loves to write and read WordPress related stuff. Besides, he is very imaginative and likes to fly kites and play soccer in his off time.

Subscribe To Our Newsletter