How to Send Welcome Email to New Subscribers in WordPress

Modern-day businesses always require new strategies and innovation to seize the concentration of online visitors. And email marketing is one of those techniques that you help to interact and communicate with potential clients.
Customers always expect to get some interesting & overwhelming messages from their preferred brand. That's why you should stay aware while sending the first email to your subscribers. At this stage, you're actually building an initial bonding with your prospects through a process called lead nurturing.
Companies that excel at lead nurturing generate 50% more sales-ready leads at a 33% lower cost.

Jennifer Lund, Author and Editor at Super Office
In today's post, we'll show how to send welcome emails to newly registered subscribers using an automated email marketing tool. Surely, this will help you to apply personalized marketing strategies to stay on top of your users' minds.
Sending a Smart Welcome Email to Your New Subscribers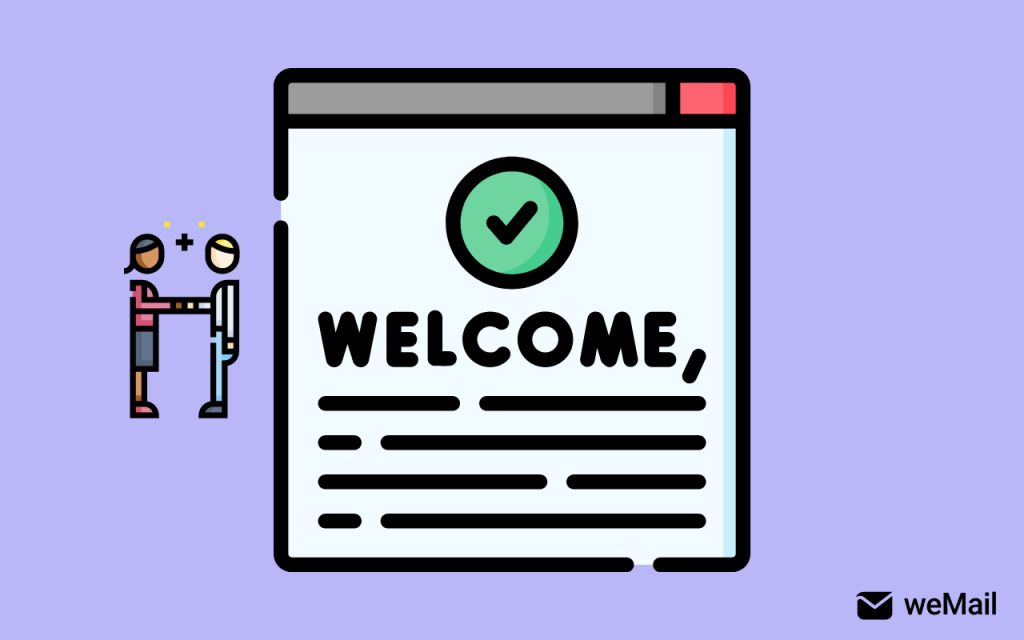 If you're thinking to take your online business to the next level, then there is no suitable substitution of utilizing email marketing strategies.
And sending a welcome email is one of the best strategies to engage, connect and build a better relationship with new users. Subscribers want to learn something exceptional & educate themselves from their preferred brands online. More than 74% of new subscribers expect to receive a welcome email.
Yes! it can be a great opportunity to grab the first impression of your subscribers by telling them they are important for your brand. This way they will feel so special and chances of becoming your potential customer are high.
The reason is:-
It engages more audiences than other marketing emails
Saves huge time from manually connecting with new leads
Sets customer expectations
It holds the attention
Builds loyalty
Makes feel subscribers especial as they are important one
How to Craft a New Welcome Email & Send It to Your New Subscribers


So after understanding the importance of delivering welcome emails, now it's time to show the entire process to you. Anyways, to lead the tutorial, we've chosen weMail, a sophisticated WordPress email marketing solution.
The available features and functions are really effective for new business owners which comes at an affordable price. Such as you can create lists, add import-export subscribers, and segment users according to your campaign type.
Requirements for the Tutorial
Before sending welcome emails, you need to have an email list with segmented subscribers. As you're not sending this email to everyone, an email list helps you to individualize your new users from the existing ones.
So, let's give your campaign name to – campaign for new users.
Step 01 – Create a Campaign
Once you are done with the email listing and adding subscribers. Now create a campaign.
To do that navigate to WordPress>weMail >Campaign >Create Campaign.

Put your Campaign Name
Select Campaign Type (Standard or Automatic)
Select your Email Lists
Click on the Create Campaign button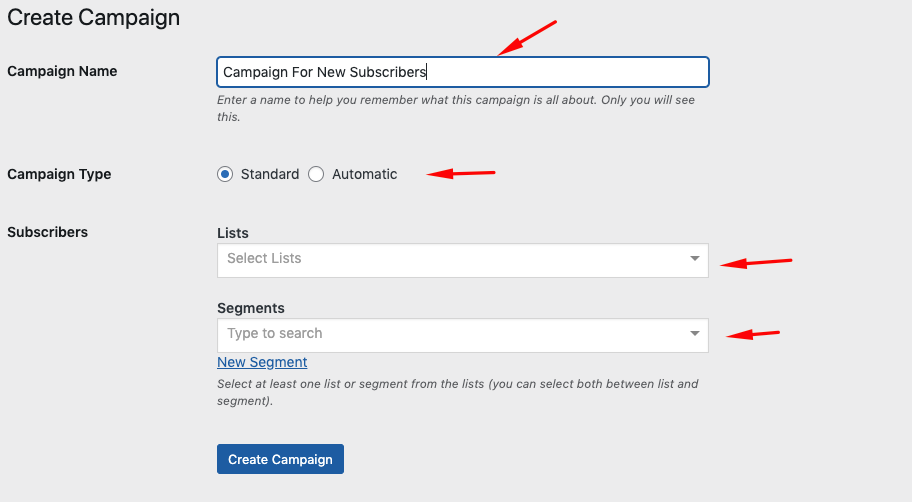 Note: You can also pick your subscribers based on their segment to send emails more precisely. Select list or segment from the lists. You can select both the list and segment.
Step 02 – Pick up an Email Campaign Template
weMail comes with stunning email templates to make the email marketing task more appealing. So here in the 4th step, you need to select the preferred email template.
So after hitting on the Next button, you'll get some in-built templates. Choose any one that you prefer.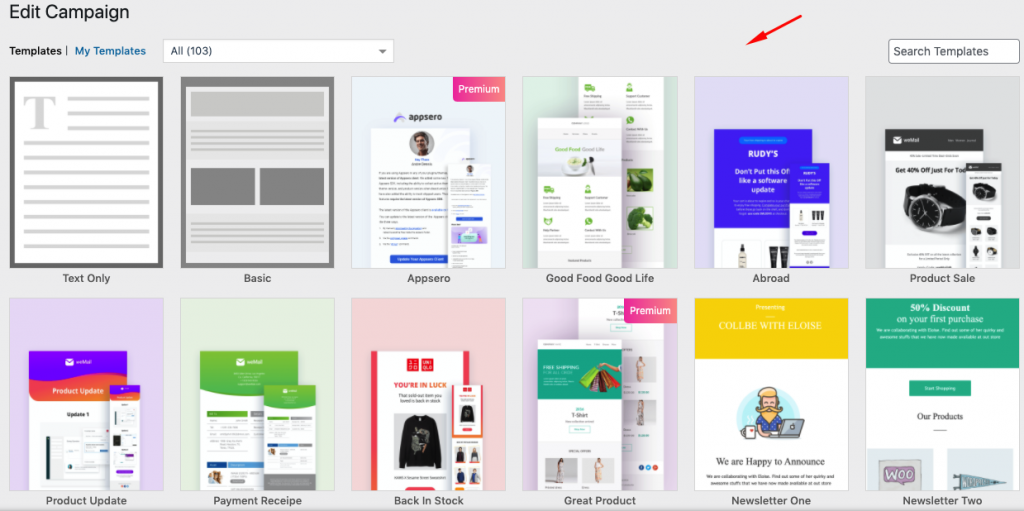 Once you have selected the template, you'll find the editing options. Here you can select each section and customize it in your own way. After that, click on the Save & Close button.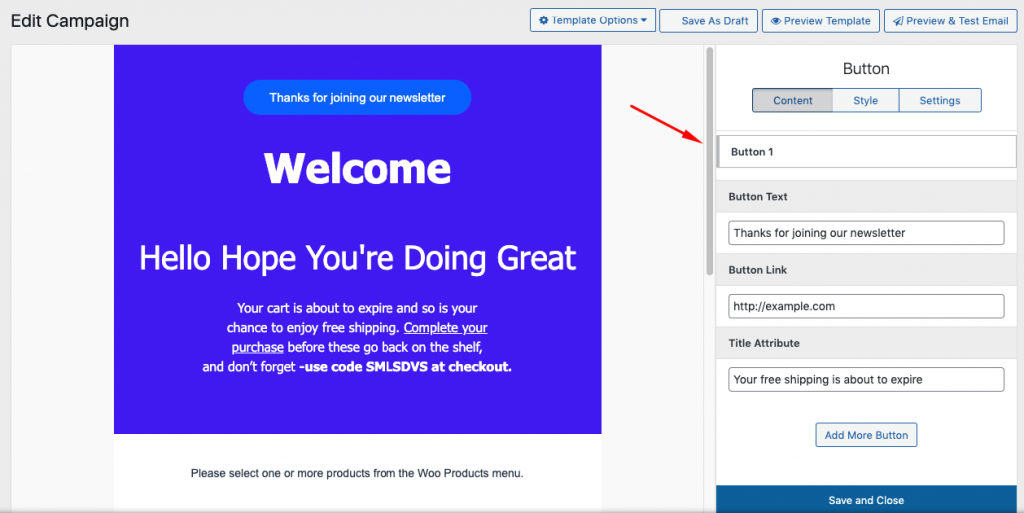 Step 03 – Set Desired Metrics to Get A Smart Campaign Summary
In the final step, you need to give your email subject line, preheader, and schedule email for the future, or send it right now. Also, you can add a UTM tracker to check whether your email is doing good or not. When you're done with that, click the Start Sending button.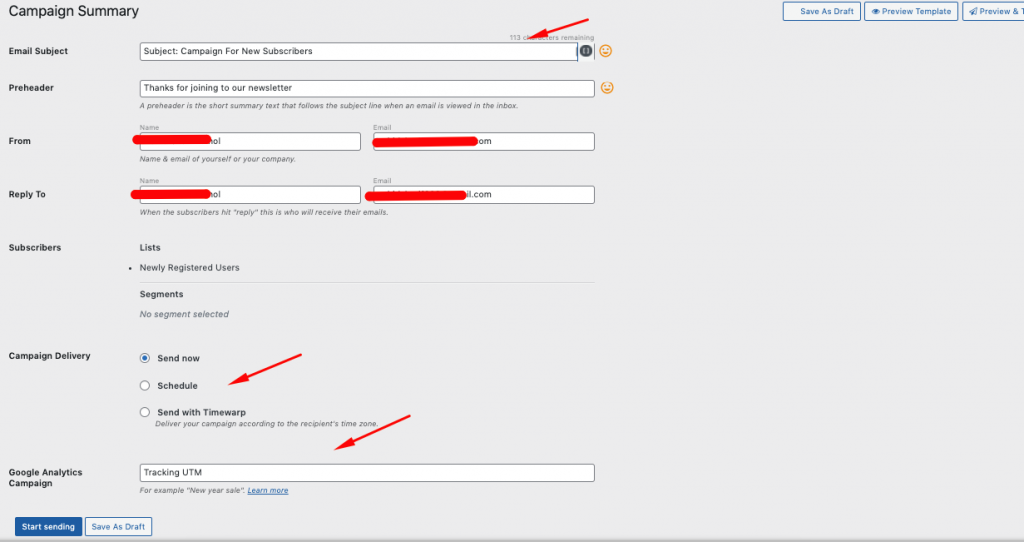 Once you create the campaign, you will see the campaign details. For example, how many subscribers have received your email, open rate, click, and revenue.

Final Look of the Welcome Email
After sending the welcome email, it will like the below screenshot.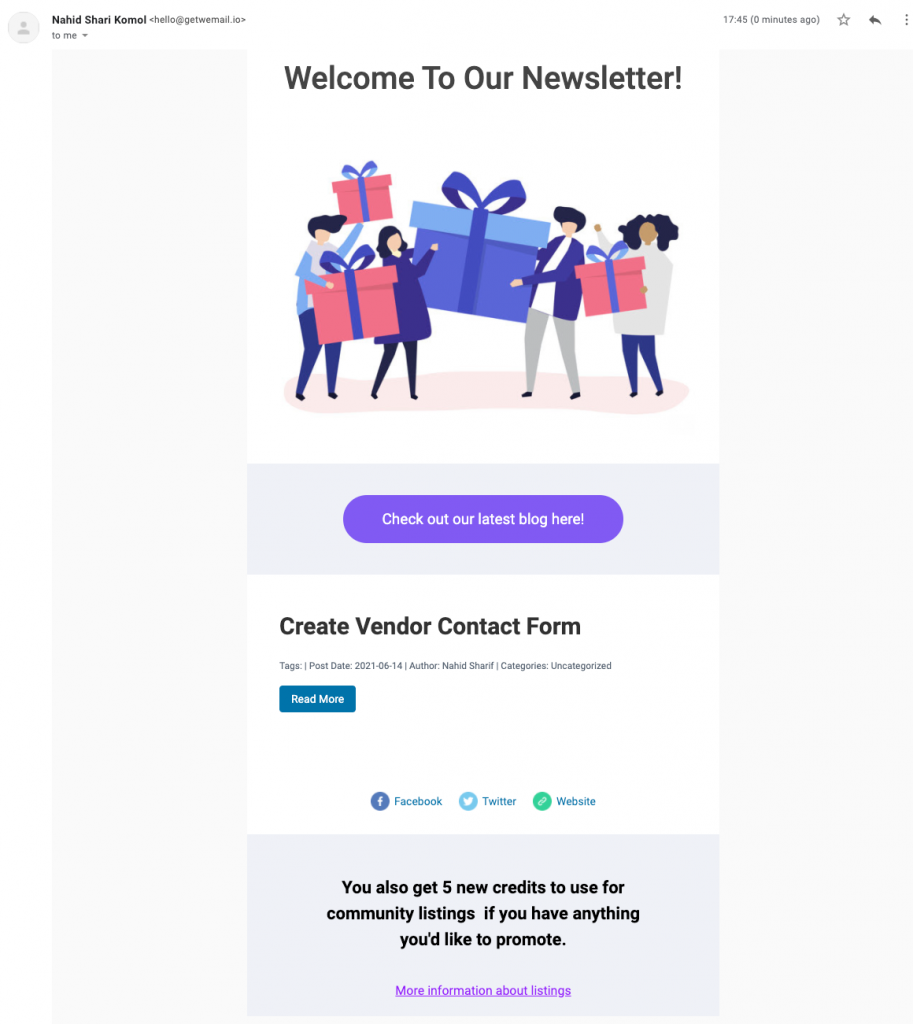 So that's all! This is how you can create an email campaign and send welcome emails to your new subscribers.
However, you can always check the official documentation to create your first campaign with weMail. Or, you can go through the following video tutorial.
Importance of Nurturing New Users and Engage Leads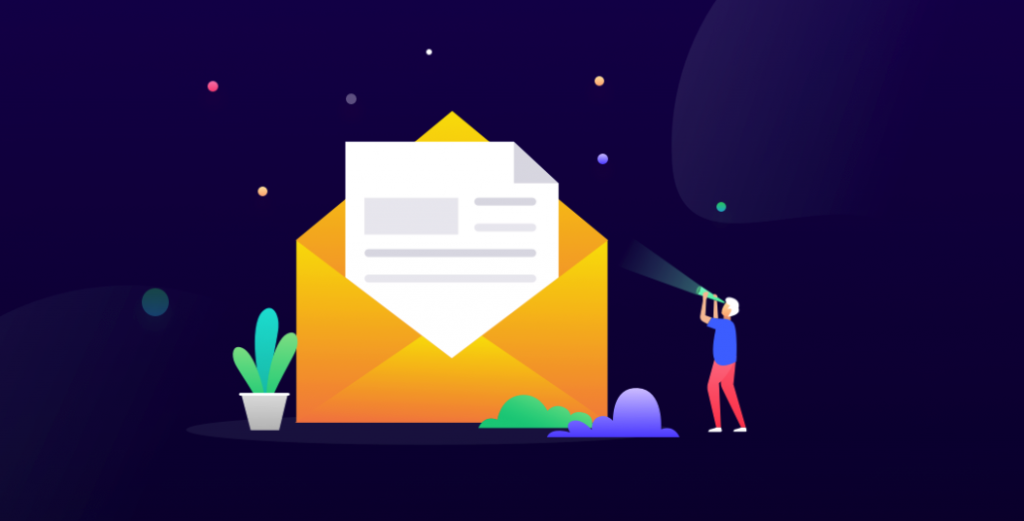 Once you get the number of subscribers for your business, that doesn't mean your job is done. Rather you need to follow up on a regular basis to find a scope to persuade them for buying your products or services.
And implementing lead nurturing strategies, you can educate, inform and build trust with your brand and move them from the top of the buyer's funnel to the lower part of the funnel – actually when they are ready to buy.
74% of companies say converting leads into customers is their top priority

HubSpot
Yes! the data tells that why brands are spending more on converting leads into paying customers. And this is the right way to scale up your marketing ROI. Anyways, let's find out below why companies should implement lead nurturing programs.
Improves average order value
Decreases CAC or customer acquisition cost for improved ROI
Create and convert into loyal customers
Builds industry-leading authority
Helps to plan future marketing plans
Spread brand reputation
A big resource for company
Conclusion
The available resources on the internet give customers to buy different products and services. For your business, you need to do something unique so that customers buy your products and recommend them to others.
And sending personalized welcome emails to your subscribers is the very first step to overwhelm their feelings. According to the research, almost 72% conversion rate happens by targeting users with relevant content. This is where weMail could be the better solution for your startup business and help nurture your newly registered subscribers with ease.
https://wphive.com/tutorials/how-to-send-welcome-email/
Nahid Sharif
Nahid is a marketer by profession and writer by passion, the feeling of independence and free thinking always keeps him going! If not writing, he's either running his eyes over the science fiction stories or playing acoustic guitar, writing lyrics and taking photos of nature!

Subscribe To Our Newsletter