Bricks Builder- An Elementor Alternative with Lots of Surprises!

Let's introduce you to Bricks Builder, a WordPress page builder. Now, you may be wondering do you even need another page builder with so many on the market already?
But WAIT!
Hear us out before you dismiss the idea of trying out another page builder. Up until now, all the page builders had some common drawbacks. Users flooded the forums with similar questions and complaints.
Bricks Builder tried to solve the problems that you, I, and everyone else have had in the past few years.
And what's more, it requires you to pay only a one-time payment for a lifetime license and updates. Which is almost free compared to the popular page builders on the market.
It's time to know what this WordPress page builder is about, what it can do, and what it can help you achieve.
Why Bricks Builder Among So Many Options?


There are a lot of page builders out there. In general, there are more than enough. There's Elementor, the most popular page builder. Then comes Beaver Builder, a solid one. There are also page builders like Breezy, Oxygen & so on. So the question is do you need another page builder?
Personally, I think there is always going to be space. After all, we are talking about tens of millions of WordPress sites that need to be launched, re-built, managed, and constantly optimized. It's also not a winner-takes-all market, which is nice.

Thomas Ehrig, Founder and Lead Developer, Bricks Builder
But in our opinion, yes, there is scope to try another page builder when it offers unique features like Bricks Builder. It is a builder that did not change the way you see and use page builders but improvises the features within. The team at Bricks Builder listened to the user's complaint about other page builders. They built a product that users would love to use, right from version 1.0.
Another reason, that we love Bricks Builder is because it is wonderfully integrated into a theme. Yes, unlike the page builders we mentioned above, Bricks Builder is a builder within a WordPress theme. Creating a builder inside a theme does have some advantages, and some obvious drawbacks as well. We will talk about those, later in this article.
But for now, it is quite clear that Bricks is quite unique in its approach. Is it just another theme? No! Is it just another page builder? No!
It's quite a hybrid. And that is why you might have seen us calling this a builder instead of a page builder or a theme. You can also see this is as a site builder based on WordPress (literally).
Now that we got you interested in this builder, let's take a look at the brief overview of this builder.
Bricks Builder Overview
Bricks Builder is a visual tool for full site building using WordPress. Just like the name suggests, brick by brick you can build a page or a site effortlessly using this great visual builder.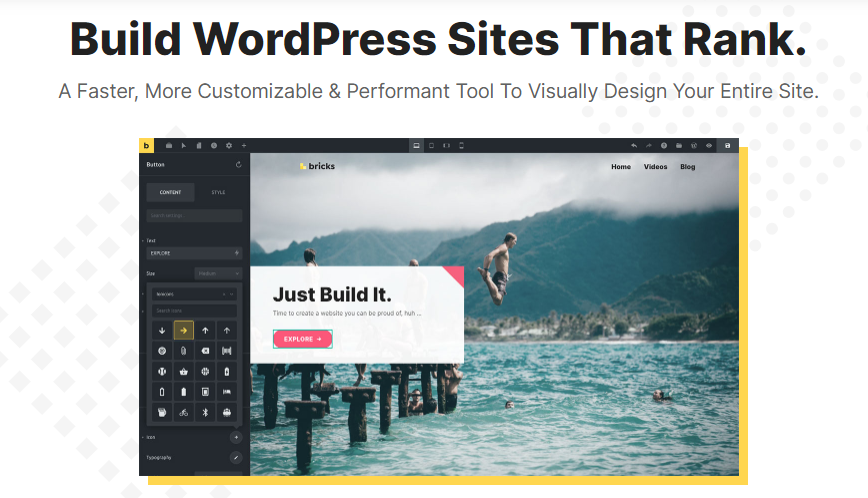 The Bricks Builder is built within the Bricks theme, so you don't have to install any plugins along with it. Moreover, it also comes with dynamic data support, custom fonts uploader, loads of templates, SEO optimization built-in.
All these little perks will make your website building an easy experience. And needless to say, the team at WP Hive truly appreciate the advancements it made from the very first edition of this builder.
What's more, it has a public roadmap of which feature they will develop next. So the development they make in the future is in users' hands, which is quite nice to see. But we will see if they can continue this once they have more users and get a lot more feature requests than they get now.
Up until now, it all looks good and promising as far as we can see about the Bricks Builder.
Bricks Builder Features at a Glance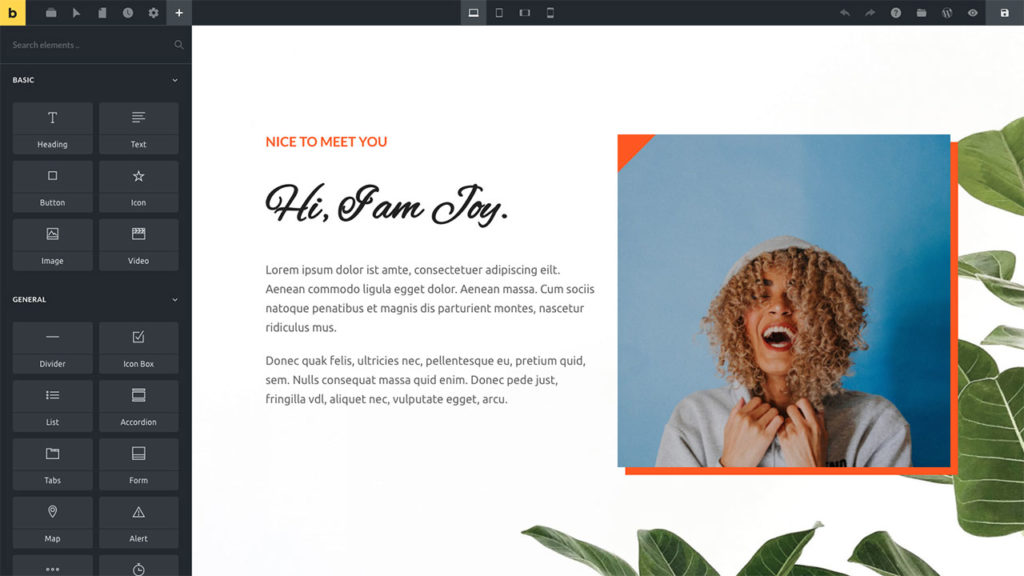 Bricks Builder offers a range of features which is compared to the likes of other popular page builders. Let's get to know the key features of Bricks Builder up until now.
Built-in templates for pages, header, footer, 404s, Blogs and more.
Ability to save your design as custom template
Individual header/footer builder
Responsive Full-Site editing
Convert to Gutenberg blocks to Bricks or vice versa
Dynamic Data Support
Auto saving changes after every 60 seconds (customizable)
Custom font support
Control builder access based on user roles
Dark/Light mode
Ability to use page specific custom CSS/JavaScript
Many keyboard shortcuts to speedup your working
Supports RTL languages
These are just the key features of Bricks Builder. There are many more simple features that are there are to make your designing process easier.
Bricks Builder Pros & Cons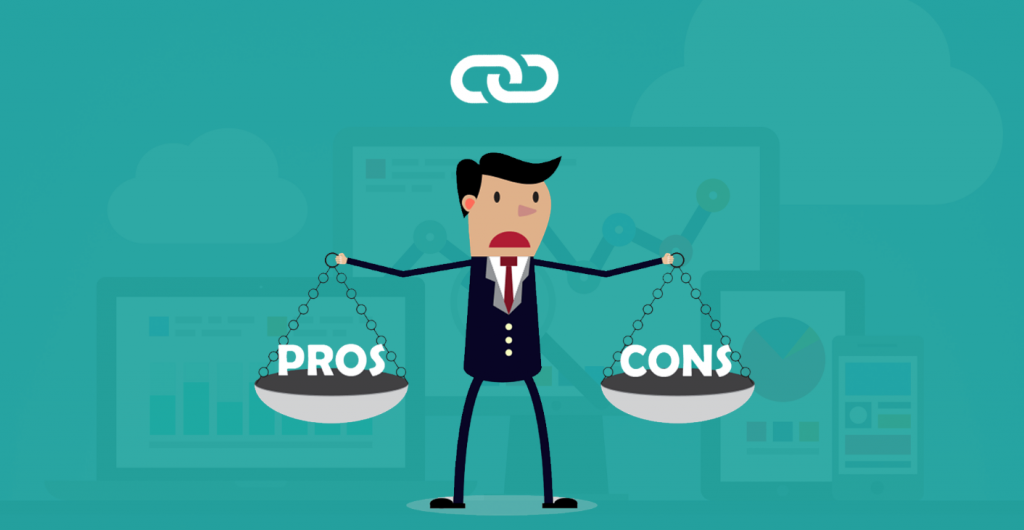 Bricks is a great builder. But it too lacks in some aspects. As this builder is still in its early stage, we expect them to get better of many of the lackings in the days to come. However, for now, here are the pros and cons of Bricks Builder compared to other page builders.
Pros
Builder is built right into the theme, so you don't need any extra plugin
The websites are fast and lightweight, which is great for PageSpeed
Similar interface to other page builders, so you'll get used to it in no time
Ability to convert pages from Gutenberg blocks to Bricks editor and Bricks to Gutenberg blocks
Working with advanced dynamic data is smooth
You can use custom fonts in addition to the Google Fonts
You can pin any element for faster access
Offers a public development roadmap, unlike other builder
Comparatively cheaper than most of the page builders
Cons
There is no way to use Bricks Builder along with any other theme, as it is built into the theme itself
No full site templates available as of now, you can only find page templates
Less number of features than other page builder as they are new, but they are coming up with new features regularly
Lack of customization for elements
No license plan for unlimited site
Bricks Builder Template Library
Like any other page builder, Bricks also have a template library. But as we already shared with you, there is no full site template as of yet. The number of templates is also less than other major builders.
There are however some exclusive features that Bricks offers, like Remote Template. Remote template allows you to import templates from any Bricks-built site if they have enabled public access.
As of now, Bricks Builder offers templates for everything from the header, footer, single contents, sections, archive, search results, and 404 pages. Bricks also lets you create your own templates.
Bricks Builder Performance
One of the specialties of Bricks is website speed optimization. Compared to other page builders, it is quite fast and gives great performance on speed tests. We also think right now this is the page builder to choose if you want to have a website built that also meets core web vitals requirements.
We tested Bricks Builder with several tools and it gave us very good results.
Here is what we got with Google PageSpeed Insights –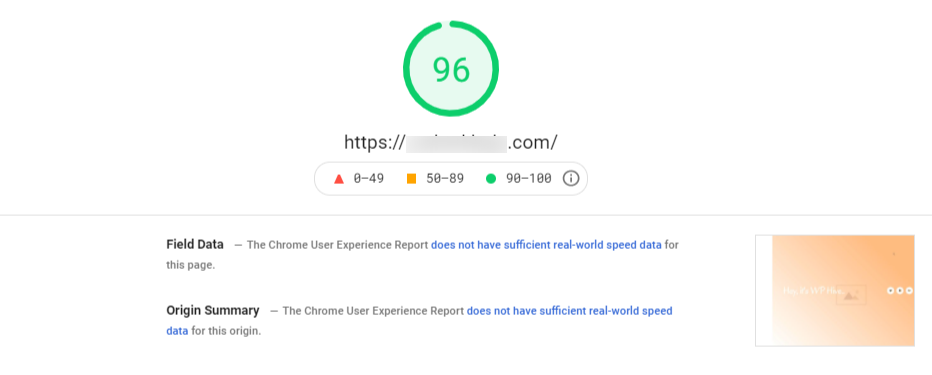 Pingdom Website Speed Test –

GTMetrix Performance Report –

As you can see all the performance markers are pretty high, even after using this builder to design our site. And we even used a shared hosting server while testing this. So you can surely get some SEO benefits using this builder.
Bricks Builder SEO Optimization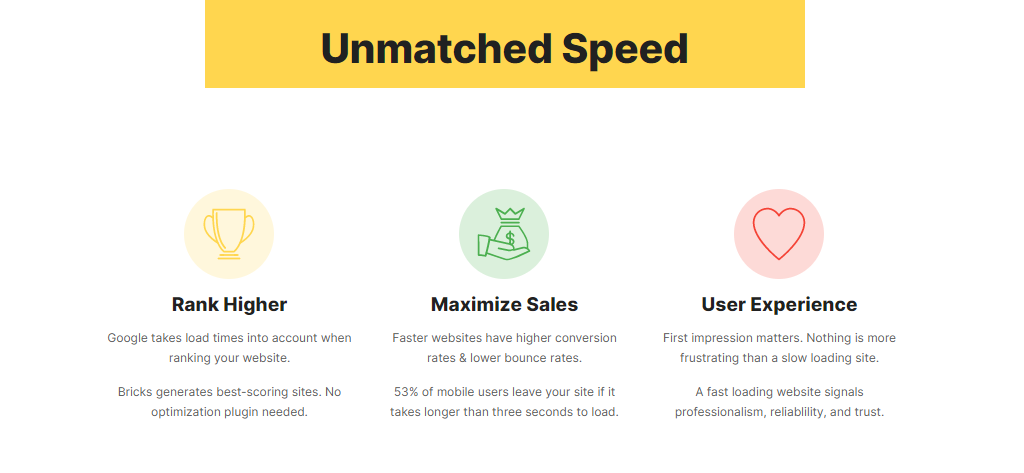 Bricks is an SEO optimized builder. Thanks to the lightweight nature of the Bricks Builder, the sites we built using it turned out to be very fast. Thus it should also impact your search engine ranking in a positive way.
Apart from that, you can also optimize important SEO settings such as title, permalink, meta description, keywords, robots using this builder. You can also change social media preview details, minimizing the need to use another plugin for that.
So as far as the page builders go, Bricks should be one of the tops in terms of built-in SEO optimization support.
Pricing

The pricing of the Bricks builder is certainly one of the most affordable. Currently, it offers two different packages. Both the packages have a one-time fee and NO RECURRING AMOUNT! Unbelievable, right?
One is the starter plan that covers a single site, the second one is the ultimate plan which is valid for 1000 sites. There is, however, no license plan for unlimited sites.
Both the plan offers lifetime update and support, which is quite good to see.
The price for the starter plan is $59. The ultimate plan is priced at $149.

Public Development Roadmap – You Decide Which Feature Comes Next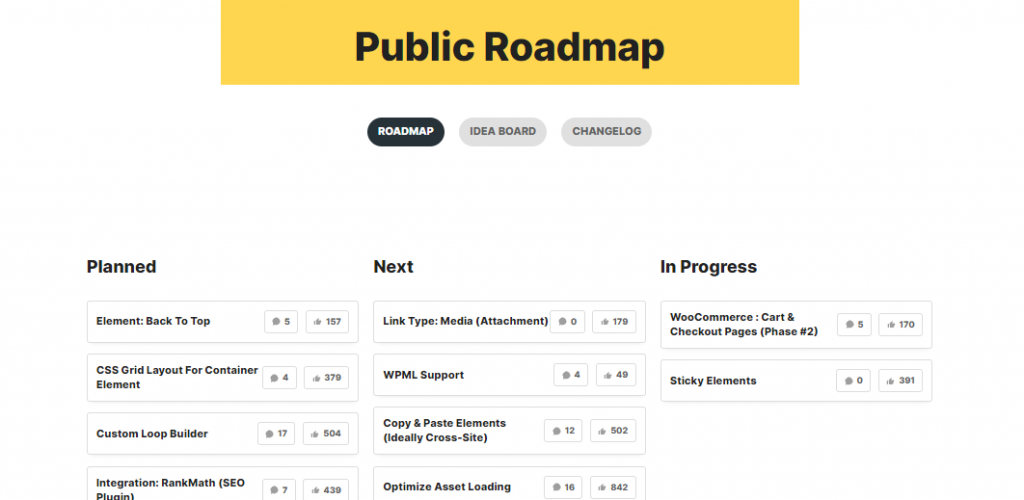 A good thing about Bricks Builder is that it cares for its community. It promised to provide lifetime support even for the starter plan, as we mentioned above. But on top of that, the upcoming features of the Bricks Builder is also upon its user's hand. How?
Bricks' public development roadmap lets its users suggest new features, other users can then vote on these feature suggestions. After that, depending on the votes, they decide on the next feature development.
"We don't build in secret. Our public roadmap makes sure everyone knows at all times what to expect and what's next. It also keeps us accountable. If you are not only looking for a beautiful builder that is fun to work with, but where you have an actual say about its development, I think you should take Bricks for a spin.

Thomas Ehrig
It is however early days for this product and we will see in the future if they continue this with a larger userbase.
How to Use Bricks Builder (A Brief Guide)
Now let's take a detour and get to know some basics of how you can get started with Bricks Builder.
Installation
The process to install Bricks Builder is fairly simple and just like any other theme. Once you install the plugin, you will be redirected to the Getting Started page.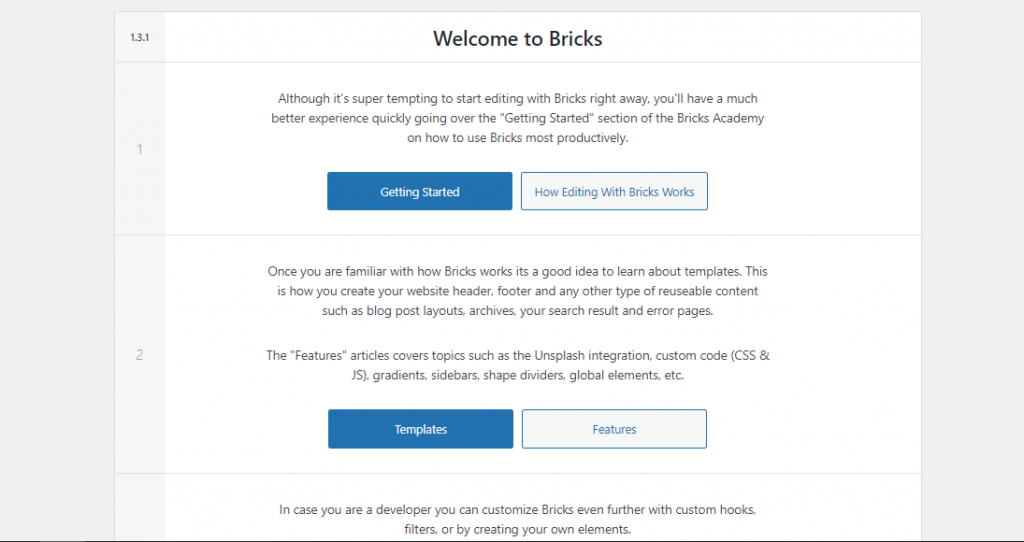 There is not step by step setup wizard to set it up. However, all the options from Getting Started will do the job of educating you about the features. All the links from this page will redirect you to an external page, the Bricks Academy.
Editing a Page
Once you install the builder, you can edit a page with it, create or use any templates for header, footer, single contents, sections, archive, search results, and 404 pages.
Let's start with how you can edit a page with Bricks Builder.
Create a Page by navigating to Pages > Add New from your WordPress Admin Dashboard, if you do not have already.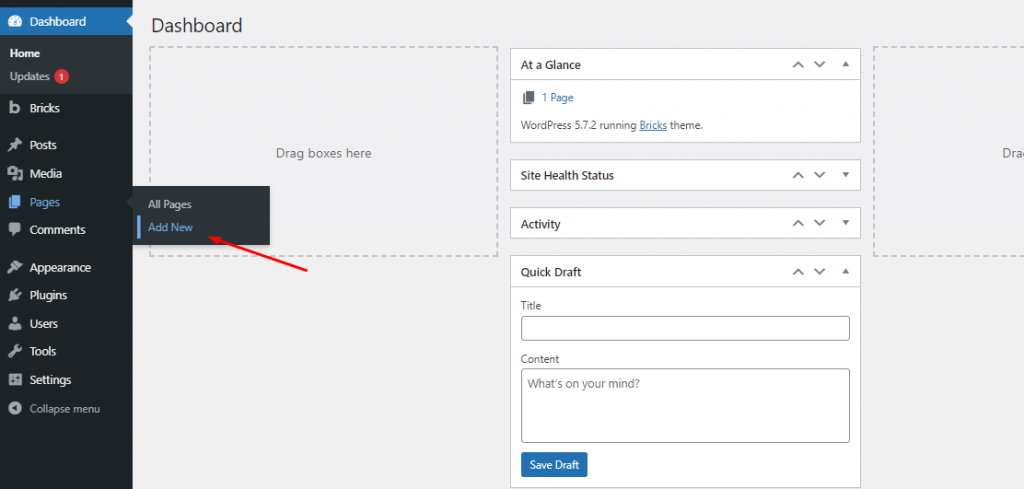 On the Add New page, you will find that there's a yellow button with EDIT WITH BRICKS.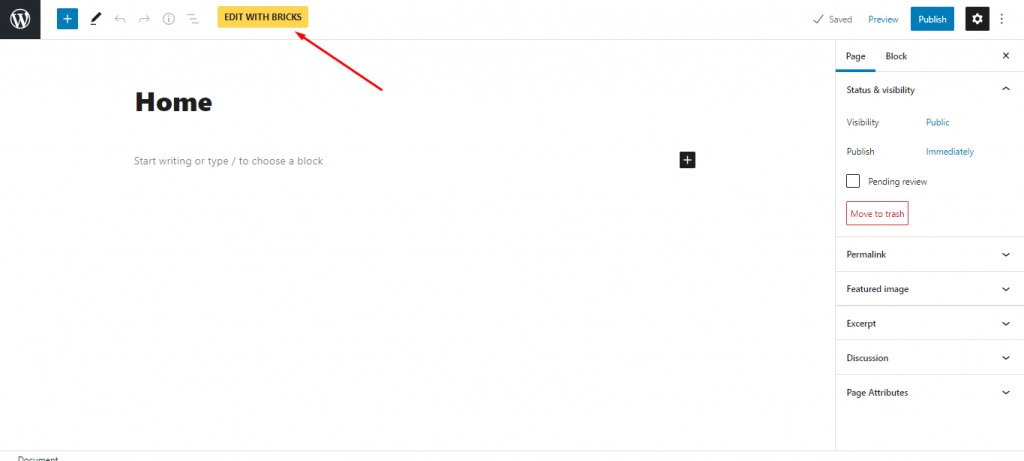 Give your page a name, and click on that button above to enter the Bricks Editor.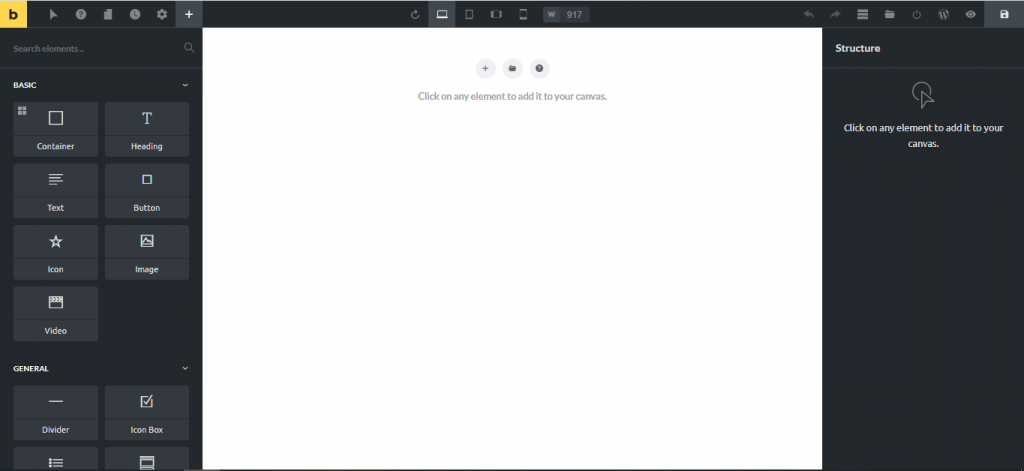 As you can see from the above image, there are loads of options and widgets for you to choose from. There are Basic, General, Media, WordPress, Social, and Single widget categories. All of them have lots of different widgets inside. You can just drag and drop any widget to the working canvas.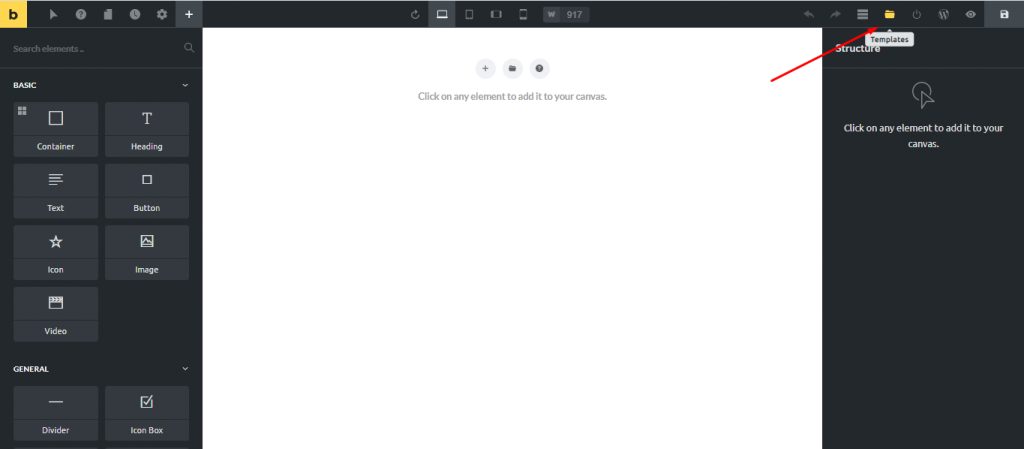 You can also choose a premade template or create one by clicking on the template button, which we showed in the above image. You will find the Bricks-made templates on the Community Templates tab, The template page will look something like the below image –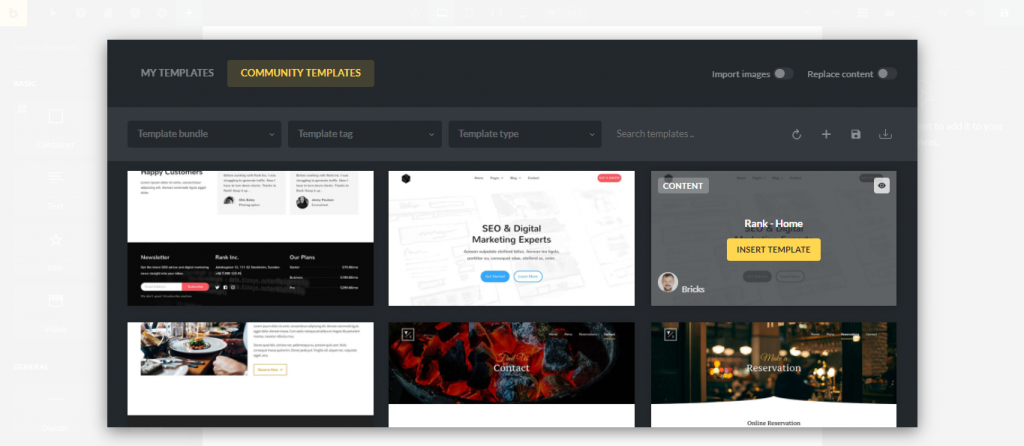 Let's go ahead and insert a template on our website. A few clicks and image uploads later, you will get something like this –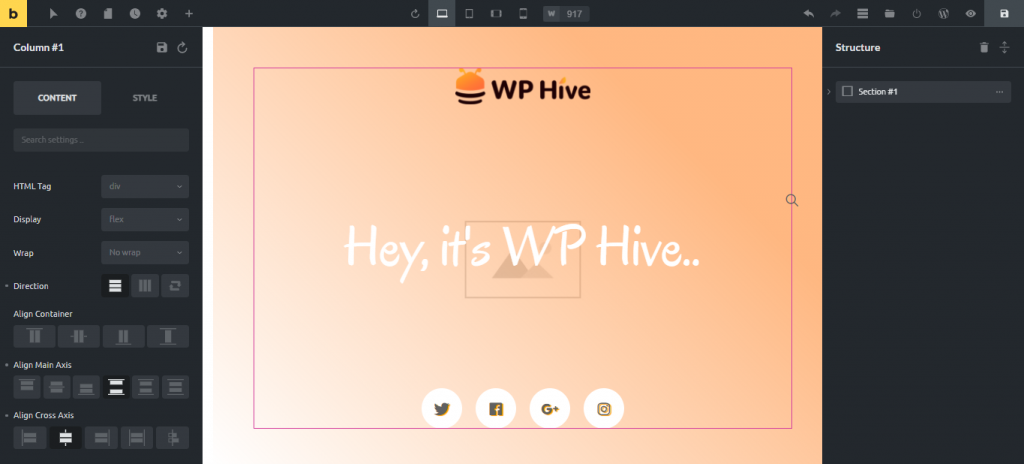 And it took us just 1 minute to do all this. Within just an hour, you can design a whole website with just drag and drop. Impressive, isn't it?
Creating & Editing a Template
In the same way of editing a page, you can design templates for the header, footer or other parts of your website as well. All you have to do is create a template for that and edit it just like the way we have edited the page.
To add a template, you have to navigate to Bricks > Template from your WordPress admin dashboard and click on Add New.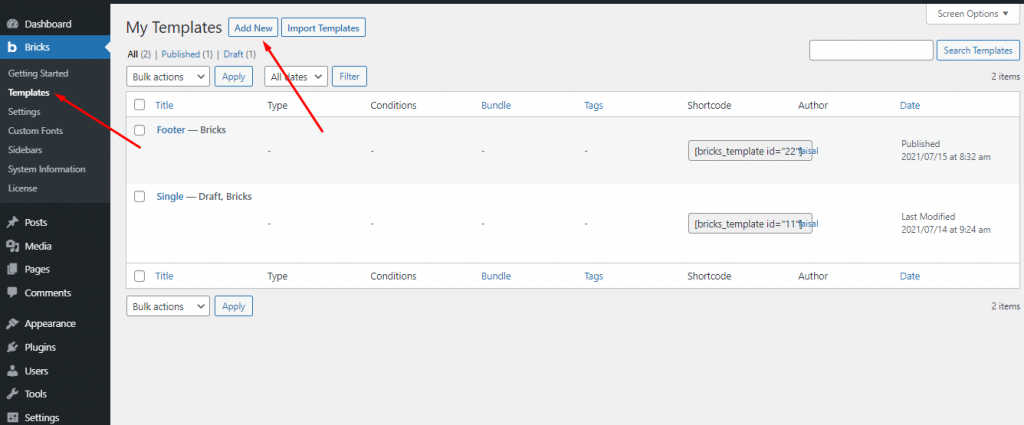 After that, you will have to click on Edit and give the template a name. Select template type from the sidebar and you are good to go for clicking Edit with Bricks. After that, just edit the template just like you would edit a page.

Easy peasy, right?
After our review, If you want to take a taste of how this builder works before you make up your mind to purchase, you can do that as well. There is an option to Try Bricks without purchasing.
Wrapping Up
Bricks is a great builder, no doubt. It seems quite similar to Oxygen builder in the way it operates but lacks in the feature. However, the smoothness of working with this builder is unmatched. We often find page builders a bit slow to respond, but Bricks is always super smooth.
In its early days, it looks really promising with the features and upcoming ones that they promised.
For those who are planning to consider this builder to design their website, it would not be a mistake. It is certainly up there with the top ones and will only be going to improve in the days to come.

https://wphive.com/reviews/bricks-builder-review/
Faisal Sarker
Faisal is a tech blogger who excels at WordPress Content Writing. Apart from sharing useful info pieces that help people around the world, he also likes to travel and read books of all genres in his leisure time.

Subscribe To Our Newsletter