Best WordPress Blogs You Should Follow in 2023

Learning is a lifetime journey. We can't just stop learning at any level of our life. When we talk about technology today, it's a must to keep learning. In the same way, you should follow the best WordPress blogs to keep yourself updated.
Whether you are making blogs or business websites WordPress is the best platform to build your website with. Big brands around the world today also rely on WordPress for their online presence.
So, if you are looking for the resources to learn WordPress to launch and maintain your own WordPress site, you can check our recommended list of the best WordPress blogs. It will help you to get all the WordPress-related tutorials, how-to guides, reviews, news, and more. So, let's get started.
Why You Should Follow The WordPress Blogs


Today WordPress is something you simply can't ignore. As a conscious person, you should care and learn the fundamental things and basics about WordPress. When you're a blogger then you need to do a lot of research, read and follow all the news and views for your own business of writing!
Whatever the needs and purposes you have, today it's a must that you should follow all the news-views & updates about WordPress. And the sources for you are blogs!
Check out some reasons why you should follow the best WordPress blogs.
Knowing WordPress and its core products like Woocommerce
News and updates, reviews and development
Tips, guides, tutorials, and interviews
Creating WordPress blogs and business sites
Backend-frontend development and lead generating
Starting a multivendor marketplace like Amazon
Skill development, learning, and earning
All the tips and tricks about starting a web journey and meeting desired success.
…And many more
15+ Best WordPress Blogs You Should Follow in 2023
There are hundreds and thousands of blogs in the WordPress community. It's really tough for anyone to find out the best WordPress blogs that one can follow. That's why we made a list of the top 15 WordPress blogs for you. Whether you are a user or not, and you are a blogger or the owner of a multivendor marketplace- this post would help you the best.
1. WordPress.org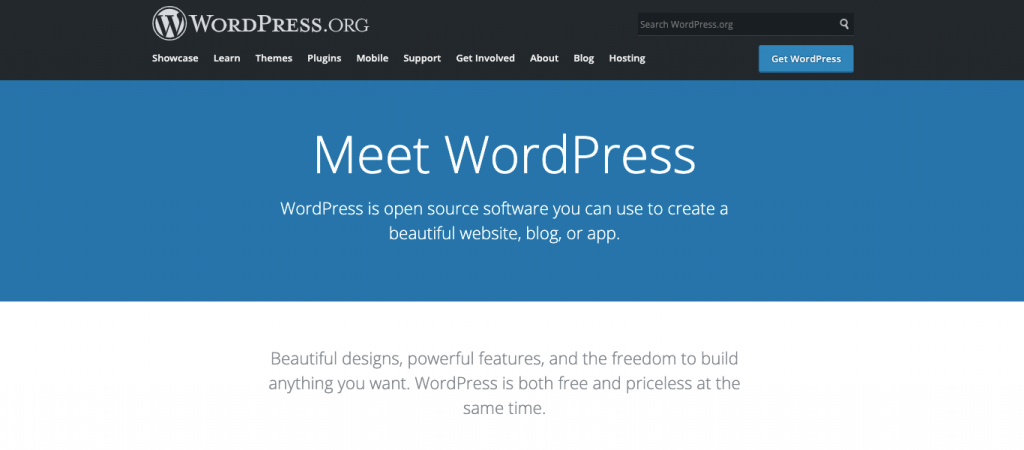 The very first place you should start to follow is with the blog at WordPress.org. This official blog provides you with all the updates on WordPress releases, developments, events, code or other technical changes, and overall community news. Anyone can be surely benefited from the information shared on this blog.
Follow the blog on Twitter@ WordPress.org
2. Yoast SEO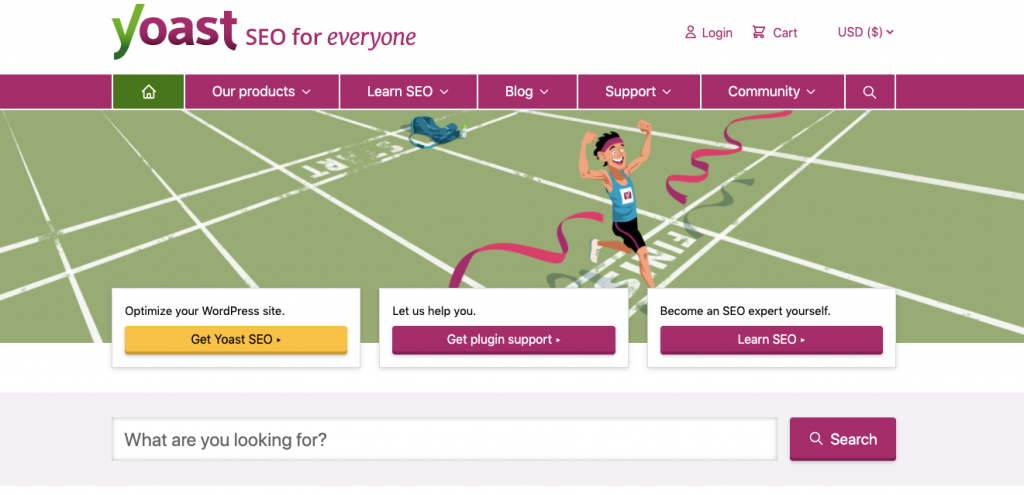 Most of the blogs in the WordPress community deal with the overall outlook of your site, this blog specifically focused on SEO. The blog has tons of visitors every day. New and straggling blogs try to develop their ranking and get better results with the help of this site.
You will find quality content to optimize your WordPress site. This blog also helps by offering optimizing plugins that make your task easier. In short- it's one of the best WordPress blogs to follow.
Follow the blog on Twitter@ Yoast Blog
3. WP Arena
WP Arena is a resourceful website for all WordPress users. They publish tutorials, reviews, comparisons & deals.
You can follow WP Arena to get the latest WordPress news, plugin reviews, theme reviews, and more.
Follow this blog on Twitter @ WP Arena
4. weDevs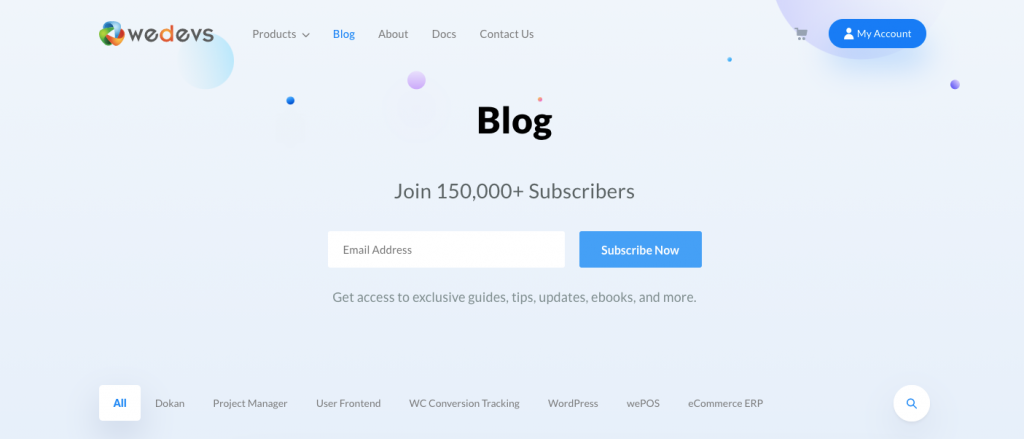 weDevs is a leading plugin-developing and selling organization here in the WordPress community. This official blog by weDevs is mainly aimed to help you with all of your business needs. This blog is a  great place for you to create & manage your own eCommerce store or a multivendor marketplace using WordPress.
You will find tips, tricks, and tutorials that are of course beginner friendly as well as rich in content. weDevs-blog also features all the latest news and updates in WordPress. The site has its own collections of plugins you could check out to start and skyrocket your business.
Follow the blog on Twitter @ weDevs
5. WP Tavern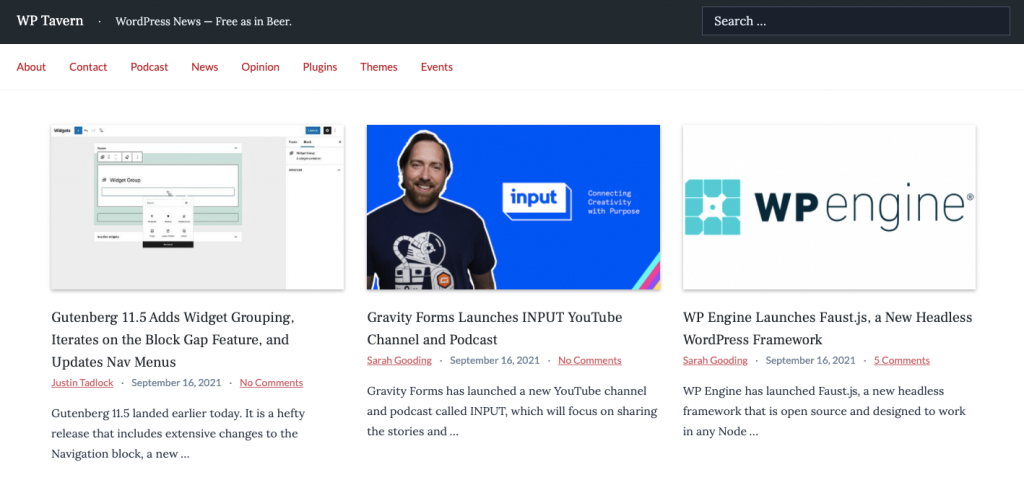 WP Tavern is an amazing platform for anyone in the WordPress industry. You will find and could learn all about how you start, work and manage your WordPress site. WP Tavern features all the latest news as well as a weekly episode dealing with WordPress function-related content.
You will be able to fellow WordPress users to engage in discussions related to your concerned topics. It's an essential feature of this blog It is also one of the top and best WordPress blogs.
Follow the blog on Twitter@ WPTavern
6. WP Hive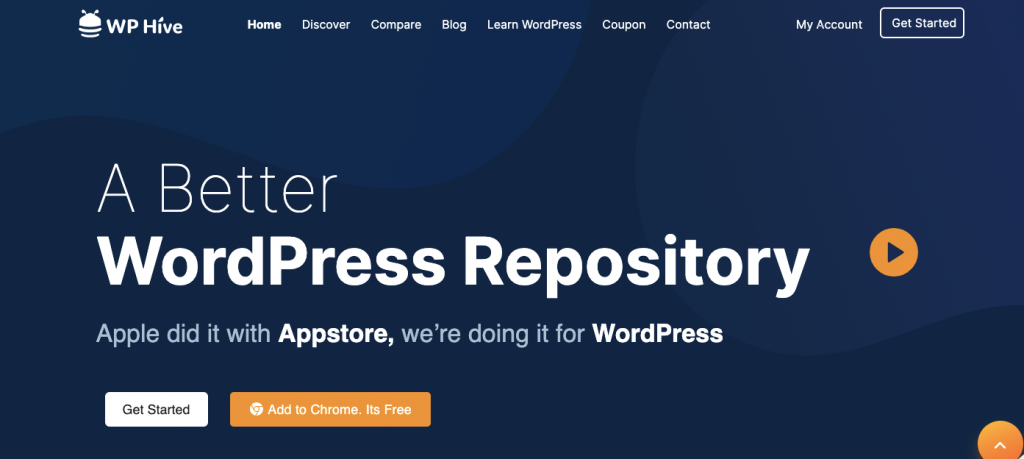 WP Hive is last but not least. It's obviously the same blog where you are reading this post now! We are working to make WordPress more powerful, user-friendly, and popular. Unlike others, WP Hive promises to bring the best quality, original and resourceful content through research.
WP Hive started to feature all about WordPress. Tutorials, how to do guides, tips and tricks, WordPress reviews, news, trends, information and something more!
The blog already has a remarkable number of visitors. Google ranking and audience engagement of the blog are swiftly increasing. Soon it will stand as one of the best WordPress blogs. Keep following!
Follow the blog on Twitter@ WPHive
7. WP Beginner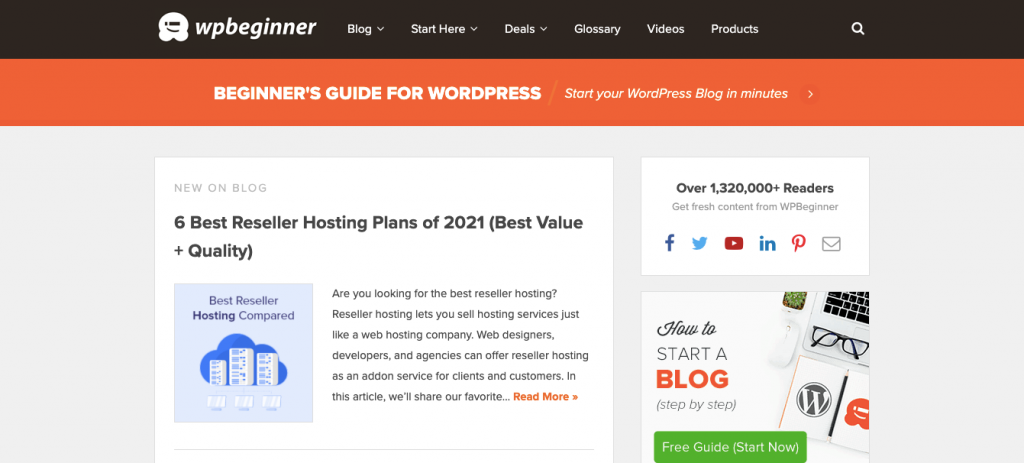 Famous with the name. WPBeginner has almost all types of articles for beginners in a simple, easy-to-understand, and step-by-step way. The blog follows the easiest way to present the solution. Whenever you have an issue, WPBeginner is the place to find a solution! WPBeginner is pretty good for its useful tutorials and guides.
Like its name, WPBeginner features straightforward articles to help novice WP users. Besides, this blog includes a variety of WordPress topics and categories. You can find WordPress news, reviews, themes, plugins, coupons, and deals. Though its main focus is on beginners, it's also very suitable for professionals and experts, as well as bloggers as an inspiration.
Follow the blog on Twitter@ WP Beginner
8. Matt Mullenweg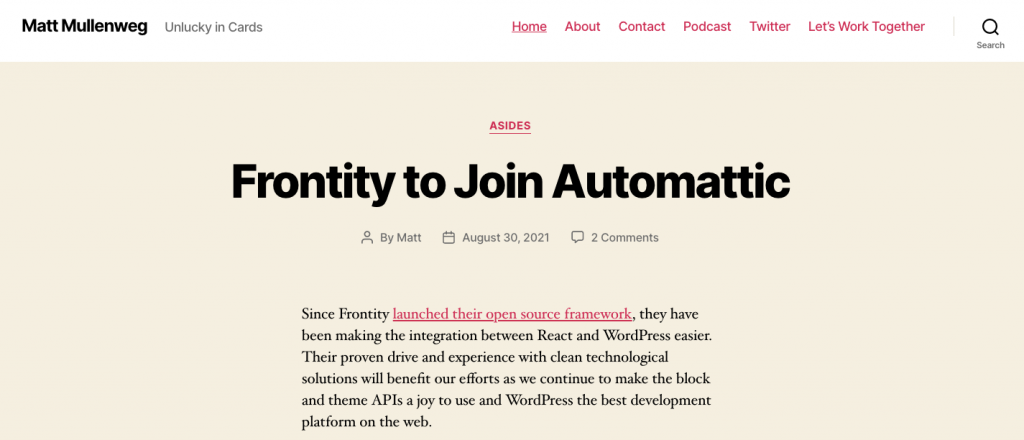 You might already be familiar with the name. Matt Mullenweg is not only the founder of the WordPress platform, but he is the original developer who works on the driving force behind WordPress.com and Automattic.
Matt collects interesting and necessary articles from around the web and shares them on his blog by adding his opinion. This is indeed an excellent opportunity to be connected with the world of WordPress with the excellent experience of knowing Matts and his thinking directly from this blog.
Follow the blog on Twitter@ Matt Mullenweg
9. ManageWP.org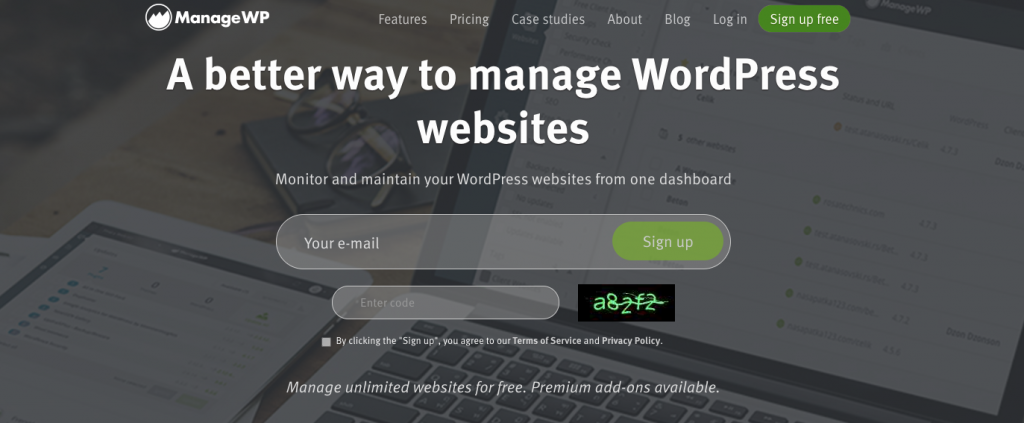 ManageWP.org isn't exactly a blog. And you should remember, it's the .org extension, not .net or .com. ManageWP.org is an aggregator of the recently published best WordPress articles. The best articles tend to make their way to the top across all sorts of different categories by submitting and voting on by its community. ManageWP is a great place to find some of the best WordPress blogs that you may never hear of.
Want to simply catch a picture of what's going on in the WordPress community? ManageWP.org is the best platform for you. It may not be the millions of hits every day, but it's generally going to have fantastic information.
Follow the blog on Twitter@ ManageWP.org
10. WP ERP


WP ERP is the first full-fledged ERP (Enterprise Resource Planning) system through which you can simultaneously manage your WordPress site and business from a single platform. You may have already guessed what types of blogs you will get from this website.
Yes, you're right. You will get all the tutorials related to ERP, HRM, CRM, and Project Management from this site. Moreover, there are a significant number of generic blogs there that will help you to learn more about WordPress.
Follow this blog on Twitter @ WP ERP
11. WooCommerce Official Blog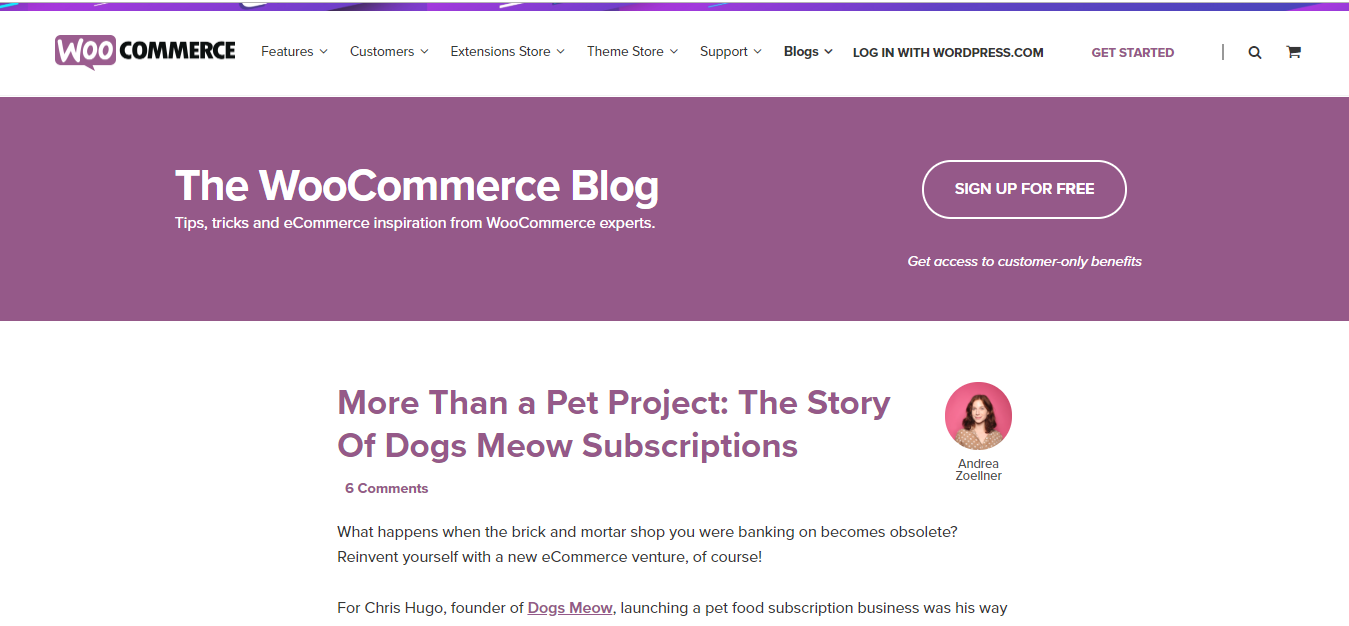 Have you a WordPress business website? You likely use WooCommerce. In that case, you should certainly subscribe to the WooCommerce official blog. If you don't have a business site yet, you too should follow this blog! You will not only get development updates, but this blog will also help you along the way with its guides on anything related to WooCommerce.
You will quickly know what's coming so you could prepare your store and make further changes in your plan.
Follow the blog on Twitter@ Woocommerce
12. Freemius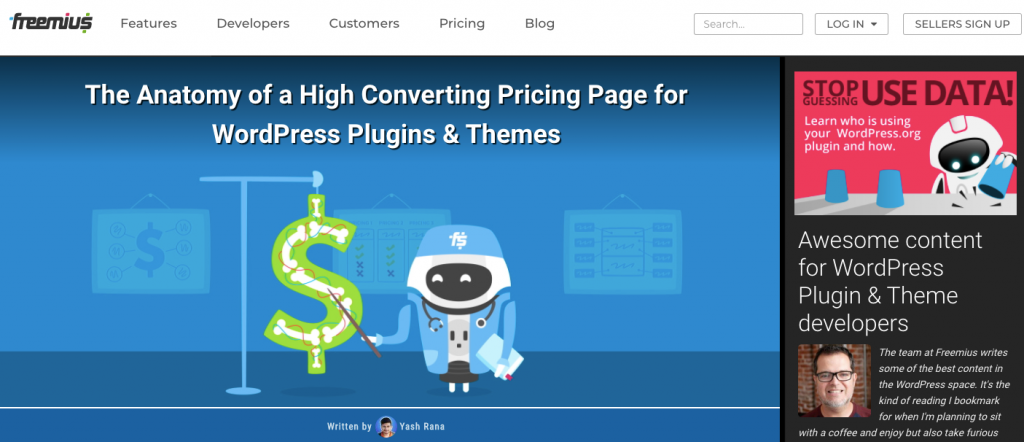 Another amazing website dedicated to providing the very best in WordPress education, insights, and resources. Freemious serves hundreds of thousands of readers every month. With thousands of subscribers, Freemious provides a massive audience with an exclusive look at the beautiful themes, trends, and news around the WordPress community.
Freemius is a details-oriented blog that publishes all of its posts through research with ultimate dedication. Of course, it's one of the best WordPress blogs you should follow.
Follow the blog on Twitter@ Freemious
13. Torque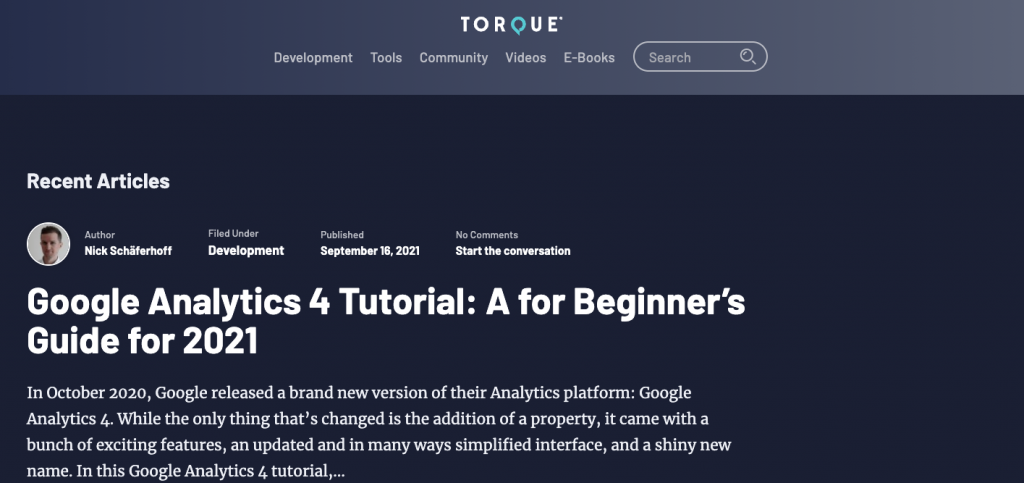 Torque is a news site for all the things about WordPress. Team Torque has been producing content since 2013. It's completely independent in regard to the content. The site also features marketing advice, expert interviews, and some other delightful WP-related information.
Follow the blog on Twitter@ Torque
14. Kinsta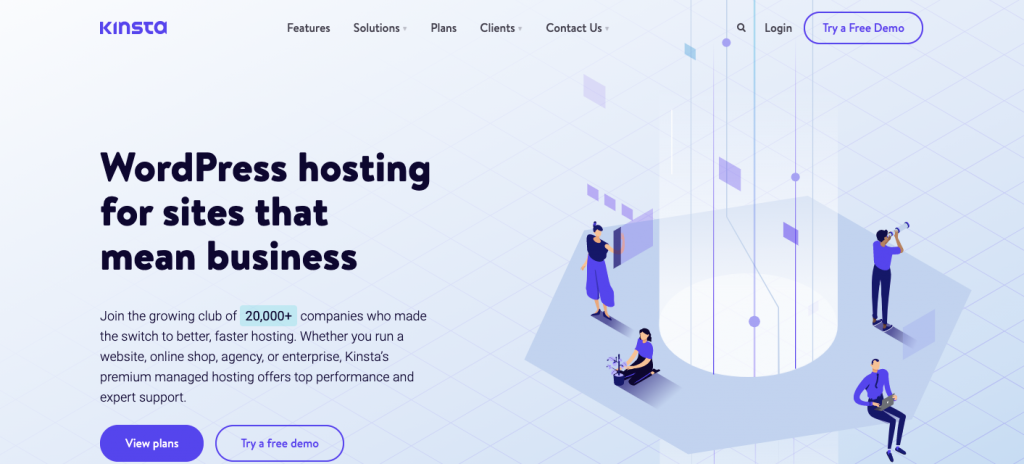 Another managed WordPress host putting out amazing content, Kinsta publishes one of the best WordPress blogs. It contains tips and guides on-
PHP
back-end development
front-end development
plugin awareness
marketing
And even e-commerce.
Kinsta blog published a special series of posts called Kinsta Kingpin. It's a series of interviews with WordPress professionals. It's an outstanding effort by Kinsta. Just go ahead and keep following them
Follow the blog on Twitter@ Kinsta
15. Happy Addons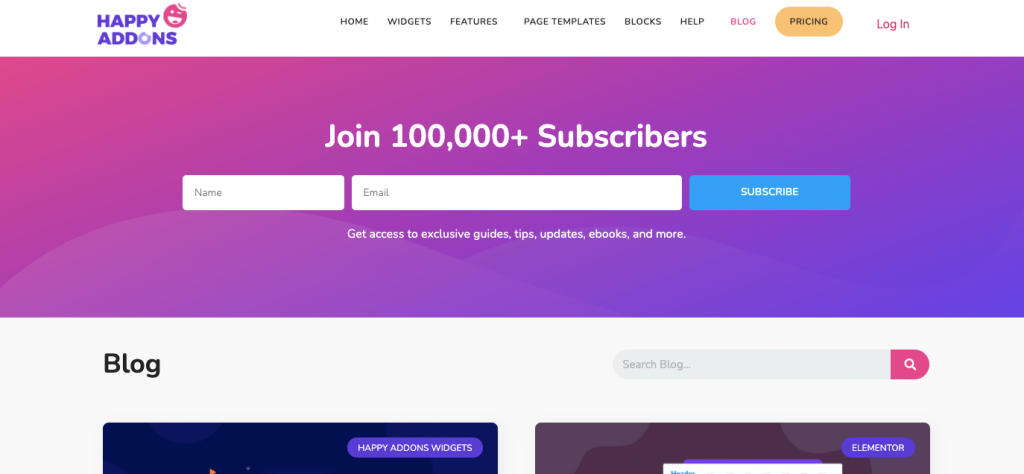 Happy Addons is the official third-party addons of the Elementor page builder. So, if you want to create and launch your own Elementor website, you can visit this website. This site will help you to learn how to create different types of websites from scratch using Elementor and its third-party addons.
Moreover, there are lots of generic WordPress-related blogs that will help you to learn WordPress clearly.
Follow this blog on Twitter @ HappyAddons
16. LearnWoo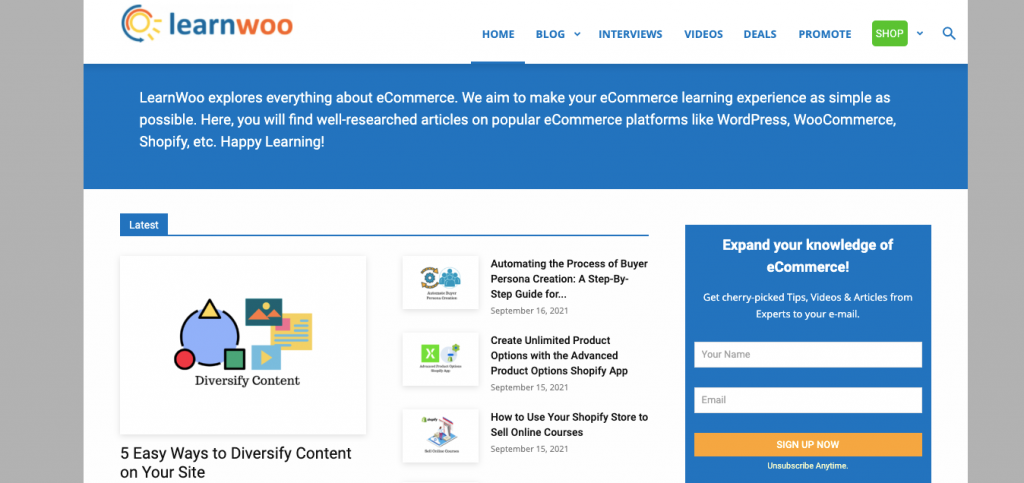 LearnWoo publishes a broad variety of articles on WordPress including detailed reviews, tutorials, and interviews with WordPress professionals. It's primarily focused on WooCommerce and other WordPress tools associated with eCommerce.
It's a great platform for site owners who are looking for some practical suggestions for building and managing a website. LearnWoo has a series of ebooks covering in-depth knowledge of everything you need to know about WordPress and WooCommerce. It's too counted on the list of the best WordPress blogs.
Follow the blog on Twitter@ LearnWoo
17. WPlift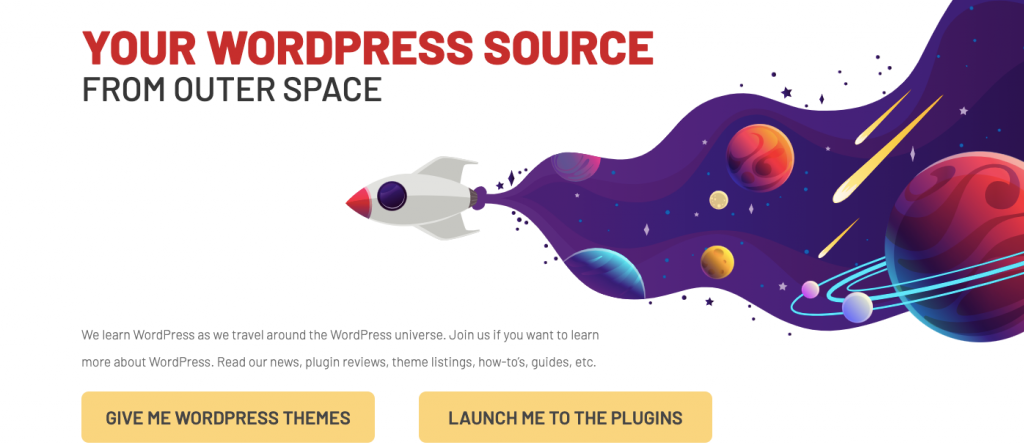 WPLift is a blog that enables you to get a better understanding of how efficiently you can use your WordPress site. You could ensure a quantum leap over your competitors with the help of the guides and tutorials that this site offers.
You will find lots of tutorials that are beginner friendly as well as content-rich. Like other blog sites, this site also features all the latest news and updates in WordPress.
Follow the blog on Twitter@ WPlift
18. WPShout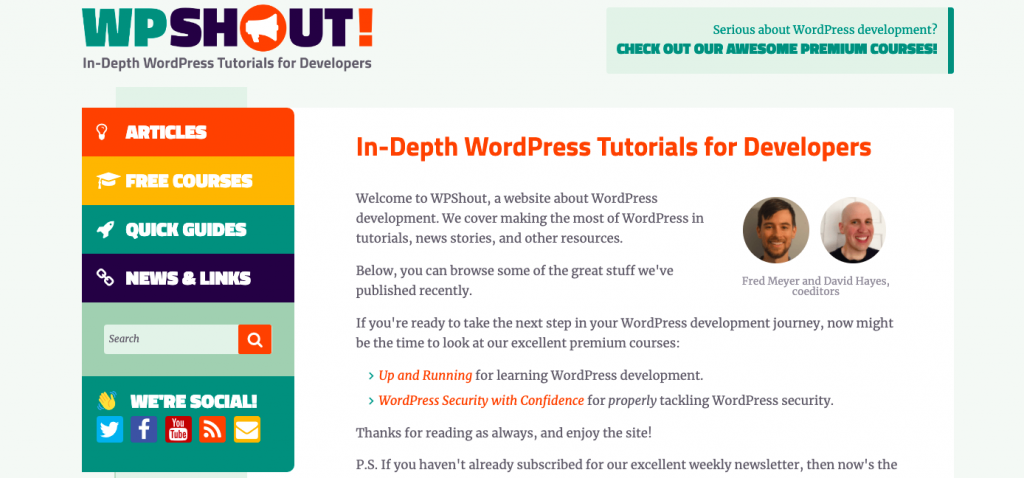 WPShout is one of the best WordPress blogs focusing on developers. The blog has quick guides for different topics, and free courses you can run through, and they are always posting up new articles with goodies that will keep you clicking.
Some of the best posts on WPShout are analysis blogs that provoke thoughts and enable discussion.
This is a great place to discover so much new stuff that you just have to check it out. Of course, This blog too covers all the news and updates about WordPress. It's counted among the best blogs for developers and is also perfect for beginners.
Follow the blog on Twitter@ WPShout
Before Ending
Today learning is the key element of earning. If you ignore the advancement of technology, you could just fall behind. WordPress is the most powerful and popular web platform; you should follow the best WordPress blogs to keep yourself updated.
Check out how to create your own blog site with WordPress within minutes if you haven't already. Moreover, can now create awesome e-Commerce stores using WordPress or a multi-vendor marketplace today with WordPress. Keep following WPHive on Facebook to learn about WordPress every day.


https://wphive.com/articles/best-wordpress-blogs-that-you-should-follow/
Sakil Adnan
Sakil Adnan is an Author, Content Strategist, and Editor. Completed his Graduation in Business & Marketing. Passionate about WordPress, history, religion, and literature. Enjoys exploring new things beyond regular responsibilities. Believes in teamwork and loves empowering team members. Now working as the head of content at weDevs and WPHive.

Subscribe To Our Newsletter