Data-Driven Decision Making with WP Hive: An Easy Guide to Choose the Right WordPress Plugins

How do you choose a plugin for your website? And how do you know if it's the right plugin for you? Without having the proper data of that plugin like the memory size, loading speed, compatibility test, and hand-on reviews, it's tough to determine if it's a perfect plugin for you.
You might find all those information in different sources. But it's time-consuming, sometimes kinda impossible to collect that information from different sources to make data-driven decisions.
WP Hive comes to play exactly this role to provide all those information in one place to choose the right plugin for you. WP Hive has redefined the WordPress Repository that simplifies the plugin selection process for the users with deep insights. It enables WordPress Users to get their required plugins/themes in an optimized yet easy way.
Search, compare, & get all useful data regarding a WordPress plugin becomes easy as pie with WP Hive.
Let's see how WP Hive will help you in data-driven decision making to operate your WordPress site more effectively in real life
Data-Driven Decision Making to Find out the Right WordPress Plugins


Being a part of the WordPress industry for more than 15 years, we always try to approach in a different way. We love to think out of the box. And bring something unique every time that is helpful for both of us and our clients as well. Our main objective is to simplify our user's life and accelerate their workflow significantly.
In this continuity, we introduced WP Hive to upgrade your WordPress experience today.
One of the biggest advantages of using WordPress is it has a large library of useful plugins. Perhaps, you will find plenty of different plugins in every category nowadays. It's an amazing facility for WordPress users undoubtedly. But sometimes it gets really confusing to choose the right plugin from the crowd that can match your needs exactly.
We also faced the same problem several times. And unfortunately, wordpress.org could not help us always with this issue. To pick the perfect one we had to install a lot of plugins individually. And check their memory usage, page loading impact, coding pattern, usability, and others separately. Needless to say, it kills so many hours to have the right product indeed.
That's why we bring WP Hive to simply the entire process. Using WP Hive, you will be able to-
Discover new plugins or the popular ones with relevant filters.
Compare plugins side by side, just like you do for phones.
Test your WordPress themes appropriately.
Have insightful data such as latest PHP version compatibility, PHP error, Javascript error, database footprint, memory usage & more.
Now it requires only a few clicks to discover any particular plugin/theme (without even knowing their names) for a specific purpose. Or compare different plugins from the same category depending on page speed, memory usage, JavaScript issues, activations issues, and more.
Let's see how to use this tool to find the plugins that you actually want.
How WP Hive Helps You to Make Data-Driven Decisions
WP Hive is a platform that judges WordPress plugins by the same standard. So, you can test all WordPress plugins with different metrics and produce actionable data. It helps you to understand the plugin's performance on your site and how a plugin behaves in the backend as well.
1. Search for the Right WordPress Plugin
Simply go to the WP Hive homepage and start searching for the plugin by its name. The searching process is smart enough to assist you in this modern era.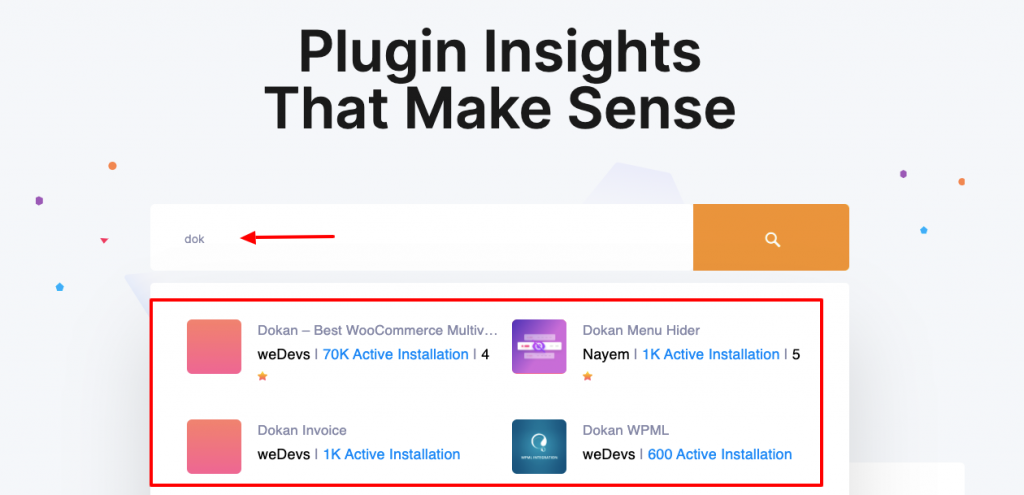 After searching by an individual plugin name you will get a complete overview regarding that particular tool in front of your eyes.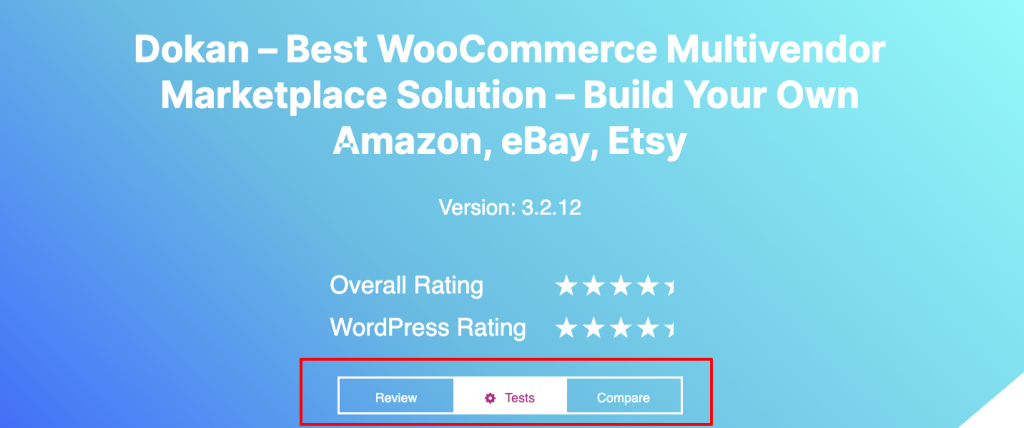 By switching the tabs you can measure a plugin's usability in different parameters.
Dedicated Review Post
First, click on the Review button to get the hands-on review for your searched plugin.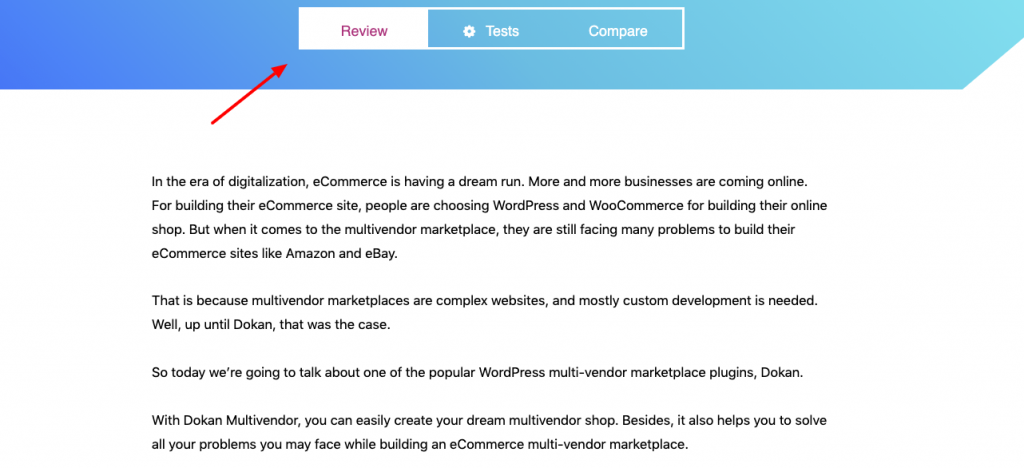 There is a full-fletched review on Dokan plugin, it will appear when you click on the Review button.
Compatibility Test
Now, click on the Test button to get all the necessary information in one place. Here you will get to know if your chosen plugin has any error like memory usage, Javascript issue, latest WordPress version compatibitly, and so on.
Here you will also be able to check the total downloads, active installations, growth rate, and support thread.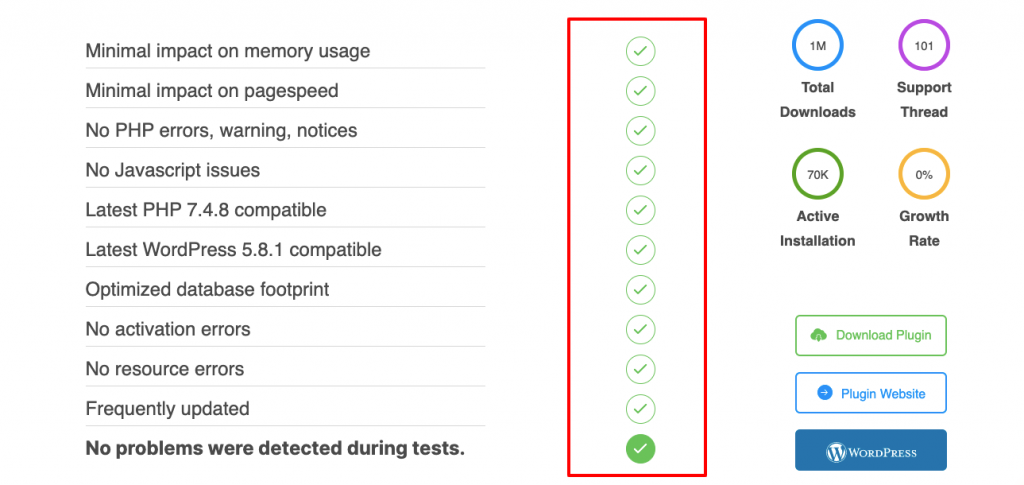 Performance Test
Before choosing a plugin, it's inevitable to check its performance graph. To know your chosen plugin's performance, sroll down a bit from comaptibility section and you will find a section callled Performance. Here you can check the performance of your searched plugin.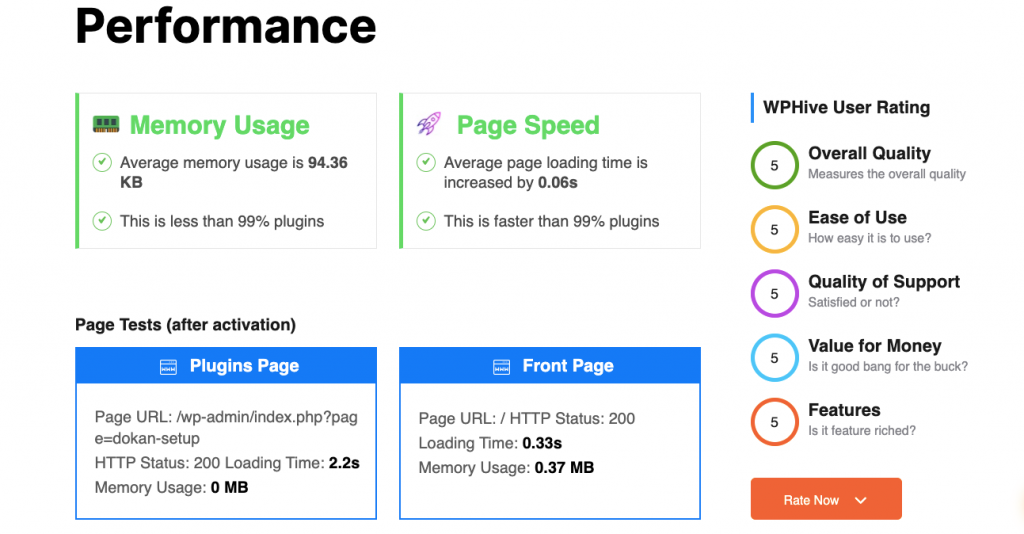 Here you can also rate this plugin as an user.
Speed Test
Here you can check the page speed of each page of your chosen plugin.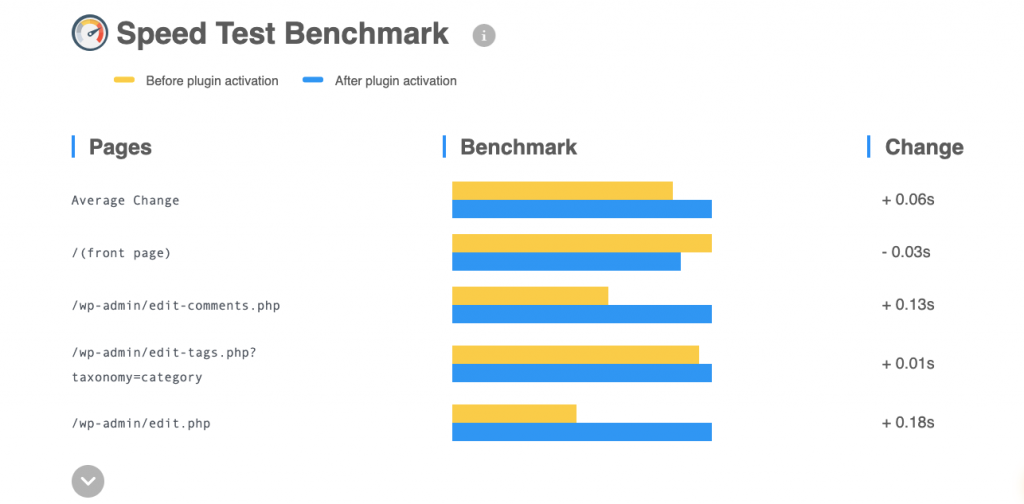 Memory Usage
Things are not over yet! You will also get well elaborative charts on each plugin and its impact on the server's memory.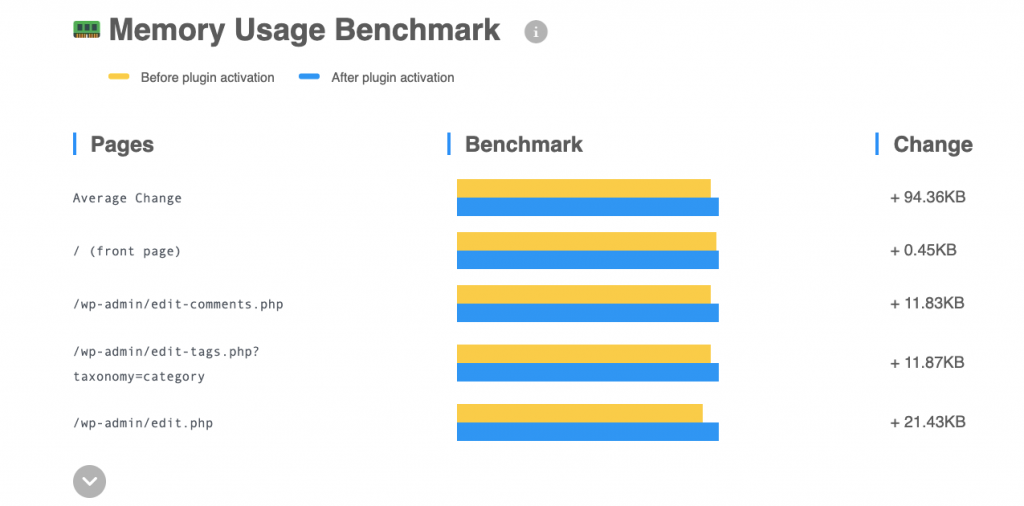 Plugin Stats
This stat will help you to know how many times this plugin is getting downloaded each day.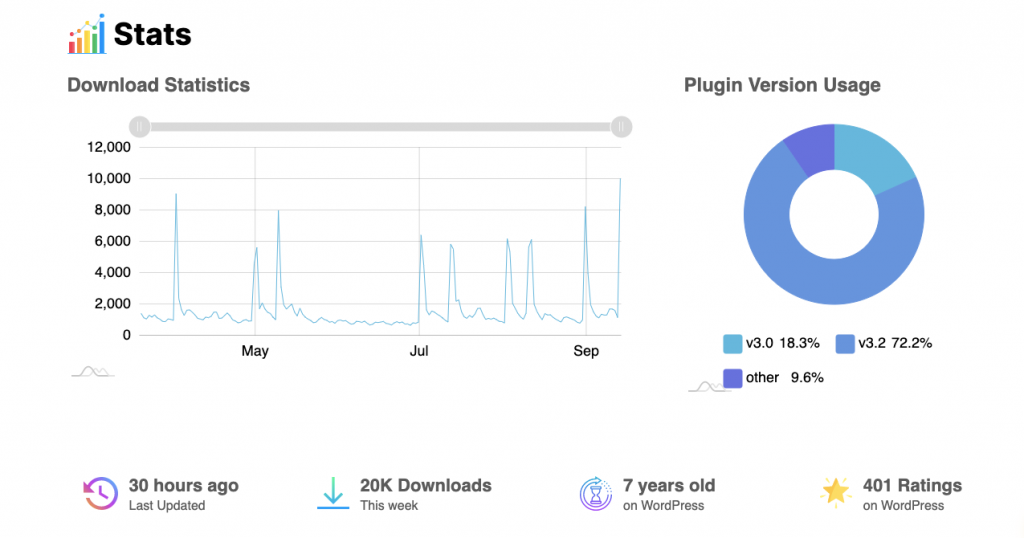 2. Compare Plugins with Detailed Insights
As we have mentioned before, you can compare two WordPress plugins side by side with WP Hive. Same as you do when buying a smartphone. It helps you to overview all the features of different plugins. So that you can decide which one is the perfect match for your needs.
Click on the Compare button or on the Compare option from header to compare between two plugins.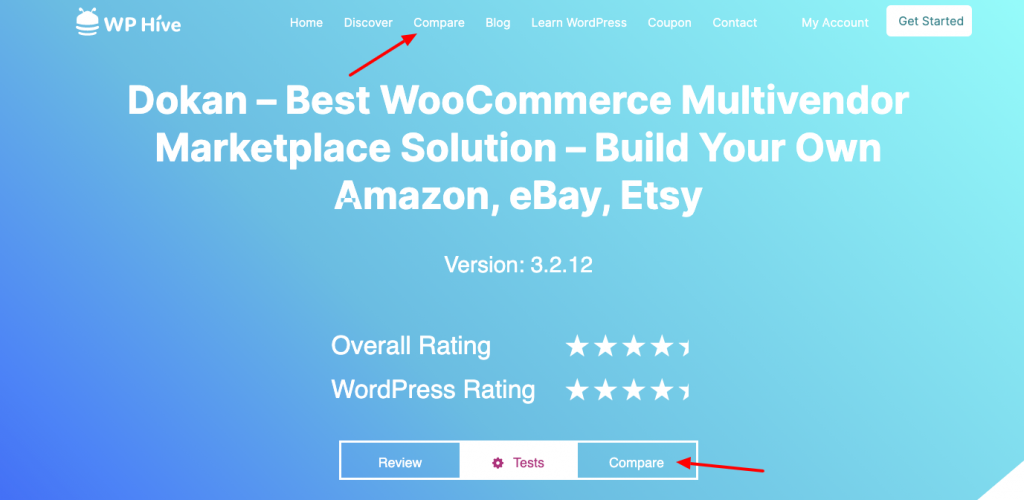 You can compare between any two plugins you want to.
Write the plugins name on the boxes and click on the Compare button to get the result.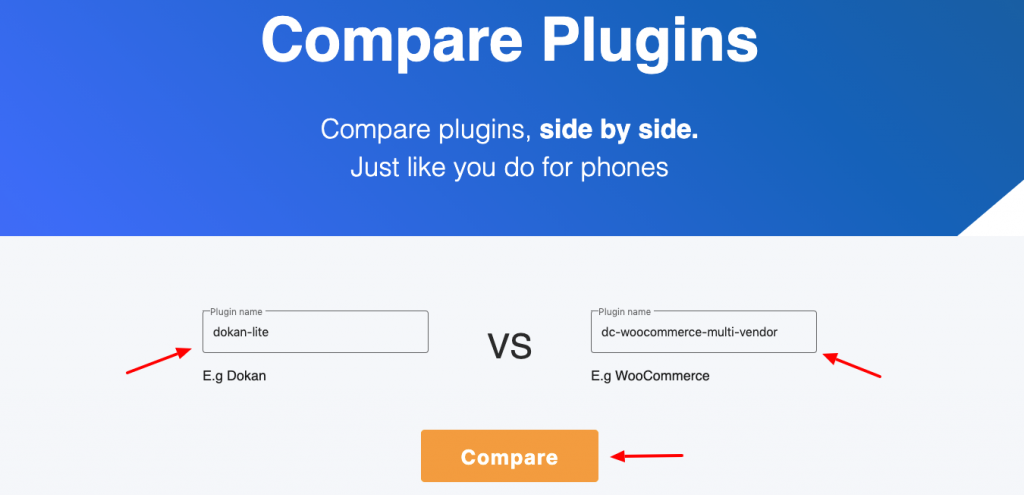 After you input and press the Compare button – WP Hive represents a table-style comparison before you. It will show the difference depending on memory consumption, speed, and a lot of other parameters. We believe it will surely help you to choose the right one between two plugins.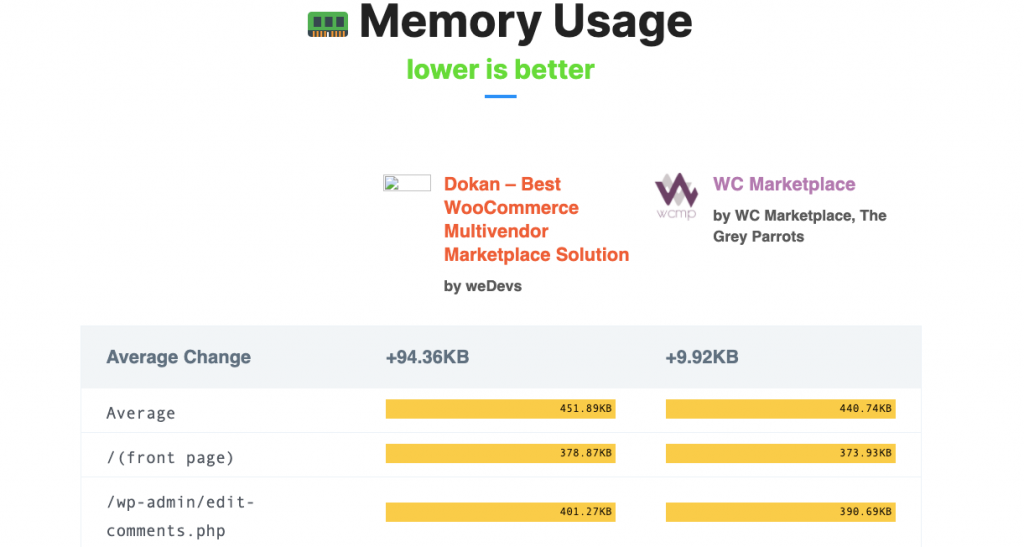 In the compare page, you will get two winner sections. One is calculated by the average memory usage and another is on average page speed impact.
Comparison Table
In this same page, you will find the comaprison table for your chosen two plugins. This table will help you to make your decision fast to choose your preferred plugin.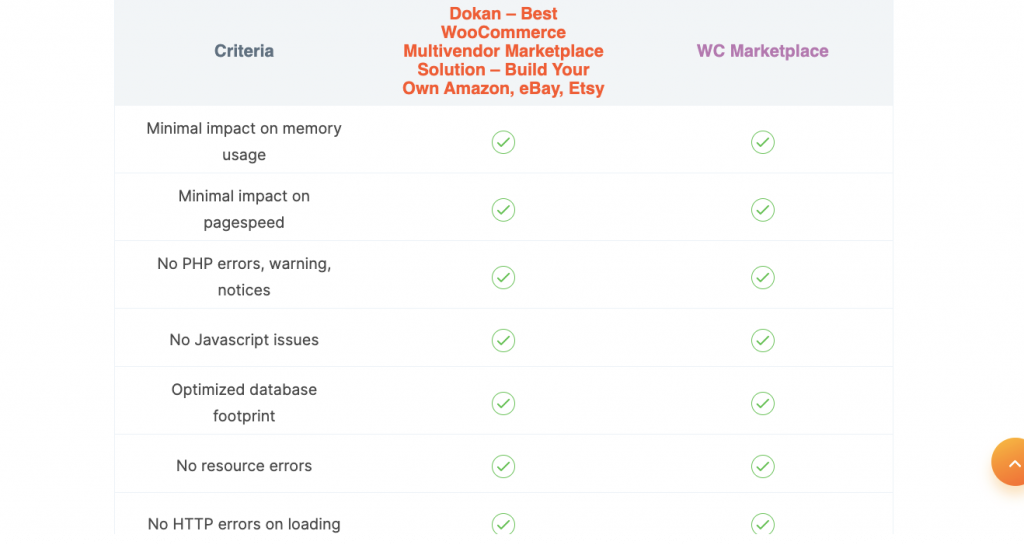 3. Get Data-Driven Decision By Different Metrics
WP Hive comes with the aim to be a better plugin discovery tool.
With WP Hive you can pick the right plugin without even knowing the name of that plugin. That is not possible in WordPress.org. Suppose you need a time tracking tool to manage your remote team. So, how can you find the probable plugin name? The options might be:
Already know the plugin name
Rely on Google Search
Rely on different blog listings
But these techniques are not that much flexible for non-technical persons. WP Hive resolves this issue successfully.
You can search for plugins by their usages. Also, you will get auto-suggestions in the drop-down menu.
Furthermore, you can filter the plugins based on several criteria such as:
Top Rated – This Week
Top Rated – This Month
Most Popular – This Week
Most Popular – This Month
Most Popular – All Time
Moreover, you can find plugins based on their ratings/reviews. This includes all categories.
Hence it's a matter of a few clicks only to get your required WordPress Plugin now. And there is zero possibility for the wrong selection indeed!
Check Your Existing Plugins' Performance with WP Hive
If you have been using WordPress for a long time, then you must have already installed several plugins on your site. However, you can recheck your decision on WP Hive as well. By measuring the characteristics of your used plugins you can probably make some better decisions now. Also, compare them with the latest one to ensure that you are using the best one.
Moreover, some plugins have an immense impact on your site performance. And you get stressed by looking for the reasons haphazardly. But can't end up with any satisfying answer. The day of being in the dark is over. WP Hive spotlights the plugin selection process more realistic and effective at the same time.
Now, you are able to get all plugin insights at your fingertips. No extra hassle for choosing the right plugins for your WordPress site. Besides, find out the right-wrongs of previous decisions in minutes.
Get a Better WordPress Repository with WP Hive
An amazing thing is that most of the innovative ideas we have executed so far pops into our mind while we face any problem in real life. That is the reason, all our products have been proved beneficial for the users. And they always find the products helpful for their business/personal usages.
The idea of WP Hive also came in the same way when we were searching for a minimalistic-looking social sharing button. And we arrange this platform that will surely enhance your WordPress experience largely. It gets a bold new take on the WordPress repository. Search, compare and find your required plugin with all the detailed information.
Apart from this, WP Hive will save your time by providing useful information like page speed, memory usage, JavaScript issues, activations issues, and more. So what are you waiting for? Enjoy better WordPressing from today. And utilize WP Hive to get help in better data-driven decision making.
Still, have some queries? Read the F.A.Q page. Share your feedback in the comment section below!
Follow us on Facebook and Twitter for more fresh WordPress content.
https://wphive.com/articles/wphive-data-driven-decision-making/
Sabirah Islam
Sabirah Islam is a creative content writer who loves to work on diverse topics. She has a deep interest to work with new marketing strategies and different buyer persona. In free times she loves to play with her twin boys.

Subscribe To Our Newsletter