How to Create a $100 Website for Startups?

Have you ever considered giving your startup? If you have entrepreneurship skills, you can always consider giving a startup. If you have a great idea, you can start for as small as $100.
Not other journeys in the world are as rewarding and interesting as the journey of an entrepreneur. You go through failure, get a countless rejection, search for investors – it's an exciting journey but there is nothing more daunting than overcoming your mental gap.
One of the reasons it is hard because there is no one tutorial for succeeding. for startups. Different companies had different strategies that worked for them. Not necessarily following Amazon's business strategy will work for you.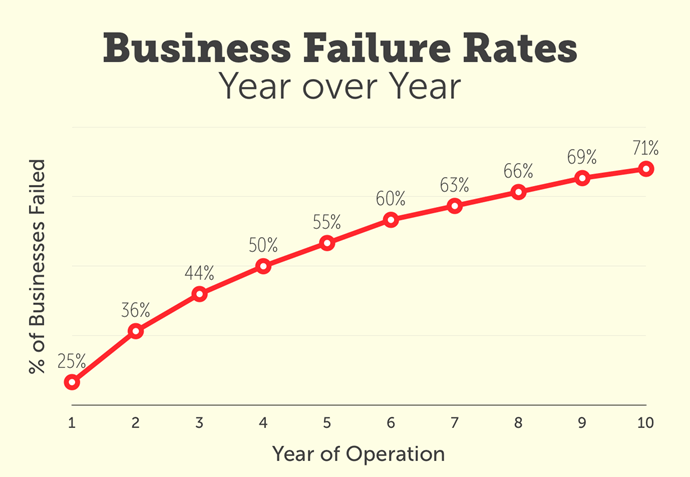 You can see from the data that businesses and startups fail even after 10 years.
Do you remember Pebble? The first company that pioneered the smartwatch? Even after doing business and selling thousands of products, meeting up goals of funding – it could not succeed in the longer run.
You can learn more about why Pebble failed. Business Insider's analysis of Pebble drives deep inside about what went wrong. It's fascinating to find out that even after having great sales and stealing Apple's thunder – the company couldn't survive.
Shane Luke, Former CPO at Recon (acquired by Intel), Director of Product in Nike wearables, on Quora

Why did Pebble fail? There are surely many reasons, but without a doubt, one of the key factors is the evolution of the wrist-worn wearable market. That market matured very fast, and when consumer electronics markets mature, they get spread in two dimensions as the players fight for share, dramatically lowering the price floor, and raising the product bar. Margins then get very skinny, or even negative, for all but a few (usually two) vendors, and sales for products lying between those two axes often dry up. This happened with Jawbone as well, who are looking like they will go insolvent within a year. FitBit and Apple now dominate, with a few Android watches and a smattering of wrist-based activity trackers from other vendors thrown in.
Now whether your startup will be a success or not – you need a website to showcase your product or services.
Creating a Website for Startups
If your startup is on web technology – this article is not for you. You already have the idea of different languages including C#, Python, PHP & frameworks like Laravel, Django, Vue.js and more. But
While creating your website for your future startup, WordPress can be a platform. As an entrepreneur, you want full creative control of your website. WordPress can be the perfect platform for that.
You can read more about WordPress here and know why it's an amazing website builder. WordPress is clearly the winner in CMS and 22% of the top 1 million sites use WordPress.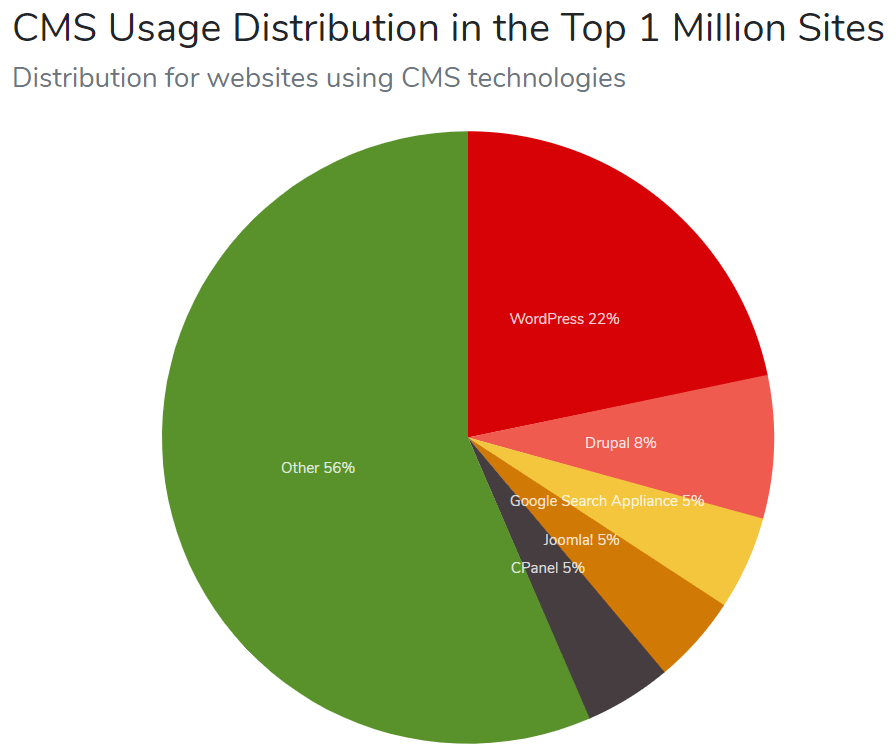 How to Spend Your $100 for Website
Since your budget is short, you have to do a few things yourself. That will save you a few buks.
Buy Your Hosting & Domain (Approx $70/year)
The first thing to do after you are confirmed that you want to create a website, you have to buy domain & hosting. For a new user that might be a bit confusing. But it's really not.
It's like your iCloud or Dropbox account. But your website. Your website lives on the internet and it takes space and computing power. Hosting companies provide that.
One of the most popular web hosting website is Bluehost.  You can host your website at Bluehost and get started really fast. Signing up and creating a website is easy too.
How to Buy Domain & Hosting with Bluehost
First things first. You have to head over to the Bluehost website in a new browser window and click on the green 'Get Started Now' button.
A pricing page will appear where you will have to decide a pricing plan (the website gets updated but the basic user experience should remain the same) for your website.
As you are launching a new website, the basic plan will be just fine for your new website.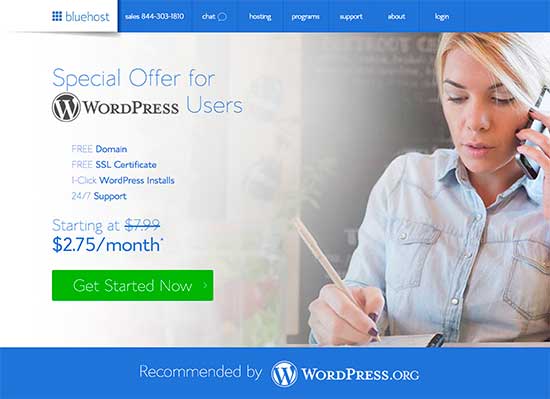 Now you will have to choose the domain name. Domain name is the name of your website. For example, "google.com' is the domain name for Google.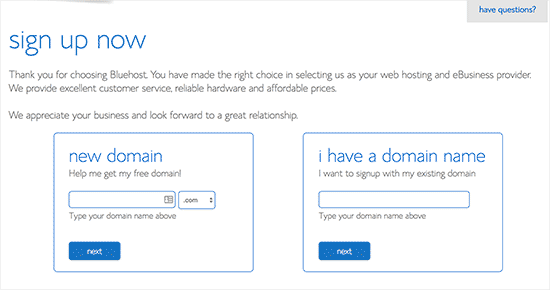 You can brainstorm while choosing your domain. However, choosing a short domain name usually provides you with better brand visibility. As your domain name plays an important for your brand visibility, you should take some time before choosing the domain name.
Here's a nice video that shows how to choose a domain name.
After choosing your domain name, you will have to fill up your account information such as name, address, email, etc.
On this screen, you will also see some extras that Bluehost offers. Usually, you don't need them as your budget is short.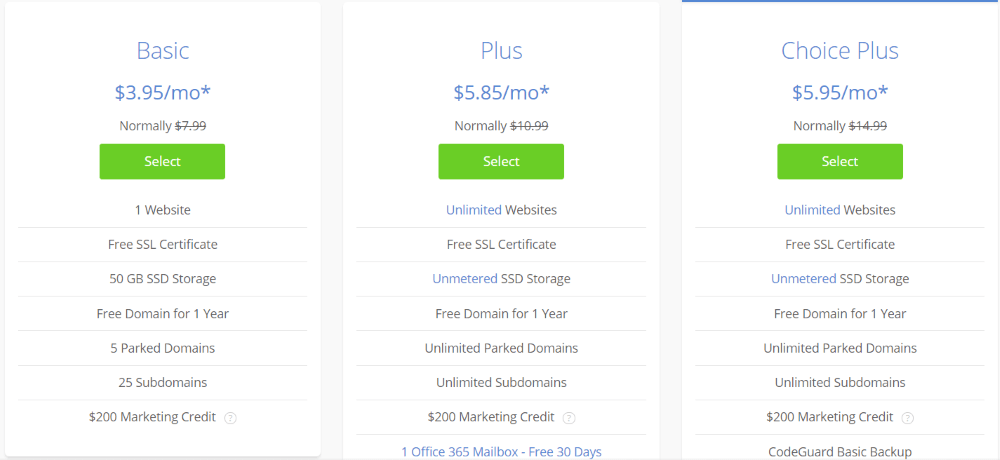 Next, you will add your payment information to finish the purchase.
After completing your purchase, Bluehost will send you an email that contains the details of your web hosting control panel (cPanel).
Step 2. Install WordPress
Bluehost offers a wide range of services. The most important one is the "Install WordPress" icon. You can create a new WordPress website using this feature.
Most of the time, you will not need to tinker with the other icons.
Scroll down to the website section after logging into Bluehost and click on the WordPress icon.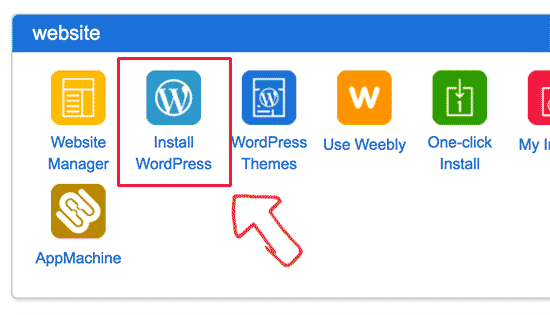 After that, you have to select the domain name and choose the path where you want to install WordPress. You will have to select your domain from the dropdown field and then click Next.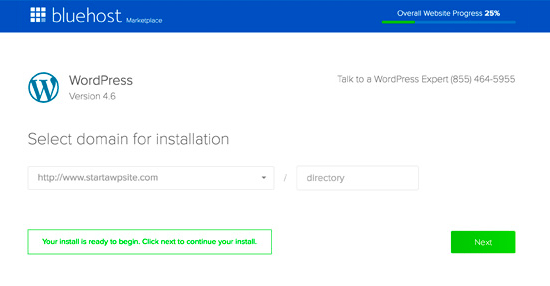 You will have to enter your admin username, a password & website name for your website.
You change the info after creating the site.
It's a good practice to check all the checkboxes. It 'Install' button to continue.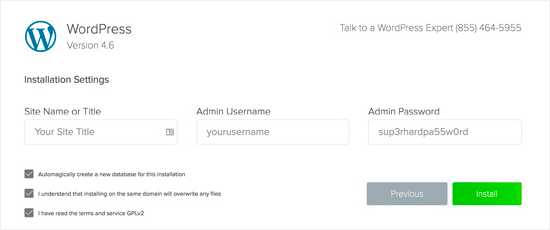 Quick Install will now start installing WordPress on your website. Meanwhile, it will show you some website templates that you can install on your site.
You don't need to do that right now because we'll show you how to find and install free WordPress template on your website later in this guide.
Once the installation is over, you'll see a success message in the top header.

Congratulations! You have created your first WordPress website.
You can now head over to the WordPress login page. Your login URL will look like this: (See how you can login to your Dashboard in 1 link)
http://www.exampledomain.com/wp-admin
You can log in to your WordPress site using the admin username and password you entered earlier. However, if you don't give proper username/password – you will get invalid username error.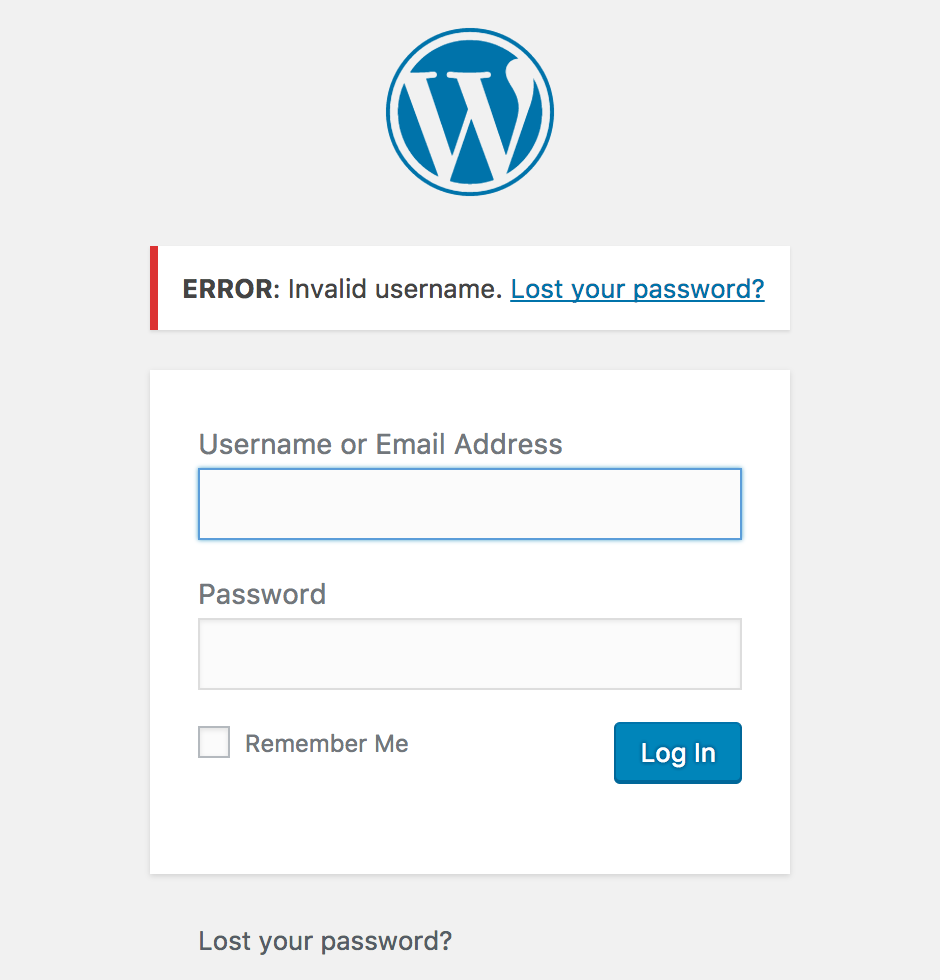 Configure Free Business Email
You have your website ready, that's cool! But how about your business email? Wouldn't it be awesome if you could set up a free business email? Well turns out, you can.
If you want to use your domain's email like [email protected] – you should know that hosting companies do not handle emails well. Do not get me wrong, but hosting companies focus more on hosting your web pages and they do not focus much on how your emails are getting delivered and how the user experience is while sending an email.
Install a Great Theme for Your Website
Your startup needs to look good! You could try searching for thousands of themes at WordPress repository.
WordPress themes are the magic behind the curtain. There are thousands of WordPress themes out there.
We have covered some of the best business themes for you to choose from. You can try any of that.
Install WordPress Plugins for Your Startup
If you have tried searching themes earlier, you should know that there are even more plugins out there. WordPress repository has more than 60K WordPress plugins.
Since you do not have that much time – I have covered the best WordPress plugins and categorized them.
Conclusion
If you have noticed – I have only spent around $70 of my $100 budget. I still have $30 left. Well, if you are smart enough – you can build a fully functional website for startup easily without even spending $100
If you want, you can spend some money on premium plugins/themes. But that is entirely up to you. Nevertheless, do not forget to put efforts on WordPress SEO & WordPress Security
https://wphive.com/business/create-website-for-startups/
Saif Hassan
Product Manager by passion & profession. Lead Product Manager at weDevs, former PM @ Poptin. Passionate about writing & tech. He's an advocate of Human-Centered Design and believes that websites and the tools used to build them should be well crafted, intuitive, and accessible. Cyclist. Reader. A WordPress ninja 🥷, HCI expert & a design thinker 💡

Subscribe To Our Newsletter