How to Login to WordPress Dashboard with 1 Click

WordPress is by far the most popular CMS around the world which currently holds a staggering 27% of the whole web. WordPress is a more popular platform than Wix, Typepad or Tumblr combined. If you ask us, that is quite an achievement. However, it does not matter if you are an WordPress Expert or a newbie, there's a high probability that you tried searching "wordpress login url" or "how to login to wordpress dashboard" in Google. Well, let us fix it once and for all.
How to Login to WordPress Dashboard with 1 Click
Logging to the WordPress Dashboard is one of the easiest things you might come across while working with WordPress. However, you have to login to the site first; Otherwise, you will neither have any control over your website nor your business. Start with entering the URL correctly.
WordPress Dashboard Login Link
Suppose your website name is "beginner.com" There are two ways you can access your WordPress login page.
beginner.com/wp-admin or
beginner.com/wp-login.php
Take a closer look at the last portion. The /wp-admin and /wp-login.php portion are the WordPress Admin login URL. If a website is running WordPress, most like you can access the login page by entering
sitename.com/wp-admin or sitename.com/wp-login.php
Once you enter the WordPress Dashboard by entering the login URL, you will most likely see a new page like this.

The WordPress Admin Dashboard is just one click away. You need to enter your WordPress login credentials in the login screen. You should already have your login credentials ready. Read more about storing login credentials when installing WordPress for the first time.  You have to enter the username you used while opening the site. Suppose your username was "Newone." Then enter "Newone" and the correct password for this username.
Additionally, you can use email instead of username in the first field. For your convenience, you can click on remember me. This will save your time.
Getting WordPress Dashboard in 1 Click
After you successfully log in to your WordPress Dashboard, You should bookmark it for easy access. Press Ctrl+D to bookmark your WordPress Login Dashboard.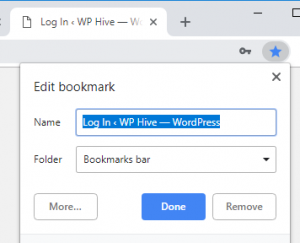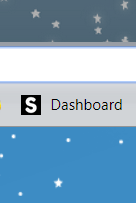 That is it! Your login is complete and made more accessible. You can click the bookmark to Login to WordPress Dashboard with 1 Click. Wasn't that easy? You can start make beautiful websites with WordPress. For inspiration, check out our curated list of 21 Great WordPress built Websites
https://wphive.com/tutorials/how-to-login-to-wordpress-dashboard/
Saif Hassan
Product Manager by passion & profession. Lead Product Manager at weDevs, former PM @ Poptin. Passionate about writing & tech. He's an advocate of Human-Centered Design and believes that websites and the tools used to build them should be well crafted, intuitive, and accessible. Cyclist. Reader. A WordPress ninja 🥷, HCI expert & a design thinker 💡

Subscribe To Our Newsletter