Divi vs Elementor vs Beaver Builder – Best Landing Pages Plugin for WordPress Compared

Lead generation is one of the most effective ways to turn your visitor into customers. Do you want a WordPress landing page plugin that is incredibly easy to use yet creates awesome looking landing pages? You have just come to the right place.
If you want to sell products, grow your eCommerce platform, increase sales, and promote a website or even event – a killer landing page call gives you an excellent head start. In this article, I am going to cover the best WordPress landing page plugins that you can use to start creating trendy and beautiful landing pages.
The most popular free page builder is Elementor with over 430,000 new downloads every week.
We know that WordPress users use WordPress mainly for content management. WordPress beginners are often not a programmer. In these cases, having a WordPress landing page plugin can be a lifesaver.
The most popular free page builder is Elementor with over 430,000 new downloads every week.
Most WordPress landing page plugins provide pre-built layouts and widgets. You can use ready-made templates to build eye-catching and high performing landing pages.
You can use three of the best WordPress page builder plugins for creating your first landing page plugins. By far, Elementor has more than 500,000 clients, beating both Divi and Beaver Builder.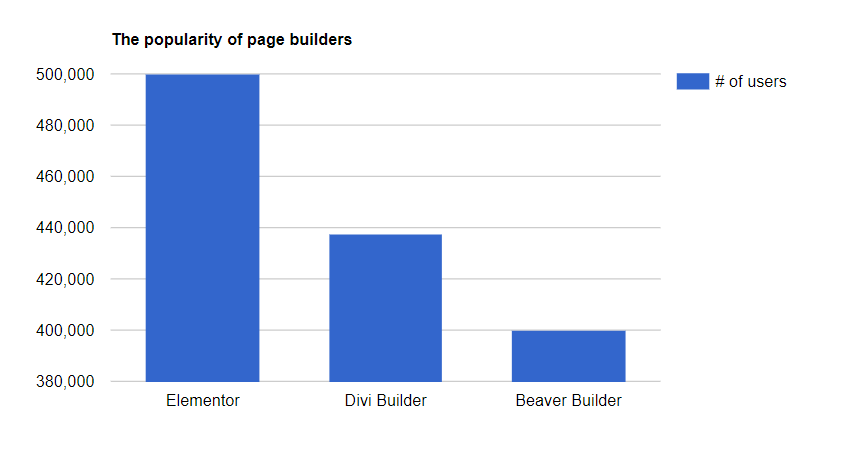 In this post, you'll find the best landing page plugins for WordPress. These plugins will be able to make conversion-focused, engaging marketing pages that you can quickly deploy to increase your conversion rate.
And towards the end of the post, you'll find my top pick, along with a comparison that'll explain which plugins are best depending on your specific needs.
Let's jump right in.
Beaver Builder is an awesome page builder plugin. You can create great looking landing pages by using Beaver Builder.
Using Beaver Builder is straightforward. You can create beautiful, professional pages by just dragging and dropping elements.
Why Choose Beaver Builder?
Beaver Builder works great with all sorts of WordPress Themes. Even if you change themes at any point, your pages will look exactly same. Pages built with Beaver Builder uses its own CSS. Beaver Builder is one of the best landing page plugin for WordPress.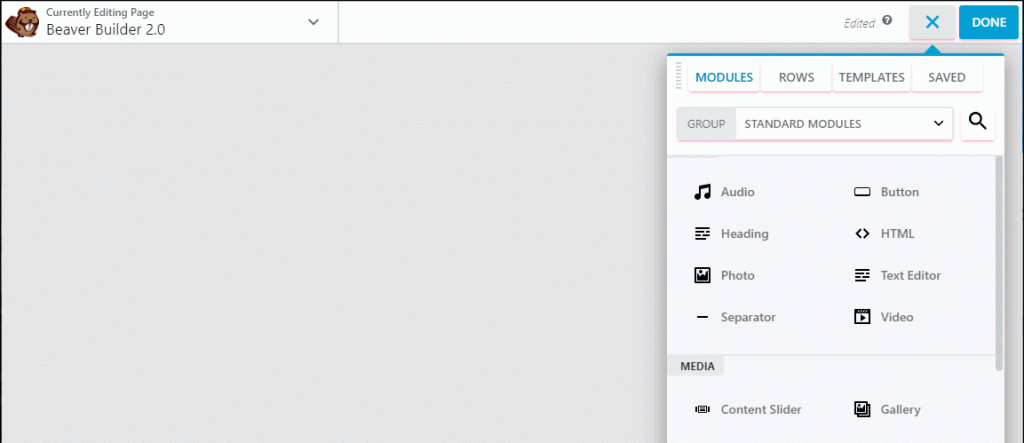 The plugin offers both free and paid version. All pages created with Beaver Builder is responsive and retina screen ready. So they will look great from all screens.
If you decide to stop using the plugin, then your page will be rendered with the default WordPress editor. You will not have to face 404 errors anymore.
Grade: Good.
Pricing: The plugin starts at $99 for unlimited websites and 1 year of support
Review: We found Beaver Builder one of the easy builder/landing page plugin for WordPress. This WordPress page builder plugin is intuitive and fast. The ability to add/remove elements by dragging and dropping works flawlessly. The plugins works fast without any lags even in slow connections.
Having hundreds of ready made templates certainly gives Beaver Builder and edge over other WordPress landing page plugins.
Divi
Divi is not only a WordPress theme, Divi has a dedicated WordPress landing page builder. Unfortunately like other plugins, Divi page builder is not free. It costs around $89/year
You can visually build anything with Divi with its awesome set of built-in widgets and blocks. Divi advertises itself as the ultimate WordPress theme and visual page builder.
Why Choose Divi?
Live When you make any changes to your website, you can see it in live on your website.
Customizable Each element on your page is fully customizable. You can add subscription widgets, sliders, galleries and customize each element with your preference. You can even customize the fonts, colors, spacing. The best thing about each element that you can apply your own CSS through custom CSS. There's no boundary how you can customize it.
Save your elements: You can save your element and use them on other pages too. For example, if you want to show a row with full width background – you can create it once and reuse on other pages just by 1 click.
Grade: Good
Pricing: The plugin starts at $89 for unlimited websites and premium support
Review: We found Divi a bit unique than other landing page plugin for WordPress. This WordPress page builder plugin is intuitive and fast. Having the ability to edit live site is very lucrative. We loved using Divi to build landing pages for our web pages. You can use the demo of Divi before taking a final decision.
Elementor
Elementor is aruably the #1 WordPress page builder plugin right now. People are creating stunning landing pages using Elementor every day.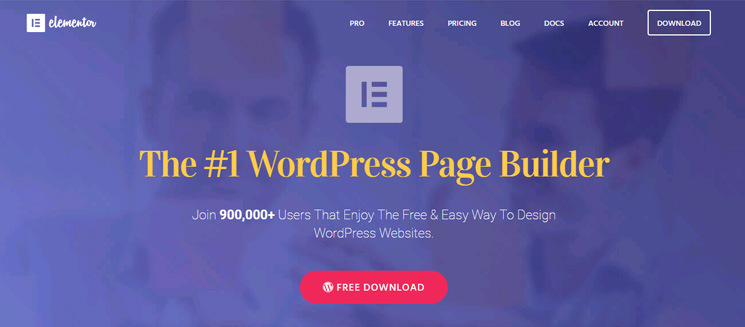 Elementor is the easiest and most popular WordPress landing page plugin.
Why Choose Elementor?
Most used WordPress page builder plugin.
Great support.
Awesome 3rd party addons
Extensibility is far greater than other plugins
Extensive online resources.
Elementor has two main user interface parts.
Left sidebar This where all your elements reside. The left sidebar is sort of a dashboard for all the items you can add to your main page.
The right side: A visual representation how your page will look like to your audience.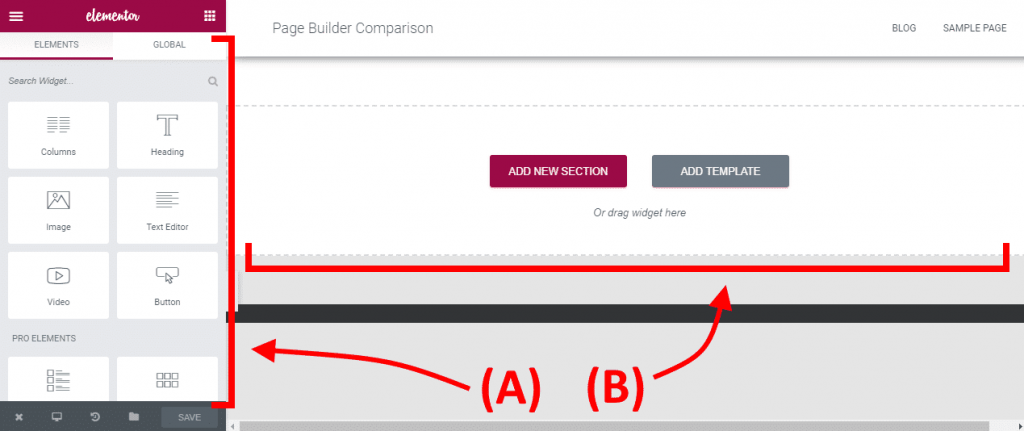 Adding a new element is easy. You can drag elements from left side and drop it on the right side. You will instantly see a live preview of how the element will look after publishing.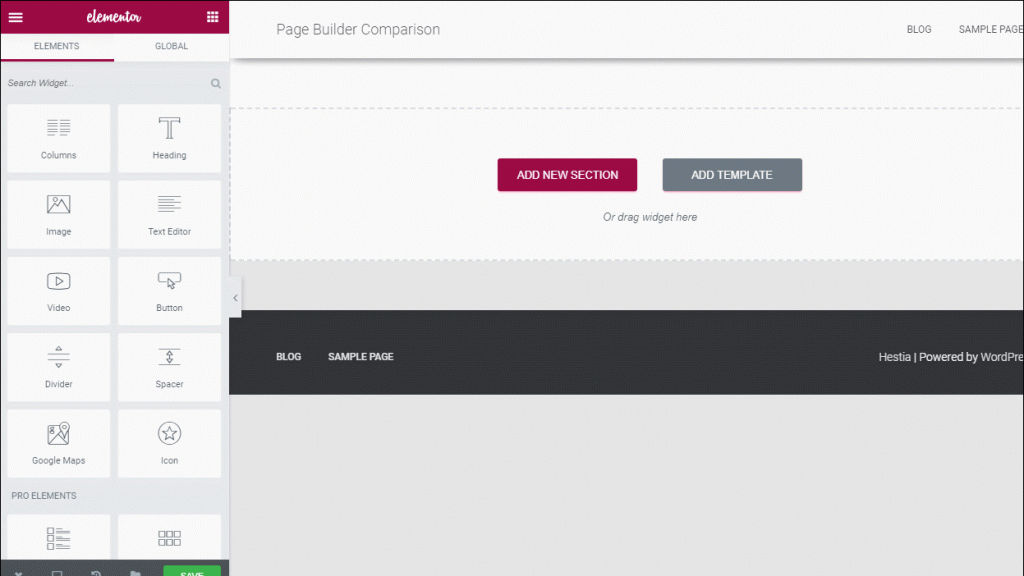 You can add new sections using the Add New Section button:
You can edit the contents by clicking on them. The left sidebar changes according to your selected element.
Elementor has more than 300 beautifully premade templates. You can build landing pages for any topic including photography. product sales, WooCommerce platform, and services.
Importing a template only takes a few clicks. After that, you can edit those templates and customize them on your own.
Grade: Best.
Pricing: The plugin starts at $49 for unlimited websites and 1 year of support
Review: We found Elementor the best landing page builder plugin in the WordPress community. Elementor has thousands of addons to choose from. You can find specific Elementor addons for specific purposes. You can check our coverage of the best Elementor addons [90+ Best Elementor Addons Collection] to find your preferred Elementor addon.
Wrap Up
Page builder plugins have been taking over the WordPress default editor for some time. That is why WordPress introduced its own block based editor known as Gutenberg. Although, comparing Elementor and other page builder plugin, Gutenberg is really new and does not have enough features.
Every landing page plugin plays nice your site's SEO. Do not forget to check our WordPress SEO Guide to give your site an extra boost in search engines.
https://wphive.com/reviews/best-landing-pages-plugin-for-wordpress/
Saif Hassan
Product Manager by passion & profession. Lead Product Manager at weDevs, former PM @ Poptin. Passionate about writing & tech. He's an advocate of Human-Centered Design and believes that websites and the tools used to build them should be well crafted, intuitive, and accessible. Cyclist. Reader. A WordPress ninja 🥷, HCI expert & a design thinker 💡

Subscribe To Our Newsletter