WordPress 5.0 Review: What's New? Should You Upgrade or Wait?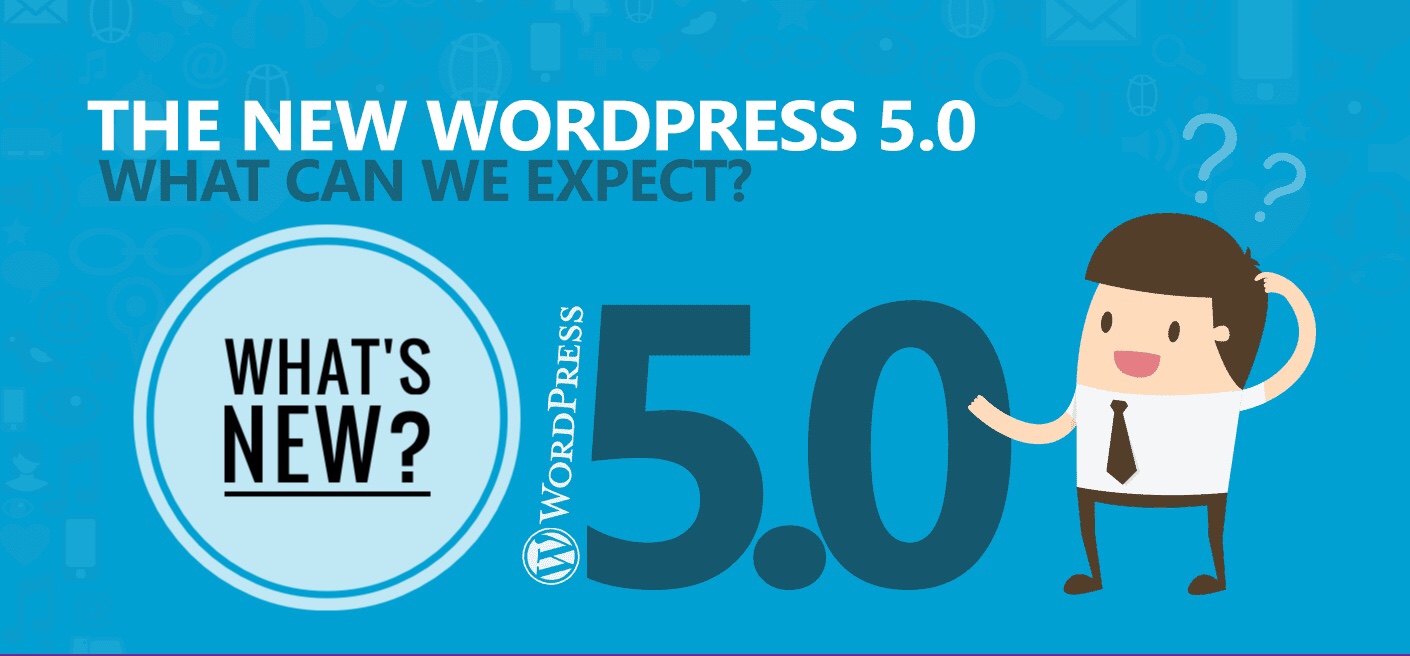 Guys, it's happening. Finally, WordPress 5.0 is live for everyone. You might be wondering "What's new in WordPress 5?". Well, there are a lot of new features.
WordPress 5.0 'Bebo' Official tweet
WordPress is the most popular and most used website builder out there. WordPress is going through some major changes. Gutenberg is the future of WordPress, and it is releasing today on 6th of December 2018. it replaces the classic WordPress editor with a new block-based visual user interface. WordPress creator, Matt Mullenweg announced WordPress 5.0 plans back in October.
Gutenberg brings a complete makeover to the traditional WordPress classic editor, known and used by all today. Matt tweeted about the "sitting back and watching the download counter"
What is Gutenberg WordPress Editor? What's New in WordPress 5?
Gutenberg is the new editor that aims to replace the classical TinyMCE editor that has been used in WordPress so long. Gutenberg is a client-side interface built up from the ground up with React JS Library. It uses a block-based system for content creation.
Source: gutenbergtimes.com
Matt's Post on Gutenberg We Called it Gutenberg for a Reason explains why Gutenberg is a big deal for everyone including theme developers, core developers, plugins developers, and users.
Theme developers will not need to bundle other plugins and page builders like Elementor from now on. They can build blocks for Gutenberg and users can use the blocks to create beautiful pages.

Core developers will be able to work in modern technologies and not worry about 15 years of backwards compatibility. We'll be able to simplify how menus, widgets, and the editor work to use a common set of code and concepts. The interface will be instantly responsive.
WordPress 5.0 Release Schedule
WordPress 5.0 was supposed to follow the following release schedule. However, due to several setbacks, WordPress 5.0 was pushed back to December 6, 2018. The WordPress team proudly unveiled the new version of WordPress at WordCamp, US 2018.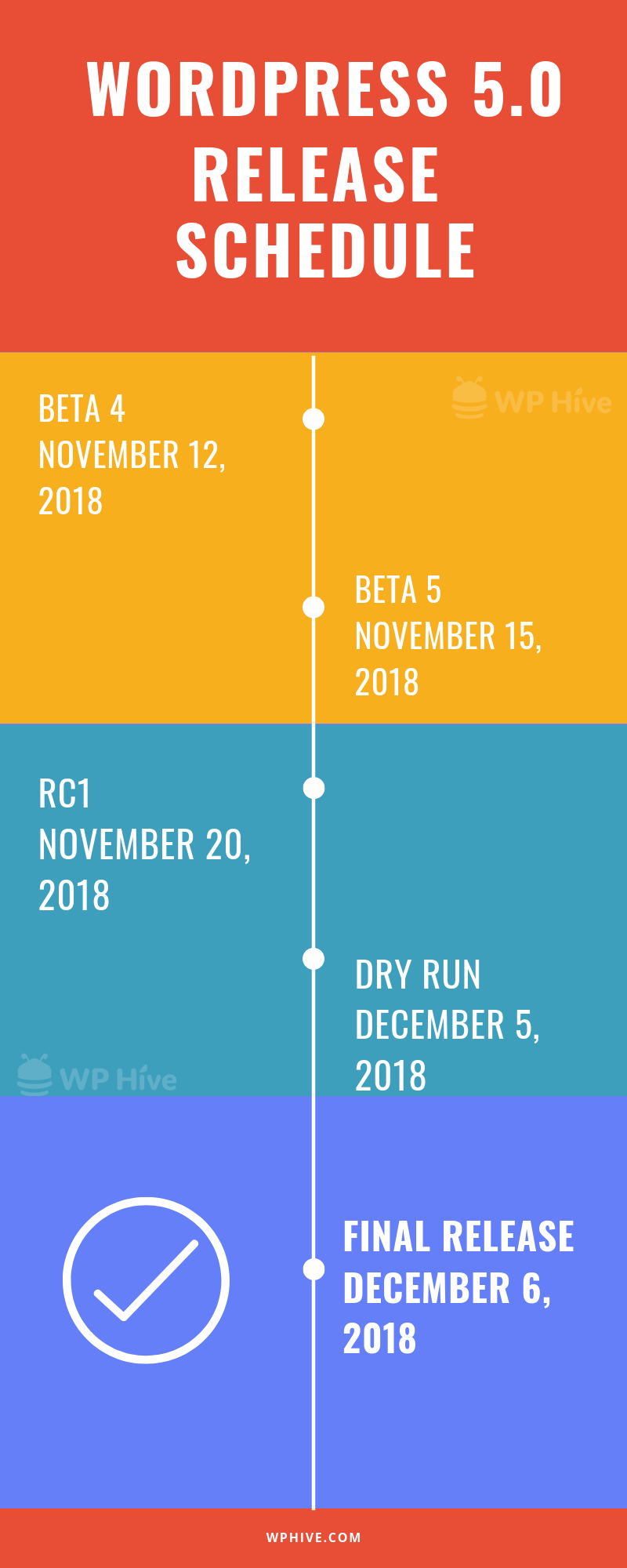 How to Install Gutenberg?
You can try Gutenberg right now by installing the Gutenberg plugin. If you do not know how to install a plugin, please refer to How to install a plugin? Step by Step for Beginners tutorial. After activating Gutenberg, if you go to edit a post, you will be greeted with a brand new, sleek WordPress editor.
WordPress 5.0 Gutenberg New Features
Gutenberg adds a completely new editing experience to your WordPress website.
Gutenberg has much more writing space the classic editor has. However, one major flaw is that you do not get a continuous "writing first" space as the writing space are now defined by blocks. Gutenberg ditches TinyMCE Toolbar and now it iss now replaced with a drop-down menu. When you click on the "Insert" button, it will add new paragraph blocks.
What's new in WordPress 5?
Matt Mullenweg had to say the following about WordPress 5
"What we're trying to do is shift it so that you only have to learn about blocks once, and once you learn about the image block, that can be in a post, in a sidebar, in a page, in a custom post type, and it will work the same way. Whatever is integrated with it, let's say a plugin that brings in your Google Photos or your Dropbox, that will now work everywhere, too." — Matt Mullenweg
There are a few new block additions we thought were pretty cool.
What's New in WordPress 5.0?
Although the focus is on Gutenberg, WordPress 5 adds a new theme named "Twenty Nineteen". The theme is fully supported by Gutenberg.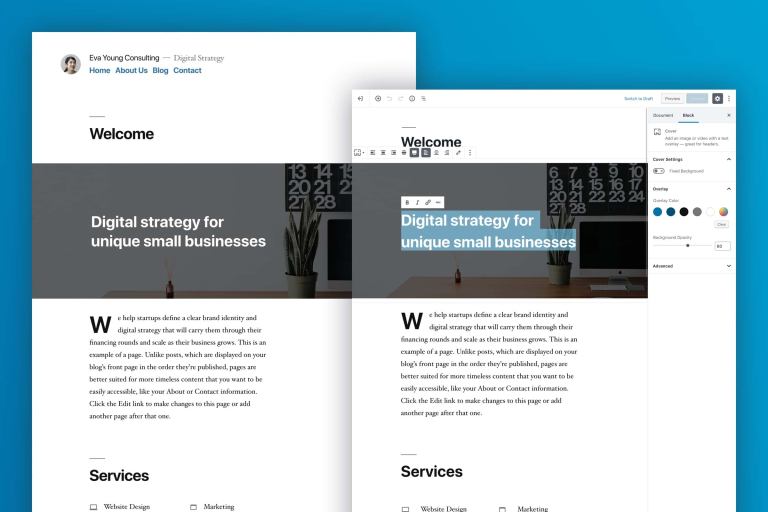 WordPress 5.0 Adds Table Block and Text Column Block
Tables are much easier to add now as you can add them as blocks within the Gutenberg editor. Previously you had to use a 3rd party plugin or HTML code. However, now you can add tables from the visual editor.

Gutenberg has also added the facility to add responsive text column blocks, which is pretty neat! Now, you can decide between a 2, 3, and 4 column layout.

Live HTML Block
Gutenberg has also a new feature, naming live HTML block. You can add your code and then see a preview of that HTML code right within the block. This is an excellent idea and might stop some of us from having to switch between the visual editor and text editor.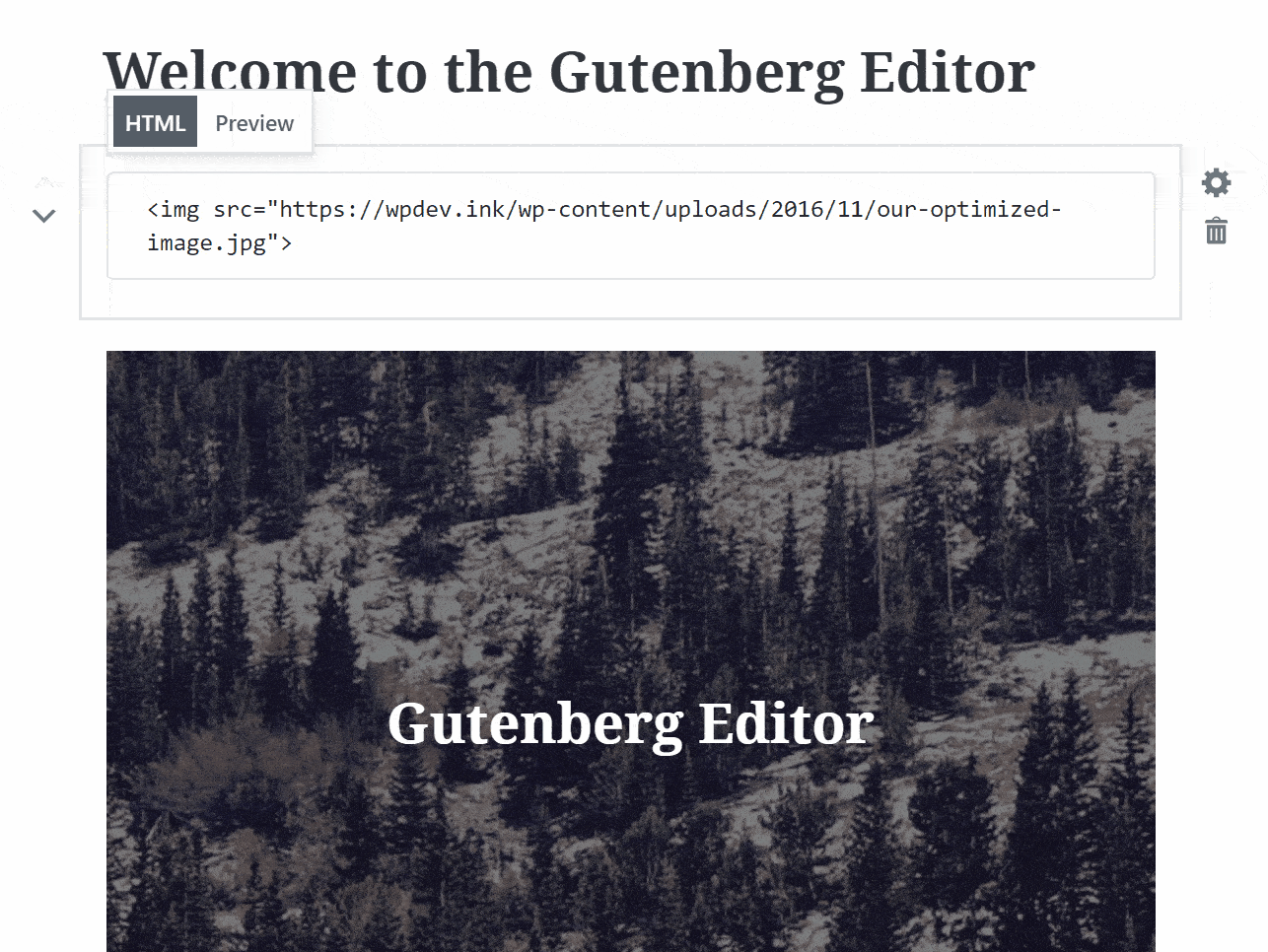 Drag and Drop Images
You can now drag and drop new directly to your post via an image block like before.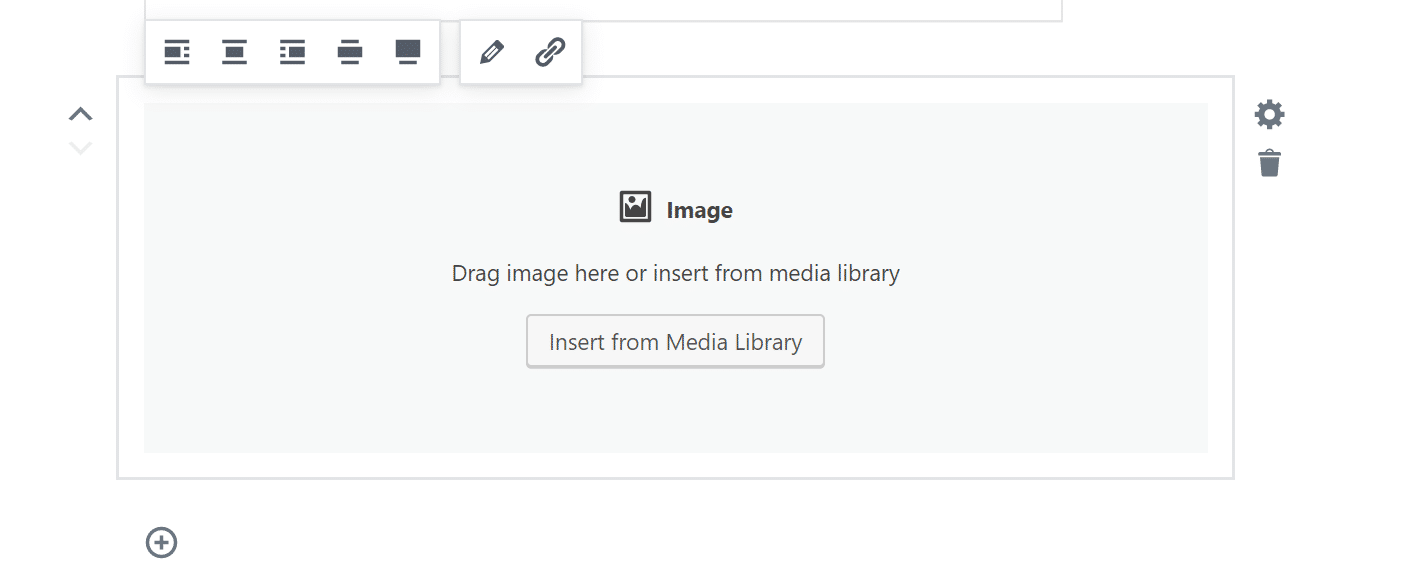 You can add custom CSS classes to individual blocks.
Recent Blocks in WordPress 5.0 Gutenberg
One of the new blocks is Recent Blocks. Recent Blocks shows a list of your most recent blocks so you can quickly add them.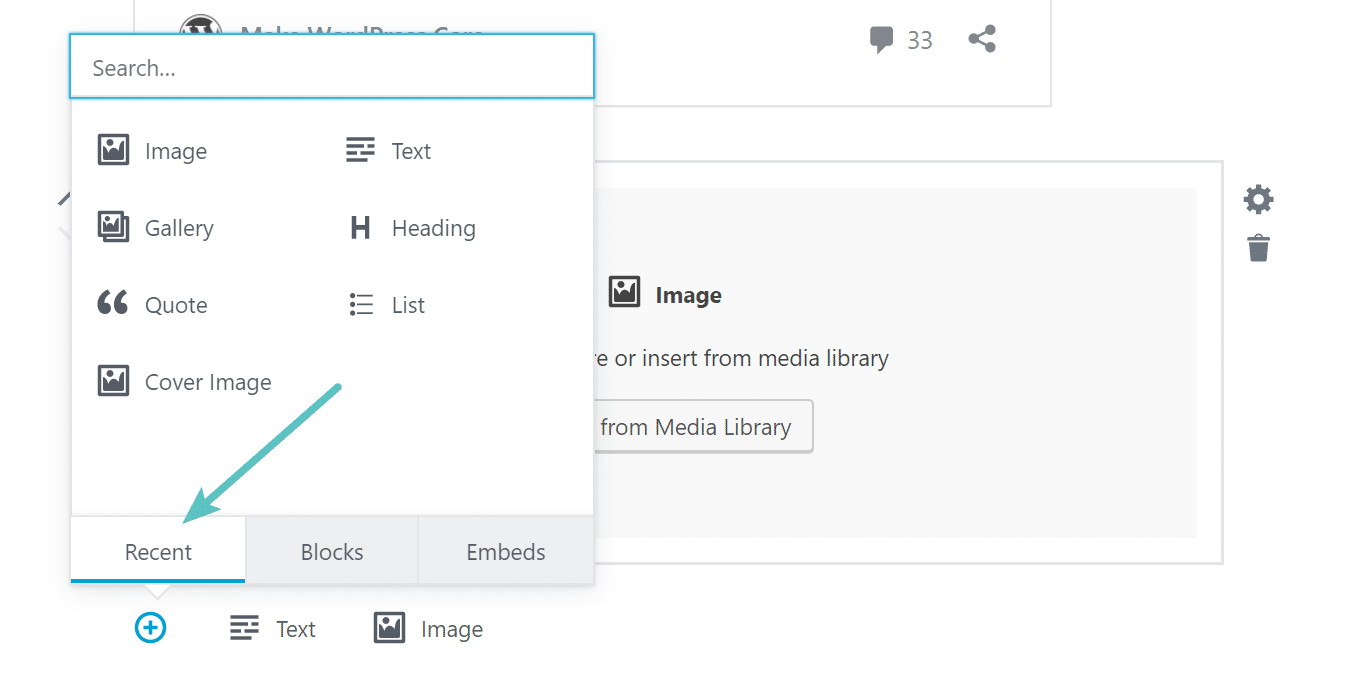 New WordPress 5.0 Feature Adds the Ability of Custom CSS class

Slash Autocomplete
A handy feature is slashed autocompleting. You type slash and Gutenberg will suggest commands. Having the option to use the keyboard is always welcome.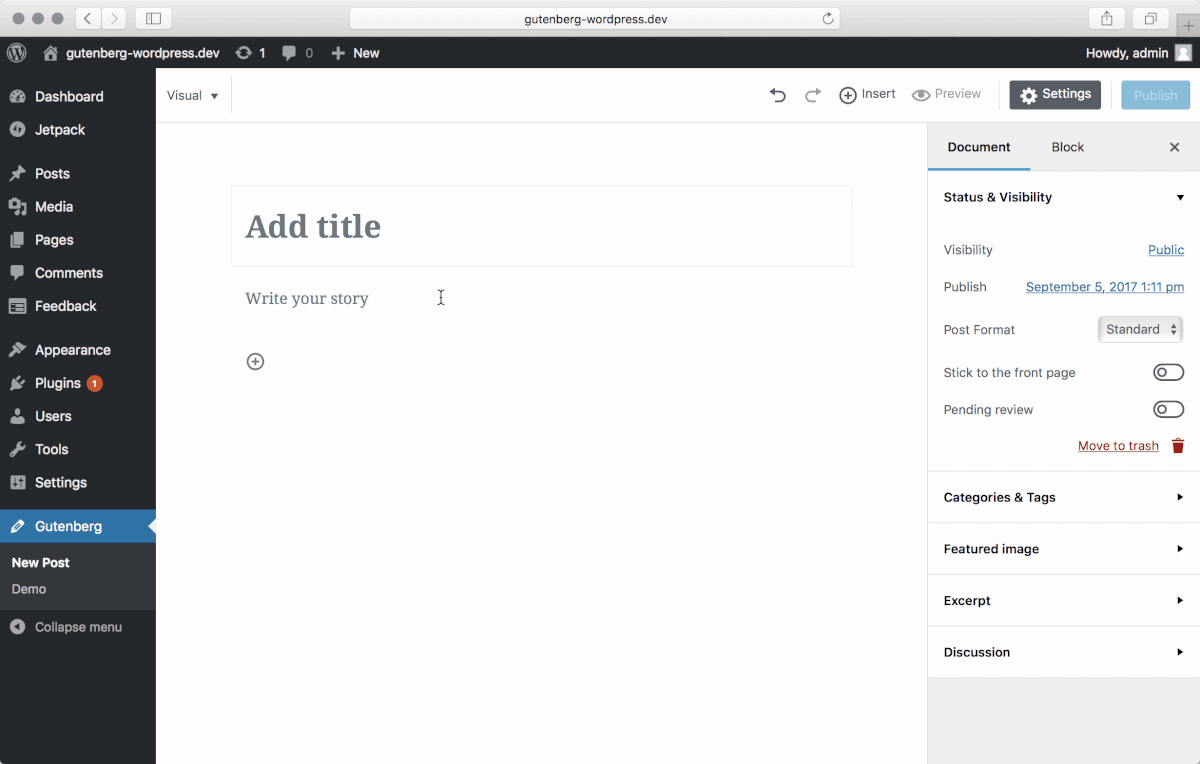 Gutenberg autocomplete (Img src: WordPress.org)
Cover Text Options
Gutenberg added some new visual styles and options for cover text. You can quickly change the font size, make it into a Drop Cap, and alter the color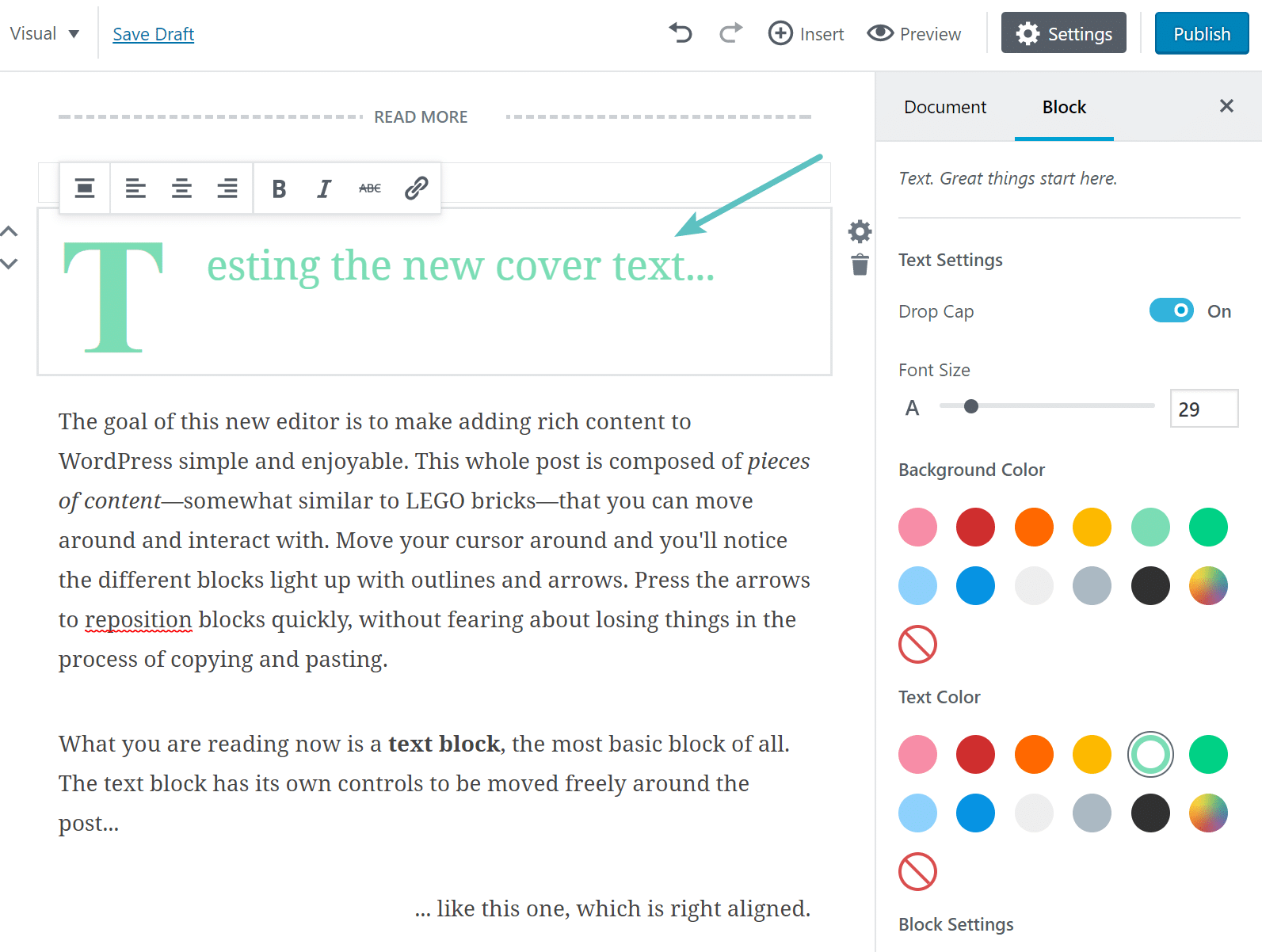 Table of Contents and Anchor Support
Gutenberg has also added a Table of Contents on the sidebar. They are clickable links so you can quickly jump to sections of your article. This can be very helpful for long-form content.

WordPress 5.0 Gutenberg Adds Table of Contents Support
Gutenberg is also adding by-default support for Anchors. As we described before, adding a new anchor wasn't easy without plugins. Until now, either you had to use a plugin or had to do it manually. But Gutenberg is handling it on its own.
WordPress 5.0 Gutenberg Includes anchor support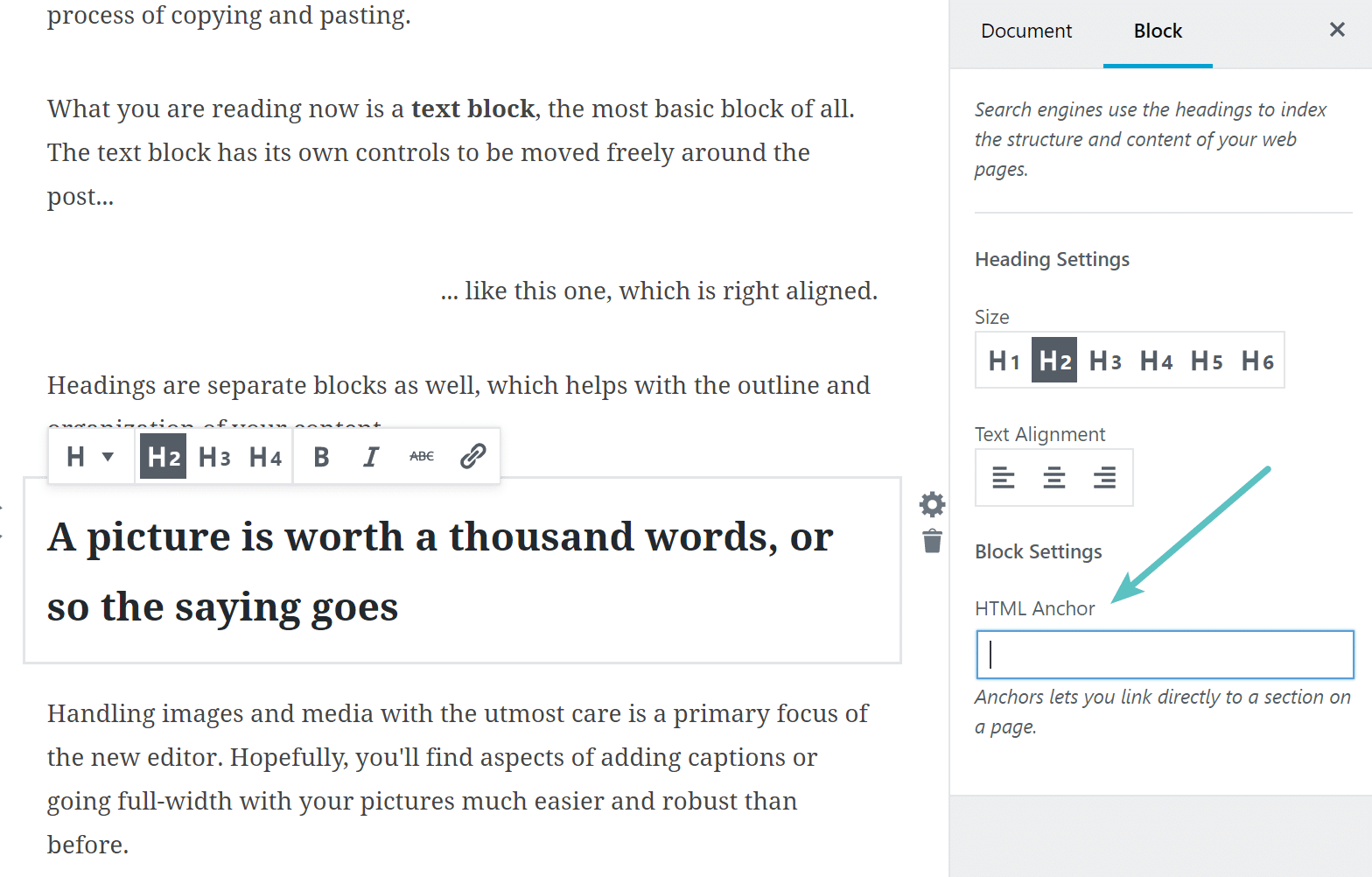 Pull Quotes Block and New Alignment Options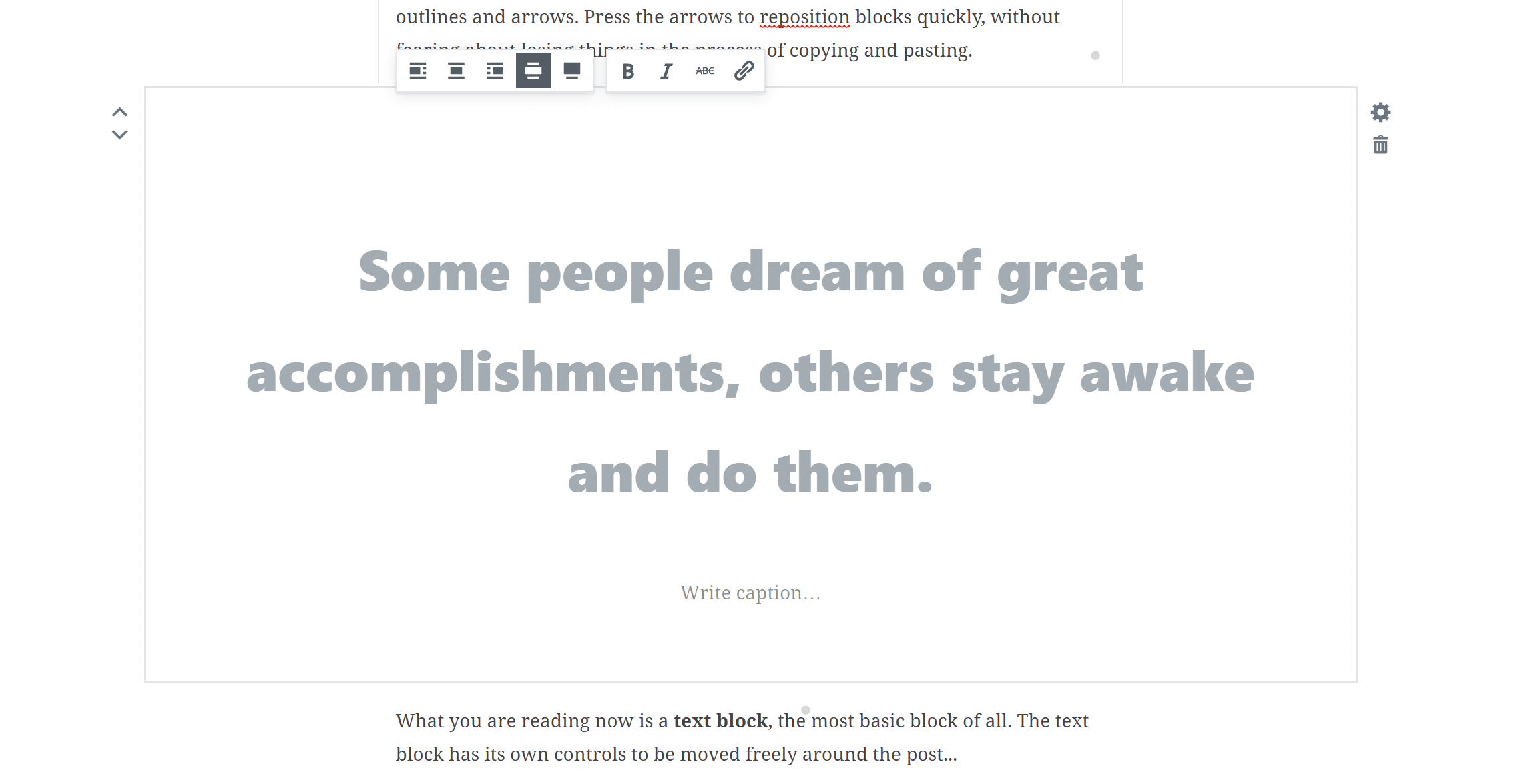 Besides the standard blockquote which has been shipping for WordPress for years, Gutenberg has added support for a new Pull Quote. Pull quotes are different from regular block quotes. Until now, the standard visual editor has given users the ability to align left, align center, align right, and assign no alignment. However, now with the Gutenberg WordPress editor, you can also align wide (as seen below), and align full-width.
Word and Block Counts in Guttenberg
Another nifty feature is Word and Block Counts. As the name suggests, it shows words and block counts.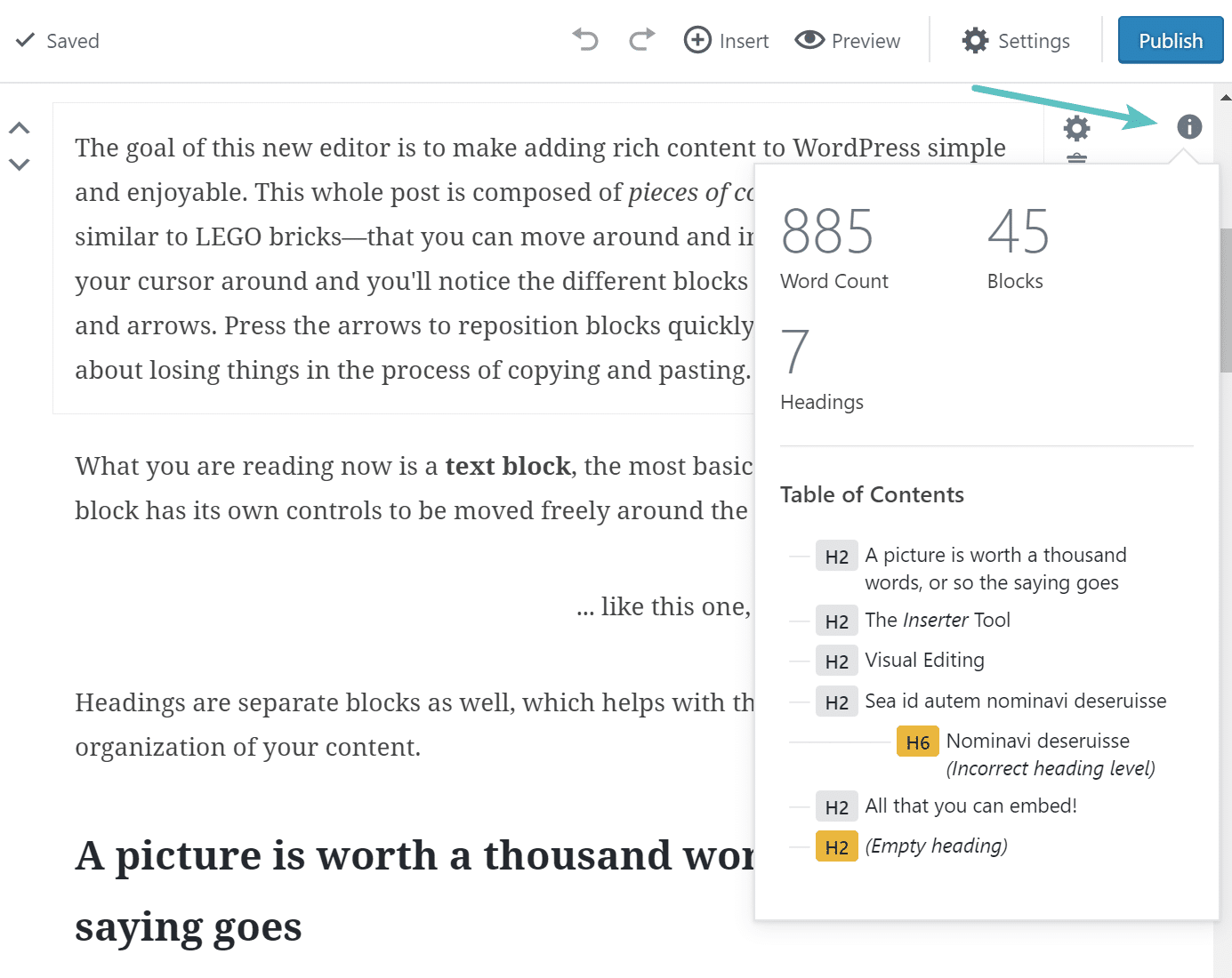 How to use Buttons in Gutenberg
We all had to use third party software to use buttons. Not anymore, cause there is also a built-in method for adding a simple switch. The buttons are basic but, hey! it's quite nice that one does not need to add plugins for simple buttons.

You can embed different websites more easily using Gutenberg including YouTube, SoundCloud, Hulu, Flickr, Imgur, Twitter, Slideshare, Reddit, and many more. Although, the classic editor supported these embeds by just pasting those links.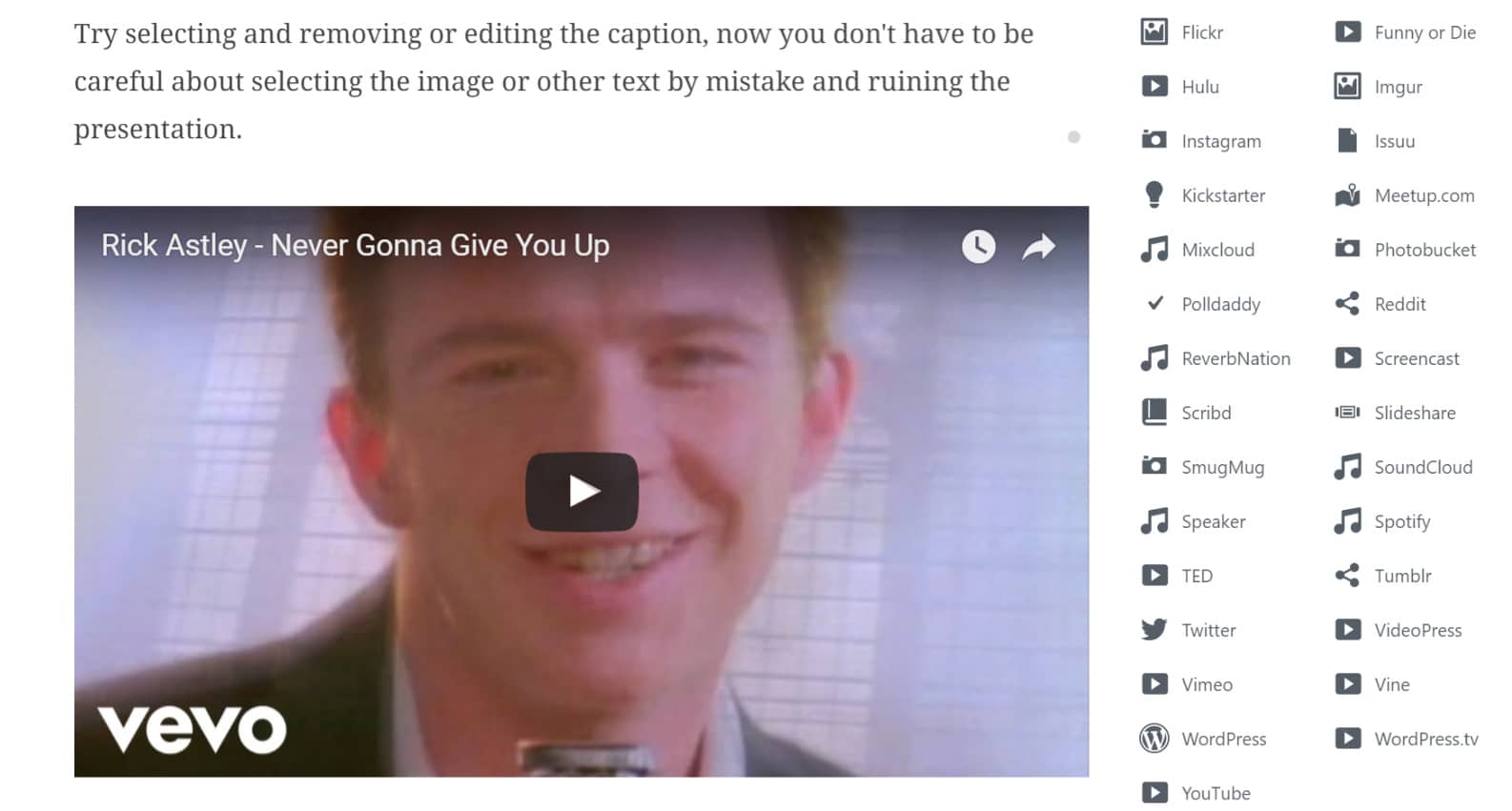 Conclusion – Should I Upgrade to WordPress 5.0?
We suggest not to upgrade right now on your production server/live server. Wait for a while because many plugins still do not have support for Gutenberg. Our recent coverage of 21 Best WordPress Plugins also does not ensure 100% compatibility.
However, if you don't mind tinkering with new product and it doesn't matter if there are some errors, go ahead and try WordPress 5.0 Gutenberg.
Experiment. Learn. Repeat
Let us end the article by answering some of the most popular questions about WordPress 5.0 Gutenberg
Frequently Asked Questions on WordPress 5.0
What is WordPress Gutenberg?
Ans. WordPress's new release is WordPress 5.0. This version adds a new editing experience for WordPress, ditching the old TinyMCE editor.
2. What's new with WordPress 5?
The most notable feature is Gutenberg of course. There is a new theme named Twenty Nineteen that is accompanying Gutenberg blocks. However, there are other underlying changes too. You can check the changelog of 5.0 for detailed change history.
3. Who is ready for the new Gutenberg WordPress visual editor?
Ans: Well, we have been preparing for it quite a while. At WPHive, we are ready for it. Although, there's also some resistance from veteran WordPress users. However, we hope everything goes better with time. Some of the Classic Editor fans even started their new venture ClassicPress which makes use of the old editor.
4. What do you think about the Gutenberg, the new block editor which will soon appear as part of WordPress in the context of potential conflicts with existing premium plugins likes Visual Composer, Elementor, Beaver Builder and many others?
Well, we love Elementor as it helps to make the whole website in less time. Also, there are some Elementor Add-ons available, which makes it a great choice for anyone.
However, now WordPress 5.0 supports it by default. Only time will tell how developers and users accept Gutenberg. Likewise, we are positive about Gutenberg as of yet.
As you can see, the reviews of WordPress Gutenberg on the plugin directory have not been very well until now.
5. Will all my plugins or themes work with WordPress 5.0?
Good question. Most plugins should work with WordPress 5.0, however, there are plugins that still do not support Gutenberg. We recommend testing those plugin on localhost before upgrading. We think all the best plugins should work out of the box, but you never know before testing.
https://wphive.com/reviews/wordpress-5-0-review-whats-new/
Saif Hassan
Product Manager by passion & profession. Lead Product Manager at weDevs, former PM @ Poptin. Passionate about writing & tech. He's an advocate of Human-Centered Design and believes that websites and the tools used to build them should be well crafted, intuitive, and accessible. Cyclist. Reader. A WordPress ninja 🥷, HCI expert & a design thinker 💡

Subscribe To Our Newsletter