11 Best WordPress Chrome Extensions to Boost Your Productivity by 200%

Looking for the best WordPress Chrome extensions to increase your productivity? You have come to the right place!
WordPress is used by thousands of people all over the world. WordPress is the most used CMS not only because of its user-friendliness but also because of its massive availability of plugins and themes.
To make your WordPress journey even smoother, there are hundreds of developers who have launched WordPress Chrome extensions for you. Some of these extensions can automate your workflow and help to boost your productivity on a large scale.
Today, in this blog, we have prepared a list of such Chrome extensions so that you can leverage them to boost your workflow. Let's get started!
Why You Need to Use WordPress Chrome Extension
Google Chrome has been the go-to browser for more than 60% of people.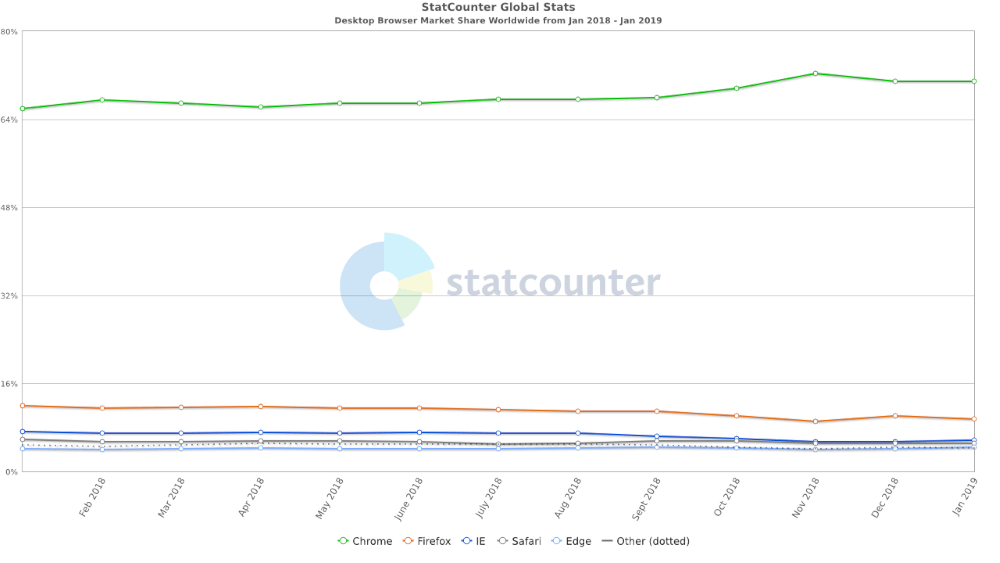 Chrome has tons of great features including a great javascript engine and support for extensions.
Extensions help to add new features and functionalities to your browser that are not available by default. As of June 2012, there were 750 million total installs of content hosted on CWS.
WordPress Chrome extensions help to manage your WordPress-related tasks more easily. You'll discover many useful WordPress Chrome extensions in the Chrome Web Store. Extensions can help you to organize your tasks better, check for grammar and spelling mistakes, website development, and more.
Also, using Chrome extensions, you can easily find crucial data related to your blog and website.
Best WordPress Chrome Extensions in 2023


As there are thousands of WordPress Chrome extensions available, it becomes challenging to find actually productive Chrome extensions.
In this article, we will share 15 of the best WordPress Chrome extensions.
1. WP Hive Chrome Extension

If you are a WordPress user and finding the best plugin is your go-to task, you can use the WP Hive Chrome extension to make your work even easier.
This extension helps you to find,
plugin vulnerability like if there is any error
plugin comparison opportunity means you can compare between multiple plugins to choose the best one
crucial insights like page speed, memory consumption, and many more.
Once you install the extension from the Chrome Web Store, whenever you visit a plugin page on wordpress.org, you will find the plugin insights on the right sidebar of that plugin. It is a must-have plugin for anyone who runs a website powered by WordPress.
2. Post to Wordpress Chrome Extension
If you ever wanted to quickly reblog an article from another website to your WordPress, you are in luck. WordXPress takes advantage of WordPress's built-in function XML-RPC.
You can quickly post pictures and videos from a web page to your WordPress blog using WordXPress.
This extension is great when you are in a hurry and quickly want to share some images with a description. Essentially it makes your experience as easy as updating your status on Facebook.
3. Wordpress Admin Bar Control
WordPress admin bar control helps to enable/disable the WordPress admin bar. We previously covered the tutorial to hide the WordPress admin bar using WordPress plugins.
But if you temporarily want to hide the WordPress Admin Bar, you can install the WordPress Admin Bar Control extension.
If you want to hide the WordPress admin bar, simply click on the extension. If you want it back again, click the extension button again.
4. WPintel – WordPress Vulnerability Scanner
Everyone knows how crucial your website's security is. We did a comprehensive WordPress Security Guide to help you achieve a secure WordPress website. WPIntel is a WordPress Vulnerability Scanner.
The extension scans for –
vulnerabilities
outdated WordPress version
outdated themes & plugins
and more!
Although WPintel is designed for self-hosted WordPress sites and in our tests, we found that it works pretty great. However, some functionalities do work with WordPress.com users too.
5. Grammarly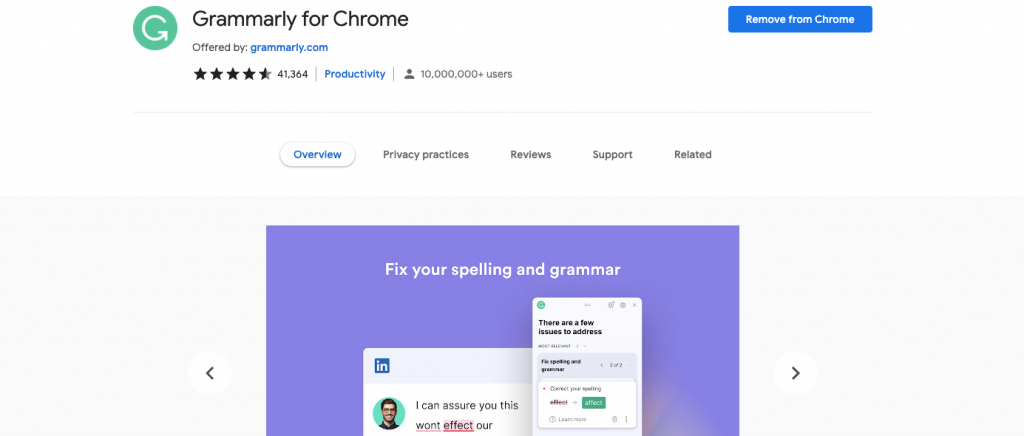 We covered Grammarly a while ago as one of the best WordPress tools. Grammarly is a free service that helps you to write better.
Grammarly automatically proofreads your writings and helps you fix grammatical mistakes, spelling mistakes, suggest vocabulary enhancements, and more. One of the best things about the Grammarly extension is that it works inside the regular WordPress editor.
6. SimilarWeb – Traffic Rank & Website Analysis
SimilarWeb provides website analytics for any website. SimilarWeb shows engagement rate, traffic ranking, keyword ranking, and even the website's traffic source.
You can find out how your competing website is getting traffic and get an instant estimation of the website's traffic source.
7. WordPress Keyboard Shortcuts
Love working with shortcuts? We do too! It's often tough to remember all the WordPress extensions when you are writing. WordPress Keyboard Shortcuts will help you in that regard.
The extensions provide show useful WordPress shortcuts for the visual editor, comment moderation shortcuts, and some advanced shortcuts. If you want to save time while working with your WordPress website, we definitely recommend you install this shortcut.
8. Keywords Everywhere – Keyword Tool
Keywords Everywhere is a free Chrome extension. The extensions enable keyword searching a lot easier.
You can type your Google searches and the extensions show keyword metrics such as search volume, CPC for 15+ websites like Google Analytics, Google Search Console, Moz, Majestic, YouTube, Amazon & more.
This tool saves you a lot of time and makes keyword searching easier than Google Keyword Planner/other tools.
9. WhatFont
Ever visited a website and found the font combination so appealing? You can find out the font by using Whatfont. With Whatfont, you can inspect web fonts by just hovering on them. It is very simple and elegant.
Whatfont also finds out which services have been used to serve the fonts to the frontend. Whatfont supports Typekit and Google Web Fonts API in that regard.
10. BuiltWith Technology Profiler
BuiltWith is a Chrome extension that lets you find what technologies have been used to create the website.
BuiltWith is a website profiler tool. BuiltWith finds out what technologies websites are using. This helps the designers, researchers, and web developers to decide if they want to work with those technologies.
BuiltWith technology tracking includes
widgets (snap preview)
analytics (Google, Nielsen)
publishing (WordPress, Blogger)
CDNs (Amazon S3, Limelight)
standards (XHTML,RSS), and hosting software (Apache, IIS, CentOS, Debian).
advertising (AdSense)
frameworks (.NET, Java)
11. Eye Dropper
Ever fallen in love with the color of a website? Want to find the exact color code/hex code of that color? Eye Dropper is there to help you.
Eye Dropper is an open-source Chrome extension to pick colors from web pages in RGB or Hex Code. It is a great tool for web developers.
Final Thoughts
Chrome and WordPress – both are two insanely popular platforms. The list of WordPress Chrome Extensions we shared, should boost your productivity even more.
Did we miss any useful extension that you are using every day? Feel free to let us know via comments. Meanwhile, check our coverage of the best WordPress SEO plugins and tools to improve your search engine rankings.
https://wphive.com/reviews/best-wordpress-chrome-extensions/
Saif Hassan
Product Manager by passion & profession. Lead Product Manager at weDevs, former PM @ Poptin. Passionate about writing & tech. He's an advocate of Human-Centered Design and believes that websites and the tools used to build them should be well crafted, intuitive, and accessible. Cyclist. Reader. A WordPress ninja 🥷, HCI expert & a design thinker 💡

Subscribe To Our Newsletter