Top 7 CoSchedule Alternatives in 2023

As a content marketer, you know that only creating engaging content can't help you to reach that much. You'll also be required to keep yourself busy in promoting your blog posts to boost traffic, clicks, and conversion. But by doing everything manually, your brain can become kinda fried.
A content marketing tool can help you to solve this problem. Let's assume, keeping this in mind, you have given it a try to CoSchedule – you have heard that it saves a lot of time and headaches to automate all these workloads. But all of a sudden, you discover it just doesn't truly give you what you need.
Now, what would you do? Stop using any content marketing tool and do everything manually? Hell no. Why would you?
There are top-performing CoSchedule alternatives that you can try for your social posting purposes. And today, our blog is all about these CoSchedule alternatives so that you can find a suitable one for you. So do keep reading!
Why You Need to Look for CoSchedule Alternatives


CoSchedule is a content marketing tool that works with Facebook, Twitter, Google+, Instagram, Linkedin, Tumblr, Pinterest, and others.
In the beginning, CoSchedule was an editorial calendar that sent out social media updates when your posts went live. But nowadays there is a lot going on in CoSchedule. Editorial calendar, Evernote integration, social media updates, analytics, rescheduling, teamwork, the list goes on and on and on.
As CoSchedule features have increased, the price has shot up to unbearable levels for many bloggers and marketers.
CoSchedule is only for WordPress. If you use other CMS platforms, you'll need to look elsewhere.
CoSchedule has incompatibility with WordPress plugins like Bitly and Easy WP SEO, as well as glitches with some browsers.
So, if you're looking for such a tool that focuses on the editorial calendar and social media shares, and you don't want to pay extra money for some unnecessary features, then it's time to look for different solutions other than CoSchedule.
Top 7 CoSchedule Alternatives and Competitors in 2023

There are dozens of CoSchedule alternatives available on the web. Among them, here, we have only chosen the top 7 tools that are top-rated, easy to use, come with modern features, and are budget-friendly.
These are our handpicked items for you. Now let's take a ride to its description, features list, and a number of users.
Note: At the end of the list, we have made a comparison table of these CoSchedule alternatives tools so that it can help you to choose the best one for you. Don't forget to check that table.
1. HootSuite

HootSuite is a complete social media automation tool that's simple to implement, easy to scale, and lets you keep your personal touch. It is considered an industry leader for beginners and experienced social media managers alike.
Along with 4 different pricing plans, HootSuite comes with a free version as well. That is valid for a 30-day trial period. After testing it out, you can decide whether to upgrade to the paid plans. This is also great because you may find HootSuite requires some getting used to before figuring it out.
Key Features of HootSuite
Recommends the best times to post on a particular social media platform
Provides individual channel performance metrics
Allows to upload bulk images
Provides a mobile app (IOS and Android) for keeping up with and engaging your social media audience on the go
Supports 25 social media networks
User-base: Hootsuite is trusted by more than 18 million users in 175+ countries for managing social media.
2. Missinglettr

Missinglettr is another top-rated and popular CoSchedule alternative that works almost like Buffer and HootSuite. The awesome part is that you can get Missinglettr without paying as much as Buffer and HootSuite.
Missinglettr automatically creates a new campaign whenever new blog posts are published. If you want to promote it, you can "review the campaign", and add any relevant hashtags that you want to share. It is the ideal content distribution and re-posting automation platform that isn't packed with unnecessary features.
Key Features of Missinglettr
Create an entire year's worth of content from each of your blog posts in a few minutes
Provides automatically created images and allows you to crop them so that it looks great on every social media platform
Includes custom URL shorteners to easily personalize your campaigns
Allows you to take full control over the templates that are used to create and share your content
Includes reporting and analytics features so you can see exactly how your campaigns are performing
User-base: There are 24,000+ businesses outgrowing their competitors with Missinglettr.
3. Buffer

Buffer is such an awesome CoShedule alternative that CoShedule had to have a Buffer integration. Using Buffer, you'll get coverage on Facebook, Twitter, LinkedIn, Pinterest, and Google+. They have recently added direct scheduling for Instagram. It comes with both free and pro versions.
A free version is basically a scheduling tool that enables you to optimize posting times across all of your connected accounts. However, premium users get access to a more advanced suite of features, including detailed analytics, team collaboration, various data exporting options, and more.
Key Features of Buffer
Provides you with analytics to track the performance of your posts
Finds out the best times for you to post new content based on your timezone automatically
Includes its own graphics editor – Pablo. The editor is relatively bare-bones but good enough for creating featured images with a few basic filters on top
Provides a mobile app (IOS and Android) for engaging your social media audience on the go
Provides extensions for Chrome, Firefox, and Safari browsers
User base: There are 75,000+ growing businesses that use Buffer to drive engagement on social.
4. SocialBee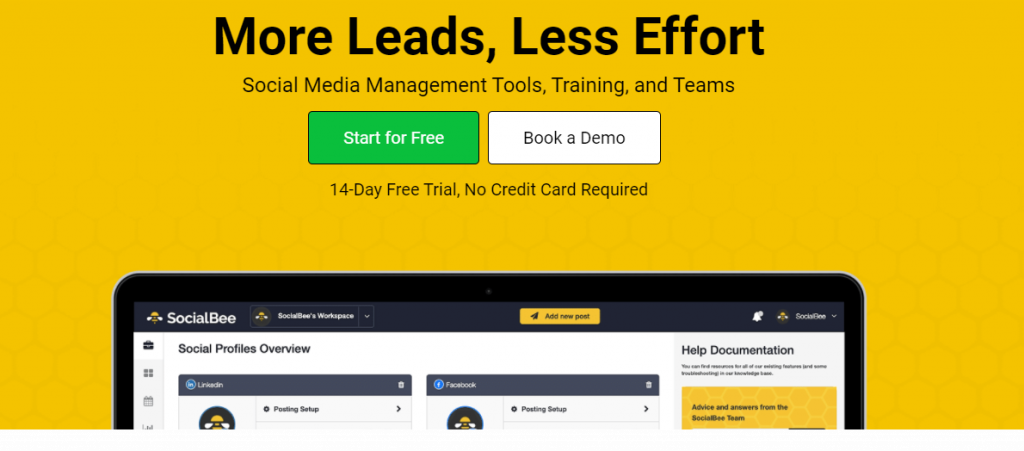 "More Leads, Less Effort" is the slogan of SocialBee which means you can handle tons of leads with minimal possible effort. If the main feature you want is social media recycling, then SocialBee is the best option out there that comes with the most cost-effective pricing plans.
It integrates with all of the major social media platforms, offering a super-easy way to automate social posting. All you have to do is set it up once and then with the click of a button SocialBee will find the best times and automate posting across all platforms indefinitely into the future.
Key Features of SocialBee
Lets you categorize your content in SocialBee to save time when creating posts
Allows to repost your top evergreen content to drive more engagement to your high-performing content
Uses URL shorteners to make your links smarter and track your results with customizable UTM settings
Works with top social platforms and lets you use hashtags and emoji while sharing posts
Provides reports of your campaign to improve further
User-base: SocialBee is trusted by over 17,000 companies across the world.
5. SocialPilot

If you need a brilliant social marketing tool for connecting up to 50 social profiles, upload up to 500 posts in one go (bulk scheduling), and custom RSS feed for content curation and discovery, SocialPilot may satisfy you.
Unlike some other CoSchedule alternatives, SocialPilot allows you to collaborate with a team to measure and interpret various social media platform performances including analyzing engagement, clicks, and conversion. Each member will have their own tasks outlined for them as planned by the admin.
Key Features of SocialPilot
Provides powerful social media analytics and white-label PDF reports with one click
Bulk social media posting tool available to upload posts in advance
Allows you to connect and manage 50+ social profiles
Respond to comments, messages, and posts across Facebook pages from one place – Social Inbox
Enables you to manage your social media team and their work
User-base: SocialPilot is loved by 5500+ popular brands all over the world.
6. Proofhub

Proofhub is another CoSchedule alternative with a fairly simple setup that can help with planning, collaborating, organization, and delivery of all your content. It's sort of like Trello in the sense that you can really visualize your projects, then drag and drop them around.
Using Proofhub, you can define custom roles and stay in ultimate control of who gets access to what according to your organizational workflow – works like a project management tool.
Key Features of Proofhub
Easy-to-understand with little to no learning curve
No per-user fee & simple fixed-price plans
Comes with a ton of features, ranging from calendars, workflows, Gantt charts, analytics, and reporting to activity logs, time tracking, team chat, and even white labeling
Ultimate control over teams and projects is easier than ever
Provides built-in chatting facility
User-base: Proofhub is loved by 85,000+ teams and businesses worldwide.
7. Send Social Media

Send Social Media is the last but not the least pick of our list. Though it's an alternative to CoSchedule, the working procedure is slightly different from other regular social marketing tools. If you're a dedicated social media marketer, you are gonna love this tool.
Using this tool, you can schedule and post to at least 30 social media platforms. From addressing reviewers on Yelp, retweeting on Twitter, replying to Facebook comments and YouTube reactions to publishing original and curated content on WordPress, you can do it all.
Key Features of Send Social Media
Provides campaigns analytics to improve further
Allows you to schedule and post to at least 30 social media platforms
Lets you track every link to analyze the result
Provides Smart Social Inbox to see and reply to all the messages from a single dashboard
Enables you to manage your team and customers using this tool
User-base: Over 1000 reputed brands around the world using Send Social Media.
CoSchedule Alternatives – Comparison Table
| | | | | | |
| --- | --- | --- | --- | --- | --- |
| | User-base | Social Media Support | Mobile App | URL Tracking | Starting Price |
| HootSuite | 18M+ users | 10 | Yes | Yes | $19/M |
| Missinglettr | 24,000+ businesses | 9 | No | Yes | $9.5/M |
| Buffer | 75,000+ businesses | 8 | Yes | Yes | $35/M |
| SocialBee | 17,000+ companies | 5 | No | Yes | $19/M |
| SocialPilot | 5500+ businesses | 25 | No | Yes | $25.5/M |
| Proofhub | 85,000+ businesses | Flat pricing. No per-user fee | No | Yes | $89/M |
| Send Social Media | 1000+ businesses | 20 | No | Yes | $49/M |
So, this is the comparison table of CoSchedule alternatives. Take a close look at the comparison and choose your social marketing tool wisely.
CoSchedule Alternatives – FAQs

Is there a free version of CoSchedule?
Yes, there is a free trial of CoSchedule. You can try it for free forever. On top of that, you don't need to have a credit card to claim the free version of CoSchedule.
Does CoSchedule Work with Linkedin?
Yes, CoSchedule perfectly works with Linkedin. You can create, share, and schedule your Linkedin posts with CoSchedule.
What is CoSchedule used for?
CoSchedule is an all-in-one platform for planning, organizing, and executing all things content marketing. It's easy-to-use drag-and-drop calendar interface makes it easy to collaborate and schedule all your projects in one place.
What are the top CoSchedule Alternatives?
Top CoSchedule alternatives are:
1. HootSuite
2. Missinglettr
3. Buffer
4. SocialBee
5. SocialPilot
6. Proofhub
7. Send Social Media
Why do I need a CoSchedule Alternative?
You may need CoSchedule alternatives for the following reasons:
1. As CoSchedule features have increased, the price has shot up to unbearable levels for many bloggers and marketers.
2. CoSchedule is only for WordPress. If you use other CMS platforms, you'll need to look elsewhere.
3. CoSchedule has incompatibility with WordPress plugins like Bitly and Easy WP SEO, as well as glitches with some browsers.
Over to You
Which social posting tool are you going to use? Or, if you're already using one, do let us know through the comment box below. And you can also share your good or bad experience with any particular social posting tools that we've mentioned here. Your real-time experience will help new users a lot when choosing one for them.
Here is our Facebook page, if you're interested in being connected to us over Facebook. And you can also follow us on Twitter to get regular updates from us. Thank you.
https://wphive.com/reviews/top-coschedule-alternatives-and-competitors/
Shams Sumon
Shams is a content writer with a passion for making WordPress topics easy to understand for everyone through conversational and storytelling approaches. With a background in the WordPress industry since 2019, he has developed a knack for breaking down complex technical concepts into digestible bites. When he's not crafting engaging content, Shams can be found watching football matches, catching up on the latest movies, or exploring new destinations to rejuvenate himself.

Subscribe To Our Newsletter