7 Best WordPress Amazon Affiliate Plugins Compared in 2023

Amazon affiliate marketing is one of the most popular and easiest ways to make money online from home. When you are selling Amazon affiliate products, you don't need to take any additional responsibility for the products apart from creating content and promoting them.
Even you don't have to manage inventory, shipping, or delivery. All you have to do is place the Amazon affiliate links and bring traffic to your website. This is why hundreds of bloggers and entrepreneurs are entering into this affiliate business around the world.
If you are planning to sell Amazon products on your website, at first, choose and use handy WordPress Amazon affiliate plugins, as they make it easier to promote Amazon products on your WordPress site.
Keep reading this article to know which plugin you should use as a beginner. We are going to show a list of 7 plugins, go through it carefully and ultimately choose the best one for you as per your requirements. To make your choice even easier, at the last of this blog, we have prepared a comparison table for you. So, let's get started!
Why Use a WordPress Amazon Affiliate Plugin


Amazon keeps changing the pricing of its products. If you manually enter the price for a product that you're promoting in a comparison table, that price might change in the future. And showing the wrong price is against the Amazon rule, also, you'll lose credibility with your visitors for showing misinformation.
Using an Amazon WordPress affiliate plugin can help you out of this situation. Because most of these plugins use the Amazon Product Advertising API. This API can ensure that you're always displaying accurate pricing information.
Some plugins also go further and help you:
Create comparison tables or boxes
Sync Amazon products with a WooCommerce store
Offer customizable product displays
Create shorter, cleaner affiliate URLs without the lengthy string of tracking code
Count links and money earned from each link
Now let us show you the best WordPress Amazon affiliate plugins that come with all these features.
Best WordPress Amazon Affiliate Plugins in 2023
Without further ado, let's get a quick look at the list first. Here is our handpicked list of 7 top plugins:
AAWP
Pretty Links Pro
ThirstyAffiliates
AzonPress
WZone
AffiliateWP
AmaLinksPro
Now let's make an in-depth analysis of each of the plugins that we have mentioned above.
1. AAWP

The first pick on our list is the AAWP, which is also known as Amazon Affiliate WordPress Plugin. This is one of the most popular plugins for Amazon affiliate websites. It enables you to add hypertext links to your posts, comparison tables, product box links, widget links, and so on.
The AAWP plugin lets you compare several products by adding a comparison table to your content. This table can be modified to make it look visually appealing and improve conversions.
The best part of the AAWP plugin is it comes with Geotargeting for affiliate links. Once a user clicks on your affiliate links, it will automatically redirect the user to the country-level Amazon domains.
Pros of AAWP Plugin
Easily customize ad design and use colors and styles that match your website
Automatically adds tracking ID to create affiliate links
Create best-seller lists, new releases lists, and more ways to promote ads
Easily configure settings to your preference
Supports geo-targeting and Google AMP
Cons of AAWP Plugin
Comparison table doesn't work in AMP model
Pricing: AAWP pricing starts at €49 per year for 1 site.
2. Pretty Links Pro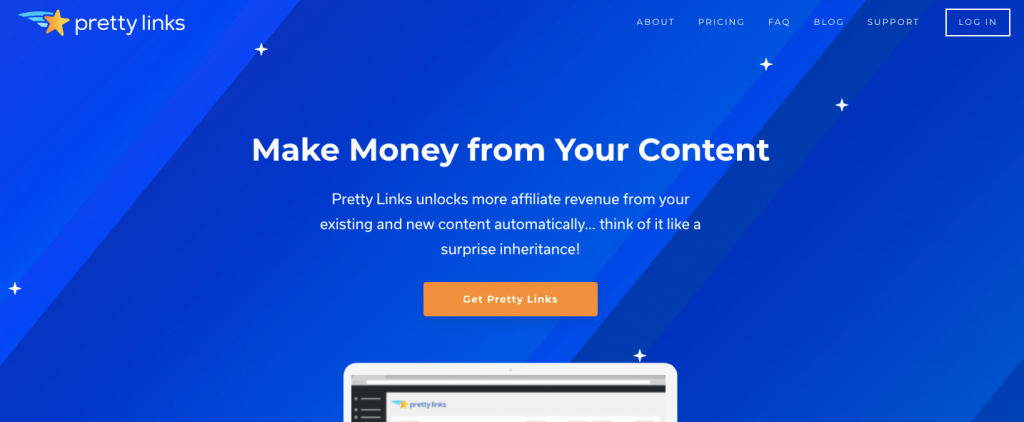 Pretty Links Pro is the most popular and top-rated WordPress plugin for creating Amazon affiliate links. More than 300,000 affiliate marketers are actively using this plugin on their sites. And more than 800 people think this plugin deserves a rating of 4.8 out of 5 for its amazing features and services.
It's a freemium plugin that converts your long, boring-looking link into pretty links and you can also protect your affiliate by link cloaking.
The plugin lets you choose between different design options to display products. You can also add custom styles or make new templates that best match your theme.
Pros of Pretty Links Pro Plugin
Generates random 3-4 character slugs for your URL or allows you to name a custom slug for your URL
Shows click details including IP address, remote host, browser (including browser version), operating system, and referring site
Tracks the number of hits and number of unique clicks per link
Supports cookie-based system for tracking visitor activity across clicks
Enables you to send your pretty links via Email directly from your WordPress admin
Cons of Pretty Links Pro Plugin
No free trial for the premium version.
Pricing: Pretty Link Pro pricing starts at $99 per year for 2 websites.
3. ThirstyAffiliates

ThirstyAffiliates is another top-rated and freemium Amazon affiliate plugin. Using the free version, you can cloak your Amazon affiliate URLs with your domain name and custom slug.
The premium version comes with an auto-link feature to automatically link to your provided keywords. With the import option, you can import/export affiliate links between your sites in just a few clicks.
It also comes with amazing advanced reports such as performance by category, performance over 24/hr periods (to identify peak click times), Geolocation reports (where people click from), and more!
Pros of ThirstyAffiliates Plugin
Provides inbuilt link Cloaker or affiliate link shorter
Tracks click stats and shows reports
Inserts standard links, shortcodes, or even images
Enables to set no-follow and open new tab settings
Allows to customize the URL prefixes
Cons of ThirstyAffiliates Plugin
No integration with WooCommerce & Easy Digital Downloads
Pricing: ThirstyAffiliate pricing starts at $99 for 5 sites.
4. AzonPress

AzonPress is a premium Amazon affiliate plugin that works like the AAWP plugin. Using AzonPress, you can create product comparison tables, which is an important feature for many Amazon affiliate sites.
Like AAWP, it lets you use the Amazon Associates API to insert regularly updated information and Amazon affiliate links. Also, with AzonPress, frontend product showcase and comparison boxes look excellent right out of the box.
With AzonPress You can configure how your affiliate links' geo-targeting will work. You can redirect one country's traffic to another amazon shop.
Pros of AzonPress Plugin
Lets you create a comparison table
Enables you to create bestseller lists
Helps to track referral links accurately
Offers customizable layouts like Grid, Box, List, Table, and Widget- Exhibit
Provides ready to use shortcodes.
Cons of AzonPress Plugin
No live chat option or Call option is available
Pricing: AzonPress pricing starts at $31 per month for 1 website.
5. AffiliateWP

AffiliateWP is a premium WordPress Amazon affiliate plugin that is easy to use and comes with all the necessary features to grow your affiliate business.
It has a lot of built-in integrations for WordPress eCommerce solutions including WooCommerce. The addons options allow you to install just the features you need and eliminate the ones that you don't need.
It also offers a link cloaking feature, a built-in referral link generator, link tracking, and many more.
Pros of AffiliateWP Plugin
Tracks affiliate referrals reliably, even on servers with aggressive caching
Integrates fully with popular WordPress eCommerce and membership plugins
Connects WordPress coupon codes to specific affiliate accounts
Generates referral links using the built-in referral link generator
Lets you choose how many days the referral tracking cookie should be valid for
Cons of AffiliateWP Plugin
Back-end may seem complicated to you if you're a beginner.
Pricing: AffiliateWP pricing starts at $149 per year for 1 website.
6. AmaLinksPro

AmaLinksPro is another premium WordPress plugin for Amazon affiliates. It uses the Amazon Associates product API to insert accurate information about products on your site.
Like other Amazon affiliate plugins on this list, it also lets you create product comparison tables. You can use its table builder addons to customize the table.
The table builder lets you use drag-and-drop to customize the columns and information that you display. You can also mark certain items as the "Top Choice" to direct shoppers to the most profitable products.
Pros of AmaLinksPro Plugin
Pulls image and title directly from the API to promote the affiliate products
Helps to build amazing responsive product comparison tables
Lets you track all of your AmaLinks Pro link clicks, showcase interactions, and comparison table interactions all from within your Google Analytics Data
Provides ready to use shortcodes
Offers different link types like image links, text links, and CTA buttons.
Cons of AmaLinksPro Plugin
Some features still need times to get stabled
Pricing: AmaLiknsPro pricing starts at $67 per year for 1 website.
7. WZone

WZone is a WordPress WooCommerce Amazon affiliates plugin. It comes with multiple product import options based on your preferences and keywords.
The best part about the plugin is that you can set up product pages quickly with autopilot mode. It lets you manage, publish, and delete the products within the dashboard.
Pros of WZone Plugin
Compatible with any Woocommerce Supported Themes
Direct checkout or add-to-cart feature
90 days cookies feature – With this feature, when a user is redirected to amazon, the product is automatically added to the cart and kept there for 90 days
Default publishing- import the products as Published or Draft
Maximum 2 images & 2 variations for each product
Cons of WZone Plugin
Doesn't have any tools that can check duplicate posts in your blog
Pricing: WZone pricing starts at $49 per year for 1 site.
Comparison Table – Best WordPress Amazon Affiliate Plugins
Now let's put all the important information in one single comparison table so that you can easily find the most-suited plugin for you.
Our Verdict
You can just choose any of the above-mentioned plugins for your affiliate business and use them on your site. Because all of the plugins are top-quality and equipped with the necessary features to get your job done.
Having said that our favorite is AAWP. It's an easy-to-use plugin that comes with minimal pricing. Also, there is a 30-day money-back guarantee. So, you can refund your money if it doesn't match your requirements.
Our second favorite is AffiliateWP. Though the pricing may seem a bit higher to you, however, you won't regret using this plugin in real time. Because you'll get all the features that you need to grow your affiliate business in a professional way.
Don't forget to let us know which plugin are you going to use for your WordPress Amazon affiliate website through the comment box below. Good luck!
https://wphive.com/reviews/best-wordpress-amazon-affiliate-plugins/
Shams Sumon
Shams is a content writer with a passion for making WordPress topics easy to understand for everyone through conversational and storytelling approaches. With a background in the WordPress industry since 2019, he has developed a knack for breaking down complex technical concepts into digestible bites. When he's not crafting engaging content, Shams can be found watching football matches, catching up on the latest movies, or exploring new destinations to rejuvenate himself.

Subscribe To Our Newsletter