WordPress vs Blogger: Which One is Better? [2023]

Keep these questions in mind while selecting the platform for your blog.
What is the purpose of your blogging?

How technical do you want to be?

Who are/will be your audiences?

And finally, how much are you going to invest?
Picking the right blogging platform is always challenging. There are many alternatives such as Wix, Squarespace, Typepad WordPress.com, and self-hosted WordPress, available in the market to meet your need.
WordPress and Blogger are two of the most popular platforms in the blogging world. This article will draw a clear comparison between WordPress vs. Blogger [2019]
Read our in-depth comparison of WordPress vs Blogger. You should be able to finalize your decision at the end of this article!
A Sneak Peek into WordPress vs. Blogger
Blogger is a free blogging platform owned by Google. It was launched by Pyra Labs in 1999 as one of the earliest dedicated blog-publishing tools.
Did you know Blogger started earlier than WordPress?
WordPress is an open-source content management system and of course free. The first version of WordPress was created in 2003 by Matt Mullenweg and Mike Little. WordPress supports plugins, themes, tags, posts, pages. WordPress is associated with blogging but supports other types of web content as well, Such as Business websites, eCommerce stores, marketplaces, multilingual websites, classified websites, or naturally- anything you can imagine.
Comparison of WordPress vs Blogger [2019] – Infographic
Take a look at the below infographic to discover a short and easy comparison. We also described step-by-step comparison and basic pros and cons of both just next to the infographic.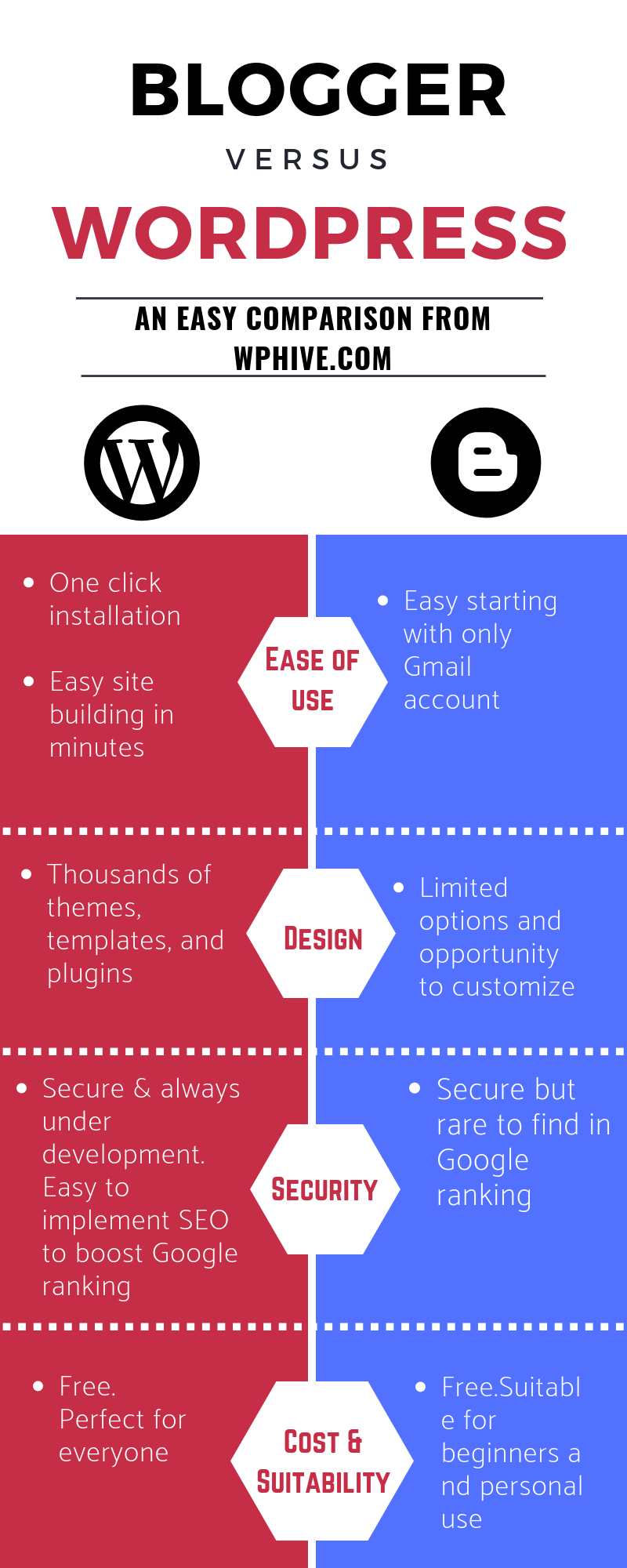 You can check some excellent websites built with WordPress for inspiration.
1. Ease of Set up and Use
Blogger: starting a blog with Blogger is extremely easy. You can set up your blog in Google-owned Blogger within 10 minutes. You have only four steps to publish your first blog.
Sign up for Blogger
Enter a name for your blog.
Choose a blog address or URL.
Choose a template and click on Create blog to complete the process.
Click here to get the complete tutorial presented by Wikihow.
WordPress: Starting your blogging with WordPress is also easy. You need to have mainly three things to start your journey.
A hosting plan
And your patience for a while to set up and customize
Most of the hosting providers now offer the famous one-minute installation for WordPress. You can also set it up manually on your own.
This is the first step of a detailed comparison of WordPress vs. Blogger. Click here to check out how to create your WordPress blog in minutes.
Cost and Budget
Blogger: Blogger is free for you from the beginning. If you want to use the hosting in your chosen domain name, you will bear the cost only for that domain. With Blogger's free support, you will get these features.
A template designer to customize your blog's appearance
Free hosting, free Blogger (or Blogspot) sub-domain. (you have the option of using a custom domain as we mentioned earlier)
The ability to add media to your posts
Easy access to Google's advertising schemes.
Mobile access via iPhone and Android apps, as well as SMS or email blogging.
WordPress: WordPress also offers a free blogging solution for you. You have options to customize it anytime and in any way you want. Check out what you could get with WordPress' free offering.
A blog, which you can turn into a full-on static or hybrid website
Up to 3GB of free storage for posts
An easy tool for connecting your blog with social networks
Free statistics for tracking your audience
Access to hundreds and thousands of non-premium themes
WordPress.com access from mobile apps for iPhone, iPad, Android, and BlackBerry.
Flexibility and Customization
Blogger: Blogger is only a blogging platform with very limited flexibility and customization. Even you can't install Blogger on your server. Google can shut it down whenever they want.
WordPress: WordPress is famous for customization and flexibility. You have countless options from setting up to designing, differentiating, and turning it into a more secure platform. You already know WordPress is an open-source solution which means you have the freedom to add/edit/delete any theme, template, or plugin anytime you want.
It's an opportunity that makes WordPress more powerful, accessible, and user-friendly. This is one of the most significant steps of this detailed comparison of WordPress vs. Blogger
Security and Development
Blogger: When you are using Blogger, you don't need to worry about its security. Offering a simple, limited, and primary blogging solution, Google will take care of your site as its own. There is no need or opportunity to develop something with the Blogger. Just sign up and start publishing your content.
WordPress: If you are using WordPress as your blogging platform, you know you are the only owner of your site. And you have full control over your platform and all the data and contents. So, you should take care of your blog on your own.
But you don't need to worry about it as you can easily do that just by adding a plugin or updating default settings. You can easily set up and maintain backups of the necessary information and posts you have published.
As an open-source solution, WordPress is always under development. With time, WordPress is becoming more powerful, and ensuring security is a priority basis. You could read the article to know more about WordPress Security Guideline and keep yourself updated.
Ownership and Future
Blogger: Blogger is just a blogging service offered by the tech giant Google. When you are using Blogger, you need to work within the limits that Google sets for you. So it's clear that your opportunity and freedom both are minimal. The most significant thing is, Google doesn't seem interested enough in this platform as experts say.
It's been a long time since Blogger was updated for the last time. Some features of Blogger like Google+ and Picasa are on the way to getting shut down.
WordPress: With WordPress, you are the only owner of your site. You have your domain name and hosting plan. So it's up to you how long you want to run your site and when to shut it down. Starting, database backups, update management, and customizations all are under your control.
You can boost your pagespeed, use different caching plugins, and different contact form plugins, make it an e-commerce website or use the best WordPress plugins available in the market.
This is an outstanding possibility that only could be imagined with an open-source platform. WordPress is here only to give you support to grow, communicate and create your own way to the future.
Community and Earning
Blogger: You have the option to connect and maintain a community with Google+ when you are using Blogger. It's limited and also not so popular or even well-known. Google+ is going to be closed in April of 2019.
You can earn with your Blogger site, but it's not so easy. Blogger is famous as a personal blogging platform not a professional. You would rarely find a website built with the Blogger in google ranking. Thus, earning with Blogger is possible but not so used to.
WordPress: WordPress has its built-in community. Hundreds and thousands of people around the world use it as their web platform. More than 60% of the CMS and 32% of all the web platforms are now powered by WordPress. Check out some useful ways to make money with your WordPress blog.
Sell eBooks or White Papers
Offer Online Courses
Affiliate Marketing
Google AdSense
WordPress Advertising Plugin
Offer Freelancing Service
…and many more
These are the ways to make a comparison and choose the best of WordPress vs. Blogger
WordPress vs. Blogger – Which One is the Best?
As a first-time user, you can consider using Blogger as your blogging platform. But when you are thinking to start your journey as a bit serious, you should always prefer WordPress.
Support
flexibility,
customization
power
popularity
WordPress is the winner in all these regards without any doubt.
With WordPress, you have full control over starting, running, managing, and everything else. You are the only owner of your site. On the other hand, you are only a user with Google-owned Blogger. Blogger is nowadays considered a limited and even an old blogging solution. It has no future proof.
Now is the time for you to make a decision about which way you will choose to start your blogging journey. Check out both the pros and cons of WordPress and Blogger and finalize your choice.
Final Words
Blogging is an enjoyable activity and a worthy way to spend your free time. Today there is great value in having your online presence and building a base audience. Moreover, you can make money online through blogging. We tried to show you a clear comparison of WordPress vs. Blogger in this post.
For beginners, it could be a bit harder to choose the right blogging platform. But there are lots of options to know and understand which one is better and why. Picking the right platform is so important because your success mainly depends on it. You wouldn't be able to touch your milestone even with tons of good content if you mistake in selecting your platform.
Try to understand the big picture and make an informed decision. Happy Blogging!
Learn more about SEO to boost your website rankings
https://wphive.com/articles/wordpress-vs-blogger-which-one-is-better/
Sakil Adnan
Sakil Adnan is an Author, Content Strategist, and Editor. Completed his Graduation in Business & Marketing. Passionate about WordPress, history, religion, and literature. Enjoys exploring new things beyond regular responsibilities. Believes in teamwork and loves empowering team members. Now working as the head of content at weDevs and WPHive.

Subscribe To Our Newsletter