Which is the Best Blogging Platform? WordPress vs Medium [2023]

Whether you wish to create a personal website or promote your business more efficiently, content marketing is considered as one of the best ways to quickly reach your audience.
Many statistics confirm that people trust blogs and consume content before making purchases or spending money on an online platform. Why wouldn't they? It takes less than 10s to write "XYZ Review" to do a Google search.
You want a sense of closure before buying.
You want to know that you are making the right decision while purchasing something online. Hence, searching for product reviews before buying products has become a habit for many.
Research from Hubspot found out that 47% consumed 3-5 pieces of content before taking the first step towards making a purchase. (Source: Hubspot)
WordPress and Medium both are two of the biggest players in the Content Management System arena. While WordPress is a veteran player with more than 30% of the World Wide Web, Medium is one of the new platforms that is growing rapidly.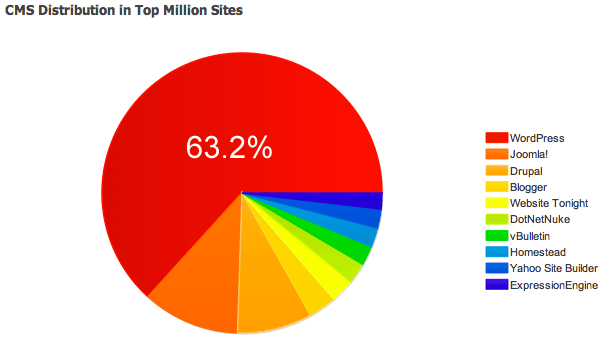 As you can see, WordPress has an astonishing 63% market share in the top million sites.
If you want to start a new blog, you have a plethora of options to choose from. You can check our comparison between Ghost vs WordPress, WordPress vs Blogger or WordPress vs Typepad vs Squarespace to know how WordPress stacks against those platforms. Which one to choose from WordPress vs. Medium? Let's find out.
Both WordPress and Medium allows you to publish your content with ease in a fast and intuitive way. However, both platforms have their pros and cons. In this article, we will compare WordPress vs. Medium to find out which is the best platform for bloggers in 2023. [Not to be confused with WordPress.com]
Medium vs. WordPress: Basic Differences
Medium is one of the new blogging platforms. It was founded in 2012 by Twitter and Blogger founders Biz Stone and Evan Williams. Since then, Medium has grown gradually and currently has a good amount of financial backing.
However, what exactly is Medium?
If we are to describe in simple words, we will say that Medium is a hybrid platform for writing and social network for sharing and promoting your articles. The main advantage of Medium is that anyone can pick up and start writing without learning anything new. It just works.
Medium is a platform for writing, publishing, and sharing content to a community of like-minded people.
On the other hand, WordPress has some learning curve when you want to install WordPress on your cPanel. WordPress has many unique features that are not available in Medium.
WordPress is best suited for power users.
Start a New Blog: Medium vs WordPress
You can get started in just a few seconds after signing up at Medium. It is completely free and does not take more than 2 minutes.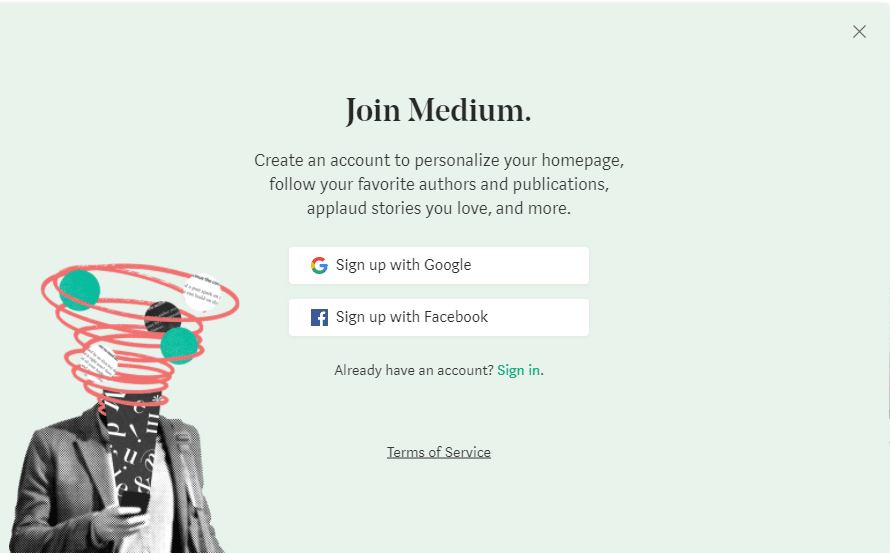 However, starting a new blog is not that much easy in WordPress. You have to have a domain and hosting before you can have your WordPress blog.
You can read our guide of creating a new blog to know how to create a new blog using WordPress. If you do not know what you are doing, it would take some time to set a WordPress blog properly.
Editor Difference: Medium vs WordPress
The Medium Editor is very popular among its readers because of its simplicity. The Medium editor offers a great distraction-free writing experience which pulls out the best in you.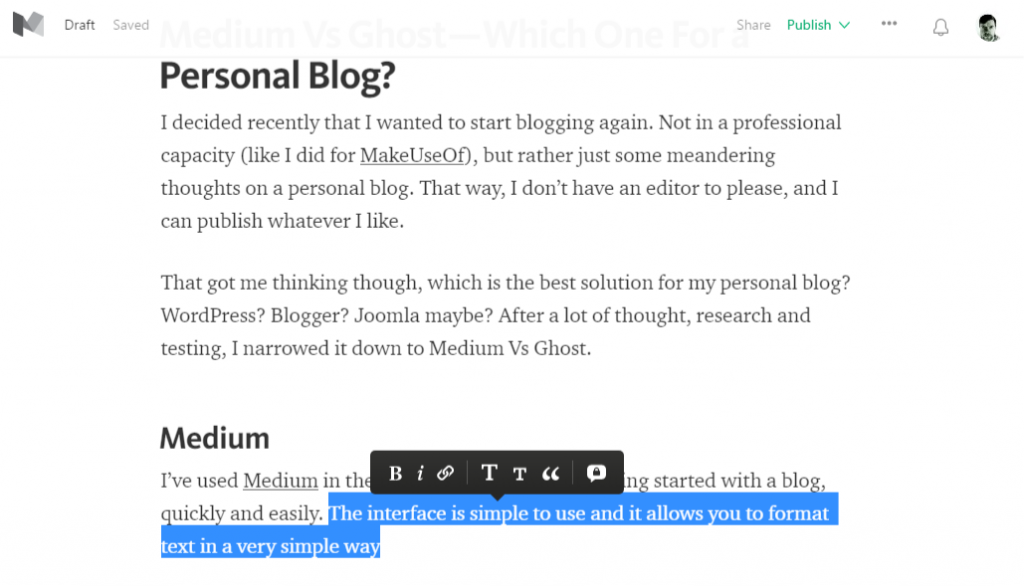 Until WordPress 5.0, WordPress used the old fashioned WYSIWYG editor. However, that all changed with the introduction of
WordPress 5.0 Gutenberg.
Like Medium, WordPress provides a modern-day editor built on top of ReactJS.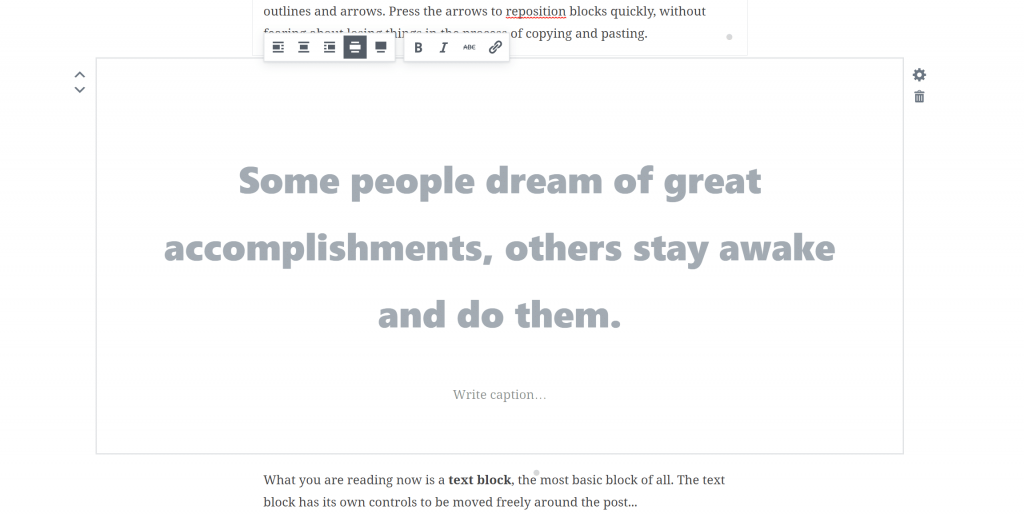 Both the editors are extremely easy to use. However, if I were to pick, I will pick Medium any day. WordPress's block editor is still in the development phase and there are still many bugs. However, Medium just works.
5 Reasons to Choose Medium over WordPress
Awesome Editor
The Medium Editor or writing experience is far better than any other blogging platforms currently available on the market. It is fast, reliable and intuitive.

Writing Experience
The writing experience on Medium is way ahead what WordPress currently offers. Yes, even after WordPress 5.0's block editor, Medium's writing experience tops WordPress editor. There really are no distractions; it's just your mind, the computer screen and your content. What makes the writing experience even more impressive is that the content will look exactly when it is published while writing
Engage Your Audience Easily – More SEO friendly
If you want your content to be discoverable, get more audience to your articles, medium is the place. Medium has a domain authority of 93. Domain Authority is a statistical measure of a website's reputation that ranges from 0–100 .
As the Domain Authority is higher, your content will more likely get indexed on Google. As we discussed in out WordPress SEO Guide, higher domain authority remains to be a significant factor to get good ranks on Google
Medium is the place best suited for socially engaging content because you already have a large audience of similar minded people. This is great for your content to get easy exposure.
Notifications
Followers of your Medium blog are automatically notified each time you publish. Both in the desktop version and via the mobile apps.
Email marketing might be the most lucrative option for webmasters, but notifications are a get a way to keep up with your audience too.
When you get traffic on Medium, they are notified of your post. These notifications are very powerful and brings a lot of more traffic.
Everything is Managed
W heather it is hosting issue, notifications, email marketing or technical SEO – Medium takes care of it all.
If you host your website using cPanel, you have to maintain everything including the server, domain and have to take the extra responsibility.
When you write content on Medium, you do not have to worry about the SEO plugins, or technical part of the SEO. For example, page speed, CSS issues, sitemaps, browser compatibility, 301 redirects, broken links, scripts – everything is taken care of.
You can just blog having peace of mind.
5 Reasons to Choose WordPress over Medium
You Own Your WordPress Content
Unlike Medium, you own your content in WordPress. Yes, that means your content lives insider your server and you can licence it however you want. You can claim full copyright for your website.
The same thing is not true for Medium. Medium owns your content, and they even can use your content for monetization.
You Are Building Your Brand
When you use Medium, you are helping them to promote their brand. You are not building your own brand, but promoting Medium by posting your content on the platform.
But with WordPress, you can create your own brand by customizing the domain, setting up SSL, free business email, CDN and more. You can build your brand, however you want. You are free to experiment on your own.
Full Domain & Hosting Control
Medium no longer offers a custom domain option. When you publish your content on Medium, it belongs to medium.com. If those posts generate back links and traffic, it will push Medium further. You do not have any way to grow your users via a distinct identity.
Not being able to brand your Medium publication with your own domain is the biggest reason not to use Medium.
However, with WordPress, you can setup WordPress at your preferred hosting provider like Bluehost or Hostgator. You can change your domain name in the future, change hosting provider if you are not satisfied. WordPress provides a lot more freedom.
WordPress is More Flexible and Customizable
WordPress has thousands of free themes that allow WordPress users to completely customize the look of their site. You can find many free SEO Friendly WordPress themes that will drive you more traffic. Whether you want to build a photography website, magazine, blog — there's a theme for that. Medium users have to use the same theme for everyone.
20+ Best WordPress Plugins You Must Have in 2022
WordPress users can choose from over 40,000 plugins that allow its users to build membership sites, quiz sites, marketplaces, blogs and even do project management. If you can think of it, chances are there is a WordPress plugin for it already.
Conclusion: WordPress or Medium – Which One is The Best?
If you are a personal blogger or writer looking to create a simple portfolio or blog, Medium may just be the right blogging tool for you.
Medium is not the right blog platform for every company.
There are many big brands who are already using WordPress as their go-to platform. If you want something simple – Medium should be your preferred platform. However, if your goal is to run anything remotely business related or if you want flexibility, WordPress is clearly the winner.
https://wphive.com/reviews/best-blogging-platform-wordpress-vs-medium/
Saif Hassan
Product Manager by passion & profession. Lead Product Manager at weDevs, former PM @ Poptin. Passionate about writing & tech. He's an advocate of Human-Centered Design and believes that websites and the tools used to build them should be well crafted, intuitive, and accessible. Cyclist. Reader. A WordPress ninja 🥷, HCI expert & a design thinker 💡

Subscribe To Our Newsletter