Top 5 Best Contact Form Plugins for WordPress Compared (2023)

Contact Form plugins are essential. Whether if you want to use it for just a simple contact form, or you want to collect responses to use later – Contact Form plugins are always crucial for everyone. In 2023, the relevancy of the contact form plugin have increased only.
If you have already made your website, created categories, and pages, and want to have the best contact form plugin to let your audience contact you, you have come to the right place.
Customers can send a quick email from the frontend without spending too much time using a well-built contact form. As a site owner, you will instantly get the email at your destination email and will also be able to reply to them. This allows you to expand the way you interact with your customers.
5 Best Contact Form Plugins for WordPress in 2023
There are many Contact Form plugins for WordPress that has been in the WordPress community. Some of the most popular and best contact form plugins for WordPress are,
and countless others. However, we are choosing these 5 for the comparison.
1. WPForms (Freemium)
WPForms is one of the most user-friendly and popular WordPress contact form plugins out there. The plugin offers a simple and easy UI for creating beautiful WordPress forms. You can create subscription forms, payment forms, contact forms, and other types of forms in a matter of seconds all from the front end. WP Forms is one of the best contact form plugins for WordPress.
The whole UX of WP Forms supports drag and drop form making. The plugins one to create an elegant contact us pages with drag-n-drop. You can create forms from scratch, or you can use the built-in forms available by default. You can also customize your forms as you like them.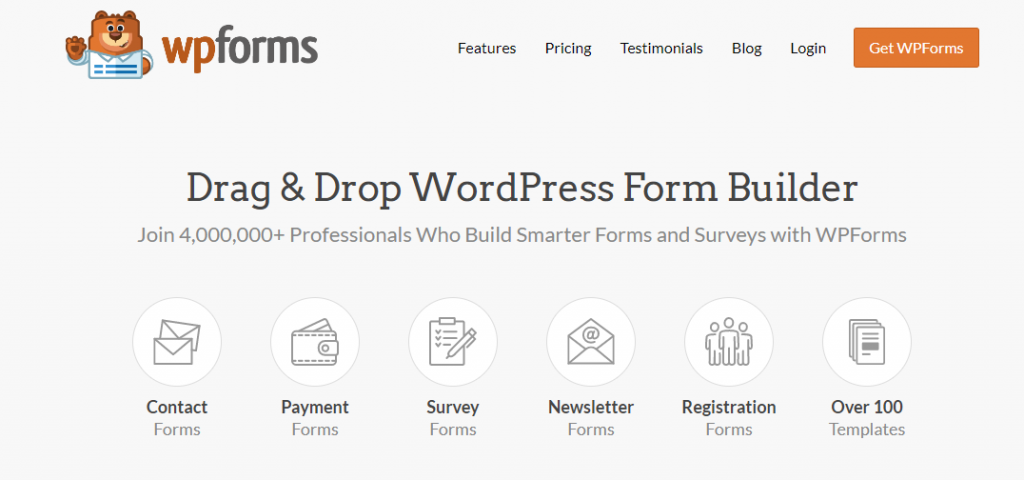 WPForms PRo version Pricing
WP Forms offers both free and premium versions of the plugin. The premium version has more features; however, If you want a simple and basic plugin, you can download the free version of the WP Forms from WordPress.org. As mentioned earlier, WP Forms is one of the best contact form plugins, also one of the most used.
WPForms is an easy contact form plugin that also is capable to support growing business platforms
Price: $39/year for Basic Plan (Premium Version)
2. Contact Form 7 (FREE)

Contact Form 7 is might be the most popular WordPress contact form plugins with over 3 million active installs in the official WordPress plugin repository. It is an entirely free plugin that lets you create unlimited contact forms. It has been around since the booming of WordPress and picked new features over time
After installing the plugin, it adds a default 'Contact form 1' form in the settings panel. You have to add the contact form's shortcode in your desired page to show the form.
The also plugin supports Google reCAPTCHA, Akismet spam filtering, and comment blacklist for preventing security threats. Contact Form 7 is one of the best contact form plugins for WordPress which is completely free.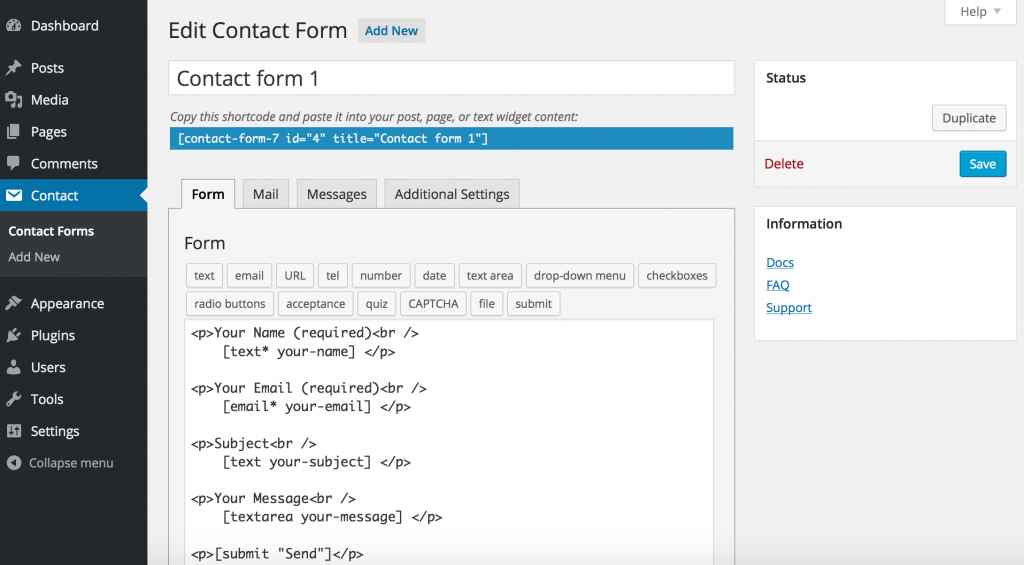 Significant Features of Contact Form 7:
Completely free!
Easy UI to understand
Supports Google reCAPTCHA, Akismet spam filtering, and comment blacklist for preventing security threats.
The plugin is available for completely FREE. However, it allows creating only the necessary contact forms. If you want to have sophisticated and additional features you have to choose other plugins as the plugin does not have any paid version.
If you want a simple contact form for free, Contact Form 7 is one of the best in the WordPress ecosystem right now. One of the best Contact Form plugins for WordPress available for free!
Price: Free.
3. Ninja Forms (Freemium)

Ninja Forms is one of the easiest to use, robust WordPress contact form plugins. It supports drag-n-drop which allows users to quickly create nice-looking contact forms without having to use any code. It is an outstanding plugin for the WordPress newcomers as it has a straightforward and clean user interface where they can create contact forms by just dragging and dropping elements.
Ninja Forms provides advanced settings for users can who want to change the style or individual fields. You can resize the form rows and columns to create a new design or rearrange them. You can create beautifully designed forms using Elementor too!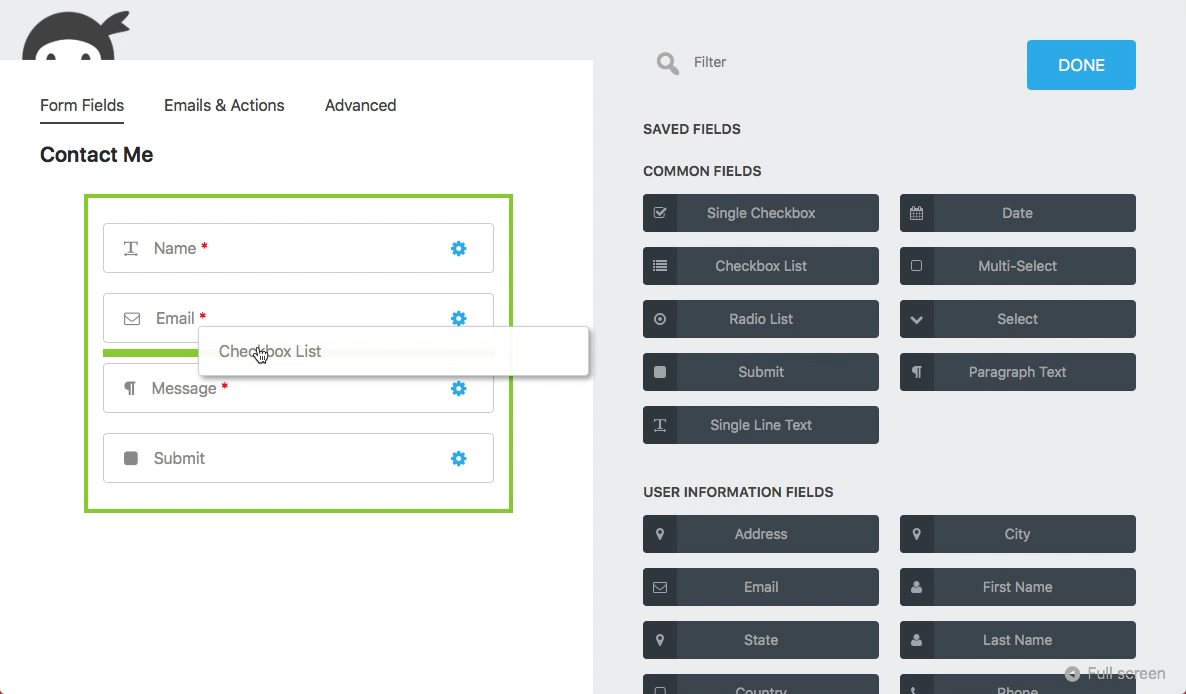 Additionally, it is also beneficial for the developers; they can use built-in hooks, filters and custom field templates to create their custom functionality. Flexibility makes it one of the best contact form plugins for WordPress developers all around.
Reasons to Choose Ninja Forms:
Create an unlimited number of forms
Export form submissions
Supports Google reCaptcha
Premium Add-Ons available
Ninja Forms Pricing
Ninja Forms is available in both free and paid versions. The free plugin can be downloaded free from the official WordPress repository where it shows over 800,000 active installs of the plugin.
Price: $99/year for Personal Plan (Premium Version)
The FREE version of the plugin is good for beginners websites while the premium version is perfect for established businesses. However, the premium plugin looks more expensive
4. Gravity Forms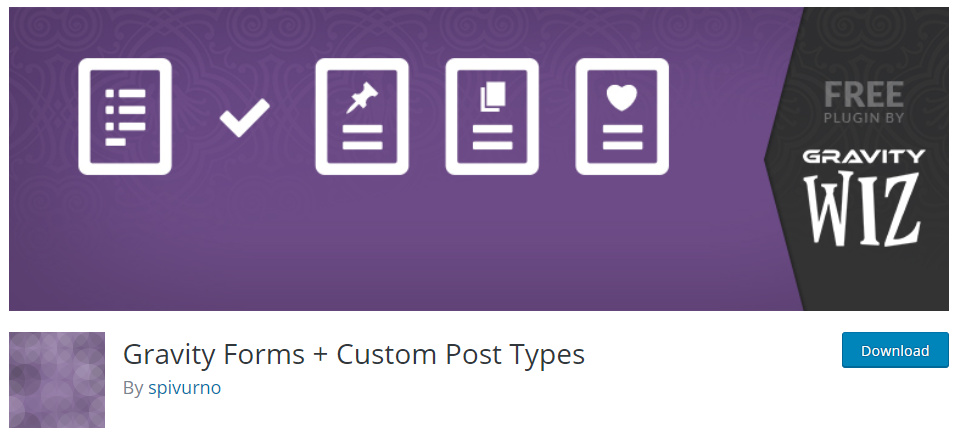 Gravity Forms is a compelling premium contact form plugin for WordPress. The plugin provides an intuitive, easy user interface for building nice-looking contact forms in no time. All forms are fully mobile responsive that ensures a 100% perfect look on all types of screens. The plugin has a great WordPress integration that makes it simple to build contact forms. You can create forms via multiple methods including shortcode, widget, a function call, etc.
Likewise, the plugin has good integration with popular web applications and services. Some of the most used add-ons available are AWeber, MailChimp, PayPal, Stripe, and Quiz. Gravity Forms is one of the best contact form plugins for WordPress in the premium category.
Why Gravity Forms?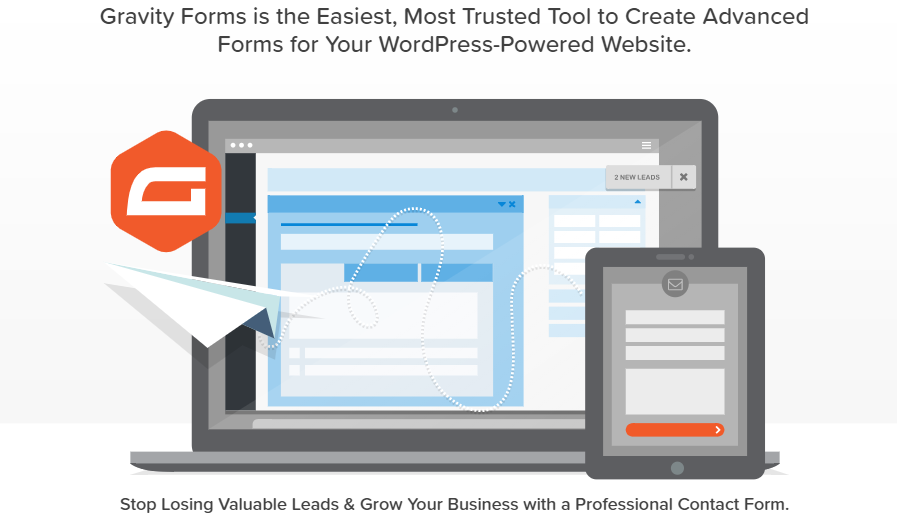 Form builder: multiple-page forms, limit form submissions, schedule forms to later dates, etc.
Advanced form fields: Standard fields, post fields, advanced fields, and pricing fields.
Order Forms: Product fields, option fields, shipping methods, total fields.
Powerful conditional logic: field conditional logic, section conditional logic, page conditional logic and submit conditional logic.
Notifications: Email notifications, conditional logic, merge fields, HTML emails
Premium Support – The plugin provides premium quality support for all of its users.
Gravity Forms Pricing
Unlike the other plugins mentioned above, Gravity Forms is not available as a free version. The plugin is not available in WordPress repository. Gravity Forms is a Premium-only plugin. Gravity Form has three pricing plans. The lowest plan starts at $39/year for 'Personal License.' You can use Personal License on one website only. If you are looking for the best contact form plugins for WordPress in the premium category, give Gravity Forms a go.
Price: $39/ year for Personal License – Buy Premium version
Gravity Forms is an excellent plugin for professional and business websites. It has lots of features and functionalities that you may need for creating a perfect contact us page or any sorts of forms
5. weForms (Our pick for the best Contact Form Plugins)
weForms is a relatively newer contact form plugin on the market. However, do not judge the plugin by its age. weForms is created by the team over at weDevs. The team has already produced some of the most popular WordPress plugins such as WP Project Manager Pro, WP ERP, Dokan Multivendor, and WP User Frontend Pro. weForms has been featured as #1 in our best contact form plugins for WordPress category in the best plugins list.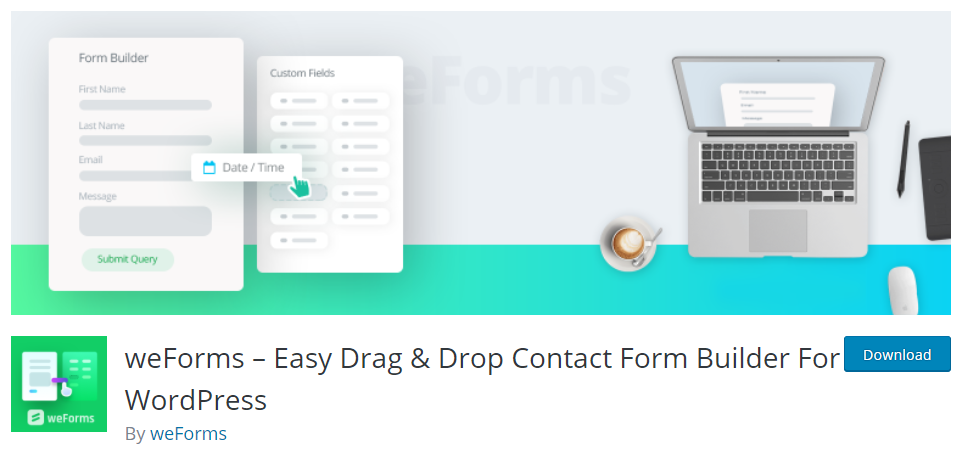 The free version includes all the primary features and functionalities one would need in everyday blogging. This is the only plugin that supports a lot of customization and premium features for free. You can see contact form submission data in the WordPress admin even with the free version.
weForms is the best contact form plugin for WordPress both in the free and premium category.
Main Reasons to Consider This WordPress Contact Form Plugin
The $39 per year is priced similarly to other premium contact form plugins but offers a lot more value than others.
Provides awesome integrations with MailChimp, AWeber, MailPoet, Campaign Monitor, Constant Contact, Get Response and Convert Kit
weForms also has other nifty integrations with work applications such as Trello, Google Sheets, Zapier and Slack.
Shortcode support
Google's reCaptcha is built-in to prevent spam where others charge money for spam blocking.
Has the most beautiful AJAX drag and drop builder with instant live preview.
Fastest drag-and-drop builder.
Cleanly coded.
Support for multi-step forms which have been shown to increase conversions.
Redirect your forms to a URL after form submission to increase the conversion rate.
weForms Pricing
When comparing other forms plugin, we found out weForms provides the best value for money. Even the free version offers way more features than the competition. We have created a separate tutorial to create forms using weForms because we love the plugin.
weForms has better performance and coding standards than other plugins we have tested. The UI is the fastest among all and very intuitive.
Wrapping Up on Best Contact Form Plugins
WordPress is evolving every day. There are more than 50000 plugins already on the WordPress Plugins repository. If we missed covering form plugins that you use and like, do let us know via comments.
If you do not want to test these plugins on a live site, consider installing WordPress on a separate server, or localhost using WAMP or XAAMP.
Follow us on Facebook and Twitter for more beginner friendly tutorials and reviews.
https://wphive.com/reviews/top-5-best-contact-form-plugins-for-wordpress-compared/
Saif Hassan
Product Manager by passion & profession. Lead Product Manager at weDevs, former PM @ Poptin. Passionate about writing & tech. He's an advocate of Human-Centered Design and believes that websites and the tools used to build them should be well crafted, intuitive, and accessible. Cyclist. Reader. A WordPress ninja 🥷, HCI expert & a design thinker 💡

Subscribe To Our Newsletter