MailPoet vs MailChimp – A Quest to Find the Better Email Marketing Tool for WordPress

You're probably here because you are either thinking about choosing your first email marketing tool or switching your existing one. If that is the case, then good for you!
We're so glad that you have decided to consider using your first email marketing tool or seeking an impactful switch. This is because we absolutely love email marketing as a powerful way to grow a business. Yet we feel like it always stays under the radar for most business owners.
Email marketing has a return on investment (ROI) of $36 for every $1 spent

Litmus
Long story short, this blog post will help you decide between two of the most popular email marketing providers for WordPress, MailPoet vs MailChimp. We have shared some data-based, decisive information that will help you make a decision easily.
Let's start by sharing a brief overview of the two products and then will present their individual strength and weaknesses comparatively.
Quick Navigation to the Comparison
A Brief Overview of MailPoet & MailChimp
Both MailPoet and MailChimp are quite popular with WordPress users. Here are the brief overviews of MailPoet and MailChimp starting with the first one.
MailPoet

MailPoet has been around since 2011 and is a popular choice for WordPress users thanks to its easy-to-use interface, regular updates and high level of support.
The plugin is one of the most popular free email marketing plugins in the WordPress repository and has over half a million active installs. Given those numbers, it's not surprising that it's also one of the most reviewed plugins. Furthermore, it currently has over 1,000 reviews giving the plugin an average rating of 4.5 out of 5 stars.
MailPoet is among the best premium email marketing plugins as well as being one of the best free newsletter plugins available.
MailChimp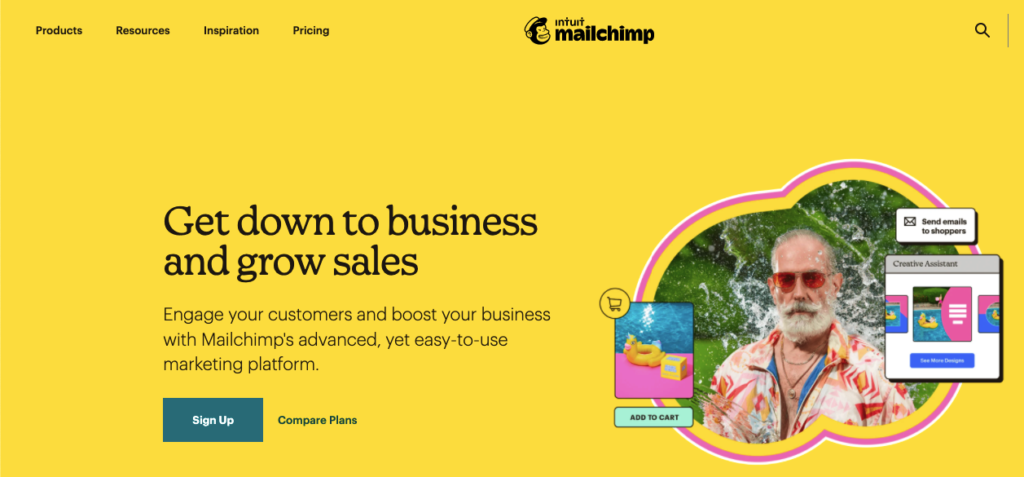 MailChimp is the most powerful email delivery service in the universe. It has helped millions of businesses send newsletters and other marketing emails. Currently, MailChimp has over 13 million customers, out of which 800,000+ are their paid customers. This makes them the most popular email marketing tool by the number of users.
The company provides full analytics and statistics for each email campaign sent, allowing the user to see how their customers interacted with the email which makes it easy for them to customize future sales pitches and follow up on leads generated from the campaign.
Comparing MailPoet vs MailChimp
Features

Feature-wise both MailPoet and MailChimp are quite well-equipped. But we dug deep into both of the tools to let you know the slightest of differences between these two plugins so that you can make a good decision in choosing your email marketing tool.
Email Gateway Options
Ease of Use
Subscriber List Segmentation
Monthly Email Sending Limit
Blog Post Notification to Subscribers
Reports & Analytics
WooCommerce Integration
Pricing
Free Version Features
Here is our detailed comparison of two of the best email marketing plugin, MailPoet vs MailChimp.
1. Email Gateway Options
You might already know the impact of email delivery gateway on the deliverability rate. A good email delivery gateway also ensures fewer emails land in the spam box. MailPoet invested heavily in its gateway to ensure more deliverability. In total, they allow you to send emails through three different options.
Your Webhost
An SMTP Gateway (SendGrid or Amazon SES)
MailPoet's own SMTP Gateways (Less Spam, More Deliverability)

You can get terminated from your hosting plan if you send more emails than you're allowed to use Webhost. Thus it is recommended to send email through either a third-party SMTP service or even better if you use MailPoet's own SMTP service.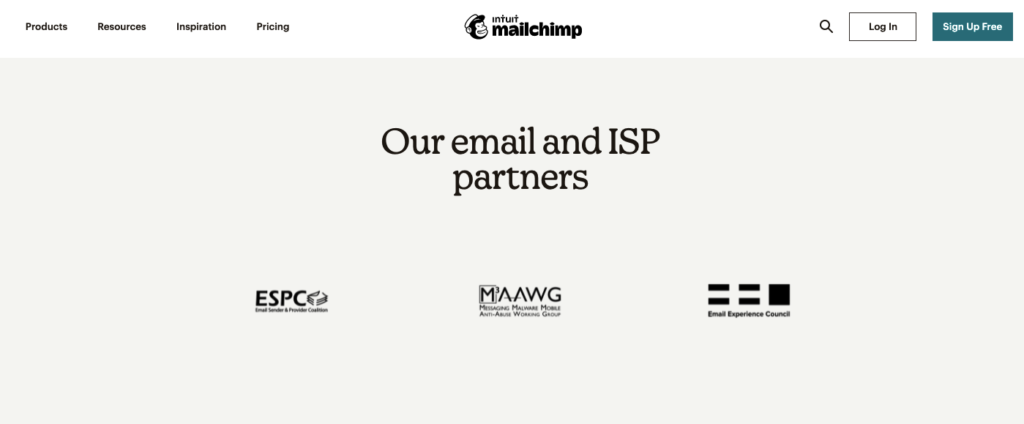 MailChimp, on the other hand, needs no introduction when it comes to email delivery options. They have their own industry-leading email sending services that ensure the best deliverability. MailChimp users send 6 billion emails per week through their service and the spam deliverability rate is as low as it gets.
Winner: MailChimp
2. Ease of Use
MailPoet is a typical WordPress tool. And by typical, we are not demeaning, rather appreciating the plugin. It is as easy to use, as any other email marketing tool. The UI is quite straightforward and the options are not complex for even beginner-level of users. It is almost a plug-and-play type of tool.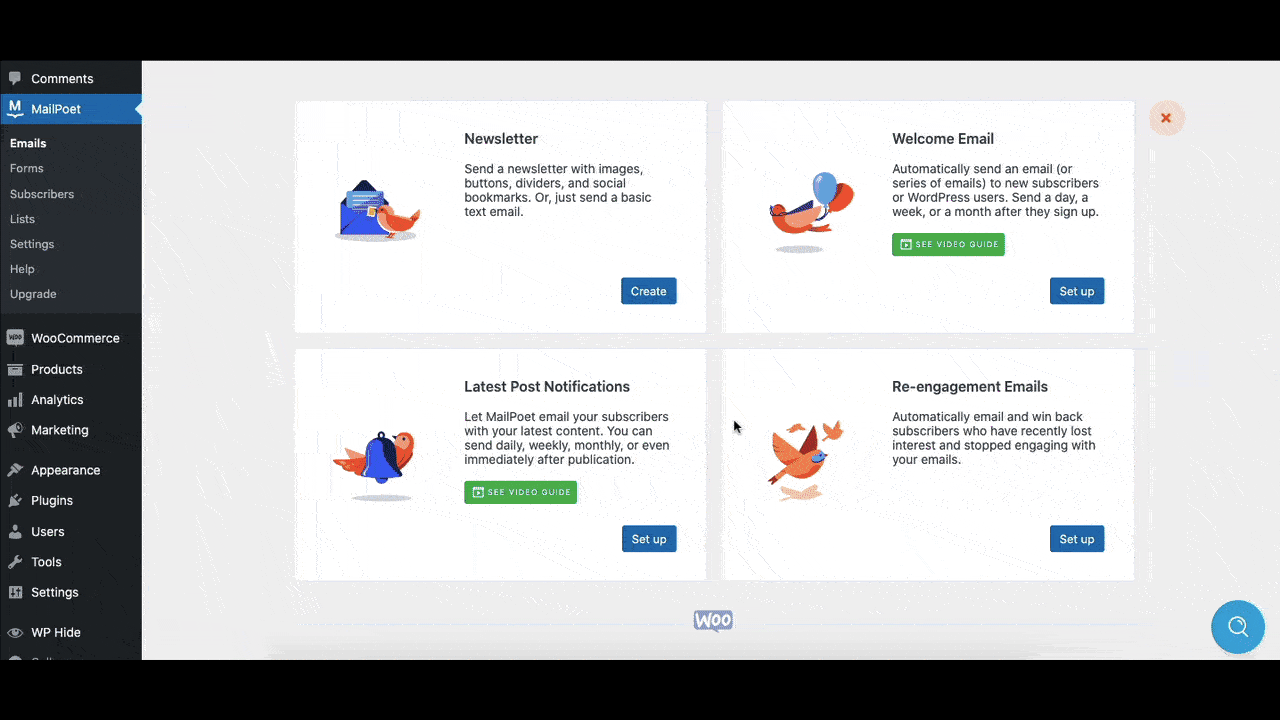 There are 5 different options that you will find after installing MailChimp –
Email – let's you choose between the types of email you want to send.
Form – let's you collect lead by adding different kinds of pre-designed optin form, You just have to choose where it should appear.
List – to segment your subscribers.
Subscribers – to helps you to manage your subscribers.
Settings – to configure the plugin.
That's it! Sounds easy enough?
MailChimp on the other hand, have 8 different options to operate the whole process.
Create
Audience
Campaigns
Automations
Website
Content Studio
Integrations
Search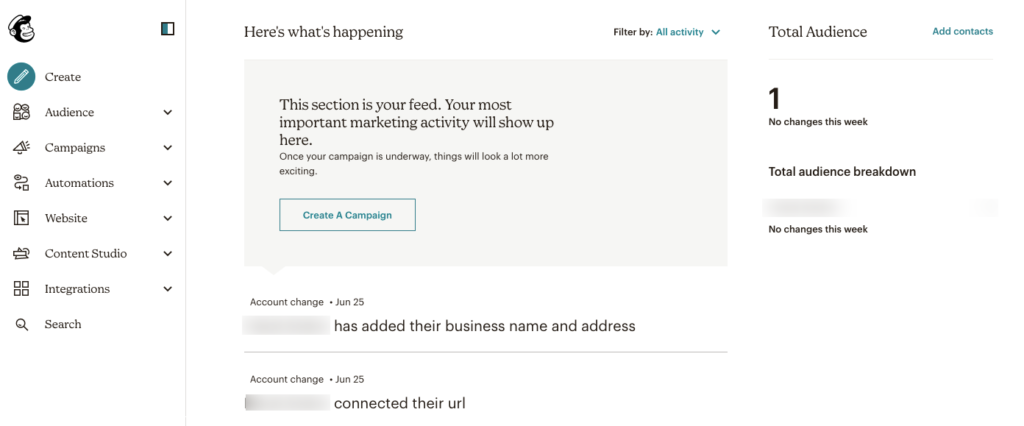 While the features do have a bit of a learning curve, due to their diversity and the sheer number of features, the industry-leading UX of MailChimp is surely easy to use once you get a hold of it.
The configuration startings of MailChimp, from domain verification, API key integration and using WordPress plugins to connect to the MailChimp service may also need a good bit of time for a beginner to learn.
Winner: MailPoet
3. Subscriber List Segmentation
MailPoet lets you create email lists and segments. The default list includes the leads collected through MailPoet, WordPress users, WooCommerce Buyers. You can also create an unlimited list for any custom group of subscribers.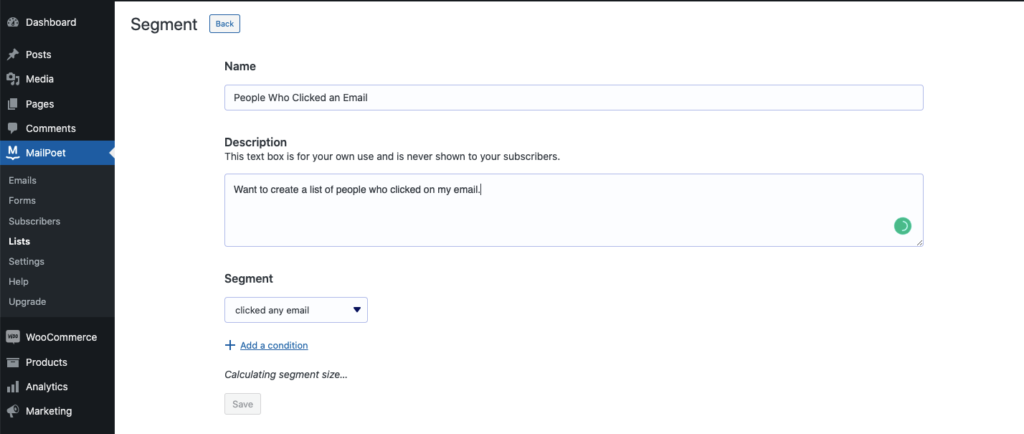 MailPoet contact segmentation is a bit more advanced than the list feature. The segmentation feature helps to filter out users based on advanced conditions. You can filter some really personalized segments of users using this feature.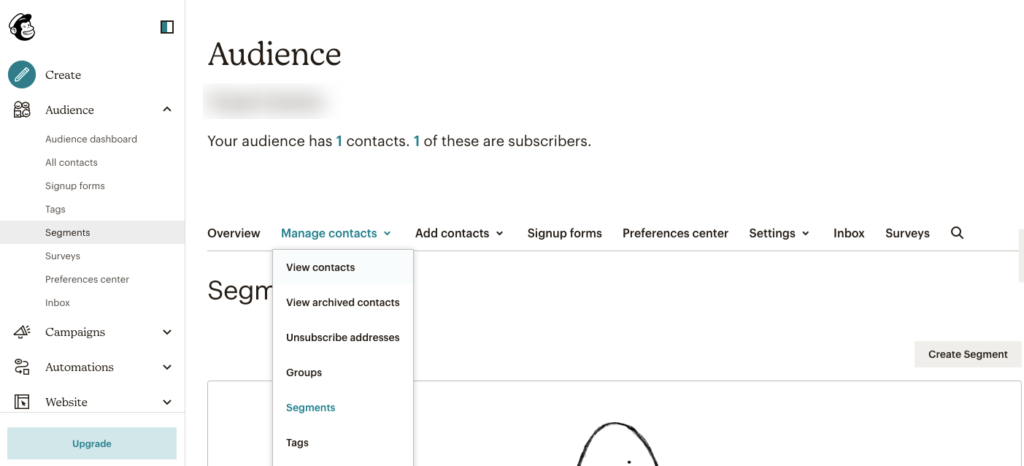 MailChimp's ability to segment contacts is even more advanced. The audience section lets use lists, tags, and segments. After that, the lists and tags can be managed via email automation and various sign-up options. Lastly, their advanced segmentation feature will let you filter users in a more advanced way than MailPoet. MailChimp also lets you create lists, but not unlimited.
Winner: MailChimp
4. Monthly Email Sending Limit
MailPoet is quite "kind-hearted" when it comes to email sending limits. It is the only email marketing tool that we know which allows users to get all the premium features for free, as long as they have less than 1,000 subscribers. However, the limit is less than MailChimp, capping at 5,000 emails per month. In addition to that, all the paid plans of MailPoet offers unlimited emails.
MailChimp follows (or created) the industry-standard email sending limits, The free plan of MailChimp includes up to 2,000 contacts, with 10,000 emails per month and a daily limit of 2,000. The premium plan also restricts the monthly send limit, which is –
10x of the contact limit for Essentials,
12x of the total contact limit for Standard,
15x of the contact limit for Premium.
Winner: MailPoet
5. Blog Post Notification to Subscribers
For WordPress users, post notification emails are an important feature to have. Thankfully, both MailPoet and MailChimp offers this service.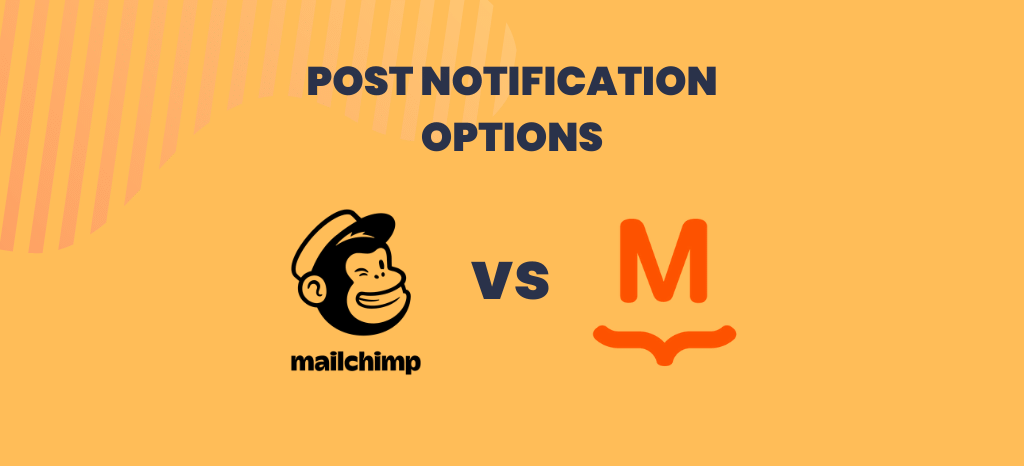 MailPoet gets a slight edge in this area. As MailPoet is out and out a WordPress-based tool that is tightly integrated into WordPress, it can directly pull detailed post information. Thus, MailPoet let you customize a lot of detail in the post notification email, such as the post title, excerpt, full post content, author info, featured image, category/tags, and more. It even has a module called "Automatic Latest Content" to help you with it.
MailChimp also let you send post notification emails. However, due to the nature of how MailChimp can communicate with WordPress for the latest post data (which is the WordPress RSS feed), it is not possible to get any other data besides the post and title. Which obviously is not going to cut it for most people.
Winner: MailPoet
6. Reports & Analytics
Detail reports are one of the most crucial features an email marketing tool can have. MailPoet lacks far behind Mailpoet in this regard. It offers very basic email stats such as open rate, click rate and unsubscribes count.
Mailchimp's report and analytics are simply the most comprehensive you will find on any email marketing tool. Besides the conventional open/click rate, it offers advanced insights into your email marketing campaign. This includes click map, geolocation of the subscribers who opened the email, campaign benchmarking, how many times the email was forwarded and many more. No doubt, it leaves MailPoets reporting far, far behind.
Winner: MailChimp
7. WooCommerce Integration
MailPoet has a powerful WooCommere integration. It lets you send abandoned shopping cart emails, first purchase emails, regular purchase emails, related product suggestion emails, in addition to the core WooCommerce emails. They have a dedicated option to send WooCommerce emails, which can be found by navigating to WP Admin Dashboard > MailPoet > Emails.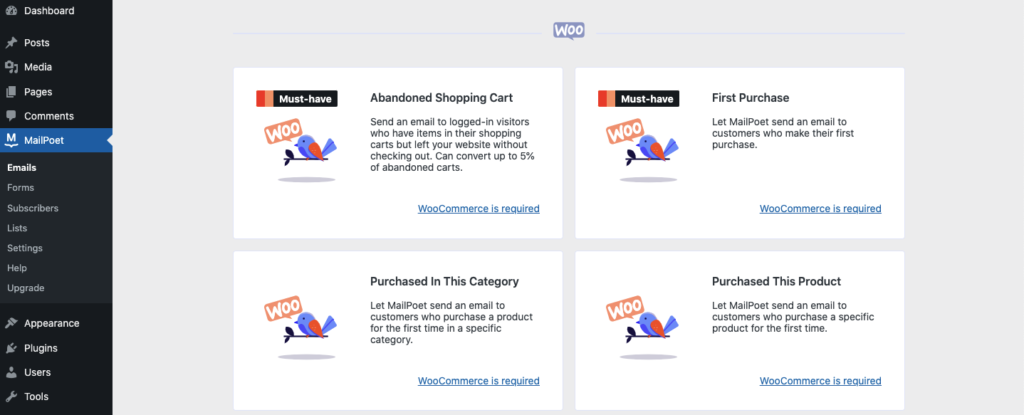 MailChimp also offers WooCommerce integration. You can integrate MailChimp into your WooCommerce using its plugin MailChimp for WooCommerce. The plugin does good in sending the core WooCommerce mail when you set it up. However, we found the integration to be less well-equipped than that of MailPoet.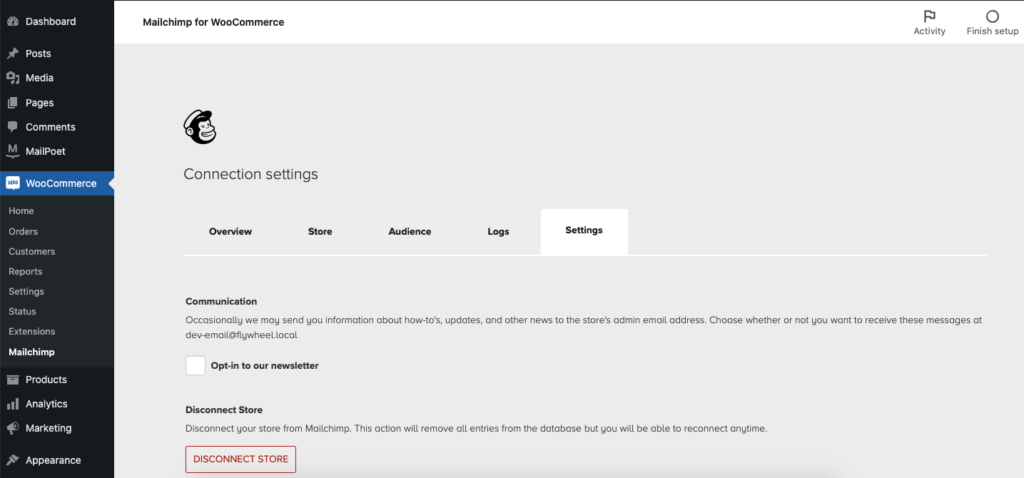 Winner: MailPoet
8. Pricing
None of the tools is cheap per se. Both MailPoet and MailChimp are quite costly. MailPoet will cost you 8€ for the base "Creator" plan. Which increases to as much as €30 for the topmost agency plan. All the costs are applicable for 500 subscribers and it will increase based on the number of subscribers.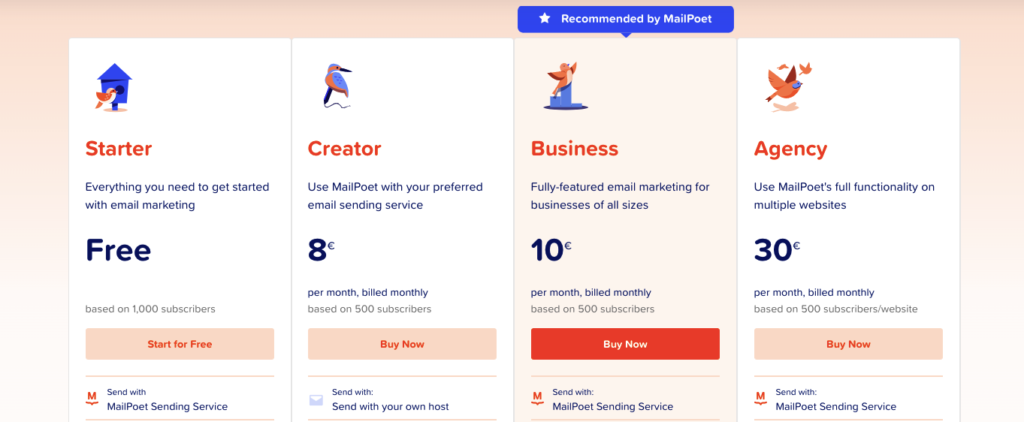 MailChimp's base price is some €2 more than MailPoet, standing at €10.17 for the base plan (up to 500 subscribers, price increases with subscriber count). Their costliest plan is the Premium one, which is placed at €276 for 10,000 subscribers. They also have a standard plan, costing €15.72 for the 500 contacts.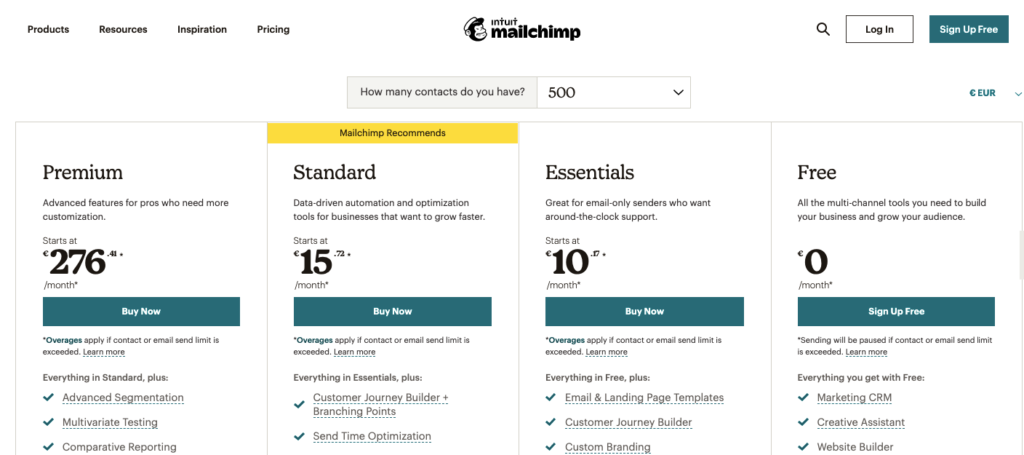 Winner: MailPoet
9. Free Version Features
The great thing about MailPoet is that it offers all its premium features for free up to 1,000 subscribers. That means all the cool premium features such as custom branding, advanced reporting, and many more are available for free to small website owners! Add to that the 5,000 emails to these subscribers. A great deal for anyone who is starting their email journey.
The free version features on MailPoet will still beat the free version features of MailChimp any day. However, reporting is the only place where you will fall far behind. So unless you require a great deal of data from your campaign, you will get by with the MailPoet free quite easily.
Mailchimp also offers a free plan, perhaps not as comprehensive (and limitless) as MailPoet. Its free version has a limit of 2,000 subscribers. However, you can send more emails with the free version with MailChimp, which is 12,000 emails per month with the free plan.
Also, the premium features are unavailable with the free plan, unlike MailPoet. What you will get instead, is the deep insights to every email you send, aka the advanced reporting, which is quite insightful on the free version as well.
Winner: MailPoet
MailPoet vs MailChimp – Comparison Summary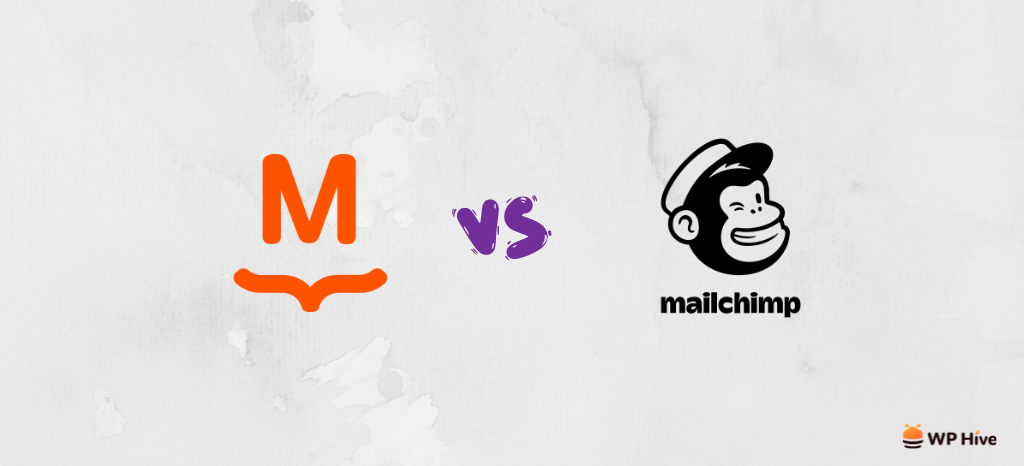 So we have compared MailPoet and MailChimp to the end of the line. Now if you have missed the long and detailed comparison, worry not, here is a birds-eye view of the comparison for you to decide easily.
| Feature | MailPoet | MailChimp | Winner |
| --- | --- | --- | --- |
| Email Gateway Options | 97.5% | 96-99% | MailChimp |
| Ease of Use | Easier to Learn & User | Bit More Complex than MailPoet | MailPoet |
| Subscriber List Segmentation | Yes, Less Advanced | Yes, Better Filtering | MailChimp |
| Monthly Limit | No Limit for Paid Plans | Limited | MailPoet |
| Blog Post Notification to Subscribers | More Detailed | Less Detailed, Uses RSS Feed | MailPoet |
| Reports & Analytics | Basic Reports | Advanced Analytical Reports | MailChimp |
| WooCommerce Integration | Yes | No | MailPoet |
| Pricing | €8.00 | €10.07 | MailPoet |
| Free Version Features | Unlimited Emails for >1,000 Subscribers | Up to 2,000 Contacts, Email Capped at 12,000/mo | MailPoet |
Bonus: 3 MailChimp & MailPoet Alternatives to Try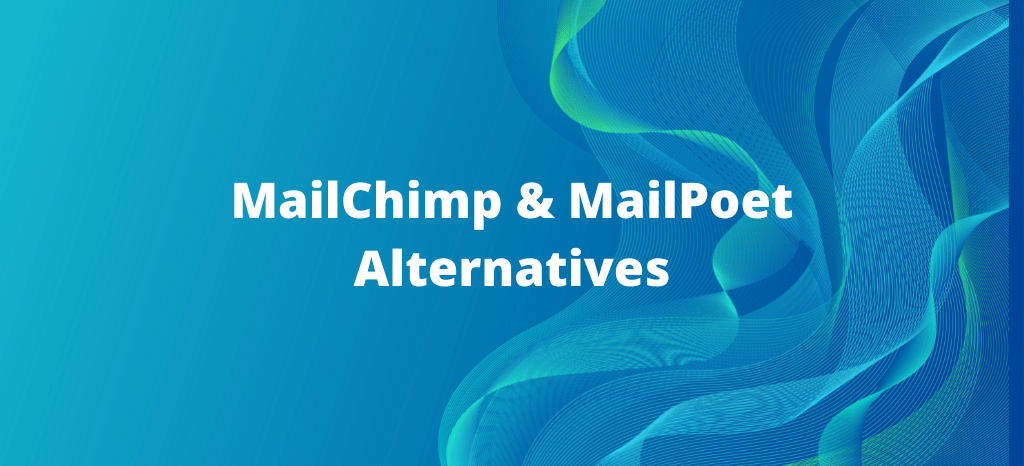 MailPoet and MailChimp are two of the most used email marketing solution. However, no tool is perfect and you may still miss a single feature that does not exist in these two tools. There is also the fact of pricing, which may seem higher for you. Considering all these, we have gathered a list of some possible alternatives for you to choose from.
Sendinblue: Sendinblue is one of the industry-leading email marketing solutions. They have a dedicated email marketing plugin for WordPress, which is quite powerful. They let you create subscription forms, and contact lists, run marketing campaigns, send transactional emails, and many more.
Price: Starts from $25/20,000 emails. Unlimited contacts.
MailerLite: It is another highly popular email marketing solution for WordPress. They have dedicated WooCommerce and optin form integration for WordPress.
Price: Starts from $10 for 1000 subscribers. All plans offers unlimited emails.
weMail: weMail is quite a rising star in the field of email marketing for WordPress. It is a great MailChimp and MailPoet alternative with e-Commerce integration, contact list & segmentation featire, opt-in and embed forms, multiple email sending API. It is quite an affordable tool as well.
Price: Starts from $5/3000 contacts and unlimited email.
Which Email Marketing Tool are you Using?
MailPoet can be an alternative to MailChimp for WordPress users. Their pricing structure is also very similar and you get all the necessary features MailChimp is offering.
However, pricing aside, MailChimp still offers their users hands down the most advanced email sending platform to manage automated emails, analyze statistics and much more.
MailPoet is still the better tool to make your email sending process very simple, and do all your tasks inside the WordPress dashboard. Moreover, you won't miss any important features in the MailPoet as well.
Get an exclusive 30% discount on MailPoet using our coupon code.
Code: Limited30
https://wphive.com/reviews/mailpoet-vs-mailchimp-comparison/
Faisal Sarker
Faisal is a tech blogger who excels at WordPress Content Writing. Apart from sharing useful info pieces that help people around the world, he also likes to travel and read books of all genres in his leisure time.

Subscribe To Our Newsletter