7+ Super Cool Animation Plugins for WordPress

Adding animation is a great way to present web content. It can help you create an appealing visual interface for your website and make your specific content more engaging and eye-catchy.
Once it was difficult, almost impossible, for non-coders to add animation to their website. But today you can do it quite easily with the help of animation plugins. They can help you create page effects, scrolling text, flowing transitions between pages, and more.
This article is going to introduce you to some of the most popular animation plugins for WordPress. This will help you find out the best one for your website and create effective strategies to achieve your goals.
But before that let's have a quick answer to a burning question.
How Web Animation Improves User Experience
Animations not only make an eye-catchy website but also give it a cutting-edge stand out over the online competition. Below are the reasons you should consider adding animation to your website.
1. Makes Website Interesting
Animations can make your boring content interesting the same way spice makes a normal recipe tasty. It usually becomes difficult to retain readers till the end when web content is too long. But animations like sliders, hover effects, and floating icons can create multi-dimensional attractions for traffics and users.
2. Communicates More Clearly
As animation grabs the attention of web visitors, it helps you simplify complicated ideas, tell stories in short spaces, and communicate easily with audiences. So, you can navigate, instruct, and narrate to users any specific message quite accurately.
3. Boosts Conversion Rate
According to Vidyard, 70% of marketers claim that animated and video contents result in more conversions compared to text content. Because it helps a website to move its users through a conversion funnel of three stages. They are awareness, consideration, and decision stages.
4. Improves Visual Appearance
Visual appearance is the first thing that visitors value after landing on a website. There are currently 1.9 billion websites existing on the web. Can you imagine how boring will it be if all of them have the same visual interface? Animations can help you improve the visual appearance of your website overnight.
5. Supports Marketing Efforts
Appleaning animations help to reduce bounce rates, to retain users for a long time, increase page views, and boost conversion rates. When a website starts receiving lots of support like these ones, it becomes much easier for them to run a marketing campaign effectively.
Best WordPress Animation Plugins for Adding Effects on Your Website
In this section, we will discuss both the free and premium animation plugins that you can use on your WordPress site. Hopefully, you will find the best from here for your needs within your budget.
1. Smart Slider 3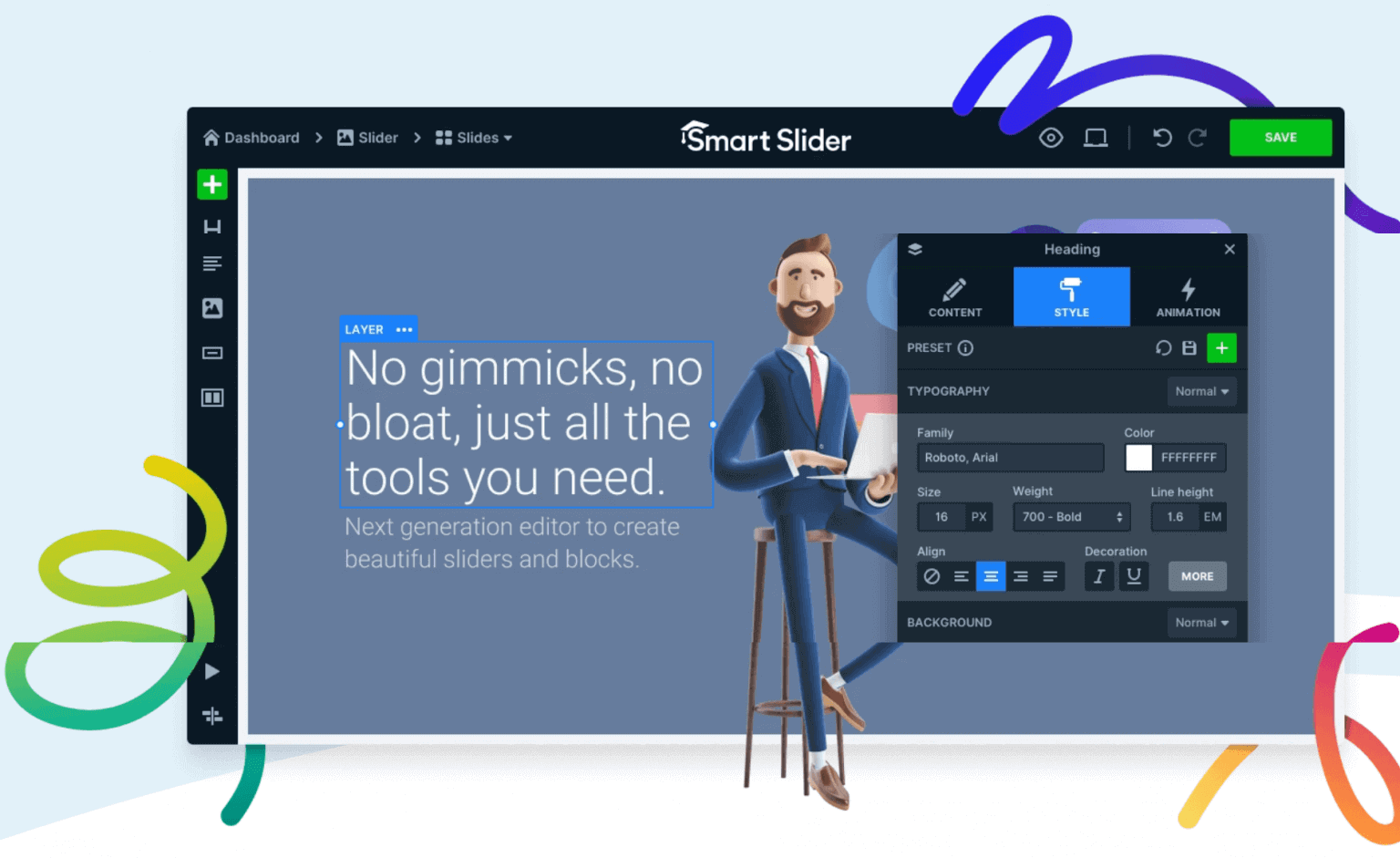 With Smart Slider 3, you can turn your simple web images into complex full-page slideshows, videos, and even animated layers. It offers you a powerful drag-and-drop page builder by which you can create carousels, next slider blocks, and full pages exactly the way you want.
Pros
180+ stunning templates
24 layers and each of them offers advanced customization
SEO-friendliness helps you improve your web appearance on search engine result pages
Flawlessly works with page builders like Gutenberg, Divi, Elementor, and others
Responsive to any digital device
Lifetime support and updates (for premium users)
Cons
Controls are somewhat complicated for the beginners
Poor documentation may bewilder the newbies
Most of its advanced features are reserved only for the premium users
Pricing
Its free version is available. The premium version starts from $49 (one-time payment). Risk-free money-back guarantee within 14-days of purchase.
Explore more about Smart Slide 3
2. Soliloquy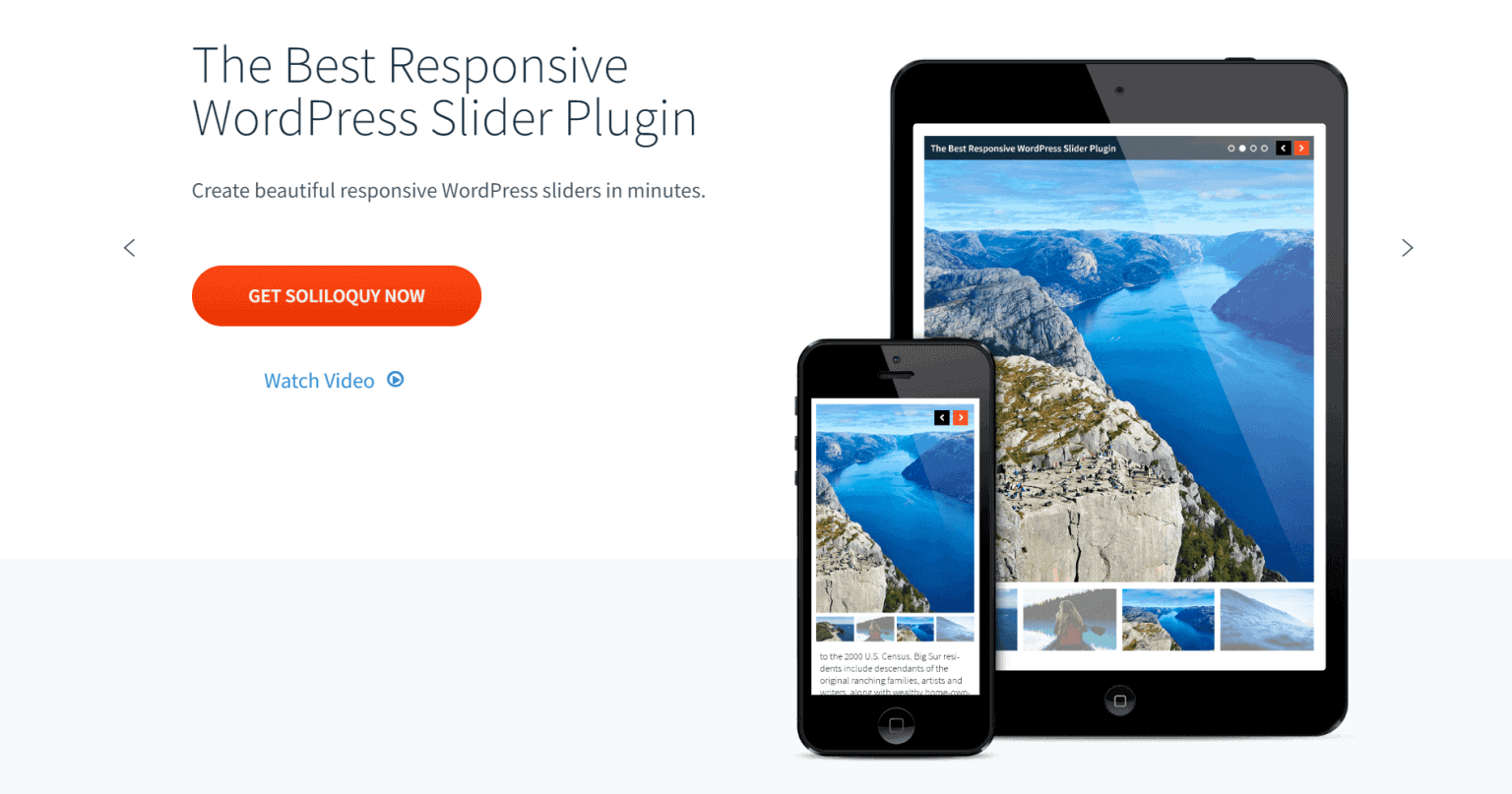 Soliloquy is one of the best responsive slider plugins for WordPress users. Using its sliders, you can give an aesthetic look to your WooCommerce store and blog sites. Its setup and usage process are so simple that you cannot but love this plugin.
Pros
Offers drag and drop builder interface
Makes websites responsive to all devices
Doesn't slow your website speed
Has a good number of pre-built slider templates
Product-slider beautifies the WooCommerce store
Comes with CSS option and PDF slider
Cons
You can't do much with the free version
Some of the features of this plugin are available in other plugins for free
Irregular updates
Pricing
A free version is available. The premium version starts from $19/yearly. Risk-free money-back guarantee within 14 days of purchase.
3. SeedProd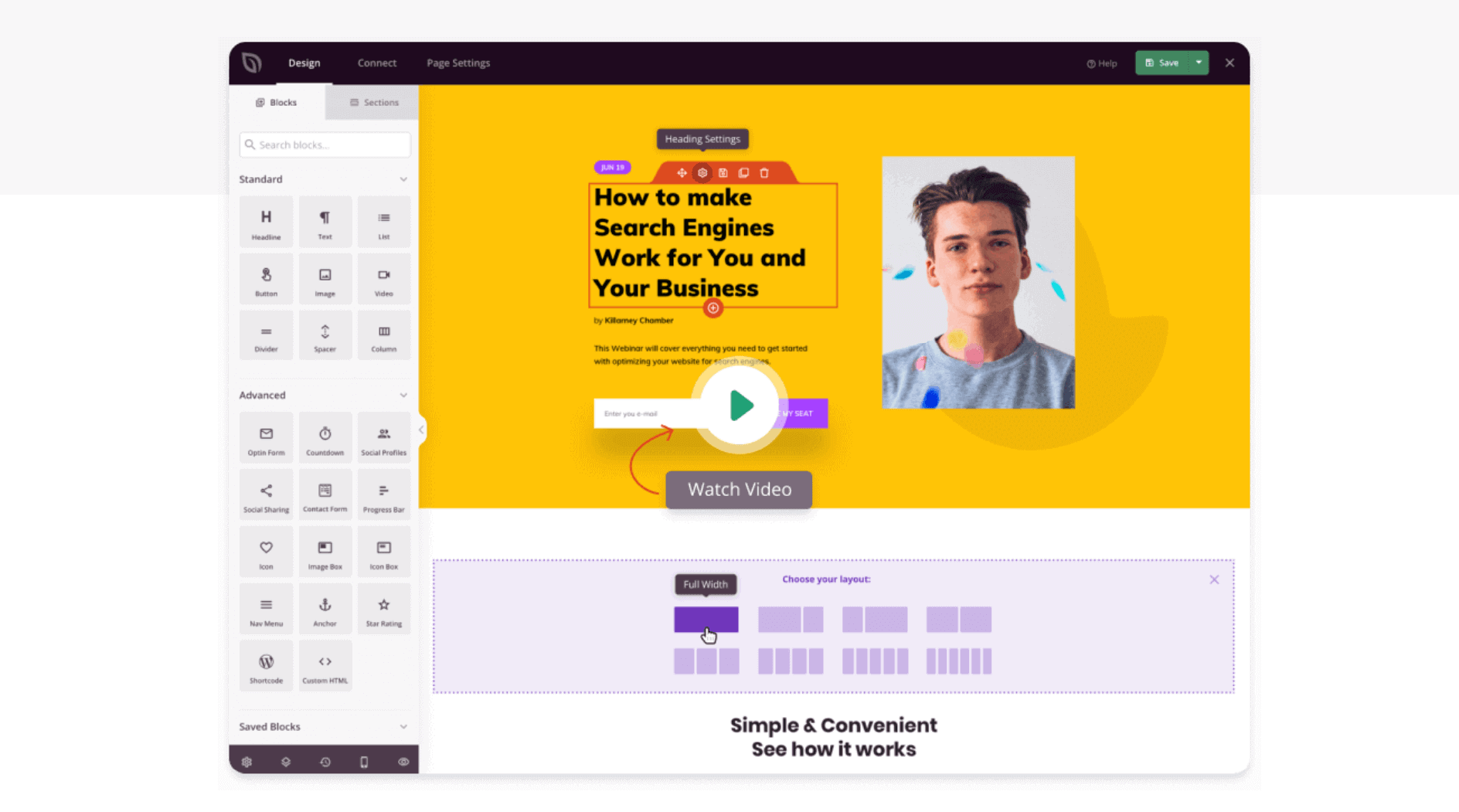 With so many kits and templates available, SeedProd is another powerful WordPress animation plugin. Not only does it let you add animation but also customize web themes and page layouts. Using its pre-made blocks, you can quickly add carousels, animated headlines, slideshows, and background videos.
Pros
80+ pro blocks allow you to create dynamic and evergreen content
WordPress theme builder helps to curate headers, footers, pages, posts, and sidebars
You'll get tons of pre-built themes and landing page templates available
Integratable to WooCommerce
Cons
Complicated for new users because of too many options it has
Its free version isn't much useful
Pricing
Its free version is available. The premium version starts from $79/yearly. Risk-free money-back guarantee within 14 days of purchase.
4. Responsive Menu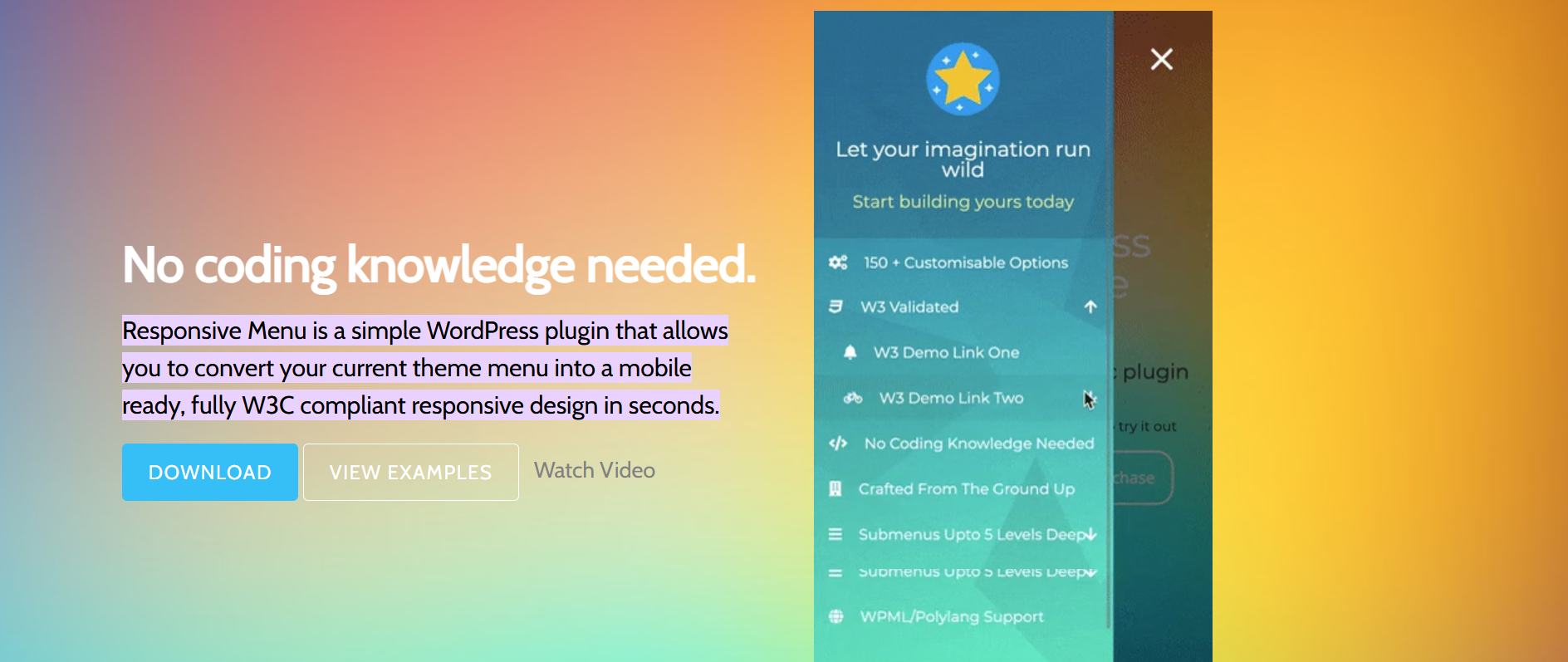 Responsive Menu will give life to the menu bar of your website and also make it responsive for all devices. With this plugin, you can specify where the menu bar will appear (right or left) and from where it will slide. Also, you can change font style and animation buttons to ensure navigation accuracy.
Pros
Offers 150+ customizable options
20+ button animations
600+ font icons
Comes with multi-lingual support
Easy to use for anyone
Cons
Poor documentation
The free version doesn't support mobile responsiveness
Pricing
Its free version is available. The premium version starts from $49/yearly with a 7-day free trial.
Explore more about Responsive Menu
5. Thrive Architect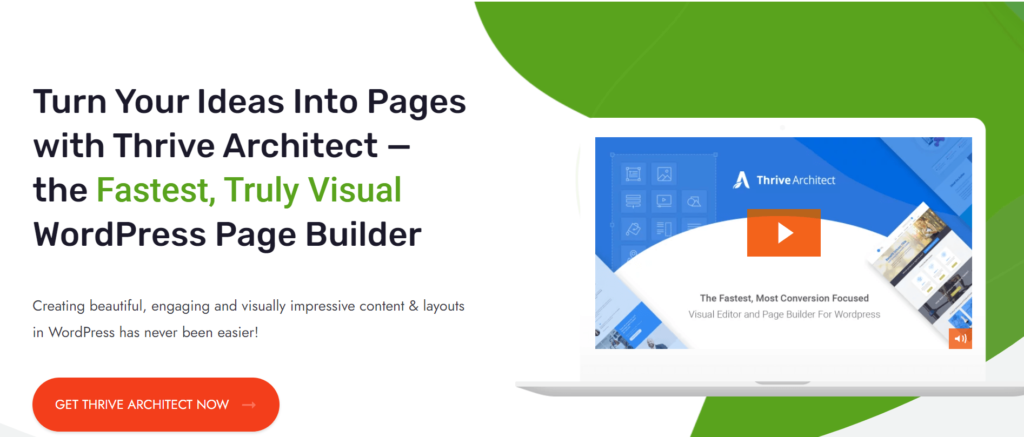 Thrive Architect is actually a visual page builder plugin for WordPress users. But you can add varieties of hover effects to your content boxes, CTA buttons, icons, testimonials, and else. Besides, if you know CSS coding, you can further modify these animation effects.
Pros
Drag and drop builder is available
Fonts are customizable
Integrateable with the must-have WordPress plugins
Offer a good number of unique landing page templates
Has attention-grabbing text and image combinations
Cons
The interface is quite complicated
The price is a bit high and no individual purchasing option
Price
Its free version is available. The premium version starts from $99/quarterly with a 30-day money-back guarantee.
6. Animate It

If you are looking for a free animation plugin for WordPress with lots of features, there is no greater option than Animate It. Using it, you can add varieties of animation effects to your website and customize their duration to seconds. This is one of the best animation plugins for photography and portfolio websites.
Pros
50+ charming animation effects are available
Allows to apply CSS3 animations on pages, posts, and widgets
Easy to load animation when click/scroll/hover
Allows you to add custom CSS
Supports Spanish and German languages
Cons
No quick or premium support is available
Except for this one, you won't find any significant cons here
Pricing
This is a completely free animation plugin for WordPress users.
7. Parallax Scroll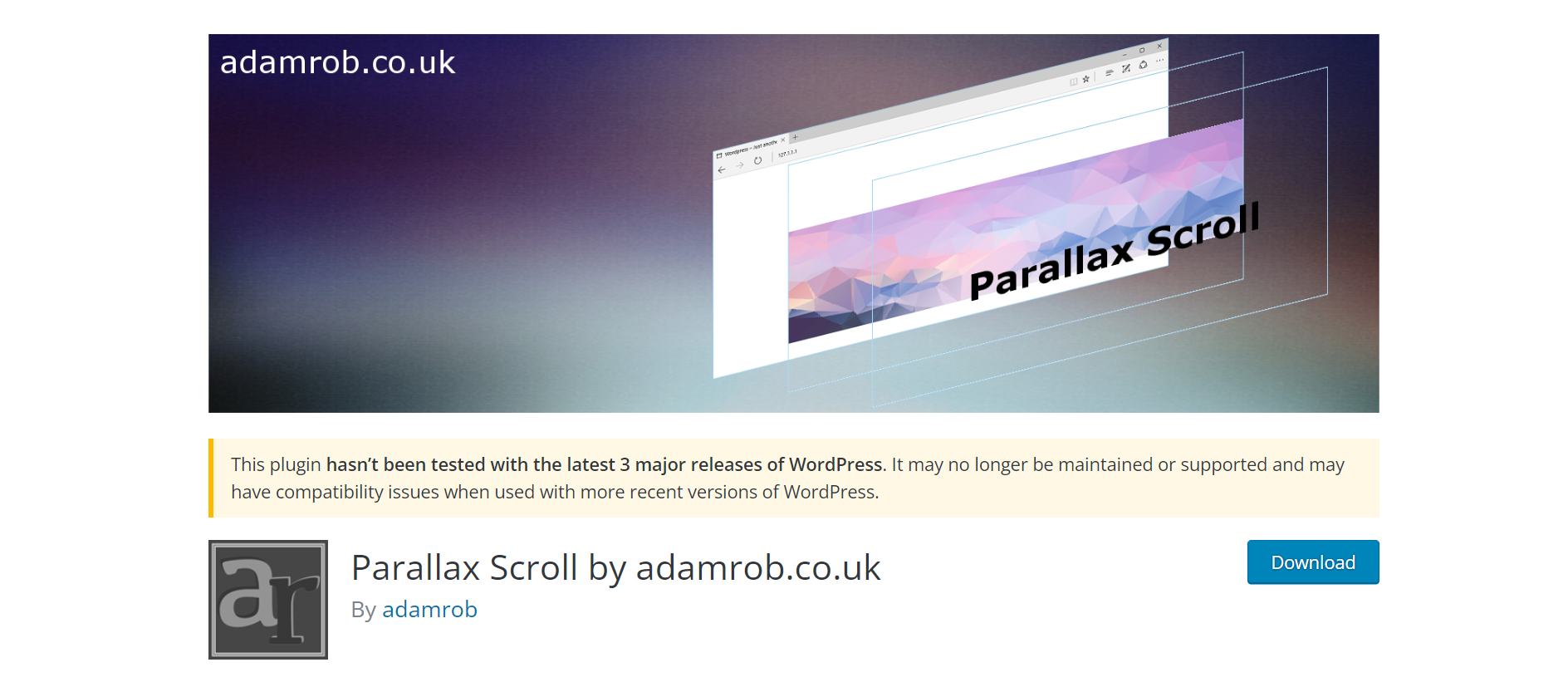 Parallax scrolling has become a trend in recent times. It makes the background move more slowly than the foreground when users scroll a website.
These things usually slow down a website which you can overcome with the Parallax Scroll plugin. Also, it allows you to create header text, single elements, and a full section for your web background.
Pro
Helps you create 3D effects for your web background
Allows you to shape the animation styles
Creates a parallax scrolling background for your page elements
Enables you to create and customize individual web elements
Cons
No premium support
Updates come after long breaks
Pricing
A completely free animation plugin for WordPress users.
Explore more about Parallax Scroll
8. Popup Maker

It is needless to explain the importance of effective popups in this competitive online. Popups help you gather valuable information about your leads and let them hear your important announcements as well. Using this Popup Maker, not only you can create popups but also give a triggering look to them.
Pro
Lets you create varieties of popups (contact forms, eCommerce forms, lead generation forms, announcement popups, and more)
Allows to change and customize its theme, position, and colors.
Gives multiple ways to trigger this popup (click, automatic, form submission, etc.)
Easy to integrate with many third-party plugins
Cons
As a specialized popup maker, they should have had more popup templates
Sometimes, slows down the website and fails to work on mobile devices
Pricing
Its version is available. The premium version starts from $87/yearly with a 30-day money-back guarantee.
Explore more about Popup Maker
FAQ on WordPress Animation Plugin
Here, we are going to cover some most frequently asked questions online about WordPress animation plugins.
Can I add animation in WordPress?
Yes, you can add animation to your WordPress site if you have enough expertise in CSS coding language. But obviously, not many users are experts in this language. But there is a number of good-performing animation plugins available by which anyone can give appealing looks to their websites quite easily.
What are some great WordPress animation plugins?
You will find a wide collection of WordPress animation plugins online. But here is a list of those that we have tried and found excellent that you can use too.
1. Smart Slider 3
2. Soliloquy
3. SeedProd
4. Responsive Menu
5. Thrive Architect
6. Animate It (Free)
7. Parallax Scroll (Free)
8. Popup Maker
How do I animate text in WordPress?
What is the best plugin to create an animated gallery?
Animate It is currently one of the best plugins to create animate galley in WordPress websites. Also, you can use it for your portfolio site.
Why do we need animation on a website?
The two most universal goals of any website are increasing user engagement and boosting conversions. And adding interactive animations can support any website to achieve them. Also, it can help you in other ways as well. Such as
1. Gives websites an appealing look
2. Creates communication more clear
3. Retains web visitors
4. Removes boringness
5. Boosts conversions
6. Supports marketing efforts
Final Thoughts on WordPress Animation Plugin
According to British Research, it takes only 2.6 seconds for the eyes to settle on the important parts of a website. And more than 90% of first impressions are acutely related to its design and visual appearance. And in this case, animation can play an immense role.
If you are looking for the Perfect WordPress Animation Plugins, hopefully, this article has been able to meet your needs. Except for one, you will find a free version available for all of the plugins stated above.
If you are a beginner, the free version might be able to meet your needs in most cases. But if you have a small business, running a magazine/online newspaper, or want to build a more comprehensive website, the premium version is a must for you.
If you love this article and want to get more like this one, subscribe to use. Also, follow our Facebook and Twitter channels for regular updates.
https://wphive.com/reviews/plugins/animation-plugin-wordpress/
Fuad Al Azad
Fuad Al Azad is a creative writer who loves to blog on everything in between tech, marketing, and eCommerce. Alongside, he is an admirer of fact, fiction, and philosophy.

Subscribe To Our Newsletter