Best URL Shortener Plugin for WordPress in 2023

Posting a never-ending URL with unnecessary numbers and characters is not somewhat a good practice. Why? Because, it is unprofessional, ugly looking, and also doesn't create any sense to a visitor.
Instead, you can use pretty and short URLs that make sense of what the link is about and become handy while posting it on your social channels like Facebook, Linkedin, and especially Twitter where there is a word limit. It also helps you to track the click stat of that link.
Now you might be wondering how you can create short URLs. No worries! Like every other task on WordPress, there is a set of plugins to create short URLs as well.
And today we have planned this article based on the best URL shortener plugins for WordPress. So, let's get started!
Why Do You Need to Use URL Shortener Plugin?


Maybe you have got a shallow foresight of the purposes of using the URL shortener plugin from the above paragraph. However, it's time to turn your shallow foresight into a crystal clear idea by showing the actual purposes of using URL shortener plugins.
Easy to Share: With URL shorteners, you can make simple URLs for your complex links. These custom URLs are easy to share in your emails, text messages, social networks, and so on.
Tracking Options: Most URL shortening services also offer tracking options. This way, you can manage links and keep track of your marketing campaigns more easily.
Doesn't Affect SEO: When someone clicks on the custom short link made by a URL shortener, it always redirects to the correct page. Shortened URLs follow the regular 301 redirects, so they don't affect your SEO rankings at all.
Affiliate Link Cloaking: Affiliate links usually become too long which can scare away the readers. No one is supposed to click on "www.yoursite.com/product/B00UL43110?ref=site.com&tag=Associates_ID" rather than click on "www.yoursite.com/amazon-books".
Now you want to pick a URL shortener plugin for your WordPress blog or affiliate links, right?
How do I know? Magic! Well, let's put some light on the best URL shortener plugins for WordPress now.
Best URL Shortener Plugins for WordPress Compared

Long story short. We have reviewed the 5 best URL shortener plugins that are top-rated, most downloaded, and packed with modern features. So, these are our top 5 plugins;
As we said earlier, a URL shortener is a tool that you can use to customize your long URLs and convert them into small, shareable links.
Though the purpose of every URL shortener plugin is the same, then again their features, working procedures, and compatibility may differ from one another.
That is why we have reviewed these plugins with the aim that this review will guide you to choose the perfect plugin for you.
Pretty Link Lite

Pretty Link Lite is the most popular and top-rated WordPress plugin for creating short links. More than 300,000 users are actively using the free version of this plugin on their sites.
And more than 800 people think this plugin deserves a rating of 4.8 out of 5 for its amazing features and services.
Using this plugin, you can easily create short links and cloak your ugly-looking affiliate links in no time. It also helps you to track each hit on your URL and obtain a full, detailed report of where the hit came from. And more surprisingly you can download that report as a CSV file if you want to.
Main Features of Pretty Link Lite
Generates random 3-4 character slugs for your URL or allows you to name a custom slug for your URL
Shows click details including IP address, remote host, browser (including browser version), operating system, and referring site
Tracks the number of hits and number of unique clicks per link
Supports cookie-based system for tracking visitor activity across clicks
Enables you to send your pretty links via Email directly from your WordPress admin
Active Installations: 300,000+
User Ratings: 4.8/5 (800+ Reviews)
Easy Affiliate Links

The name suggests it all. It's an easy-to-use URL shortener WordPress solution that can create short links within a few clicks. You can use this plugin with both the Classic editor and Gutenberg Block editor.
It also allows you to import links from XML and CVS files and export links to XML files. So, links importing and exporting tasks become easier with this plugin. And needless to say that you can track your link click rate through this plugin.
Main Features of Easy Affiliate Links
Compatible with both the Classic Editor and new Gutenberg Block Editor
Shows the information of monthly and lifetime click counts
Imports affiliate links from XML and CSV, also exports your links to XML
Use regular links or affiliate HTML code
Leave specific links uncloaked for Amazon compatibility
Active Installations: 10,000+
User Ratings: 4/5 (25+ Reviews)
URL Shortener by MyThemeShop

URL Shortener by ThemeShop is a free WordPress plugin to create short links. It's lightweight and fast, which means it won't slow down your site. You can use this plugin to create custom short links for social sharing, emails, and more.
This plugin lets you manage and organize all your custom URLs from a single dashboard. Like other URL shortener plugins, this one too keeps a track of total clicks on your short links. Thus you can identify which link is performing well and in which link you need to work more.
Key Features of URL Shortener by MyThemeShop
Creates short links that fit any social media including Twitter, Facebook, Linkedin, and many more
Provides the option to add 'REL= "NOFOLLOW"', and 'REL= "NOREFERRER"'
Keeps track of the number of clicks on each short link
Organizes short links in categories
Add links using shortcodes
Active Installations: 10,000+
User Ratings: 4.2/5 (10+ Reviews)
ThirstyAffiliates Affiliate Link Manager

ThirstyAffiliate is another WordPress short link creator plugin that helps you easily cloak your affiliate links. With this plugin, you can not only beautify your links and make them look appealing, but you can also import links, track statistics accurately, and much more.
If you're dedicatedly thinking to cloak affiliate links and start monetizing your WordPress blog, ThirstyAffiliate could be your perfect choice. You can use this plugin to create branded links and replace specific keywords with your original affiliate link.
Key Features of ThirstyAffiliates Affiliate Link Manager
Provides inbuilt link Cloaker or affiliate link shorter
Tracks click stats and shows reports
Inserts standard links, shortcodes, or even images
Enables to set no-follow and open new tab settings
Allows to customize the URL prefixes
Active Installations: 30,000+
User Ratings: 4.5/5 (150+ Reviews)
Bitly's WordPress Plugin

Bitly is a powerful URL shortener tool that comes with a range of powerful features. It lets you create short and manageable links with a single click. It provides complete link management and detailed insights for every click, too.
With hundreds of integrations, Bitly offers endless possibilities to create custom short links to share in social media, text messages, emails, or anywhere you need. Moreover, you don't even need to think about security as it provides fully encrypted links.
Key Features of Bitly's WordPress Plugin
Creates links for everything from a personal blog to an eCommerce store and everything in between
Enables you to track click stats right from your WordPress site
Bitly saves new links for reference and deeper analysis
Creates short links to share via social, SMS, or email
Active Installations: 4,000+
User Ratings: 4.7/5 (15+ Reviews)
Bonus: How to Create Short URL Using a WordPress Plugin and Track Your Clicks Rate


After exploring all these URL shortener WordPress plugins, if we ask you which one you want to use on your website for creating short links, what would be your answer?
Keep thinking about your answer, if you haven't already come up with which one you should use, and meanwhile let us show you how to create short links using the Pretty Link Lite plugin.
You might be wondering why we have used the Pretty Link Lite plugin for making this tutorial part. Because the number of active installations and ratings is more than any other plugins in this category. Also, the performance is significantly better than other short link creator plugins.
Step 01: Install and Activate the Pretty Link Lite Plugin
Installing and activating the Pretty Link Lite plugin is like installing some other WordPress plugin.
First go to WP Dashboard > Plugins > Add New
Type Pretty Link Lite on the search box
Find your searched plugin in the search result and click on the Install Now button
After completing the installation part, click the Activate button to activate the plugin so that you can use the plugin right away.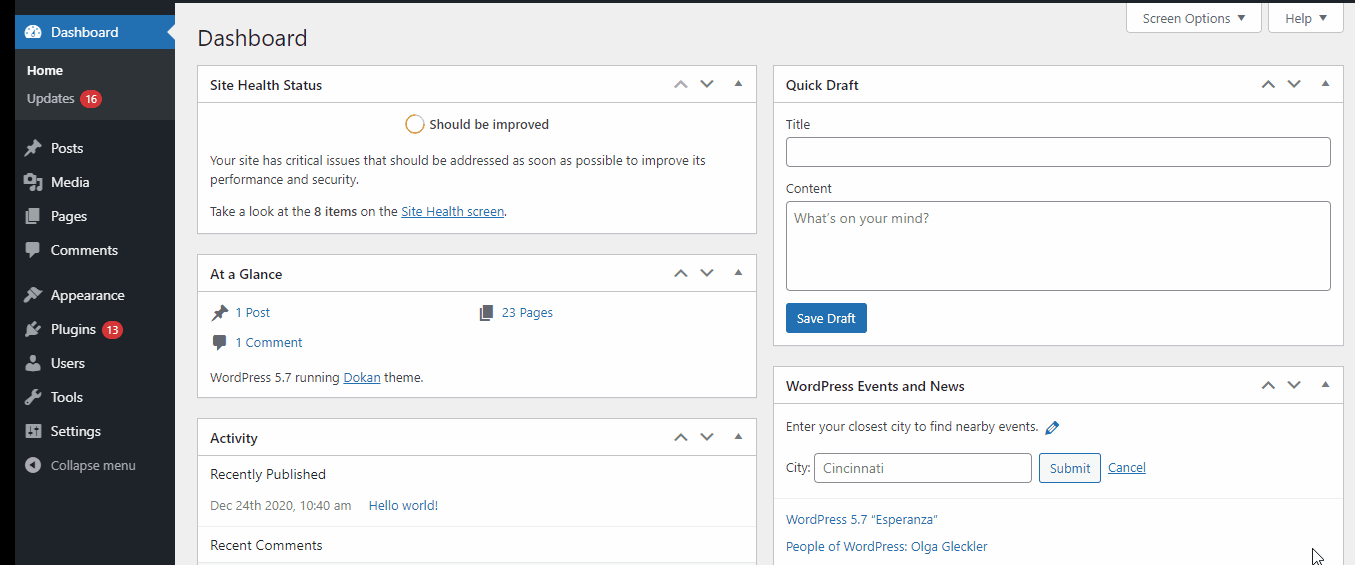 Step 02: Create Short Links Using Pretty Link Lite Plugin
After activating the plugin, it's time to create short links using that plugin. To do that, follow the below steps.
Go to WP Dashboard > Pretty Links > Add New
You will get an interface to customize and create short links.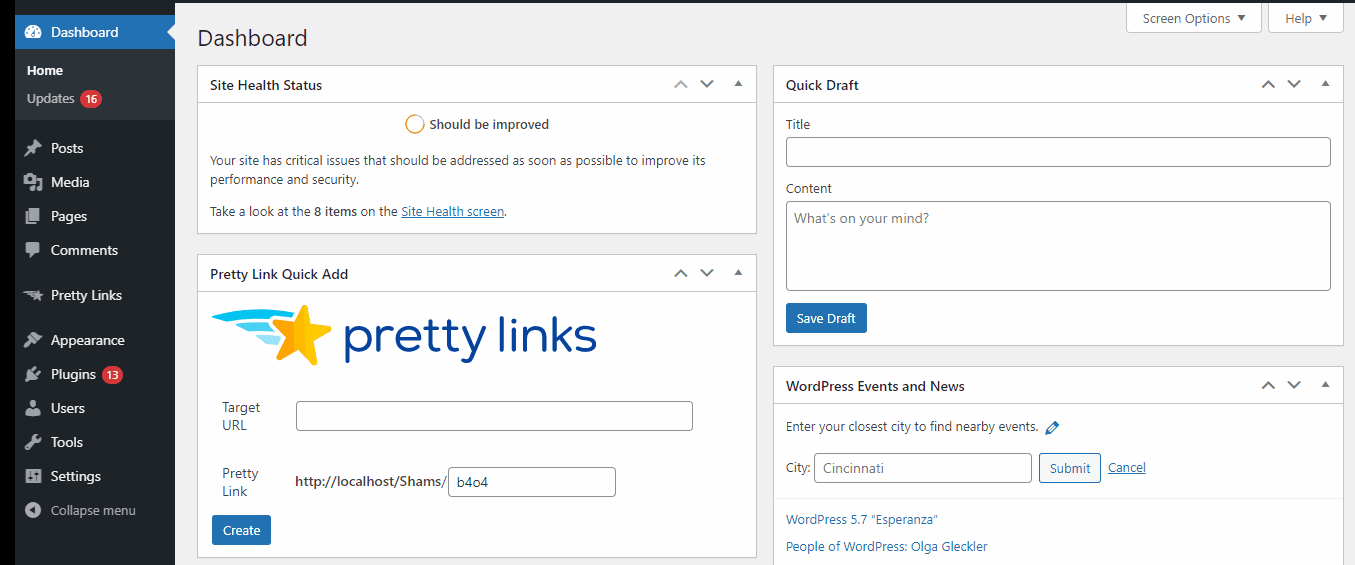 Give a name of your pretty link
Choose what type of Redirection you want to set
Paste or write your target URL
Set Pretty Link (you can write anything you like to)
Create Notes if you want to mention anything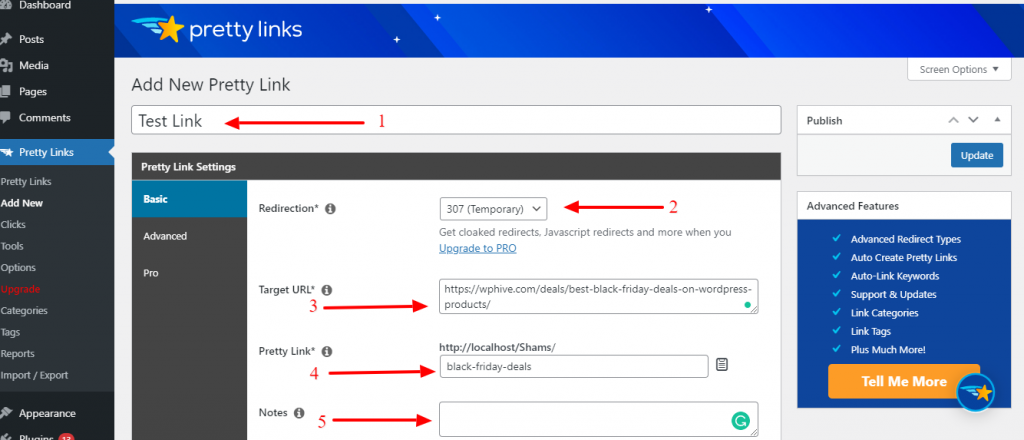 Now go to the Advanced tab
Tick the No Follow box if you want to make your link as no-follow
If it's a Sponsored link, click on the box
If you want to forward the parameter, click on the box
Tick the Tracking box to track the link click stat

Finally, click on the Update button to live your link.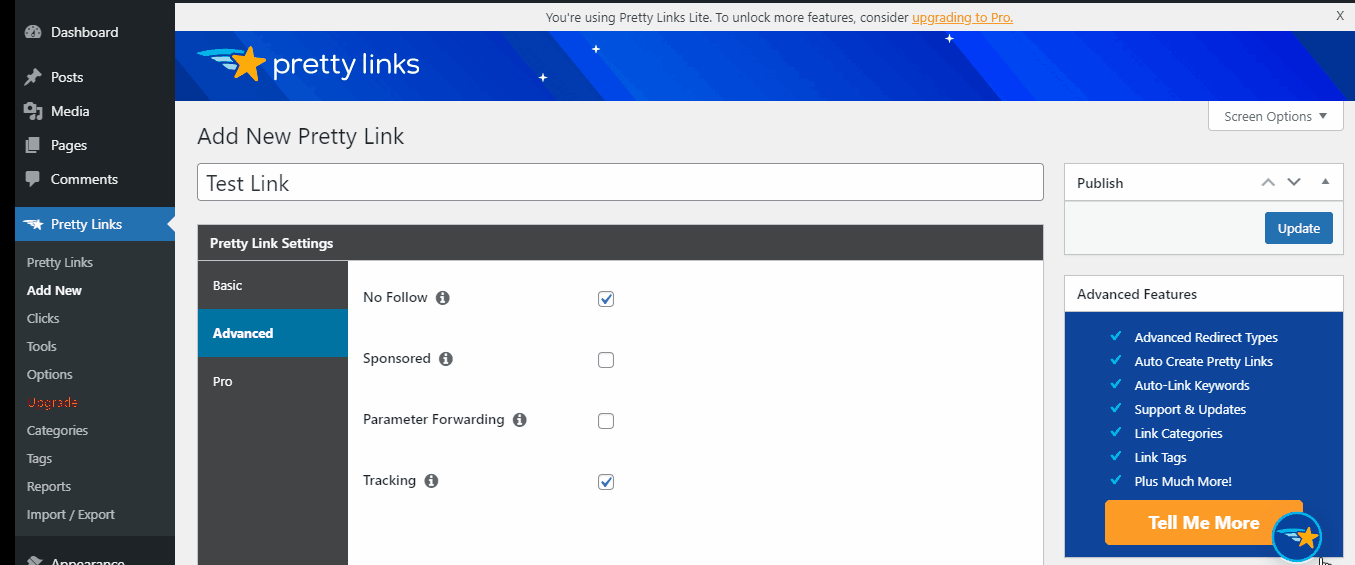 Step 03: Track Your Click Rate
After creating the short link, share it through your emails or blogs, or any other social channels. And to check how your link performing, check the stat right from your WordPress dashboard.
Go to WP Dashboard > Pretty Links > Clicks

You'll get this interface where you can see the click rate of your short link. It will also allow you to download this stat as a CSV file. To do that just simply click on the Download CSV button.
That's all! You have successfully created a short URL using a WordPress plugin and learned the way to track it.
When you're using the Pretty Link free plugin, you might be missing some features. Like, using the free version, you will get Temporary (301), (302), and (307) Redirects. But, with the pro version, you will get Cloaked, PrettyBar, Javascript, and Meta Refresh Redirects.
Apart from it, using the free version, you will be able to track your Click Rate but using the pro version, you will get some extra features like Link Categories, Conversion Reports, Expiring Links, and many more.
Best URL Shortener Plugins – FAQs

Which URL shortener plugin is best?
The Pretty Links is one of the best URL shortener plugins for WordPress websites.
Apart from Pretty Links plugin, some of the best plugins are:
1. Easy Affiliate Links
2. URL Shortener by MyThemeShop
3. hirstyAffiliates Affiliate Link Manager
Is there a free URL shortener plugin?
Yes, there are several URL shortener plugins that you can use on your site without paying a single penny.
Go to your WordPress dashboard, and click on Add New Plugins.
Then type URL shortener plugins on the search box and you'll get the list of the free plugins.
Are URL shortener safe?
Using a URL shortener plugin is safe on your WordPress site. There is no security threat if you can choose the best plugin for your site.
Choose a URL Shortener Plugin and Create Short Links Instantly
It goes without saying that short URLs have more advantages than long URLs in the digital world we live in.
Creating short links using a WordPress URL shortener plugin isn't that hard. All you need to do is choose an easy-to-use plugin from our list, set up it on your site, and create custom links as many as you need.
Having said that how do you shorten your URLs? If you think we have missed out on your favorite URL shortener plugin in our list, you can suggest that plugin through the comment box below. Cheers!
https://wphive.com/reviews/best-url-shortener-plugin-compared/
Shams Sumon
Shams is a content writer with a passion for making WordPress topics easy to understand for everyone through conversational and storytelling approaches. With a background in the WordPress industry since 2019, he has developed a knack for breaking down complex technical concepts into digestible bites. When he's not crafting engaging content, Shams can be found watching football matches, catching up on the latest movies, or exploring new destinations to rejuvenate himself.

Subscribe To Our Newsletter