Top WordPress Speed Optimization Plugins in 2023

Website speed is a leading factor that affects your site's growth and success. If your site is fast-loading and smooth, then your visitors may love it and possibly take the required action, like buying a product. But if it takes an eternity to load, then they'll leave your site and may never come back.
That's where speed optimization plugins come in to avoid such incidents.
In this article, we'll discuss the top WordPress speed optimization plugins that will improve the performance of your website. But first, let's look at why you would want to have a WordPress speed optimization plugin for your site.
Why Do You Need A WordPress Speed Optimization Plugin


When we visit a website, if it takes too long to load, we leave that site without checking the reason why we entered that site. It increases the bounce rate of that website and decreases the impression as well.
Apart from these, there are some crucial factors that you should know about the speed optimization plugin.
53% of mobile users bounce if the website takes more than three seconds to load.
Upwards of 87% of carts are abandoned if the load time is two seconds or more.
79% of users who have a negative experience with a website are less likely to buy again.
47% of consumers expect a web page to load within two seconds or less.
40% abandon a website that takes more than three seconds to load.
One second delay reduces conversions by 7%.
So, you can't ignore the necessity to speed up a WordPress site if you want to get a better conversion rate from your visitors.
9 Top WordPress Speed Optimization Plugins for Your Site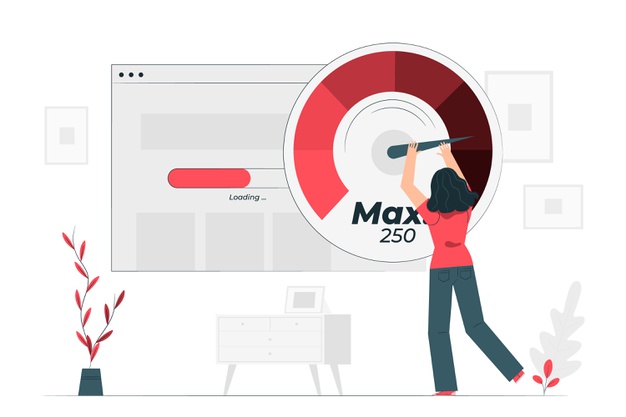 You already know that there are lots of speed optimization plugins available in the WordPress repository. Among them, we carefully pick a few plugins that are superior to others.
For doing that we have maintained some criteria like features, the number of active installations, reviews, ratings, updates, and a few more things. Eventually, we have come up with a list that you can rely on without any hesitations. So, let's check the list.
LiteSpeed Cache
Autoptimize
Imagify
SG Optimizer
WebP Express
A2 Optimized WP
Google Pagespeed Insights
WP Fastest Cache
WP Super Minify
This is our handpicked top WordPress speed optimization plugin list that will speed up your WordPress site instantly.
1. LiteSpeed Cache

LiteSpeed Cache is one of the most popular site speed optimization WordPress plugins with more than 1 million active installations. It offers server-level cache and a collection of optimization features.
LiteSpeed Cache supports WordPress Multisite and is compatible with the most popular plugins, including WooCommerce, bbPress, and Yoast SEO.
Also, it supports WordPress multisite i:e you can create multiple websites and even manage them all from a single WordPress dashboard.
Key Features of Litespeed cache
Database cleaner and optimizer
Page speed score optimization
Browser Cache Support
Attractive, easy-to-understand integration
Lazy load images/ Images optimization
Automatic page caching, a purge of related pages based on certain events.
API system for easy cache integration
Separate caching of desktop and mobile views
Active Installations: 1+ Million
Average User Ratings: 4.9/5
2. Autoptimize

Autoptimize is another top-rated and most downloaded WordPress speed optimization plugin that has already touched 1+ million active installations.
It comes with an easy-to-use user interface that makes even a newbie user capable to optimize his site easily.
It combines all scripts and styles in one file. Minify and compress them, add expires headers, and cache them. It also moves style to page head and script to footer. It minifies HTML code and saves extra bits from bandwidth.
Key Features of autoptimize
Minify and cache scripts and styles
Injects CSS in the page head by default
Inline critical CSS and defer aggregated full CSS
Moves and defers scripts to the footer and minifies HTML
Lazyload images (and convert to WebP)
Optimize Google Fonts
Asynchronously load non-aggregated JavaScript
Removes WordPress core emoji cruft
Active Installations: 1+ Million
Average User Ratings: 4.7/5
3. Imagify

Imagify is the most advanced tool to optimize images. It can directly resize your images, you won't have to lose time anymore on resizing your images before uploading them.
After enabling it, all your images including thumbnails will be automatically optimized when uploaded into WordPress. You can also use Imagify to convert WebP images, which will additionally reduce the size of your website making it faster.
Key Features of imagify
Compatible with WooCommerce and NextGen gallery
Converts WebP images for free. WebP is an image format just like png, gif, etc.
Directly resize your images
Optimizes all your existing images with just one click
Offers three levels of compression, e.g Normal, Aggressive, and Ultra
Provides backup, you can restore the image to the original version, and optimize it using another compression level among the three mentioned above
Active Installations: 400,000+
Average User Ratings: 4.5/5
4. SG Optimizer

SG Optimizer only works if you use SiteGround's hosting. Although SiteGround's web hosting in itself is optimized for speed, you can use this plugin to work on optimizing the front-end of your website too.
SG Optimize lets you enable or disable the minification of your HTML, JavaScript, and CSS resources. You can also remove the emoji support and query strings from your static resources.
Plus, you have the option of optimizing your newly uploaded images and bulk optimizing the old ones.
Key Features of SG Optimizer
Caching (static, dynamic, memcached)
Minify & combine HTML, CSS, JS
Gzip compression
Database Cleanup
Prefetch External Domains
Optimize Google Fonts
Defer render-blocking JS
Compress new + existing images
Lazy load images, videos, iframes, Gravatars, thumbnails, widgets, mobile
Active Installations: 1+ Million
Average User Ratings: 4.5/5
5. WebP Express

If you want a plugin that dedicatedly works for optimizing images without losing quality, WebP Express would be your first priority. With more than 100,000 active installations WebP has already proved how relevant it is for optimizing site speed.
WebP Express ensures much faster load time for images in browsers that supports webp. The converted images are typically less than half the size (for jpeg) while maintaining the same quality.
Bear in mind that for most websites, images are responsible for the largest part of the waiting time.
Key Features of webp express
Better user experience
Better ranking in Google searches
Less bandwidth consumption – makes a huge difference in the parts of the world where the internet is slow and costly
Super-easy user interface
Helps to serve autogenerated webp images to browsers that support it
Also, serve jpeg and png files to browsers that do not support webp.
Active Installations: 100,000+
Average User Ratings: 4.5/5
6. A2 Optimized WP

If you have ever tried to configure the W3 Total cache and got lost in the mess of configuration pages, it's time to use the A2 Optimized WP plugin.
It has broken it down into the most valuable optimizations and will automatically configure W3 Total Cache for what works best in most shared hosting environments.
It has a significant improvement in page load times, especially on pages that can not use full page cache such as wp-admin. It also provides google reCAPTCHA on both the Login form and comments. This plugin automatically compresses images that are uploaded to save bandwidth.
Key Features of a2 optimized wp
Enable Page, Object, and Database caching with W3 Total cache in one click
Page Caching stores full copies of pages on the disk so that PHP code and database queries can be skipped by the web-server
Object Caching stores commonly used elements such as menus/widgets and forms on disk or in memory to speed up page rendering
Database cache stores copies of common database query on disk or in memory to speed up page rendering
Gzip Compression
Minify HTML, CSS, and JS files
Active Installations: 50,000+
Average User Ratings: 2.9/5
7. Google Pagespeed Insights

Google Pagespeed Insights is a WordPress speed optimization plugin that empowers you to turn your slow website into a blazing fast website with a few clicks.
Through the addition of advanced data visualization, tagging, filtering, and snapshot technology, Google Pagespeed Insights for WordPress provides a comprehensive solution for any webmaster looking to increase their site performance, their search engine ranking, and their visitors browsing experience.
Key Features of Google Pagespeed Insights
Sort your page reports by their Page Speed Score to prioritize the largest areas of opportunity on your site
Page reports utilize easy-to-read visualizations that allow you to quickly focus on the most important data to improve the performance of your site
Displays your average Page Score, largest areas for improvement across ALL reports, as well as best and lowest performing pages
Report summaries can be filtered to narrow results by Pages, Posts, Categories, Custom URLs, and Custom Post Types
Active Installations: 30,000+
Average User Ratings: 4.7/5
8. WP Fastest Cache

WP Fastest Cache is another free WordPress plugin that will speed up your website. Just like any other caching plugin, it creates static HTML files from your dynamic WordPress site.
To reduce the size of files, the plugin minifies HTML and CSS files. It also allows you to disable emojis on your site. It effectively implements browser caching to reduce page load times for repeat visitors and combines many CSS files into one to reduce the number of HTTP round-trips.
Key Features of WP Fastest Cache
Generates static HTML files from your dynamic WordPress blog
Minify HTML / CSS
Enable Gzip compression
Leverage browser caching
Combine CSS
Combine JavaScript
Disable Emoji
CDN support/Cloudflare support
Preload cache and cache timeout
Active Installations: 1+ Million
Average User Ratings: 4.9/5
9. WP Super Minify

WP Super Minify gives you the option to disable compression of JavaScript and/or CSS just in case there are any conflicts. The idea of minifying is to combine JS, HTML, and CSS files so that they can be compressed and served to visitors in a way that reduces website loading times.
You can check whether this plugin works properly, simply view your site source or press Ctrl+U from your keyboard.
Key Features of WP Super Minify
Minifies JavaScript, CSS and HTML
Option to disable compression of CSS/JavaScript
Extremely straight forward and easy to use
Active Installations: 10,000+
Average User Ratings: 4/5
Comparison at a Glance
If you're still in confusion about which plugin to choose, check the comparison table to get a more clear idea.
Note: In terms of "Memory Usage and Page Speed" lower is better which means if a plugin consumes less memory and less time to load, then that plugin is better than others.
| | | | | | |
| --- | --- | --- | --- | --- | --- |
| | Memory Usage | Page Speed | Latest WordPress Support | Active Users | Ratings |
| LiteSpeed | 483KB | 0.37s | Yes | 1M | 4.9 |
| Autoptimiz | 414KB | 0.39s | Yes | 1M | 4.7 |
| Imagify | 434KB | 0.62s | Yes | 400K | 4.5 |
| SG Optimizer | 417KB | 0.45s | No | 1M | 4.5 |
| WebP | 385KB | 0.51s | Yes | 100K | 4.5 |
| A2 Optimized | 396KB | 0.52s | No | 50K | 2.9 |
| Google Pagespeed | 499KB | 0.5s | Yes | 30K | 4.7 |
| WP Fastest Cache | 393KB | 0.65s | Yes | 1M | 4.9 |
| WP Super Minify | 492KB | 0.5s | Yes | 10K | 4 |
You can make a more vivid comparison among plugins using the WPHive Plugin Comparison feature.
Bonus: How to Check Your WordPress Site Speed
To check your site speed, you need a neutral speed checker that will show you the real page loading speed of your site. We are gonna use Free Speed Test Tool here to check our site speed.
Browse that tool and put your site name to the selected area.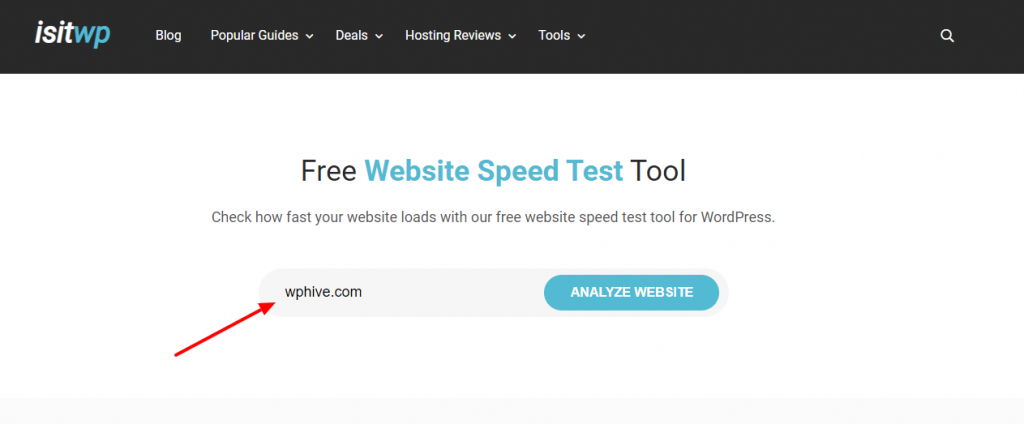 You will see the result of how your site is performing. Remember a good page should load in under 2 seconds.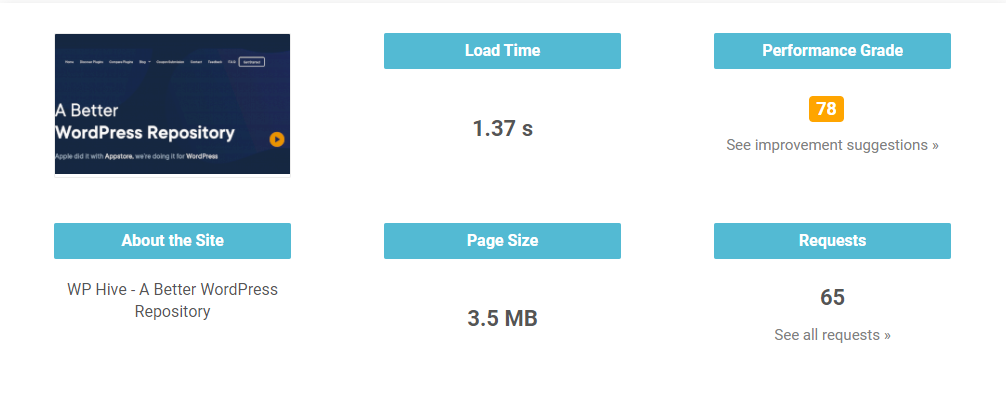 If you aren't comfortable with the above-mentioned tool, you can choose its alternatives. The following three tools are used extensively across the web:
After checking your site speed, if it takes more than 2 seconds to load, immediately take steps to make it faster than it was.
Over to You
Everyone on the web who has a WordPress site is fully concerned about speeding up his site. So. don't let anything hold you back. Choose any of the plugins from our list and start working now.
If you are already been using a WordPress speed optimization plugin, here is a quick question for you, Which free plugin makes your WordPress site faster?
Please share your experience with us, and don't forget to share it with your followers.
https://wphive.com/reviews/top-wordpress-speed-optimization-plugins/
Shams Sumon
Shams is a content writer with a passion for making WordPress topics easy to understand for everyone through conversational and storytelling approaches. With a background in the WordPress industry since 2019, he has developed a knack for breaking down complex technical concepts into digestible bites. When he's not crafting engaging content, Shams can be found watching football matches, catching up on the latest movies, or exploring new destinations to rejuvenate himself.

Subscribe To Our Newsletter