7 Best Backlink Checker Tools to Get Accurate Data in 2023

There's hardly a marketer who doesn't know the importance of quality backlinks. Everyone wants to get quality backlinks to beat their competitors.
However, analyzing backlinks and making a standard strategy is a topic, to be very honest, many of you don't have expertise. As a result, you get toxic backlinks that sometimes hurt your SEO and domain authority.
Choosing a perfect backlink checker tool can help you to get rid of this situation. Furthermore, it helps you to find more backlinking opportunities and spy on your competitors.
If you are confused about which plugin you should use among so many options, let us guide you on this matter. Today, we are going to offer you the 7 best backlink checker tools in 2023 so that you can choose one from the list as per your budget and requirements.
Moreover, to make your job even easier, at the end of this blog we plan to show you a comparison table. That should help you to narrow down your choices and ultimately form your decision.
So, let's get started!
Why You Need to Use a Backlink Checker Tool


Recently, Google has brought many changes in ranking metrics. However, backlink still remains the #1 priority for getting better domain authority and hence higher ranking.
But getting quality backlinks is more important than getting more backlinks. Thus, you need to ensure you're getting quality backlinks from high-domain authority websites.
But in order to see if a backlink is quality or not, you will need to use a backlink checker to see if the domain is worth getting a backlink from. With the following backlink checker tools, you will be able to monitor your competitors and strategize how to improve your website rankings.
A perfect backlink checker tool can help you in many ways, like-
Discover and track where your backlinks are coming from.
Track the exact anchor text used in the backlink.
Perform a backlink analysis and audit for any site.
Research the best-performing content.
Check the Link Type that is, whether it is Nofollow or Dofollow.
See which keywords or pages are bringing you the most links.
Find your competitors' most valuable backlinks and examine their backlink profiles to spot patterns and possible link-building opportunities.
So, want to know which backlink checker tool you should use that might help you with the above? Let us guide you on this topic.
7 Best Backlink Checker Tools for You in 2023


You will find lots of backlink checker tools around you. However, not all of them are reliable and you can not just choose a random tool and use it for checking backlinks.
So, we did the research and now let us show you the best link checker tools in 2023 at a glance –
Ahrefs
Semrush
Moz Pro
Ubersuggest
Link Miner
cognitiveSEO
Majestic SEO
Now we will make an in-depth analysis of each of the above-mentioned backlink checker tools.
1. Ahrefs

Ahrefs is one of the most powerful SEO tools that allow you to plan review reports, do backlink examinations, get the popularity of linking web pages, find link-worthy pages, URL rankings, serious investigation, and loads of other aspects.
You can use it to spy on your competitors' backlinks, keywords, and more. It's a premium tool but you can get a taste of it with a 7-day trial for $7 with an easy-to-use interface.
The dashboard is full of information, but it's straightforward to use even for beginners. Once you enter a link on the platform, you can derive lots of details, such as the level of influence in a specific URL.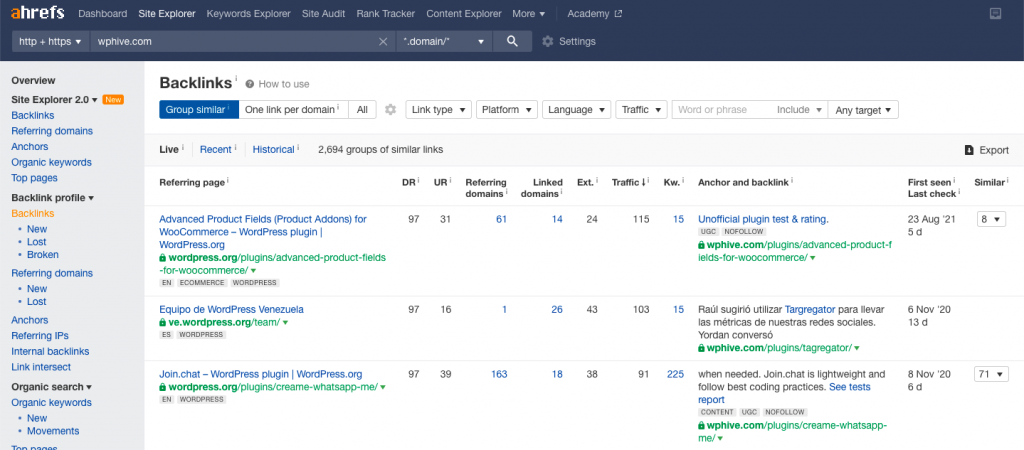 It shows you the DR, UR, Traffic, Anchor text, and much more important information. Following this way, you can perform competitor analysis to know where they are getting their backlinks.
Thus you can make better link-building plans to beat your competitors.
Popular tech giants like Facebook, Adobe, Netflix, Uber, and Linkedin use Ahrefs for backlinks inspection.
Pricing: Ahrefs pricing starts at $99 per month.
Related: Ahrefs vs SEMrush: Which One to Choose As Your SEO Tool
2. Semrush

Within Semrush, you can find the Backlink Analysis tool, a powerful aid for getting functional data about backlinks from any domain.
With its huge database of 32,5 trillion backlinks, Semrush offers a lot of revealing charts showing new & lost backlinks, authority ranks of all referrals, the evolution of backlink generating processes, and much more.
With this backlink audit tool, you can also discover and delete toxic backlinks to keep your backlink profile clean.
Besides backlink analysis, Semrush offers a full set of SEO tools you can use for free, for an unlimited time, but with limited functionality. This includes keyword research, monetizing analysis, traffic analysis, SERP position tracking, CPC mapping, and many more.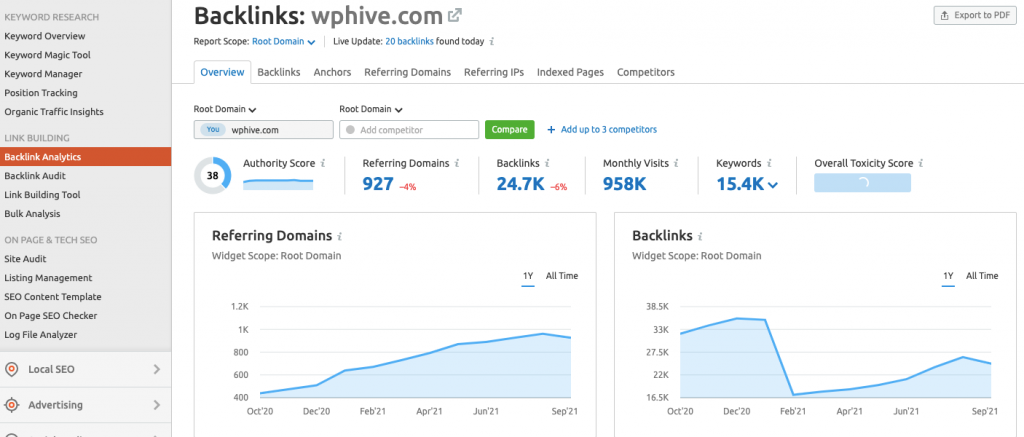 To check the backlink for your or your competitors' websites, go to the Semrush link building option. Paste the link and it will show you lots of necessary information like number of backlinks with sources, Anchor texts, Indexed pages, Competitors list, and many more.
Pricing: Semrush offers a free version to check backlinks with limited features. The pro version pricing starts at $119.95 per month.
"Click Here To Explore More About Semrush"
3. Moz Pro

Moz Pro is a complete suite of professional SEO tools, in which Moz Link Explorer is one of the main utilities. It is especially useful for your competitors' backlinks analysis.
To see its magic at work, you just have to enter a competitor's domain or a specific URL, and Moz will show you all of its backlinks.
For each backlink, you could see some metrics, such as a domain authority index, the number of linking domains, a spam score, and a list of the top links.
One of Link Explorer's distinctive features is Anchor Text Analysis, which shows the most common anchor text in a website's backlink profile.
Pricing: The pricing of Moz pro starts at $99 per month. It also offers a 30-day free trial. Though you will have to give your credit card credentials for claiming the free version.
4. Ubersuggest

Ubersuggest is another popular backlink checker tool that comes with both free and pro versions. With its free version, you can check your and competitors' backlink profiles.
Once you enter the link to the backlink option under the SEO Explorer section, you will get all the backlink-related information.
It will provide you with the Domain Authority, Number of backlinks, Number of Referral Domains, New & lost backlinks, Anchor text, and a few more information that will really help you to understand your or competitors' backlink status.
Also using this tool, you can easily identify link-building opportunities to build quality links for your website. One impressive fact is, you will get access to up to 3 years of backlink history of any website using this tool.
Pricing: Ubersuggest Pro pricing starts at $12 per month for managing 1-3 websites.
5. LinkMiner

Link Miner is a quality tool that aids in checking for backlinks on your page and a competitor's site. If you are doing Backlink analysis to find opportunities, you are going to love this one.
This backlink checker tool is from Mangools, so you'll need a Mangools account in order to use it. Without creating a Mangools account, you won't be able to use this tool.
Like other tools, LinkMiner lets you filter links by nofollow, deleted, new, and lost. One handy feature you'll want to try is the ability to 'favorite' backlinks, so you can come back to them easily. This could be a great way to make a shortlist of competitors' backlinks to target.
Pricing: You can take a completely free 10-day trial without needing to enter any credit card details. After that, you'll need to pay $29.90/month.
6. cognitiveSEO

CognitiveSEO offers a number of different SEO-related tools that you will find very handy for your digital marketing campaigns. The backlink tool is one of those.
It makes sure that you are able to go deep into the analysis with its backlink tools that you can use for your own as well as your client's site.
They offer you a Site Explorer to make searches and find the backlink profile of any site. It will help you to do an analysis of your own as well as your competitors' domains so that you can make the necessary arrangement to compete in search results.
Furthermore, this tool will keep updating you about the new links acquired by your domain in real time.
Pricing: CognitiveSEO offers a 7-day free trial. So, if you want to take a test drive of this backlink checker tool before going for the premium version, you can give this free version a try.
After that, it will cost you $199 per month for using the pro version with many more amazing features.
7. Majestic SEO

Majestic is one of the most popular SEO backlink checkers and link-building toolkits that help you find any website's top backlinks. It also helps you easily discover link building opportunities no matter what industry you're in.
It provides a backlink discovery growth rate for rival domains. One can compare up to five domains simultaneously.
Pricing: The tool offers both paid and free versions. The free version provides up to 5,000 backlinks per report however only for verified domains.
If you've never experimented with cognitiveSEO, run a free search for your website to see what it has to offer. The pricing of the premium version starts at 39.99 pounds per month.
Bonus Tool: Sitechecker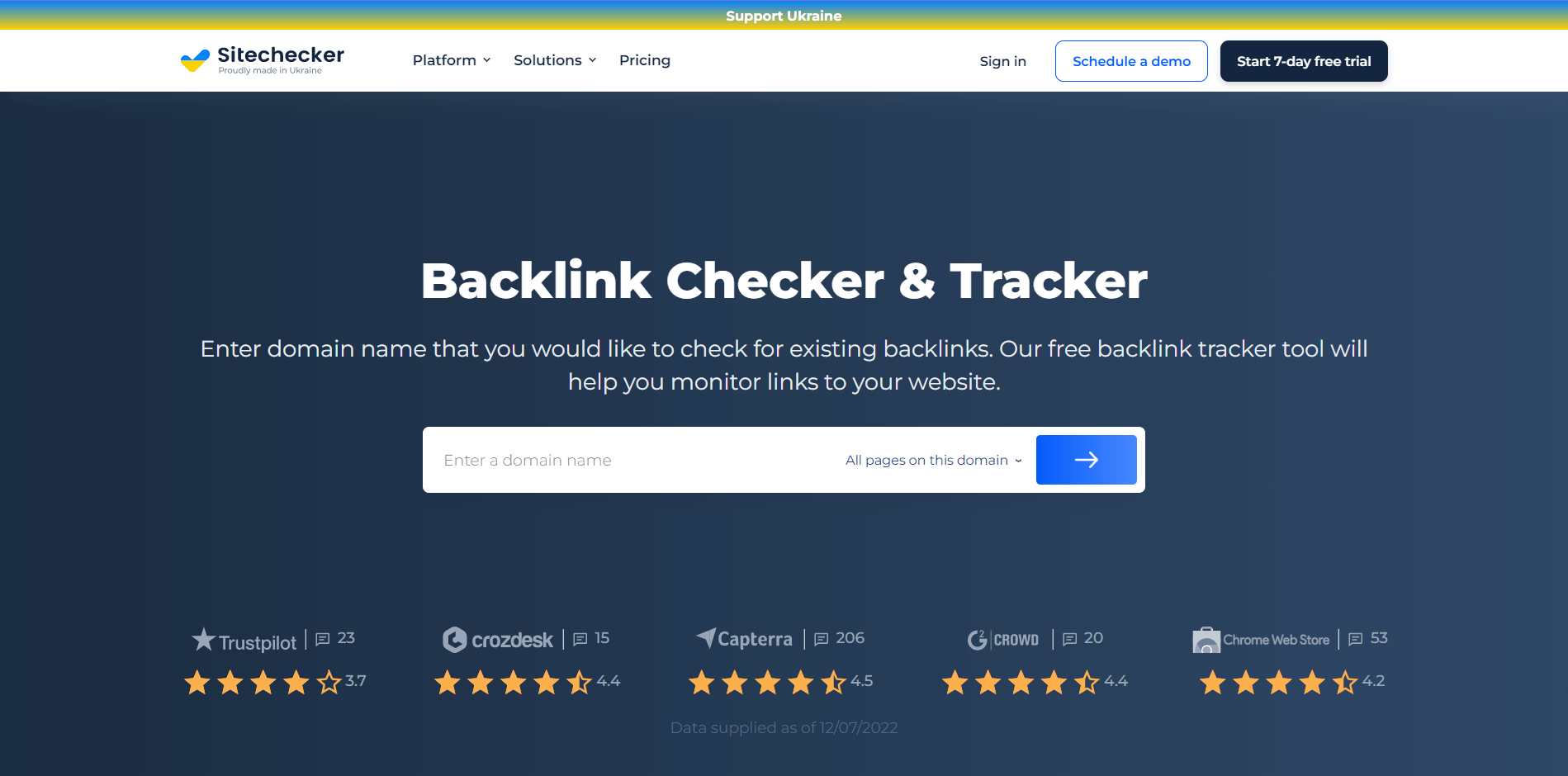 Sitechecker is a multifunctional tool for technical analysis and SEO audit of your website. Backlink Checker is one of the features of this tool, which allows you to perform a detailed analysis of the backlinks of your site. You can analyze the backlinks of the entire website or a specific page.
Backlink Checker is great for analyzing your competitor's backlink profile. You will be able to find all the backlinks and their anchor texts.
Pricing: The Backlink Checker is free. To buy the full version of Sitechecker, you can choose any of the four pricing plans: Basic – $23 / month, Standard – $39 / month, Premium – $79 / month, and Enterprise – $319 / month. You can also take a free 7-day trial.
Special Mention: Linkchecker Pro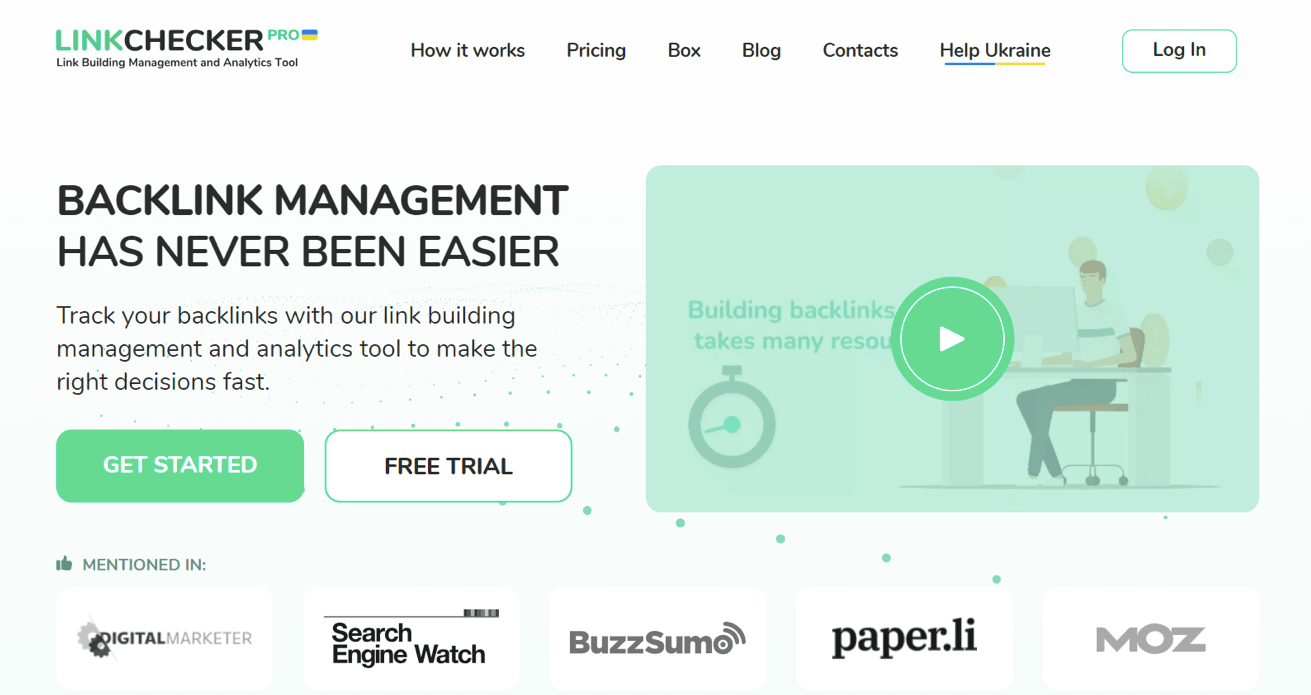 Linkchecker is a highly efficient backlink monitoring tool with unique features designed to streamline your link-building processes. The tool analyzes your backlink profile daily and checks Google's index every five days. This offers up-to-date data on backlink status, rel attributes, crawlability, indexability, and the presence of referring pages in Google's index.
Additionally, Linkchecker allows tracking of external links and management of your anchor text plan. It alerts you to any issues or suspicious activity, helping maintain your search engine rankings. Compared to other backlink monitors, Linkchecker has a higher capacity for link analysis, handling hundreds of thousands of links at a time.
Allowing you to connect your accounts from SEO tools like Ahrefs, Majestic, and Moz, Linkchecker offers deeper backlink analysis and monitoring referring domain statistics. It combines all the necessary features for backlink tracking in one place.
Pricing: Linkchecker offers various subscription plans starting from $25 per month, making it an affordable choice for different needs.
Which Backlink Checker Tool Offers The Best Value – Comparison Table
As we promised earlier for showing you a backlink checker tools comparison table, here we go. Check this comparison table to get all the important information in one place.
| | | | | | | | |
| --- | --- | --- | --- | --- | --- | --- | --- |
| | Ahrefs | SEMrush | Moz Pro | Ubersuggest | Link Miner | congnitiveSEO | Majestic SEO |
| Ease of Use/10 | 9 | 9 | 8 | 8 | 7 | 7 | 7 |
| Database Size (Trillion) | 2.7 | 32.5 | 40 | Not Clear | 9.5 | Not Clear | 9 |
| Referring IPs | Yes | Yes | No | No | No | No | Yes |
| Free Version? | No | Yes | Free trial with credit card info | Yes | Free trial for registered users | Free trial for registered users | Yes |
| Starting Pricing/month | $99 | $119.95 | $99 | $12 | $29.90 | $129 | 39.99 pounds |
Now, you should be able to find out which link checker tool would be a perfect choice for your website. See the comparison table again to find out which one has the ability to offer you the most in 2023 for you.
Use a Backlink Checker Tool and Analyze Your Backlinks Now
Using a backlink checker tool is compulsory if you want to get a better ranking on search engines. So, choose the perfect tool for your website now and start analyzing your backlink opportunity to improve your domain authority score.
If you are already using a backlink checker tool for your website, you are highly requested to let us know through the comment box below so that it could help potential users to make their choices fast.
Also, if we missed out on your favorite link checker tool in this list, you can let us know so that we can feature that tool in our list anytime soon.
Follow us on Facebook and Twitter to get regularly updated content.

https://wphive.com/seo/best-backlink-checker-tools/
Shams Sumon
Shams is a content writer with a passion for making WordPress topics easy to understand for everyone through conversational and storytelling approaches. With a background in the WordPress industry since 2019, he has developed a knack for breaking down complex technical concepts into digestible bites. When he's not crafting engaging content, Shams can be found watching football matches, catching up on the latest movies, or exploring new destinations to rejuvenate himself.

Subscribe To Our Newsletter