5 Best WordPress Poll Plugins to Conduct Survey and Voting (Free & Premium)

Creating a poll on your website is one of the best ways to increase user interaction and the site's session duration. You would actually need to conduct polls sometimes for your own purpose, like research and development.
A good WordPress poll plugin can help to meet both purposes we mentioned above. Now, you might wonder which WordPress poll plugins are good enough to get your job done.
Well, we have the answer here for you.
We are going to introduce 5 of the best WordPress poll plugins to you in this article. We will also inform you what to consider while choosing a poll plugin and show you how to launch a poll. So, stay with us till the end.
Considerations of Choosing a WordPress Poll Plugin

If you search for WordPress survey plugins with the keywords like "poll" or "poll plugin", a huge number of results will appear. In this case, you might get confused to choose the right one.
That's why you have to follow some considerations while picking up a poll plugin. The major considerations would be the following:
Versatile and widely compatible (can be added anywhere)
Easy to use (with minimal steps to create a poll)
Support for graphs, charts, and other visual elements to show results
Lightweight, fast and responsive
Clean and attractive design
Many of the popular plugins that provide poll services fulfill these considerations, but not all do. As a result, it wouldn't be a wise decision to get convinced by popularity that doesn't serve your purpose well.
Now, let's find out which are the best poll plugins that also meet all the considerations.
5 Best WordPress Poll Plugins You Can Try in 2023


You can conduct surveys or votes on your WordPress site with a specialized poll plugin or a form plugin that provides poll services. So, the best WordPress poll plugins you can try now are:
Formidable Forms (Premium Only)
Poll, Survey & Quiz Maker Plugin (Free and Premium)
Total Poll (Free and Premium)
Gravity Forms (Premium Only)
Modal Survey (Premium Only)
We have prepared our list combining both the specialized poll plugins and the form plugins so that you can pick up the most suitable one for you. And you have both free and premium options to choose from.
In the next part, we will introduce the plugins one by one in a detailed format to you. We will share their key features, pros and cons, and pricing as well. Let's get started.
1. Formidable Forms (Premium Only)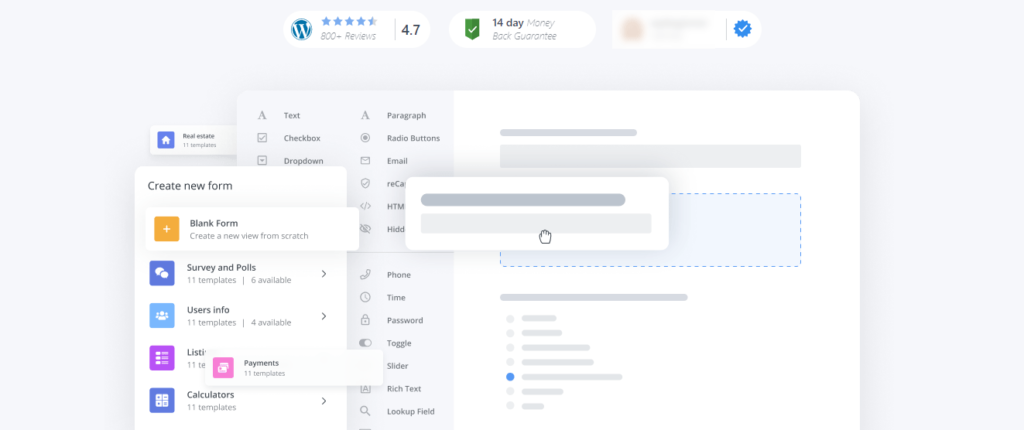 Formidable Forms is a master in both areas – form building and poll creation. It is one of the most popular form plugins on WordPress that is also best known for providing robust survey creation options.
Key Features:
Code-free drag-and-drop form builder
Diverse data display options
Smart conditional logic
Multi-Page polls with progress bar
Review option before submission
Popular calculator integrations
Pros:
Lots of features and customization options
Easy to use and scalable
Flexible form design and styling options
Cons:
Survey forms are only available with expensive paid plans
Price: Premium plans start from $79/year.
2. Poll, Survey & Quiz Maker Plugin (Free and Premium)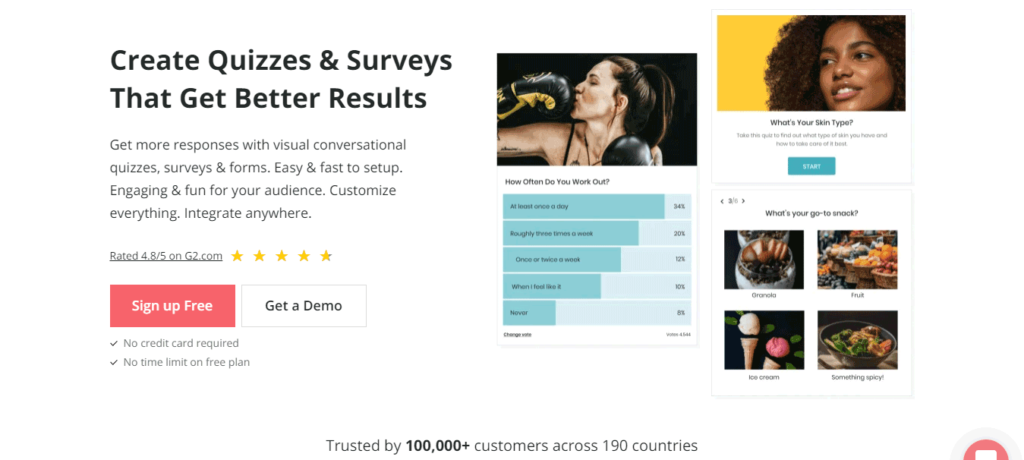 Poll, Survey & Quiz Maker from Opinion Stage is one of the most feature-rich and powerful WordPress survey plugins at present. Its pre-built designs and easy customization options will blow your mind. But everything that this plugin offers also comes with a high price tag.
Key Features:
Hundreds of free survey templates
Wide and easy customization options
Real-time poll results view
Popup and call-to-action support
Image and video integration options within the polls
Responsive and compelling design
Pros:
Lots of features and customization options
Feature-rich free version
Excellent pre-built designs
Cons:
Over-priced premium plans
Price: Free | Premium plans start from $228/year
Check out Poll, Survey & Quiz Maker here
3. Total Poll (Free and Premium)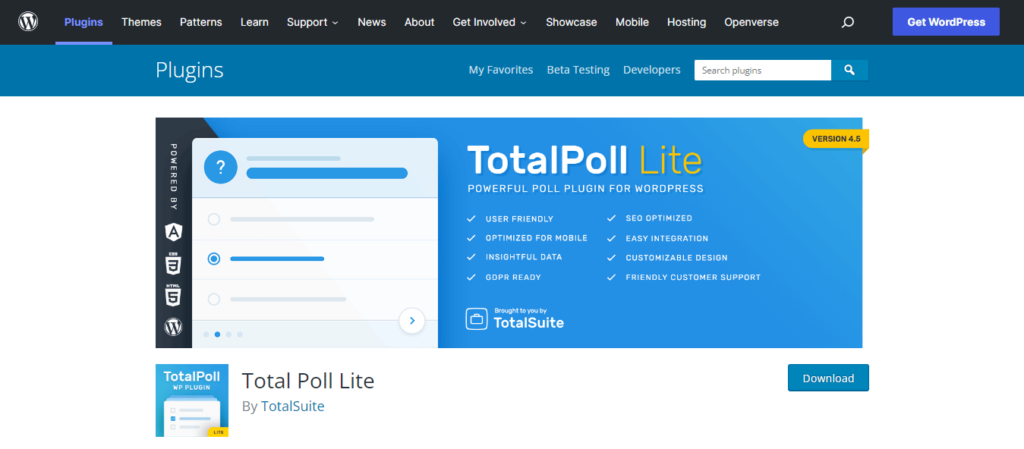 Total Poll is a powerful WordPress plugin that lets you create interactive surveys and polls effortlessly. It is very user-friendly and provides several customization options that let you have full control over the polls.
Key Features:
Drag and drop poll creation method
Simple and user-friendly interface
Poll Editor with options to edit poll data and images
Supports a wide range of poll designs
Live preview and cross-platform support
Pros:
Simple and user-friendly
Responsive and SEO-friendly design
Free to use
Cons:
Limited features with the free version
Price: Free | Premium plans start from $79/year
4. Gravity Forms (Premium Only)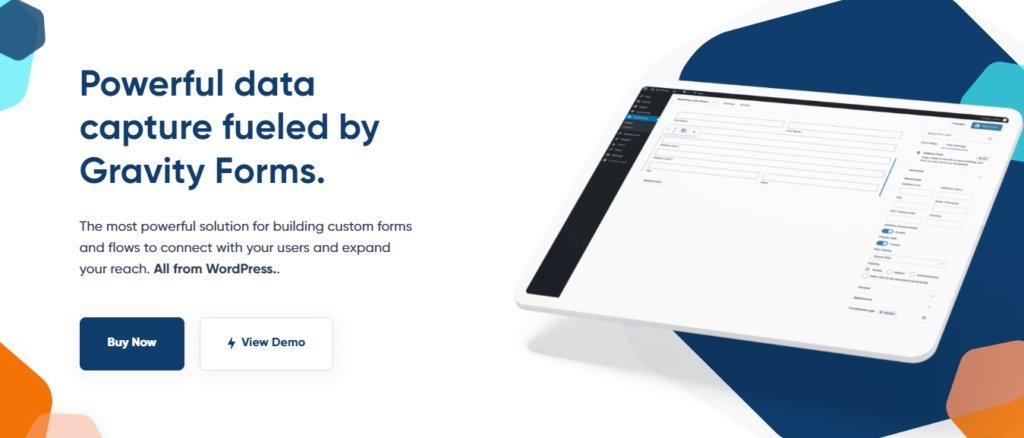 Gravity Forms is a premium third-party form plugin that lets you create powerful polls and surveys. It consists of wide customization and security features. The only drawback is that it offers paid services only.
Key Features:
Visual drag and drop form editor
Numerous conditional logic
Secure data collection process
Online payment collection support
Automated workflows for any kind of forms
Pros:
Easy to use and wide customizability
Secure and strong privacy features
Less expensive premium plans
Cons:
Premium only with no free trial
Price: Premium plans start from $59/year
5. Modal Survey (Premium Only)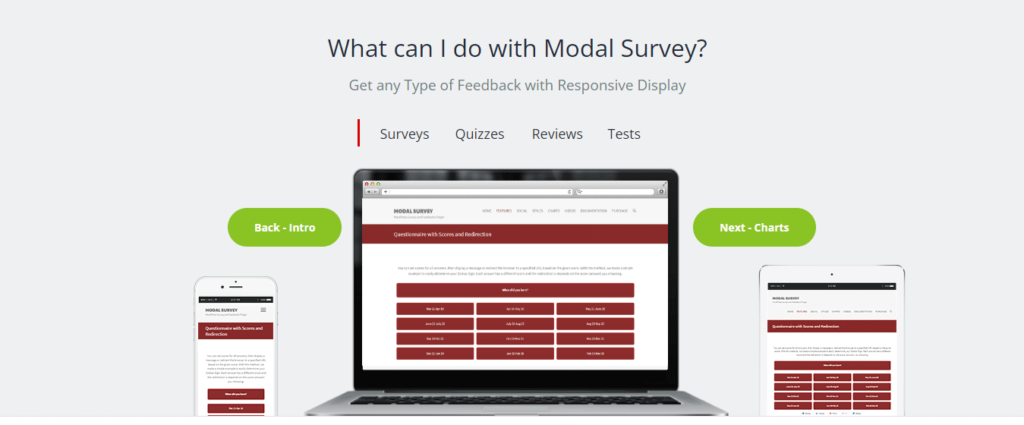 Modal Survey is a simple and easy-to-use plugin to create various kinds of polls on WordPress. It is one of the few premium survey plugins that offer such a low price. That's why it earned a place on our top chart of the best WordPress poll plugins.
Key Features:
Visual poll builder with live preview
Different poll styles (e.g. popup and embed)
Parallax effect on the polls while scrolling pages
Option to set start and expiry time for each questionnaire
Unlimited questions and answers
Pros:
Less expensive premium plans
Wide customization options
Minimalistic and responsive design
Cons:
Not well optimized and less attractive design language
Price: Premium plans start from $44/year
Which WordPress Poll Plugin Would You Choose

Choosing a perfect WordPress poll plugin entirely depends on your use cases. Since all of our listed plugins fulfill all the considerations, you may pick up any of them you like.
If you are still confused, then we have two keys for you.
Solution 1: If you need to use forms frequently on your site (many people do), then you shall choose a form plugin that also has options to conduct polls, like Formidable Forms or Gravity Forms.
Solutions 2: If your entire focus is on surveys and you don't use forms often, then you shall go for specialized poll plugins like Total Poll, Modal Survey, or Poll, Survey & Quiz Maker.
Relevant Article: 7 Best WordPress Quiz Plugins Compared
Bonus: How to Set Up a Poll on WordPress
You can launch any kind of poll or survey easily on WordPress from your poll plugin's menu. We are going to show you the easiest method with the Total Poll plugin.
First, install and activate the Total Poll Lite plugin from WordPress, then finish some basic configurations. Now, follow the steps below:
Go to the TotalPoll menu from your WordPress dashboard
Click on the "Create Poll" menu
Now, a page will open where you have to customize your poll
Press the "Publish" button after customization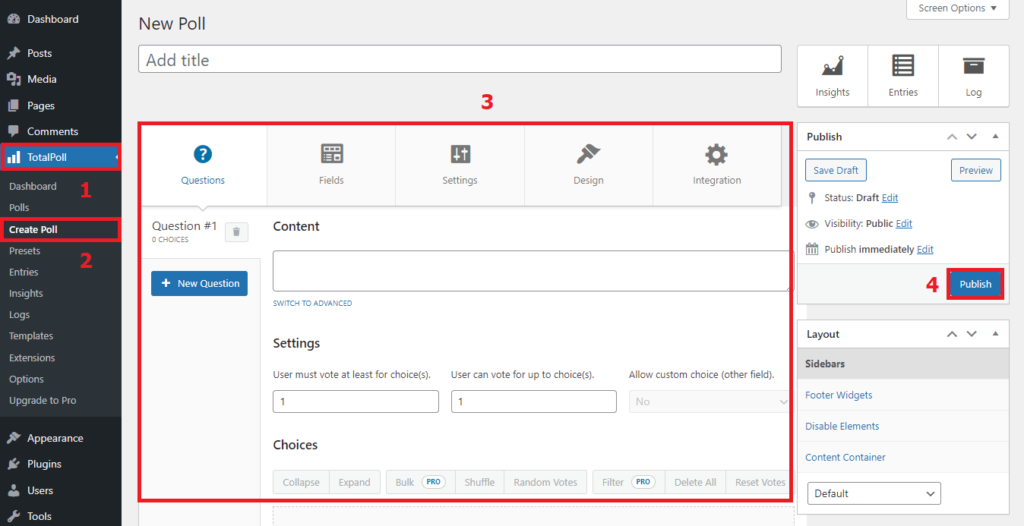 Finally, you need to integrate this poll into your pages or posts. Follow these steps to do so:
Click on the "Integration" tab on your poll menu
Copy the "shortcode" (copy the one with "results" to show results)
Paste the code into your page or post by opening them with Code Editor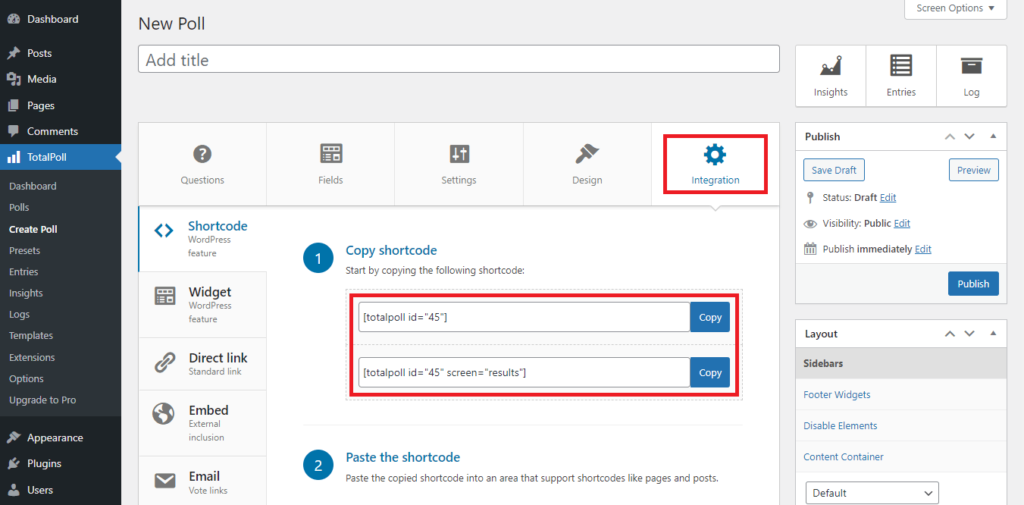 All done! The method we have shown might vary if you try it with other plugins. But the core of the process is more or less the same.
Now, you have learned how to create and publish a poll on WordPress with a plugin. Isn't it so easy? Let us know in the comment section below if you are still stuck somewhere.
Conduct Accurate Surveys with the Right WordPress Poll Plugin
The accuracy and features of your survey largely depend on the poll plugin you'll use. So, you should very careful while choosing one. Just determine what kind of polls you want to create and what is your end goal. It will help you take the decision easily.
We hope our list of the best WordPress poll plugins will help you find out the most suitable one for you. If your preferred plugin doesn't exist in our list, please feel free to let us know. We will test it for you and share the results.
Don't hesitate to make a comment regarding your queries and suggestions. And stay connected with us via our Twitter and Facebook pages.
https://wphive.com/reviews/plugins/best-wordpress-poll-plugins/
Abdullah Al Nayeem
Nayeem is a Content Writer at WP Hive. He has 4+ years of experience in the internet and media industry, specializes in writing, editing, communications, WordPress, SEO, eCommerce, digital marketing, and graphic design.

Subscribe To Our Newsletter