How to Do an Email Blast in the Right Way (With Examples)

When Gary Thuerk performed the first email blast in 1978, it created a revolution in marketing. Email blasts were still the single most powerful way to reach your audience even until some time back. With the rise of social media, the use of email blasts did decline a bit due to the lack of personalization.
However, that doesn't mean the days of email blasts are gone. If you can do it properly, email blasts can still yield great results for your business.
In this article, we will show you how to do an email blast in the right way that won't land in the user's spam box. But first, let's clear your idea about the email blast definition if you don't know it already.
Email Blast Definition and Things You Need to Know


An email blast is a way to distribute information to a large number of people. The term itself is derived from the industry of marketing and advertising, which has been using it for years.
Email blasts are usually used for events or campaigns such as product launches, sales promotions, product education, and more. They can also be used for general awareness-raising campaigns such as charity drives, awareness about important issues, or even just for fun!
A traditional email blast campaign is usually not segmented or targeted. However, nowadays email blasts can be sent with more personalization, thanks to advanced audience segmentation and targeting features brought by email marketing tools.
Do Email Blasts Still Work?

This is a valid question and one that is asked often.
The short answer is yes, it still works.
Email blasts are still a great way to reach your audience and drive sales. However, the digital world has changed drastically in the past few years, and with that change comes new challenges for email marketing.
The average expected ROI is $44 for every $1 you spend on email marketing.
But not all email blasts can give you $44 against an expense of $1. So you need to know how to send the email blast in the right way. And that is exactly what we will show you in the following section.
Tips to Send an Email Blast in the Right Way
Now you might be asking how to do an email blast properly, so you can get the optimum result from it. Well, here are the tips to do so.
1. Choose an Email Marketing Tool


To run a successful email blast campaign, you need to choose a modern email marketing tool. But there are some considerations to choose a good tool.
You need to know what your requirements are and how much you can afford to spend each month. If you do not have a clear idea of what you need and when then there will be no point in spending money on them. You will end up being confused about what exactly you need and how much it costs.
You need to find out exactly what kind of features you want in your email marketing tool before committing any money or time to it. This way, you will be able to make sure that you get all the features that are important to your business and will help it grow further.
MailPoet is our favorite email marketing tool, that provides great value for money. Their collection of features can help you build your email list, send beautiful emails, and increase your conversions.
This tool offers up to 5,000 emails/month, for up to 1,000 subscribers. All for free. If you need to send to more users, you can always opt for their premium plan.
2. Build Your Email List

To run an email blast campaign using a tool, first, you will need to acquire leads and build an email list. So how to do it?
You don't have to spend a lot of money on building an email list, but you do have to spend time creating content that people will want to read.
If you're already spending time writing blog posts, guest posting on other websites, and creating videos, then building an email list is a no-brainer.
Once you have useful content on your website, you can build an email list by offering the users –
Content upgrades
Useful updates through newsletters
Loyalty and referral programs
Discounts and deals
Through exit-intent pop-ups
3. Segment your Audience
Segmentation is the process of dividing your audience into groups that have similar characteristics and interests.
Segmentation helps you tailor your email blasts to each individual segment so that you can send more effective messages and increase response rates.
Audience segmentation also helps in remarketing campaigns.
Remarketing is an incredibly powerful tool for increasing sales and conversions because they retarget users based on their previous interactions with a website.
Segmentation can be done with most of the top email marketing tools like MailPoet.
4. Properly Target your Campaign

The next step to segmenting your audience is targeting the right segment with the right email.
After segmenting your audience by gender and age and other criteria, you can personalize the content of your emails so it speaks to your specific target audience.
If you're sending out a holiday email to men over 50 years old, it's important that the content be relevant to their interests and needs.
You can't just throw out an email blast to everyone on your email list and expect people to open it and click on links.
Email blasts today need to be targeted properly — which means understanding who you're trying to reach, how they want to be reached (and how easy or difficult that would be), and what their interests are so that you can send them an appropriate message at the right time.
5. Choose a Campaign Goal
In email marketing, goals can help you determine when to send campaigns and what content to include in them. A goal is an objective that you have set for your campaign, for example – increasing site traffic by 10 percent over the next month.
You can use your goal to shape your content for the highest possible conversion.
6. Use an Accurate CTA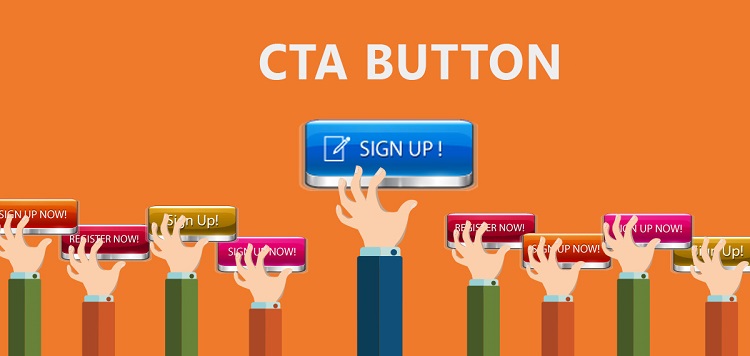 When you send an email blast, it's important to have a proper call-to-action that compliments your content and campaign goal. A CTA will help your user to take the next step in their journey, whether it's to purchase something or sign up for a free trial.
If you use an image (or a few words), make sure that it's big enough so that people can read it easily. You want people to know what they need to do right away so they don't leave your email.
You also want people to take action as quickly as possible when they see your CTA. The faster they take action on your call-to-action, the more likely they are to complete their workflow — which means more conversion!
After all the steps, you're ready to send your email marketing campaign. Here's how you can create an email marketing campaign in just 5 steps.
7. Optimize According to Results

If you want to see results, you need to optimize your email marketing according to the result of your existing approach.
If you've sent out emails and haven't seen a lot of engagement, find out why that is happening. It may be because:
The subject line isn't compelling or relevant to your audience.
Your email copy is too long or not well-written.
You didn't have any interesting images in your email.
You didn't have a clear call-to-action at the end of your email (CTA).
Once you find out the reason, optimize your email based on that. The more you do such tests and iterations, the more you'll be heading to optimum conversion from your email blasts.
Effective Email Blast Examples
Now let's take a look at some of the most engaging and successful email blast examples that you can take inspiration from.
1. Headspace's Discount Campaign
Headspace, the guided meditation app conveyed discounts to its consumers. It's clear, concise, and has a great CTA.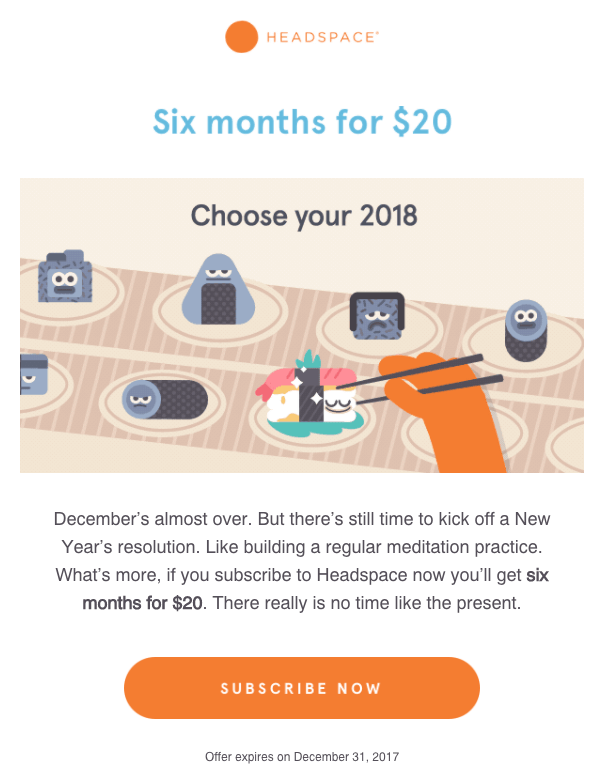 2. Postmate's GIF Approach
This email campaign from Postmate was not really personalized, but it didn't have to. Gif works great to increase engagement, and a fun gif of tortillas can only improve them.
But what they also did great, is providing engaging content and a clear CTA.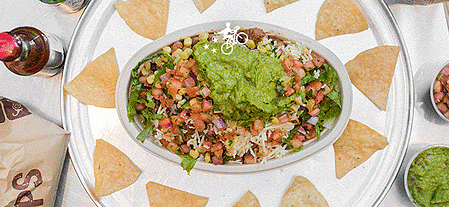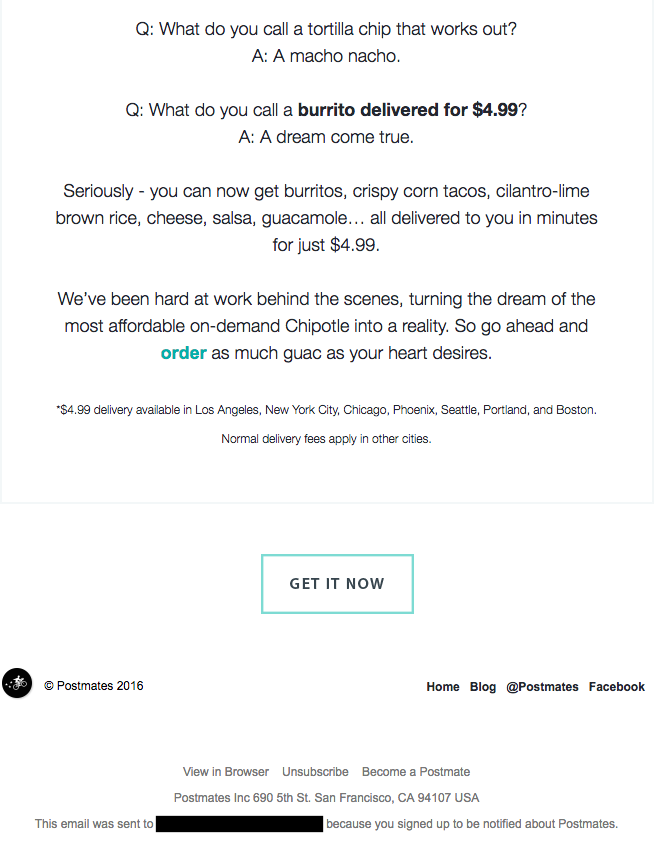 3. Brooklinen's Great Subject Line
While great content and GIFs can increase your engagement, your recipient first needs to open that email. Thus, the subject line is mighty important.
Now imagine seeing a subject line like the following? It'll surely make you curious to see what's inside.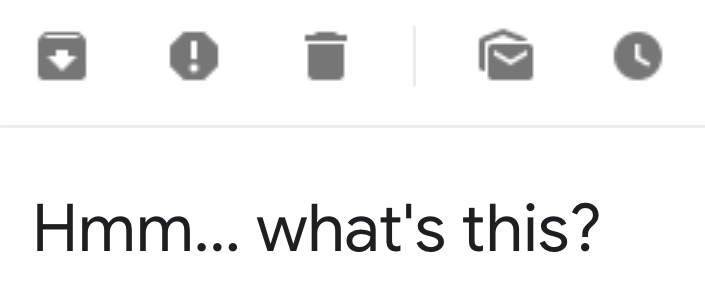 To top it up, Brooklinen created great body content as well, which makes the email blast a successful one.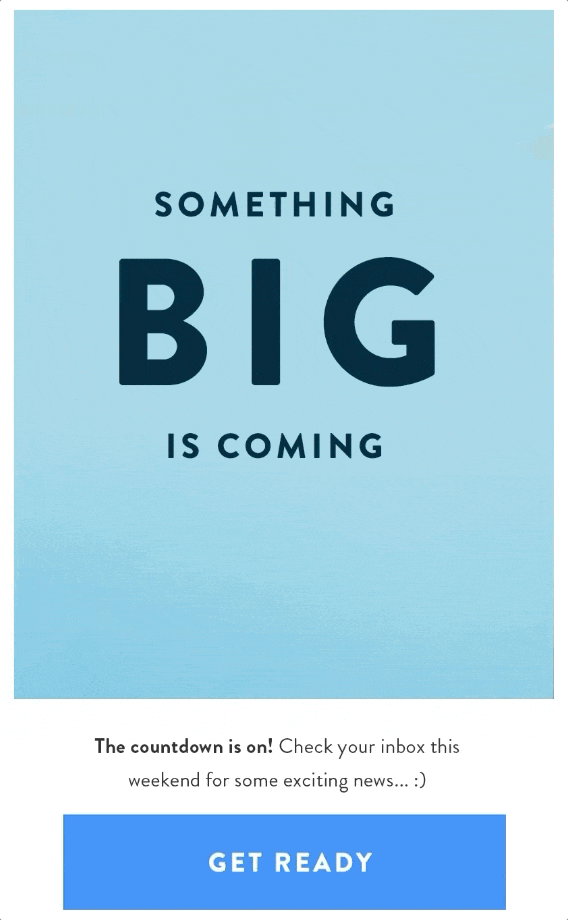 4. Airbnb's Personal Touch
The premier online marketplace for vacation rental, Airbnb's simplistic approach was also one that caught our eyes.
It was minimal, but the personal touch was very good to let users interact with it.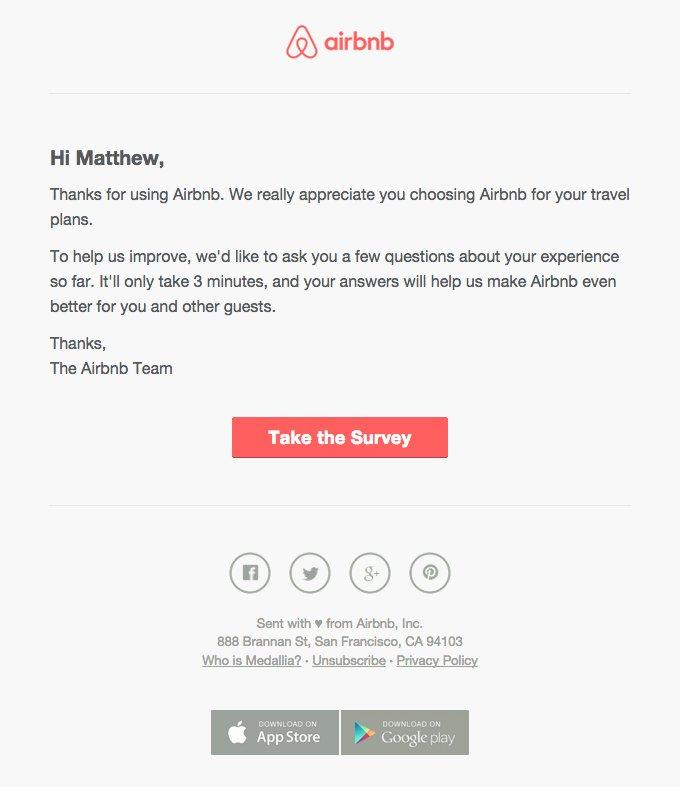 5. Tuft & Needle's Story Approach
Stories work. There's no doubt about it. And Tuft & Needle pulled it off brilliantly. Thus the final result was also great!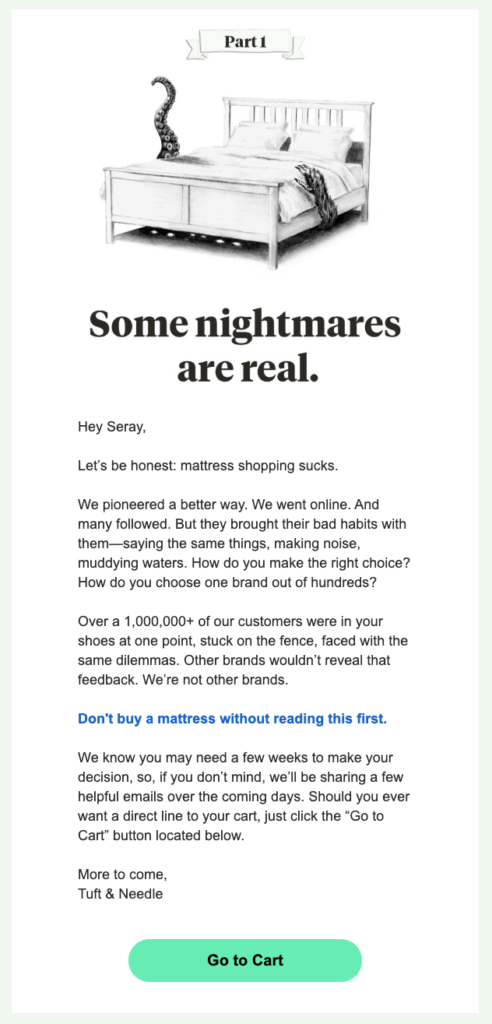 Frequently Asked Questions about Email Blasts
What is an eblast?
An eblast or email blast is a term used to send a single email to a large number of people simultaneously.
Is email blasting effective?
Email blasting is still 40% more effective to acquire new customers than top social media like Facebook and Twitter. So you can understand how effective email blasting still is.
What are email marketing campaigns?
An email marketing campaign is a single or series of emails targeted to users for a certain goal.
How do you do an email blast in Gmail?
You can use third-party tools like GMass to send email blasts in Gmail. It is also possible to send emails to multiple people manually.
However, there are limits to how many emails you send in a 24-hour period.
What is the best day to send an email blast?
There is no certain best day or time to send email blasts that fits all industries. You can find out the day or time by A/B testing with your campaigns or following your industry leaders.
Wrapping Up
Whether you're trying to extend your business into new markets or generate more interest for a specific product, email blasts are a quick, straightforward way to reach out to your target audience and get them interested in your business.
Most businesses have used email blasts for some sort of marketing campaign at one point or another, but there are still plenty who haven't.
Those who haven't might have reservations about the strategy, but they shouldn't, because it can help all types of businesses pull in more customers, regardless of their size or scope of services.
In this article, we have shown how to do an email blast properly and shared examples that will enable you to succeed in your email marketing campaign no matter what type of business you have.
So, there you have it! We hope the tips will help you plan and execute a successful email blast. Good luck!
https://wphive.com/tutorials/how-to-do-an-email-blast/
Faisal Sarker
Faisal is a tech blogger who excels at WordPress Content Writing. Apart from sharing useful info pieces that help people around the world, he also likes to travel and read books of all genres in his leisure time.

Subscribe To Our Newsletter