CartBoss Review – An SMS-Based WooCommerce Cart Abandonment Recovery Plugin

This is a pain point that every eCommerce store owner shares: Cart Abandonment.
Cart abandonment is the term used to describe the situation when the customers put an item in their shopping cart, but then leave the site before completing their purchase.
The rate at which shoppers abandon their carts has remained consistently high for years, and it significantly affects the bottom line of online retailers.
The average eCommerce cart abandonment rate across industries is 69.57%, and it's been hovering around this level for years.

Baymard Institute
The good news is that there are things you can do to reduce the cart abandonment rate of your website. If your website is powered by WooCommerce, there are powerful WooCommerce cart abandonment recovery plugins to help you.
Today we will talk about one such plugin, which is CartBoss. Let's start our CartBoss review.
Why Should You Be Worried About Cart Abandonment?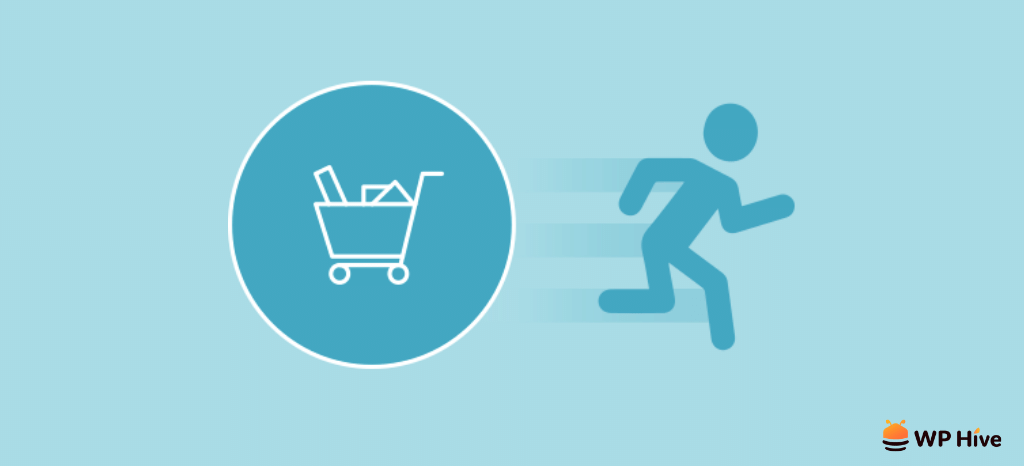 Because it costs you money.
It's an unfortunate fact that most people who add items to their cart never complete the purchase. The rates vary depending on which statistics you're looking at, but most hover around 70%.
That means that 70% of the time, customers are abandoning their carts. There are lots of reasons why this happens—maybe they're just browsing, or they just don't have enough money to pay for everything in their cart right now.
Whatever the reason may be, if you lose out on 70% of your sales, it's going to take a toll on your business.
It might not seem like a big deal if someone abandons a single cart, but if you have enough traffic coming to your website and enough people are adding items to their carts, all those abandoned carts can add up quickly.
They're also an opportunity for your competitors. Consider this: if you can't get someone to complete a purchase because your online store is confusing or difficult to navigate, there's nothing stopping that person from going over to someone else's website and buying what they wanted from there instead.
You just lost a sale and gave it to one of your competitors!
Enough reasons to take abandoned carts seriously?
The Best Way to Recover Abandoned Cart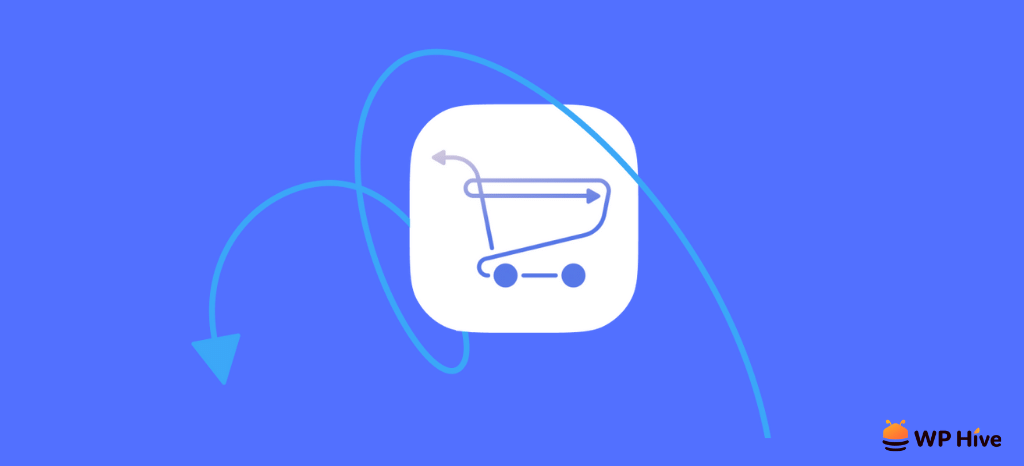 Well, we talked about you should be worried about preventing abandoned carts. Now let's take a look at what you can do to get your sales back, and how you can recover the abandoned cart.
When we talk about cart abandonment recovery notifications, we are talking about three different kinds of messages:
Abandoned Cart Notification – Email or SMS sent after the user has left the site without making a purchase.
Add to Cart Notification – Email or SMS sent after the user adds to the cart but decides not to buy.
Browse Abandonment Notification – Email or SMS sent after the user browses but decides not to buy.
While email is the most popular channel for notification, SMS is an underrated channel. The immediacy of SMS is key here. 90% of messages are opened on average within 90 seconds, compared to 90 minutes for email. Also, SMS has an open rate of 95%.
This makes SMS a powerful and highly responsive channel, and we've seen it outperform email in terms of click-through rates (CTR). And probably this is also the most effective abandon cart recovery channel.
Now let's introduce you to a plugin that helps you to send abandoned cart SMS with ease!
CartBoss – SMS Abandoned Cart Recovery Plugin


The CartBoss WooCommerce Abandoned Cart Recovery Plugin is a sleek plugin that can recover abandoned carts and reduce cart abandonment by sending automated text messages to customers who abandon their carts.
By using text messages for recovering abandoned carts, CartBoss achieves an average of 37% click-through rate and a ROI of between 1400% and 2400% with most users.
The plugin allows you to customize the content of each message; you can also control when and how often each message is sent.
Now let's take a look at the features of this plugin to give you a better idea of its capabilities.
Send different notifications through SMS: Apart from the abandoned cart text messages, CartBoss also allows you to send post-purchase special offers such as percentage/fixed discount, free shipping, no COD fees, custom coupon codes, etc.
Automatic language detection feature: CartBoss can automatically translate any text to the recipient's country. So if the recipient resides in a country, he will receive the SMS in that language, even if you send it in English.
Dynamic text messages: The text you will automatically send with CartBoss will dynamic. The recipient name, products, type, and amount of discount are dynamically added in the text message from the user data.
Pre-filled checkout form: When the recipient clicks on the link in the message he is redirected to the checkout page with all his information already filled in the form; they do not need to re-enter their information – this affects conversion rates up to 50%.
Automatic coupon/special offer generation on the site: Any offer sent in the message is automatically generated on the site, meaning that the store owners do not need to make the coupon codes; furthermore, the coupons are automatically deleted after a while so that the website's performance is not affected.
We've only listed some of the key features here, but there are many other features in the CartBoss that you'll love and appreciate. Now let's get a brief idea of how to use the CartBoss plugin.
How to Use CartBoss to Recover Your Abandoned Carts
Using CartBoss for WooCommerce cart abandonment recovery is very easy. In this section, we'll show you how to use CartBoss to send abandoned cart SMS.
Let's start with the installation.
Setting Up
You can install the free version of CartBoss from WordPress.org, just like any other plugin.
First, log in to the admin dashboard of your website. After that, navigate to Plugins > Add New.

Search for CartBoss and you will find the plugin. Simply click install and then activate to add the plugin to your website.

After installing the plugin, you have to register on the CartBoss website and add your website on the Websites section.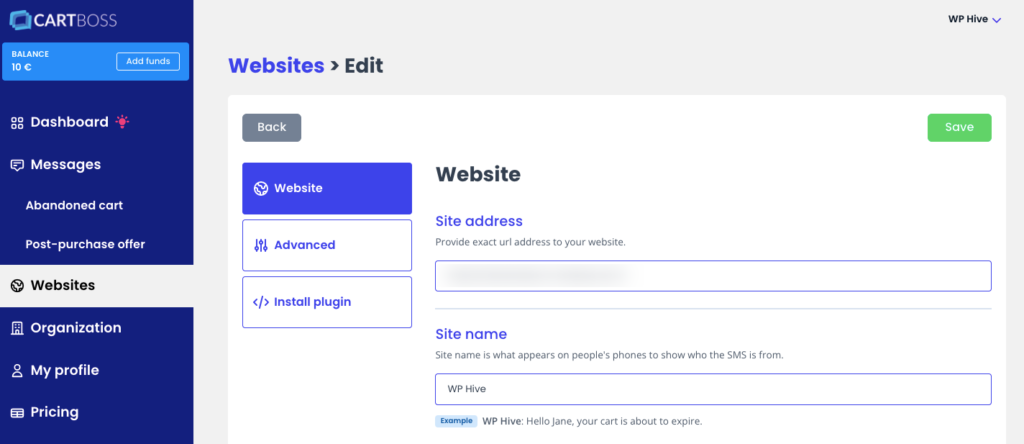 After adding the website on the CartBoss, click on Install Plugin and you will find an API code. You will have to copy the API code.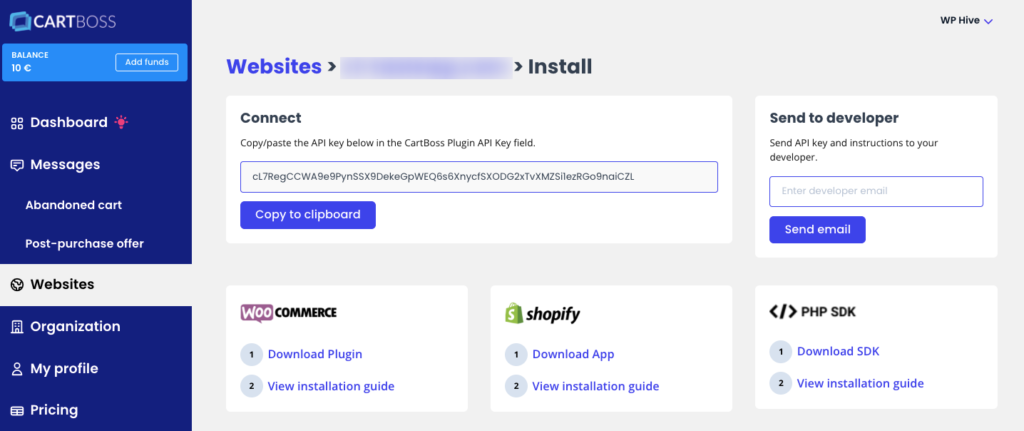 Now you will have to paste the API code into the website. So, again log back in to your website.
Click on CartBoss from the sidebar.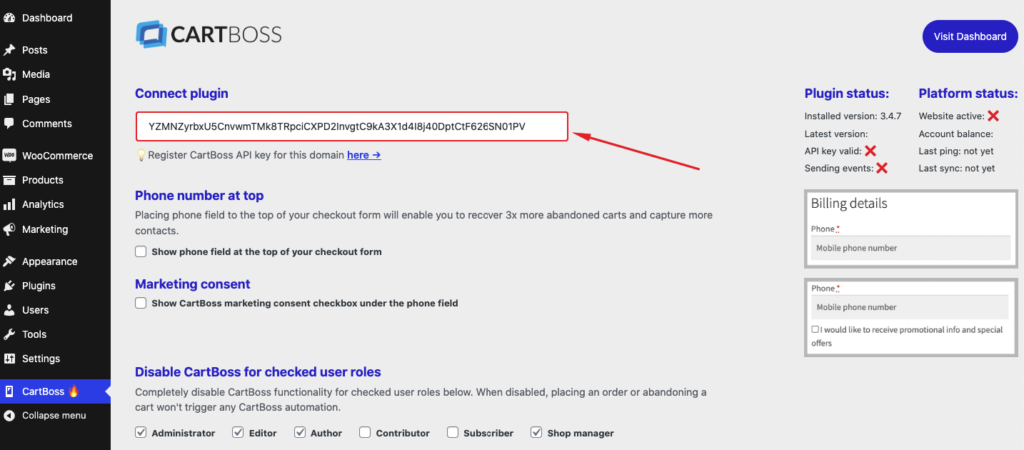 Now click on Save Changes and with that, you are done setting up the plugin.
Choose Which SMS to Send
After you set up the plugin on your website, the next thing to do is to enable which SMS you want to send.
For this, visit the CartBoss website and login to your account. Now from the Messages section, enable the SMS that you want to send.

You can even customize each message by clicking on edit. That includes the text of the message and the delay to send the message after adding to the cart as well.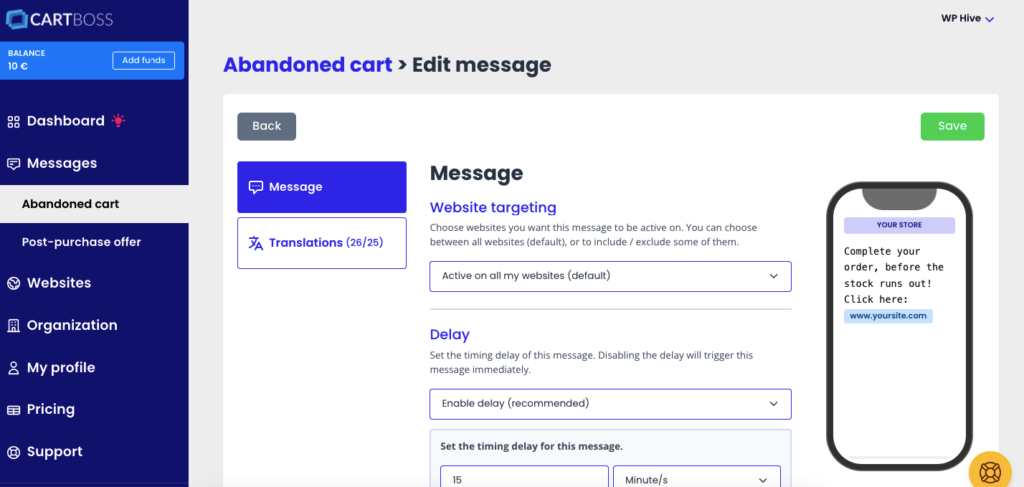 Now, whenever, a user abandons a cart he will get an SMS to recover it automatically.
Keep in mind that you need to have enough funds in your account for the message.
CartBoss – Tested with WP Hive
The result of WP Hive automated test on CartBoss WooCommerce cart abandonment recovery plugin was quite impressive. There was no PHP, JavaScript, Activation, or Resource Errors.
It had a very minimal impact on memory usage and PageSpeed.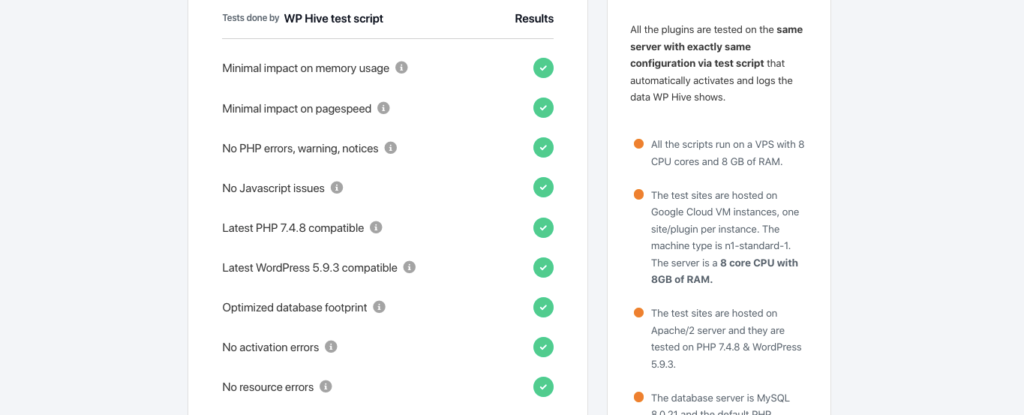 Performance-wise this is as good as it gets, and WP Hive test certifies it.

Overall, CartBoss is a recommended plugin by WP Hive automated test.
CartBoss Pricing
CartBoss doesn't have a fixed pricing plan for using it. You pay as much SMS as you send.
The cost per SMS can differ for countries. From here, you can take a look at the CartBoss pricing chart.

Start Using CartBoss Today to Increase Your Sales
If you aren't sending abandoned cart emails, you're missing out on a lot of sales. Why spend time driving traffic to your site if you're not going to capture those leads and turn them into paying customers?
All those hours spent on SEO, email marketing, and link building are wasted if you don't have a solid conversion rate optimization strategy.
Abandoned cart SMS is a great way to convert those visitors who are on the fence about buying from you.
CartBoss allows you to send WooCommerce cart abandonment recovery SMS very easily and cost-effectively. So why not take the chance to use it and increase your sales?
https://wphive.com/reviews/plugins/cartboss-woocommerce-cart-abandonment-recovery/
Faisal Sarker
Faisal is a tech blogger who excels at WordPress Content Writing. Apart from sharing useful info pieces that help people around the world, he also likes to travel and read books of all genres in his leisure time.

Subscribe To Our Newsletter