7 Best WooCommerce Email Customizer Plugins to Improve Conversions

Your inbox is cluttered with inboxes from multiple companies and brands, right? How many of them can make you feel special? Only a few. Your eCommerce customers also feel the same when you send them messages in the same old style.
WooCommerce has various plugins that can help you design emails tailored to the needs of your customers. Such personalized emails improve the CTR. Moreover, customized emails can help you build brand awareness with a unique identity and gain more trust.
But, you need an efficient email customizer plugin to send customized emails to your leads. In this article, we'll explain why you need to customize WooCommerce emails, introduce the best WooCommerce email customizer plugins, and answer the most commonly asked questions.
Why You Should Customize WooCommerce Emails


Why run extra miles when you can send the same email to each subscriber and on each occasion? The answer is simple. Customized emails connect customers more with the eCommerce store and influence their buying decisions. This ultimately results in more revenue generation for the WooCommerce store. Here is a list of benefits that you can reap from customized emails.
Personalized emails are more relevant to the customer's needs
They are more likely to be read and clicked through
Almost 63% of recipients feel urged to respond to personalized messages
Customized emails improve user experience
Emails with customized subject lines have a 50% higher open rate
You can create a unique brand identity
Personalized emails generate 6x higher transactions
You can generate additional sales (upsell & cross-sell) with personalized emails
Personalized email marketing can deliver a 122% median ROI
Why Use WooCommerce Email Customizer?


All WooCommerce users have access to the templates and customization it offers. And, numerous online stores are sending emails to their customers using the default WooCommerce personalization.
As a result, it won't help you stand out in the recipients' inboxes unless you bring some customization to the emails. To make your brand recognizable and distinguishable from other online stores, you need to customize the emails using a different email customizer plugin.
Usually, a customer receives multiple emails throughout his buying journey with a WooCommerce-enabled eCommerce store. Welcome messages, order confirmation emails, Thank You emails, shipping and billing emails, quick survey emails, promotional emails, We Miss You emails, etc. are a few types of emails you can send with a top-quality WooCommerce email customizer.
You need to use the right email customizer to make these emails more engaging, aesthetically pleasing, and conversational. Let's learn about the best WooCommerce email customizer plugins that can help you send excellent personalized emails to your prospective customers.
7 Best WooCommerce Email Customizer Plugins
There are many plugins that can help to efficiently send customized emails for WooCommerce. We've chosen our favorite ones here while also considering their active users and user ratings. All these WooCommerce email customizer plugins offer a wide range of personalization features both for free and at affordable prices.
MailPoet – emails and newsletters in WordPress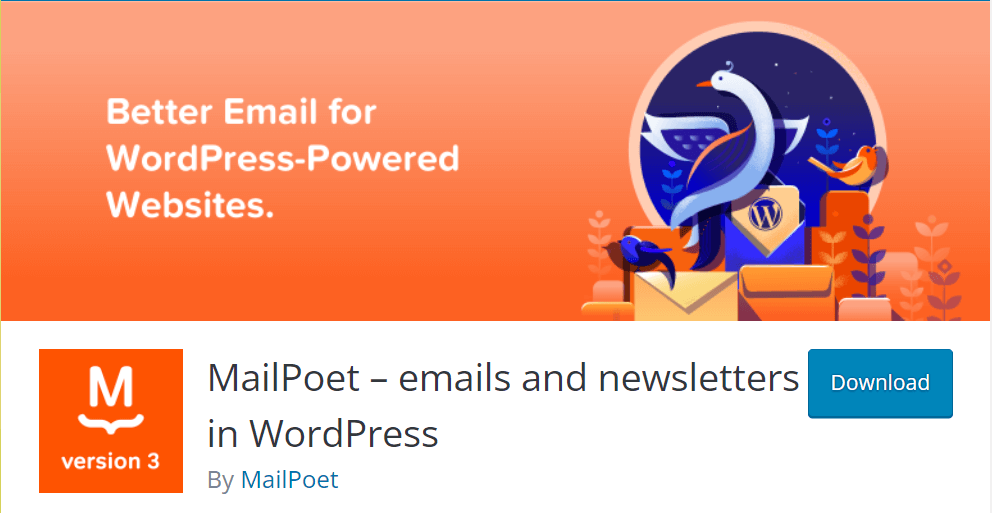 MailPoet has earned the top spot on our list with over 500,000 active installations and an average rating of 4.5 stars out of 5. It comes with a free plan for 1,000 subscribers with scalable plans for paid users.
You can send amazing personalized emails to the recipients based on their region, number of orders, amount of money spent, subscription and membership enrolment, and more.
With MailPoet, you can easily customize transactional emails with a unique layout, distinct color palettes, fonts, and other elements. Let's get to know the pros and cons of MailPoet with its pricing plans.
Pros:
Easy to use WooCommerce email customizer
Nice templates that are responsive across all devices
Free plan for beginners
Efficient subscriber management in WordPress
Engagement statistics and reports
Cons:
Sensitive ban thresholds
Support is slow
Pricing: The Pro plan starts at 8€ for 500 subscribers.
<Try MailPoet to Customize Your WooCommerce Email>
Kadence WooCommerce Email Designer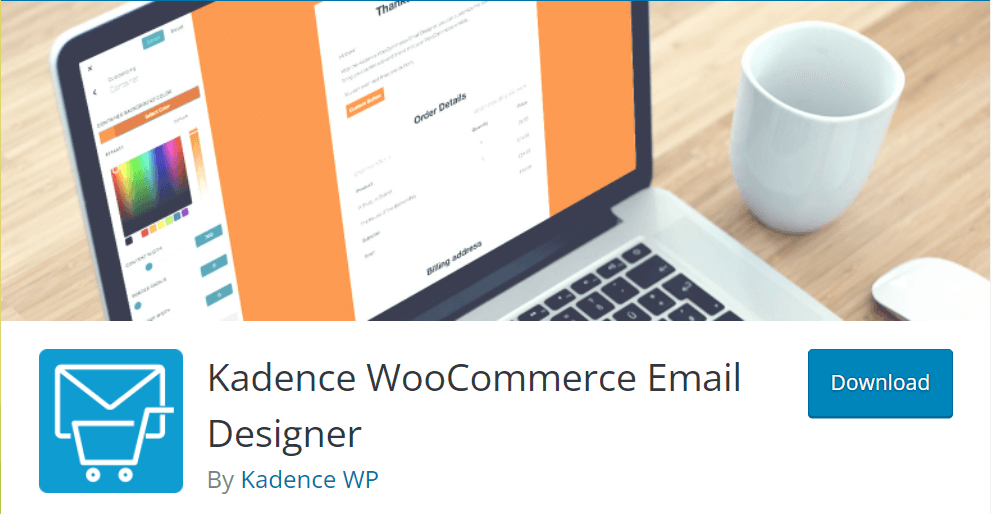 This is another great plugin for WooCommerce email customization with 100,000+ active installations 4.6/5 average rating. Kadence WooCommerce Email Designer lets users personalize default WooCommerce transactional emails with multiple pre-made templates.
You can edit the designs with amazing customizations in WooCommerce without any coding. This designer helps users create a unique brand identity with personalized brand styling. You can customize headings, subtitles, body texts, and other design elements of your WooCommerce emails with this plugin.
Pro:
Live preview of the customized WooCommerce emails
A collection of pre-built templates to get started
Easily controllable fonts, colors, background borders
Email testing feature to check inboxing
Easy to use export and import settings
Free version available
Cons:
The paid version is a bit costly
Doesn't support copy-paste for different templates
Pricing: KadenceWP offers all its products as a bundle for $199 per year, including this Kadence WooCommerce Email Designer plugin.
<Try Kadence to Customize Your WooCommerce Email>
Email Template Designer – WP HTML Mail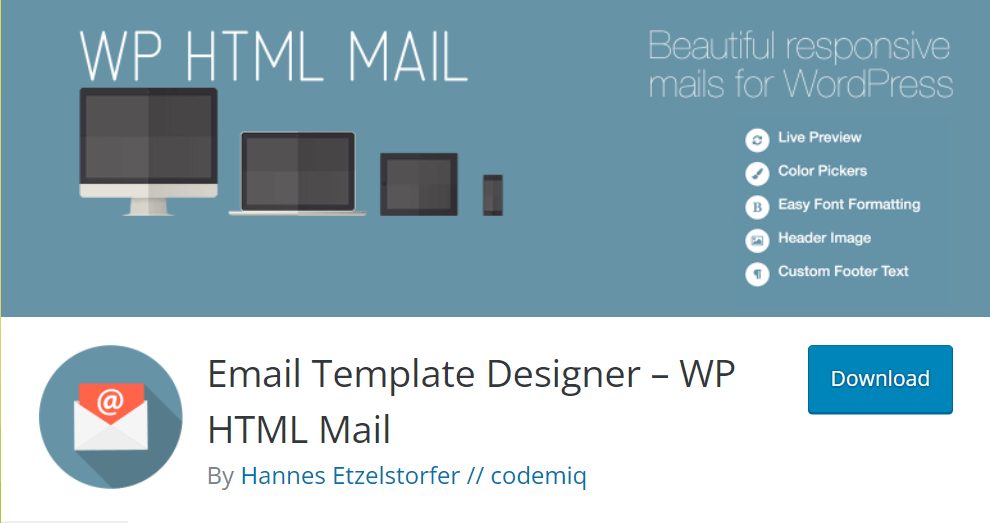 WP HTML Mail is at number three with more than 20,000 active installations and an average rating of 4.9 out of 5 stars. It can efficiently design transactional emails for both WooCommerce and EDD.
You can customize all your WooCommerce store emails simply by using its WooCommerce email customizer add-on. The personalization process is entirely code-less, suitable for people with little to no technical knowledge. This plugin helps users create excellent emails for multiple contact forms, WordPress core emails, BuddyPress, and more.
Pros:
Responsive designs across major desktop and mobile screens
Pre-made templates with rich designs
Customizable colors, fonts, and headers
Live preview to track the changes
Custom footer texts
Free basic version
Cons:
Pricing: The paid version starts at $65 for a single site for a year.
YayMail – WooCommerce Email Customizer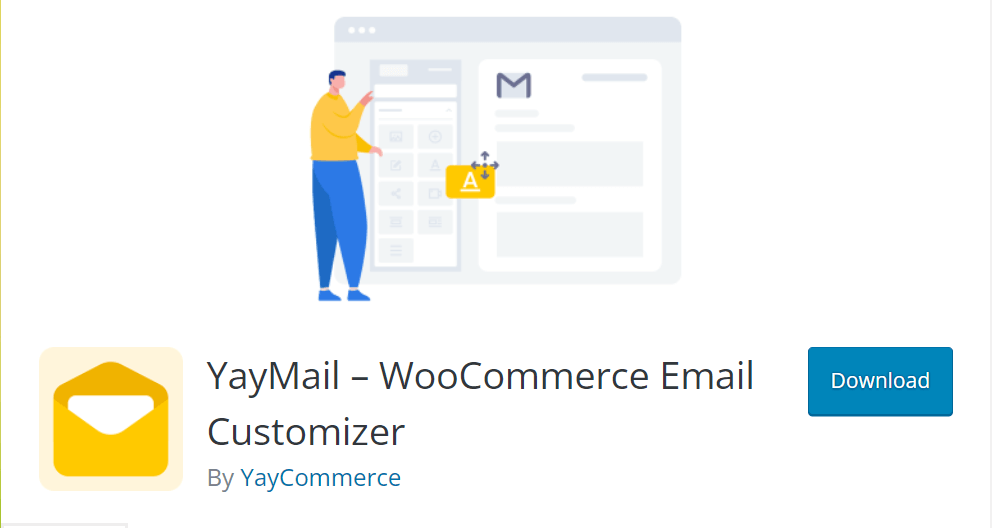 YayMail has an average rating of 4.7 out of 5 stars with 10,000+ active installations. This simple drag and drop email editor has 11 WooCommerce email customizer templates.
You can send customized new order emails, cancellation emails, the order failed emails, order processing emails, refunded emails, and more with this plugin. the PRO version supports third-party integrations to offer more customization like shipment tracking, checkout field editor, order status management, and more.
By using the YayMail Addons, you can unlock multiple features to get optimal flexibility when customizing the emails for your WooCommerce stores. Let's learn the pros and cons of this plugin with pricing for the PRO plans.
Pros:
Easy to add element blocks and columns
Customizable fonts, colors, padding, backgrounds, and so on
Live preview available
Easy to use drag-and-drop interface
Compatible with all popular browsers
Free version for beginners
Cons:
Wide range of customization options, which are often overwhelming for the beginners
Pricing: The PRO version of YayMail – WooCommerce Email Customizer is available at $59/year for a single site.
<Try YayMail to Customize Your WooCommerce Email>
Email Template Customizer for WooCommerce- VillaTheme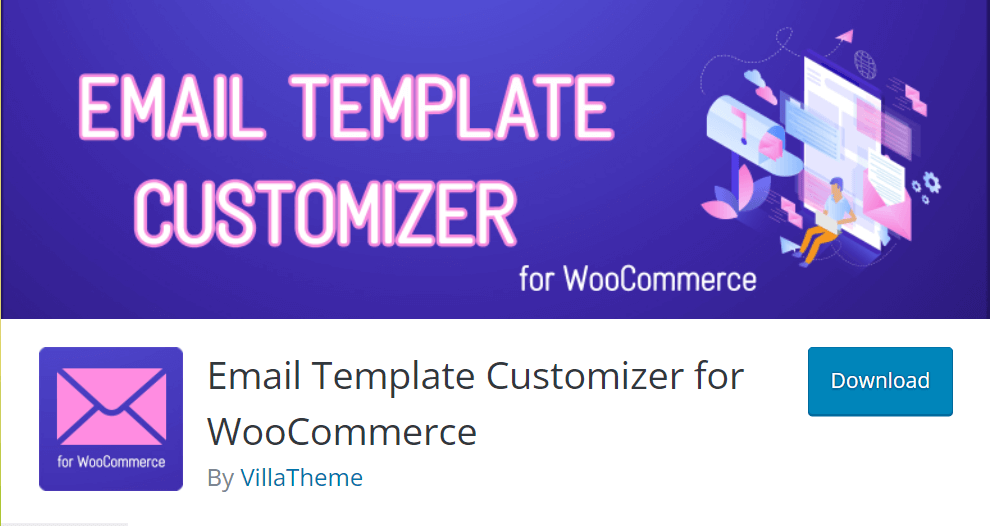 This plugin is dedicated to providing effective ways to personalize WooCommerce emails for users. It has achieved 4.7 out of 5 stars and more than 10,000 users have activated it for their WooCommerce store to date.
Email Template Customizer for WooCommerce offers adequate basic elements and developmental tools to build engaging and personalized WooCommerce emails. You can easily use the drag and drop interface, edit and customize the contents/layouts, and redesign the templates as you see fit.
Pros:
Design as many emails as you want with provided elements
Set a common rule to apply to every template
Send test emails to check for issues
Preview the emails on both mobile and PC screens
Customize WooCommerce emails- text, divider, social, image, button, and more
Available free versions
Cons:
Limited functionalities in the free version
Pricing: The regular license starts at $32 with six months of support. You can extend the support for 6 months more with an additional $10.13.
Email Customizer for WooCommerce- ThemeHigh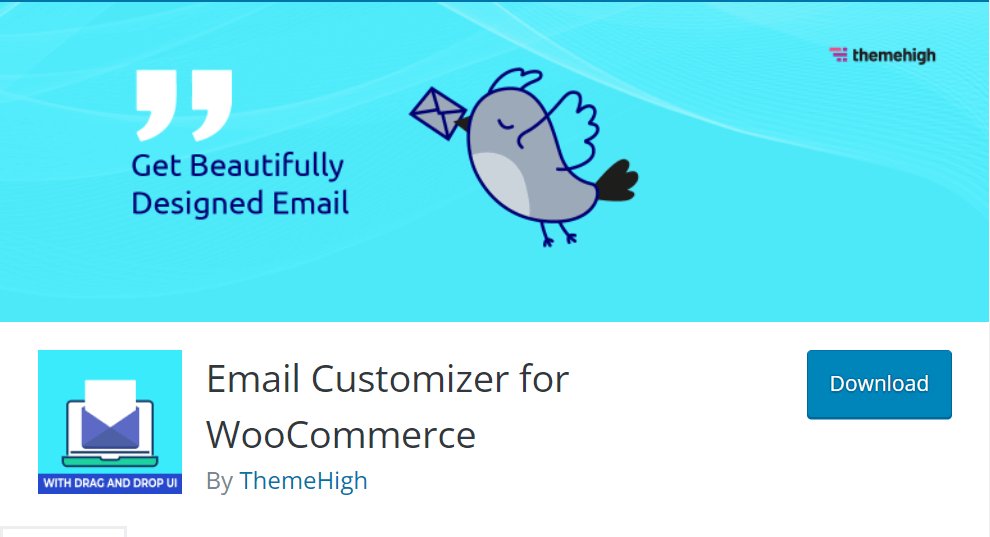 This plugin offers a lot of features for the paid versions with only a few features for the free version. This resulted in poor ratings on WordPress.org. It is growing with 90,000+ active installations with an average rating of 3.8 out of 5 stars.
The intuitive template builder lets users customize all your WooCommerce transactional emails effortlessly. Email Customizer for WooCommerce- ThemeHigh allows adding texts, images, colors, dividers, and many more design elements to the templates. You can create a unique layout that matches your brand style perfectly.
Pros:
11 pre-made WooCommerce email templates
Quick and easy drag-and-drop functionality
User-friendly email builder
Real-time preview of the changes made to the emails
Multiple options for dynamic placeholders
Compatible with WooCommerce elements
Cons:
Very limited features in the free version
Pricing: The paid version starts at $39/year for a single website.
Decorator – WooCommerce Email Customizer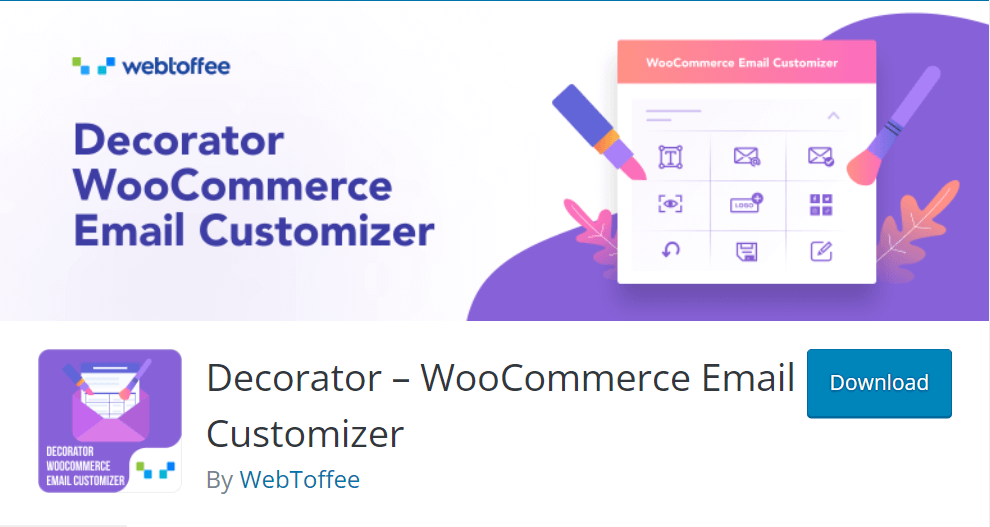 Decorator has a pool of limited but happy users. It has reached 8,000+ installations with an average rating of 4.8 out of 5 stars. This plugin can effortlessly change the look and feel of default WooComerce emails.
You can customize all email contents such as email body, subject, subtitle, and heading with this plugin. The color pickers and sliders help users personalize the backgrounds, footers, headers, and everything. You can also add placeholders/shortcodes where necessary.
Pros:
Customization for default WooCommerce email types
Email testing to check how the templates look
Real-time preview as you make the edits
Social media integrations
Option to apply the same rule for each template
Cons:
Limited features compared to other tools
Pricing: It is available for free. The plugin doesn't have a paid version.
Frequently Asked Questions- WooCommerce Email Customizer
Here are a few FAQs to help you know more about the topic we've been discussing throughout this article.
1. Can WooCommerce send emails?
Yes, WooCommerce by default sends automated emails whenever there's a change in the order status. But, you need to configure the plugin correctly to activate the email sending feature.
2. How do I customize my email in WooCommerce?
Log in to your WordPress admin panel then visit WooCommerce > Settings > Emails. You'll get the customization options applicable for both admin emails and customer emails.
3. How do I customize my order confirmation email in WooCommerce?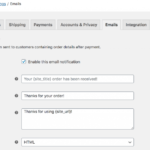 Again visit WooCommerce > Settings > Emails. Here, you'll see all default messages WooCommerce sends to your customers. You will find the order confirmation email there too. Click on the Manage button available on the right side. It will take you to a page like the following one.
Edit the fields as you want to customize the emails for your WooCommerce store.
4. Why WooCommerce isn't sending emails?
It happens if someone disables the emails from sending. You can easily fix this issue by visiting WooCommerce > Settings > Emails> Manage. Then tick the checkbox that contains "Enable this email notification". Then save the changes to enable sending emails.
5. How can I activate advanced email automation in WooCommerce?
Choose the Best WooCommerce Email Customizer for Better Engagement
Now that you know the best tools that can send customized emails to your WooCommerce store customers, let's choose the one that meets your needs perfectly.
If you want to get the service of a proven player within a moderate budget, MailPoet is there. You can rest assured of its quality.
Kadence offers a wide range of customization options but it comes in a bundle package. That makes it a bit difficult to buy for people who need only the WooCommerce email customizer.
WP HTML Mail and YayMail, both offer a lot of personalization features for WooCommerce emails. The price range is also almost the same. You can use either of these two if they fit your needs.
Email Customizer for WooCommerce created by VillaTheme and ThemeHigh, both have a similar price point with plenty of features. You can choose any of them if the price aligns with your budget.
For a free version, Decorator could be a great choice. It only has the free version which makes it the best contender if you're not willing to spend much on the WooCommerce email customization.
Each plugin has something to offer. It's ultimately your call to choose a suitable one for your WooCommerce store. Hope our article has helped you make an informed decision. Let us know in the comment box if you have two cents to share with us.
https://wphive.com/articles/woocommerce-email-customizer/
Tanvir Faisal
Md. Tanvir Faisal is a Content Writer at WP Hive with 4 years plus experience in Content Writing, Copywriting, Proofreading, and Editing. He focuses on writing informative content that draws social media attention and enhances search engine visibility. To date, he has successfully developed useful content for many websites across all formats.

Subscribe To Our Newsletter