PWF – WooCommerce Products Filter Review: Add 15+ Filters Easily

Suppose you have a WooCommerce store with its default sorting capabilities. You can filter the products based on only popularity, average rating, latest arrival, and price. But these limited filters aren't enough for stores with a great number of products.
The PWF – WooCommerce Products Filter plugin comes in handy to help you add 15+ filters to your online shop. It has many more useful functionalities to enhance your customer's user experience when they browse your website's product pages.
Keep reading this WooCommerce Products Filter review to learn more about this plugin. We're going to explore all the benefits of its main features and share our experience with you through this blog post.
What is PWF – WooCommerce Products Filter?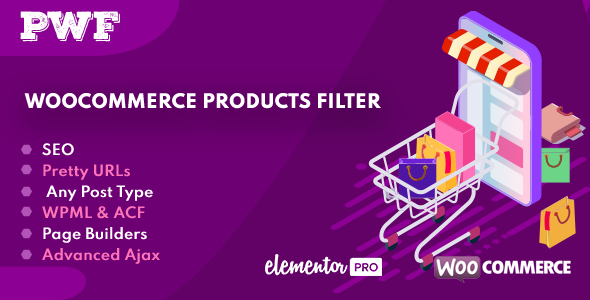 The WooCommerce Products Filter is a powerful plugin with amazing features. It can filter any type of WordPress post. The filtered results appear in mainly four pagination types- numbers, load more button, and Infinite scroll. It supports pretty/clean URLs, RTL, Ajax, WordPress MultiSite, and Multi-Languages (WPML). You can also build useful forms using its drag-and-drop builder.
Now let's learn about who are the people behind this product. eye-themes, an Envato Elite Author created this product. It has more than 125 reviews with almost 4.5 average ratings. It is actively selling plugins since 2012 and helping hundreds of people to improve their online stores for a better user experience.
The key benefits of PWF – WooCommerce Products Filter
Let's learn how you can use the amazing features of PWF – WooCommerce Products Filter and get benefitted. The following sections discuss the benefits of the key benefits of this plugin.
1. It can filter any kind of product data
Since the filtering functionality isn't confined to only products or WooCommerce-related things, you can filter any WordPress post type with it. You can filter the products of your WooCommerce store based on any criteria such as variations, tags, attributes, categories, taxonomies, rating, price, stock status, on sale, featured, authors, search text, custom fields, and more.
2. Choose from a wide range of frontend filter fields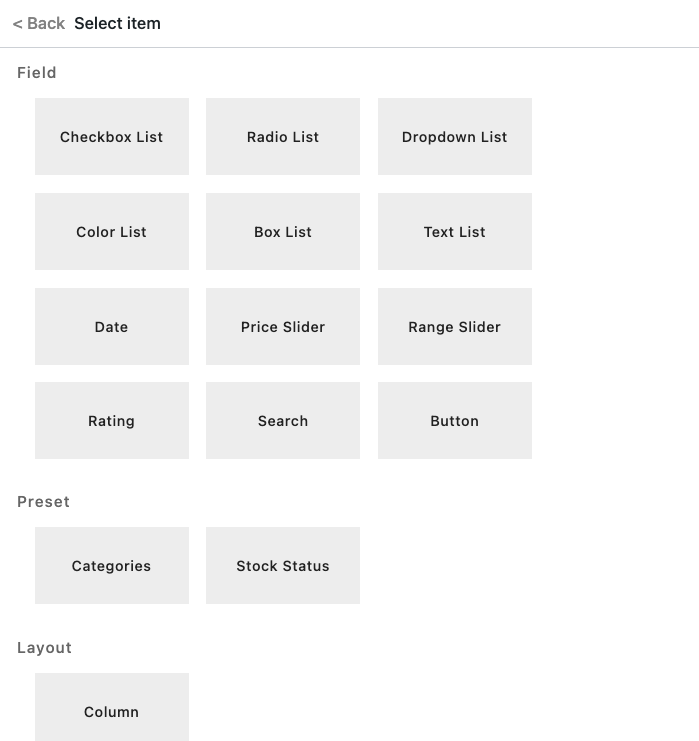 PWF comes with 15 front-end filters to ease your journey of adding filter items to the online shop. Checkbox List, Radio List, Dropdown List, Price Slider, Range Slider, and Stock Statuses are the significant fields you can choose to enhance your customer's user experience when they apply the filter. You can add these filters simply by adding a new filter with other required information from the backend.
3. It generates SEO-friendly URLs
The PWF SEO tool supports clean and pretty URLs. It is compatible with prominent SEO plugins like Yoast SEO, Rank Math, and All in One SEO. You can modify fields such as meta information, canonical URL, breadcrumb, and more. Have a look at the following image to know how your URLs may look for a price range filter.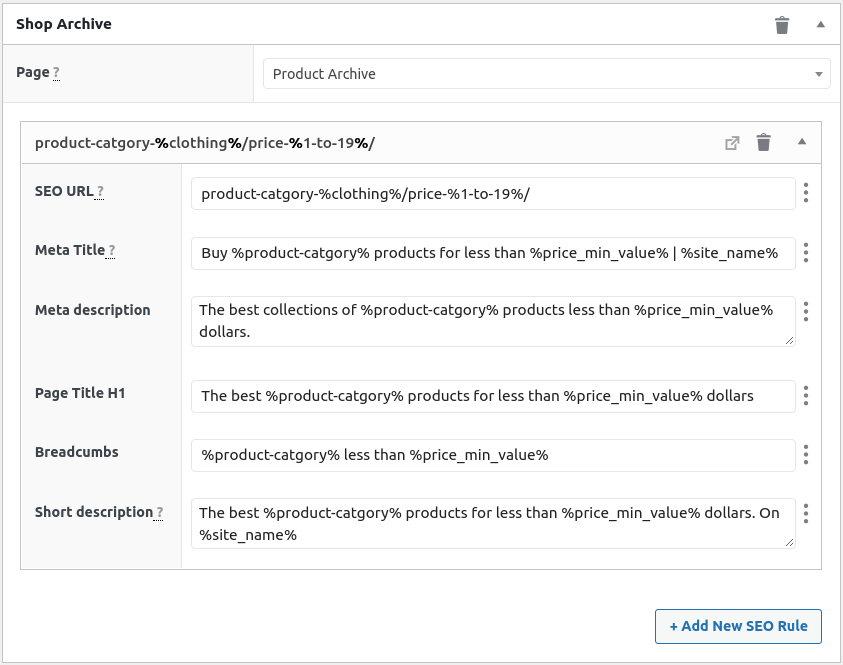 You can even add new SEO rules if you need. Thus, this tool helps every online store owner to get a healthy SEO score.
4. PWF shows useful data through its built-in analytics
This plugin features a powerful analytics tool that can help you know what's trending among your users. You can filter the analytics results by date range, languages, Ajax/API, usage of a specific filter, etc. These data are very important for marketing purposes.
5. Stylize the filters with colors, font sizes, margins, & more
The concept of adding filters is to enhance customers' shopping experience. PWF adds more value to this idea by allowing you to customize the filters. It supports customization for all filters including item title, product filter, box list, button, range slider, checkbox, radio list, and others.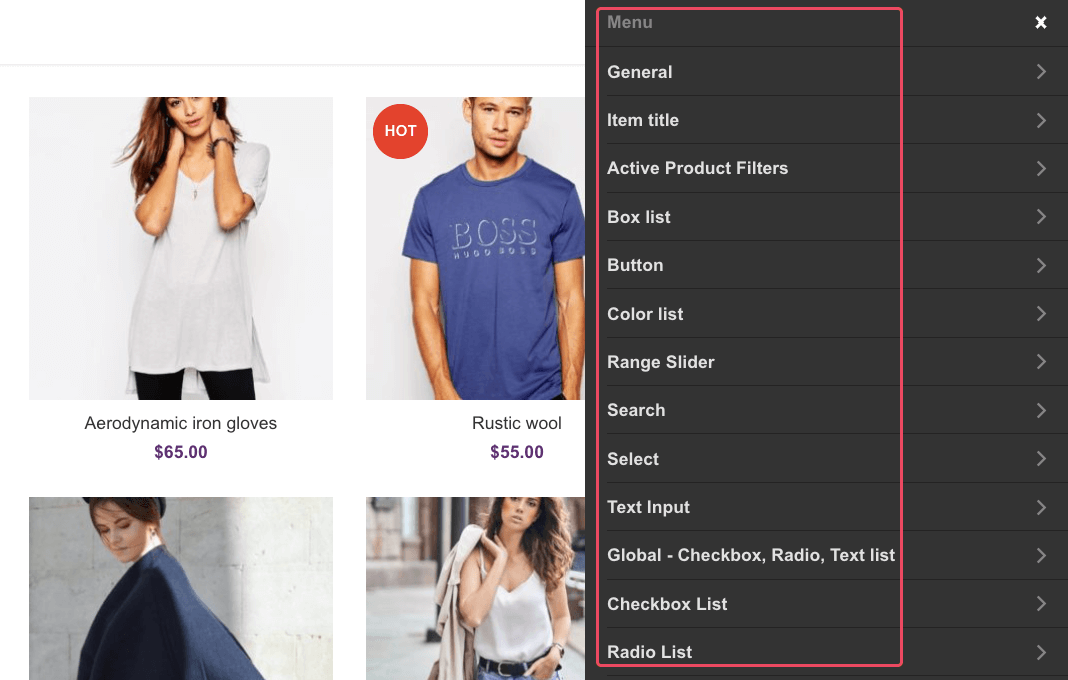 You can stylize the filters using color, font size, font weight, margin, border, background color, hover color, padding, and more.
6. Choose from three pagination types
Once a customer applies a filter, PWF will show the relevant results for him. What's the pagination pattern? You can choose that as well. It has three kinds of pagination to help you choose the right one for your business needs. You can choose page number, load more, or infinite scrolling to define how the results will appear.
7. Use advanced Ajax to produce better results
Each filter renders a good number of results including multiple product data. Using the Ajax technique to load and show them is the best possible way of improving the user experience for the customers. PWF enables you to use Ajax to filter WooCommerce products. Other than these amazing benefits, PWF helps people in many ways. Let's have a look at other significant features of this plugin in the following section.
8. Make use of other additional features


Here is the list of additional features you can use.
PWF has three widgets and shortcodes that display active filters and SEO short description
It supports popular page builders like Elementor, Divi, Oxygen, Beaver, WPBakery, and more
It is developer friendly with numerous PHP and Javascript hooks
You can use its REST API to interact with other applications
PWF implements an advanced caching system (tested for up to 60k products)
How to add filters using PWF – WooCommerce Products Filter
You'll need this filter plugin only if you have a fully functional online store with numerous products. We assume that you have an online shop ready. Let's learn how you can add filters to your WooCommerce shop using this PWF – WooCommerce Products Filter.
Upload the plugin to your WordPress site
After buying the product, you'll get the downloadable product from your download page on codecanyon.net. Then log in to your WordPress dashboard and navigate to Plugins> Add New. Click on the Upload Plugin button and choose the .zip file from your computer.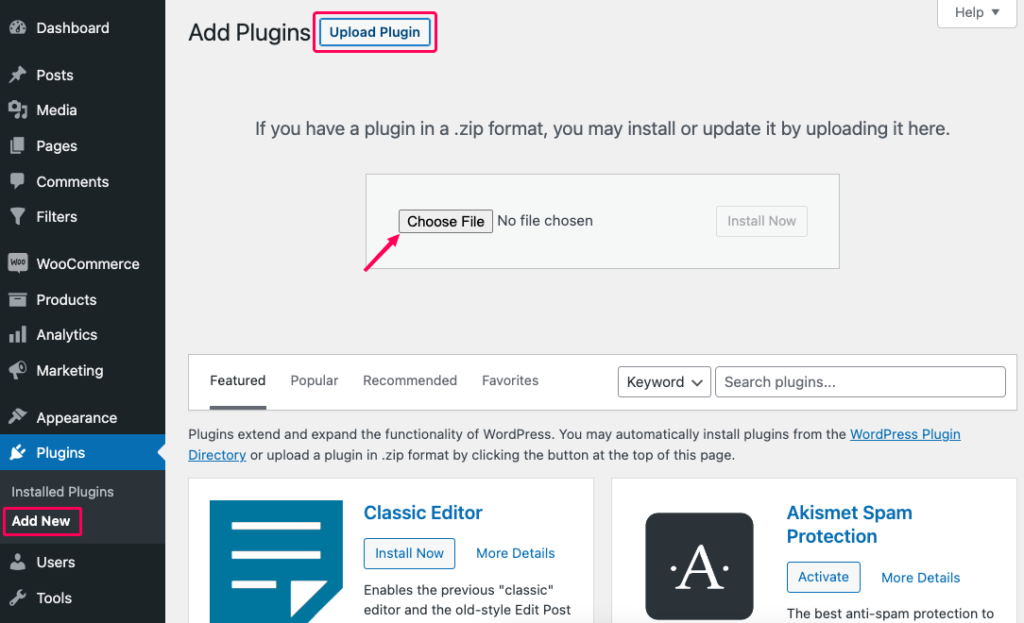 You can follow this tutorial for further guidance: How to Install a WordPress Plugin – Step by Step for Beginners.
Insert your Envato Purchase Code to verify
You need to verify the purchase with the Envato purchase code to use this plugin to its fullest potential and access all premium features. Go to your account's codecanyon.net downloads page and copy the License Certificate & Purchase Code from there. Then, navigate to the Settings section of your PWF Filters from the WordPress left sidebar.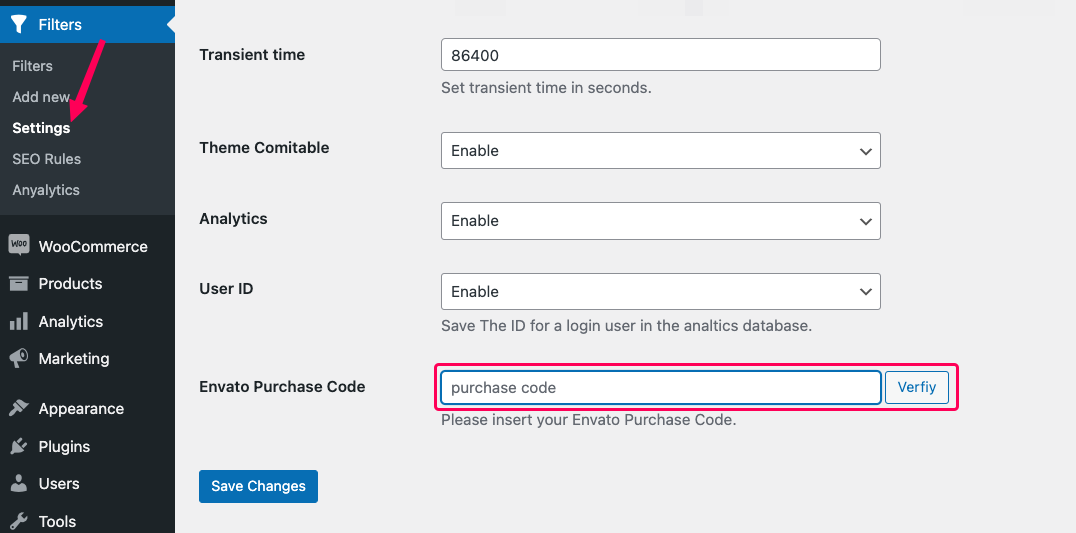 Paste the copied code on the Envato Purchase Code field. Hit Verify to complete the verification process. Then save the changes. You can use premium features like pretty URLs, product filters by variations, SEO tools, and analytic tools.
Add filters to your WooCommerce store
Now, your PWF – WooCommerce Products Filter is ready to use. Navigate to the submenus under the Filters menu from the WordPress admin panel to see the available options. You'll see Filters, Add new, Settings, SEO Rules, and Analytics there. Explore them to see the functionality. Don't forget to fill in the required fields while adding the filters.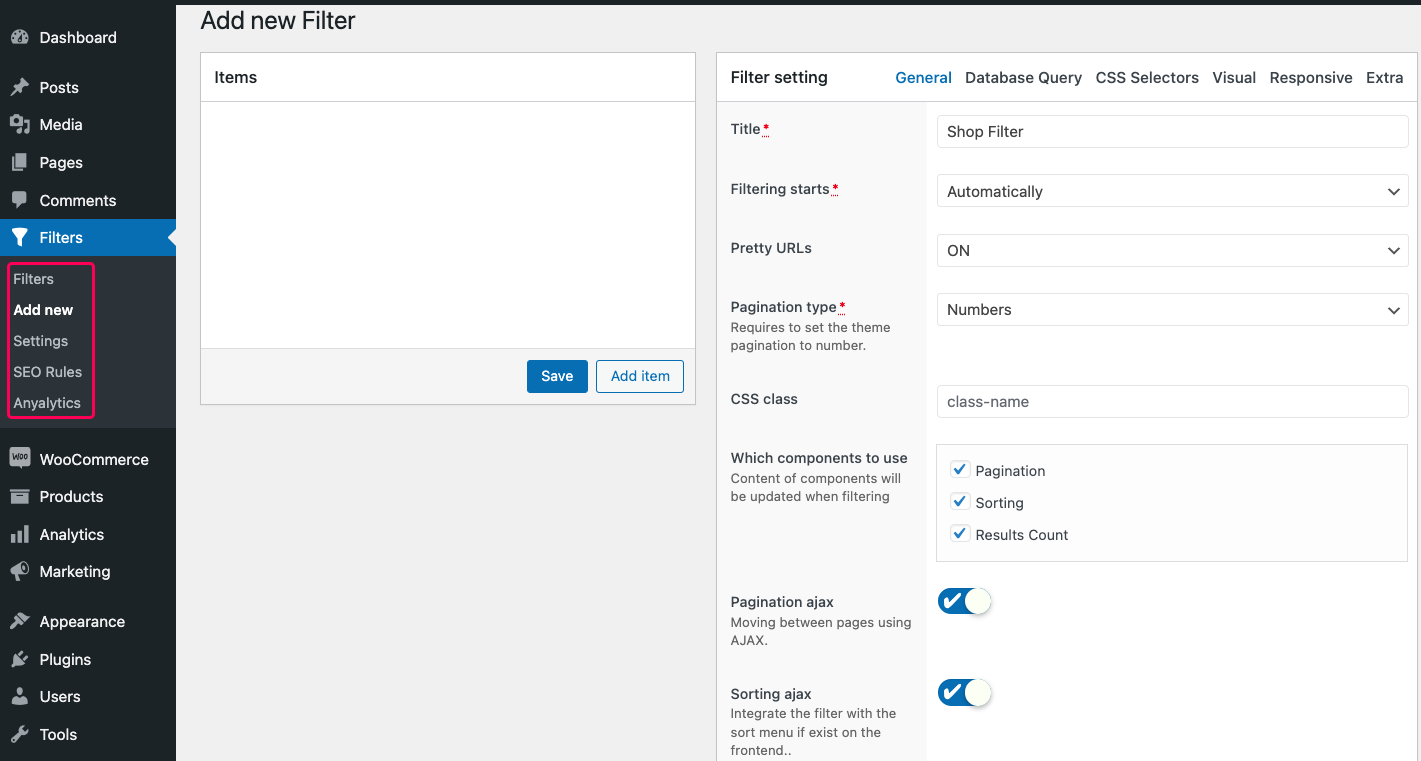 This plugin has well-explained documentation to guide users through easy onboarding. You will find guidelines on how to use PWF for the best outcome by following them.
WooCommerce Products Filter Pricing
It has a free version on WordPress.org with the basic functionalities. You need to buy the paid version to unlock premium features like pretty URLs, product filters by variations, SEO tools, and analytic tools. The price starts at $39 with 6-month support from eye-themes. You can extend support to 12 months by paying an extra $12.75. You'll get future updates under this license as well.
Our verdict on PWF – WooCommerce Products Filter
If you have a small online store with a few hundreds product, the default WooCommerce filters are enough. PWF – WooCommerce Products Filter is suitable for online stores with a great number of products. It offers a handful of ways of setting up filters for WooCommerce shops.
We liked the 15+ filters with front-end fields and the SEO tool that generates SEO-friendly URLs the most. Hope this PWF – WooCommerce Products Filter review will help you make a decision. We recommend buying the premium version to enhance your online store's filtering capabilities.

https://wphive.com/reviews/pwf-woocommerce-products-filter-review/
Tanvir Faisal
Md. Tanvir Faisal is a Content Writer at WP Hive with 4 years plus experience in Content Writing, Copywriting, Proofreading, and Editing. He focuses on writing informative content that draws social media attention and enhances search engine visibility. To date, he has successfully developed useful content for many websites across all formats.

Subscribe To Our Newsletter