Salon Booking System Review- Scheduling Made Easy for Your Business

In this era of the internet, people are looking for ways to do everything online without having to depend on others. Consider this changing behavior of salon service users. They surely hate to call you over the phone and depend on you to book a slot for them.
At the same time, as a business owner, you may also be searching for ways to automate the appointment system from your end and use as fewer human resources as you can.
In this Salon Booking System Review, we've shown how this WordPress plugin addressed the pain points of the stakeholders of salon and personal care services. It offers a streamlined system that tracks all appointments including the date, time, payment status, attendant, number of services, duration, customer details, and more.
Before moving to the in-depth review, let's know what is this tool all about and who should use it.
What Actually Is Salon Booking System?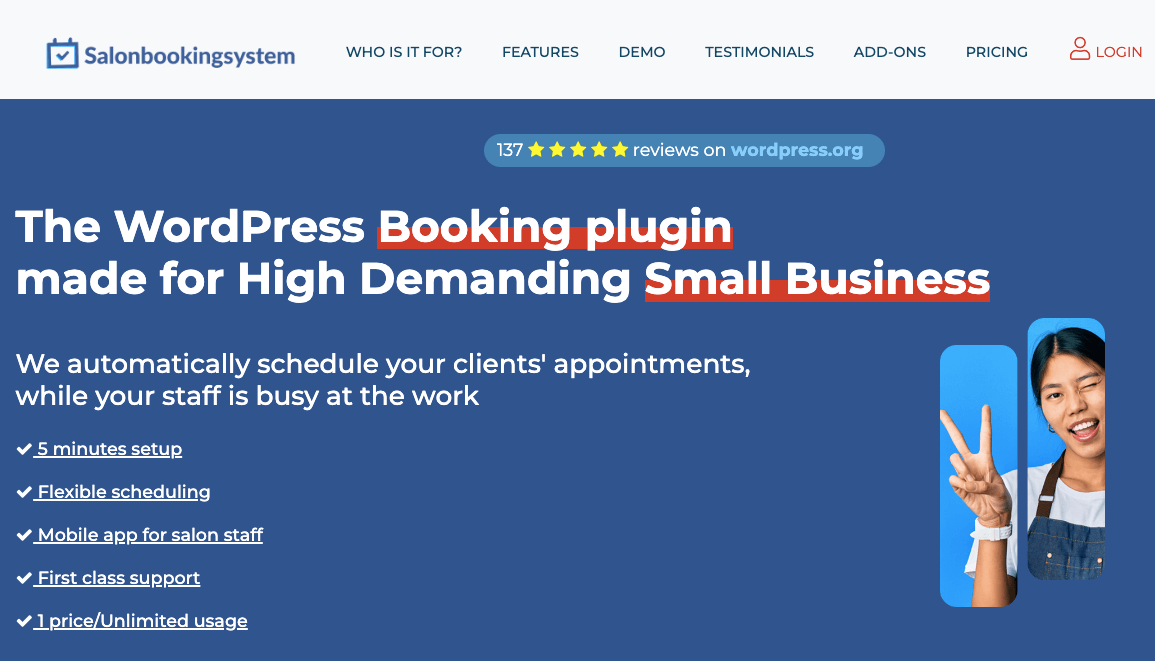 It is a booking management software dedicated to the salon and personal grooming businesses. You can supercharge your small business with this excellent WordPress plugin at an affordable price.
What made it stand out from its competitors?
Salon Booking System is built keeping the user experience of both clients and service providers in mind. You, as a client, can quickly and easily book an appointment with your preferred service assistant. And, the assistant can also see his/her schedules using this tool.
Who should use Salon Booking System?
This plugin is suitable for any small business that requires a reliable booking management tool to streamline scheduling for its efficient operational activities. Here is a list of the top industries that can make the best use of Salon Booking System software.
Barbers and Hairdressers
Beauticians
Therapy Business
Personal Trainers
Tattoo Business
Tutors
Health Care Center
All these businesses have one thing in common- online appointments. The Salon Booking System adds a lot more functionalities to that. This tool makes it easier for customers to book a slot for their chosen services. It also enables the service providers to manage the booking and payment with no hassle.
Why should you use the Salon Booking System WordPress plugin?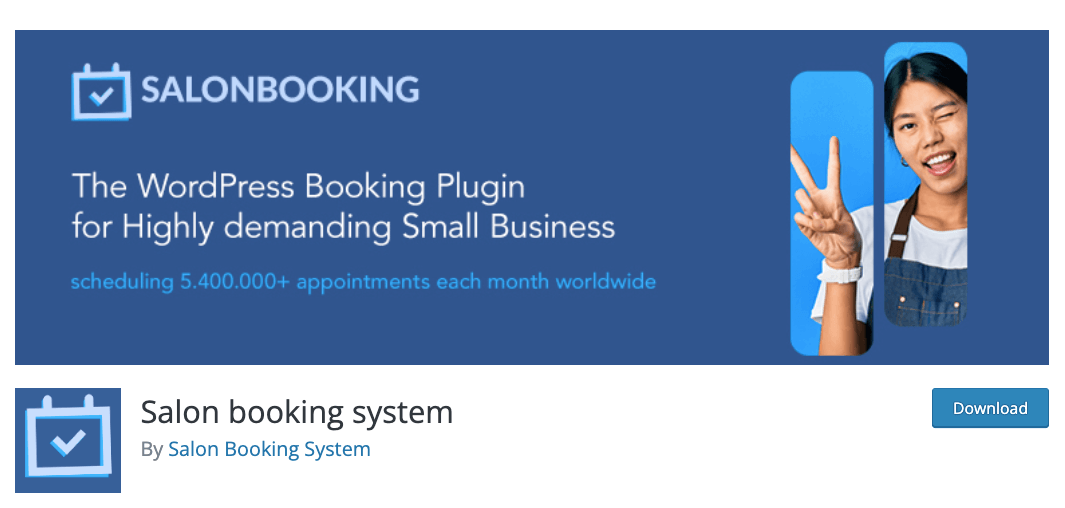 Many studies have proved that online appointment systems have a positive impact on business growth. People tend to book appointments from the comfort of their homes.
Do people prefer to book online? Yes, as stated by 70% of them.

RevenueWell
Let's learn more reasons why you should use the Salon Booking System WordPress plugin for your business.
The Salon Booking System allows customers to book their slots smoothly
You can plan your work schedules ahead of the time
This booking software sends email notifications and SMS to clients when required
You can collect customer feedback using the automatic reminder
You can accept partial or full payment as booking money
You can create custom forms as per your needs
The Salon Booking System plugin offers in-depth reports and analytics
It stores all customer data to help you analyze their journey and buying behavior
It saves your money by reducing staffing costs and saving the service assistants' productive time.
Moreover, the availability of online booking systems contributes significantly to the growing number of customers of a business.
The ability to select a suitable time slot is a huge pain point for 20% of customers. And, 94% of customers would be more likely to find a new business, especially if it has its own booking schedule website

GetApp, 2021
So, you should implement online booking software into your business website to solve this pain point.
Salon Booking System review: Let's explore this feature-rich plugin with us
You'll surely get more customers after using an online booking system for your salon and other personal care businesses. But, only driving more people to your business isn't enough to build a sustainable business. You need to provide good services to retain customers and turn them into your advocates.
77% of customers will recommend a business after a positive customer experience.

Sharpen
The Salon Booking System comes with a pack of exciting features to improve your services. It solves all clerical work for you so you can focus on providing top-notch services only. In the following section, we'll walk you through our hands-on experience of using this tool for our website.
Create the required pages using the shortcodes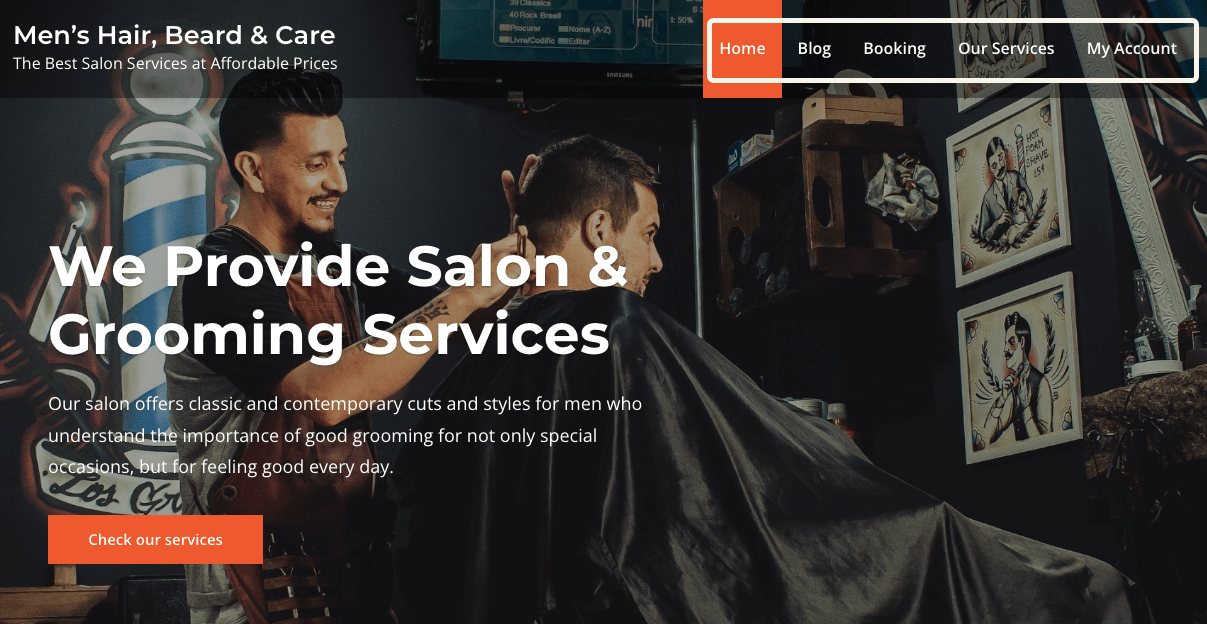 The first thing you need on a business website is the required pages and intuitive navigation. Salon Booking System makes it easier for you with the use of shortcodes. We used their shortcodes to create necessary frontend pages.
Here's the list of their provided shortcodes for the respective pages.
Booking form page [salon/]
Customers account page [salon_booking_my_account]
Assistants bookings calendar [salon_booking_calendar]
Assistants list [salon_booking_assistant]
Services list [salon_booking_services]
Let's see how you can easily create a frontend page using a shortcode. We'll show how you can create a booking calendar page on the front end. First, install the plugin on your WordPress website.
Navigate to Pages > Add New from the admin panel side panel of your WordPress website. Give a suitable name to your page. Copy [salon_booking_calendar] and paste it on the page.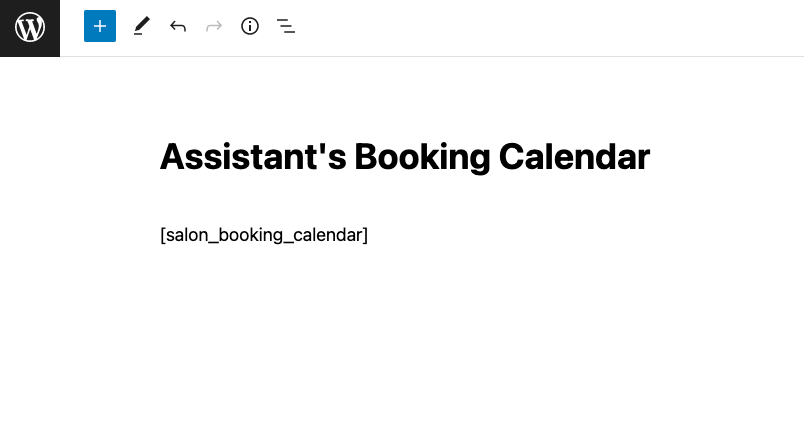 This will show a calendar with all booked orders for the running week under each assistant's name. Only logged-in people can watch this schedule. Let's have a look at how it looks on the front end.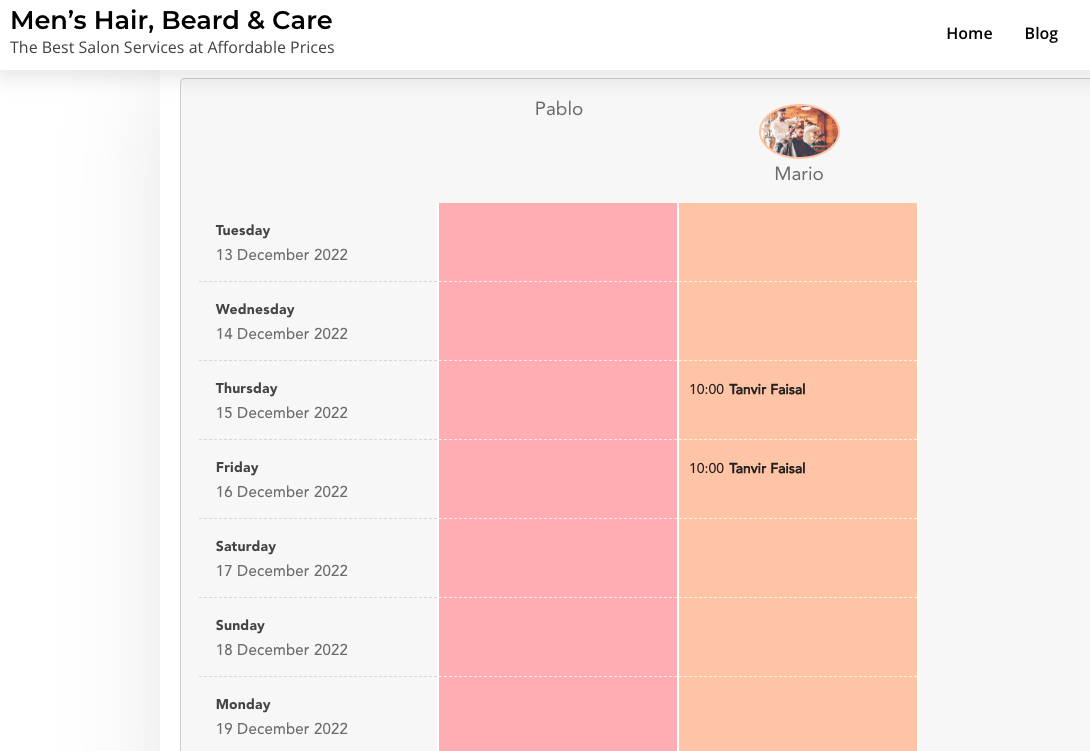 Other shortcodes also work efficiently like this one. You can create your pages with them in a minute.
Explore the configurations of your Salon Booking System
The Salon Booking System plugin offers a wide range of customization options for users. Let's explore each functionality with us to see how it works and how you can get benefitted.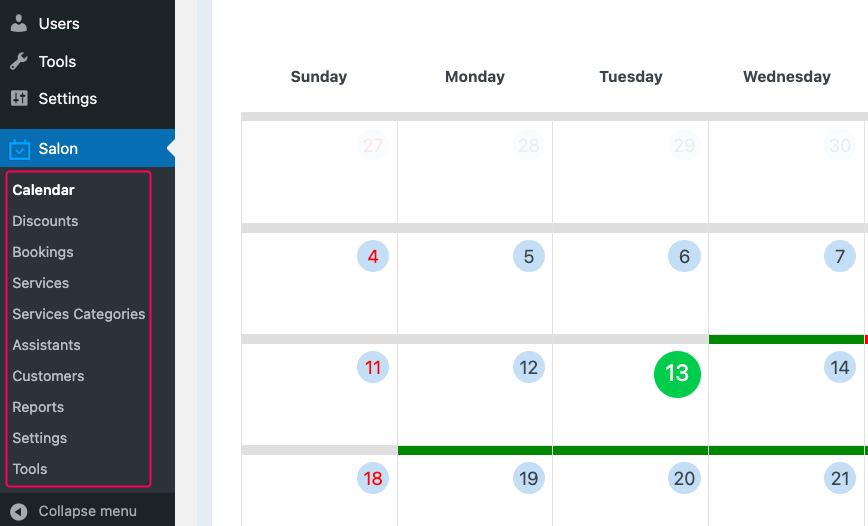 Go to your WordPress dashboard and scroll to the Salon menu. You'll see all the available options there.
Calendar: You can watch the back-end calendar based on Day, Week, Month, and Year view. This calendar shows all bookings and color codes them based on statuses such as Pending, Paid or Confirmed, Pay later, and Canceled. You can get an overview of all orders just by looking at this calendar.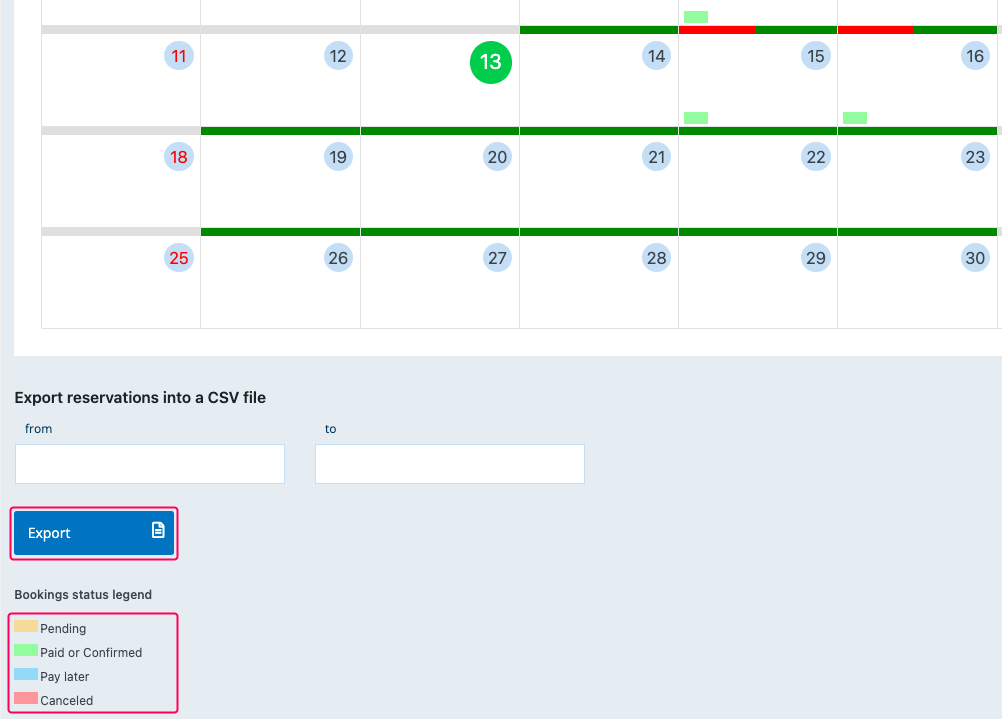 You can export the reservation details into a CSV file according to your chosen date ranges. This helps the assistants keep track of their work schedules even when they're not logged in to the backend.
Discounts: You can add discounts with multiple conditions by using this option. Maximum uses limit, per-user usage limit, and validity are a few important attributes of a discount code. You can even limit the use of a discount coupon for selected services.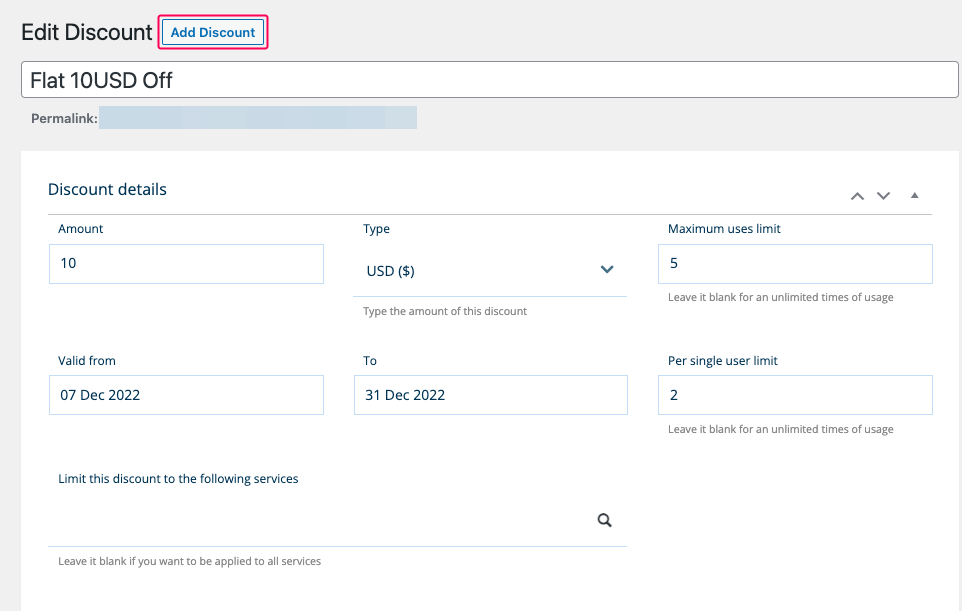 Salon Booking System allows you to create a coupon code as well. You can enable automatic discounts if you want.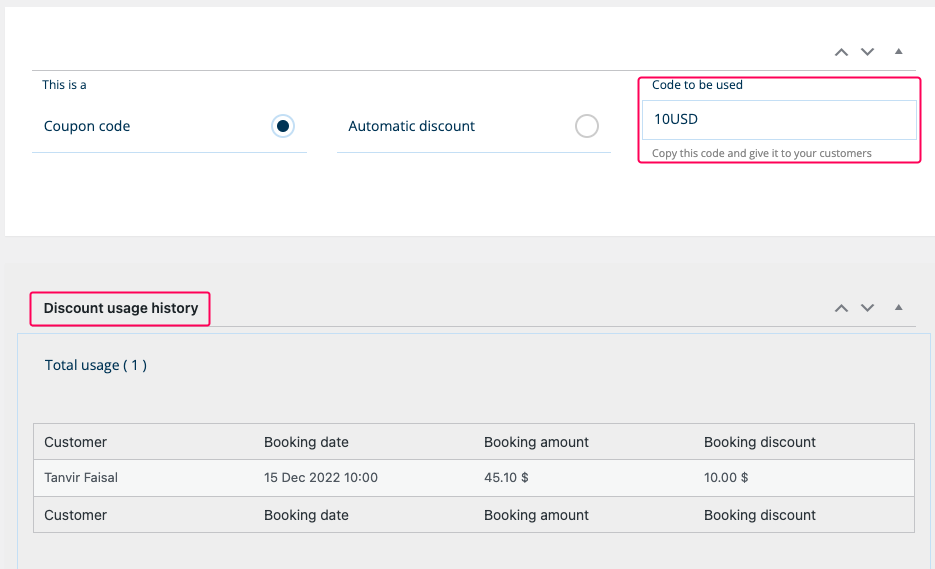 You don't need to visit another page to find out the discount usage history. A section of the discount page shows the reports regarding the total usage of a discount coupon. You'll see total discounted amounts including customers' names who availed of the offer.
Bookings: This section has the list of all booking IDs along with the Booking Date, Status, User Name, Attendant, Duration, Booking Price, Booking Services, and Actions. You can add, delete, and edit the bookings from here.
Services: You can add a new service or edit the existing services from here. Price, unit per session and duration are the basic information you should provide. The PRO version of the Salon Booking System allows you to add variable duration and price for each service.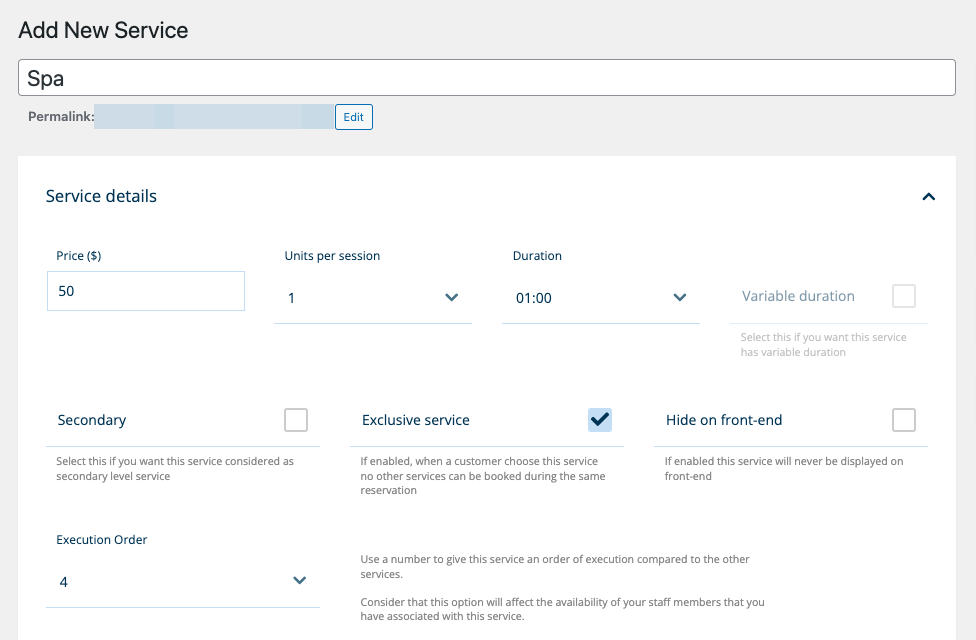 The Software Booking System plugin comes with options to mark the services as secondary and exclusive services. You can prevent a service from displaying on the front end by clicking on the Hide on front-end checkbox.
Service Categories, Assistants, & Customers: You can add, edit and delete service categories, assistants IDs, and customer accounts from these options. Every section has each piece of information you need to operate your salon business properly.
Reports: Salon Booking System offers in-depth reporting with a visually rich graph that shows earnings and bookings for a selected time range. You can filter the searches based on reservations and revenues by services, assistants, and top customers.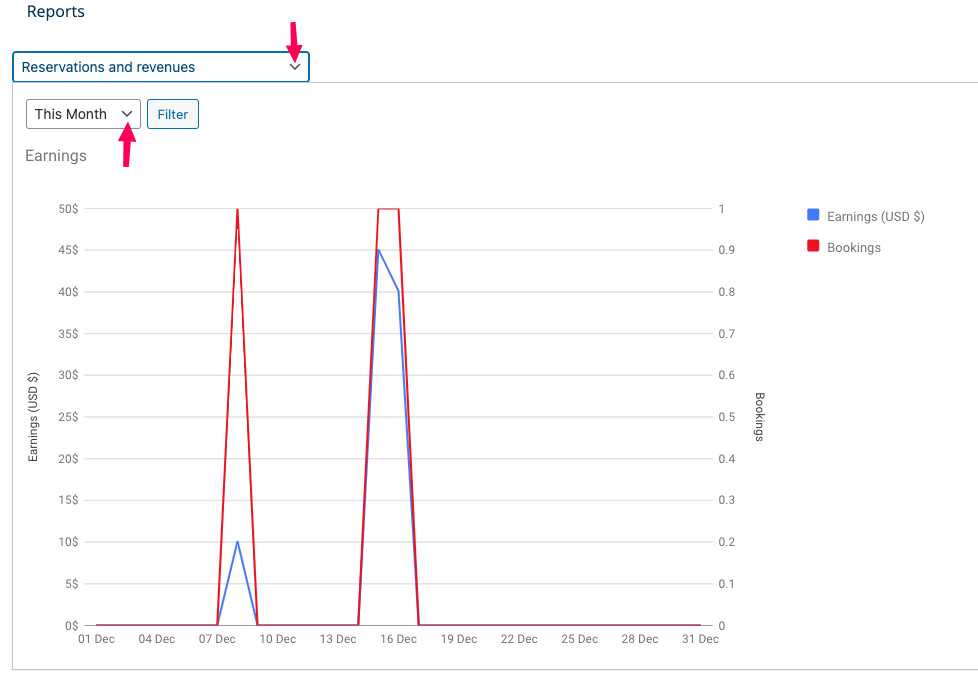 Choose a time range from the provided options and click on the Filter button to see the reports.
Settings: The Salon Booking System WordPress plugin comes with a lot of customization options under the settings submenu. You can configure General, Booking Rules, Checkout, Payments, Style, Google Calendar, and Support settings from here.
Each option has a few more setting options as well under its capacity. It helps you to personalize your salon booking website as much as possible.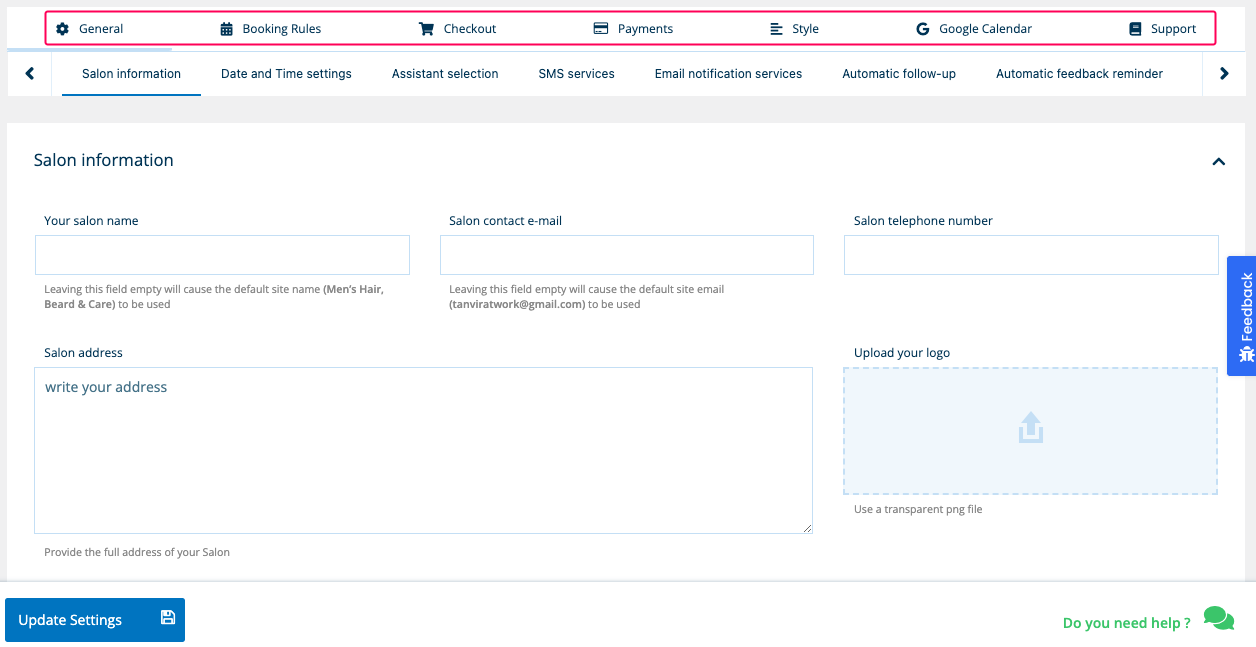 You need to upgrade to a PRO version to receive online payments. This plugin supports PayPal, Stripe, and many other payment platforms.
Tools: You can import customers, services, and assistants from other platforms to your website using a CSV file. All you need to do is make sure the CSV file replicates the sample file structure provided by Salon Booking System.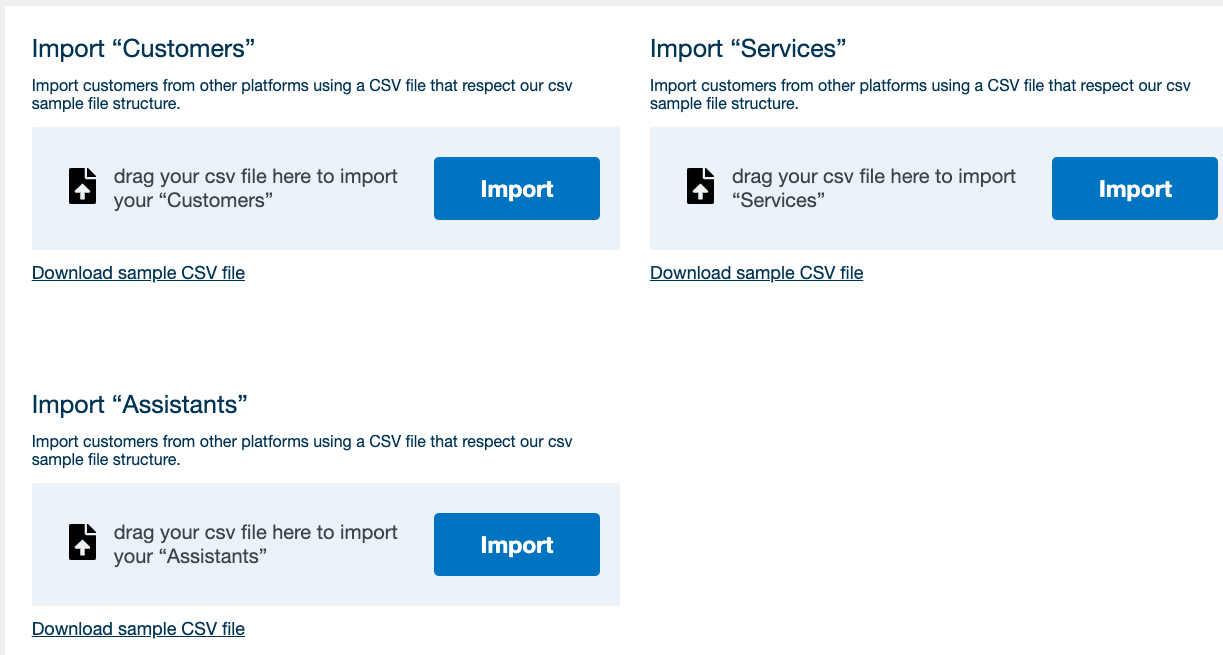 All done with the exploration of all back-end options. Now read the next part of this Salon Booking System Review to see the most important functionalities from a customer's end.
Salon Booking System review: Book your appointments online with no hassle
We've reviewed the back-end of this booking software. Now, it's your turn to see how it performs from a customer's perspective. This section will mainly focus on the user experience.
Go to the booking page to book your appointment
You'll see all available services here on this page except those services hidden from the backend. Click on the checkbox of your chosen services and hit the NEXT STEP button.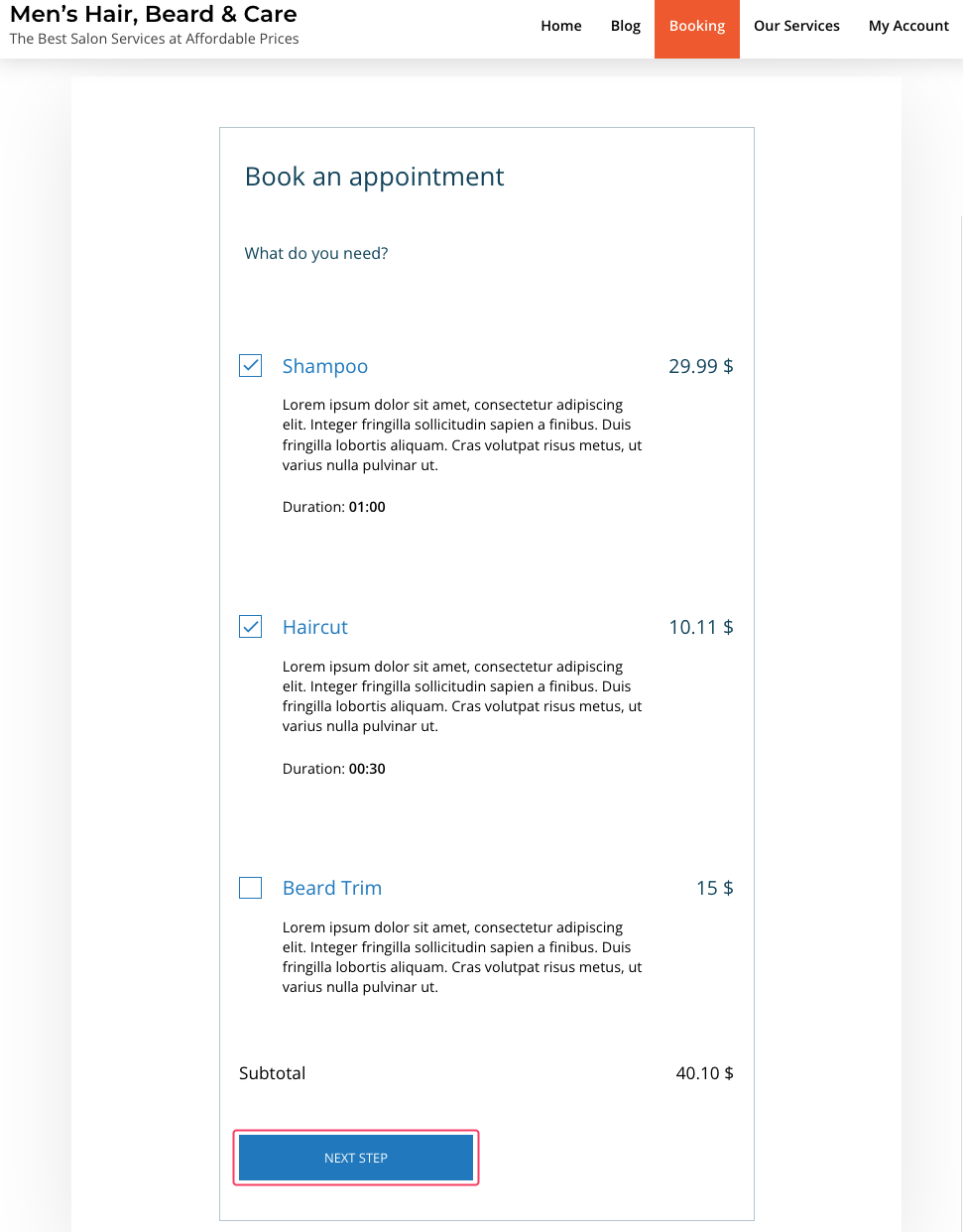 Select the assistant you want to get services from. A short description of the assistants will help customers choose the right one for their needs.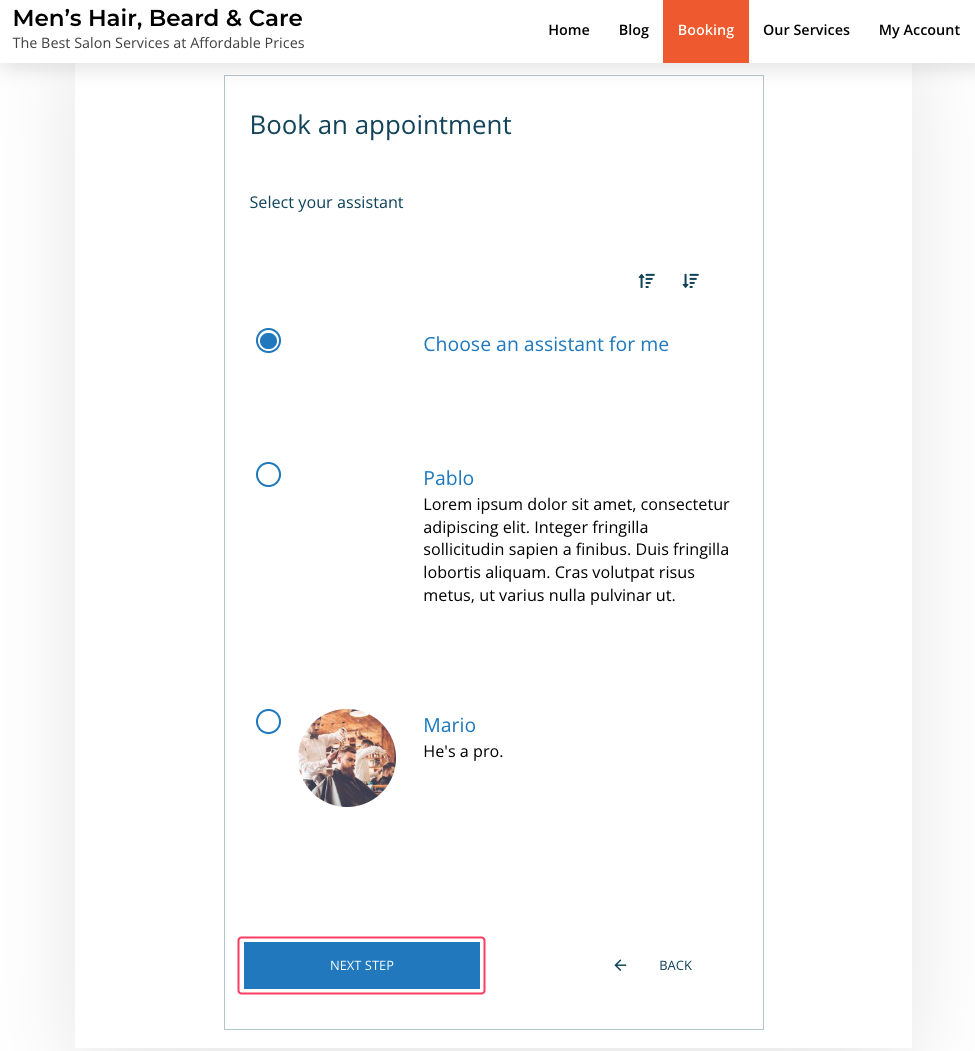 Then choose your preferred date and slot for the booking. The system will check the availability of slots and make your booking if the slot is empty. Go to the next step.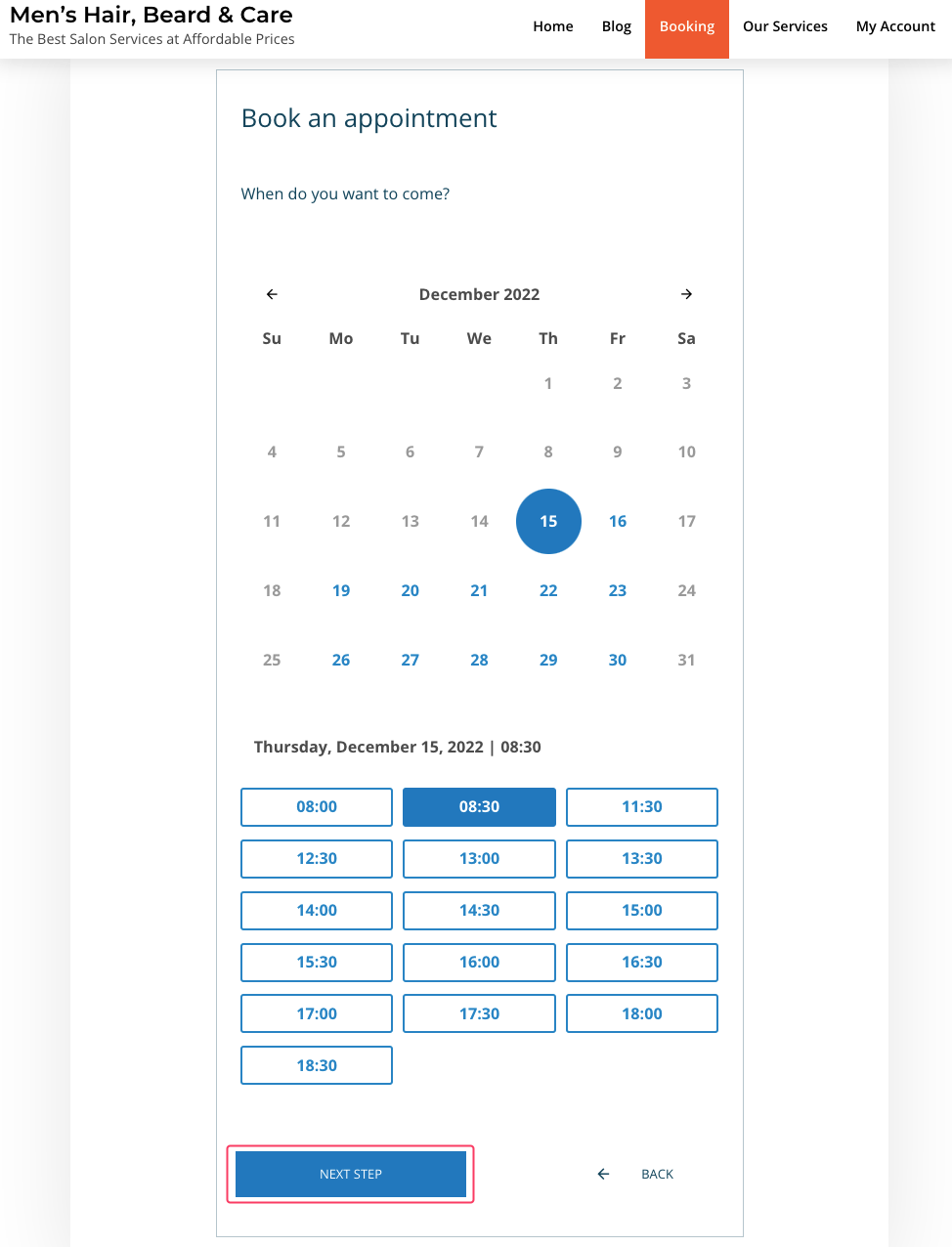 Then, put the necessary information for the booking. You'll get a booking summary like the following image. You can add a discount coupon here if you have one. Apply the coupon and go to the next step.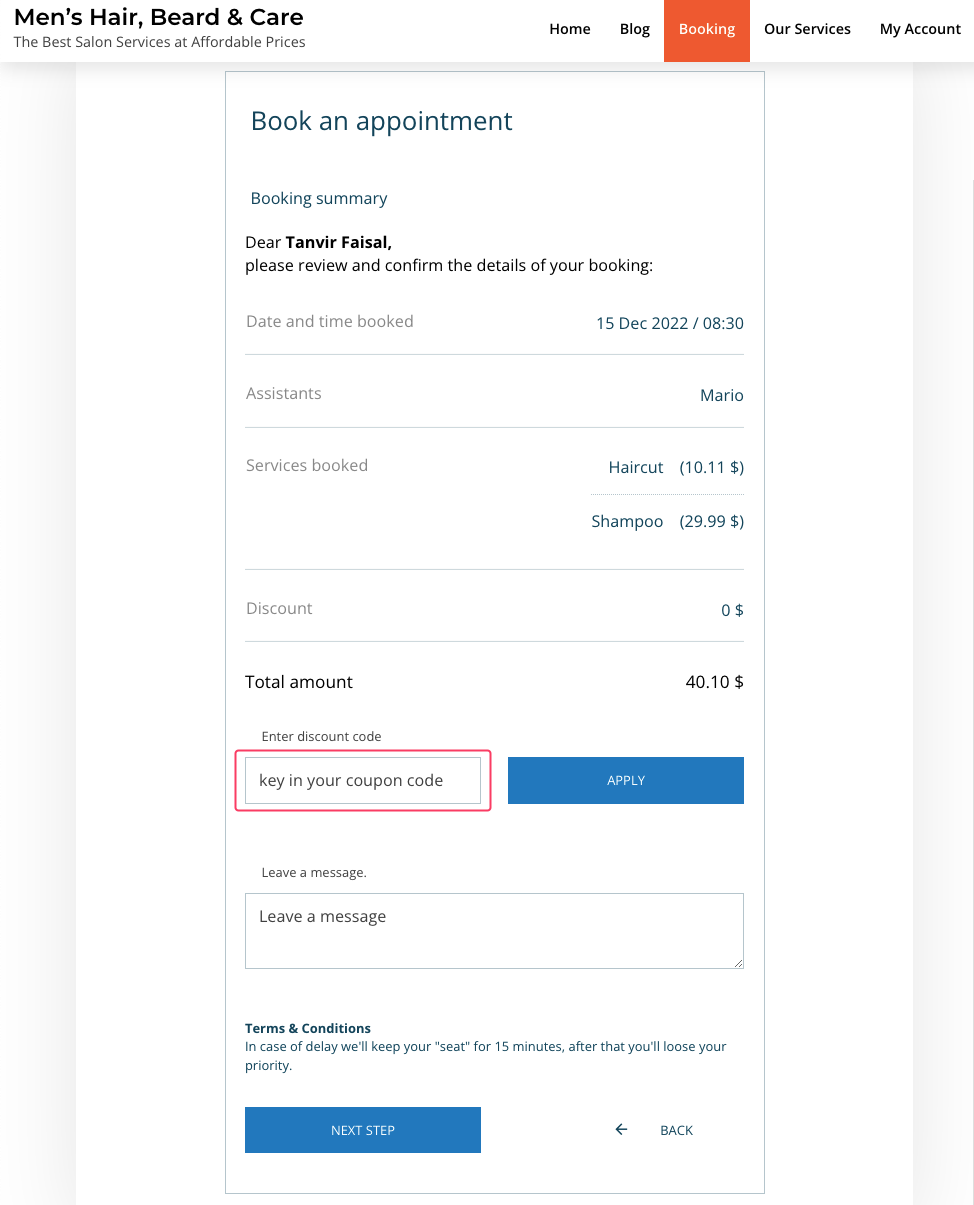 You can see your order details on the My Account page, once the booking is complete. Here's the overview of the orders from the My Account page.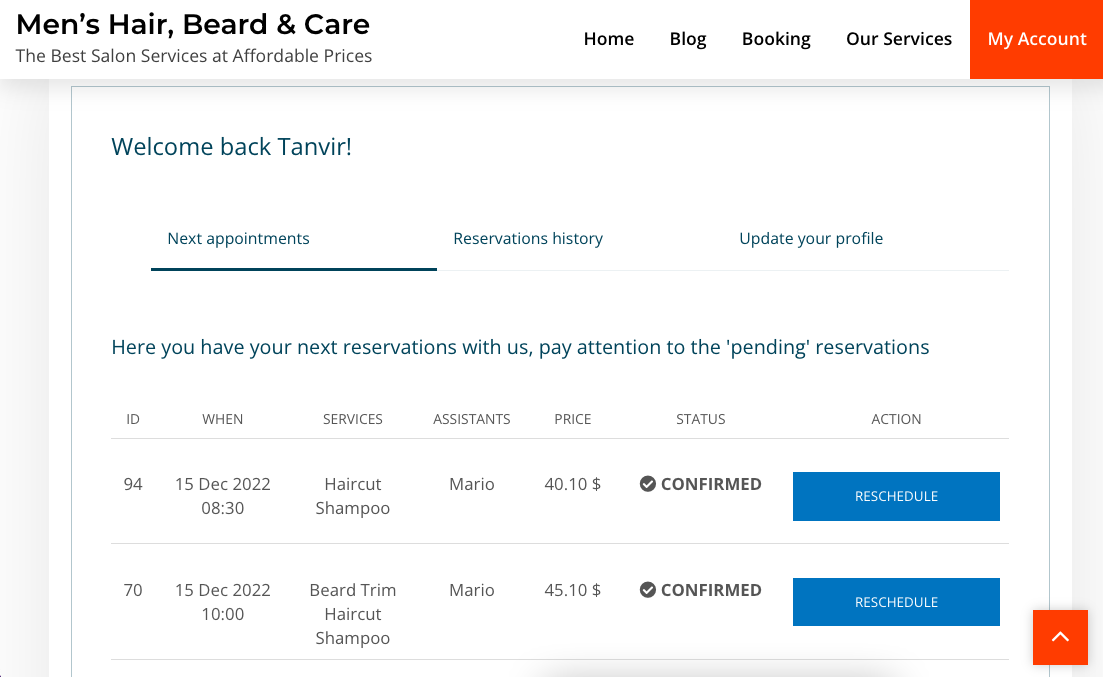 Salon Booking System sends an email to both the customer and site administrator confirming the booking. Here's the email it sent to me. You can add this booking to your calendar to mark the date.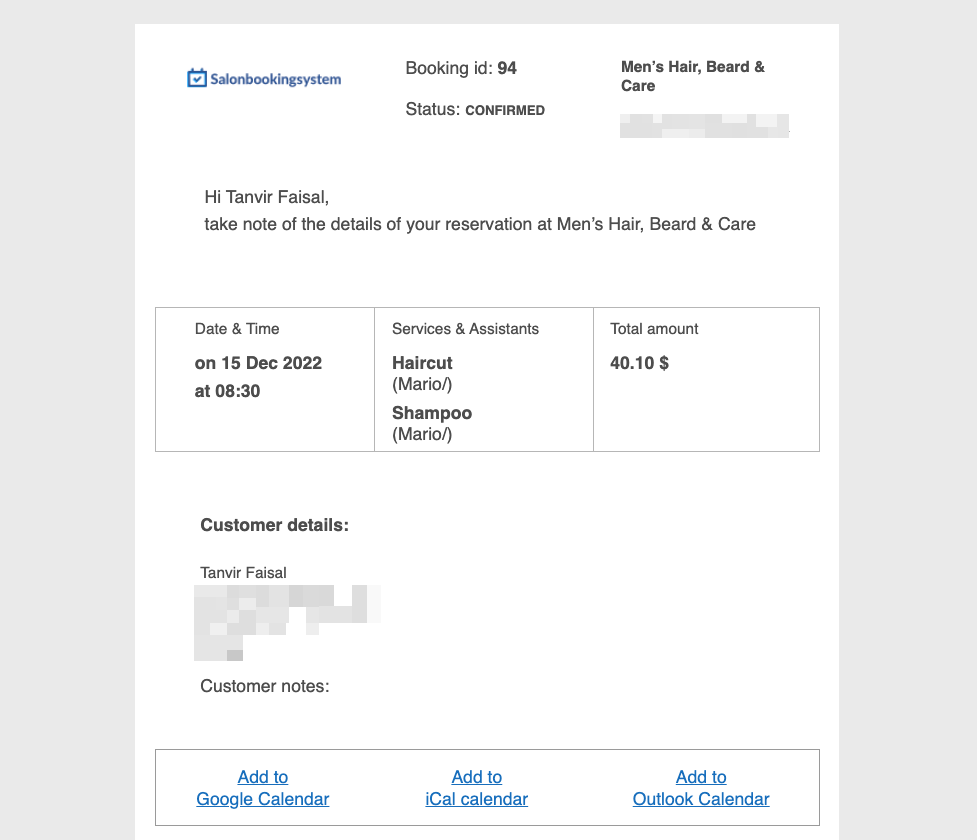 Book your appointment from the services page
Other than the booking page, you can book any service from the services pages The rest steps are the same as the regular booking system shown in the previous section.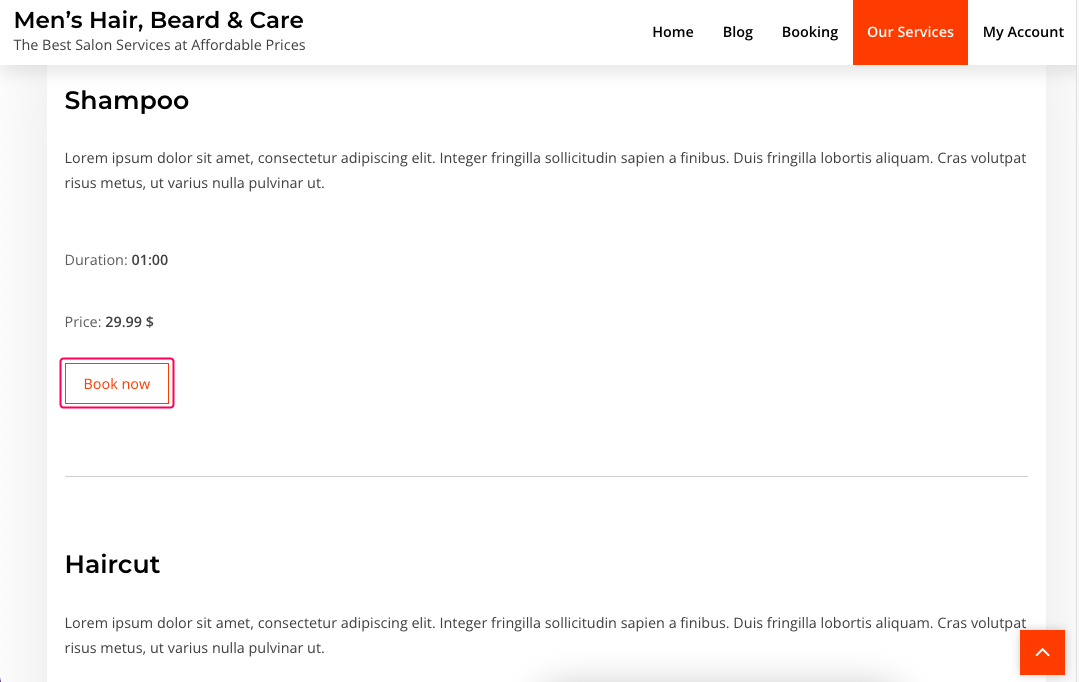 I've found the booking steps seamless and very user-friendly. The pages are intuitive and clutter-free. They convey clear instructions on what to do next. The overall user experience is simply great!
Additional feature: Salon Booking System mobile app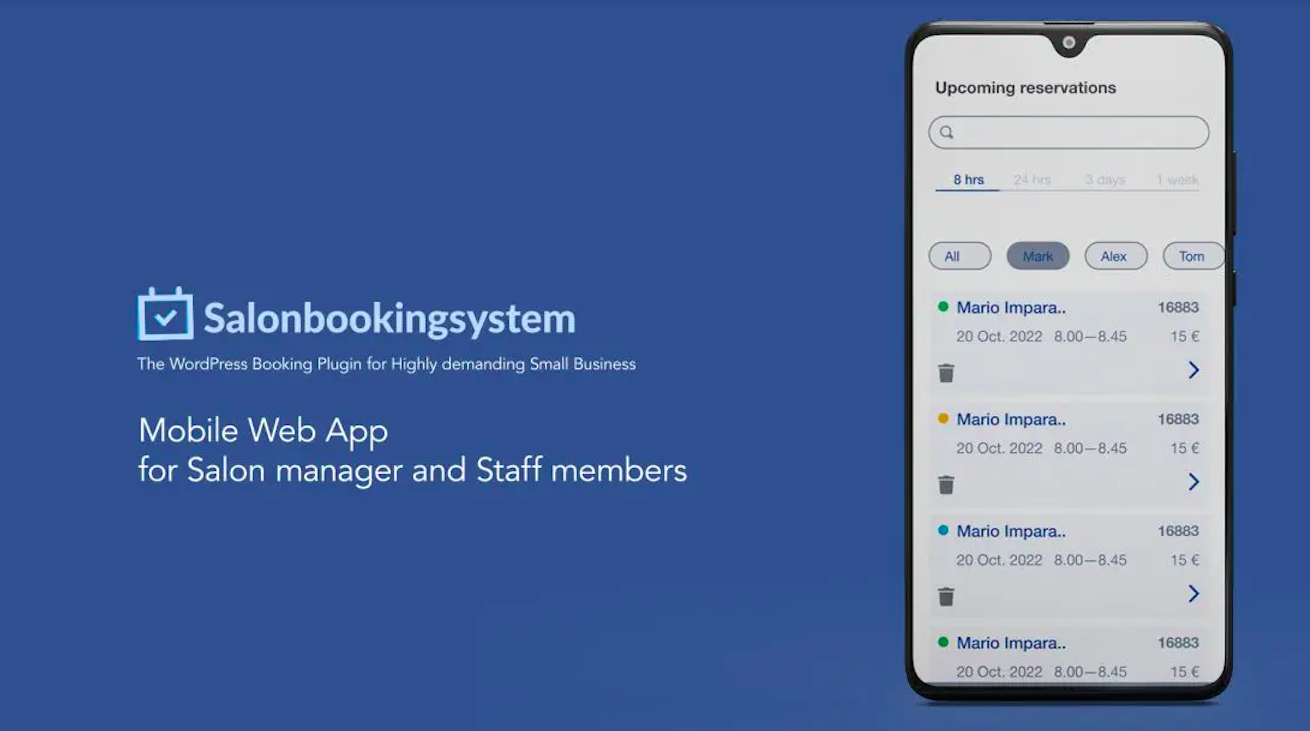 Salon Booking System introduced a mobile web app that synchronizes with the plugin. It is available only for premium plan users. It's mostly helpful for the salon administrator and all staff.
The mobile web app can be accessed from a special URL of your website: www.yourwebsite.com/salon-booking-pwa. You'll get the app only if you're subscribed to the PRO version. You can control, manage and create reservations after logging in to the mobile web app as an administrator.
Know more about the Salon Booking System mobile app
Streamline your business with Salon Booking System
We've shown both back-end and front-end experience of using this WordPress plugin throughout the Salon Booking System review. As a business owner, you need to consider the usability of a tool you're using and the ease and comfort of your customers while using your services.
Salon Booking System serves both purposes. You can also streamline your business with this tool. The free version is available on the WordPress repository. Other premium plans start at € 69 / year. It offers a 30-day money-back guarantee. You can buy it, use it, and claim a refund if you don't like it.
https://wphive.com/reviews/salon-booking-system-review/
Tanvir Faisal
Md. Tanvir Faisal is a Content Writer at WP Hive with 4 years plus experience in Content Writing, Copywriting, Proofreading, and Editing. He focuses on writing informative content that draws social media attention and enhances search engine visibility. To date, he has successfully developed useful content for many websites across all formats.

Subscribe To Our Newsletter