OceanWP Theme Honest Review- Worth Buying in 2023?

OceanWP is a fast and highly customizable WordPress theme that has been around for more than 5 years now. Over the years, our team has tried this theme on several different projects and websites. It's one of the few WordPress themes that has been around for a long time and always keeps itself updated with the latest trends and features.
Today's OceanWP theme review is not just another feature review, but together we will explore how it performs on a real site. But before the test, we will also show you the setup wizard basic customization and some other stuff that really matters for a theme.
Let's start the most hands-on OceanWP theme review, shall we?
OceanWP Theme's Unique Features at a Glance


Feature-wise OceanWP theme is one of the best WordPress themes out there. There are so many features that you will get accustomed to once you start using and there's a good chance that you'll never be able to swap these themes for any other.
Let's take a look at some of the coolest features that OceanWP has to offer.
Site-wise Global Fonts & Typography: You can apply a single color scheme throughout your site. Want to add a single font collection to your whole site? You can do that as well.
Lot of Site Layouts: There are a lot of readymade site layout that you can use and customize to make your site stand out among the rest.
Different Header Styles: OceanWP theme has as many as 7 customizable header styles. You can set headers for individual pages or globally. Be it a transparent or sticky header, you can do it all. You will also get three different menu styles dedicated to mobile.
Different Logos Based on the Device: You can set different logos for mobile, desktop, or tablet devices. Cool, right?
Advanced Page Title Options: Default, Centered, Centered Minimal or Background Image, 4 different page title options are available. Add to that colors and typography that you can customize. You can also display breadcrumbs.
Exclusive Single Blog Post Option: 9 blog post elements, 6 metadata options, and an option to show the next/previous posts at the end of the blog.
Blog Page Option: 3 different blog layouts, independent page layouts, and many more features for the blog page.
Footer Widget Area Customization: You can show/hide footer widgets, add a parallax footer, can even add a custom footer.
WooCommerce Integration: OceanWP theme offers great integration with WooCommerce for an efficient eCommerce website. You can style your product/shop page with 4 different styles. You can add regular or multi-step checkout, a quick view feature, a menu mini cart, dedicated WooCommerce sidebar among many other exciting eCommerce features.
Other Features: Apart from the features stated above, search page customization, 404 page, scroll to the top, schema markup, retina logo, and many more features are available on OceanWP.
OceanWP Extensions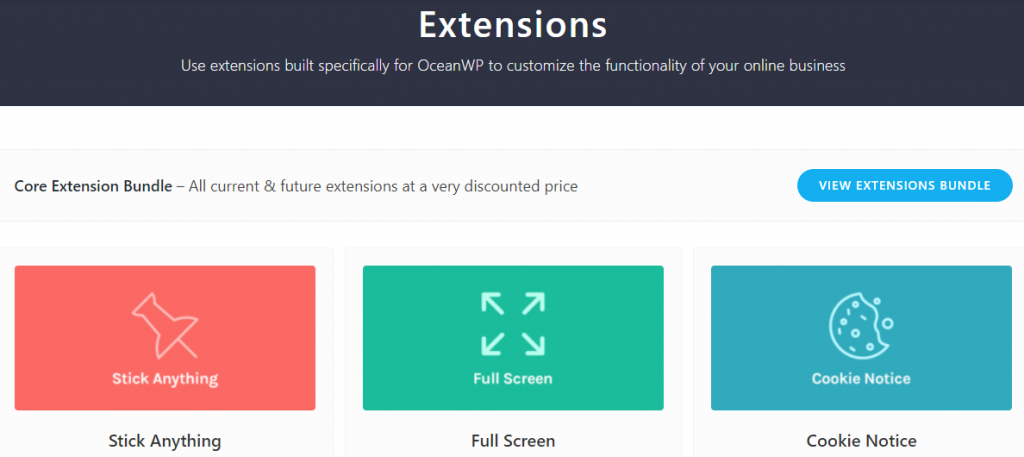 An OceanWP theme review will not be complete without mentioning its extensions. One of the things that we like so much about this theme. We will show you both free and premium extensions briefly.
The features alone make this theme look lucrative, right? But there's more to this theme. The theme also comes with 7 free and 12 premium extensions, 15 free site demos, and 109 pro demos included in the package. How cool is that?
Now let's have a look at what the extension has to offer and how they make OceanWP one of a kind theme.
Free Extensions

OceanWP offers 7 free extensions to extend the functionalities of the theme. The free extension are as follows –
Stick Anything: This extension lets you stick anything you want, in any size you want on your website.
Modal Window: An extension that lets you insert contents into modals while also letting you place the opening button in any place you wish to.
Posts Slider: How about displaying the latest posts in a gorgeously-designer slider? You can do that as well.
Custom Sidebar: Lets you create an unlimited custom sidebar to show on any page.
Product Sharing: Adding social share buttons on a single product page was never easier!
Social Sharing: The product page is not the only place you can add social share buttons, you can do that to your single posts as well.
Ocean Extra: A collection of features into one extension, you can find this only on the OceanWP theme.
Yes, all these are free extensions. Imagine what awaits in the pro extensions? Well, you don't really have to imagine, as we will share what all of them do up next.
Premium Extensions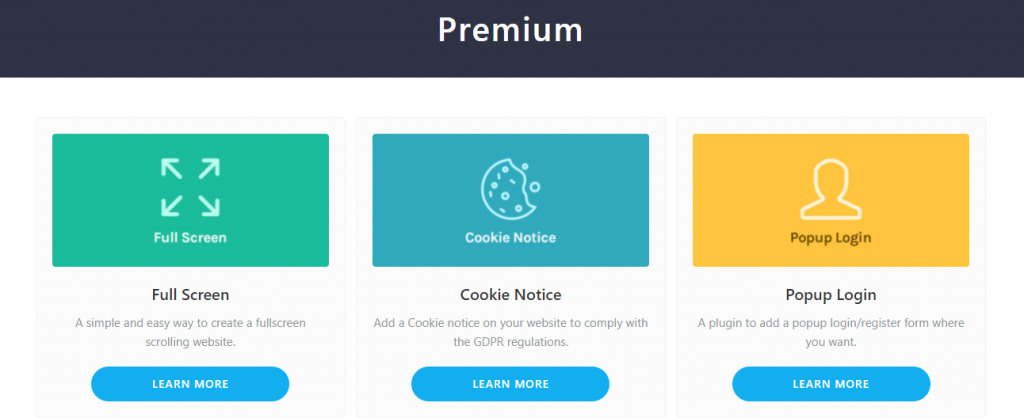 Now that you know what free extensions has to offer, let's go ahead and know what the premium extensions hold.
Full Screen: Want to create a full-screen scrolling website with WordPress? This is what this extension is all about.
Cookie Notice: GDPR regulation now obligates us to show cookie notices on our website, which is what this extension helps you do.
Popup Login: With this extension, you can add a popup login/register form anywhere on the website.
White Label: You can change your theme name and author, with this extension. Cool, isn't it?
Portfolio: Want to display your portfolio on your website? This extension lets you do that in a smart way.
Woo Popup: An extension that will let you display a popup upon clicking the Add To Cart button.
Sticky Footer: A simple extension to attach your footer to the bottom of the screen.
Ocean Hooks: If you want to display custom content on your website, you can do that using the Ocean Hooks extension.
Elementor Widgets: Using Elementor alongside OceanWP? This extension will add some great widgets to the list.
Side Panel: Care for a responsive sidebar on your website where you can add any widget you want, use this extension.
Sticky Header: Want to show a piece of important information in the form of a sticky header? This extension lets you do that effortlessly.
Footer Callout: This extension will allow you to add crucial information about your company in the footer section.
An impressive set of collection, right?

OceanWP Theme Setup Wizard
Now that we know the features and the extensions that OceanWP offers, let's get to the real thing. Starting with the setup wizard and let's see how it goes after that.
Assuming you already have WordPress set up on your domain, you have two ways to download and install OceanWP on your website.
Installing OceanWP Free version from WordPress Repository.
Downloading and installing OceanWP Premium from their website.
Let's try installing the OceanWP theme from the WordPress Dashboard. First, navigate to Appearance > Themes and click on Add New.

From here, search for OceanWP. Once you find the theme, click on install and then activate the theme.

The installation is done. After that, a notification will appear to let you install OceanWP extra, which will extend the functionalities of the theme.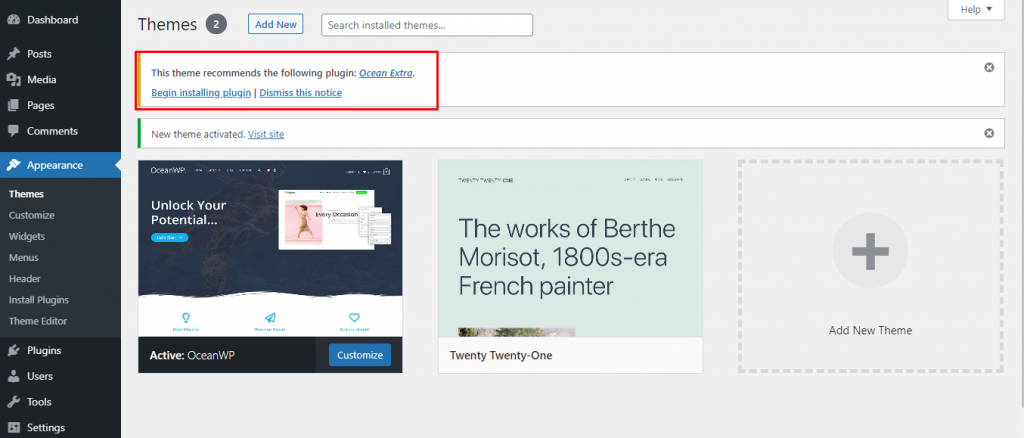 Once you are done, you will be asked to run the Setup Wizard. You can opt for skipping. However, we suggest that you continue with it, as it will help you get started with the installation process very easily.

The Setup Wizard will let you choose a demo theme, customize a few of the basics, and such.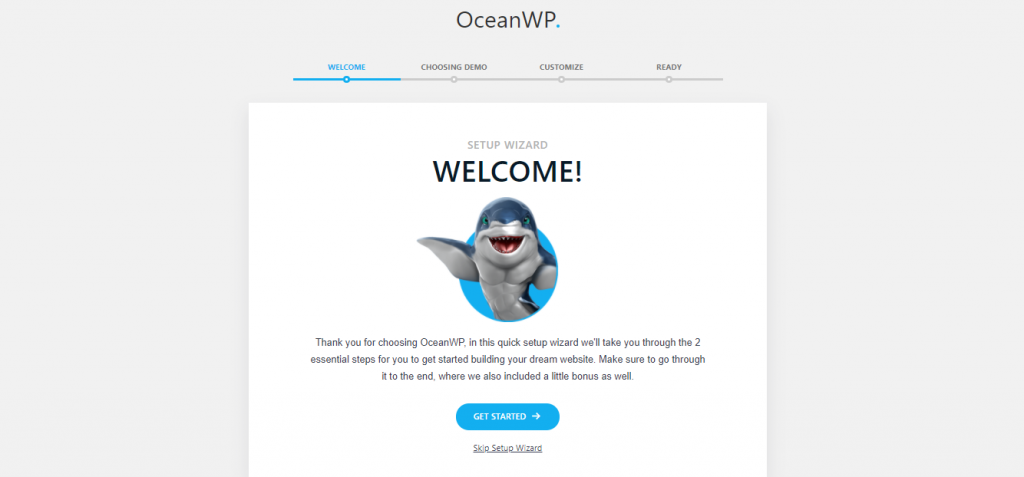 Once you are done. You have got yourself a nice-looking website, designed with OceanWP.
Speed Test
One of the biggest concerns for users is the page speed of WordPress websites. We ran a speed test for one of our websites with the OceanWP theme. Here are the results that we experienced from Google PageSpeed Insights.
Desktop: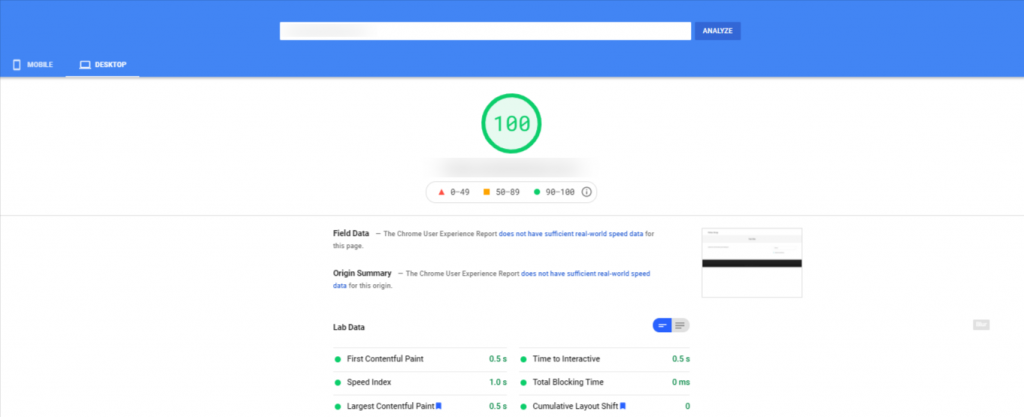 Mobile: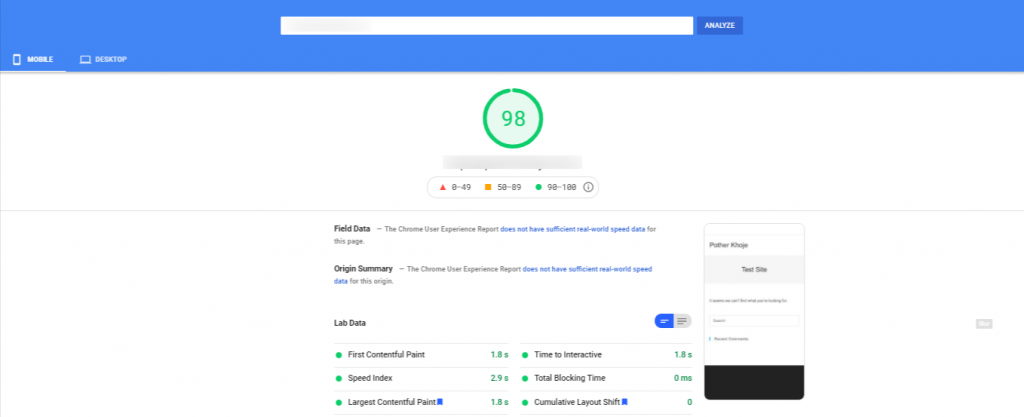 Keep in mind that your hosting might play a role to increase or decrease your speed a bit. Using fast WordPress hosting can increase your website speed. And in this case, we suggest you use Kinsta, DreamHost or similar managed WordPress hosting.
Even after considering hosting, this is a very good speed for a WordPress theme, don't you think?
Pros vs Cons
OceamWP is a very good theme, as you can see up until now. However, no theme is perfect, and neither is OceanWP. So let's get to know the pros, as well as the cons of this theme.
Benefits of OceanWP
OceanWP theme offers a lot of free and premium extensions to extend the features of the theme.
Excellent compatibility with WooCommerce.
More than 100 demo sites.
Affordable compared to other top themes like Astra & Divi.
Drawback of OceanWP
The features are scattered all over the place, so it can take some time for a beginner to get started with a theme.
Some of the free demos need you to buy premium extensions to look as it is on their website.
OceanWP Pricing
OceanWP is an open-source and free theme. There is also a premium version. And to be fair, it is not the cheapest theme out there. In fact, it is one of the highest-priced themes around. However, compared to its class, it is actually cheaper than the competition.
OceanWP theme has three different pricing schemes, Personal, Business, and Agency.
Here is what you get with the packages.
| Personal | Business | Agency |
| --- | --- | --- |
| For 1 Site | For 3 Site | For 25 Site |
| 7 Free Extensions | 7 Free Extensions | 7 Free Extensions |
| 12 Premium Extensions | 12 Premium Extensions | 12 Premium Extensions |
| 15 Free Demos | 15 Free Demos | 15 Free Demos |
| 109 Pro Demos Included | 109 Pro Demos Included | 109 Pro Demos Included |
| 12 Months of Updates & Support | 12 Months of Updates & Support | 12 Months of Updates & Support |
| Price: $27 | Price: $47 | Price: $77 |
* Table contains annual renewable packages.
Given the features, if you want to buy premium plans to build your dream site, that would not be a bad decision at all.
OceanWP Review – What We Think
OceanWP is a theme that has been around for a long time. As we said earlier, we have used this theme in several of our projects, and we were never disappointed with the performance. The speed test also proves how performance-oriented it is. It is certainly one of the fastest out there if not the fastest. It is also one of the best themes for Elementor.
Add to that, the feature set that the OceanWP theme offers. It is truly second to none. If you plan to build an eCommerce site using OceanWP, you might just be making the best choice when it comes to theme selection. Plus if you find it a bit hard to start customizing, OceanWP documentation will help you out.
OceanWP has proven to be one of the greatest WordPress themes ever made time and again. And today, more than ever, it provides excellent value for money.

https://wphive.com/reviews/themes/oceanwp-theme-review/
Faisal Sarker
Faisal is a tech blogger who excels at WordPress Content Writing. Apart from sharing useful info pieces that help people around the world, he also likes to travel and read books of all genres in his leisure time.

Subscribe To Our Newsletter