Astra Theme Review: Is It the Best WordPress Theme for Amazon Affiliate Websites?

Amazon is a big business. For an average of $100 retail sales in the United States, online shopping accounts for $14. Out of this $14, Amazon alone is responsible for about $5. And it just doesn't end in the United States, Amazon has dedicated marketplaces for 20 countries right now. On top of that, it delivers products almost all over the world.
Given all these, it's no wonder that like many, you have decided to get a small share of that big number. As Amazon has an affiliate program that gives you an opportunity to do so. In recent years, Amazon affiliate has grown to be a profitable source of passive income for many.
Especially because you don't need any capital, rather only a website can get you ready for a pretty regular cash flow on your bank account. Now, influencing people to buy something from a review is hard. Ranking your review article on the search engine is even harder.
A combined set of requirements must be fulfilled to ensure your website ranks prettily on top of your target keyword. One of the most important of them is certainly the design of your website.
In this article, we will talk about a specific WordPress theme – Astra that helps to build websites and get ranking on search engines. This is not just a typical Astra theme review, as we will also dive deep to find out if it is in fact the best theme for Amazon affiliate website. Stay with us till the last part to know our findings.
Why You Need a Specialized Theme to Build an Amazon Affiliate Website


Now we said above that one of the most important aspects of an Amazon affiliate website is the design. And if it is a WordPress website, it is the theme that is crucial. But why is that? Why do you need an specialized theme for your Amazon affiliate website?
Well, there are actually multiple reasons behind that.
The success of Amazon affiliate websites depends on their articles to be ranked on search engines and get read by people. For that, you need a highly SEO-optimized theme.
The coding structure of your theme is highly important for getting ranked.
Your theme needs to be blazing fast, not just because of a search engine, but also to stay ahead of your competition and give your customer a better experience.
You site need to stand out among the rest, and your information need to be clearly presented, which you will have a hard time to do with just another ordinary theme.
With all these in mind, we tried to find out the best theme for Amazon affiliate websites. In our quest to do so, we reviewed the Astra theme to see if it matches our criteria. What we found out, is shared below.
What's Makes Astra Stand Out for Amazon Affiliate Websites?
Starting with what we found great about Astra. We have reviewed the Astra theme before. But when we tried it out from an Amazon affiliate website's point of view, we found a lot of things about Astra, that are highly appreciable. Let's get to know what they are.
1. Speed
Astra has always branded itself as a theme focused on speed. Which is so far, so good for Amazon affiliate websites. They claim that their theme can help you load your site within 0.5 seconds (with default data and settings).
We also found quite the same result after using it. The reason behind this amazing loading speed is that the theme needs less than 50 kb of resources to run. On top of that, it does not use jQuery, which significantly increases the loading time. So when it comes to speed, Astra does ace all the markers.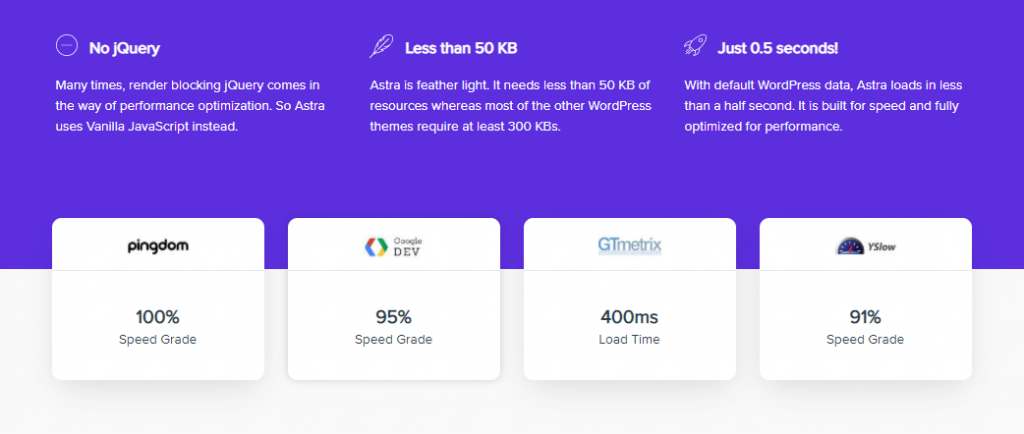 2. Advance Customization
Given the light nature of the theme, you can think that it might lack customization options. In truth, we found the theme to be the opposite. It offers a lot of little to big customization options.

From your layout to colours & typography, header & footer, blog, and more, there are just so many things you can customize.
You can set a dedicated header for mobile, add elements above the header. You can change the colours, or set the font size according to the viewing device. These are just a few examples of Astra's powerful customization options. You can get a more detailed idea of Astra's customization options from here.
3. SEO-Optimized
Astra has always been one of our go-to themes for its SEO optimization. They always follow up-to-date strategies to make sure the theme is highly optimized for SEO. With recent AMP compatibility, it has gone one step ahead on mobile SEO as well.
For Amazon affiliate websites, there are no better reason to choose a theme, is there?
4. Starter Sites
Many themes offer starter sites nowadays to ensure a quick site design process. But Astra has taken it to another level. It offers more than 150 starter sites to get you started. What's more, the starter sites are specifically developed and available for different page builders.
Currently, they have dedicated starter site templates for stock Gutenberg Block editor, Elementor, Beaver, & Brizy builder.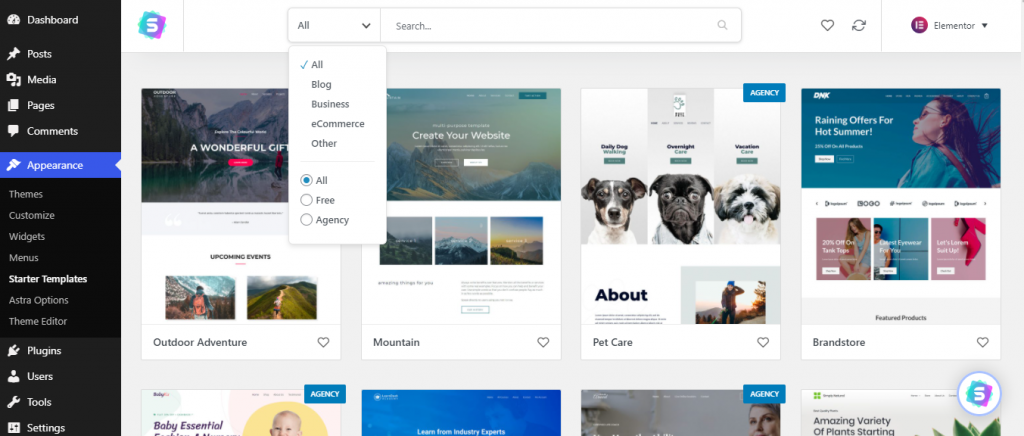 You can also find and sort the starter templates for different categories, such as blog, business, eCommerce and others.
5. Easy Navigation
For a high-performing Amazon affiliate website, you need to make it easy for your users to move around the site. We were wondering if Astra does have a good header, footer builder, and menu option, which are a must for easy navigation.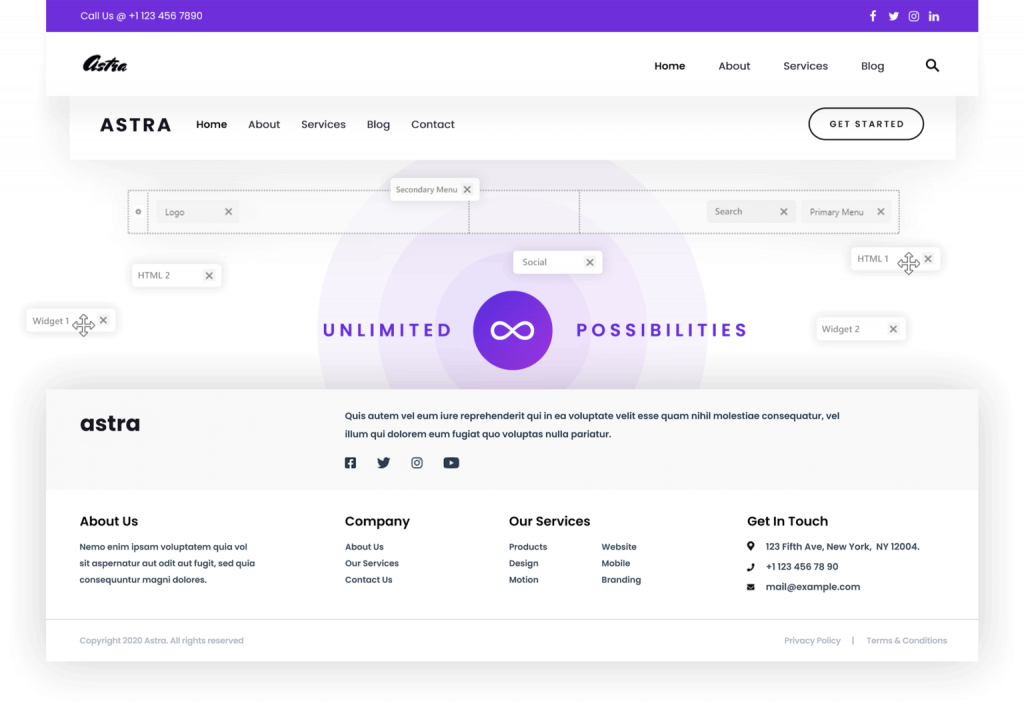 We were very happy to see an extensive set of advanced header, footer customization, dedicated mobile header option and mega menu on the theme. Albeit all of these features are available in their premium version, but you can't really expect such advanced features for free, can you?
6. Works Great with Popular Page Builders
Page builders are highly popular nowadays. Amazon affiliate site owners need more extensive web designing experience, even without coding. So they often need more than a theme; page builders. Thus popular page builder Elementor is serving over 5 million websites. That's how popular page builders are.
Related: Elementor Page Builder Plugin Review
Astra integrates with almost all popular page builders effortlessly, making it one of the best choice for affiliate site owners who seek great design with less effort.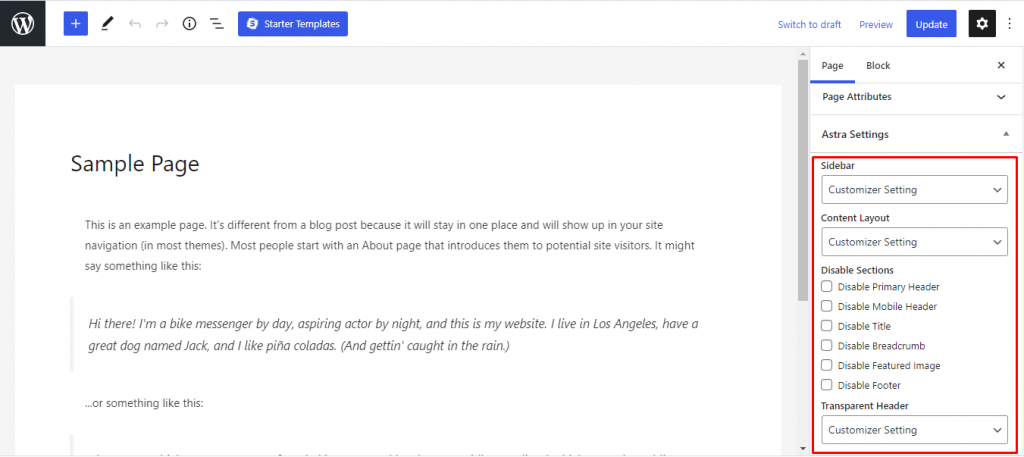 It lets you create full-width pages, hide titles and many more to ensure better integration with any page builders.
7. Better Native Ads Positioning
Some Amazon affiliate site owners display advertisements on their website to utilize their visitors even more efficiently. As Astra supports almost all the popular page builders you can position your ads just the way you want.
Moreover, you can also use Gutenberg blocks to do so. Astra is also a very fast theme, which is quite ideal when it comes to meeting Google AdSense requirements. With its pro version, you can also place your ads below or even above the header.
8. Clean Coding Structure
Known for coding according to the best SEO practices, Astra is built using a clean coding structure. One prime benefit of that is the speed you can get from such a clean code. Another one that is even more important for Amazon affiliate site owners, the SEO optimization.

Astra gets 10/10 from us when it comes to following ideal coding practice.
The Shortcomings You Should Know about
Astra has a lot going on for it, not gonna lie. But like every other theme, unfortunately, it is also not perfect like a fairytale. Although the list is rather small, here are the cons of Astra that we thought you need to before you use it on your Amazon affiliate site.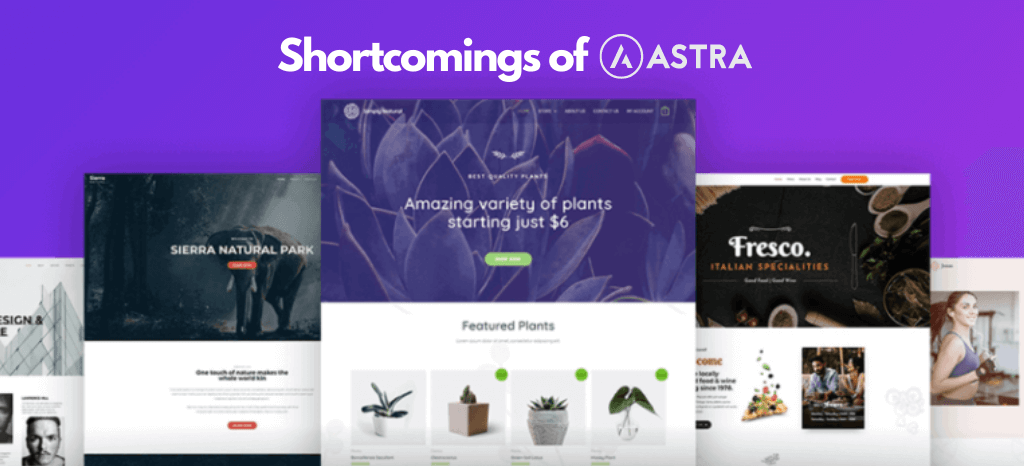 Newer themes like Kadence, Blocksy has much more features for free than Astra has in its free version. That includes header-footer builder, global color palette, and many more.
While Astra's blog posts are simple and minimalistic, it does lack some features in styling.
So that's it, if you use the pro version of Astra, you will do just good. But the free version might not be the one that you are looking for to build your Amazon affiliate website.
FAQ on Building Amazon Affiliate Sites
Before we share our verdict on the Astra theme review and let you know if Astra is the best theme for the Amazon affiliate website from our perspective, let us answer some common queries that we often get related to Amazon affiliate site-building.
What is the best free WordPress theme for affiliate marketing?
There is no single choice when it comes to the best free WordPress theme for affiliate marketing. However, Kadence, X Pro, GeneratePress & Blocksy are some of the great choices. Astra is also a great free theme for affiliate websites.
How do I create an affiliate marketing site with WordPress?
Creating a site for affiliate marketing using WordPress is rather easy. That is because WordPress was built with blogging in mind. Here is the simplest process –
i. Install WordPress.
ii. Install a theme (i.e. Astra)
iii. Install affiliate plugins like AAWP or AzonPress
iv. Start creating contents.
What is the best affiliate plugin for WordPress?
Below are some of the best affiliate plugins for WordPress –
i. AAWP
ii. AzonPress
iii. Pretty Links
iv. Thirsty Affiliates
v. Google Site Kit
How do I add Amazon affiliate to WordPress?
There are several ways to add Amazon affiliate links to WordPress posts. You can insert links both manually and using plugins like Amazon Auto Links.
Can you build a successful Amazon affiliate website using WordPress?
Yes, you certainly can. As WordPress is built for blogs in mind, you can build a site for affiliate marketing easily. Moreover, there are countless exciting plugins to make it easy for you to present the information you and hide the ones you don't.

Should Astra Be Your Choice for Amazon Affiliate? Here's Our Verdict
Astra pretty much excelled at everything we threw at it. Be it speed, customization, or the whole range of choices when it comes to starter site templates, Astra ace it all. But it does lack in a few areas as well, especially if you use the free version of the theme, you will miss out on some essential features compared to some other newly released themes.
Overall we think, it is an awesome theme if you want to build an Amazon affiliate website. It is certainly one of the best themes for Amazon affiliate websites, if not the ultimate choice. But when it comes to themes, personal preference often matters the most. So we suggest you use it yourself and see if it is the best theme for you.
https://wphive.com/reviews/themes/astra-theme-review-for-affiliate-marketers/
Faisal Sarker
Faisal is a tech blogger who excels at WordPress Content Writing. Apart from sharing useful info pieces that help people around the world, he also likes to travel and read books of all genres in his leisure time.

Subscribe To Our Newsletter