A First Look into WordPress Twenty Twenty Two Theme

WordPress Twenty Twenty Two theme has been introduced recently. As you might know already that WordPress 5.9 will be released in the coming months, making it the third major WordPress release this year. WordPress Twenty Twenty Two theme will come packed with WordPress 5.9 and onwards. WordPress 5.9 is notably coming up with full site editing to all WordPress users as well.
WordPress Twenty Twenty Two will bring major changes to its predecessors, unlike WordPress Twenty Twenty or WordPress Twenty Twenty One. This is because this year is a time of big transformation in the WordPress industry as a whole.
With Full Site Editing and Pattern Directory hitting the market, WordPress Twenty Twenty Two will be able to present itself as perhaps the most customizable default WordPress default theme in history. This is a new dawn of modernization within the WordPress ecosystem. We're excited and so should you.
Now let's take a look at what WordPress Twenty Twenty Two theme is bringing for the industry. But first, to those who are new, we think an introduction to WordPress Twenty Twenty Two is called for.
So, What is WordPress Twenty Twenty Two?


WordPress.org has been constantly releasing one new theme every year since 2010. Each year, they bring new innovations and set a new benchmark for the WordPress community keeping up with the whole web design community.
The theme for 2022, is however a big leap to the future for WordPress and its community. WordPress already brought Full Site Editing and Pattern Directory, with the ambition to making the process of website creation and design easier than ever. WordPress Twenty Twenty Two theme not just compliments those features but takes advantage of those to be serious competitors to even the premium third-party themes.
Overall, Twenty Twenty Two theme is WordPress's attempt to keep up with the growing transformations in the WordPress ecosystem and beyond. It blends the true WordPress-ness with endless customization options inspired by modern web design trends.
WordPress Twenty Twenty Two- What We Know So Far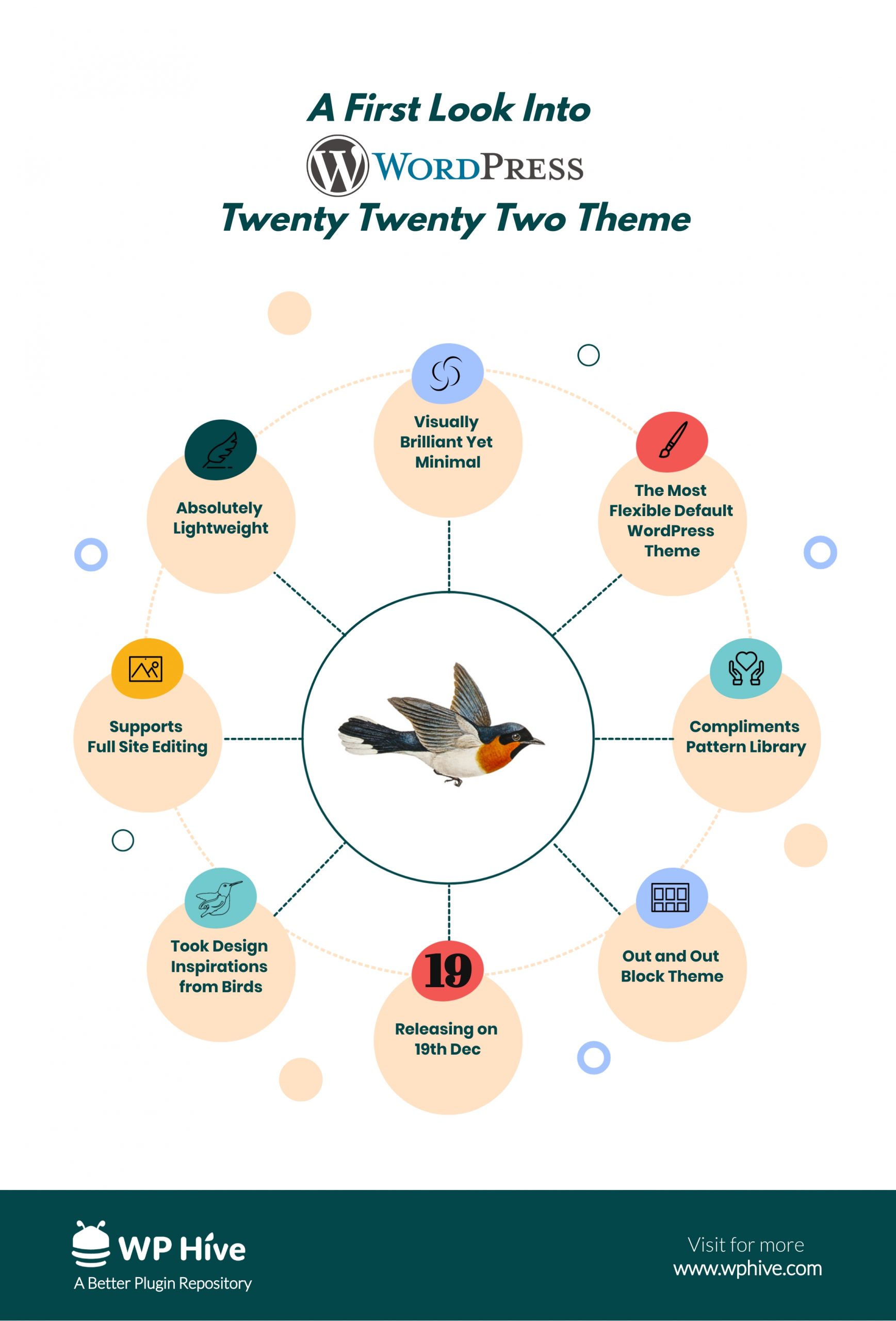 The upcoming default theme from WordPress, the Twenty Twenty Two has already created quite a buzz with its promised features, gorgeous visuals, and smooth Source Sherif Pro font that WordPress showed off with a 29 seconds video.
We were also able to check the WordPress Twenty Twenty theme design mockup from its Github repo. Overall we have quite a clear picture of what to expect from this 2022's default WordPress theme. And here we will try to let you know exactly that.
Twenty Twenty Two is Flexible
WordPress Twenty Twenty Two theme is bound to be the most flexible theme ever created by WordPress. With WordPress bringing fresh changes to how people build and design sites using its platform.
It will offer customization we hardly ever saw from previous WordPress themes. Here's what Kjell Reigstad had to say about that in the official introductory announcement on WordPress Twenty Twenty Two.
Themes are changing structurally and functionally to enable far more avenues for customization than users have come to expect in the past. To take advantage of these new abilities, Twenty Twenty-Two has been designed to be the most flexible default theme ever created for WordPress.
Now those are confident words and from what we have seen about WordPress Twenty Twenty Two theme, they aren't really oversight.
Twenty Twenty Two is Minimal
Like the few previous versions, WordPress Twenty Twenty Two also comes at its most minimal version possible. In fact, its minimalistic approach may come as a surprise to a beginner who doesn't have an idea about the features the theme offers inside. But at the same time, the relaxing colors drawn from nature will keep you attracted to the design.
Above all, the theme is designed to be reliable. Its design choices are intentionally subtle, and its foundation will be built strong. It's our hope that this theme will suit your site through many seasons.

Kjell Reigstad
As you can see from the statement, the goal was to design and build a theme that has the capabilities and features to be your website's default theme for years, while being as subtle and minimal as possible.
Also Read: 21 Best Minimalist WordPress Themes for 2023!
Twenty Twenty Two is Lightweight
WordPress Twenty Twenty is intentionally lightweight, as we are informed by WordPress thus far. The theme sought its inspiration from the birds. Like the beautiful birds around us, this theme was meant to be playful, but at the same time resilient and light.
The font used on the theme, Source Serif Pro and Sans Sarif are both lightweight fonts, which only helped the case for making it as light as possible. On top of that, the built-in Gutenberg blocks support from WordPress gives the theme an edge minimizing the need for it to bring the option all by itself.
Twenty Twenty Two Supports Full Site Editing
WordPress Twenty Twenty Theme supports Full Site Editing (FSE) right from the box. The power of FSE, Global Styles, and Gutenberg blocks mean that it used as little CSS as possible in the theme itself.
As Kjell Reigstad said –
The theme aims to use as little CSS as possible: our goal is for all theme styles to be configured through theme.json and editable through Global Styles. The theme development team will work closely with Gutenberg contributors to build design tools in the block editor that enable this goal.
FSE is predicted to be on par with prominent third-party page builders and support for FSE is an even more positive sign for those who are planning to use this theme on their next website as soon as it comes out.
Twenty Twenty Two Takes Advantage of Pattern Directory
Twenty Twenty-Two is supposed to take help from the newest WordPress features. As per Kjell Reigstad, "Twenty Twenty-Two will take advantage of a wide network of page templates, headers, footers, and other patterns so that users can easily make the theme their own.
In another nod to the behavior of birds everywhere, these will offer a balance between fun and utility: some are irregular and unpredictable, while others are straightforward and traditional. Together, these patterns will act as a window into all of the possibilities that the theme enables."
The elements of the pattern directory, starting from full-page templates to individual widgets will be instrumental for WordPress Twenty Twenty, making it a powerful competitor to even the top-priced themes.
When is WordPress Twenty Twenty-Two Coming Out
WordPress Twenty Twenty-Two is expected to come bundled with WordPress 5.9. WordPress is supposed to unveil the beta version of this major version release on 16th November 2021.
The final release of WordPress 5.9 is set for 13th December 2021.
Thus, we are preparing to see the ready version of the theme on the same day.
Looking into the Future
Like every year since 2010, WordPress is all set to release another new theme for the year 2022. Innovation is what made WordPress the most popular CMS in the world, with 42% of the web being powered by this platform.
WordPress Twenty Twenty theme is nothing but another big leap towards making web design easier for common people. The design of this year's theme has been influenced by birds and nature.
And with the released video, we think WordPress did justice to that. The theme is stunning to look at. But if you think about the tight support for full site editing and the newly introduced pattern library, this block theme is not short of features either.
We will be posting more about the theme once it is released. Furthermore, we will share what is possible with this theme and how the benchmarks turn out.
To stay updated with WP Hive, follow our Facebook page and Twitter channel. And don't forget to comment with your opinions on the theme.
https://wphive.com/reviews/themes/wordpress-twenty-twenty-two-theme/
Faisal Sarker
Faisal is a tech blogger who excels at WordPress Content Writing. Apart from sharing useful info pieces that help people around the world, he also likes to travel and read books of all genres in his leisure time.

Subscribe To Our Newsletter