WordPress Full Site Editing: What it is & How It Can Shape the Future of WordPress

Are you a WordPress Enthusiast? Then you might already know about the 10 years long WordPress Roadmap, that will change the way we see WordPress. Phase 1 of this project is already finished, where we saw the release of Block Editor. Phase 2 is not too far away, and it is one of the things that we have all were looking for, for a long time now.
Yes, we are talking about WordPress Full Site Editing, or simply FSE. And our wait is almost over.
Phase 1 and Phase 2 are also very related to each other, as Gutenberg blocks will be at the core of WordPress Full Site Editing.
If you're not used to Gutenberg yet, now would be the time to do so. Because, Gutenberg is not just the block editor that helps you edit your blog, it is meant to be the forerunner of the modernization process of WordPress. So the importance of Gutenberg can not be ignored.
However, for most people, WordPress Full Site Editing is one of the most important parts of the process that we are talking about. Now that it is almost here, it is natural to worry about the impact of FSE on your existing site, whether you are using a third-party theme or a page builder.
So bear with us, as we tell you all about WordPress Full Site Editing, why is it so important and what are the impacts of this particular feature that we are rating so highly.
Why is WordPress Working on the Full Site Editing?

WordPress started out as a platform for bloggers looking for a free way to publish their texts online. But over the years, its true potential slowly revealed, as people started to build all kinds of sites using WordPress. In fact, WordPress is used by so many people that it powers over 39% of the web that we see today.
But the truth is, WordPress with its proven technologies was getting outdated. Just at the right time, it was decided that WordPress would get a step up by using modern technology and offering a more customer-friendly way of development. Thus, the inception of the Gutenberg project.
In total, 4 major phases of the Gutenberg project were planned. It is a project that is supposed to change the publishing of content on the web. In the first phase of the project, the block editor was released in late 2018, with the second one launched in the latter part of 2021. Full Site Editing, the second phase is likely to change how we design the whole outlook of a WordPress website.
With the page builder plugins like Elementor, Beaver Builder, Divi becoming more and more popular, the default way of designing a WordPress website was becoming kind of obsolete. So WordPress Full Site Editing will come as a blessing and offer the developers and site owners a more modern and dynamic site-building experience. The full site editing will rely on WordPress REST API, React, GraphQL on its core, so there's no doubt about the availability of cutting-edge web development experience.
These are the prime reason for WordPress to opt for offering the full site editing feature.
A Sneak Peek into the WordPress Full Site Editing
WordPress Full Site Editing will unlock new potential for a new era of web development. It will be easy to use and highly customizable. We have already crossed the era of the classic editor, where we could only publish some text on our blogs and add some media that doesn't align with how we wanted it to be. Gutenberg block editor gave us the chance to add blocks to our blogs. Whereas each block like text, image, button, video, column, table, and others are independent components that unite together to complete a beautiful blog post. Now this will not be just for the blog but for the entire site.
So how will the interface look? We have tried a beta theme that supports WordPress full site editing (FSE) and tried to know exactly that.

Here is an image of how a homepage editing can look like. If you have prior experience with the Gutenberg block editor, you won't have the slightest problem using this.
Home Page Editing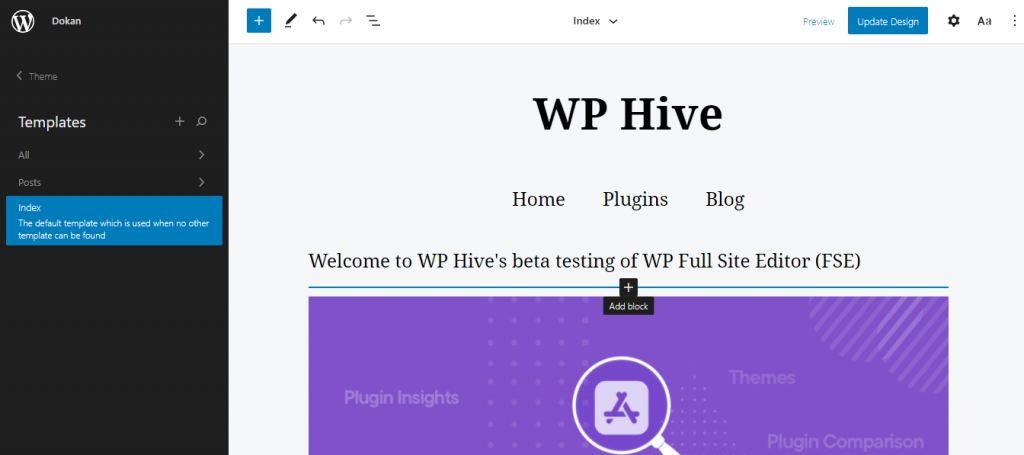 Reusable Blocks & Templates
You can save a specific block as a custom template, making them reusable later on. Below is an example of that. But does this also indicates that the block editor will now impact the theme file? We'll get to that later!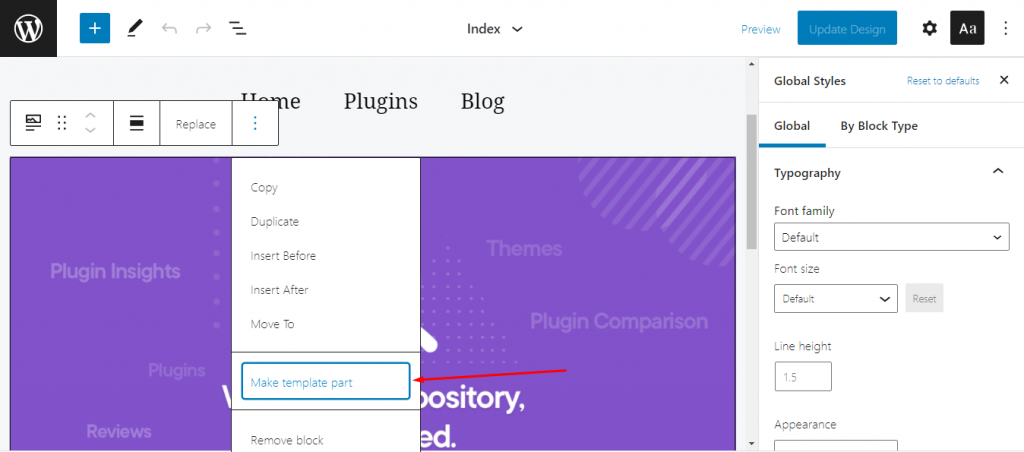 New Blocks
As full site editing has a lot of scopes, it will also come with a whole lot of new blocks to handle them.
There are a lot of new blocks like Site Logo, Site Tagline, Query, and many more that we are noticing. We can only expect a lot more new blocks to come when WordPress Full Site Editing finally launches later this year.
Something that we wanted to mention specifically is that we also noticed some dynamic blocks which will be exciting to try out once fully released.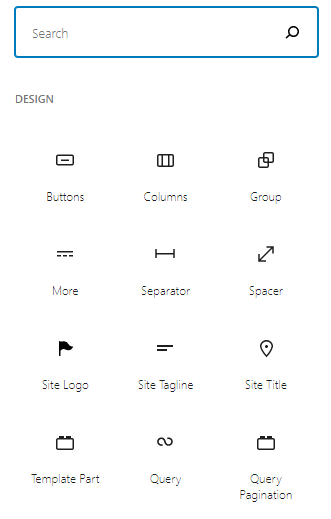 Global Styles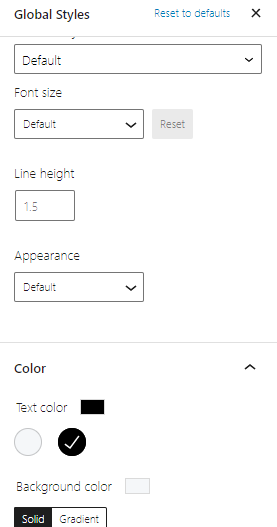 Global styles will be another crucial part of WordPress Full Site Editing. This will handle the global typography, font size, font color, page color, and background color, helping you create a brand identity for your website with ease.
Setting up a global color palette and style is super easy and intuitive, at least as much as we used till now.
However, it is left to be seen exactly how much improvement we will get on the global style. Anything on top of the existing one will be more than welcome, and I'm eagerly waiting for that.
There are many more features that are rolling out and will be rolled out in the days to come. For now, it does look like exciting prospects from what we have seen using the beta version.
If you would like to know more about the general functionalities of the Full Site Editing program, then you can visit Anne's post on "FSE Program: Answers about general functionality"

Will WordPress Full Site Editing Affect the Existing Plugins & Themes?
This is a question that might be hovering over many developers' and site owners' minds. Will WordPress Full Site Editing have a bad impact on the plugins and themes?
We can not yet tell you whether it will have a disastrous impact or not. But while using the FSE (Beta) using the Q Theme, we did have to reactive a few plugins before we were able to use it.
But this can be a glitch they will solve, or a new guideline might be coming towards us so that the developers and site owners can be prepared for a possible change that they have to make to make their plugins and sites compatible with the WordPress full site editing.
As for the themes, I talked above about the new reusable custom templates and their impacts on the themes. But what we noticed is that templates are not being stored in the theme itself, rather it is saved globally. So even if you use a different theme, later on, you can use that template again.
But for making the themes compatible with the block-based editor, theme developers will have a lot of tasks ahead, that is for sure.
Is it a Big Threat to Page Builders?

Page builders are the direct competitors of the WordPress full site editing feature, no doubt about that. But the most popular drag & drop page builders like Elementor, Divi, or Beaver have a lot of features and pre-made templates that are popular with millions of people.
We are not expecting them to vanish overnight, rather their ease of use will make them a good contender along with the WordPress full site editing. And they will surely get the fast-mover advantage. But as Gutenberg improves and provides as much function as the likes of Elementor, while being a core part of WordPress, we are not yet sure if the page builder will stay relevant in the far future.
What Does The Future Hold for WordPress?

WordPress was lacking behind in terms of customization, offering modern design, and using modern technologies. But this revamp plan is surely getting me and many other WordPress enthusiasts hopeful and excited.
The Gutenberg project was not well received by the users initially, but it is something that we have seen over and over again, that it is not easy for people to accept change in the big platforms. The new Facebook design is another good example of that. But as we're seeing more and more of Gutenberg, we now know that it is not just a block editor for editing blog posts but a part of a big future that will change how we see and use WordPress to build websites.
Like the Gutenberg printing press technology that changed the printing industry, the WordPress Gutenberg project will transform how we publish content online and transform it for the better.
While WordPress now powers more than 40% of websites worldwide, to keep up with the stiff competition with the uprise of drag and drop CMSs like Wix.
The future looks bright and promising, and I'm waiting eagerly with my finger crossed, just like you all are.
https://wphive.com/wordpress/wordpress-full-site-editing-release/
Faisal Sarker
Faisal is a tech blogger who excels at WordPress Content Writing. Apart from sharing useful info pieces that help people around the world, he also likes to travel and read books of all genres in his leisure time.

Subscribe To Our Newsletter