How to Easily Create Categories in WordPress (2023)

People frequently confuse tags and categories. So, here we are with a guide on what categories are and how to create new categories in WordPress. The article will also cover the difference between categories and tags. WordPress always tries to organize your contents. Categories are a great way of organizing your website.
What are Categories?
Categories in WordPress are in simple words, a way of classification. Using Categories in your site you can systematically organize your contents.
Does category help your site?
Suppose you are back from a tour just now. You have hundreds of pictures in your folder of places you visited. You can upload them randomly or you can make separate folders for separate places. Which one will look better? The organized one, right?
In the same manner, categories organize your website. This helps the visitors to find useful contents easily. If contents are categorized then readers can connect in a better way with your site. It can help increase the conversion rate.
How to Create Categories in WordPress
You can create categories in two ways.
You can create when you are writing a post
You can create categories from particular category section.
How to Create Categories when You are Writing a Post
There is a section for categories on the right side navigation bar of the page.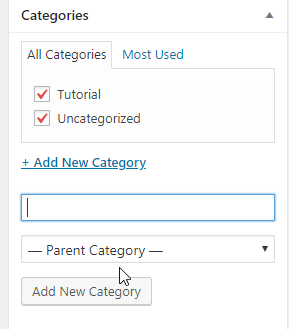 You can either select a category from available ones or create new categories by clicking on "Add New Category".
Categories>>+Add New Category>>(Then give a name to your category)>>Add New Category
How to Create a Category from Dashboard
Secondly, from the left side navigation bar of your dashboard, click on the bar Posts, you will get an option for Categories. If you click on categories it will take you to a page where there is detailed information about categories.
You have to add a name for the new category
You have to give slug version of the name.
Now select under which heading the category will be assigned.
You can add a description if you wish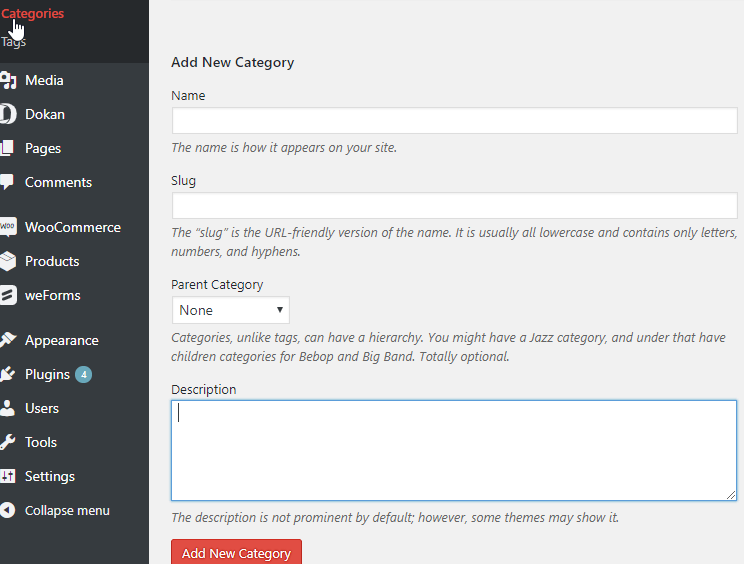 Posts>>Categories>>Name>>Slug>>Parent Category>>Description>>Add New Category
Parent Category and Child Category
In your WordPress website, you can elect a child category and a parent category the way you feel it fit.
If you keep a content under child category then you should not add that under parent category too. Otherwise, it will create confusion.
For example, if you visited Kolkata Darjeeling and Manali in your India tour and kept Darjeeling pictures under child category then you should not click on parent category too.
Can I delete a category if I don't like it anymore?
This is a commonly asked question. You can delete a category whenever you want. You have to do that from category's dashboard where all the categories are listed. You can easily delete any category you want from there.

Tags vs Categories
Categories in WordPress have subcategories. Those who confuse tags and categories, this information can be useful for them. Tags don't have subtags. We don't want you to have confusions about this. This article 3 Things Everyone Knows about WordPress Tags That You Don't can help you clear the confusions.
Advantages of Adding Category
Categories give your contents and your site a hierarchy. This hierarchy helps search engine and gives your website a better ranking.
You can add Categories in the widget section too. You can take a look at What is WordPress Widget and How to Add a WordPress Widget if you want to know how to add widgets.
Wrapping Up
Readers don't like to be interrupted when they are on your site. Categories help your readers to be more engaged with the content. So, adding categories or creating categories in your WordPress site is important.
If you haven't installed WordPress then give it a try. Now, you can create a blog by yourself in minutes.
https://wphive.com/tutorials/how-to-create-categories-in-wordpress/
Saif Hassan
Product Manager by passion & profession. Lead Product Manager at weDevs, former PM @ Poptin. Passionate about writing & tech. He's an advocate of Human-Centered Design and believes that websites and the tools used to build them should be well crafted, intuitive, and accessible. Cyclist. Reader. A WordPress ninja 🥷, HCI expert & a design thinker 💡

Subscribe To Our Newsletter