7 Best WordPress Themes for Magazine in 2023

WordPress is used by top-ranked magazines like TIME and Forbes. It is no surprise that WordPress has become a preferred tool for creating a powerful magazine website.
As WordPress was primarily built to create blog sites, it is one of the best ways to create digital magazine websites as well.
People use WordPress to build their magazine sites because it's really easy. And that's why almost all popular WordPress theme developers offer dedicated themes to create magazine sites. Even most popular WordPress themes offer starter demos to create magazine sites.
If you are wondering which magazine theme you should choose, stick with this article. This blog will focus on the reasons why you need a WordPress magazine theme for your website. Furthermore, we will share 7 of the most popular magazine themes to choose from for creating your first-ever magazine website.
Why Should Choose a Specialized WordPress Theme for Your Magazine Website


WordPress magazine themes can be useful for regular blogs, however, they are better used to create a magazine site. As the magazine is an extremely popular website niche, demand for specialized WordPress themes for magazines only increased over the years.
These themes are used by millions of people, and one of the most important reasons behind their popularity is the SEO benefits. Here are some other reasons why you should choose a specialized theme for a magazine website.
Built-in Useful Features: WordPress magazine themes come with lots of useful features that makes a magazine website complete. These include post grid, customizable blog page designs, post sliders among many others. You can also find other useful features such as header-footer customizer, widgets, and other customization options.
Visibility Benefits: The main goal of a magazine website is to attract visitors. For many years now, the search engine is the main channel to attract visitors to websites. most WordPress magazine themes are SEO-optimized, thanks to the clean coding structure.
Multiple Post Display Styles: Most WordPress themes for magazine come with multiple pre-made styles for displaying the post. This means you can keep your readers engaged with good design without so much effort.
Starter Website: WordPress magazine themes come with multiple starter websites that will help you choose a starter site to design your website. All you need is to choose a readymade starter site design and customize it upon that.
These are the key points behind choosing a WordPress magazine theme to create a magazine website.
What to Look for in a WordPress Magazine Theme

While choosing a WordPress magazine theme, there are a couple of things that you should keep an eye on. From our years of experience of running a blog that attracts thousands of visitors, we know what are the most important aspects of a blog or a magazine website.
Let's have a look at some of the most important things to look at while choosing a WordPress magazine theme.
SEO Optimization: Choosing an SEO-optimized theme is crucial for a magazine. For that, you need to choose a theme that follows a clean coding style. On top of that, the theme should also have dedicated options or breadcrumbs, meta tags for better SEO optimization from frontend.
Performance: Users don't like slow websites, especially when it is an online magazine. That's because magazines usually have a lot of media files (images & video) in them, which might slow down a site. That's why a fast theme is a must to back up the heaviness of the site.
Dedicated Magazine Features: A WordPress magazine theme should have dedicated features that are needed for magazines. Some of the features include different customization options, post styles among others.
Compatibility with Plugins: Your WordPress theme should also be compatible with all sorts of plugins. You don't want face a situation where your theme doesn't support a plugin that you must need for your website.
7 Best WordPress Themes for Magazine
Now that we know why we should choose a magazine theme and what we need to keep an eye on while choosing a magazine theme, let's get to our actual list.
i. VMag Pro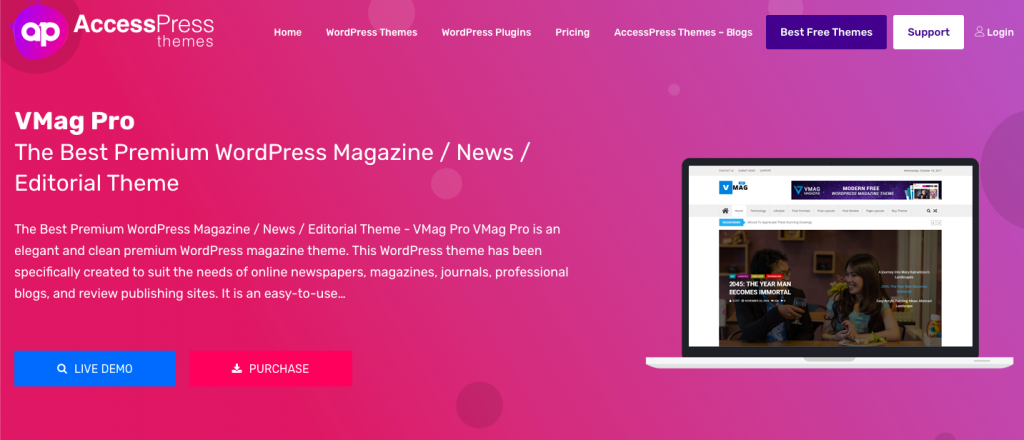 VMag Pro is one of our most favorite magazine themes. Whether you are planning to create an online magazine, newspaper, journal, professional blog, or publishing website, Vmag is a perfect choice.
It is a fast WordPress theme that is equipped with the most advanced features dedicated to magazine websites. The key features include –
Multiple categories color
In build mega menu
Breaking news option
Multiple category posts widget
Archive and single page layouts
16+ widgets to decorate your pages
Ads ready
Price: Starting at $55.
Try VMAG Pro To Create A Magazine Website
ii. BoomBox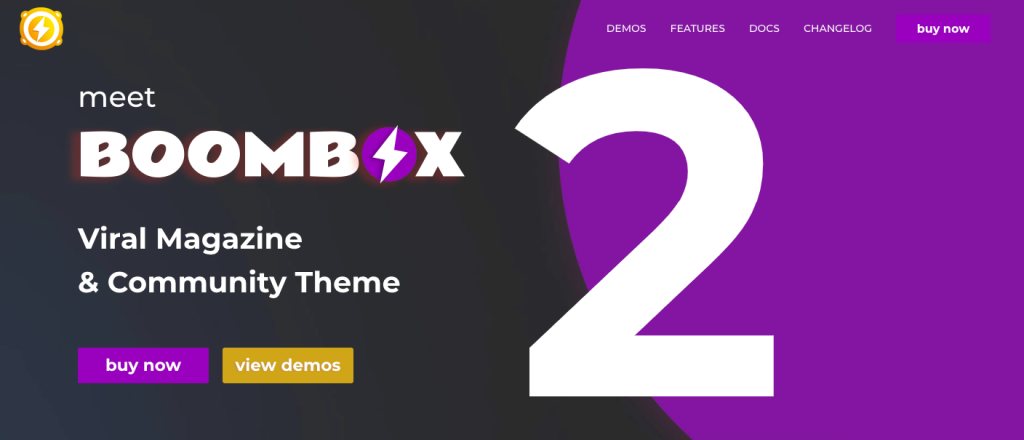 Want to create a viral online magazine like Buzzfeed? There is no better WordPress theme than the highly popular BoomBox. This fast and responsive theme comes with a lot of demo sites to starts with. There are countless little features like custom widgets, multiple post styles, sidebar styles that you will really like. It is also extremely affordable compared to the features.
In a brief look, here are the most important features from BoomBox that made it so popular.
Extremely Customisable Layout & Design
16+ Starter Sites
Header-Footer Variations
11 Listing & 5 Sidebar Types
11 Custom Widgets
Compatible With All Popular Plugins
Configurable Posts Ranking System
Engaging Reaction Voting System
Powerful Social Sharing System
Price: Starting at $59.
Try Boombox To Create A Magazine Website
iii. Magazinely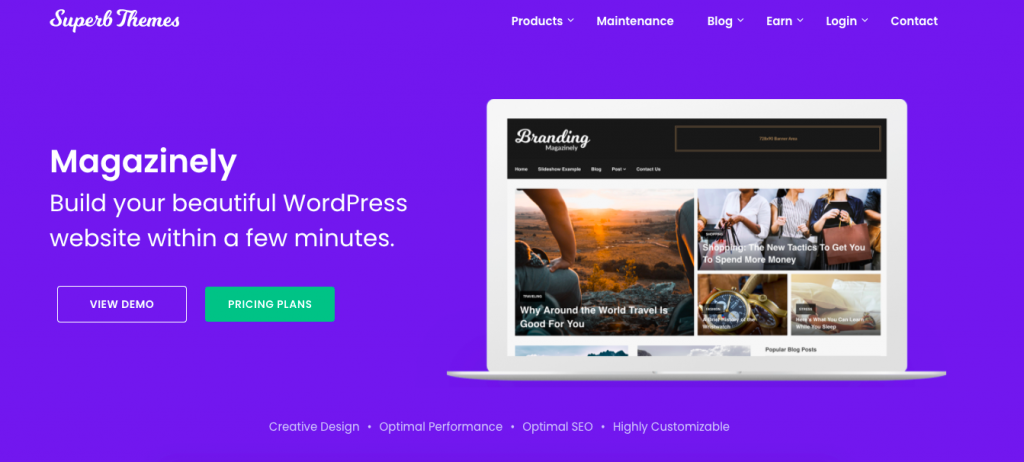 If you are looking for a simple theme for your magazine website, this might be it. Magazinely is known for its simplicity and extremely affordable pricing. The coding structure is clean, which makes it one of the fastest and most SEO-friendly magazine themes out there.
Magazinely is not the most feature-packed WordPress magazine theme available, but it is certainly a great value for money. Let's take a look at the main features of this elegant theme.
Highly customizable
Elementor Compatible
Header Content Slideshow
2x Featured Articles Grids (Sticky Posts)
Hide About The Author Section On Posts
Custom Sidebar Colors
Price: Starting at $29.
Try Magazinely To Create a Magazine Website
iv. Maggie Pro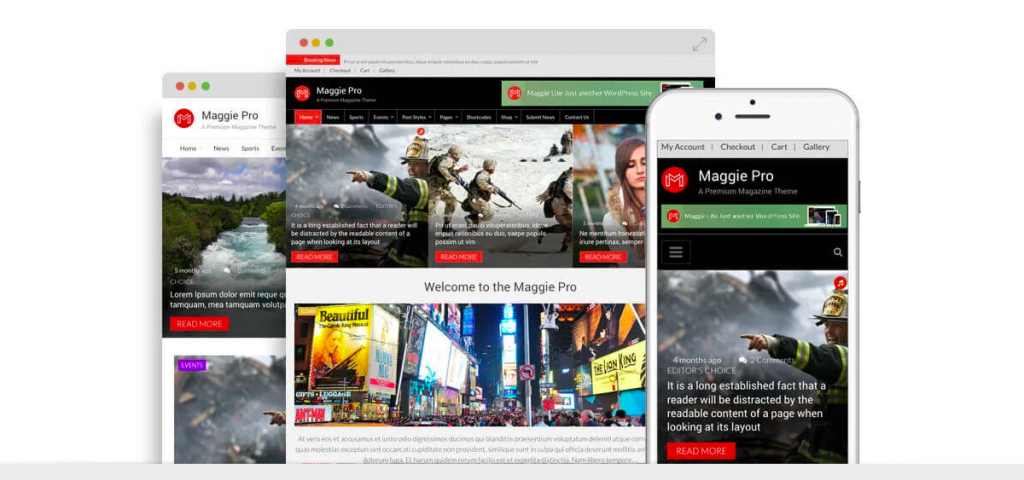 A modern theme that comes with a lot of features to build a magazine website, Maggie Pro is highly acclaimed for its capabilities. The theme is dedicated to building magazine websites and both the name and the features tell you the same thing.
Maggie Pro is very fast and built to let your website be responsive cross-device. The customization options of maggie pro are also above par. The features that make Maggie Pro one of the best magazine themes are as follows.
Multiple web layouts (boxed and full-width)
Light and dark theme colors
3 beautiful featured post layouts
8 different block layouts on the homepage
Colorful category backgrounds
News ticker
Ads optimized
Price: Starting at $55.
v. Astra

Astra is one of the most downloaded WordPress themes ever. It is one of the very few true multipurpose themes that can help you build any kind of WordPress site.
For magazine & blog websites, you will get a number of dedicated starters demo sites that you can import with one click. Astra is also one of the highly customizable WordPress themes that you will ever find, so you can customize any of the demos to build your perfect magazine website.
Apart from the dedicated magazine features, Astra is regarded as one of the fastest and most SEO-friendly WordPress themes on the planet. Astra is built using the most modern technologies and will perform just the way you want your magazine theme to be. The key features of Astra for a magazine website are –
A number of page layouts
Header & Footer builder
Advanced typography
Customizable blog layouts
Post pagination & Infinity loading
Lots of custom widgets
Great documentation
Price: Starting at $47.
Try Astra To Build your Magazine Website
vi. GeneratePress

GeneratePress is another highly popular WordPress theme. One of the most important reasons behind its popularity is that it is lightweight and fast. For magazine themes, GeneratePress is a great theme if you have the basic frontend customization knowledge of WordPress.
With gorgeously designed demos and lots of small detail customization options, it can be the perfect WordPress theme to create your online magazine. If you are looking for a deeper understanding of its features, here are the top features from GeneratePress.
Extremely fast
Gutenberg block-based theme builder
Demo designs to decorate your site within minutes
Advanced layout system
Multiple blog layout
Advanced hook system
Archive columns
Price: Starting at $59.
Try Generatepress To Build your Magazine Website
vii. MH Magazine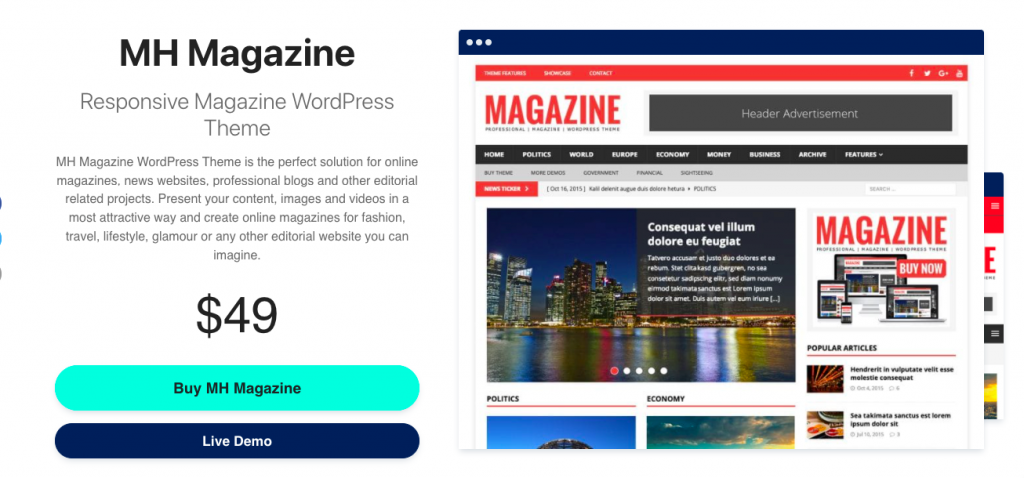 A magazine theme that has been around for ages, MH Magazine has grown a lot and offers better features than ever. Whether your magazine is about fashion, travel, lifestyle, glamour, or any other niche, with MH Magazine, you hold the power to present your content, images and videos in a beautiful way.
With lots of demos, post layouts, and great code quality, there are no reasons not to like this theme. However, if you need some more reasons to make up your mind, here are the key features of MH Magazine.
Well-designed demo sites
Flexible layout options
Highly responsive
Number of widgets
Compatibility with most popular plugins
Price: Starting at $49.
Try MH Magazine To Build your Magazine Website
Choose a Magazine Theme to Create Your Own Magazine Website
Digital magazine is a popular way to attract visitors and earn money online. The rapid growth of this niche influenced many to build a magazine site of their own. WordPress with its primary focus on blog sites is a great way to build magazine websites as well. More and more people are developing magazine sites using WordPress. Thus the number of WordPress themes for magazines is only increasing.
Choosing one WordPress magazine theme from the ocean of them is difficult. So we crafted a list of some of the most feature-packed and affordable WordPress themes for magazines. Were you able to choose one for your magazine website? If yes, then which one? Do let us know in the comment section.
Also, don't forget to follow our Twitter channel and like the Facebook page to get more articles like this one.

https://wphive.com/reviews/best-wordpress-themes-for-magazine/
Faisal Sarker
Faisal is a tech blogger who excels at WordPress Content Writing. Apart from sharing useful info pieces that help people around the world, he also likes to travel and read books of all genres in his leisure time.

Subscribe To Our Newsletter