Why You Should Be Using Messenger to Skyrocket Your Business Growth

In the past, Facebook Messenger was just a way to chat with friends or relatives. Now Facebook Messenger has become one of the most powerful tools for brand presence and customer engagement. That's why I can recommend for almost anyone and say with confidence, you should be using Facebook Messenger for business.
Nielsen messaging survey showed that messaging is the second-most popular form of communication for customers when interacting with brands. The survey also showed that 53 percent of people are more likely to shop with a business they can message directly.

Consumers are sending around 1 billion messages to businesses every month, you can't afford to miss out on this valuable opportunity to communicate and connect with your target audience.
What is Facebook Messenger?
Facebook Messenger is the messaging part of the Facebook social media platform. It is available both as a website for your desktop and as an app for your phone.
The Facebook Messenger app was redesigned in 2019 and has three main sections. By creating three main sections – chats, people and discover, Facebook has simplified the app interface to quickly provide the key messaging functionality.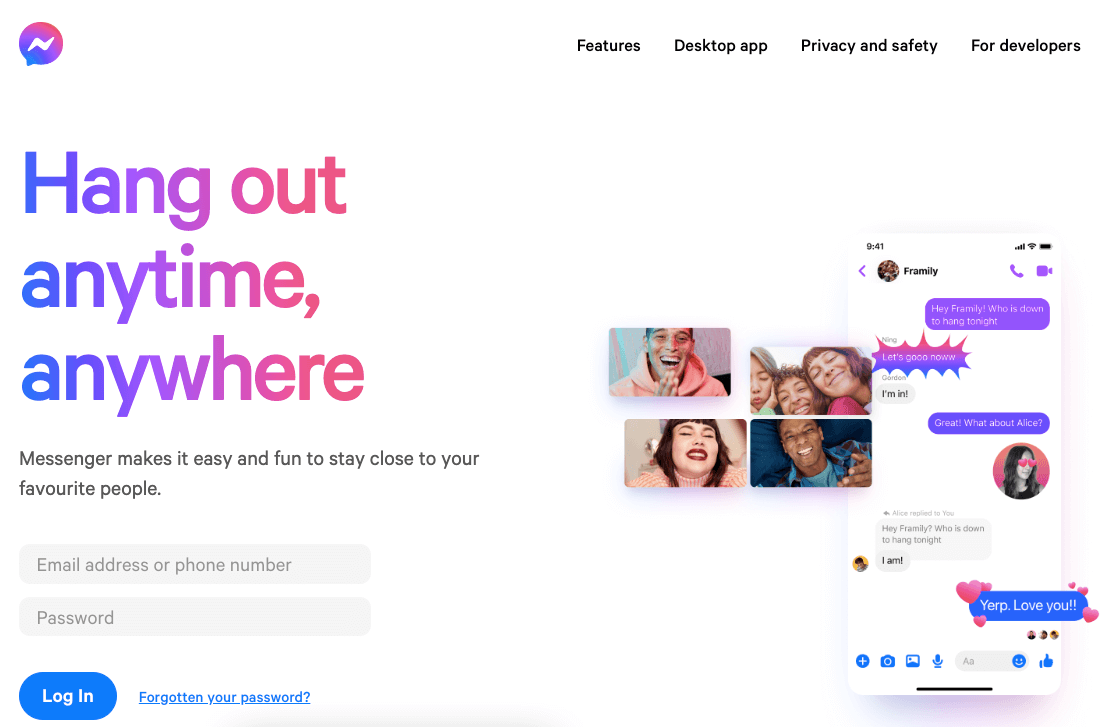 The chats interface helps find current chats. The people's options help start new chats. And the discover section helps to find businesses and games on Facebook Messenger.
Why Use Facebook Messenger for Business?
According to Statista, with 2.41 billion monthly active users as of the second quarter of 2019, Facebook is the biggest social network worldwide.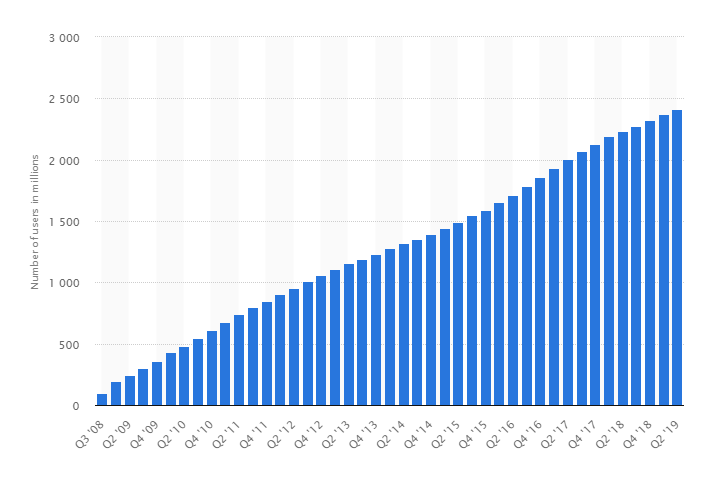 According to Business Insider, the number of people using messenger apps surpasses the population in social networks.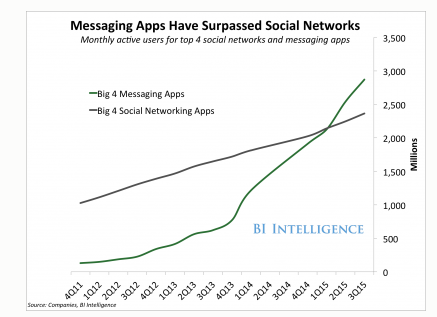 800 million people now use Facebook Messenger each month.

Mark Zuckerberg
Research from Yahoo's Flurry shows that an average mobile app retains just 11 % of users after 12 months while messaging app retains 62 % of users after 12 months which is 5.6 times higher than other applications.
The daily use of mobile apps is also 4.7 times more than that of the average app.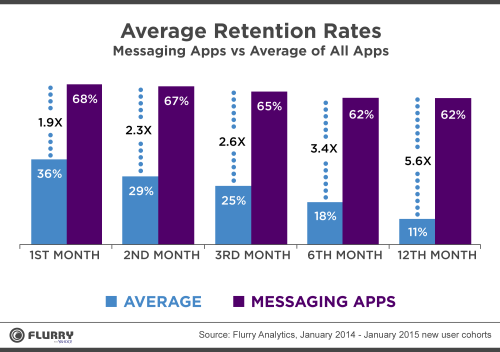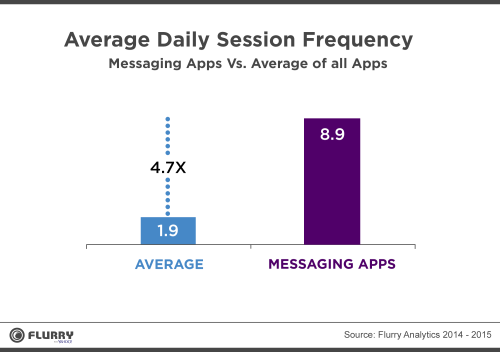 Facebook Messenger for business can offer an alternative way to engage your target audience, earn loyalty and improve social reach.
Facebook Messenger
Earns 15 times more engagement than any other standard ads
Appeals to 73% of your customers, which is 44 % more than phone or 61% more than email support
Helps resolve issues faster, within 42 seconds
Facebook Messenger also allows you to develop strong and more personal connections with your customers. Since customer experience is one of the primary things brands tap into, it makes sense to give your followers the interactions they seek.
If you or your customers are outside the United States, consider the interest of your customers.
Why Facebook Messenger is Popular Around the Globe?
In the United States, the top 5 most popular apps are
Facebook
Facebook Messenger
Instagram
Twitter, and
Snapchat.
According to Facebook's own research, 14 countries are using messaging as a business medium. 67% stated they are looking to message businesses more in the future and on average, they would rank messaging a business as their 2nd choice out of 9 types of communication. Surveys in Brazil, India, the UK, and the US showed that 85%, 74% 61%, and 61% of people respectively, have messaged a business in the last 3 months. Overall it helps a lot in promoting your business as well..
How to Set up Facebook Messenger for Business
Let's move to the main topics. Set up Facebook messenger for business.
Step 1: Sign up
First, go to facebook.com/business and click Create a Page in the top right corner.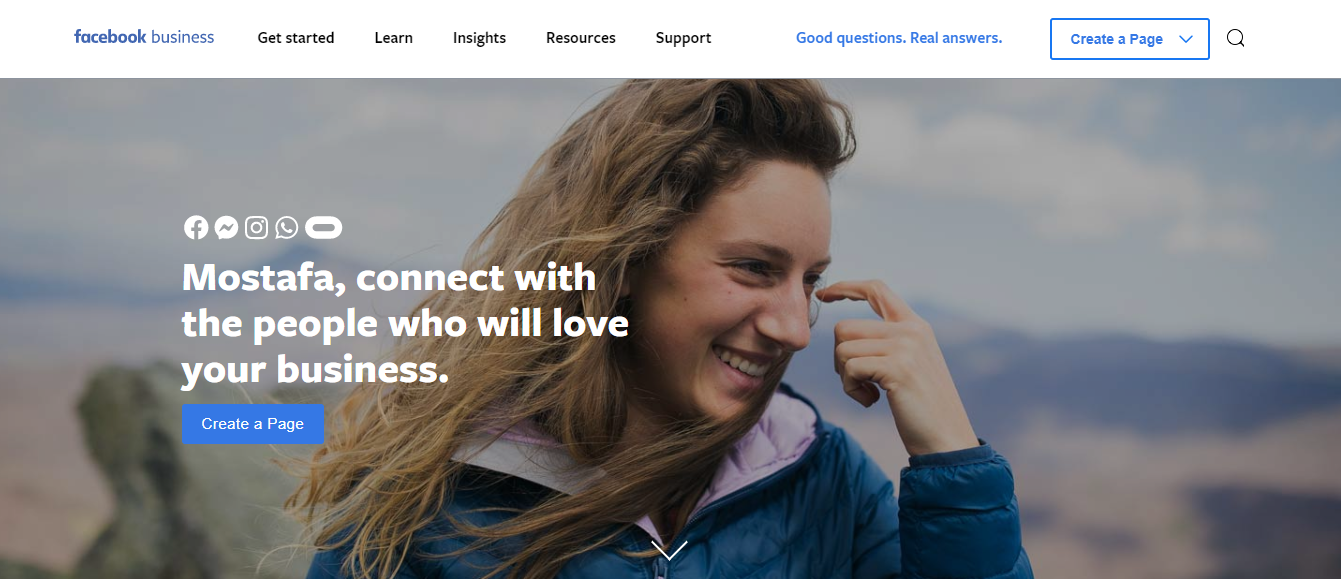 You'll get options including local business or place, brand or product, and cause or community. Select the type of business you want to create the Facebook Page for.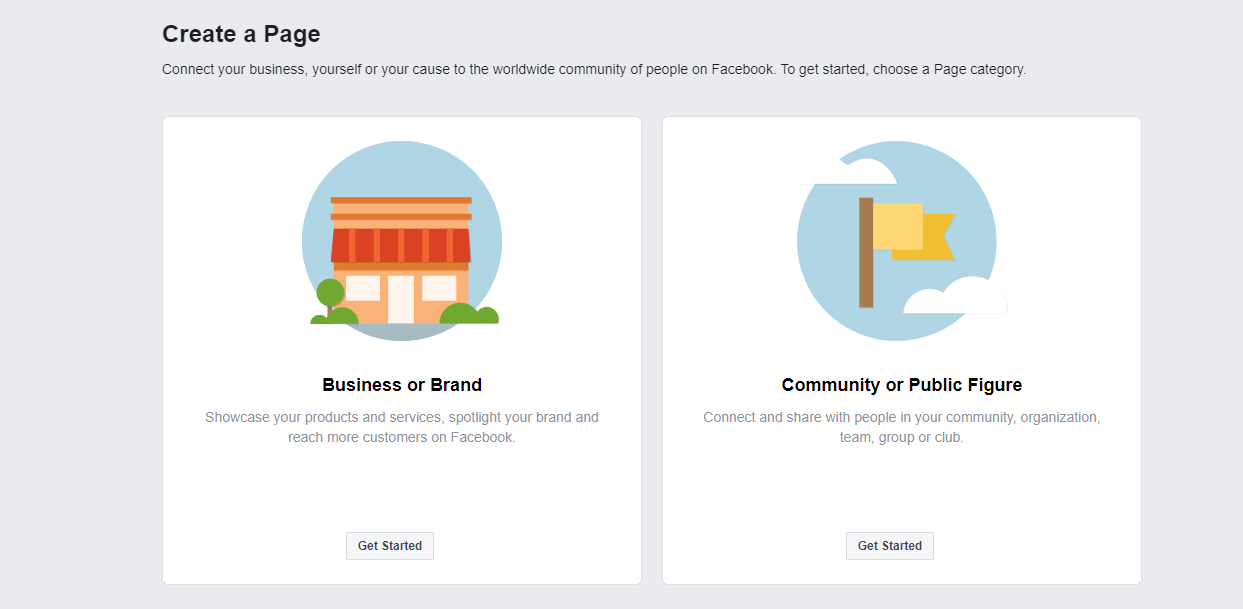 When you click on a business type, a new box will open asking for a few further details, like the page name and category.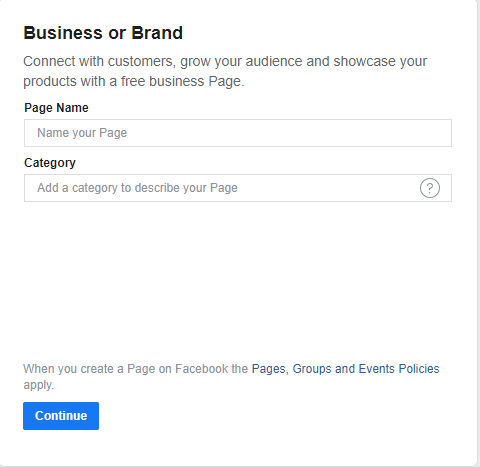 If you click on a category, you will get a large sub-category. Just select your desired category and click on the continue button.
Step 2. Add Pictures
Next, you'll have to upload a profile picture for your Facebook business page. It's important to create a good visual first impression, so choose pictures wisely. Make sure the photos you choose reflect your brand and are easily identifiable with your business.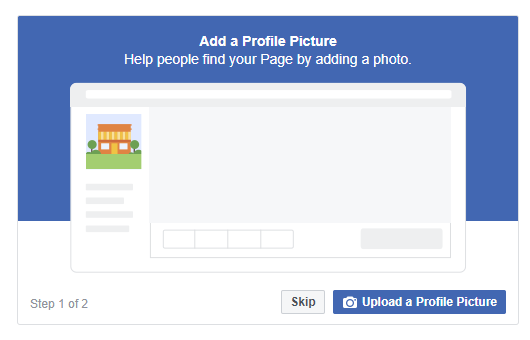 Your profile picture will appear as a square on your Facebook business page but will be cropped to a circle in ads and posts. Once you've chosen, click on Upload Profile Picture.
In the next step, choose your cover image, the most prominent image on your Facebook Business Page.
This image should convey your brand personality. It will display at 820 x 312 pixels on desktop computers or 640 x 360 pixels on mobile devices. The image must be at least 400 pixels wide and 150 high.
Once you've selected an appropriate picture, click on Upload a Cover Photo.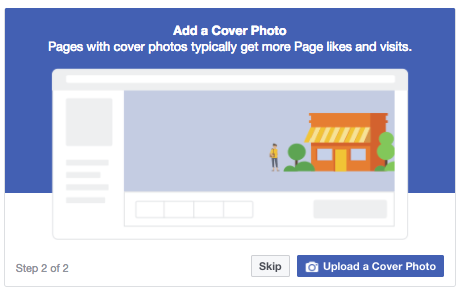 Step 3: Explore the New Page
Your business page is created. Now you'll be prompted to take a quick walk-through of a few features. I recommend going through it just to know where everything is. It will not take so much time.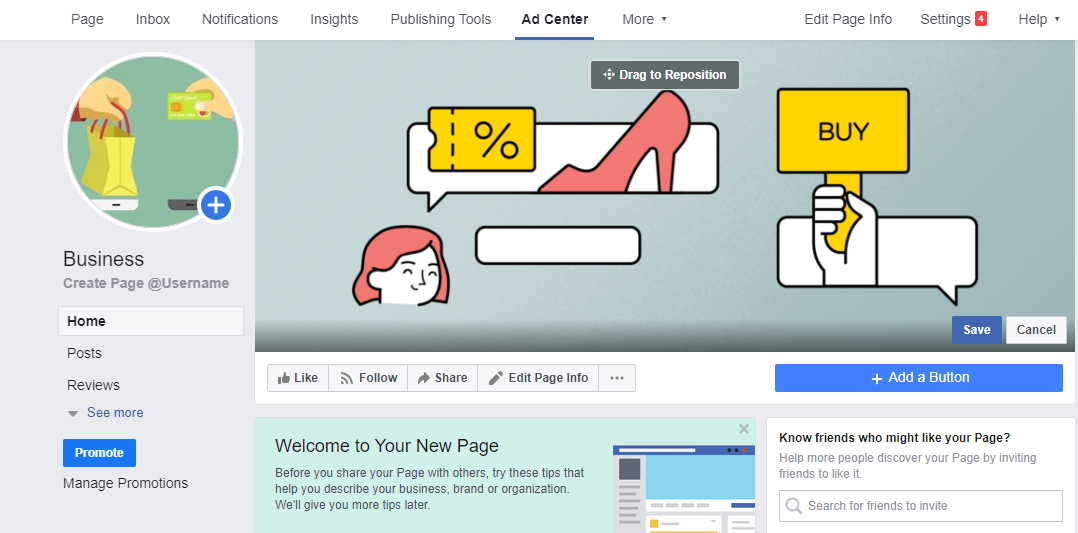 Step 4: Add a Short Description
This is the opportunity to tell people about your business. It should be just a few sentences (maximum 255 characters), so there's no need to get too elaborate here. Click on Edit Page Info and type few sentences. Now click on Save Changes.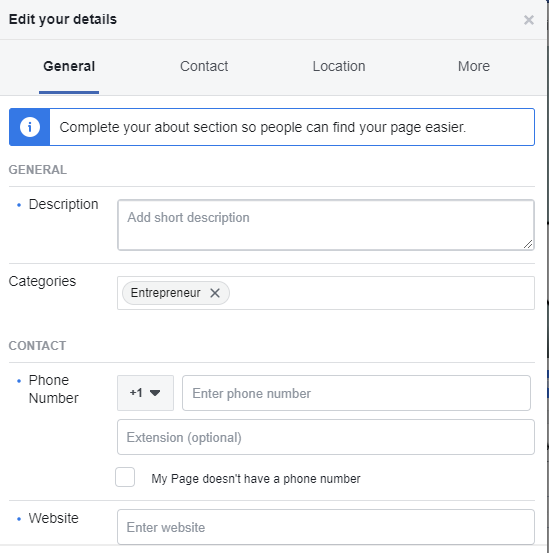 Step 5: Create your Page Username
Now, you have to create a username for your Facebook Page, which will also be your username on Facebook Messenger. Your username starts with an @ symbol and appears immediately below your Business name on the left side of your page.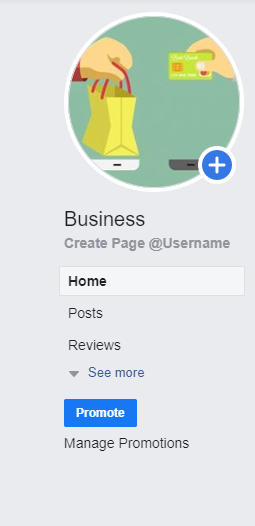 Your username must be at least five characters long and contain alphanumeric characters and periods. It will be better to keep it as consistent as possible with your company name to make it easy for customers to find you.
To set up a Facebook Messenger username:
Click on Create Page @username in the left column of your page
Enter the preferred username and
Click on Create Username
If someone else is already using your preferred username, you'll have to try a different one that's available.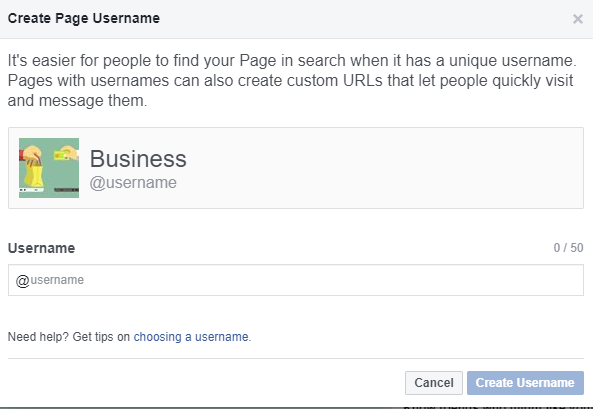 Step 6: Complete About Section
To get started click on About in the left-hand menu of your Facebook Page.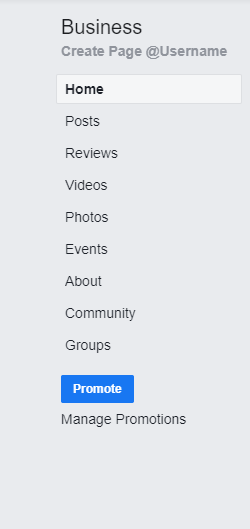 Here you can add or edit your specific business details, like your start date, contact information, and other social accounts. You can also Add Story on the right side of the page to provide a detailed description of what your business offers customers and why they should Like or Follow your Page.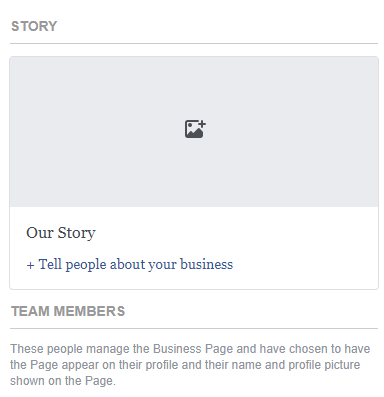 To specify your business location and hours, click on the Edit Page Info on the top right of the screen.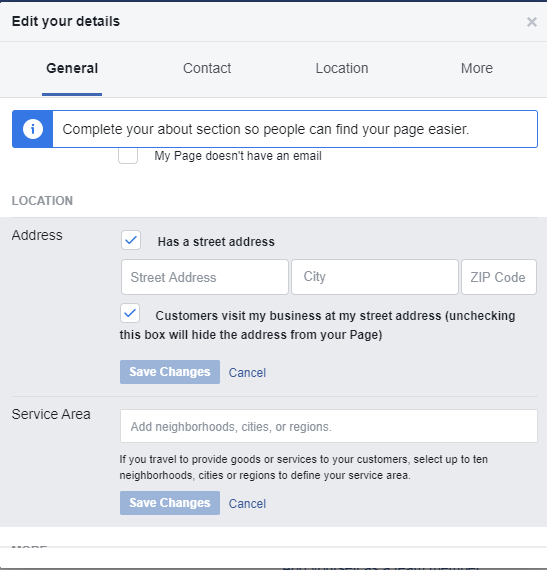 When you're finished, then click Save Changes.
Step 7. Create your First Post
Before you start inviting people to like your Facebook Page for business, you'll have to make sure that you share some valuable content. You can create some of your own posts, or share relevant content from your industry.
You can also create a more specific type of post, like an event or product offer.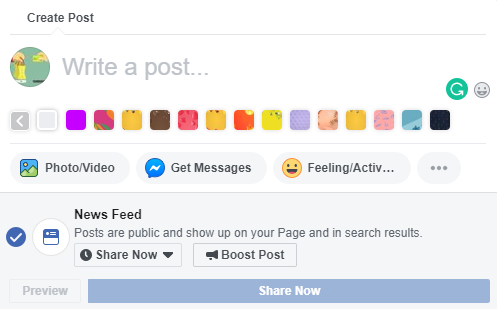 Step 8: Start Engaging
Now you're ready to explore your Facebook Business Page. Invite your family and friends to like the Page. Use your other channels, like the website and Twitter, to promote it. Add "follow us" logos. If you're comfortable with it, you can ask your customers to review you on Facebook, too.
Step 9: Enable Facebook Messenger for your Business
Once your Facebook business page is ready, it's time to enable Facebook Messenger for your business page.
From your Facebook business page, click on Settings
Now scroll to Messages and click on Edit
Check the box next to the sentence Allow people to contact my Page privately by showing the Message button and
Click Save Changes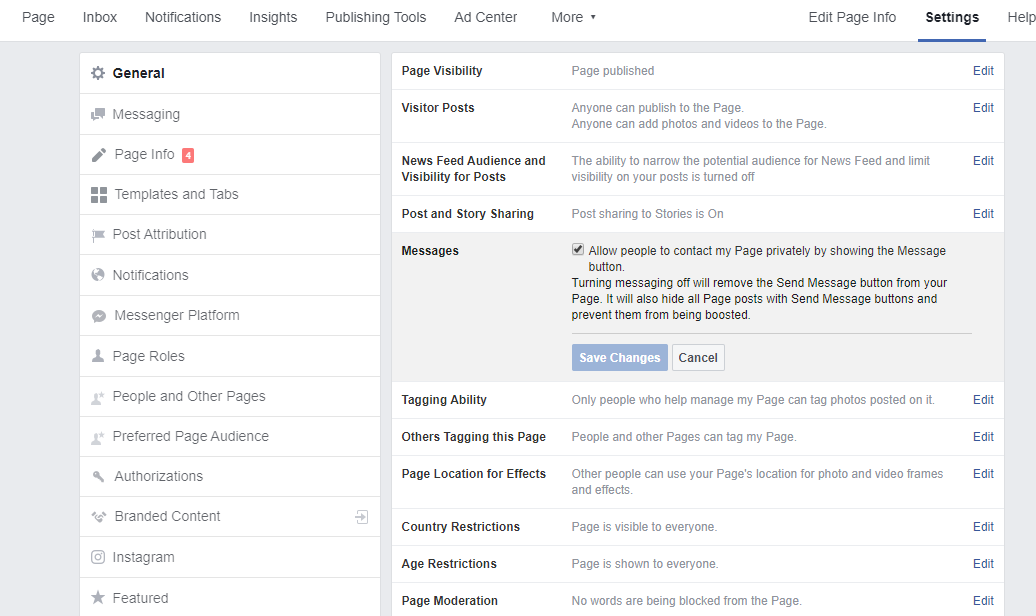 Step 10: Set up Instant Replies and Greeting Text
Instant replies are sent instantly in reply when users send a new message to your page. You can use these messages to set expectations about how long it will take for you to reply, or to direct visitors to a page on your website that answers frequently asked questions. You can even personalize the reply with a specific user's name.
To turn it on:
From your Facebook business page, click on Settings
Click on Messaging option in the left column
Under Response Assistant, toggle the bar to On to show a Messenger greeting
Click on Change
Edit the appropriate message for your business
Click on Save button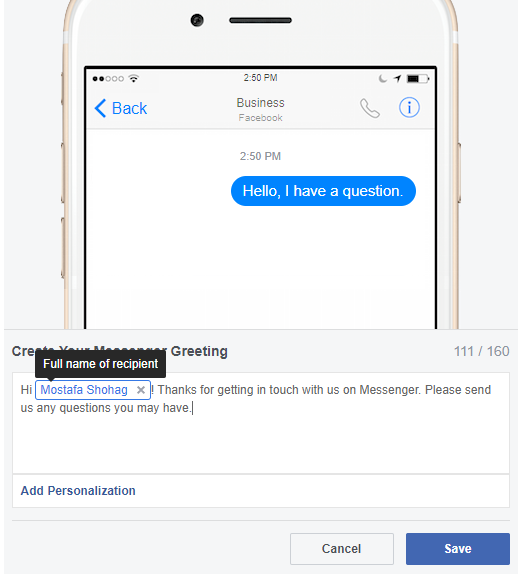 Step 11: Manage Response Time
If you typically respond to messages only during specific hours when your business is open then you can set your business page's messaging status to "away" during your off-hours. Messages received during those hours won't count toward your response time.
To set response time:
From your Facebook business page, click on Settings
Click Messaging option in the left column
Under Response Assistant, toggle the bar to On for Stay responsive when you can't get to your computer or phone
Click on Change
Edit the greeting message to indicate when the user can expect to hear back from you.
Click Save button
Under Stay responsive when you can't get to your computer or phone, click on Change
Click Schedule
Select your timezone, then click Add Time
Insert the times when your business is closed or you can't respond to messages
Click Save
How to Use Facebook Messenger for Business
So, your Facebook Messenger account is ready to go, let's look at some ways how to use it.
1. Share Messenger Codes
The way people can connect with your business is through the new Messenger Codes. The messenger code is simply the profile picture code that people can scan with their Messenger app to initiate a private message with their business. It is circular in shape and surrounded by dashes and dots that look a little bit like Morse code.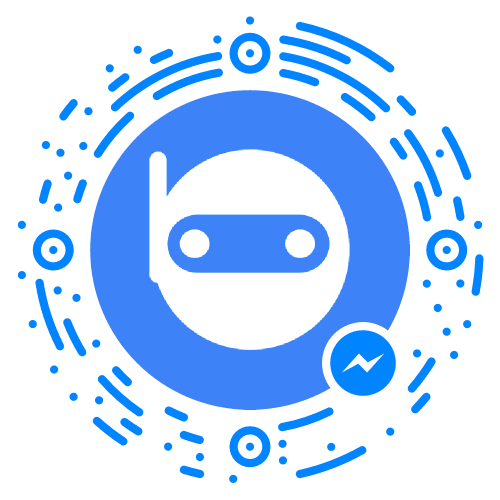 To get the messenger code for your Facebook business page,
Go to your Facebook page's message inbox.
At the bottom of your inbox, you'll find an icon for your messenger code (an "I" in a circle)
When you click on the icon, a screen will appear that displays a messenger code, with the option to download, and a quick demo of how it works. You can include it on your website or share it on other social networks.
2. Promote Private Messaging Links
Facebook provides both Facebook pages and profiles with a direct, shareable link that will let people initiate a private message when they click on it. You can grab your business page's link by clicking on the drop-down from the Message button.
This will make a copy of an accompanying URL into your clipboard.
You can also get the same link for a page via the Facebook Pages app. Access the page and click on the three dots at the bottom right corner of the screen for the Page Settings.
When you click on the Share Link to Message Page, it will give you the option to share it or copy it.
To find your personal Messenger URL, just go to the Settings tab in the Messenger app.
All you have to do is to add your username (facebook.com/username) to the following URLs:
fb.me/msg/username
m.me/username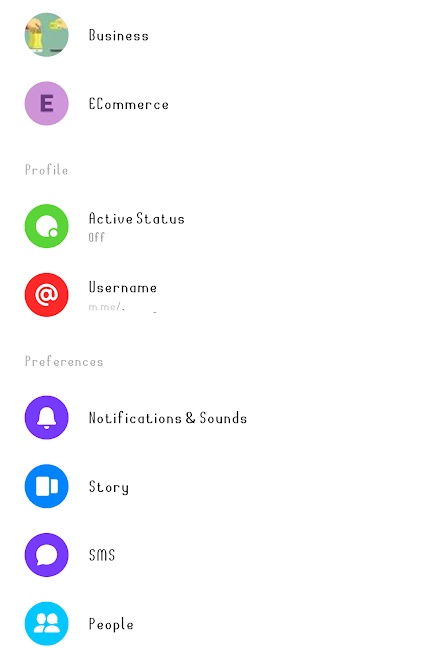 3. Use the Send Message Button
You can easily create local awareness ads directly from your Facebook Business Page. It allows you to target people within a specific geographic location from your shop or other offline location.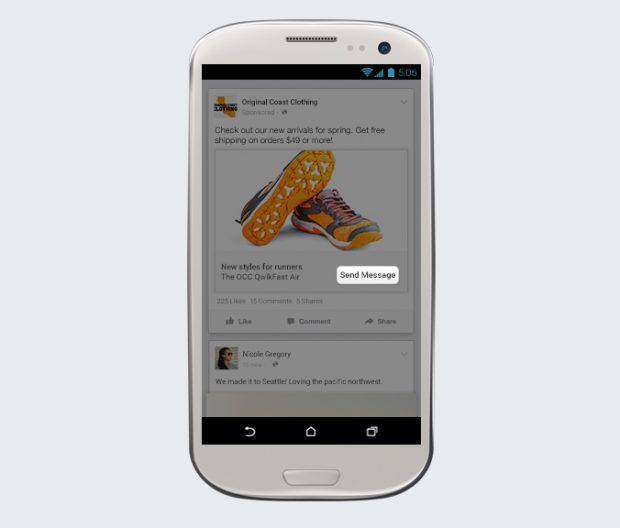 Adding the Send Message call-to-action button to a local awareness ad encourages potential customers to contact you directly.
4. Give Customer Care
When your customers face a problem with you, they'll like to tell you about it on social media. There are a few ways Facebook Messenger can help.
Respond privately to any public messages
Sometimes customers will ask service questions, comments, or concerns directly on your Facebook page, rather than sending you a private message. But since these are public posts, it's not a great way to deal with any issues that require personal information, like an order or customer number. Rather than send your customer a private message or email with the information you need.
The actual post will remain visible as a public post, but it will show a message displaying that you responded privately.
Provide customer service directly through Facebook Messenger
Facebook Messenger can also be a dedicated customer service way for your business. In fact, it's easier for customers to find you on Facebook than to find out your customer service email address on your website.
If you're going to use Facebook Messenger as a customer service medium, it's important to monitor your messages at all times. Customer satisfaction makes a difference in any online business.
5. Use Chatbots
Chatbots is one of the most exciting ways to use Facebook Messenger. They allow you to automate everything from customer service to product recommendations to provide custom content. The main reason for its huge popularity is that it is powered with Artificial Intelligence (AI) and Natural Language Processing (NLP).
Dutch airline KLM uses Facebook Messenger chatbots. The company uses Messenger to provide flight updates, send boarding pass, and even change seat preferences.
According to the data by Facebook developer, there are more than 33,000 bots on Facebook Messenger platform.
6. Send Your Location in Messenger
You can send your current location directly through Messenger. To send a location in Messenger,
Open any conversation
Hit the three dots icon on the bottom of your screen
Tap on Location
Move the pin to your wanted location, or search for the location by name
Tap Send

7. Attach a Dropbox File to a Messenger Conversation
You can attach Dropbox files directly to any Messenger conversation. It works perfectly for videos and images, as these display directly in the chat, making Facebook Messenger an easy way to collaborate and get feedback on graphical materials. For other files, in the conversation just tap "open" to open the files within the Dropbox app.
To attach a Dropbox file,
Install the Dropbox app first on your Desktop or mobile.
Open a conversation
Hit on the three dots icon on the bottom of your screen
Choose Dropbox
Select your file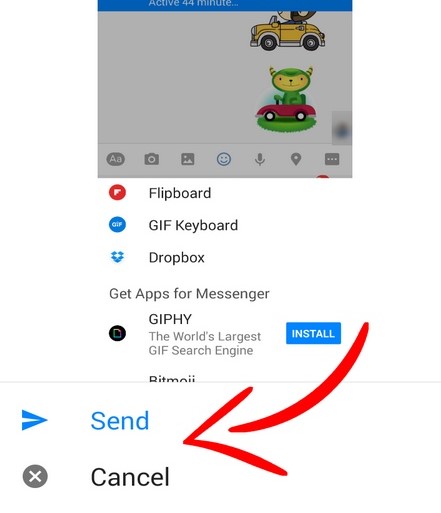 How to Add Facebook Messenger Chat Box to WordPress
You can manually add the code for Facebook Messenger chat to your WordPress site.
But, after working with it, I don't think it's the most user-friendly way to do it, especially when there are several helpful plugins that can do it for you.
It's pretty easy to add a static chatbox, but difficult to add a floating chat widget that looks like other live chat solutions.
If you want to go with it manually, you can always grab the code from the Facebook Page Developers area. Here is the procedure on how to do it with plugins.
With WhatsHelp Chat Button Plugin
WhatsHelp Chat Button plugin can help you connect with visitors over WhatsApp, Snapchat, and more.
To get started, install and activate the plugin. Once you activate the plugin, go to the new WhatsHelp menu in your dashboard and click on the link to generate the button code just like the following screenshot: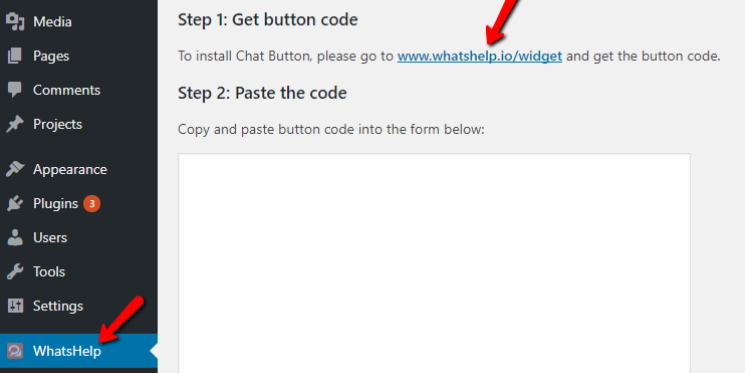 If you want to just use Facebook Messenger, make sure to select only that option. You'll then need to enter your Facebook business page's URL, as well.
You can also customize the message and styling for the button. For each option, you can always view a live preview in the bottom right: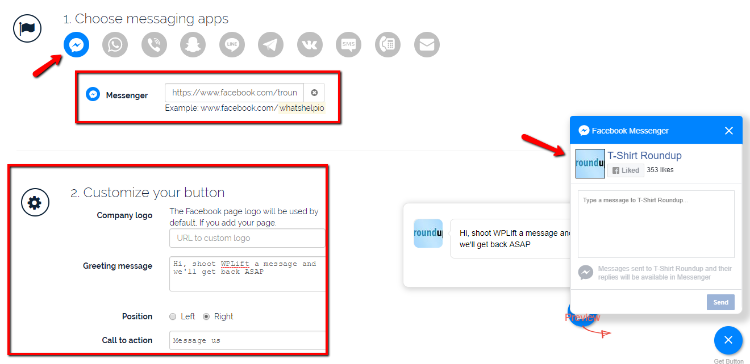 Once you're your button settings will complete, you just have to enter your email and click Get Button Code to see the widget code:

Copy that code and return back to the WhatsHelp page in your WordPress dashboard. Then, paste the button code in the box and click Save Changes: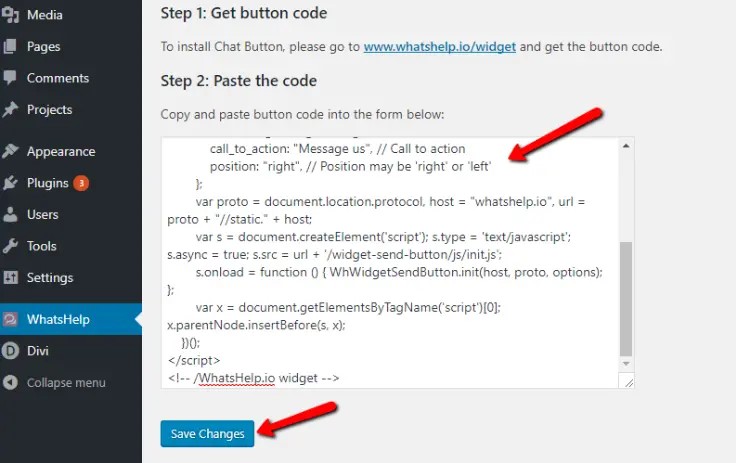 Your Facebook Messenger chat button will look like: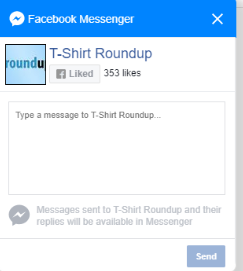 Final Thoughts
Facebook Messenger for business is an excellent tool for instant contact and connection with prospects and customers. Online businesses that adopt the channel early stand to benefit the most.
Your customers, and especially millennials, love this platform and there are lots of ways to build attraction. In my experience, consumers require very little encouragement to start using the platform. A simple button on a website or Messenger code is enough.
With Facebook Messenger, you are interacting with customers directly in a much more efficient way than over the phone or email. As long as you are providing great customer support, this channel will return you a good return.
If you have already joined Facebook Messenger for a business journey, I would like to hear about your insights and learnings. Leave them below in the comments!
https://wphive.com/business/facebook-messenger-for-business/
Saif Hassan
Product Manager by passion & profession. Lead Product Manager at weDevs, former PM @ Poptin. Passionate about writing & tech. He's an advocate of Human-Centered Design and believes that websites and the tools used to build them should be well crafted, intuitive, and accessible. Cyclist. Reader. A WordPress ninja 🥷, HCI expert & a design thinker 💡

Subscribe To Our Newsletter