WordPress 5.3 "Kirk" Released With New Features and Improvements

WordPress 5.3 is released now. The new version introduces over 150 new features and improvements. As mentioned by Matt during the WordCamp US, many promised features have made its way to WordPress.
As you might know that the dev team already released the beta version of WordPress 5.3. If you missed the changelog in the beta version read our previous coverage.
Before you update, don't forget to backup your site!
WordPress 5.3: New Features & Improvements
WordPress 5.3 focused on expanding and refining the WordPress Gutenberg Block Editor, which was first introduced in WordPress 5.0. There are some excellent additions in this release, including the shiny new Twenty Twenty theme, better image handling, admin interface enhancement and more.
Faster and More Intuitive WordPress Block Editor
WordPress 5.3 introduced Motion to make interacting with your blocks "feel swift and natural." While using the Block Editor you will feel more "smooth" and not clunky to use. Additionally, the Block Editor is significantly more lightweight now and the page load has been decreased from 60 milliseconds to 40 milliseconds.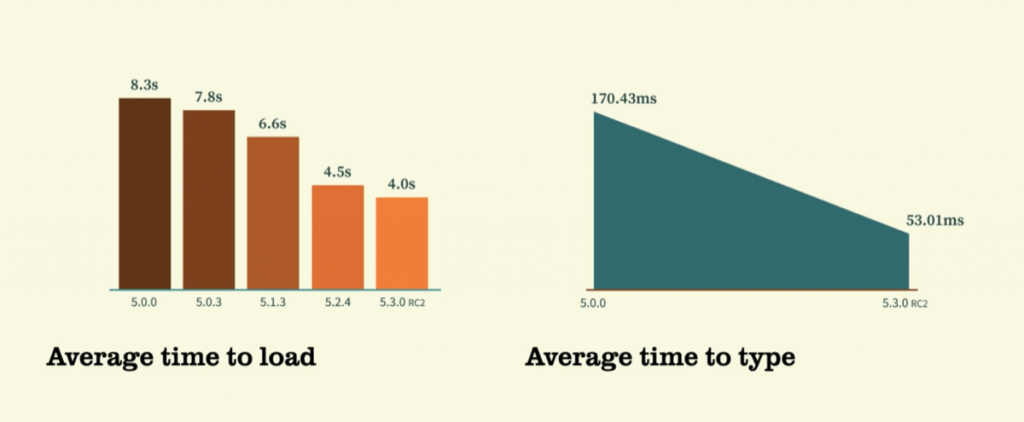 Preview of Blocks with Better Explanation
WordPress 5.3 expands the information on the "Add Block" menu. You'll now be able to see a preview of how the individual block looks with a better explanation of what the block does. This small addition greatly improves the process of picking out the right block if you're not sure which one to use.
To see preview and explanation, click on the "+" sign in the top navigation menu. Hover over any block in the list to see the info on the right window.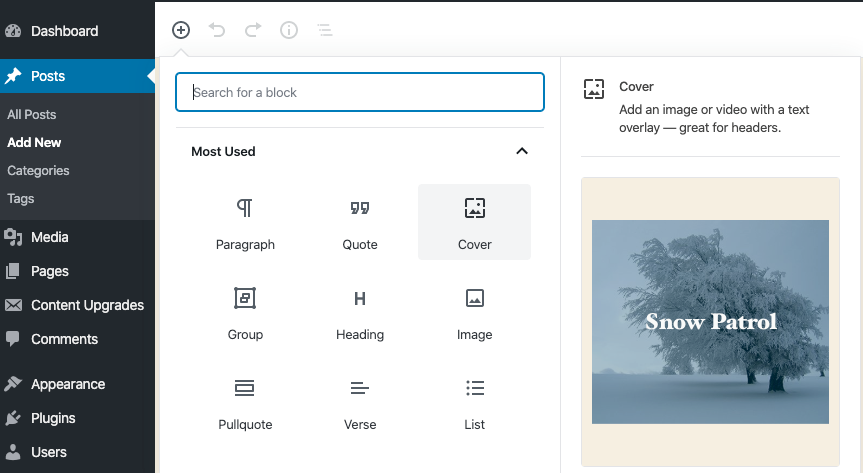 Support Large and High-Resolution Image
WordPress 5.3 includes improved support for uploading high-resolution and large images. The updated version introduces large-image detection and automatically generates a "web-optimized maximum size" of them.
Images are now immediately resized to 2560px on upload, becoming the new "full" size. If your image has been automatically resized, "scaled" will be added at the end to the file name. WordPress will also retry generating image sizes if it failed to upload due to server timeouts.
New WordPress Default Twenty Twenty Theme
WordPress 5.3 included a new bundled default Twenty Twenty Theme. "Keeping the flexibility at its core", the theme is bold, bright with improved typography.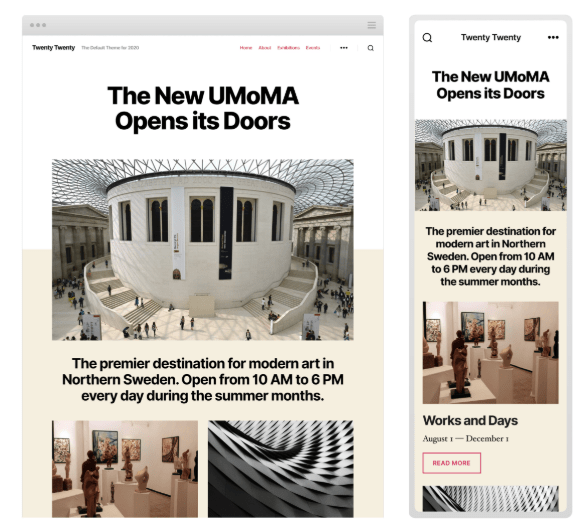 The Twenty Twenty theme fully integrates with the Gutenberg Block Editor leverages the best of it.
Designers may appreciate that Twenty Twenty comes with a new typeface Inter, designed by Rasmus Andersson. As a first for WordPress default themes, Inter comes with variable font support, which keeps load times short by containing all font sizes and styles in just two font files.
WordPress Admin Interface Enhancement
After updating you'll immediately notice some changes to the look of the WordPress admin UI. These changes are primarily concerned to improve accessibility.
In the admin dashboard, you'll immediately notice some of the changes in 5.3.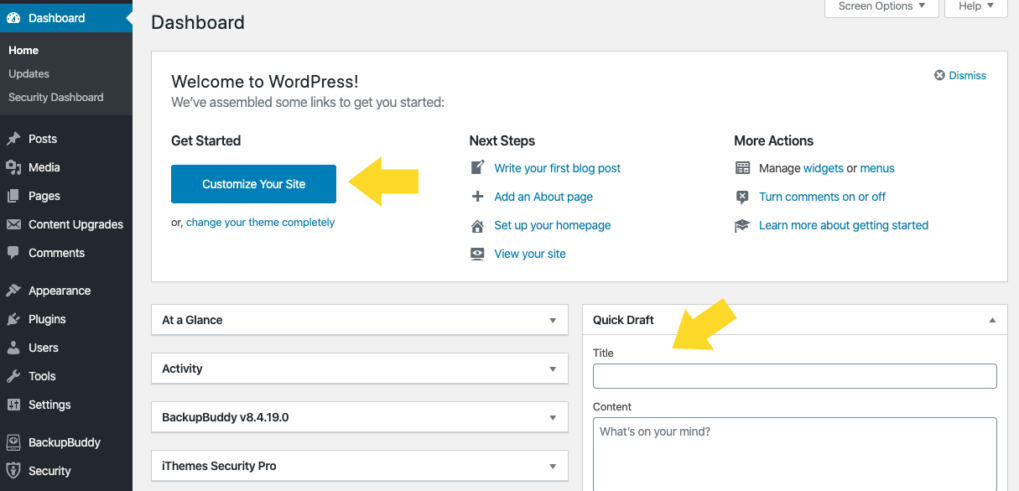 Better Page or Post Editor Preview
You will face a new preview experience as you use the Block Editor while creating a post or page.
The new default Twenty Twenty Theme definitely improves the experience of using blocks.
Navigation Mode
In WordPress 5.3 a new Navigation Mode has been introduced to the Block Editor. You can move from block to block by using the keyboard Tab key.
You can also use the arrow keys to navigate between different blocks. Once you reach the desired block that wants to edit, you can enter the Edit Mode by pressing the Enter key. Use the Esc key if you want to move back to the Navigation Mode.
New Group Block
In WordPress 5.3 several new WordPress Blocks have been introduced. The new Group block allows you to group other blocks together and easily divide your post into colorful sections with background color options. You don't need to go in and set a background color for each block.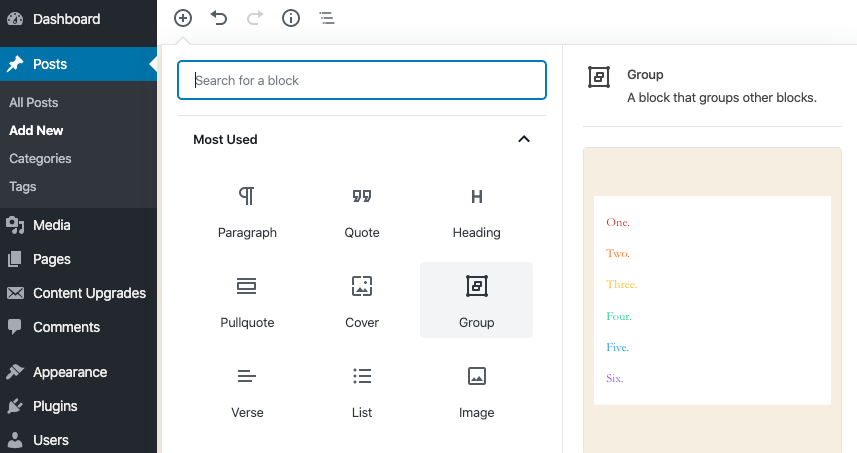 New Spacer Block
You will find a new spacer block inside the "Layout Elements" option. In the top toolbar, you can show block settings to set the height of the spacer block in pixels.
Or you can also use the blue dot to activate a new "interactive" sizer, which is also pretty cool. The height in pixels will adjust automatically.

Improvements in Column Block
In updated version improvements have been made to the Column block. Now the Columns block supports fixed column widths, resize columns and align columns.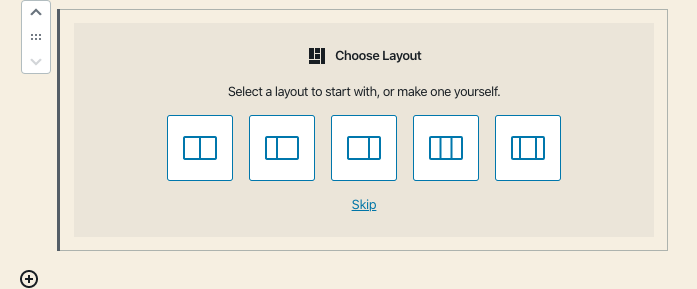 Cover Block Improvements
Now you can set a background color to the Cover block. It allows you to add an image or video with a text overlay, such as for a header.

You can also use the same interactive sizer to change the size of the header block.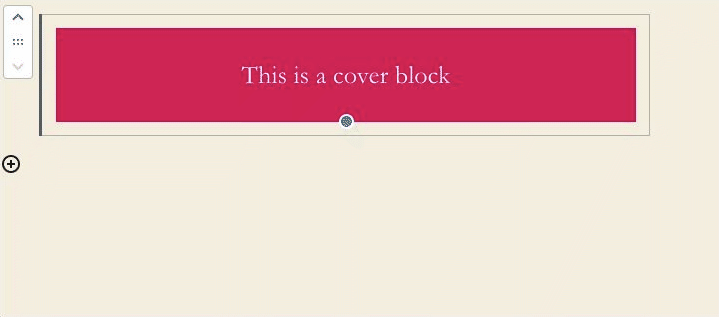 Deeper Customization to Button Block
In WordPress 5.3, you can customize the button blocks with a radius from the block editor. You don't have to do it via CSS.
Table Block Supports Header/Footer Rows & Alignment
Table Block supports header/footer rows and table alignment, available from Block Settings.
Heading Blocks Color Change
With WordPress 5.3 you can control text and background color. The default colors depend on the theme. You can also use the Custom Color link to select a color.
Accessibility Improvements
WordPress 5.3 includes overall accessibility improvements. These improved accessibility issues such as color contrast on form fields and buttons, consistency between editor and admin interfaces, new "snack bar" notices and standardizing the default WordPress color scheme.
Automatic Image Rotation
The updated WordPress version supports automatic image rotation. Upon upload, images will be perfectly rotated according to the embedded orientation data.
Admin Email Verification
When you log in as administrator each and every time you will get an email verification. This reduces the chance of getting locked in your site if you change your email address.
Site Health Status Tests
The new version makes it even easier to identify issues. The specific improvements include changes to the grading indicator, recovery email enhancements, and new filters to complete Site Health status tests.
Other Improvement
There are many improvements in WordPress 5.3 for developers. See the official Press Release for full coverage.
Earlier WordPress versions used robots.txt to discourage search engines from indexing a website. WordPress 5.3 introduced a page-level meta tag instead.
WordPress 5.3 is also fully compatible with the upcoming PHP 7.4.
It also comes with improved data and timezone functions. This helps developers use them better.
How to Update to WordPress 5.3
WordPress 5.3 is released publicly for all users. You'll see the WordPress version update notification in your admin dashboard. Or you can download WordPress manually from the following link.
You can simply click to update. Again, don't forget to backup your site before you updating WordPress.
https://wphive.com/reviews/wordpress-5-3-released-with-new-features/
Saif Hassan
Product Manager by passion & profession. Lead Product Manager at weDevs, former PM @ Poptin. Passionate about writing & tech. He's an advocate of Human-Centered Design and believes that websites and the tools used to build them should be well crafted, intuitive, and accessible. Cyclist. Reader. A WordPress ninja 🥷, HCI expert & a design thinker 💡

Subscribe To Our Newsletter