WordPress with Gutenberg: Released on November 19 2018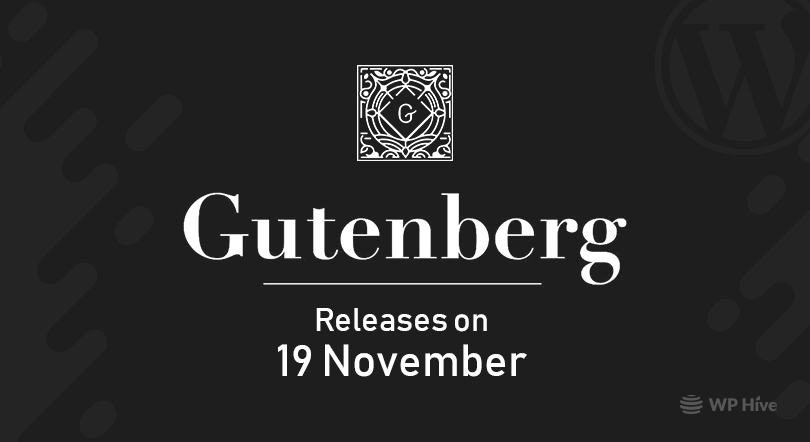 It's official. The much-awaited version of WordPress, known as "WordPress 5.0" will be released on November 19, 2018, with Gutenberg as the default editor of WordPress.
WordPress 5.0 with out of the box Gutenberg support would be released on November 19 2018
WordPress 5.0 is inching closer to a full public release. Gary Pendergast wrote a blog post about the scopes of WordPress 5.0 and proposed a schedule for the next major version of WordPress. WordPress will be having the most significant change in its history with Gutenberg.
The editing system has been the same from the beginning of WordPress. There were updates in the security system, changes in installing but WordPress never had any significant changes in the editing system. That changes with WordPress 5.0 with the release of Gutenberg.
What is WordPress Gutenberg and Why Should I Care?
Gutenberg is not about the old German man who introduced mobile printing in Europe and brought the printing revolution; we are talking about the new WordPress editor naming Gutenberg. Gutenberg will be the default WordPress editor in WordPress 5.0.
Until WordPress 4.9.8, Gutenberg exists as a plugin. However, in version 5.0 Gutenberg will be the default editor replacing the tradition WYSIWYG – What You See Is What You Get editor. Gutenberg takes the editor more seriously and considers it more than a content field to publish your writings.
Gutenberg New Features
Maybe there will be a time in the future when people will think "How can people use WordPress without Gutenberg editor?" Gutenberg offers some of the most excellent and intriguing features right now. But people always are afraid of changes. So the old users of WordPress are a bit skeptical about this new editor.
The New Writing Experience with WordPress 5.0
The new editing system offers neat and clean spacious writing space. You can almost design how your page will look. Gutenberg introduces block system. Contents now come in blocks.
Paragraphs, images, videos, links, Quotes all of these come in the form of a block. And the amazing thing is each block can be customized separately as you can imagine. So instead of just the writing space before you have the whole page to edit. You can edit every element of that particular page. Like those excellent visual editors already available in the WordPress repository.
How to use Reusable Blocks in WordPress 5.0 Gutenberg
Reusable blocks reduce your work to a great extent. Suppose you have designed a block and you love it. You can save this and use it repeatedly whenever you feel like. It is kind of applying the same Instagram filter to all your photos! So you have more control over the appearance.
You can edit the lowest level of the elements on your page. That is really cool!
How to Opt Out from WordPress 5.0 Gutenberg Editor?
Gutenberg is going to be the default new experience for all the users starting from WordPress 5.0 Gutenberg. So there will be an opt-out option too. Gutenberg is to be the default system by a pre-activated plugin. If you do not want a new experience, and you are quite comfortable with the old WordPress editor and already love how WordPress works, you can always opt-out from this experience. When you are ready, you can switch back, by deactivating the Gutenberg plugin. In a couple of clicks, you can go back to the old WordPress editor.
If you still have confusions about what Gutenberg is, how it works, here is a great YouTube video made by the Envato team.
There are some compatibility issues with many plugins with Gutenberg right now. But Matt Mullenweg wants all of those solved soon. Hence, the release date has been delayed for a few times. However, this time WordPress core team expects to deliver right on time.
In Conclusion
We can expect that WordPress 5.0 will arrive for everyone as a General Release on November 19th. The point is whenever the new version comes, Gutenberg will be there. Many people who did not like Gutenberg or does not want to switch to the unique experience. But adapting to a new system have the potential to boost your creativity and productivity even more. Let's all give the new Gutenberg Editor a try? I am sure it will be easier to create great websites with WordPress even more. Time will tell if the community accepts Gutenberg as the future of WordPress or not. If you are intimidated by WordPress and its prospect, you can always look for alternatives such as Wix.
https://wphive.com/news/gutenberg-release/
Saif Hassan
Product Manager by passion & profession. Lead Product Manager at weDevs, former PM @ Poptin. Passionate about writing & tech. He's an advocate of Human-Centered Design and believes that websites and the tools used to build them should be well crafted, intuitive, and accessible. Cyclist. Reader. A WordPress ninja 🥷, HCI expert & a design thinker 💡

Subscribe To Our Newsletter