7 Best WordPress Podcast Plugins to Grow Your Audience in 2023

Podcasts have been around for over two decades. However, their popularity skyrocketed recently; precisely during the Covid times. Now more people are involved with podcasting (both listener and creator) than ever before.
Thanks to WordPress for making this journey easier. If you have a WordPress website, you are only a few steps away to turn it into a podcasting platform.
You just need to choose and install the right podcast plugin on your site and connect it with a podcast hosting provider. To make your journey even smoother, we are going to share the best WordPress podcast plugins with you.
Stick with this blog if you want to choose the perfect podcasting plugin for your website as per your budget and requirements.
Why You Can't Ignore Podcasting in 2023

If you are planning for a WordPress podcasting website, it's high time to shape your plan. The upward growth of podcasting proves that people are accepting podcasts as their favorite source to learn something or get engaged with.
"A study conducted in 2021 found that nearly six in ten (57 percent, to be exact) consumers above the age of 12 in the US have listened to at least one podcast"

Statista, 2021
Not only Americans are getting acquainted with podcasts but outside of America people are listening to podcasts as well. There are nearly 700,000 active podcasts right now in 100 different languages. It has been a great way of attracting users and building a community.
This growth is an ongoing process. Podcast popularity will only be increasing in the upcoming years. It's anticipated that by the end of 2025, there will be over 144 million monthly podcast listeners in the US.
Statistics show that 54 percent of podcast listeners are either somewhat or much more likely to consider buying from a brand after hearing its advertisement on a podcast. So, why don't you take this platform as an opportunity to promote your brand and your expertise in front of thousands of potential customers?
7 Best WordPress Podcast Plugins for Beginners in 2023
Choosing the best WordPress podcast plugin from the ocean of alternatives is difficult and confusing. However, we have done this job depending on a few parameters. Like, we have taken features, user ratings, pricing, ease of use, popularity, responsiveness, and a few more parameters under consideration while making this podcast plugin list.
So, first, take a quick look at which plugin we are going to highlight today.
MP3 Audio Player for Music, Radio & Podcast
PowerPress
Seriously Simple Podcasting
Buzzsprout Podcasting
Simple Podcast Press
Fusebox
Libsyn Publisher Hub
You can use these plugins to not only add a podcast audio player on your site, but also manage podcast episodes, automatically upload episodes to iTunes, easily share affiliate links, track podcast downloads, and more.
To know more about each of these plugins, let's explore it deeply.
Featured Plugin: MP3 Audio Player for Music, Radio & Podcast

MP3 Audio Player is a super simple WordPress podcast plugin for beginners who want to launch their first-ever podcasting website.
Just create a playlist, upload your files there, and add that playlist to any of the pages or posts. That's all you need to do to publish your podcast and connect users through your site.
This plugin is fully compatible with the Elementor page builder. You can change its colors, fonts and alignments without writing a single line of code using Elementor.
If you are a Gutenberg power user, you have good news as well. It's Gutenburg Block ready to work and rock. There is also a bulk playlist creation tool in the pro version. You can use it to select multiple MP3 files and it will create posts, products and custom post in 1-click!
MP3 Audio player allows you to get a full admin report of which tracks and playlists perform the most during a given time. Then you can filter it by day, week, and month and know how many times a track has been played and downloads you get right from your WordPress dashboard.
Key Features
SEO optimized, fast-loading, and super simple to use.
Create unlimited audio albums and playlists.
Continuous audio playback, slick player controls, and stunning soundwave bar.
Support unlimited MP3, MP4, audio streaming, and radio streaming.
Provide real-time analytics of the uploaded albums and track performances.
Automatically fetches ID3 Tags from your MP3 files and show an optional MP3 waveform chart.
User-Ratings: 4.8/5.
Pricing: Basic plan starts at $39 per year for one website.
"Explore More About MP3 Audio Player for Music, Radio & Podcast"
1. PowerPress

The PowerPress Podcasting Plugin is a leading WordPress podcasting tool for managing your podcasts and distribution from right inside WordPress. It lets podcasters submit their shows to podcast distributors, and embed podcast and video players on their websites.
PowerPress offers two modes: simple and advanced. The simple mode is free and designed for beginners to start publishing as quickly as possible. Advanced mode is for professionals and it comes with paid plans.
PowerPress is an SEO-friendly plugin as well. With this plugin, you can make your podcast visible on search engines and in the iTunes podcast directory. It even allows you to import your podcast from other podcast RSS feeds like SoundCloud, LibSyn, PodBean, and Squarespace. There's also a subscription tool, which can help you convert website visitors into podcast subscribers.
Key Features
Integrated HTML5 media player with YouTube and other support, allowing you to easily embed your video podcast into WordPress.
Simple integration with MemberPress allows you to create a paid podcast with extra episodes, an ad-free experience, or more SEO tools to increase discoverability and growth.
You can import your podcast without losing episodes from SoundCloud, Libsyn, PodBean, Squarespace, Anchor, or any other valid podcast RSS feed.
Supports audio and video players.
User-Ratings: 4.6/5.
Pricing: Without the Blubrry hosting, the plugin is free to use. If you want to use Blubrry to host your podcast, the plan starts at $12/month for 100MB of monthly storage.
"Explore More About PowerPress Plugin"
2. Seriously Simple Podcasting

Seriously Simple Podcasting is a user-friendly podcast plugin with a plethora of features. It is one of the best podcast plugins for WordPress.
With the Seriously Simple Podcasting plugin, you can manage multiple podcasts from a single website, each with its own RSS feed. It also lets you make audio and video podcasts. Moreover, you can view statistics and additional add-ons.
It has its own podcast hosting platform called Castos podcast hosting, which you can use to host your files if you want. Alternatively, you can host the files wherever you want.
Key Features
Manage multiple podcasts from the same site and create separate RSS feeds for each podcast.
Makes unique subscribe button for each podcast you produce. To add episodes, playlists, and archives to your WordPress site, you can use shortcodes and widgets.
Allows you to create video podcasts on your YouTube channel.
You have the option of customizing the podcast media player to your liking.
Podcasting (audio and video) is supported.
User-Ratings: 4.7/5.
Pricing: The plugin is completely free to use. However, if you want to host your podcast with Castos, the price starts at $190/year for unlimited storage and bandwidth.
"Explore More About Seriously Simple Podcasting"
3. Buzzsprout Podcasting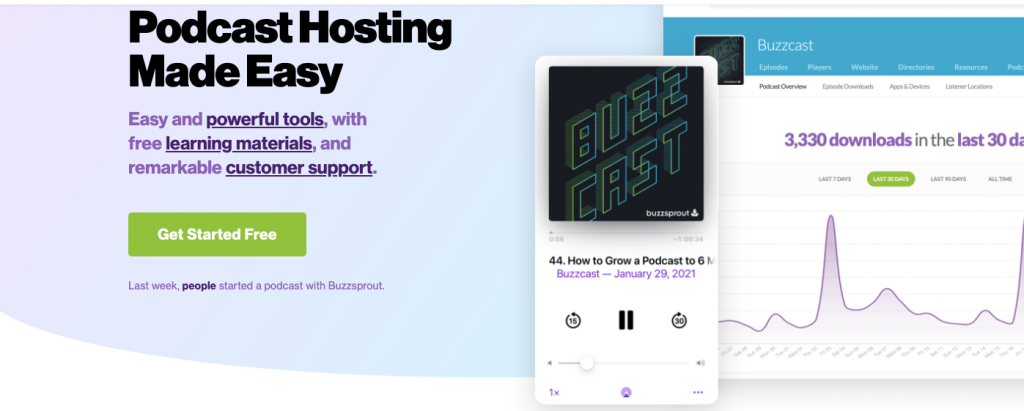 Buzzsprout podcasting is a very popular and well-known podcast plugin that's also a complete podcasting service, and one of the best audio plugins for podcasts. They offer podcasting promotion and podcast hosting as well. If you are planning on podcasting for less than 2 hours a month, many people may tell you it's the best free podcast plugin for WordPress.
However, if you are going to use Buzzsprout free version, you won't get the regular update. As Buzzsprout hasn't been tested with the latest 3 major releases of WordPress.
Key Features
Simple and easy-to-use user interface.
Automatic audio optimization as your file is uploading.
Ability to easily sync your episodes to popular podcast directories including Stitcher, iTunes, Google Play, Spotify, and more.
Use podcast shortcodes from the free WordPress plugin to add your episodes anywhere on your WordPress site.
User-Ratings: 5/5 (only 4 ratings).
Pricing: Buzzsprout comes with a free plan that offers 2 upload hours each month. Paid plans start at $12/month and include 3 upload hours each month with unlimited storage. All paid plans include 250GB of bandwidth per month.
"Explore More About Buzzsprout Podcasting"
4. Simple Podcast Press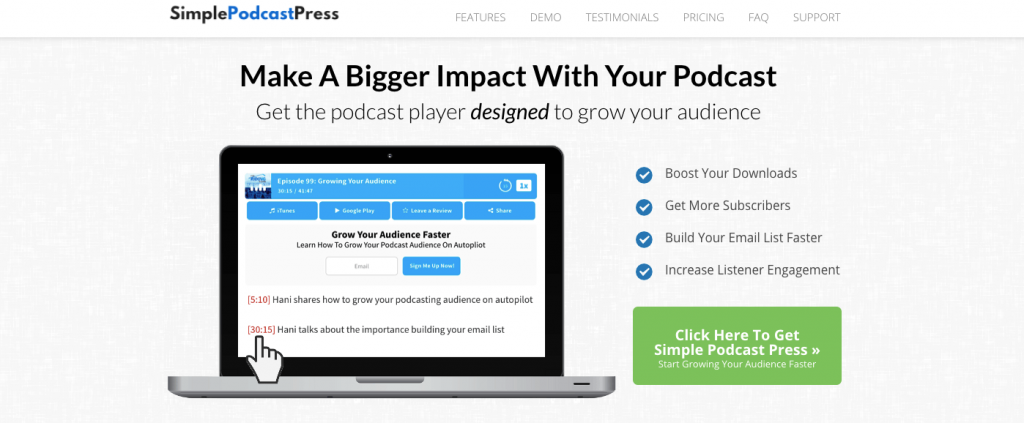 Simple Podcast Press is a premium plugin with a yearly license fee. The plugin allows you to embed a beautiful player into your posts and pages. It also comes with the ability to automatically publish episodes to your WordPress site.
The podcast player is optimized for mobile devices and includes subscribe buttons as well as custom calls to action which can be used to insert any link on your site, your products, affiliate links, or even your email opt-in forms.
Key Features
Supports all major podcast feeds such as LibSyn, SoundCloud, PodBean, Buzzsprout, Blog Talk Radio, and more.
Mobile Optimized player.
Automatic publishing.
Clickable timestamps.
Worldwide iTunes reviews.
User-Ratings: No free version.
Pricing: Basic plan starts at $67 per year for one website.
"Explore More About Simple Podcast Press"
5. Fusebox

The Fusebox WordPress podcast plugin is a very smart option that values design as well as features. This is one of the most customizable plugins in this list with a wide range of design options whether you know CSS or not. It has a selection of default designs to choose from or you could build your own.
Fusebox is also very feature-rich. It includes a customizable audio player with download and share options, a subscribe option with email opt-in, and tools to manage podcasts depending on your needs. You can also create individual podcasts, create series, highlight clips, and generally manage podcasts as you like.
Key Features
Sharing and subscription tools.
Download option.
Transcription tool for accessibility and SEO.
Powerful customization options for easy integration.
Slick media player with playback speed tools.
The transcription tool makes podcasts much more accessible.
User-Ratings: No free version in WordPress org.
Pricing: Fusebox offers a limited free version and a paid version for $19 per month (or $15.83 per month if billed annually).
"Explore More About Fusebox Plugin"
6. Libsyn Publisher Hub

Libsyn is a very easy plugin to publish your podcasts. Using this plugin, you can connect your Libsyn account with your WordPress site. This allows you to store and upload podcasts from WordPress to Libsyn, freeing up space on your WordPress server.
Libsyn Publisher Hub lets you connect to your audience on all your favorite podcasting platforms: Apple Podcasts, Spotify, Pandora, and more. Plus, they offer smartphone apps that are customized for your show (iOS and Android).
Key Features
Optimize podcast tags for Apple Podcasts.
Allows automatic migration.
Create ID3 tags for your podcasts.
Automatically generates RSS feeds.
Create and schedule podcasts on your WordPress site.
Customizable HTML 5 player.
User-Ratings: 3.9/5.
Pricing: Pricing starts at $5/month for 50MB monthly storage.
"Explore More About Libsyn Publisher Hub"
Choose The Best Plugin to Start Your Podcasting Journey
We hope this blog will help you to find the best WordPress podcast plugin for your website. If you can perfectly plan and launch your podcasting website, the benefits can be tremendous.
This growth of the podcast industry is expected to rise more in the recent future. So, shape your plan with a perfect website and make money from podcasts. Good luck with your success.
If we have missed out on your favorite podcast plugin that you like, you can recommend that one through the comment box below. Or, you can also let us know which one you are going to use from this list. This will help others who have the plan to launch their podcast website in choosing the perfect podcast plugin for them.
And don't forget to please follow us on Twitter and Facebook to get updates from our blog.
https://wphive.com/reviews/best-wordpress-podcast-plugins/
Shams Sumon
Shams is a content writer with a passion for making WordPress topics easy to understand for everyone through conversational and storytelling approaches. With a background in the WordPress industry since 2019, he has developed a knack for breaking down complex technical concepts into digestible bites. When he's not crafting engaging content, Shams can be found watching football matches, catching up on the latest movies, or exploring new destinations to rejuvenate himself.

Subscribe To Our Newsletter