Effortless Project Management with WordPress in Five Easy Steps

Want to make your project management smooth? Before diving into project management, you must know what project management actually is.
PMBOK refers that project is only a temporary endeavor undertaken to create a unique service, result or product.
PMBOK – The Project Management Book of Knowledge is a guide made by PMI (Project Management Institute) which controls the standard of project management.
What is Project Management?
Now let's get to know what project management is, in our words.
Project management is the application of knowledge, skills, tools, and techniques to project activities to meet the project requirements.
Now you might be wondering why project management is important. Well, here's why!
Why is Project Management Important?
A report by StandishGroup in 2003, analyzed 13,522 projects in the United States. They found that only a third of projects were successful (about 30%)

82% of projects were late
43% of projects exceeded their budget
A typical software project life-cycle includes many steps including
Requirements Analysis
Specification
Design
Coding
Verification & Validation
Implementation/Installation
Maintenance & Support
It is important to maintain all the steps to manage a software project successfully. It doesn't matter if you are working on a software project or not. Every project needs careful planning to overcome the three basic constraints – time, scope and money.
That is why you need great project management software to manage your project. There are many paid and free project management tool available on the web. However, if you want to use an excellent WordPress project management plugin, your options are limited.
Not many plugins provide industry-level experience to manage projects with WordPress. Since WordPress targeted bloggers primarily in its early days, the number of great WordPress project management plugins is handful.
However, there are a few great WordPress project management plugins available on the market. We are going to list some of the best WordPress project management plugins and will demonstrate the best one among them.
Also Check: Best Project Management Books
Best WordPress Project Management Plugins
WP Project Manager Pro (Our favorite – was featured on best WordPress plugins)
---
Why Should You Select WP Project Manager?
WP Project Manager is one of the most comprehensive and feature-packed project management tools among the others.

It has got a beautiful design, clean code and it comes from the awesome team of weDevs who is famous for their other plugins like multivendor plugin Dokan. The plugin has both free and paid version.
The free version does the job just fine and has all the primary feature. You can always upgrade if you want more advanced features.
The plugin has support for
✔ Web-based Task Tracking
✔ Project Collaboration for Teams
✔ Advanced Reporting
✔ Milestones
✔ Gantt chart, to-do lists, notification and more!
How to Manage Projects with WP Project Manager?
Step 1
First, you need to install WP Project Manager from WordPress Dashboard. Installing the plugin is straightforward. Follow our plugin installation tutorial if you are having trouble.
Step 2
Navigate to WordPress Dashboard >> Project Manager Projects. You can see all your existing projects from the Kanban view. You can also add new projects by clicking the blue "New Project" icon at the top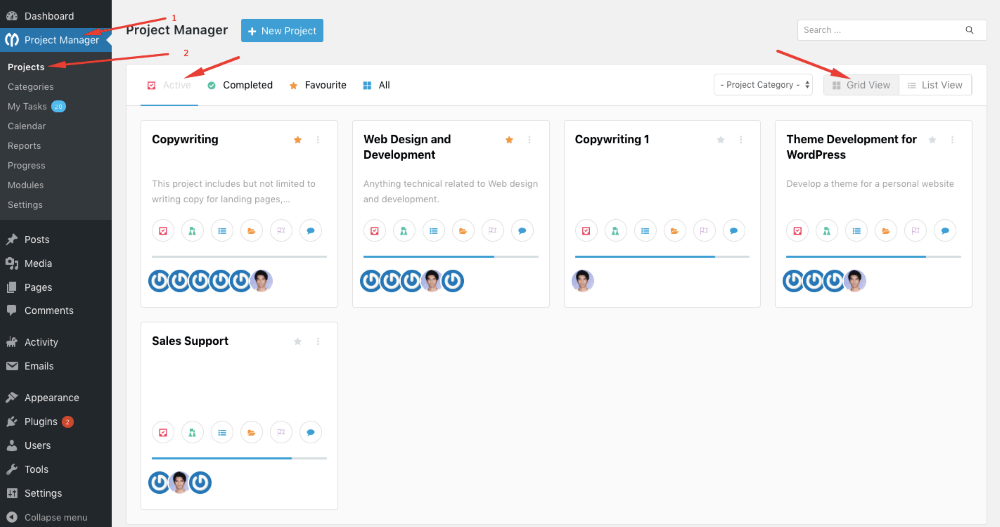 Step 3
You can add new project categories from WordPress Dashboard → Project Manager → Categories.
While adding a new project, you can add users that will have access to that project. Only selected users will be able to access those project.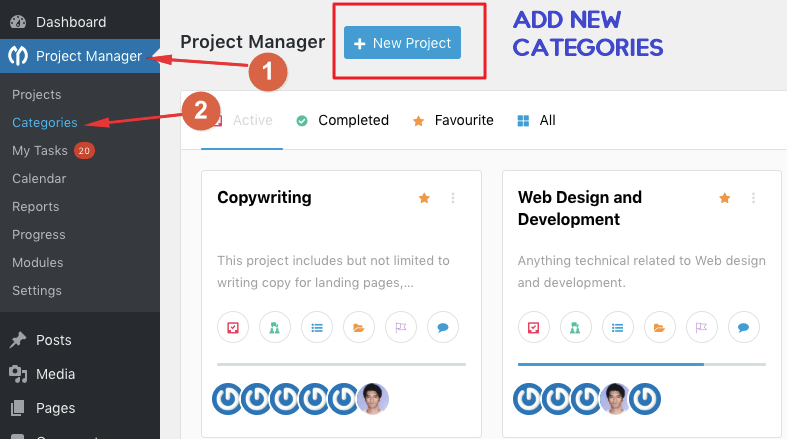 Step 4
Now if you have created your project, and added a user, you can work on the project collaboratively. WP Project Manager allows users to discuss, see activities, upload files. You can also assign tasks to other users.
What is a Task List?
A task list is the most significant part of your project management tool. You can add several task lists to categorize tasks
For example, if you are managing a project named "Testing," there could be categories like Automated Testing and Manual Testing. Task lists can also be tagged with milestones so that you can check progress.
How to Add a Task List?
Navigate to Project manager → Projects → Create a project or click on an existing project → Task lists.
Click Add Task List button to create a new task list.
How to Add Tasks in WP Project Manager?
You can add new tasks by simply writing tasks in the blank area. Pressing enter or the rightmost circled checkbox button will add new tasks to your task list.

You can also customize tasks. For example, you can add specific users by clicking the profile icon. You can click the lock icon to make the task visible only to the users.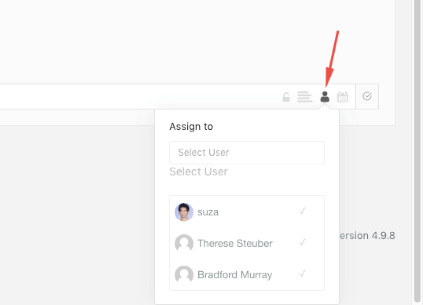 Step 5
One of the many reasons for choosing WP Project Manager as the best project management plugin is the monitoring opportunities by using the plugin.
The ability to monitor the whole task flow is a great advantage to make sure you're on schedule. As a project manager, you want to know what is happening with your projects.
WP Project Manager offers Gantt Chart, Kanban View, Milestones to make sure you have all the best tools in one place to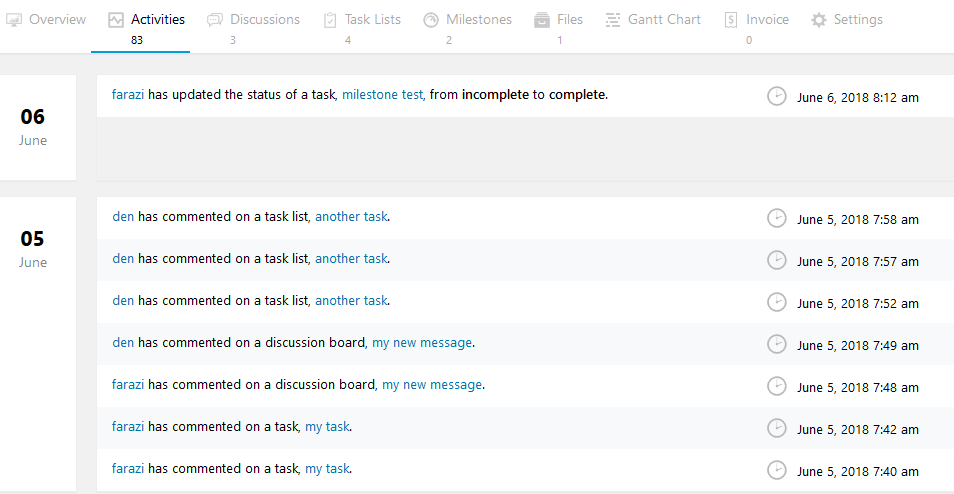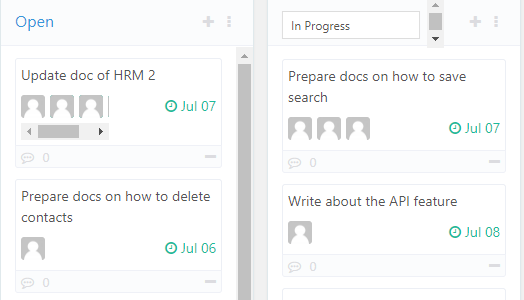 You can use accounting project management software as well to make your job easier and effortless.
Wrapping Up
There's a saying that goes like this.
Good project management does not guarantee project's success. However, bad project management guarantees that your project will fail.
Hence, it is vital to invest in the proper project management tools. We covered WP Project Manager as our go-to plugin, but there are other nice WordPress project management plugins too. You are free to try any of them.
>> Let Me Try WP Project Manager For My Website <<
However, as project managing is very vital, you need to make sure your website loads really fast. Make sure you are managing a fast loading website.
Also, make sure your WordPress website's security is top-notch using our WordPress Security Guide.
https://wphive.com/reviews/effortless-project-management-with-wordpress-in-five-easy-steps/
Saif Hassan
Product Manager by passion & profession. Lead Product Manager at weDevs, former PM @ Poptin. Passionate about writing & tech. He's an advocate of Human-Centered Design and believes that websites and the tools used to build them should be well crafted, intuitive, and accessible. Cyclist. Reader. A WordPress ninja 🥷, HCI expert & a design thinker 💡

Subscribe To Our Newsletter