PeepSo Review – Build Your Online Community with WordPress

The sense of belonging has always been at the core of human psychology. According to Abraham Maslow's theory of hierarchy of needs –
By belonging to a group, we feel as if we are a part of something bigger and more important than ourselves.
In this modern era, it is ever more prominent. In fact, communities now don't just exist physically, but virtually as well. That's why social networking sites are so immensely popular, and there's always a need for newer online communities for like-minded people.
Despite the growing need, building a full-fledged online community is not easy due to its complex structures. Especially if you do not know how to code.
However, one WordPress plugin sought to change it. PeepSo.
In this article, we will share a detailed PeepSo review, covering everything that this plugin has to offer. We will also show you a brief idea of how to use PeepSo. Ready to build your social media without writing a single line of code?
PeepSo – A Brief Overview


PeepSo is a feature-rich plugin that lets you create a social networking community within your WordPress site. Think about creating your own Facebook or Reddit, and PeepSo will get you covered.
The free version of this plugin contains extensive functions, which can help you build advanced community features itself, but the premium version is even more action-packed.
Thanks to the extensions, you can develop a fully-featured social community along with your website's main focus such as e-learning, eCommerce, membership, online marketplace, etc. You can also build a site that is only focused on social networking.
We wanted to share the features of PeepSo with you, as we always do in our plugin reviews. However, in this case, it is quite hard to do that (in a positive way!).
There are simply a lot of features in PeepSo. But thanks to the wonderfully decorated PeepSo demo site, you can play around and get to know its features first-hand.
Our favorite PeepSo features are the following –
User Profile
PeepSo lets you create and publish a clean user profile that is visible to others in the community.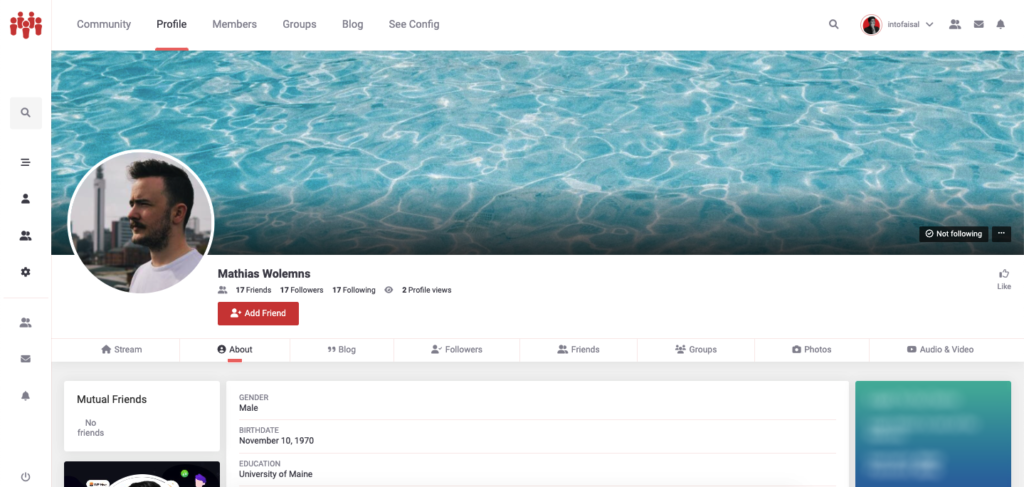 Activity Stream
The activity stream of PeepSo is just like the Facebook timeline. It helps to keep track of friends' posts and posts from the group a user is in.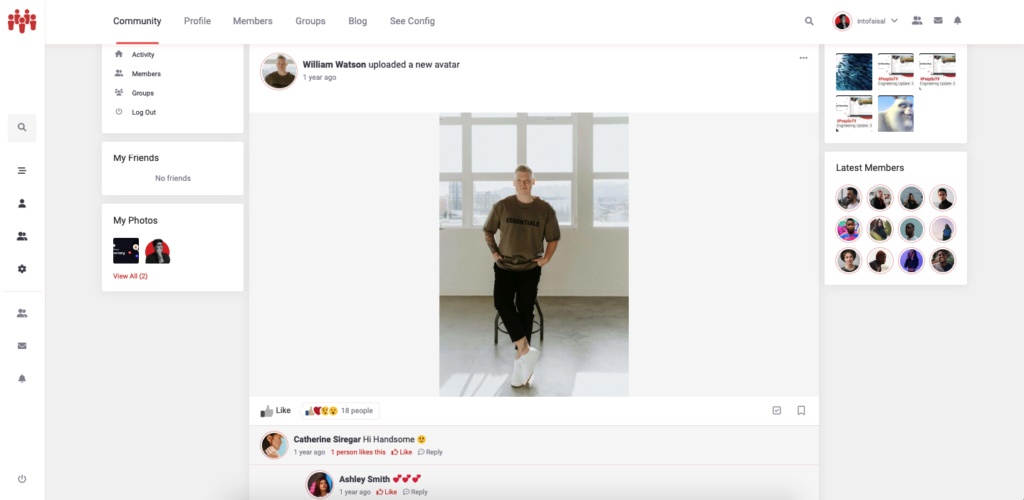 Groups
The groups are just like Facebook groups or subreddits on Reddit. They allow interaction with like-minded people. It is another excellent feature from PeepSo that we loved using.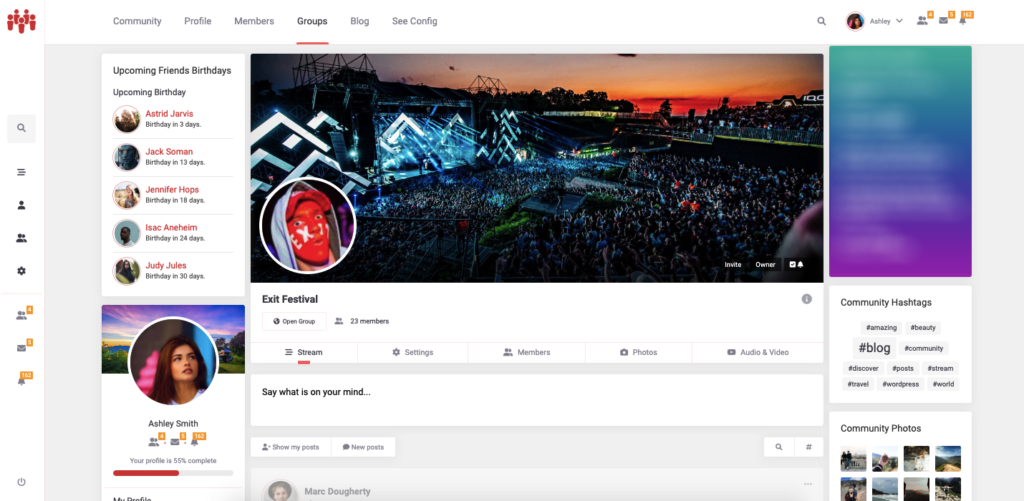 User Interactions
User interactions such as chat, poll, comment, and post-reaction are also available and work great.

Integration
To extend its feature set and allow you to broaden the scope of what PeepSo can do, it integrates seamlessly with the following –
BadgeOS integration
myCRED integration
Mobile App with MobiLoud
Social Login & Invitations
WP Event Manager integration
AdvancedAds integration
EDD integration
LearnDash integration
Paid Memberships Pro integration
WooCommerce, Dokan, and Product Vendors
WPAdverts integration
What Can You Do With PeepSo?
PeepSo has a lot to offer. You have the option to build a standalone social community with PeepSo, yes. But that is not all. You can monetize it in many ways. Here are some of the things you can do with PeepSo (to earn money online).
PeepSo for Online Communities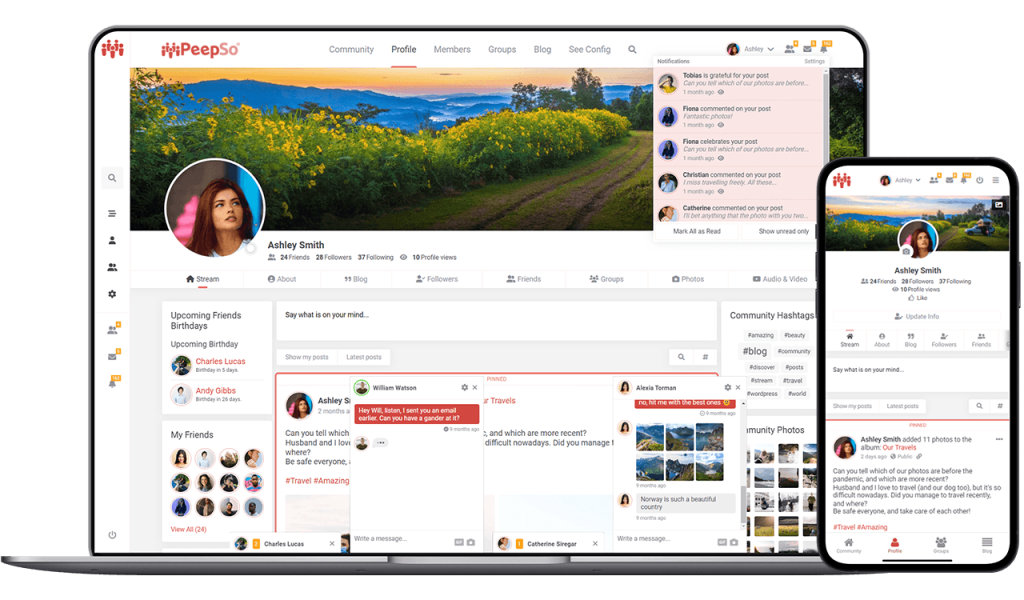 This is the main objective of PeepSo; to help you build your online community. Social networking or community is filled with user-friendly features. However, on top of that, it also offers great monetization opportunities with advertising features within the community powered by Advanced Ads.
Another way you can monetize your community is by charging for registration in your community with the integration of Paid Membership pro. You can even charge only for VIP membership while keeping the regular membership fee.
PeepSo for E-Commerce Website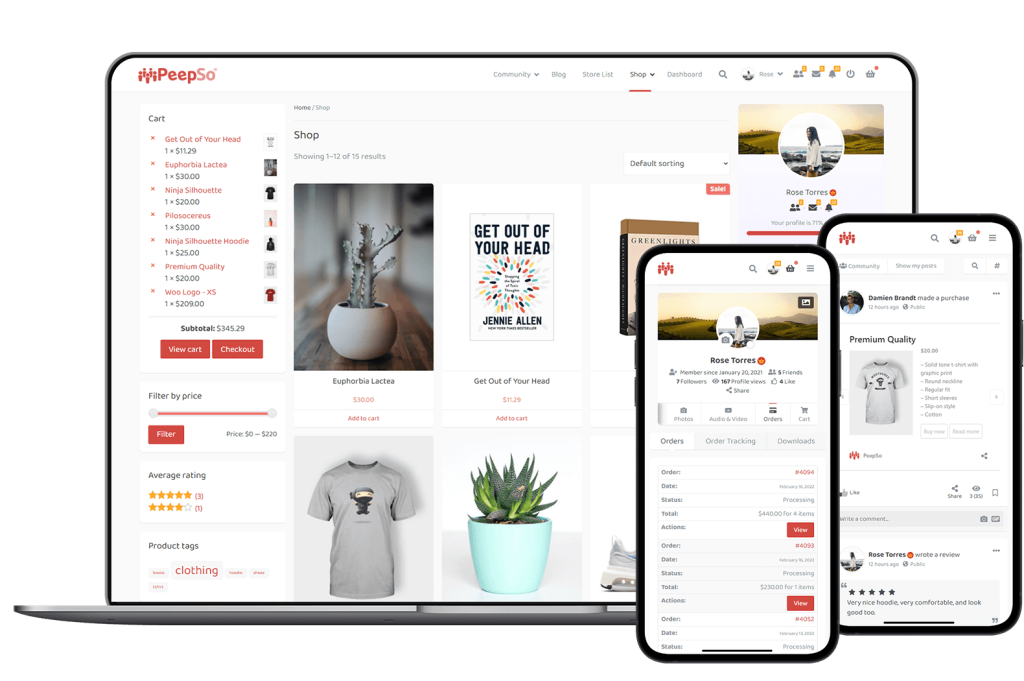 Whether you have an existing eCommerce site where you want to add community features or an existing online community where you want to add eCommerce features, both are possible with the help of PeepSo.
The WooCommerce & Dokan integration of PeepSo allows for a smooth experience for a co-existing community site with eCommerce & multi-vendor features.
PeepSo for Online Learning Websites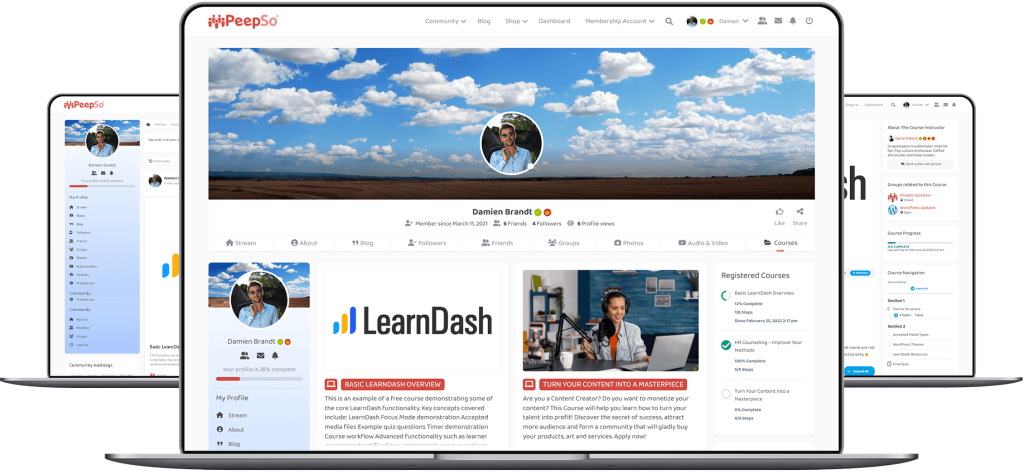 Building a community for an online course website makes a lot of sense. It can be used as a common communication platform where the learners can share their problems and help each other, while the tutors can also reach out.
The LearnDash & Tutor LMS integration makes it easy to add online courses to your PeepSo-powered online community. There are some really cool features that will surely make the experience easy for the developers and the users.
PeepSo for Mobile Apps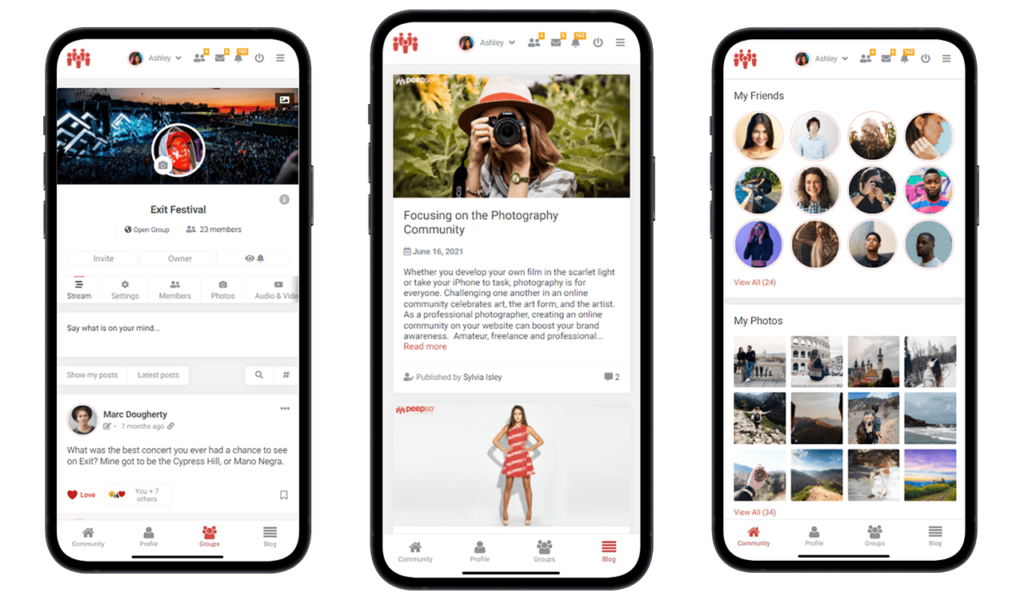 Apps are a must if you want to build a thriving social network. Thanks to the partnership with MobiLoud, it is very easy and convenient to build a mobile app for your PeepSo-powered online community.
You can get native apps for both Android and iOS at as low as $100 monthly fees with the exclusive PeepSo deal.
PeepSo for Online Marketplace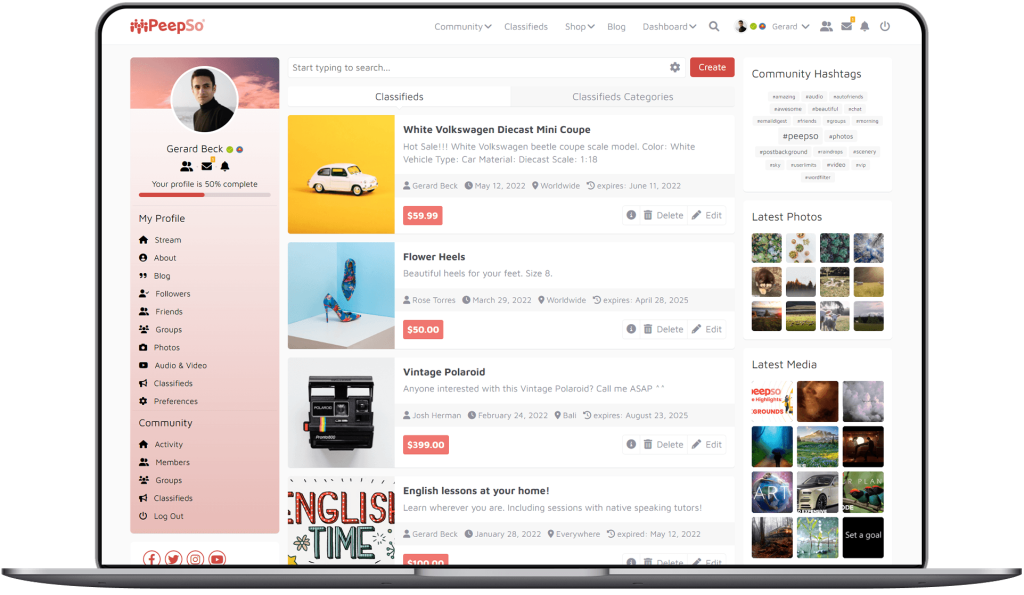 Enabling trading between the users of your community is a great idea. If you want to build an online community equipped with a classified ads marketplace, that is also possible to build with PeepSo.
PeepSo's integration with WPAdverts means that you can easily add classified ads that allow internal trading between your users. Sounds like something your users would love?
Using PeepSo to Build Your Online Community
Now you know why PeepSo is a great plugin and what it offers. Now it's time to build your online community. Because of the sheer number of features, we wouldn't be able to show you every setting. We will, however, show you the installation process and the basic configurations.
You can get an idea of the backend interface and how the configurations are laid out.
Installing the Plugin
Installing the PeepSo plugin is very easy. You can install the free version from the admin area.
Simply navigate to Plugins > Add New from your admin dashboard.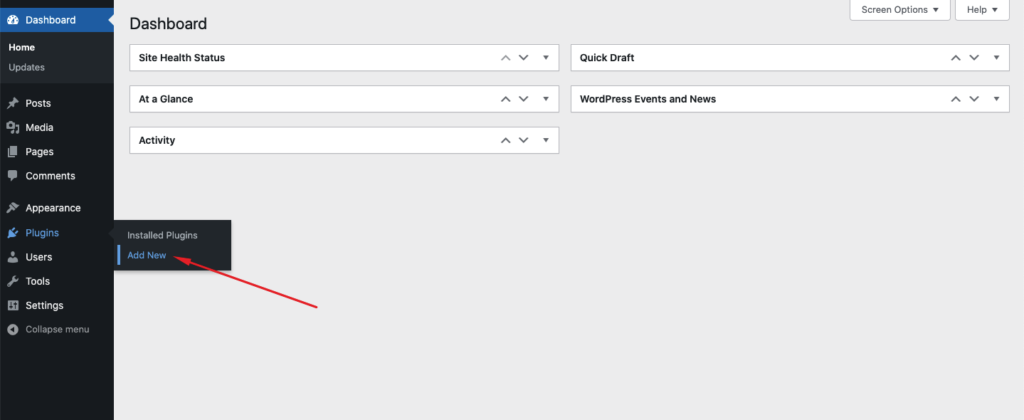 After that, search and install PeepSo.

Once installed, you will find the PeepSo option on the admin sidebar.
From there, click on the option called Installer.

From here, you can either purchase the premium license or insert the license if you already have one.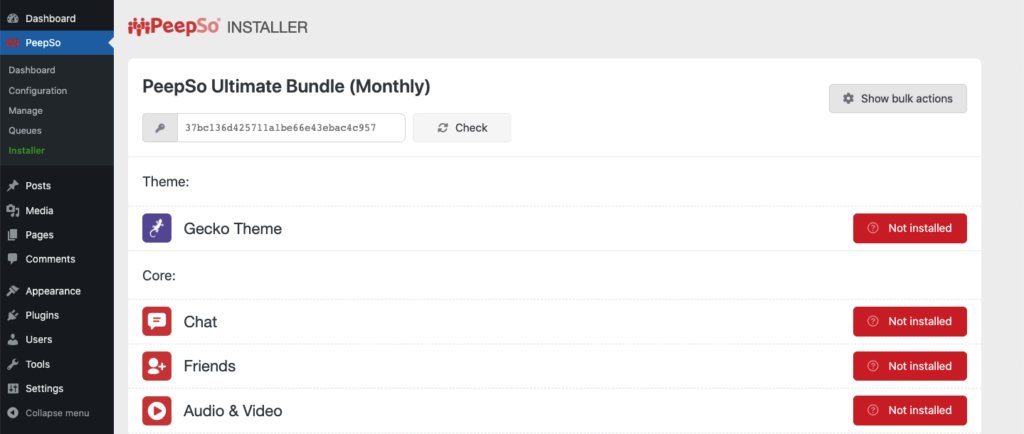 Activating the Addons
After entering the license, on the same page. You will find the option to install –
Gecko theme
And the core features
All of them are pretty much necessary, but you opt to uninstall some of the core features if you don't need them.

On the same page, you can also install the basic and monetization-related integrations. We suggest you only install the ones you need since the plugin can get a bit heavy in terms of memory.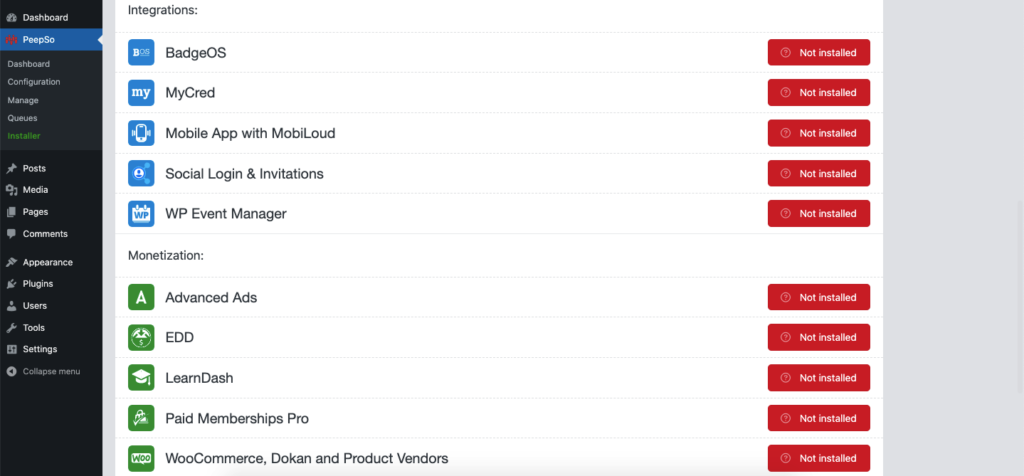 And with that, you're done with activating the features and integrations. Now let's take a look at some of the key configurations of the plugin.
Configuration
After installing and activating the add-ons, navigate to PeepSo > Configuration. You'll see a page like the following.

As you can see from the image above. There are literally a lot of options. However, they are organized quite clearly. Although each option has many sub-options within them, they are quite easy to understand.
The options you will get on the menu are –
General
Appearance
Accounts & Security
Stream Posts
Markdown
Blog Posts
Notifications
Edit Emails
Advanced
Location
Navigation & Filters
Live updates
Each option covers related settings and configurations, that you can customize according to your need.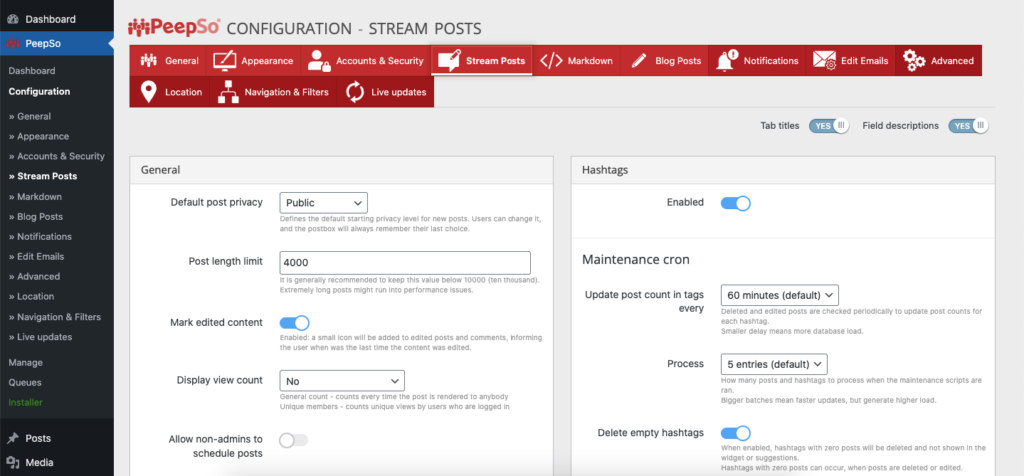 We recommend you keep the Field Description enabled so that you can get a description of each option under them.
PeepSo Pricing
An elementary version of PeepSo is available for free to build your social networking site. However, in order to build a truly extraordinary community, you need to purchase the premium plan of PeepSo.
The Pricing of PeepSo is quite straightforward. You only have two plans.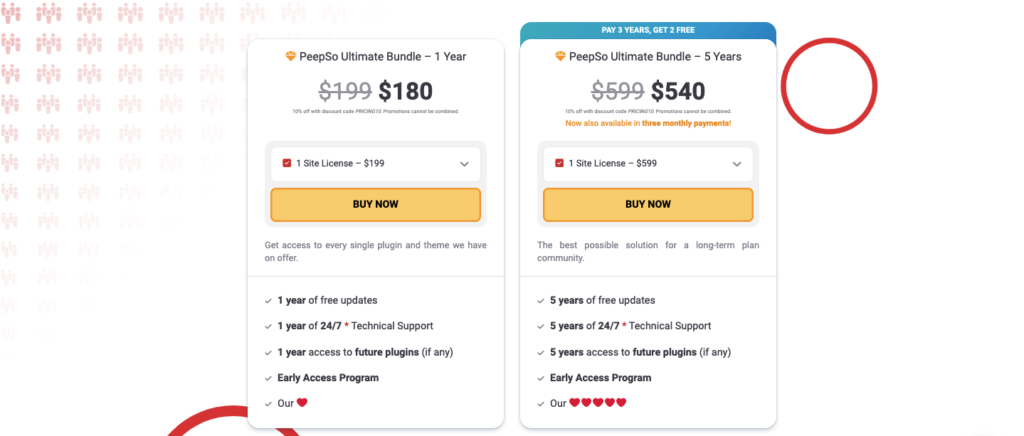 The first plan allows you to purchase PeepSo Ultimate Bundle for 1 year. The pricing starts from $180/1 site. It gets more affordable if you purchase it for more sites.
The second plan allows you to purchase PeepSo for 3 years, and you will get 2 years for free. This starts at $540/1 site and gets lower as you purchase more sites.
Both plans also include free access to any new plugin they release.
However, we were really looking for a lifetime plan. But that wasn't available. But the 5-year plan is okay for most people.
Get a 20% exclusive discount with WP Hive using the coupon WPHIVE20.
Questions You Might Have About PeepSo
It's normal to have a question about PeepSo, especially if this is the first time you're hearing about it. Well, we got you covered!
Is the PeepSo plugin free?
Yes, PeepSo is completely free to use. However, there is also a premium version of PeepSo which can help if you need a comprehensive scalable online community.
How Much is PeepSo?
The price to purchase the PeepSo premium plan starts at just $199.
Is PeepSo mobile friendly?
Yes, PeepSo will let you build a 100% mobile-friendly, responsive site. You can also integrate it with MobiLoud to build a dedicated mobile app for your social community (both Android & iOS)
Is PeepSo better than BuddyBoss?
PeepSo is a feature-rich plugin, just like BuddyBoss. It is also slightly more affordable than BuddyBoss. However, BuddyBoss is also very popular. Which one you would choose depends wholly on your priority.
Is PeepSo compatible with Elementor?
Yes, PeepSo is compatible with Elementor. However, the default theme 'Gecko' that comes bundled with the plugin is often enough to design your community.
What We Think About PeepSo
Our team tried PeepSo during the last couple of days. We were amazed at how many features it offers. Also, the integrations it offers with essential tools make the experience of developing and managing the community more smooth and seamless.
The plugin also comes at competitive pricing.
Overall, it is a reliable plugin to build a social networking site. We think it is a great alternative even if you compare BuddyPress vs Peepso. It is certainly more user-friendly as well. On top of that, the PeepSo support on both free and premium versions is a big plus.
So what do you think about the plugin? Let us know in the comment box below.
https://wphive.com/reviews/peepso-review-build-online-community-wordpress/
Faisal Sarker
Faisal is a tech blogger who excels at WordPress Content Writing. Apart from sharing useful info pieces that help people around the world, he also likes to travel and read books of all genres in his leisure time.

Subscribe To Our Newsletter