How to Add Google AdSense to WordPress (Manually and with Plugins)

Google AdSense is a great way to earn money through blog and video monetization. While there are quite a few ad networks that you can find online, it is still the most popular and easiest platform for marketers to start with.
Did you know- creating a website using WordPress can be both easy and fun?
If the main purpose of creating a WordPress website for you is to earn money by monetizing it, Google AdSense is your go-to platform. So today, we will take you through a step-by-step guide where you will learn how to add Google AdSense to your WordPress site.
Let's start with brief definition of Google AdSense, shall we?
What is Google AdSense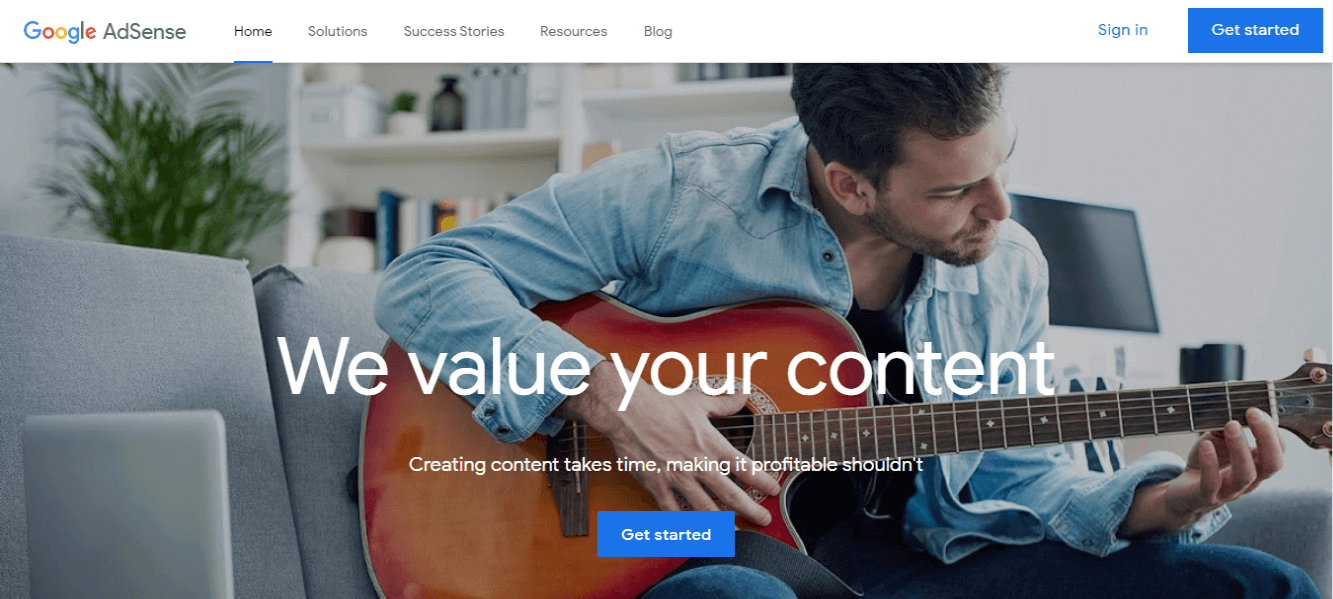 AdSense is arguably the most famous advertising network platform run by Google. It allows bloggers, YouTubers, and website owners to earn money by displaying ads on their websites/channels. These ads are displayed by Google to the visitors using AI for better personalization.
However, despite its large array of features, Google AdSense is an easy-to-use and hassle-free ad program. You don't need to depend on individual advertisers, as Google Adsense will automatically show ads on your content from its huge advertiser-base.
They collect the money from their advertisers, cut their administration fee, and then they will send the rest of the payment to you. Sounds easy, doesn't it?
Why Should You Add Google AdSense to Your WordPress Site?
Google AdSense is a beginner-friendly ads networking platform. You can easily sign up for their program using your Gmail account. They offer multiple ad placing options and allow you to use all the popular payment methods to receive your money. Below are some more reasons for you to add Google Adsense to your website –
Popular advertising network
Suitable for any digital content creator
Offers automatic ad placement option
Compatible with mobile, desktop, and other devices
Various payment options
Provides world-class security
You also can check out this blog and learn how to add Google Analytics.
How to Add Google AdSense to WordPress

It's time to show you how to add Google AdSense to a WordPress website. Take a look at the easy steps to add Google Adsense to your website, both manually and using a plugin.
To get started, you must sign up for the Google AdSense program before activating Adsense on your website. How? It's simple.
First, you need to visit the official Google AdSense page and Sign Up for their program using your Gmail account.
After submitting your application, the Google AdSense team will review your application. Because of the thorough review process and a lot of requests, it may take a few hours or even a few weeks for them to approve your account.
Once they approve your application, your next job is to log in to your AdSense account and get the activation code.
Then you can add this code to your WordPress website. As we mentioned earlier, you can add AdSense code using two methods.
Let's show you both the ways.
Manually Add Google AdSense Code in WordPress
First login to your AdSense account Dashboard. Then click on the Ads > Overview.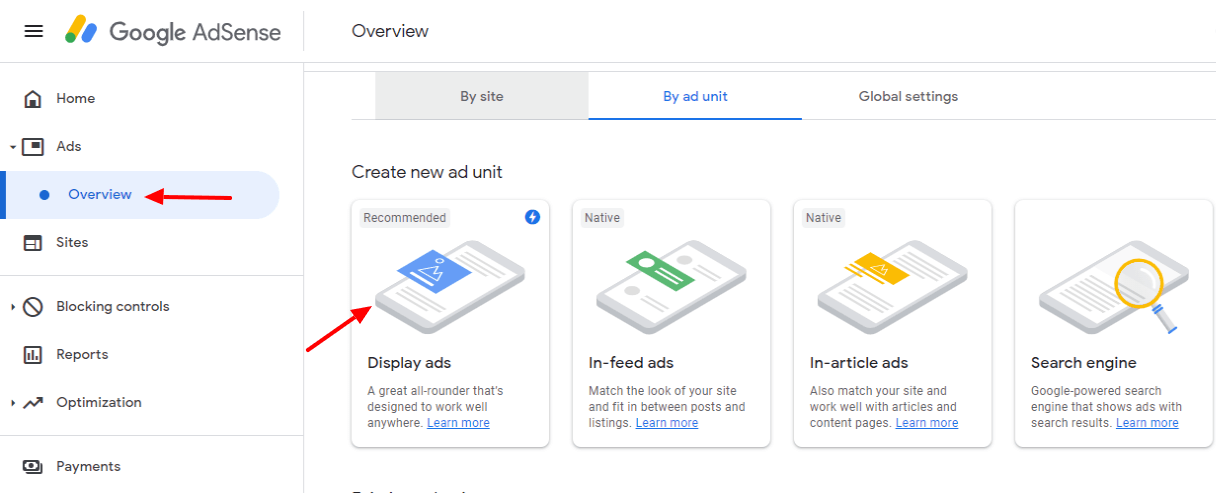 Next, you need to create your first ad unit. Choose an ad unit among the four different units. However, you should select Display ads because Google recommends this. And click the Create button to complete the process.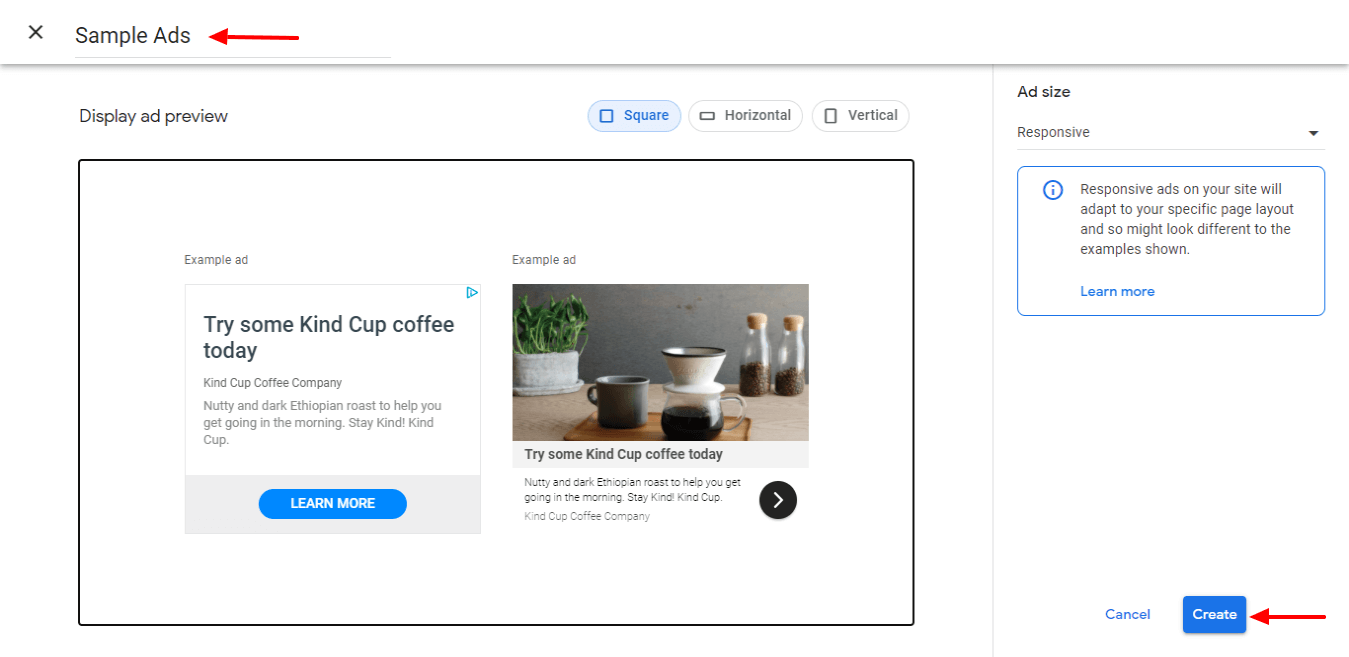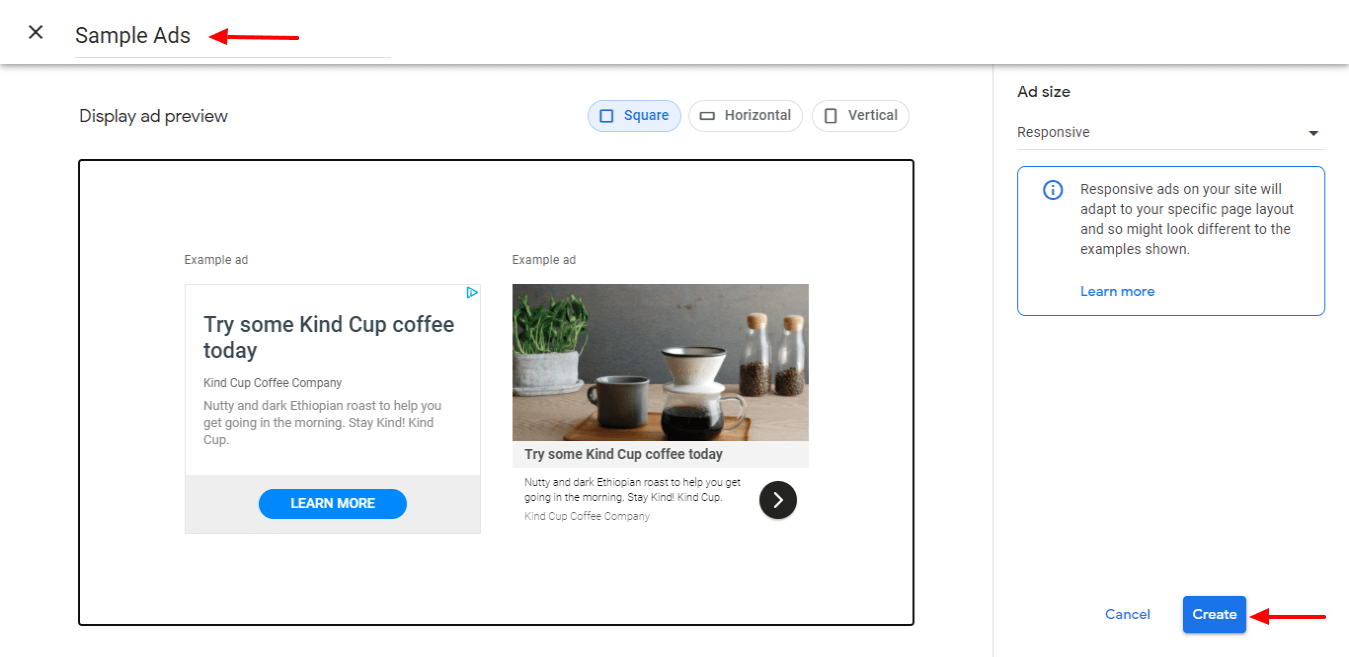 Well done you create your first ad unit.
After that, you should get the Google AdSense Code. Now copy the code so that you can add this to your website.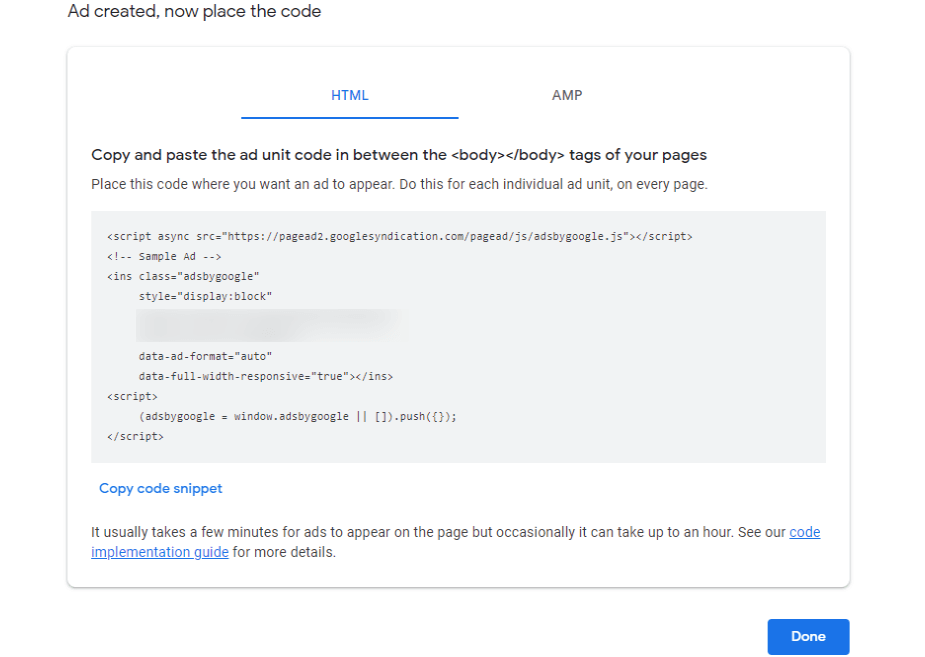 If your website have a Google AMP version, you should choose the AMP code.
Now it time to log in to your WordPress website admin panel. After that, navigate to Appearance > Widgets.

Now select the Text Widgets and insert the code that was already copied. Finally, click on the Save button.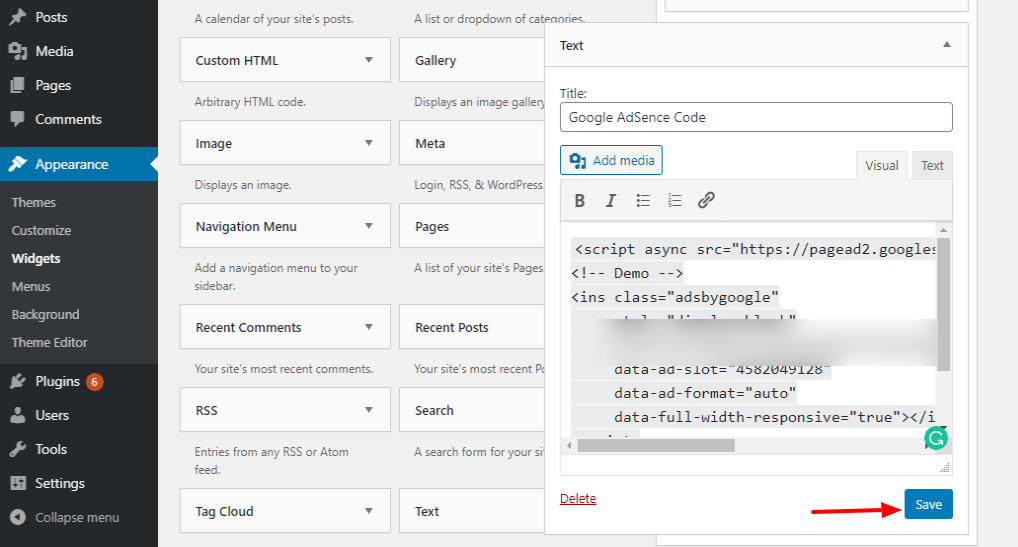 That's all. Your website is now equipped with Google AdSense.
Using a Plugin to Insert Google AdSense Code in WordPress
Another way to ad ads code on your website is by adding the code in your theme's header.php file. If you're not familiar with coding knowledge, there are a couple of plugins for the process.
First, get the ad code from your AdSense accounts dashboard.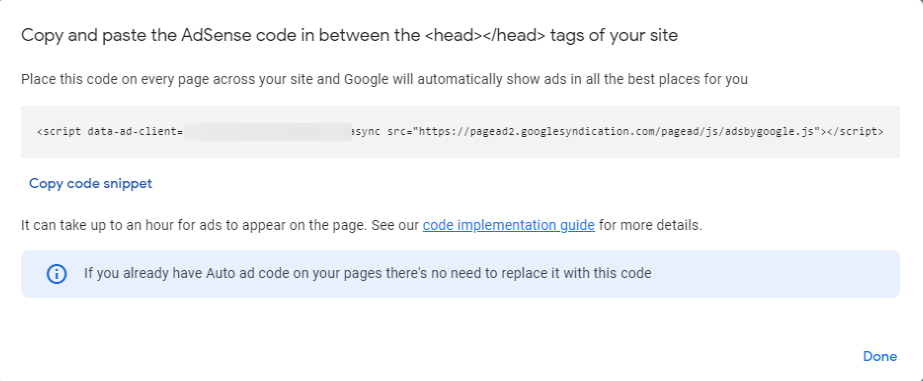 Then install the Insert Headers and Footers plugin.
After that go to Settings > Insert Headers and Footers and place the AdSense code. Make sure that you save the settings.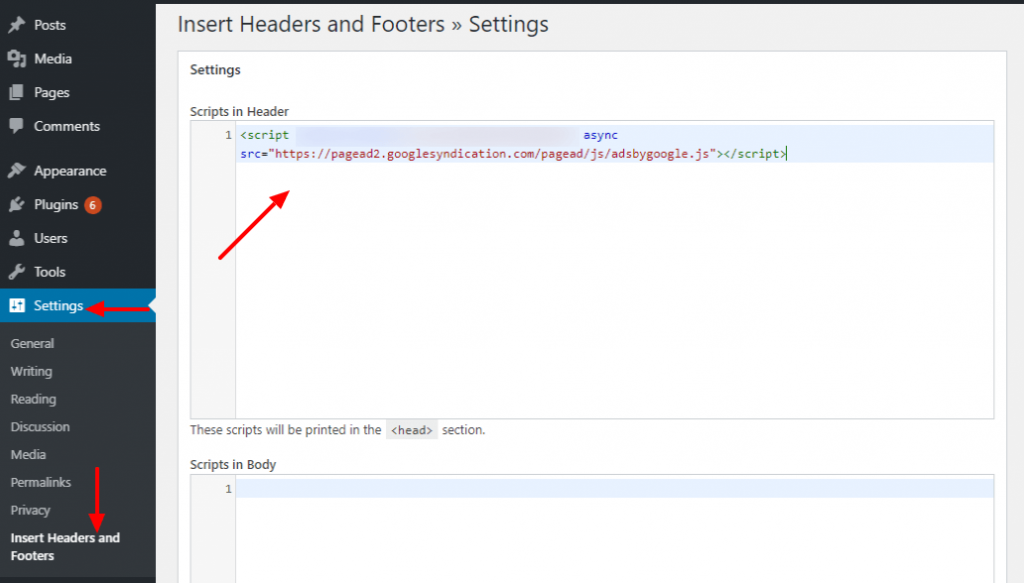 Great! You're done adding the AdSense code to your website using a plugin. Now you can follow whichever process that seems easier to you.
You can also check out the best Ads plugin for WordPress.
AdSense Beginner's FAQs
It's easy to get lost while adding Google Adsense to your website for the first time. Here are some questions that may come to your mind when you work on adding Google AdSense to your website. In this segment, we tried to answer some of the questions that may come to your mind as a beginner in Google AdSense.
What are some pre-considerations to get Google AdSense application approved?
These are the prerequisites that you have to follow to approve the Google AdSense accounts.
• Your website must be compliant with AdSense's policies and terms & conditions.
• Your website must be at least 6 months old.
• All content on your website remains unique.
• The age of the applicant must be over 18 years.
Note: If your application meets all the requirements, Google AdSense still has the right to reject your application.
Why Google AdSense rejected my application?
Your AdSense application can be rejected if your website does not comply with AdSense policies or their terms & conditions. You can check Google AdSense policies from here.
Is it possible to monetize multiple websites under a single AdSense account?
Yes! Google AdSense allows you to activate multiple sites associated with the same account.
What is the suitable AdSense Ad size?
It is a very common question that most of the new publishers ask. The best ads sizes are 336×280 and 300×250. These ads easily fit on most screen sizes and have a higher pay rate as well.
Can I click on my own Google AdSense Ads?
Like you, many beginners are tempted to click on the ads on their own website and tell their friends to do the same. But let us remember you about Google's algorithm. They can easily track your clicks, so if you click on the ads on your own website, they will ban you from the AdSense program.
When and how does Google AdSense pay their publishers?
To get paid, you must meet the required threshold. Then your payment will be processed and released on the 21st of that month. You can use various payment methods such as direct electronic transfer, bank transfer, cheque, Western Union, and more.
Can I active Google AdSense in my WordPress.com blog?
Unfortunately, WordPress.com does not allow its users to add Google AdSense to their website. However, you can do so by opting for their business plan.
What is the difference between Google AdWords vs Google AdSense?
Google AdWords is a Google advertising platform that allows you to display your ads on Google AdSense-approved websites.
Google AdSense is a way to earn money through your website by displaying ads from Google's ad publishers.
Conclusion
In this article, we've covered how to add Google AdSense to WordPress and shared why and how you can use this. We also answered some important questions regarding Google AdSense.
We hope this guide will help you a lot to understand about Google AdSense and how to use it on your WordPress website. if you still have any queries about this article, you can comment down below.
Also, please don't forget to share this blog with your friends on social media who might be looking for a way to earn money online as well.
https://wphive.com/wordpress/how-to-add-google-adsense-to-wordpress/
Adnan Khan
Adnan Khan is a passionate writer who loves to write and read WordPress related stuff. Besides, he is very imaginative and likes to fly kites and play soccer in his off time.

Subscribe To Our Newsletter