UpdraftPlus Review: Still the Best WordPress Backup Plugins in 2023?

If you ask Google, your friends, or colleagues about the best WordPress backup plugins, all of the lists will contain a particular plugin – UpdraftPlus.
But what makes UpdraftPlus so popular and special?
In this article, we will look deep into the UpdraftPlus plugin – talk about its basics, pros and cons, prices, how to use it, and so on. Let's get started!
Introducing UpdraftPlus WordPress Backup Plugin

UpdraftPlus is a WordPress plugin that provides automated backup and restoration services to websites built on WordPress. It is a free plugin with the availability of extending the services via premium plans.
UpdraftPlus is the most popular backup plugin on WordPress. It provides a powerful yet simplified backup solution to your website, allowing scheduled upload into various cloud directories, including Google Drive, Dropbox, OneDrive, etc.
UpdraftPlus Plugin in Brief
Now, let's check out some key facts about UpdraftPlus briefly. It will give you an overall idea about the plugin and its current status.
Active Installations: 3+ million (on WordPress.org)
User Rating: 4.8 out of 5 (on WordPress.org)
Pricing: Free on WordPress.org | Premium plans start from $70/year
Update Frequency: around once a month (both free and premium)
Initial Release: August 2011
In the next part, we will talk about some of the top features that make UpdraftPlus one of the best WordPress backup plugins.
Top Features of UpdraftPlus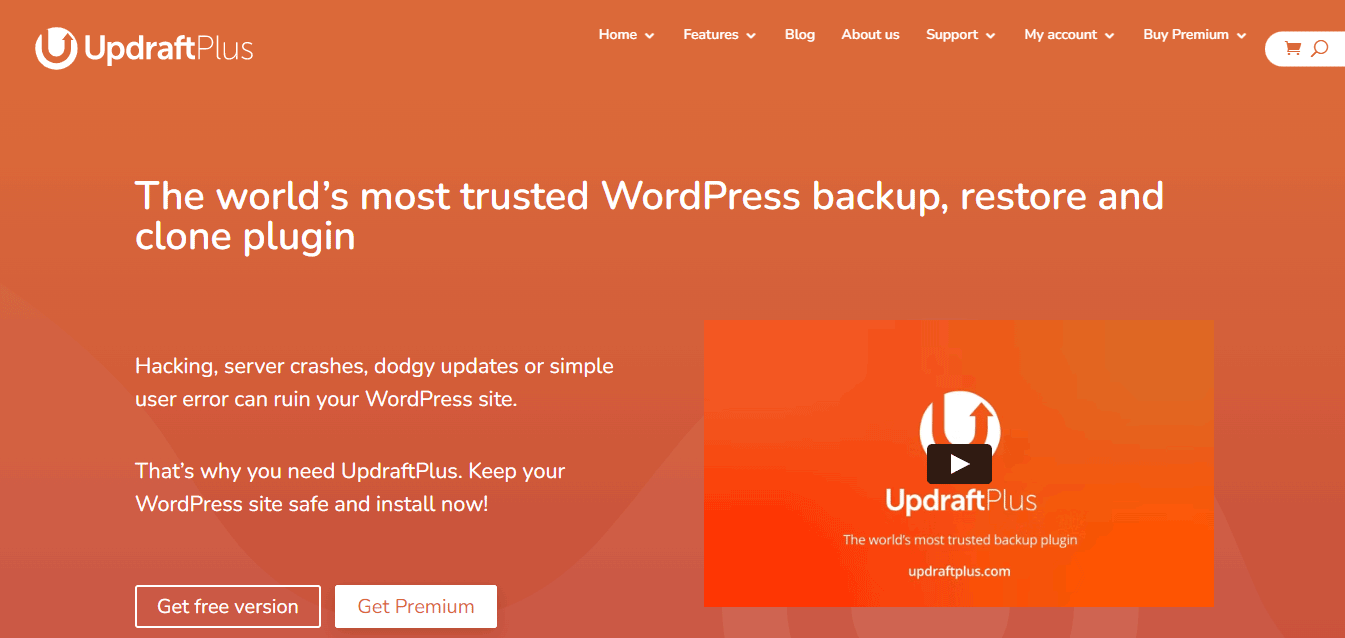 UpdraftPlus is one of the few WordPress backup plugins that offers many features and functionalities for free. Plus, its premium features are unique and very powerful.
Here are the top UpdraftPlus features:
Able to backup sites of 100 GB (file size only limited by hosting)
Backs up limitless non-WordPress files and external databases
Multi-site (i.e. WPMU/WordPress Network) compatible
Supports both manual and automated (scheduled) backups
Database encryption option for security
Supports various cloud solutions, e.g. Google Drive, Dropbox, and OneDrive.
Backs up each WordPress entity in a separate file
NB: A few of the features or a segment of a feature are only available with the UpdraftPlus premium plans.
If you are interested to know more about the UpdraftPlus features, you can visit its official website, linked below.
How to Create WordPress Backup with UpdraftPlus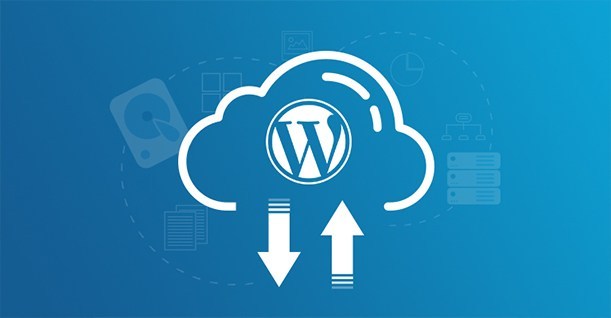 The process of WordPress backup creation with UpdraftPlus is very simple. It involves three easy steps like the way you use a typical plugin. The steps are:
Installation
Backup Setup
Remote Storage Setup
We have just informed you about the specialty of UpdraftPlus. Now, we need to show you how to use it. Otherwise, it would not be a complete UpdraftPlus review.
Step 1: UpdraftPlus Installation
It is a traditional WordPress plugin installation method. Just go to your Plugins menu from the dashboard. Click the "Add New" button. Then, search UpdraftPlus and click its "Install" button.
If you don't know how to install a plugin on WordPress, we will recommend you to read this article: How to Install a WordPress Plugin – Step by Step for Beginners.
Step 2: UpdraftPlus Backup Setup
After installation and activation of UpdraftPlus, its backup setup options will appear under your site's settings menu. Access your WordPress dashboard and follow these steps to create a backup:
Go to the "Settings" menu
Click on "UpdraftPlus Backups"
Press the "Backup Now" button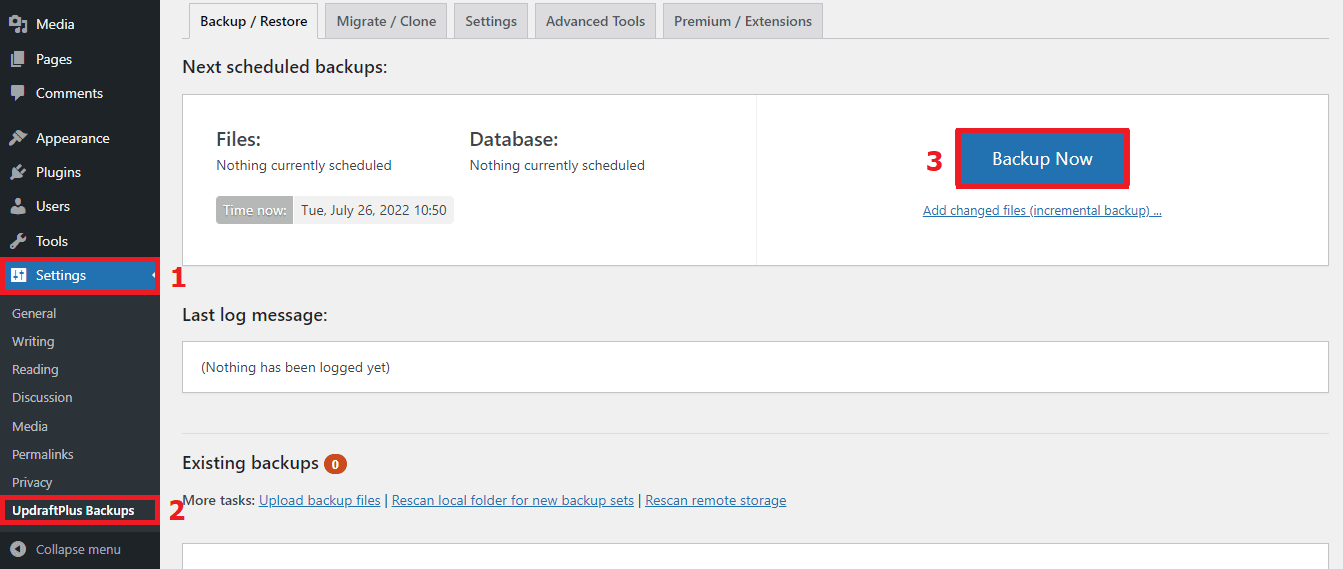 Now, a popup message will appear asking for confirmation on what you want to backup. Just mark the data you want to back up and press the "Backup Now" button.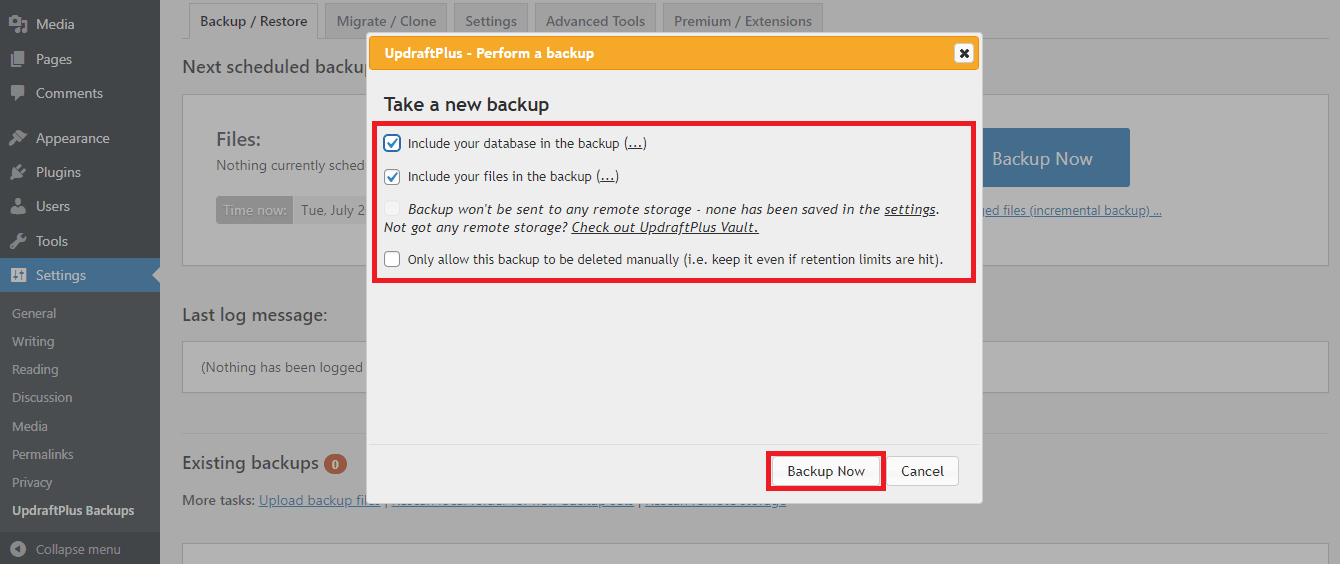 Note: You can create a backup of your website data easily by following this method. However, the data will be stored on the web server, which is not a smart choice. The next step will give you a solution in this case.
Step 3: Remote Storage Setup
If you want to keep your data safe and maintain an automated backup schedule, then you shall choose a remote storage service to store your data. Follow these steps to do so:
Click on the "Settings" tab from your UpdraftPlus menu
Set a suitable backup schedule
Select your preferred remote storage
Press the "Save Changes" button under that page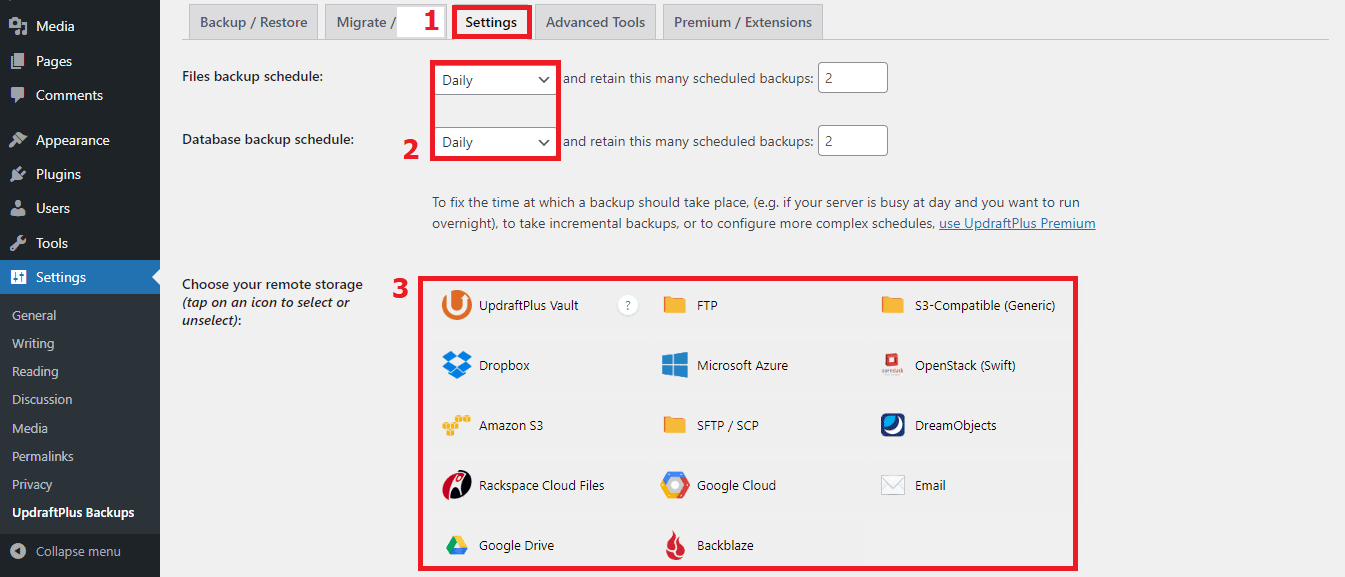 You have learned a basic website backup creation method with this tutorial. If you want to learn more about UpdraftPlus, we will recommend you explore its menus, settings, or the official website – Updraftplus.com.
Also Read: How to Create Automatic WordPress Database Backup
WP Hive Test Results and User Feedback on UpdraftPlus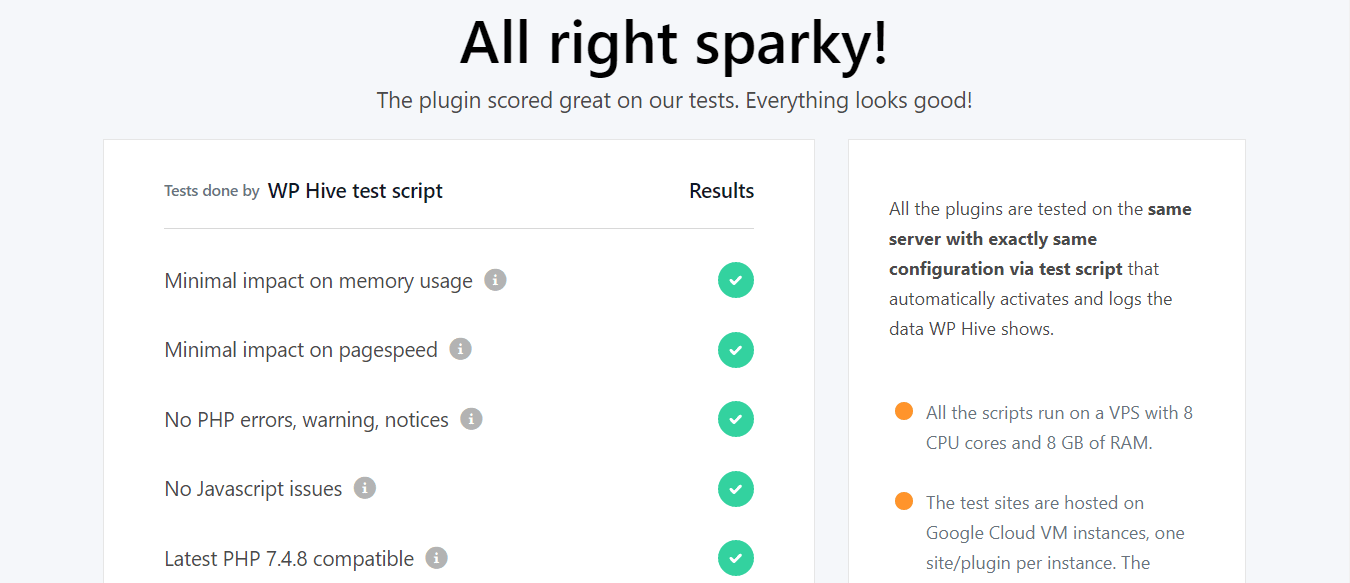 WP Hive conducts some particular tests on the plugins in its repository. UpdraftPlus did excellent results in our tests, marking positive in all the areas without any issues.
Performance

UpdraftPlus scored very well in terms of performance during our tests. Its average memory usage is 236.27 KB. It also helps increase page loading time by 0.02 seconds, which is quite fast compared to most of its competitors in this category.
User Feedback
All the user feedbacks UpdraftPlus received so far on our site were very positive, 5 out of 5 in all the criteria. The following image will tell you the details:

If you are interested to know more about the Hive test results and user feedback on UpdraftPlus WordPress Backup Plugin, we will request you to follow the link below.
Pros and Cons of UpdraftPlus
UpdraftPlus remains ahead of the competition in many ways with a lot of free offerings, useful features, and an excellent user experience. However, like any other tool, it is not perfect. It has some limitations as well.
Now, we are going to discuss the pros and cons of UpdraftPlus in the following points to help you understand its strengths and weaknesses.
Pros
Fully functional free version
Simple, easy to use yet powerful
Lots of storage options
Availability of limitless backup
Flexible scheduling option
Tested on over 1 million websites
Great support
Cons
A bit costlier than some of its competitors
It may not work as good with larger websites as compared to smaller ones
UpdraftPlus is still one of the most powerful WordPress backup plugins although it has some limitations. It would be even better and a complete plugin if the developers reduce the price a bit.
UpdraftPlus Pricing Plans

UpdraftPlus offers flexible and attractive pricing plans for its premium services. We have included a chart consisting of its plans below so that you can choose the one you really need.
Plan Name
Benefits
Price/Year

Personal (2 licenses)

All premium features
1 UpdraftClone token
1GB UpdraftVault quota

$70


Business (10 licenses)

All premium features
2 UpdraftClone tokens
1GB UpdraftVault quota

$95


Agency (35 licenses)

All premium features
5 UpdraftClone tokens
1GB UpdraftVault quota

$145


Enterprise (unlimited licenses)

All premium features
10 UpdraftClone tokens
1GB UpdraftVault quota

$195


Gold (unlimited licenses+)

All premium features
10 UpdraftClone tokens
50GB UpdraftVault quota
Unlimited UpdraftCentral Cloud

$399

UpdraftPlus Pricing Plans
Check out Complete UpdraftPlus Pricing Plans here
Top 5 UpdraftPlus Alternatives That You Can Try
There are several other free WordPress backup plugins that are nearly as good as UpdraftPlus. The UpdraftPlus alternatives you can try to are:
Related Article: 10 Best WordPress Backup Plugins Compared in 2023
FAQ on UpdraftPlus

We have included some frequently asked questions about UpdraftPlus in this part. You may find some of them useful.
What is UpdraftPlus?
UpdraftPlus is a free WordPress plugin that provides automated backup and restoration services to websites built on WordPress.
Is UpdraftPlus legit?
Yes, of course. The services of UpdraftPlus are legit. This plugin is secure, reliable, and well-established. It has been built by following WordPress rules and guidelines.
Is UpdraftPlus free?
Yes, UpdraftPlus is a free and open-source plugin. It also offers premium services under some paid plans that start from $70/year.
Does UpdraftPlus backup the database?
Yes, UpdraftPlus backs up the database and non-WordPress data separately. And this service has no limit.

Final Words on UpdraftPlus Review: Should You Consider It
After reading the entire UpdraftPlus review, if you're still confused if you should consider UpdraftPlus –
The simple answer is yes, of course.
You should consider UpdraftPlus because it offers so many features, excellent service, and user experience (particularly free of cost) that very few other plugins do.
So what's your decision? Feel free to let us know in the comment section. And don't hesitate to ask any questions about UpdraftPlus. If you like any other backup plugins, you can also let us know.
Stay connected with us via our Twitter and Facebook pages.
UpdraftPlus – A Trusted WordPress Backup, Restore, and Clone Plugin
https://wphive.com/reviews/updraftplus-review/
Abdullah Al Nayeem
Nayeem is a Content Writer at WP Hive. He has 4+ years of experience in the internet and media industry, specializes in writing, editing, communications, WordPress, SEO, eCommerce, digital marketing, and graphic design.

Subscribe To Our Newsletter