CartFlows vs LaunchFlows – Which is The Best WooCommerce Sales Funnel Builder?

Global retail eCommerce sales grew by 19.7% in 2022. This stat alone gives you a glimpse of the rise of eCommerce. Because eCommerce is now the present and future of retail purchases, it has grown to be a highly competitive field. Thousands of new eCommerce businesses are joining the list every day. So if you want your site to stand out in this fierce battle, you should seek ways to generate traffic and convert them on a continuous basis.
That is why more and more eCommerce owners are now following the highly acclaimed sales funnel. And for WordPress site owners, the obvious way to maximize traffic and conversion rate is using a WooCommerce sales funnel builder plugin.
This article will show you the comparison between two highly featureful WordPress sales funnel builders and show you which provides better value for money. Read the article till the end to find out the result of our detailed analysis.
Needs for a WooCommerce Sales Funnel Builder


A sales funnel is the journey of a customer on the way to purchasing something. If an eCommerce site is optimized to ensure a great buyer's journey all the way to purchase, that is bound to be successful. But for a website developed without WordPress or any other CMS, it is a painstaking process to create and optimize all the pages for a better buyer's journey.
However, if you're using WordPress to build your eCommerce, it is rather easy. Especially if you're using a WooCommerce sales funnel builder plugin.
They offer ready-made templates for many pages, help you add crucial options for upselling, and many others. Overall, WooCommerce sales funnel builders are a wonderful way to make the buying process smooth and help increase sales of your store.
Why It's Hard to Choose the Best WordPress Sales Funnel Plugin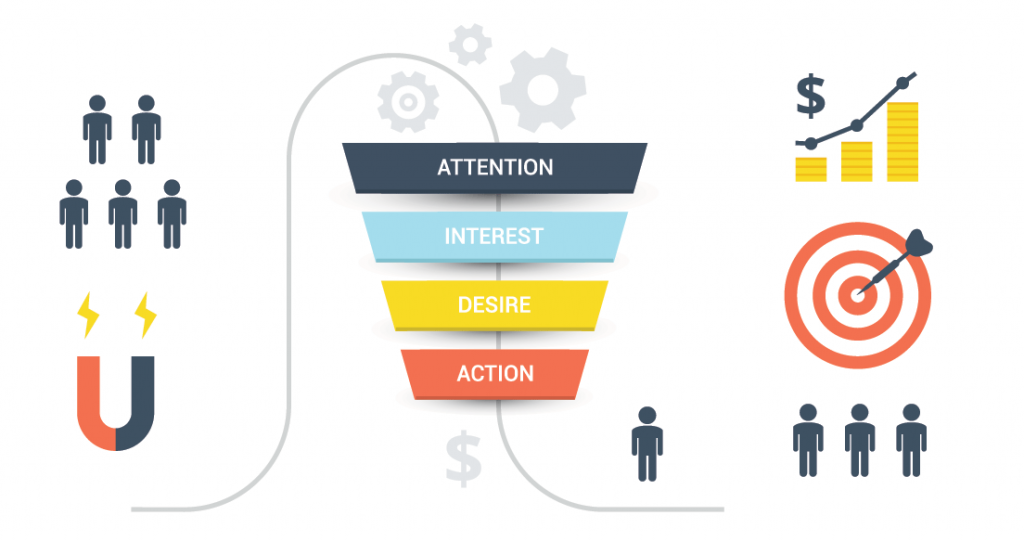 A sales funnel plugin doesn't just impact a single part of an online store. As these plugins help you create a great journey towards the purchase for a customer, they tweak many things on the way. So while you should look for more features, you will also need to look out for a plugin that will not weigh down your site.
You should also ensure that the plugin does not have a negative impact on the performance of your website.
Yet, after every possible consideration, you will still be left with more than one plugin. And it will be difficult to choose one among them. And then it will all be about the pricing of the plugin.
It's hard to do all this research on your own, and find suitable plugins. So we did the research part so that you can focus on your business. Below is a detailed comparison of two of the best WooCommerce sales funnel builder plugins.
CartFlows vs LaunchFlows- A Classic Battle of Bigshot vs Underdog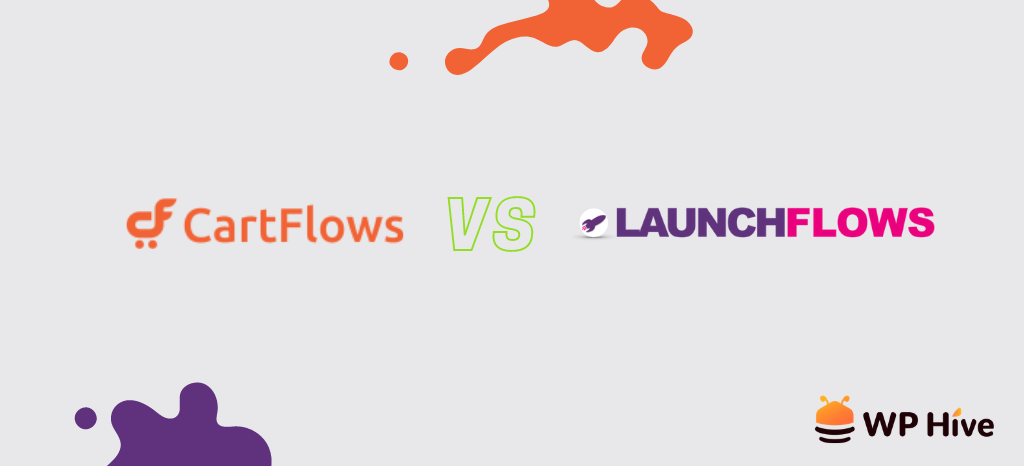 CartFlows is one of the most downloaded eCommerce plugins when it comes to sales funnel builders in WordPress. On the other hand, LaunchFlows is a comparatively lesser-known plugin that we think is highly underrated. Let's start with the feature comparison of these two plugins to know who offers more functionalities.
Features
CartFlows offers some awesome features, while LaunchFlows also does not lack in many. We're starting with the features that CartFlows offer and then what LaunchFlows offers.
CartFlows Features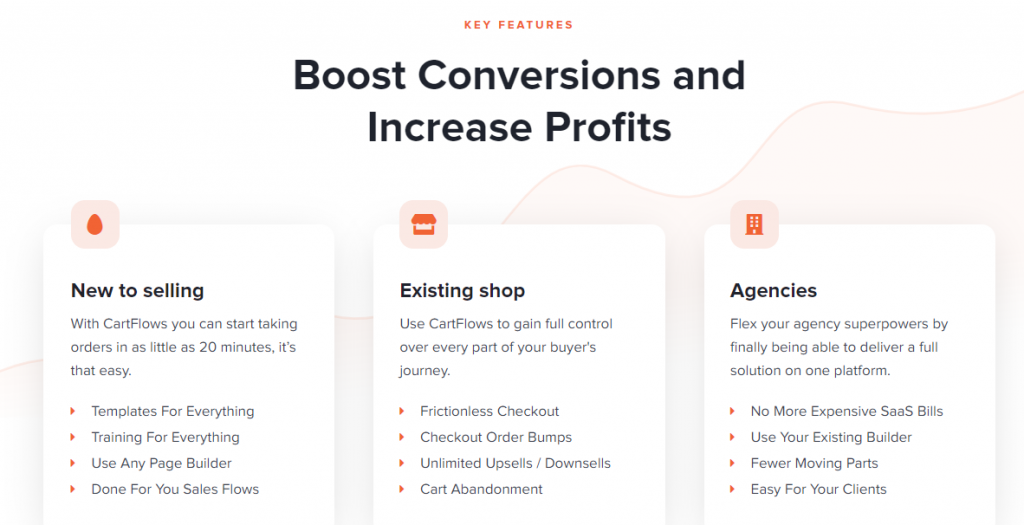 Being one of the most used WooCommerce Sales Funnel Builders ever, CartFlows provides all the features that you can imagine. These include –
One-Click Upsells: Is getting your customer to the order page the best success you can achieve? No. CartFlows offers One Click Upsells which will let you cross-sell related products to the customer right on the order completion page.
One-Click Order Bumps: If the products offer any addon, module, or extended warranty for an additional charge, One-Click Order Bumps by CartFlows will let you give an offer on those products or warranties which are highly likely to convert.
A/B Split Testing: You can do A/B Split Testing to test two different versions of a page and see what performs best.
Conversion Optimized Templates: CartFlows offers quite a few conversion-focused templates for pages like checkout, upsell, order completion, and of course landing page.
Checkout Layout: You can rearrange your checkout layout and remove those that create distractions, to reduce cart abandonment as much as possible.
Lead Generation: Apart from the high-converting landing page, you can also create opt-in forms and pop-ups to generate leads.
Pre-Checkout Offer: You can also upsell before order completion by offering related products using CartFlows.
Insights: CartFlows detail report dashboard will let you see all the insights and results in an actionable way.
LaunchFlows Features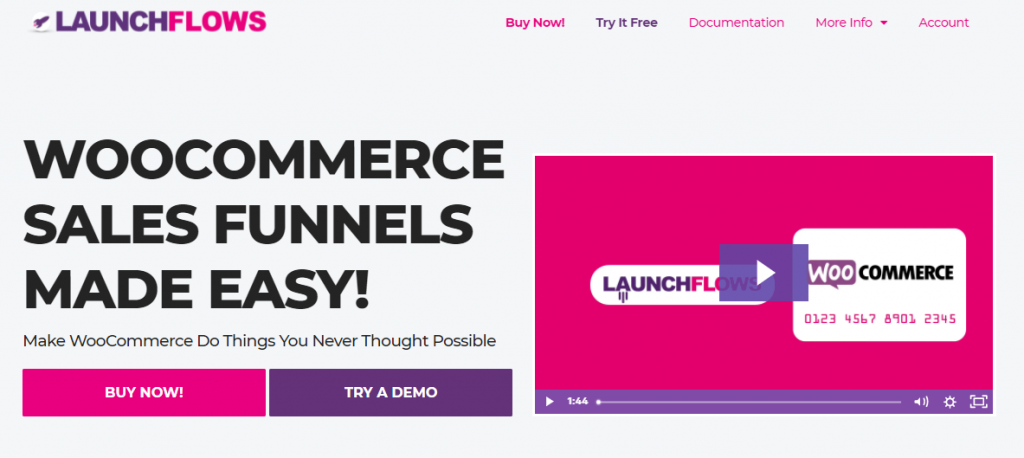 While being comparatively new, LaunchFlows covers almost all the bases when it comes to features. LaunchFlows features include the following –
Instant Registration: Let people register on your site, with instant registration and login feature by LaunchFlows.
Order Bumps: LaunchFlows have Order Bump features to offer related before the order completion page.
Product Variation: Do your products have multiple variations? There's no advanced option on WooCommerce to show and let people buy from different variations of a product. Thankfully, you can do so using the Product Variation feature by LaunchFlows.
Product Upsells & Downsells: Upsells or Downsells? You can do both using LaunchFlows.
Donation Feature: If the site is for a non-profit organization, you can add an instant donation and invoice feature using this plugin.
Thank You Page: LaunchFlows also lets you add a thank you message after successful order completion which improves customer experience.
Feature Comparison (Table)
Now you know about the features of both plugins. If you're just skimming through, here's a comparison table for you to know which features are missing in which plugin.
| Feature | CartFlows | LaunchFlows |
| --- | --- | --- |
| Upsell | ✓ | ✓ |
| Downsell | ✓ | ✓ |
| Order Bumps | ✓ | ✓ |
| Product Variation | ☓ | ✓ |
| A/B Split Testing | ✓ | ☓ |
| Different Templates | ✓ | ☓ |
| Donation Feature | ☓ | ✓ |
| Instant Registration & Login | ☓ | ✓ |
| Pre-Checkout Offer | ✓ | ✓ |
| Lead Generation Forms & Popup | ✓ | ☓ |
As you can see from the comparison table above, both the products are quite well-matched when it comes to features on offer. Now let's move on to the ease of use to find out which plugin does a good job of making it easy for customers.
Ease of Use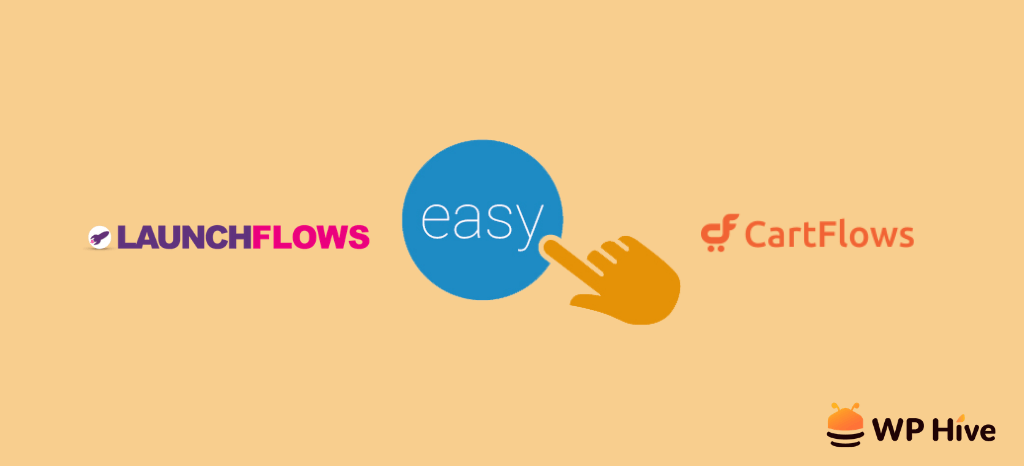 As both plugins offer extraordinary features, you can feel overwhelmed by them sometimes. Let's get to know which of them is easier to understand than the other.
CartFlows Ease of Use
Given the type of product, CartFlows is, it is actually quite easy to use. Here's our finding using this tool.
Wonderfully Integrates with WordPress: CartFlows works great inside your WordPress admin dashboard. That means accessing the result, and tweaking basic things are super easy.
Templates Made Easy: CartFlows is built to work like a charm with popular page builders. So you can easily use their ready templates or create one on your own using the page builders. This makes it really easy to customize the crucial pages of your shop.
A/B Testing Is Effortless: One of the biggest ways to know what is working and what is not is by A/B testing. CartFlows A/B testing makes it very easy to test out two different versions of a page.
Documentation: CartFlows will help your journey with their product with a lot of documentation. However, we haven't always found their documentation to be absolutely easy.
LaunchFlows Ease of Use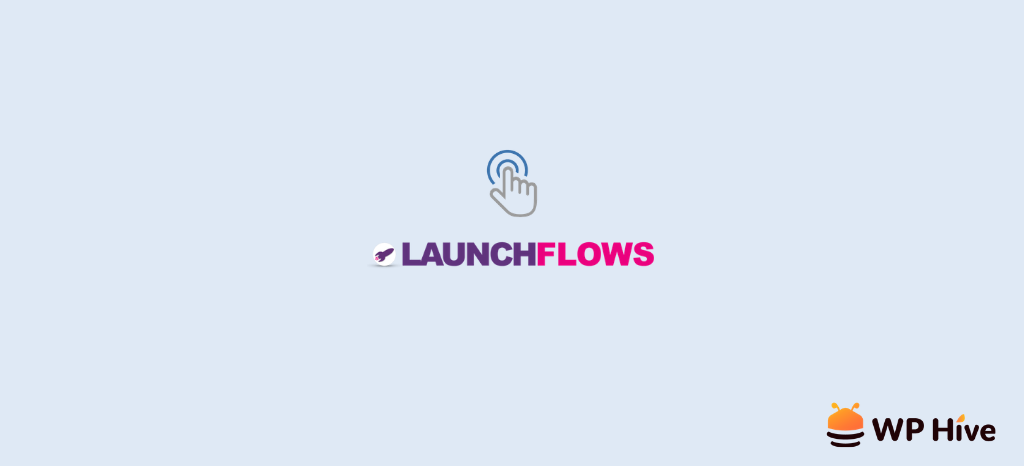 LaunchFlows is absolutely easy to use. It's perfect for a beginner to start using right from the box. Here's why we think so –
Installation: Setting up LaunchFlows is very easy. From the plugin installation to the setup wizard, you will face no problem understanding the well-guided process.
Elementor-Based Templates: LaunchFlows offers the most popular page builder, Elementor-based widgets which are easily customizable.
Well-Organized Options: LaunchFlows options are well-organized and you will find what you are looking for without wasting much of your precious time.
Easy to Understand Documentation: LaunchFlows documentation well-written and straightforward. You won't need to read the same one twice, that's how easy they are.
S0 now you know how both of them compare when it comes to ease of use. Let's get to know how these WooCommerce Sales Funnel builders perform on WP Hive's automated smoke test.

Pricing Plan
Although CartFlows and LaunchFlows compare quite well in terms of features, the difference on the pricing chart between these WooCommerce sales funnel builders is striking.
CartFlows Pricing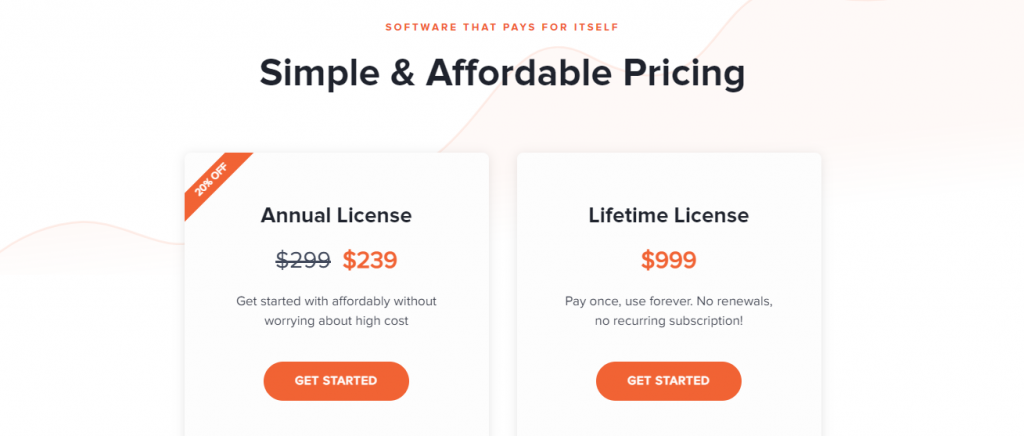 CartFlows cost quite a high price. There are currently two plans for CartFlows, and both are for up to 30 sites.
Annual License: Annual license of CartFlows costs $299. As we have said, it is valid for up to 30 sites. If you want to get it for more sites you need to purchase the plan once again.
Lifetime License: The lifetime license of CartFlows costs $999. This is also valid for 30 sites at max. The features are also the same for the annual license and the lifetime license.
LaunchFlows Pricing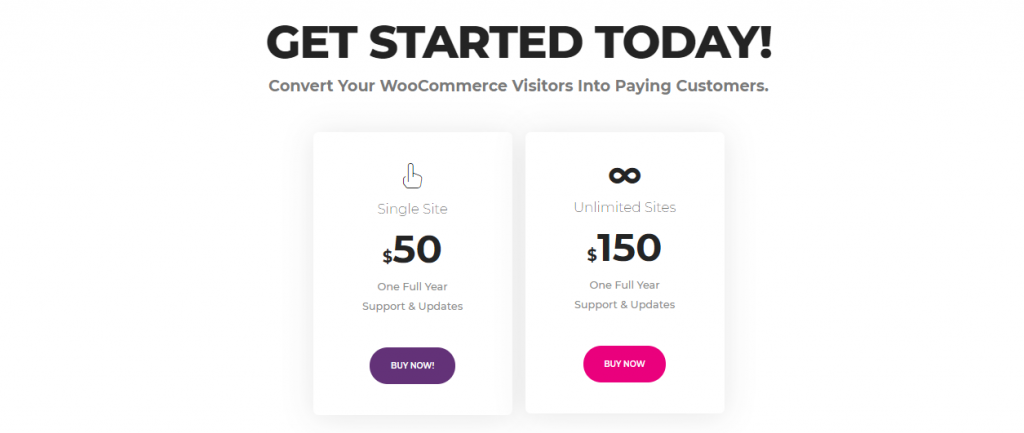 Compared to CartFlows, LaunchFlows is a very cheaper option. LaunchFlows also has three different pricing plans.
Single Site: The single site license costs just $50, which is way more affordable than any other WooCommerce sales funnel builder. This includes one-year support and updates.
Unlimited Sites: As you can guess from the name, this plan covers unlimited sites. Again, the pricing is unbelievably low for this package as well. $150 for the unlimited site is very good pricing for one full year.
Lifetime Deal: There is also a lifetime deal that covers unlimited sites and provides lifetime updates. This plan will cost you just $300.
The Overall Comparison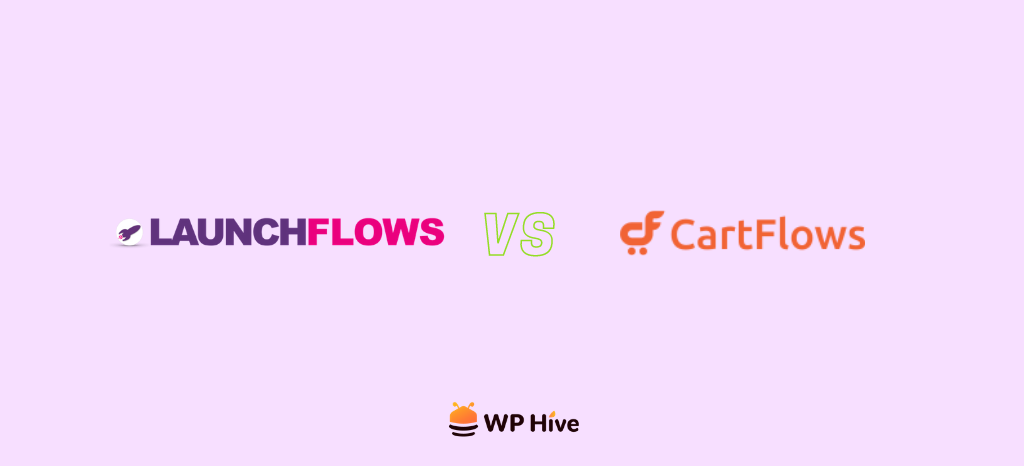 It is a toe-to-toe competition between these two tools. We have gone over features, ease of use, and pricing for both products. Here's the summary of what we found out.
| Metric | CartFlows | LaunchFlows |
| --- | --- | --- |
| Features | ★★★★★ | ★★★★ |
| Ease of Use | ★★★★ | ★★★★★ |
| Pricing | $$$$ | $$ |
As you can see, while feature-wise CartFlows is a tad bit ahead, LaunchFlows is easier to use and less costly.
CartFlows vs LaunchFlows – Which Provides More Value for Money?
This has been a long and interesting comparison, and we have finally reached our destination. If you have read this far, you deserve to know which plugin offers more value for money. While this opinion is strictly ours, you can surely decide which one you like more depending on the neutral comparison.
For its competitive features, easier customization, and way cheaper pricing; your choice could be LaunchFlows as an SMB.
Have you used any WooCommerce sales funnel builder? If you did, which one did you like the most? Let us know in the comment down below.
https://wphive.com/reviews/plugins/best-woocommerce-sales-funnel-builder/
Faisal Sarker
Faisal is a tech blogger who excels at WordPress Content Writing. Apart from sharing useful info pieces that help people around the world, he also likes to travel and read books of all genres in his leisure time.

Subscribe To Our Newsletter