How to Create an eCommerce Website Using WordPress in 2023

If you want to sell something online, it's great to create an eCommerce website using WordPress.
WordPress is not the only most popular web builder around the world, but it's also the best in regard to speed, security, customizing capability, and finally, it's free for you. The great news for you is that WordPress has its own eCommerce site builder plugin- Woocommerce!
Big brands around the world now prefer WordPress for their businesses. Just check why you should prefer WordPress and Woocommerce to create your own e-commerce website. There are tons of Elementor addons for WooCommerce too!
Woocommerce in Action

Woocommerce is a plugin for selling products and services with your WordPress site. You can turn your site into a fully functional WordPress eCommerce site using Woocommerce.
Woocommerce was launched in 2011. It became the primary solution for eCommerce entrepreneurs very quickly. According to BuiltWith.com, it's now powering more than 99% of WordPress eCommerce sites in the US, Canada, and the UK.
WooCommerce is now certainly the driving force behind numerous eCommerce sites around the world. It has over 182,594,151 downloads and more than 5 million active installations.
Why You Should Prefer Woocommerce
You can easily find different eCommerce platforms around you. Shopify, Magento, and Bigcommerce are some of the big players in the industry. However, if you're looking for a flexible and customizable solution that seamlessly integrates with WordPress, WooCommerce stands out as an excellent choice.
Unlike some headless eCommerce platforms, WooCommerce is specifically designed to work seamlessly within the WordPress ecosystem. This makes it easier for you to build and manage your online store while leveraging the extensive features and plugins available within WordPress.
Being a free eCommerce solution, it has lots of features that you can't even imagine getting with others. Check out some points below.
WooCommerce provides basic store functionality right out of the box.
It's highly customizable and extendable.
It has thousands of templates, themes, and plugins.
Makes doing all the related things affordable and accessible.
Easy inventory and shipping management system.
Secure payments and sort taxes automatically.
100% control over all your data.
Ultimate product categories.
You could learn more about why Woocommerce is the most popular eCommerce platform compared with others.
Also Read: Shopify vs WordPress – Which One is Better and Why?
How to Create an eCommerce Website Using WordPress?


If you can add a plugin to your WordPress site, then that's enough to install Woocommerce to create an eCommerce website using WordPress.
If you haven't a WordPress site yet, just follow the guideline to create your site with the discussion on selecting your domain name and a hosting plan.
Some hosting provider companies (Like Bluehost) will give you an automated WordPress and Woocommerce installation. So you don't need to add Woocommerce separately.
Here we have chosen a localhost to create an eCommerce website using WordPress. Just keep following, it will be a plus for you.
Step 1- Adding WooCommerce Plugin
You already have a built site in your business name with a proper hosting plan.
Now, you need to just log in to your site's dashboard. Go to your site's backend or dashboard and follow the instructions below.
Find and hit on Add Plugin button from the left side of your dashboard.
Click on the Add New option.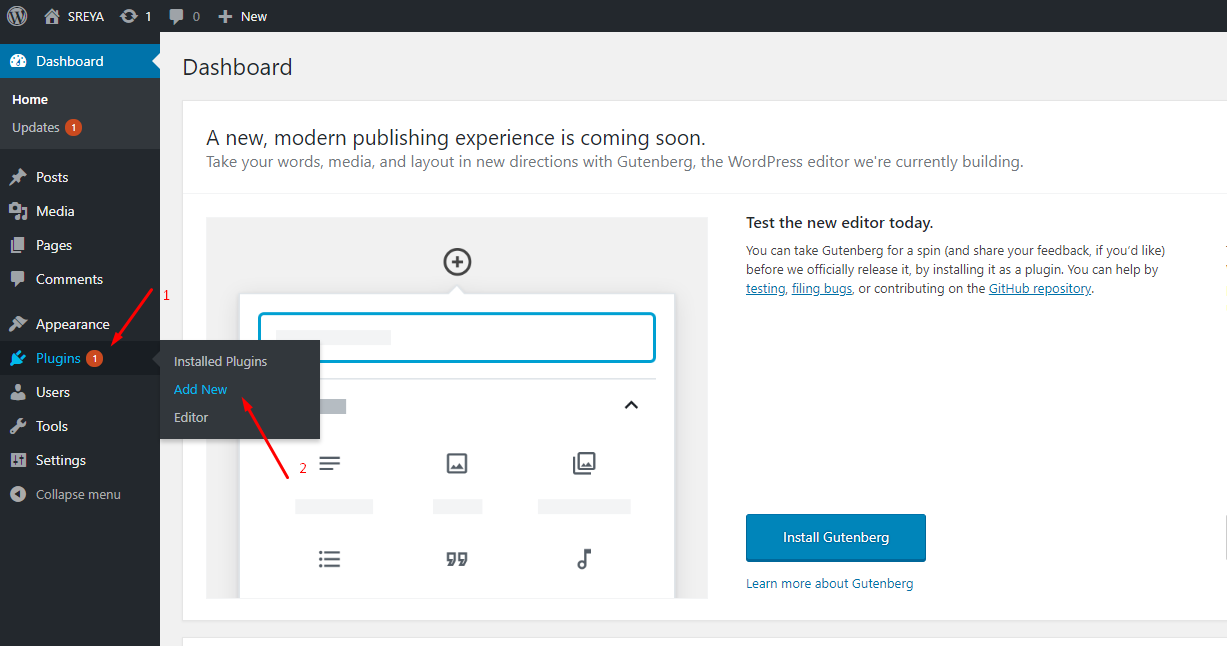 WordPress will redirect you to a new page.
Now, write Woocommerce on the search bar at the top of the right corner.
Click on the Install Now button.

Just wait, Woocommerce will be installed within a few moments. Now click on the Activate button.
Congratulations! You have successfully added the Woocommerce plugin to your site.
Before we get deep into how to start an online business, there are a few things you need to add. like- your store location, currency, payment, shipping, etc.
In this step, you will see a Welcome to WooComerce message on your site's dashboard.
Related: Ultimate Team Building Guide for eCommerce Entrepreneurs (Best eCommerce Team Structure)
Step 2- Running the Setup Wizard
Get ready to set up your shop and click on Run the Setup Wizard.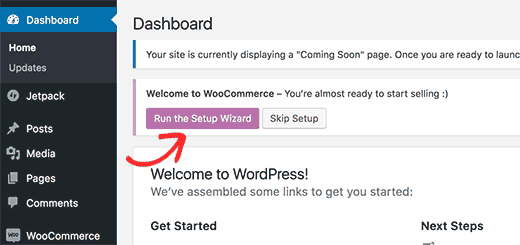 This will launch the Woocommerce setup wizard.
Click on the Let's go button to get started.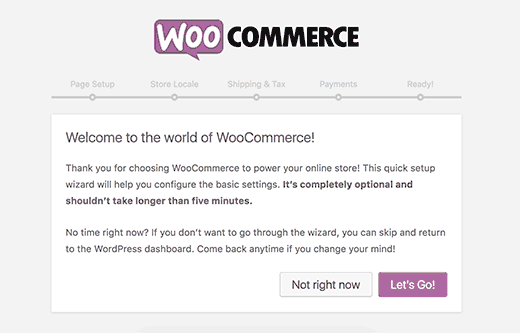 Your shop needs some essential pages like shop, cart, checkout, and account.
Click on the Continue button to create these pages automatically.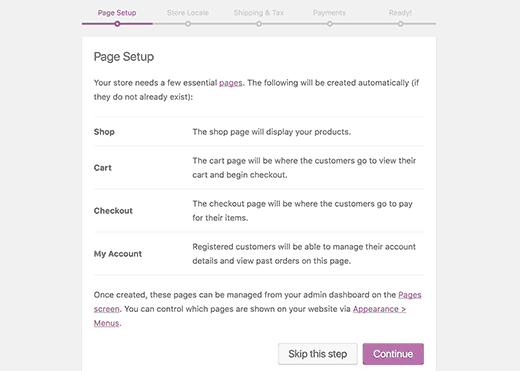 This will redirect you to the next step.
Now you need to fill up some pages with your store-related information for Woocommerce.
Click on the Let's go button after selecting the option about where your store is located and what currency will use.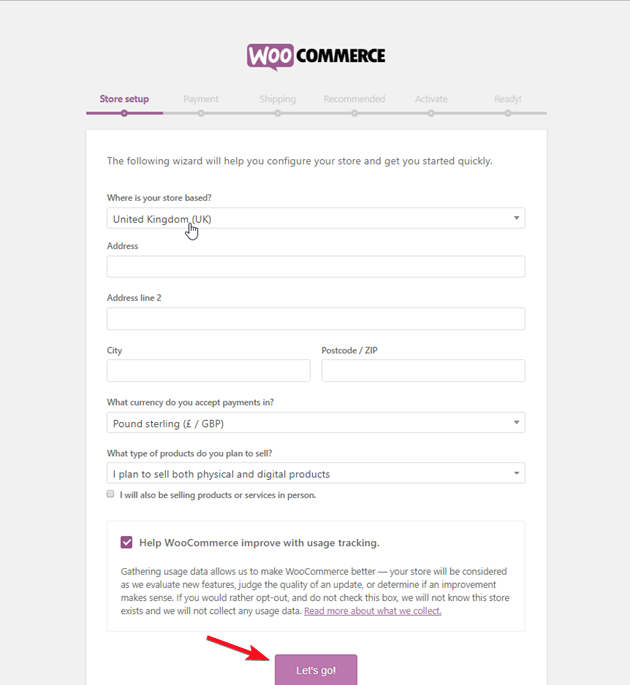 You are creating an eCommerce website using WordPress. Just remember- Woocommerce would allow you to sell both digital and physical products. You don't need to add a shipping option if you are going to sell only digital products.
In the next step, you need to carefully check the shipment button based on your products. If you have physical products that require shipping, just check the shipping button on the next step.
Then you need to answer the question about tax. If you want, Woocommerce would help to calculate and add your tax automatically to the price.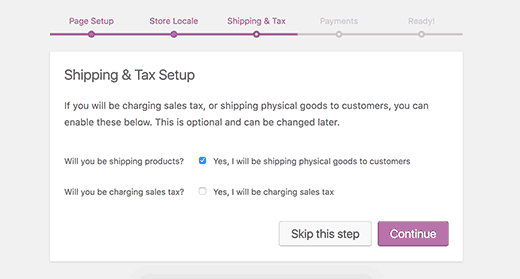 Now is the term to choose your payment option. Check the buttons you want to finalize as your payment method.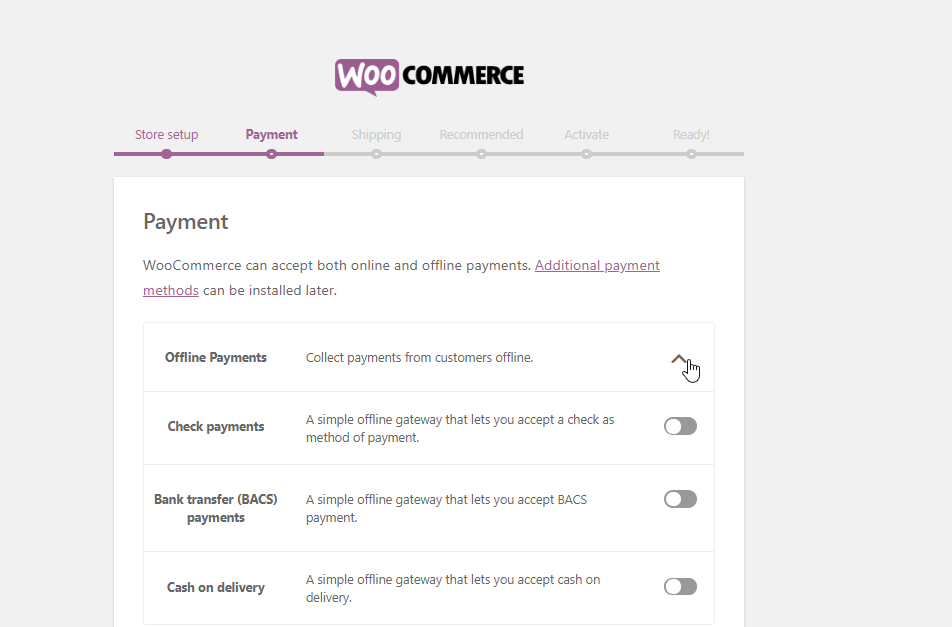 In your live site, Woocommerce will come with support for Paypal, Paypal Standard, and Stripe payment gateways.
There are lots of other payment methods available for you in Woocommerce, you could add any of them anytime.
Just check the payment gateway page for your live site.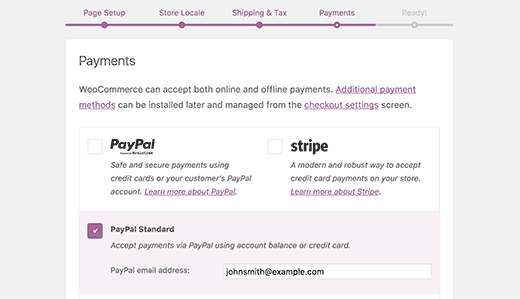 Sometimes there is a recommended option for you.
Select the basic StoreFront theme and MailChimp to enhance your store by just clicking on Continue.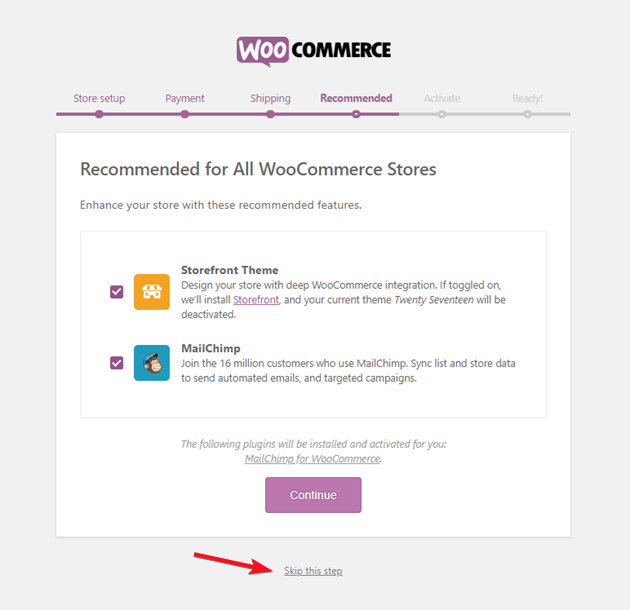 Also, you could ignore the page by just clicking on- Skip this step.
Once you are done, you have successfully created an eCommerce website using WordPress.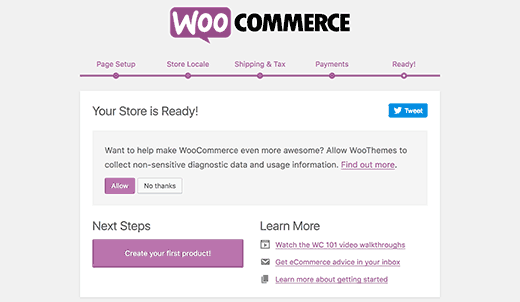 Step 3- Time to Add Products to Your Store
Your very own e-commerce website is ready. Now it's time to add products to your online store. Follow the instructions below.
Go to your dashboard. Click on Products- Add new
This will redirect you to a new page where you could easily add your product.
Write your Product name- Add Media
Select Product data
Add price and other related options
Add a Short Description- Select a Product category.
And finally,y click on Publish.
Your product will be published within a few moments. You could also add more images, contact forms, etc. to your content whenever you want.
There are many other options for you to customize your product and develop your content.
You could add countless products you have following the same way.
Step 4- Customizing Your Visual Appearance
Now is the time to customize your store's visual appearance, when you have completed setting up your pages and products.
Go to your Dashboard.
Click on Appearance- Customize
You will be able to add your own logo and site identity icon, change the fonts, select color, configure the homepage, and sidebar positions, and many more.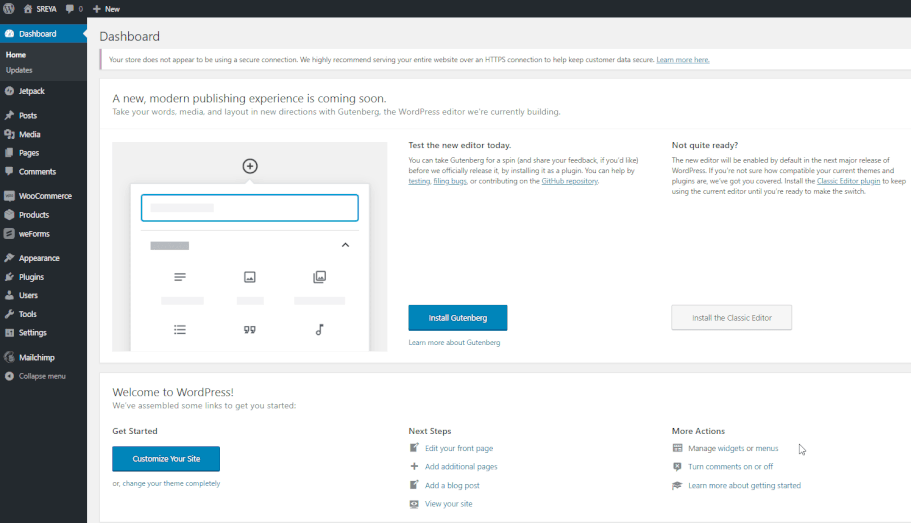 You will see your store however you wanted to see it after this customizing.
Top Themes to Create an eCommerce Website Using WordPress

You have just created your eCommerce website using WordPress. Now is the time to use the ultimate power and features of WordPress to make your site a unique one.
There are hundreds and thousands of themes available for you within the industry. We have built a list of the top 5 best WooCommerce themes with extreme features and a gorgeous look.
Th Shop Mania
Flatsome
WoodMart
Porto
Divi
Just check the list and select the best one for you.
1. Th Shop Mania
Th Shop Mania is a pure Elementor-based Shopping theme. It is a Free WooCommerce theme for creating clean online stores for your business. It has a stylish Homepage design for listing premium products and high-end experiences.
This theme is integrated with WooCommerce & Th Variation Swatches plugin and lead form builder plugin which will help you in designing a perfect Online Store.
Key Features
Elementor, Brizy, and Gutenberg-compatible ready-to-import templates
Support for drag and drop builder
One-click demo import
Advanced Woo cart support
Price: $59 for unlimited domain usage.
2. Flatsome

Flatsome is a perfect theme for creating your eCommerce store. It has all the tools needed to create super fast responsive websites with an amazing user experience. Also, it supports a page builder that makes you capable to design your site as per you want.
Key Features
Comes with unlimited header options
Support for drag-and-drop header builder
Image lazy loading support
Comes with a built-in live search
Price: $59.
3. WoodMart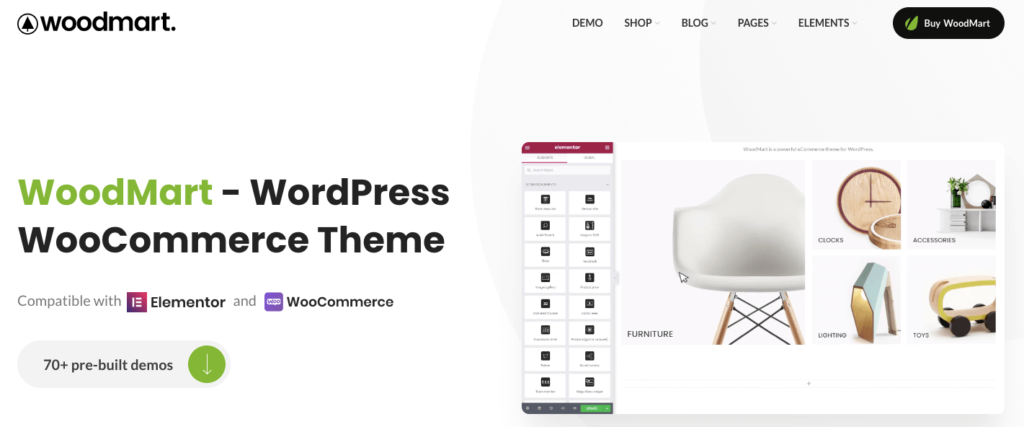 WoodMart is a premium theme optimized for creating WooCommerce online stores that provide a super-fast interface for the ultimate user experience. It's compatible with the latest version of WordPress 5.9+ and WooCommerce 6.2+.
Key Features
Visual drag and drop header layout builder
Full Ajax shop, pagination, filters by size and color
Step-by-step installation wizard
70+ premade demos
Price: $59.
4. Porto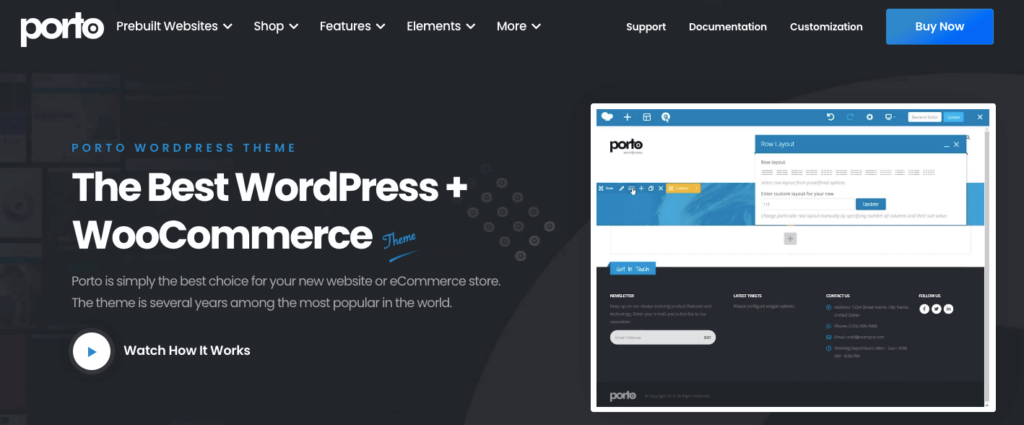 Porto is an ultimate WooCommerce theme that is suitable for any business site. It provides plenty of elements and powerful features that can configure all you want. Porto guarantees super-fast performance which is essential for your online shops.
Key Features
Multipurpose design
WordPress Multisite (WPMU) Tested and Approved
Child Theme Ready
Bunch of Useful Demos – Construction, Hotel, Restaurant, Law Firm, Digital Agency, Medical, Real-Estate, APP Landing, Resume, etc.
Price: $59.
5. Divi

Divi is the most popular multi-purpose theme for WordPress. Having said that it comes with all the necessary features to create your online stores. It can be enjoyed by design professionals and newcomers alike, giving you the power to create spectacular designs with surprising ease and efficiency.
Key Features
40+ website elements
800+ premade designs and 100+ full website packs
Support for drag and drop builder
Super fast
Price: $89 per year.
Top 5 Free Plugins to Create an eCommerce Website Using WordPress


Plugins are important to easily manage your store, products, and customers. There are countless plugins for you in the WordPress community.
We have selected the best five plugins that are essential for your store at this beginning stage. These will help you to create an eCommerce website using WordPress.
Just check out the list below, and try to perfectly use them for meeting your goal.
WOOF- Product Filter for WooCommerce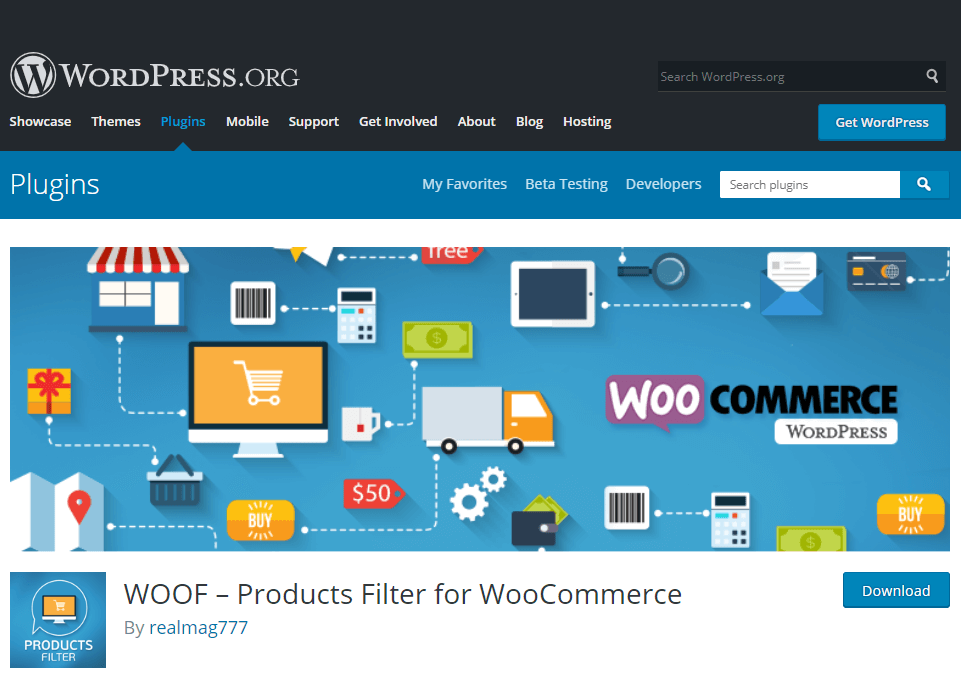 Why do You Need This?
This plugin allows your customers to filter your products by categories, attributes, tags, etc.
It powers your store with the latest version of Woocommerce
you can create any HTML items for the search form and even a custom woo-products loop template for your own purposes.
Mail Chimp- Email Management Tools with Automation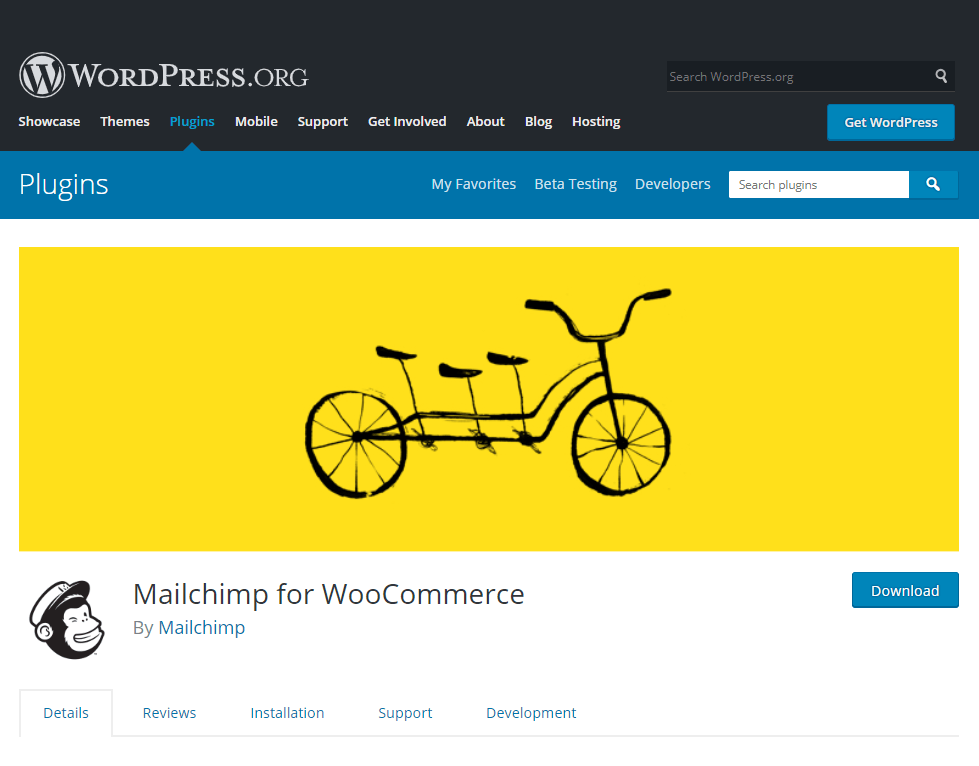 Why do You Need This?
To develop your e-commerce marketing strategy with automation
To easily manage all of your campaigns
To follow up on your customer activities from one place
WooCommerce Conversion Tracking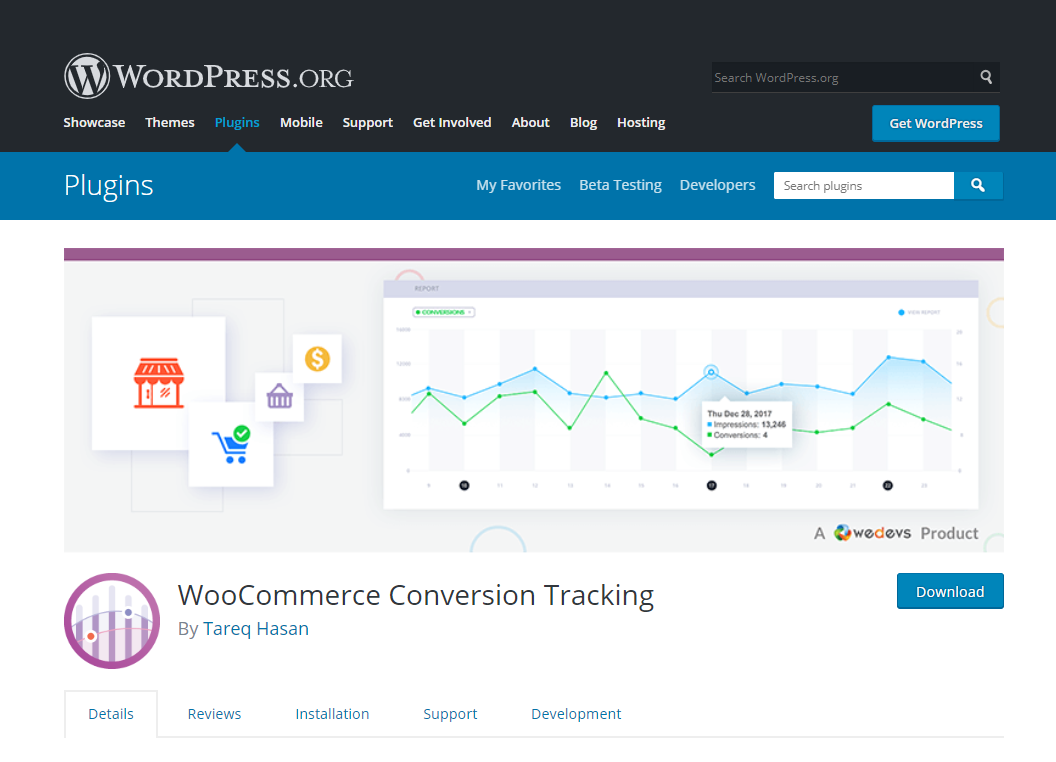 Why do You Need This?
Obtaining advanced user behavioral data
Tracking your WooCommerce business better
Getting detailed conversion data for analytics
Creating better ad campaigns
Securing better customer retargeting for future marketing efforts and many more
Pick Plugin Product Slider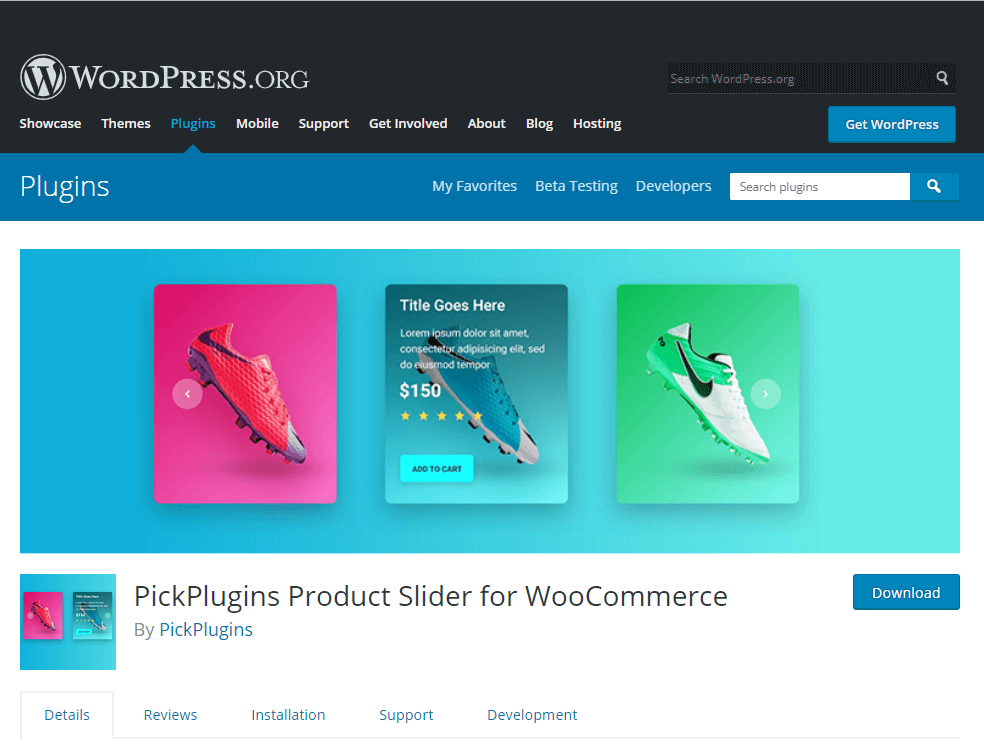 Why do You Need This?
It enables you to embed slideshows of your e-commerce products
You will be able to smartly present your products
Help your customers easily catch the best products for them.
weForms– Amazing Form Builder Plugin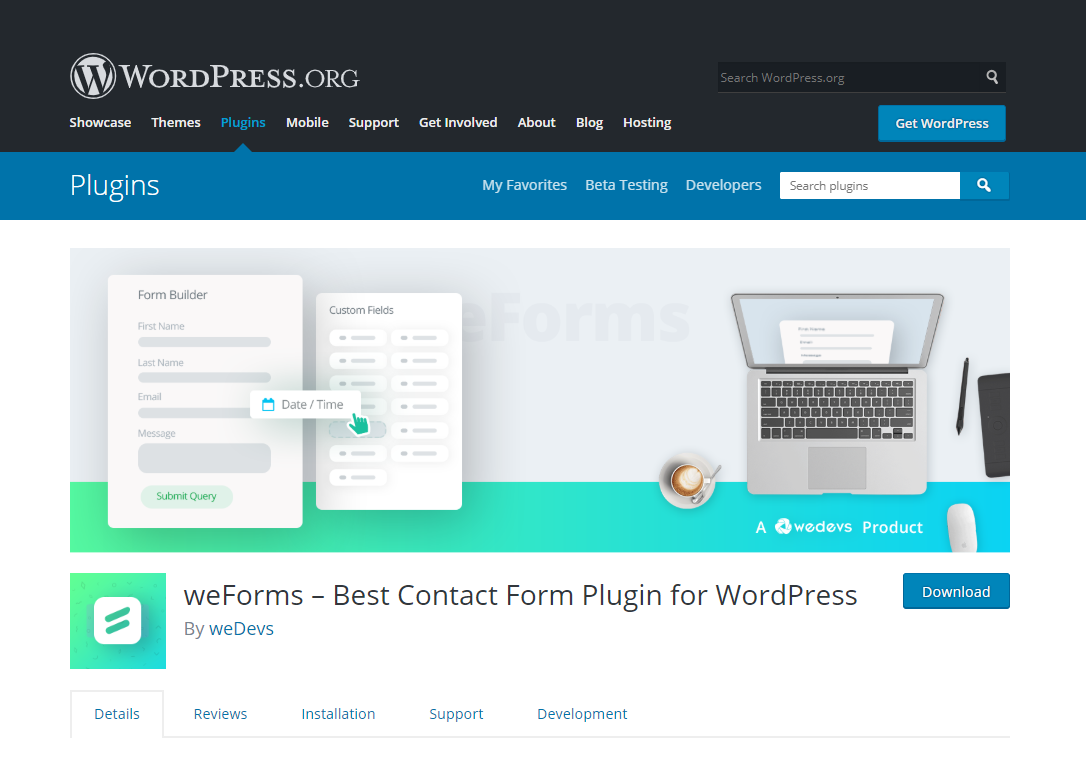 Why do You Need This?
Create any type of form you need within a minute
Save time using this form builder to focus on your marketing and strategy
It has more than 18 premium modules to make it more powerful and effective.
Want to Become the Owner of a Multivendor Marketplace like Amazon?


All you have learned from this article is to create an e-commerce website using WordPress. It's just a single-seller-based online store. Today's trend is to build a multi-vendor marketplace. You could turn your store into a multi-vendor marketplace by only adding a plugin.
There are lots of multi-vendor marketplace builder plugins in the WordPress industry. Dokan Multivendor Marketplace, WC Marketplace, and WCFM Marketplace are some of the great examples of these plugins.
Our pick for you is Dokan, trusted by 70,000+ organizations around the world. Dokan can be certainly the best choice for your startup multivendor marketplace project, and it's free.
Closing Thoughts on WordPress and WooCommerce
It's certainly a great decision for anyone today to create an eCommerce website using WordPress. Many of us make a mistake in this starting stage by choosing the wrong track. Now just keep focusing on your goal and marketing strategy.
If you want to go big with your store, you can always use Dokan to create an eBay-like multivendor marketplace within a few minutes!
If this blog on How to create an eCommerce website helps you, don't forget to share it with your friends.
https://wphive.com/tutorials/how-to-create-an-ecommerce-store-using-wordpress/
Sakil Adnan
Sakil Adnan is an Author, Content Strategist, and Editor. Completed his Graduation in Business & Marketing. Passionate about WordPress, history, religion, and literature. Enjoys exploring new things beyond regular responsibilities. Believes in teamwork and loves empowering team members. Now working as the head of content at weDevs and WPHive.

Subscribe To Our Newsletter