7+ Powerful Best WordPress Lead Generation Plugins Compared in 2023

You have a website which tons of traffic every day. But the irony is you are failing to grab them and take them to the end of the sales funnel. So, you are now ardently looking for the best WordPress lead generation plugin for your website. Is it the situation?
No worries! This article will help you explore the top WordPress lead generation plugins, including their pros, cons, pricing, and other factors. You will also learn about the things you must prioritize in selecting the right lead generation plugin.
Before that, we'll cover a small discussion on what the lead generation plugin is and the things it can do for your site. Let's get into the discussion without wasting any more time.
What is Lead Generation and Why is It Important?


Lead generation is the process of finding out new potential customers. Yet, not many people have a clear idea about the word 'Lead'. Many think it refers to web visitors, which is completely wrong! Lead refers to a group of people who are genuinely interested in your products and looking for ways to buy them.
Lead generation is the process of collecting contact information about this group of people. Afterward, you can offer them your products and services in a personalized way, so they feel enticed to buy from you.
Why Should You Use a Lead Generation Plugin?
Lead generation today is the first step of digital marketing in generating sales. Companies and agencies employ various techniques like social media ads, direct emailing, and offer coupons to dig out potential customers. But doing these manually is extremely boring and time-consuming.
Having a lead generation plugin installed can save you from all these hassles. It will enable you to manage everything from one single place. Let's check out below what you can do with WordPress lead generation plugins.
i. Create Subscription Forms
WordPress lead generation plugin can help you create different types of email subscription forms and add them to your website. For example, popups, embedded forms, top bar, site covers, slide-box, welcome mats, scroll boxes, etc.
ii. Right Placement
Excessive popups and inappropriate placements are why most web visitors feel annoyed and move elsewhere. Having an ideal lead generation plugin installed can help you create opt-in forms and publish them in suitable positions at the right time.
iii. Integrate Other Solutions
You can integrate popular social media channels and email marketing services into your website using the best WordPress lead generation plugins. You can send newsletters to subscribers and share web posts on social media with just a single click.
iv. Run A/B Testing
Using the lead generation plugin, you can create multiple subscriber lists and can run various A/B tests over them. It can help you further narrow down your subscribers and focus on those who are ready to be your customers right away.
Analytics and Insights
All the popular lead generation plugins come with a powerful analytical feature by which you can run robust and targeted campaigns. This feature is a must to generate accurate insights about your leads' quality and marketing campaigns.
Best WordPress Lead Generation Plugins
We will now present to you some best WordPress lead generation plugins that you can consider for your website.
1. OptinMonster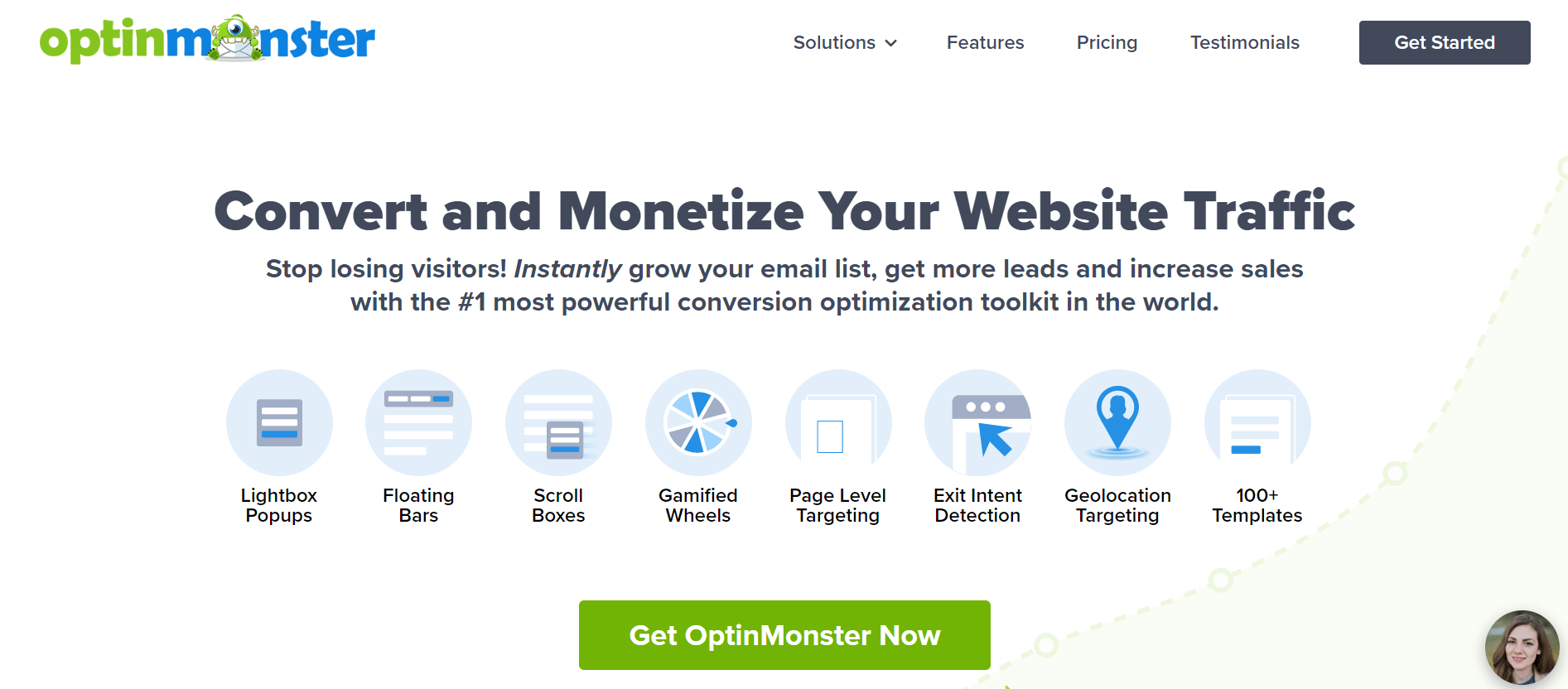 OptinMonster is one of the most powerful lead generation plugins available online. With 400+ built-in popup templates, it has many exciting features that will allow you to create stunning opt-in forms. You can use its campaign types and triggers to run the rightest campaigns to maximize user engagement.
Pros OptinMonster
Creates various opt-in forms, such as lightbox popups, slide-ins, floating bars, sidebar forms, and exit-intent popups.
Retargets the repetitive visitors and shows them special offers and discounts.
Helps you recover from abandoning visitors.
Integrates Google Analytics into this plugin for deeper insights.
Segment subscribers to show particular messages to specific groups.
Tons of templates available by which you can create any popup you can think of.
Responsive to all digital devices, including smartphones.
Cons OptinMonster
Most of its templates are very common as this plugin is already being used in 1,000,000+ websites.
OptinMonster depends on Google Analytics and has no internal analytics.
The setup might confuse beginners as they have to complete it from their SaaS website.
Price of OptinMonster
It has a free version. Pricing starts from $14/month with a 14-day refund policy.
Our Verdict
OptinMonster is a great solution if you wish to avoid the complexity of setting up Google analytics. OptinMonster can support you with top-notch form build-up and easy analytics.
Explore more about OptinMonster
2. weMail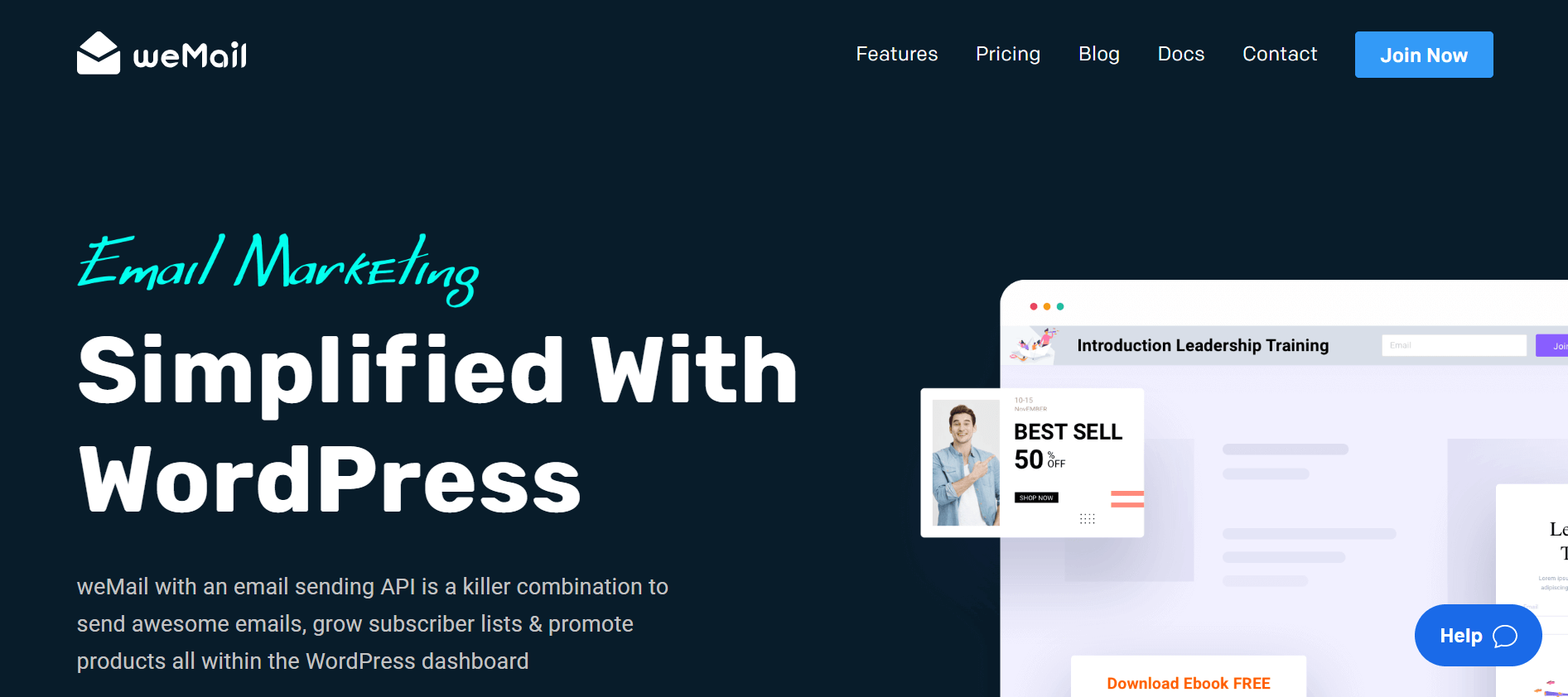 weMail is not only a lead generation plugin but also a powerful email marketing solution for WordPress. It enables you to send newsletters, display subscription forms, collect qualified leads, add subscribers to a list, and manage everything from the WordPress dashboard.
Pros of weMail
Integratable with the world's leading email-sending solution providers like Amazon SES, Mailgun, SparkPost, Postmark, SendGrid, etc.
Has eCommerce integration available and allows you to run onboarding email campaigns.
100+ eye-catchy templates are available that you can use to create stunning newsletters.
Creates various opt-in forms like Inline forms, floating bars, slide-up, double opt-in forms, etc.
Has robust analytics that provides you with 24-hour reporting and campaign overview.
One of the cheapest lead generation and email marketing solutions.
Cons of weMail
Lacks versatile templates and an enriched library.
Must improve the page loading speed for seamless services.
3,000 subscribers are manageable with the free version (but it's enough for beginners).
Price of weMail
It has a free version. Pricing starts from $5/monthly with a 14-day refund policy.
Our Verdict
If you are looking for the cheapest subscriber management and email marketing solution, weMail will always be on top of the list.
3. Gravity Form
The Gravity form is more than a contact form. It's a drag-and-drop form builder with 30+ custom field types. Using them, you can create almost any advanced type of form by which you can gather extensive information about the leads and visitors.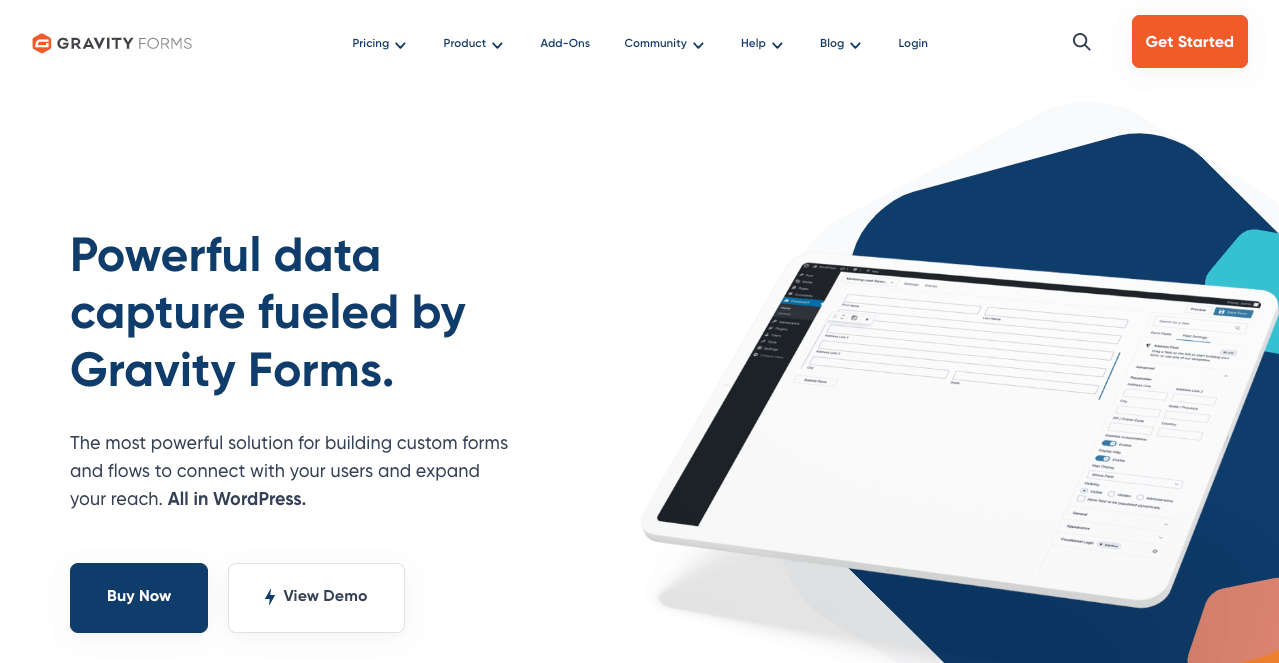 Pros of Gravity Form
Integratable with popular payment solutions like Stripe, PayPal, Square, and others.
Easy to integrate with leading email-sending solutions like Mailchimp, Autorize.Net, Campaign Monitor, etc.
Using the advanced post creation add-on, you can create any type of custom post type.
Has CAPTCHA feature to block the bot's activity.
Can create multi-page forms.
Cons of Gravity Form
No free version is available.
Might be complicated for beginners.
Expensive for small and medium organizations.
Price of Gravity Form
No free version is available. Pricing starts from $59/year with a 30-day refund policy.
Our Verdict
You must look at Gravity Forms if you want to create advanced forms for extensive information generation.
Explore more about Gravity Forms
4. RafflePress

RafflePress is simultaneously best for lead generation and creating viral giveaway campaigns. Its exciting 'refer-a-friend' feature lets you promote your products through word-of-mouth marketing. It also offers many quick and easiest ways to grow more subscribers in a short time.
Pros of RafflePress
A handful of eye-catchy templates are available to run and design giveaway campaigns.
Has viral sharing options to grow followers on different social media platforms.
You can create a dedicated giveaway landing page and use its analytics for campaigning analysis and retargeting.
Strong security helps you run fair campaigns free of fraud and scammers.
Creates 100% mobile-friendly giveaway campaigns to reach more audiences.
Cons of RafflePress
Doesn't offer the option to edit a header logo on the giveaway landing page.
Best viral actions are available only in its premium plans.
You will get only one giveaway template in its free version.
Price of RafflePress
It has a free version. Pricing starts from $79/year with a 14-day refund policy with no condition.
Our Verdict
If you wish to get the solution of contact form build-up and viral giveaway campaign generation, both from the same place, RafflePress could be the best choice.
Explore more about RafflePress
5. MailOptin

Designing opt-in forms from scratch is really a critical job. But things become easier with the MailOptin plugin. Because it is integrated with the Elementor drag-and-drop page builder.
Pros of MailOptin
Allows to create various opt-in forms (notification bars, lightbox popups, widgets, slide-ins, etc.) and shows targeted messages and CTAs.
Upgrading to any premium plan will get you a free email opt-in plugin.
Integratable with popular email marketing services like Sendy, MailChimp, Constant Contact, Drip, ConvertKit, and AWeber.
The advanced email automation feature enables you to do email blasting.
Comes with advanced analytics and actionable reports and insights.
Cons of MailOptin
Most exciting templates are reserved only for premium users.
Pricing is comparatively high if you are using it on a smaller scale.
You cannot do much with its free version.
Price of MailOptin
It has a free version. Pricing starts from $89/year with a 14-day refund policy on specific conditions.
Our Verdict
If you want to work less on building convertible forms, MailOptin can be your savior. Because it has lots of catchy templates to get ready your opt-in forms right away.
6. Thrive Leads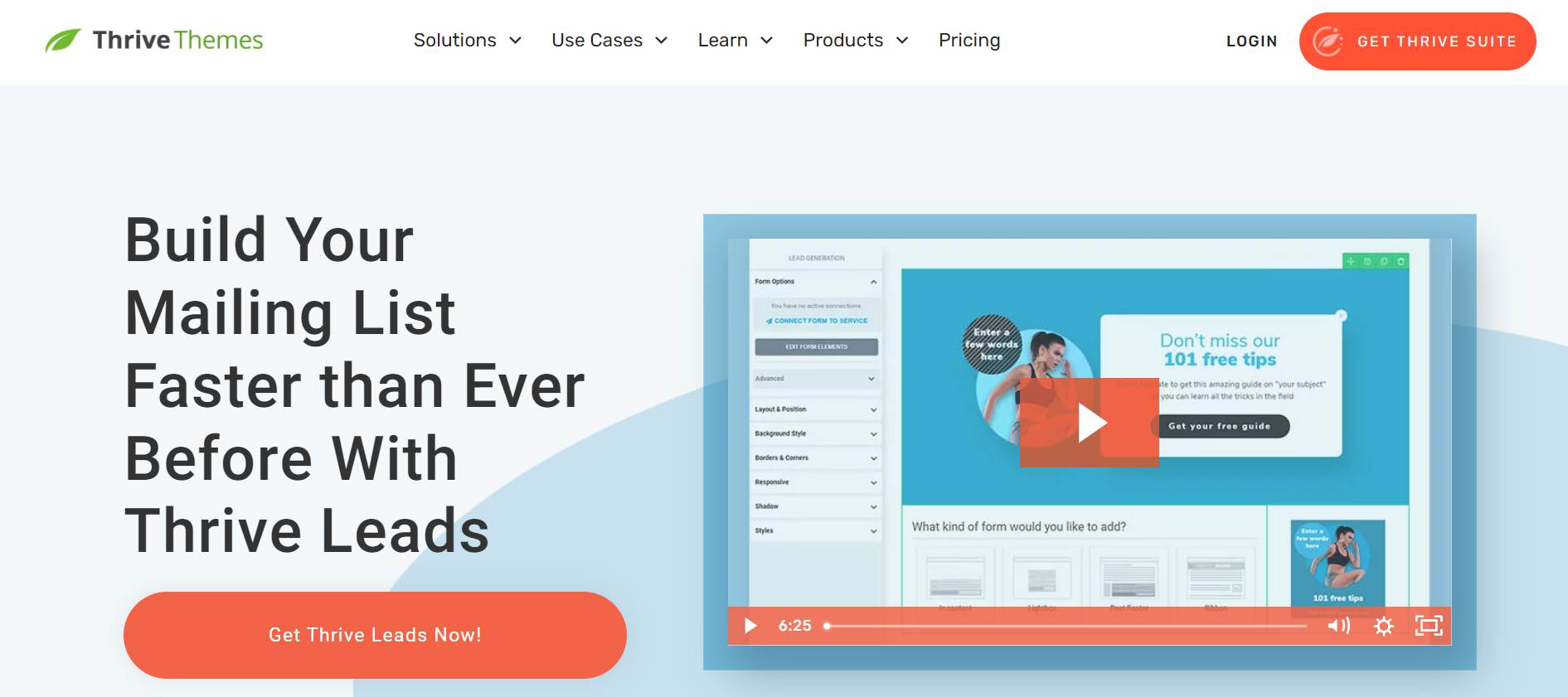 This is another WordPress lead generation plugin by which you can create beautiful opt-in forms of any type. It has advanced reporting, an A/B testing engine, and robust reporting features. So, if you are a data-savvy person, you must consider this plugin on your checklist.
Pros of Thrive Leads
Nine types of opt-in forms are available: screen filler, content lock, 2-step opt-in, in-content form, slide-in, multi-step forms, Ribbon, Lightbox Overlay, and opt-in widget.
Gives you qualified data about your leads which you can use to generate more conversions.
The easy targeting option enables you to show particular data to specific audiences.
40+ direct API integrations are available for email marketing services.
Creates unlimited design possibilities with its drag-and-drop editor.
Cons of Thrive Leads
Misses some powerful targeting features like geo-location targeting, OnSite retargeting, etc.
Doesn't have a free version available.
Price of Thrive Leads
It has no free version available. It has only one pricing option, which is $97/year, with a 30-day refund policy.
Our Verdict
If you aren't a beginner and have experience in lead management, you may get this plugin. Because if you purchase this plugin whilst you are a beginner, some time initially will be wasted only to understand its eco-system.
7. Popup Domination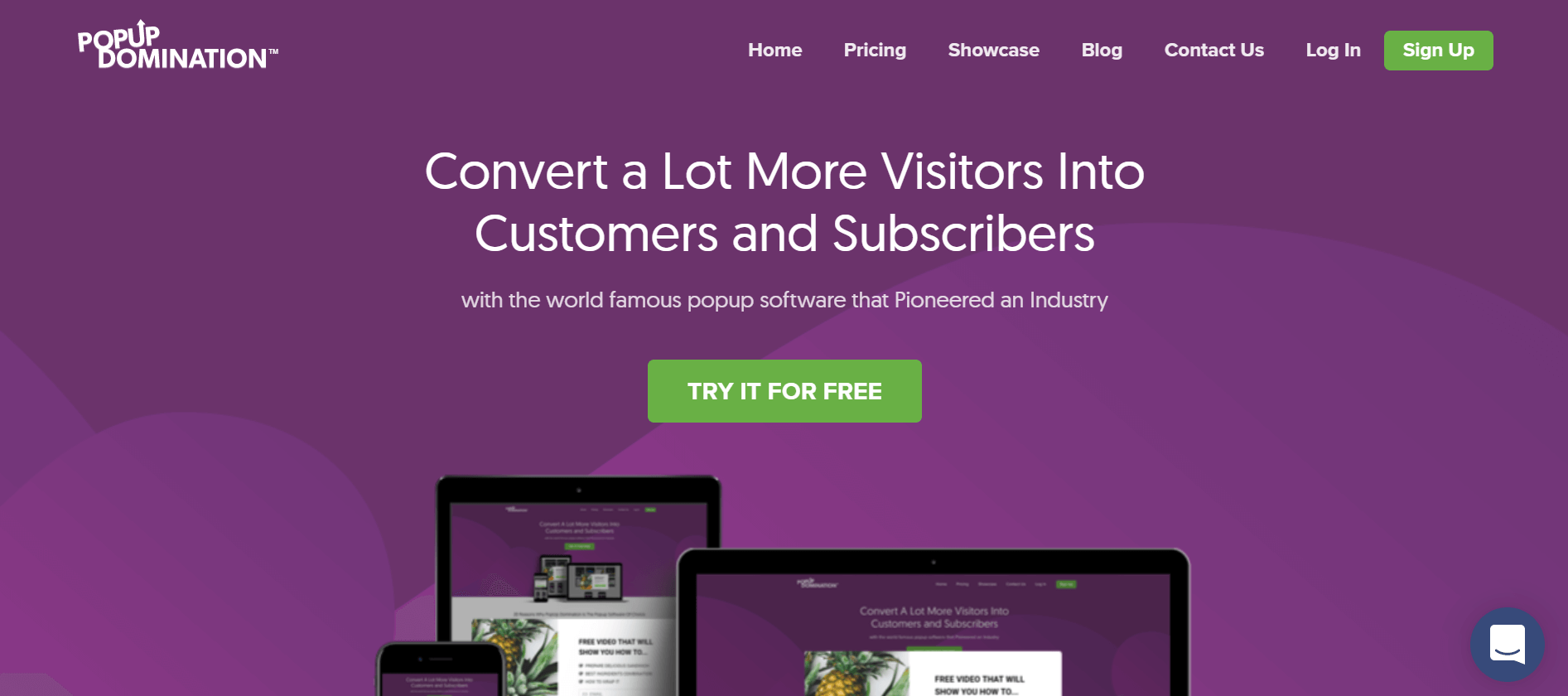 If you are looking for a lead generation plugin that you can use on any type of website, you can consider the Popup Domination plugin. It offers you countless ways to grow email leads and send visitors to product pages.
Pros of Popup Domination
Creates page-specific popups that are compliant with GDPR policies.
Popup works perfectly both on desktops and smartphones with clear texture and sharpness.
Can create countdown popups to show the scarcity of your products and offers.
Shows popups based on the sites and geographic locations your traffic is coming from.
Cons of Popup Domination
Cannot create a completely new popup out of scratch using the visual editor. You have to use their pre-built templates.
Complicated for beginners to understand.
Price of Popup Domination
It has a free version. Pricing starts from $9/monthly with a 60-day refund policy.
8. Bloom

Bloom is a product of Elegant Themes. It has many powerful features that can convert visitors into paying customers. But buying process of this plugin isn't the same as others. You have to sign up for the Element theme membership program for $89/year.
In a sense, subscribing to Bloom may seem costly to you. But once you sign up for the membership, you can use all the themes and plugins available to them. This means you are getting so many things in one package.
Pros of Bloom
Has 110+ templates by which you can create stunning opt-in forms
Has plenty of trigger options in showing popups. Such as after a certain time, when someone reaches the bottom, when they click on specific objects, after comments, and more
Easy to run A/B tests and disable opt-in forms on specific posts and pages
Cons of Bloom
Cannot purchase this plugin alone
Doesn't have a free version available
Price of Bloom
It has no free version available. Pricing starts from $89/year with a 30-day refund policy.
Our Verdict
The same rule applies here, like the above plugin. If you aren't an expert and have no experience yet in lead management, you must think twice before buying this plugin. Better you practice those plugins that have free versions available. Once you become a pro, you can buy this premium one.
Special Mention: Baluu- A Powerful Booking Software to Nurture Your Leads
One of the most powerful tools for lead generation is booking software. By having a booking system on your website, you can impress your leads with an easy-to-use scheduling service that significantly helps them save time.
Baluu is booking software that can help your leads book meetings, sales calls, and demo requests conveniently. With everyone working on their own schedule, this option reduces cancellations.
Pros of Baluu
Very simple to use
There is a plan that is completely free.
Built-in eCommerce features
Create a booking website from scratch.
It provides customer convenience.
Compatible with most websites.
Provides multi-part event support
Cons of Baluu
Only 50 bookings per month for the free plan.
No online support section.
You can't sell pre-recorded content on the free plan
Price of Baluu
Free Plan up to 50 bookings per month, Lite (£14/mo+VAT), Standard (£24/mo+VAT), Growth (£39/mo+VAT).
A Quick Comparison Over these WordPress Lead Generation Plugins
Plugins
Ease of Use
Active
Installations
Average
Rating
Free
Version
Pricing
Starts
OptinMonster
5
1,000,000+
4.5
Yes
$14/month
weMail
5
10,000+
3.9
Yes
$5/month
Gravity Forms
5
—
—
No
$59/year
RafflePress
5
10,000+
3.6
Yes
$79/year
MailOptin
4.8
30,000+
4.8
Yes
$89/year
Thrive Leads
4.7
—
—
No
$97/year
Popup Domination
4.7
—
—
Yes
$9/month
Bloom
4.5
—
—
No
$89/year
FAQs on WordPress Lead Generation Plugins


This section will cover some frequently asked questions on the best WordPress lead generation plugins.
How do you generate leads for a website?
There is no one-stop strategy to maximize lead generation for a website. You have to try out multiple ways at a time to do that. In the following ways, you can optimize your website for lead generation.
1. Create holistic content strategies
2. Add forms and popups on the pages that get more traffic
3. Personalize CTA buttons
4. Make sure your robust presence on social media
5. Arrange giveaway campaigns
6. Facilitate the word-of-mouth marketing
7. Create meaningful landing pages
8. Evaluate analytics to measure your performances
What is the difference between leads and qualified leads?
Anyone who visits your website is a lead. But those who are interested in your products and looking for ways to buy them are qualified leads.
How to generate leads for B2B business?
You can generate qualified leads for your B2B businesses in the following ways.
1. Publish evergreen content
2. Run social media ads and giveaway campaigns
3. Personalized email marketing
4. Offer discounts and coupon
5. Setup a chatbot
6. Get backlinks from high-authority websites to increase your exposure
What are the best lead generation tools for WordPress?
Followings are currently the best lead generation tools for WordPress.
1. OptinMonster
2. WPForms
3. RafflePress
4. MailOptin
5. Thrive Leads
6. Popup Domination
7. Bloom
What are the stages of lead generation?
There are basically four stages of lead generation. They are:
1. Lead awareness
2. Lead education
3. Lead sampling
4. lead conversion
Best WordPress Lead Generation Plugin: Expert Opinion
You can see the lead generation plugins mentioned above don't have the same set of features available. Some are specialized in opt-in form creation, some are data-savvy, and some are campaign-oriented. So, which one to choose?
First of all, if you are a beginner, you better try your journey with the free version. Find out which of these free versions can be sufficient for your needs. But if you are looking for the premium version:
OptinMonster– Best for agencies and multi-sites.
weMail– Anyone can use it if he needs a complete email marketing solution alongside lead generation.
RafflePress– It will be the best choice for those who want to run giveaway campaigns.
MailOptin– A good choice for those who want to get the email automation service.
Thrive Leads- You may consider using this plugin for more data-centric results.
Popup Domination- Keep this plugin on your checklist if you want to create countdown popups.
Bloom– If you need plugins, themes, and other web solutions at a time, you can consider the Theme Elegant package.
Hopefully, you have found this article useful. If you love to get more interesting articles like this one, subscribe to us and comment below with your opinion.
https://wphive.com/reviews/plugins/wordpress-lead-generation-plugins/
Fuad Al Azad
Fuad Al Azad is a creative writer who loves to blog on everything in between tech, marketing, and eCommerce. Alongside, he is an admirer of fact, fiction, and philosophy.

Subscribe To Our Newsletter