Multicollab: Google Doc-Style Editorial Commenting for WordPress

Gutenberg Editor has been a great update for writers who use WordPress for publishing. It's a great tool that has helped writers to create posts on their websites without having to learn HTML or CSS.
However, Gutenberg Editor is not perfect. And most of the writers ultimately write on Google Docs while they just use the Gutenberg to publish the post on the web.
The main reason behind not using Gutenberg to write posts, is the lack of options for editorial collaboration. There's just so much on offer from Google docs in terms of editorial suggestions, comments and such.
But what if you get all these in the Gutenberg editor? That is what Multicollab brings to the table.
In today's Multicollab review, we will show you what this tool is all about. We will also show you the features it offers to make Gutenberg a truly writers-friendly editor and how to use them.
Let's get started!
A Brief Overview of Multicollab – Implement Google Doc Style Commenting within Gutenberg Editor


Multicollab is a tool that is closing the gap between Google Docs and Gutenberg editor in terms of editorial capability. Making Gutenberg more writer-friendly.
This tool allows editors to review content on the Gutenberg editor efficiently. They do it by offering the capability of adding suggestions, inline comments, automatically emailing the suggestions, and more.
Now, multi-author collaboration is something that is supposed to be coming in the third phase of the Gutenberg development, which is scheduled to start this year. And the update and fix of the feature will surely take more time before it becomes truly useful.
And, here we already have a ready tool in hand capable of doing that. Exciting isn't it?
To take you a bit more in-depth on what this tool can do, now let's show you the features of this plugin.
Multicollab – Key Features You Should Know About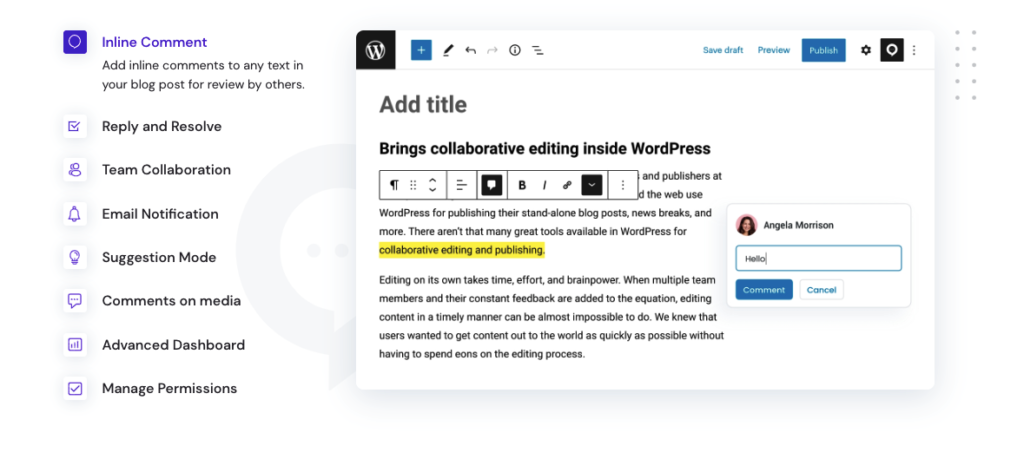 There are multiple features that make us truly appreciate the plugin. We'll start with the inline commenting feature, one of the things that we love (and miss in the Gutenberg Editor) the most in this tool.
1. Inline Commenting in Posts
The plugin allows for adding inline comments to a post. You can do it in the same way you can do it on Google Docs.
It lets you edit and add comments on any part of the content inside Gutenberg. That includes any text or media. Apart from that, you can comment on the following type of blocks.
List
Table
Headings
Quote
Pullquote
Verse
Button
Video
Audio
File
Gallery
Cover
Media & Text
You can do that both during post-draft and editing. The free version only allows you to add comments on the text, which can limit you somehow.
But the ability to add comments on text/media is highly beneficial. However, the feature comes in with Plus and the Pro version of the plugin only.
2. Assign Comments to a Specific Team Member
It is possible to assign a comment to a specific team member. All you have to do is just mention their name in the comment.
The comment will also initiate an automatic email to the specific team member for notification. So even if the person is not on the site, or aware of the comment he will be notified.
3. Reply to and Resolve Comments from Team Members
Just like in Google Docs, there is also a reply and resolve option for the comment added using an editor.
Multiple users can participate in a single comment and reply to it. Everyone will have the option to resolve the comment as well.
4. Add/Track Suggestions and Reviews on All Posts and Pages
If you use Google Docs regularly, you might also know the usefulness of the Suggestive Mode. Well, it isn't just a feature of Google Docs now, you can use it on your Gutenberg editor as well, thanks to Multicollab.
If you're unaware of what suggestive mode does, let me make it simple by comparing it to editing.
Any edit made on the suggestive view will make the edits show up as suggestions, unlike in editing mode, where anything you write or delete will be directly added to the post. It is highly useful when you are reviewing someone else's content.
5. Review all Comment Activities with Advanced Reports
As a content professional, you must write/edit/review a lot of content every day. It's not easy to track every little detail. With the advanced dashboard from Multicollab, you'll never work in dark. You can easily track progress for all pages and posts with multiple filtering criteria.
Now, these are just the key features of Multicollab, and its effectiveness can only be realized through using it. In this next section, we'll show you how to use this highly useful tool.
6. Manage Permissions of Users
Multicollab allows you to give out permissions for adding/resolving comments for selective users.
The same goes for suggestions as well. You can manage exactly who can have access to accept or reject suggestions.
All in all, the collaboration can be limited to whoever you want. This is a nice feature to have when there are different levels of users working on a single project.
How to Use Multicollab
Just like any other plugin, the first step to using the Multicollab on your website is to install it. You can install the plugin in the same way as any other plugin on WordPress, using your admin dashboard.
Installing Multicollab
First login to your WordPress Admin Dashboard and navigate to Plugins > Add New.

Search for Multicollab and click on Install after you find it.

And the installation is done.
After that, a dedicated option named Multicollab will appear on the sidebar. If you want to go premium, you can click on that to check and purchase a suitable plan for you.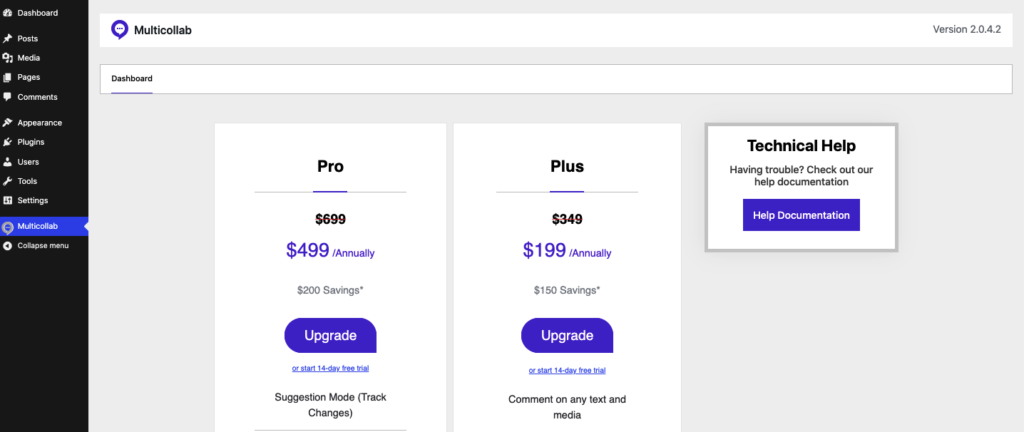 For this tutorial, we'll use the Pro version.
Commenting Inside a Post
The first thing that we'll show you is how commenting works.
To comment on a certain portion of a post, just highlight that part, click on the comment icon and a comment box will appear.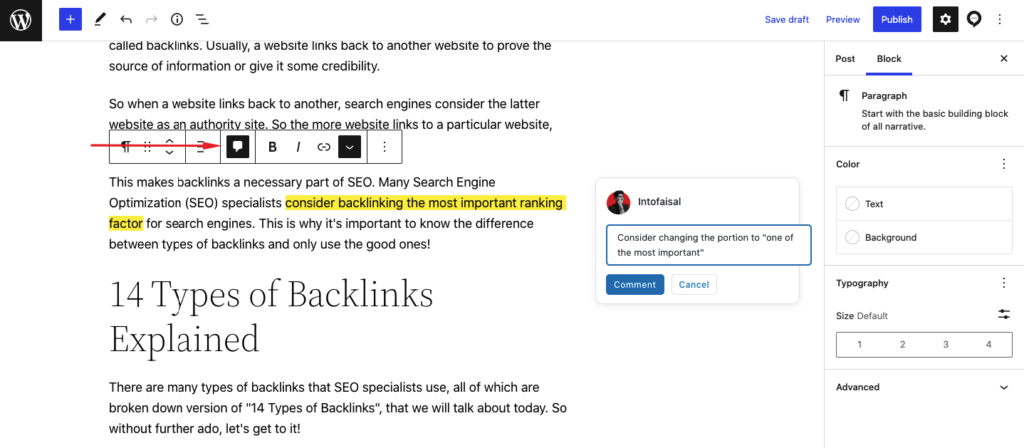 You can also add comments to media blocks just as easily. Just click on a media and a comment icon will appear.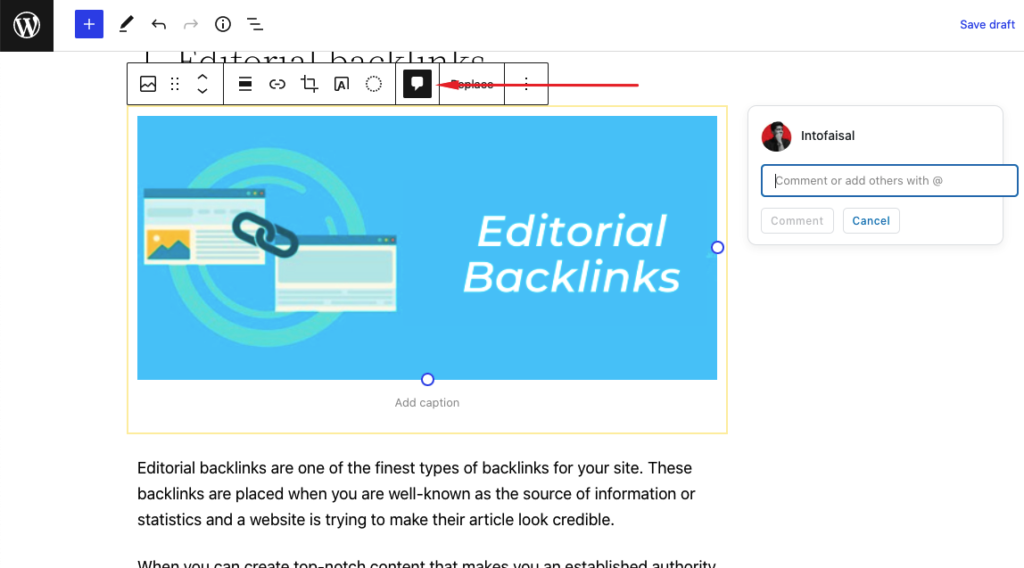 You can comment on almost all important Gutenberg blocks as we mentioned in the feature section.
Reply to Comment & Resolving
All permitted users can reply to comments just like Google Docs. Moreover, it is also possible to mention someone else in the comment.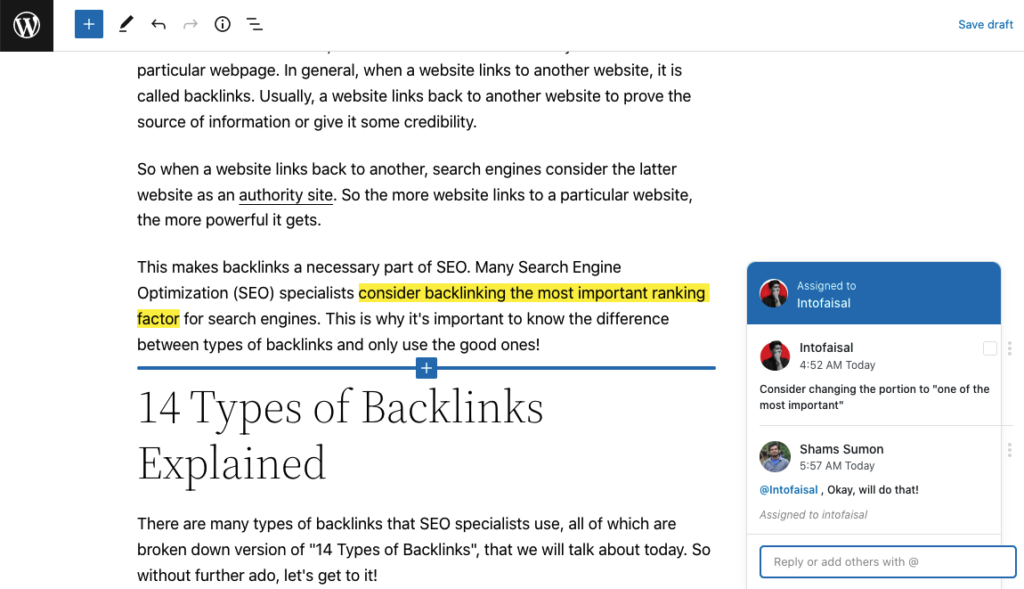 It is also possible to resolve the comment.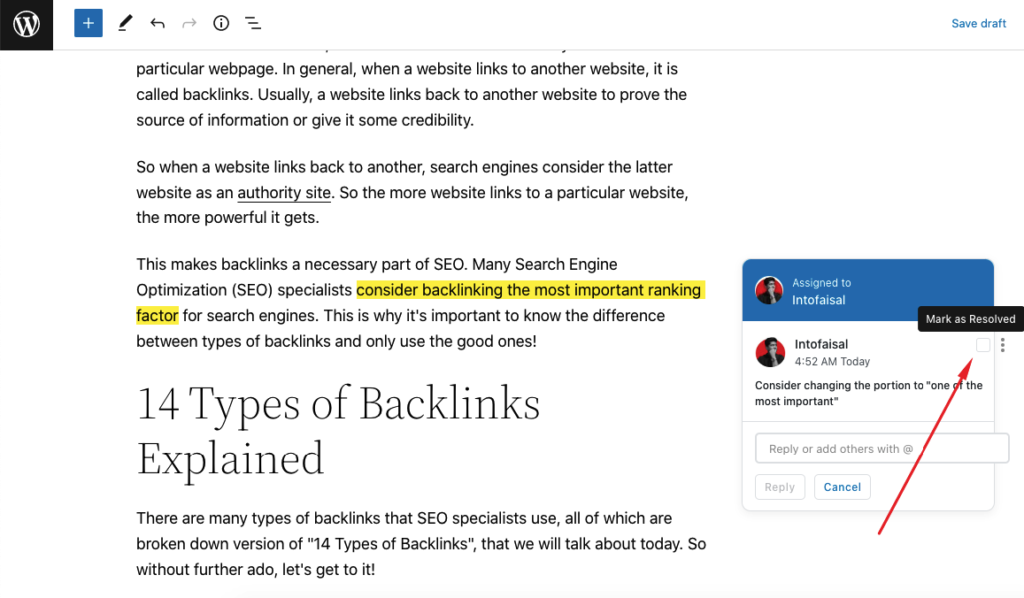 Making Suggestions on a Post
As we said, we're especially a fan of their suggestive writing feature. It works like a charm and changes the experience of content editing and reviewing in Gutenberg editor.
To add suggestions, you have to enable the Suggest Edits option from the Multicollab menu, as shown in the image below.
After that, you can just keep writing, and these writings will be added as suggestions.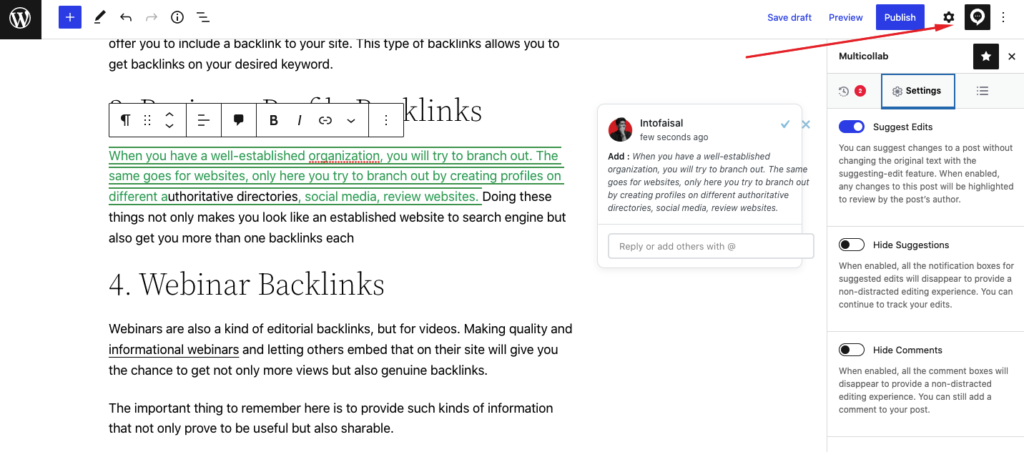 It is then also possible to accept the changes made with suggestive writing.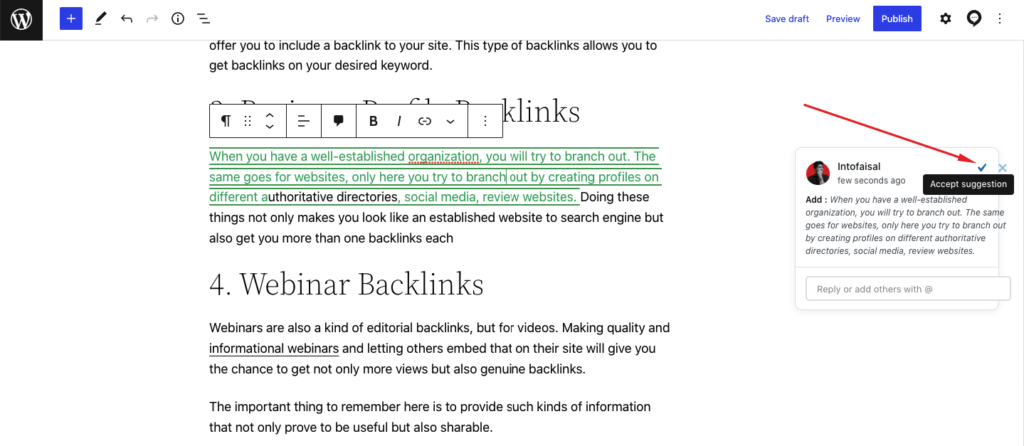 Viewing Reports & Analysis
One more great thing that Multicollab offers is the reports and analysis.
You can track the latest activity timeline.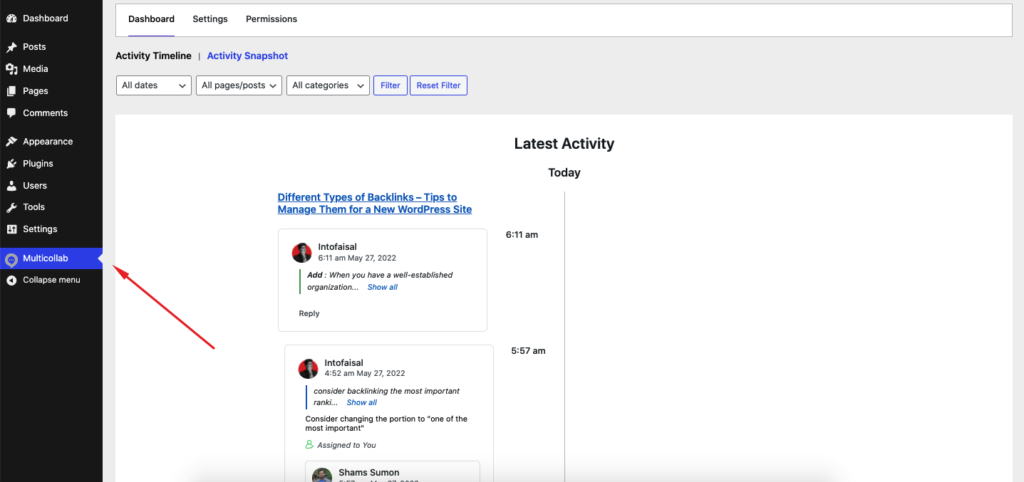 It is also possible to track activity per post/page.

Pricing
Multicollab is a plugin with varied features. And depending on your need, there are a couple of pricing plans.
If you are a small business or blog site that only needs the most necessary feature of this plugin, which is being able to comment on any text and assign/mention team members, you can opt for the free version which is called Basic.
However, there are other pricing plans for people who need more out of it and whose business thrives on collaboration.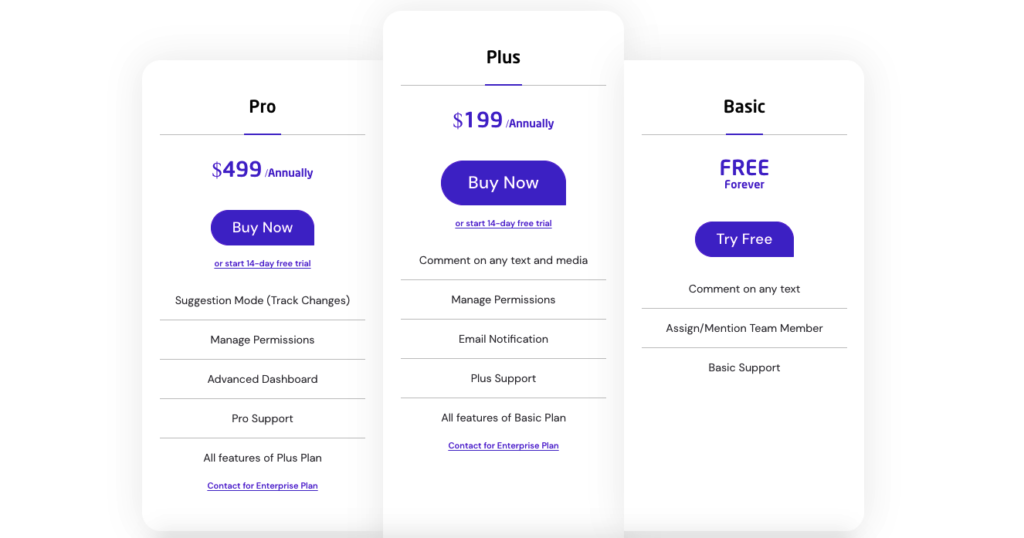 The Plus pricing plan of Multicollab will give the ability to comment on not just text, but also on any media. You can manage the permissions of users to add/resolve comments as well.
This is on top of all the basic features as well as dedicated Plus support. The price for this plan is $199/year.
There's another pricing plan, which is called by the name Pro. This plan truly goes above and behind in the features and provides you with a truly collaborative experience for all the users on your site.
Apart from all the features of Plus and Basic, you get the amazing Suggestion Mode. You will also get access to the advanced dashboard for reports as well. What's more, the support will also be quicker for this plan. This plan costs ¢499/year.
FAQ on Multicollab
Now let's answer some common questions that you might have regarding the tool.
What is Multicollab?
Multicollab is a WordPress plugin that enables Googe doc-style editorial commenting for Gutenberg editor.
Who is Multicollab for?
Multicollab is a WordPress plugin that is suitable for Agencies & Publishers where multiple people need to collaborate during the content creation process in Gutenberg editor.
What is WordPress collaborative editing?
WordPress collaborative editing is a term used to define the participation of multiple users in WordPress page/postediting.
Is Multicollab the best WordPress collaboration plugin?
Multicollab is a perfect WordPress collaboration plugin to enable collaborative editing within the WordPress Gutenberg editor. It is certainly one of the best WordPress collaboration tools out there.
Is Multicollab free?
Multicollab is free for the basic version. For advanced features, there are also two premium versions of this plugin.
Better Editing with Gutenberg Editor from Today
Multicollab is a groundbreaking tool. The collaborative editing capability helps agencies and publishers alike, in order to make the publishing process better in WordPress.
While using the tool, we found it to work as advertised. The features of this plugin did make difference, and we now use this tool on our website as well.
The ability to comment on any text or media is a spectacular feature of Multicollab. But the doc-style suggestion mode is simply outstanding, as it allows any edits to posts or pages to be highlighted for other parties to accept, reject and further collaborate.
Overall, this tool truly opens up a new window of collaborative editing workflow in WordPress.
If your business or workflow is dependent on a collaborative approach, this is a tool that you will love to use. Have any questions regarding the tool? Ask us in the comment section below.
https://wphive.com/reviews/multicollab-review-google-doc-editorial-commenting/
Faisal Sarker
Faisal is a tech blogger who excels at WordPress Content Writing. Apart from sharing useful info pieces that help people around the world, he also likes to travel and read books of all genres in his leisure time.

Subscribe To Our Newsletter