7 Best WordPress Accessibility Plugins Compared [2023]

When we are talking about the user experience, nothing but a WordPress accessibility plugin can help you the most. It makes your site equally accessible to everyone.
People with disabilities may have a hard time on your site if you don't optimize it for them using an accessible plugin. Having said that which accessible plugin would you use? As there are several choices available and choosing just randomly one won't help you much.
To help you exactly in this situation, we are here with the best WordPress accessibility plugins list for you. This is a list of both free and premium plugins. So, let's check them all and finally choose the perfect one as per your requirements and budget.
Benefits of Using a WordPress Accessibility Plugin


If you prioritize the user experience in the first place, the WordPress accessibility plugin is inevitable for you. It has many positive impacts on a WordPress site.
Inclusive website: The first reason to use an accessibility plugin is to make your site more inclusive. Not only will this help you avoid discrimination and legal complications down the road, but it'll also increase the reputation of your website.
SEO benefits: Several accessibility options like image alt tags, transcripts for videos, and others are ranking factors in Google. So by enabling accessibility on your website, you can improve your website SEO and get better search rankings.
More conversion: By making your website more accessible, you can reach out to a wider user base. This increases your chances of converting more leads. More conversions mean more money.
User experience: Accessibility plugins help a large portion of the online population browse your site's content. They equalize the online browsing experience, so everyone can profit from your site's products or services.
Now let's explore the best WordPress accessibility plugins for your site in 2023.
Best WordPress Accessibility Plugins for 2023 


We have listed the top 7 WordPress accessibility plugins in terms of popularity, functionality, ease of use, and pricing. So, first, let's take a quick look at the list.
One Click Accessibility
Accessibility by UserWay
WP Accessibility
WP Accessibility Helper
AccessiBe
WP ADA Compliance Check Basic
Accessibility Checker
This is our top plugins list. Now we will make an in-depth analysis of each of the plugins that we have mentioned above.
1. One Click Accessibility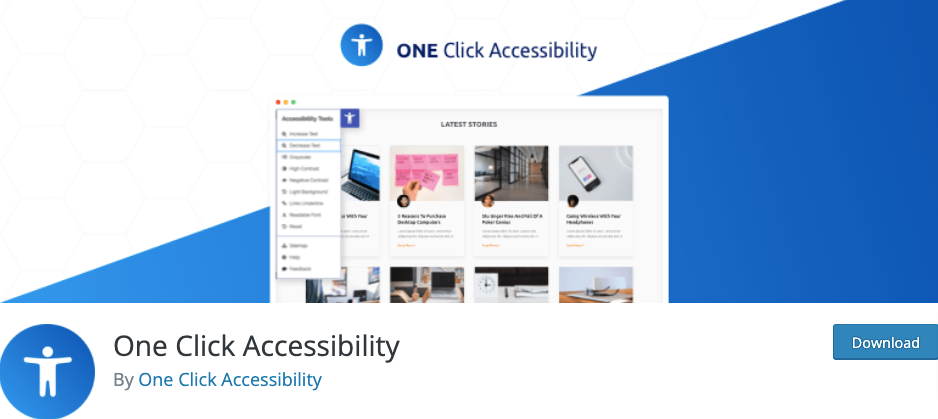 One Click Accessibility is the first pick on our list. It provides you with the right options to allow maximum accessibility for your website without actually changing your content.
Similar to accessiBe, One-Click Accessibility includes a nifty accessibility toolbar that you can provide to your website users. The toolbar comes with options such as font resizing, grayscale and contrast options, links to sitemaps/help pages, and even background options like setting up a light background.
Pros
Dedicated Accessibility Toolbar with tons of accessibility options
Simple but important accessibility options that can be enabled with just a click of a button
Customizer integration for better styling and customizing adjustments
Easy to set up
Cons
Lacks more in-depth and ADA/WCAG standards-friendly features.
No premium version.
WCAG (Web Content Accessibility Guidelines) is a set of website accessibility guidelines while ADA is a civil rights law.
Price
One-Click Accessibility is a free plugin.
2. Accessibility by UserWay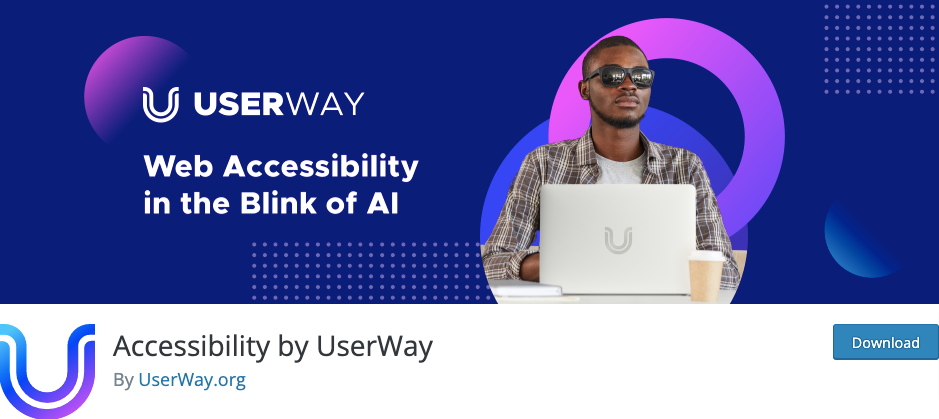 Accessibility by UserWay is a seamless WordPress accessibility plugin trusted by millions of websites across the globe. The plugin was developed specifically to provide the business owner with a complete and affordable solution for the accessibility program.
Well, this will make the website easier and barrier-free for all users. Further, this allowed the website visitor to enjoy safe browsing and experience a great user experience.
Pros
User-friendly setup and modifications
Hotkey-enabled accessibility menu and an intuitive screen reader
Ensures that your website is completely keyboard-only navigation friendly with complete text/font readability options
Free with additional pro features such as logo customizations, white-labeling, and more
Cons
Lacks options for better content customization and tracking web accessibility issues.
Price
This plugin has a free version with limited features and several pro plans that start at $490 per year.
3. WP Accessibility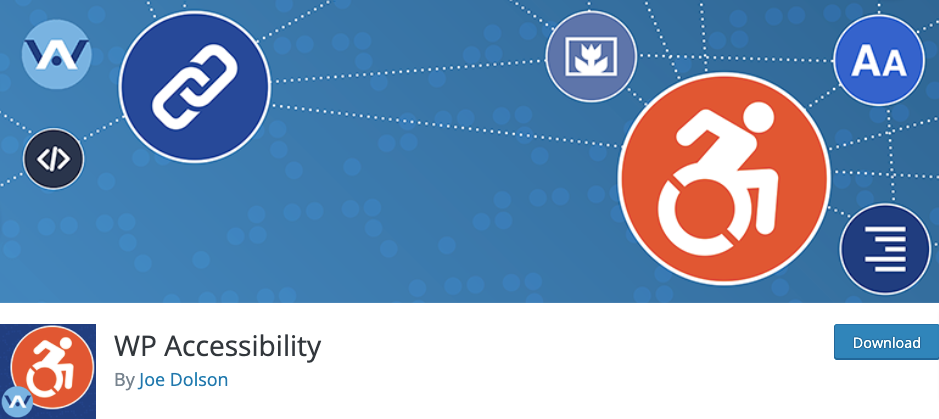 WP Accessibility is a multi-function plugin that solves common accessibility issues. Its most outward feature is a font size and color contract toolbar that helps users more easily read your content.
All features can be disabled according to your theme's needs. For advanced users, all of the functions based on modifying stylesheets can be customized using your own custom styles by placing the appropriate stylesheet in your theme directory.
Pros
Exceptional CSS and HTML-based accessibility tools and features
Dedicated Diagnostic CSS tool that can help highlight CSS-detectable accessibility problems on your front-end content
Nifty accessibility features and tools that can be customized and enabled/disabled
Cons
It's not a beginner-friendly tool. Because rather than offering simple options to improve site and content navigation, WP Accessibility provides you with tools to fix your website's deficiencies and issues regarding web accessibility.
Price
This popular plugin is 100% free.
4. WP Accessibility Helper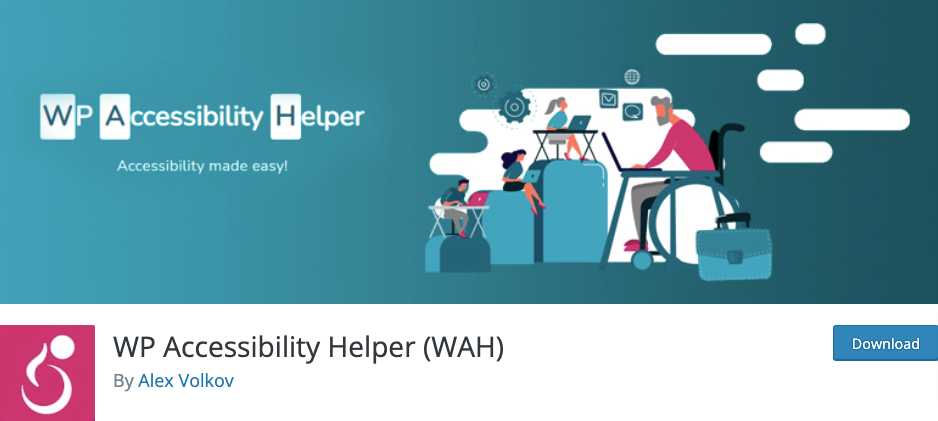 WP Accessibility Helper (WAH) is a popular freemium accessibility plugin that helps you design your website in a way that all users have equal access to its information and functionality.
With this plugin, you can solve all your problems related to font size, contrast, titles and aria-label tags, image alt tags, and more. The best thing is that the plugin is compatible with all advanced plugins and themes too.
Pros
Simple and nifty widgets that let your viewers enable/disable tons of accessibility options
Extremely simple to setup/customize and even comes with tons of dedicated documentation and video tutorials
Free plugin with an extendable premium version
Cons
Many of the users claimed that the support doesn't respond on time.
Price
WP Accessibility Helper has a free plan with basic features and several premium plans that starts at $199 per year for one domain.
5. Web Accessibility By AccessiBe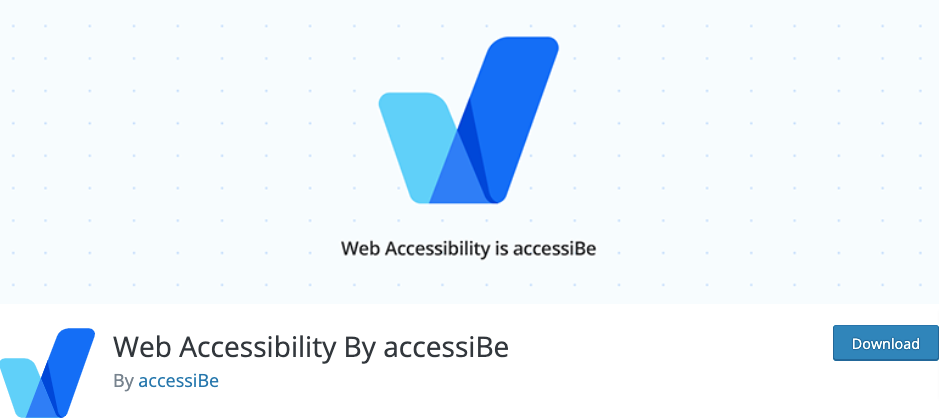 Web Accessibility By AccessiBe is one of the fastest-growing WordPress Accessibility plugins. If you're running a business or want the best solution for web accessibility, then AccessiBe is the plugin you should consider.
AccessiBe features AI-powered accessibility for better screen reading and keyboard navigation adjustments. This means that your content gets automatically labeled by tags and icons so users with visual disabilities can recognize each element on your site.
On top of that, it comes with frontend UI features that provide options for better color, reading, and navigation adjustments that users can use to adjust the content in one click.
Pros
Industry-standard matching solution for your business' website
Provides regular audits and daily monitoring to ensure that your site constantly matches the accessibility requirements
AI-powered automatic screen reader adjustments that make full use of contextual understanding and image recognition options
Fully customizable with a wide range of options to provide even more accessibility customizations
Cons
The UI is nice but maybe there could be some more advanced layout customization within the actual widget, for adding a logo or something like that.
Price
The plugin has a free version and four different premium plans to fit different businesses and needs. The price starts at $490 per year for one domain including a 7-day free trial.
6. WP ADA Compliance Check Basic

WP ADA Compliance Check Basic is a freemium WordPress scanning plugin used to identify accessibility issues on your website.
The free version is ideal if you only have a small, low-traffic site and no budget available. It allows you to scan for 51 error types, although you can only do fifteen pages or posts. A detailed report is generated once the scans are complete.
If you need tools to help you fix issues identified by the scans, you will need to upgrade to the Pro version. With that, you can run unlimited scans for 76 error types.
Pros
The free version is an excellent way of running accessibility scans on your posts and pages
Pro is worthwhile as it adds full-site and continuous scans, plus lots of tools to help you fix issues
Excellent documentation, including video tutorials and an eight-hour online accessibility training course
Cons
The basic version doesn't identify issues in themes.
Price
The core WP ADA Compliance Check plugin is free. Pro upgrades begin at $179 per year for one domain.
7. Accessibility Checker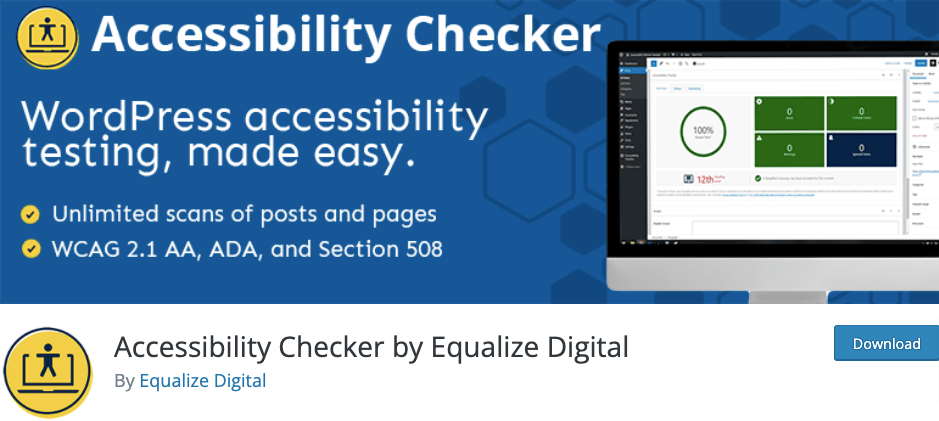 Accessibility Checker plugin helps you meet Web Content Accessibility Guidelines (WCAG) by scanning your site against over 40 different accessibility checks.
You'll get a visual summary box that enables you to quickly see any issues and dig into each one in detail. The plugin will not fix your issues automatically, but it will give you detailed documentation to show you how to fix any issues that show up.
Pros
The free version is a great starting point for simple sites
The paid version gives you a centralized open issue list and a log of all ignored items
Supports WooCommerce, custom post types, and Advanced Custom FIelds
Lets you create an accessibility statement to display on your site
Cons
With the free version, you'll have to go through the issues piece by piece, and only works with WordPress posts and pages.
Price
This plugin has a free version and a premium version starts at $144 per year for one license.
WordPress Accessibility Plugins – Comparison Table
We have put all the plugins in one place and compared them so that you can easily understand which plugin can help you the most to make your site accessible to everyone.
Let's check this crucial information at a glance and choose a perfectly matched plugin for you.
| | Type | Active Installs | Ratings | Price | Number of Domain |
| --- | --- | --- | --- | --- | --- |
| One Click Accessibility | Free | 80,000+ | 4.6 | N/A | N/A |
| Accessibility by UserWay | Freemium | 50,000+ | 3.5 | $490/Year | Up to 100K pageviews per month |
| WP Accessibility | Free | 40,000+ | 4.8 | N/A | N/A |
| WP Accessibility Helper | Freemium | 20,000+ | 4.7 | $199/Year | 1 Domain |
| AccessiBe | Freemium | 8000+ | 4.4 | $490/Year | For websites under 1000 unique pages |
| WP ADA Compliance Check Basic | Freemium | 4000+ | 5 | $179/Year | 1 Domain |
| Accessibility Checker | Freemium | 800+ | 5 | $144/Year | 1 Domain |
Bonus: How to Use a WordPress Accessibility Plugin


Here we are going to use the WP Accessibility Helper plugin to create this tutorial. Follow the below steps to set up it on your site.
Step 1: Install and Activate an Accessibility Plugin
Go to your WordPress dashboard, then click on the Plugins, then Add new button.
Type WP Accessibility Helper on the search box, then install and activate the plugin from the search result.

Step 2: Go to the Accessibility Page
Once the plugin has been installed and activated, you need to jump right over to the main "Accessibility" page. You can get there by clicking on the Accessibility tab link that is located on the left-side menu area of the dashboard.

From this main page, you will be able to configure all the WordPress accessibility options needed to make your site more accessible.
Step 3: Configure the Plugin
Here, you will see quite a few settings available. Under each main setting box is a list of relevant configurations you need to make.
You will see options for:
Global Settings
Font Settings
Contrast Settings
Style Settings
Links Settings
Content Settings
Global Settings
This box is where you will configure all the global settings for the plugin. This includes options like theme style, mobile, images, buttons, and transitions.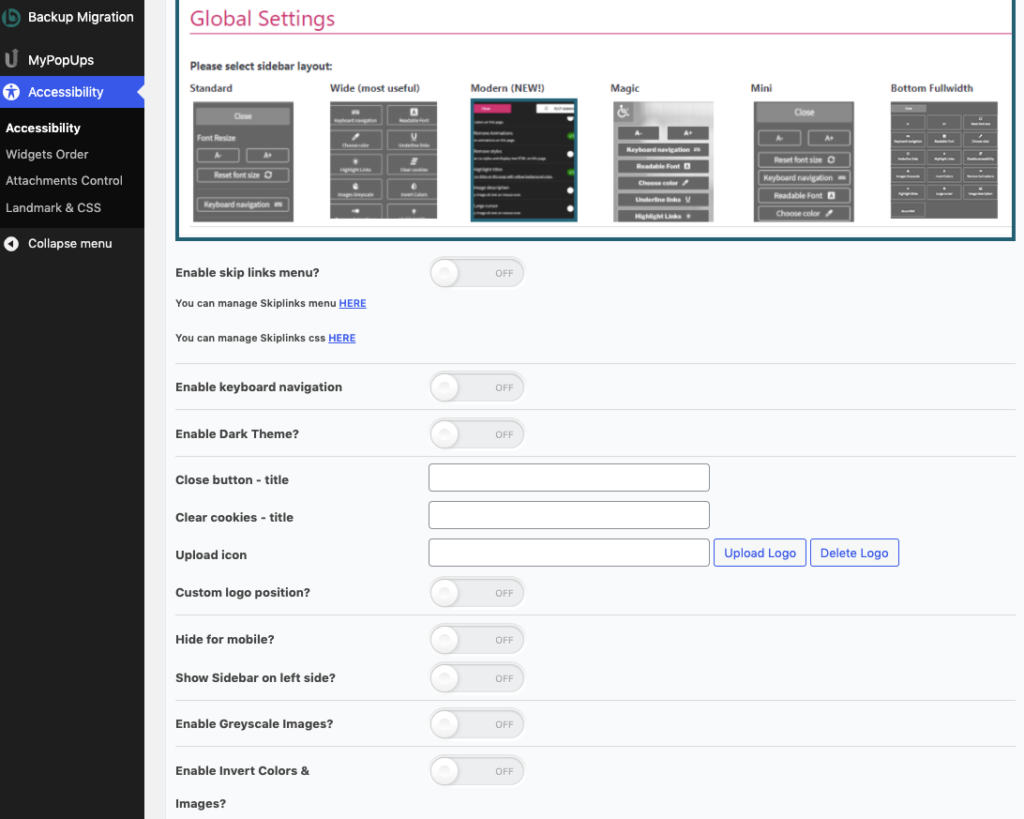 Font Settings
Configure all the font settings for the front end of the site under this box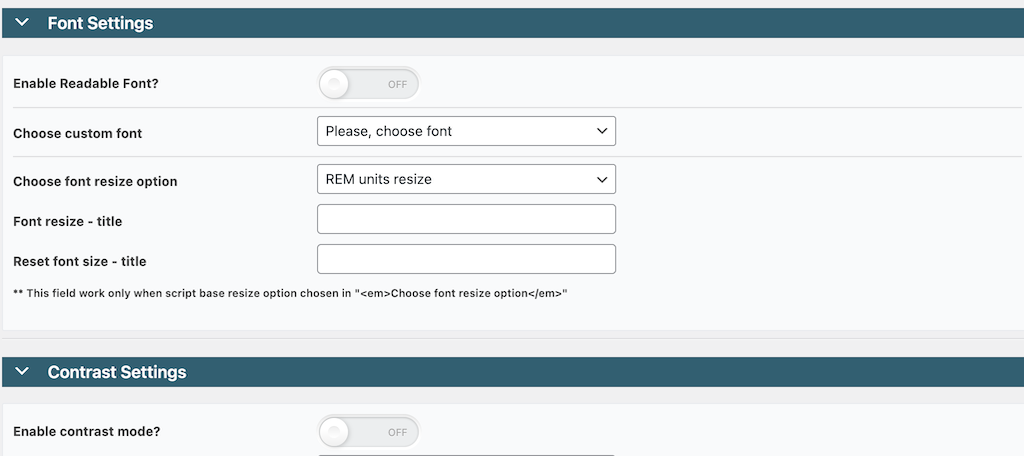 Contrast Settings
Apply more color contrast settings under this tab to make colors more accessible.

Styles and Links Settings
Under these boxes, you will find options to set your styles and links for the plugin. Configure them how you see fit for your site.
Content Settings
Lastly, set the checkbox for content settings how you want.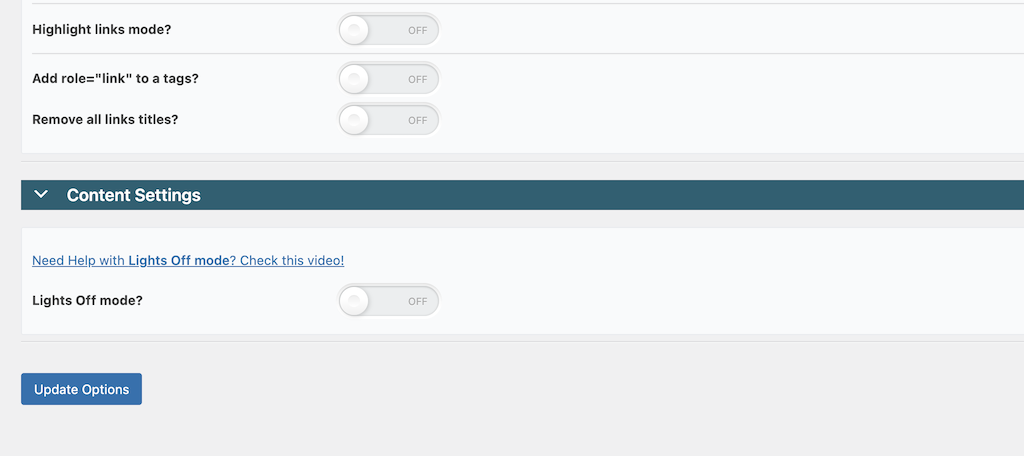 When you are finished, click on the "Update Options" button at the bottom of the page to ensure all your configurations are applied.
Step 4: Order Widgets Appropriately
After all the main configurations are done, jump over to the "Widgets Order" page. Simply click on that link in the left-side menu area.
Once on the page, you will see a list of the widgets included in the plugin. You can order them however you want using a drag-and-drop technique.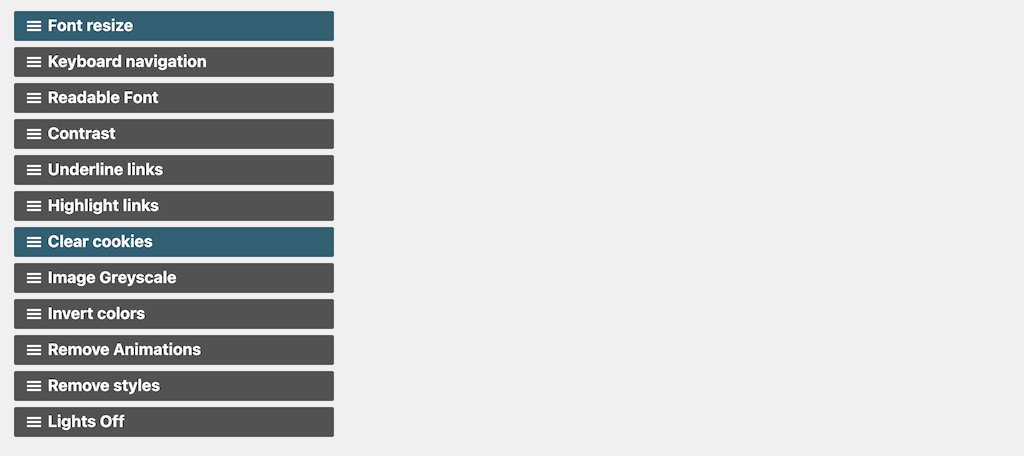 That's how you can leverage an accessibility plugin for your site.
Over to You
Using a WordPress accessibility plugin can immensely help you to increase your site's user experience. On top of that, you can attract more traffic to your site using one of these plugins.
Also, setting up and using this plugin is an easy and straightforward job. So, choose a plugin from our recommended plugin and start optimizing your site now.
Which plugin would you prefer to use? Let us know your favorite one in the comment box below. It'll help our other users to pick the best WordPress accessibility plugin for their site.
Also, if you don't find your favorite plugin in our list, just comment on it. Hopefully, we will feature it in our next update.
Follow our Twitter and Facebook handle to get regular updates from WPHive.
https://wphive.com/reviews/wordpress-accessibility-plugins-compared/
Shams Sumon
Shams is a content writer with a passion for making WordPress topics easy to understand for everyone through conversational and storytelling approaches. With a background in the WordPress industry since 2019, he has developed a knack for breaking down complex technical concepts into digestible bites. When he's not crafting engaging content, Shams can be found watching football matches, catching up on the latest movies, or exploring new destinations to rejuvenate himself.

Subscribe To Our Newsletter