Create Customizable Products That Sell Like Hotcakes with WP Configurator

There are hundreds of online stores on the web, why should someone buy from you? Maybe your commitment to quality and customer service is top-notch. But people want more these days. That's why you need WP Configurator. It can set your business apart from the competition with highly customizable products.
You can provide a more personalized experience by allowing your customers to customize their products. Whether you sell clothing, jewelry, furniture, home decor items, or any other customizable product, WP Configurator Plugin can help you increase sales and customer satisfaction. Let's take a closer look at this WP Configurator review to find out how this plugin can revolutionize your e-commerce business!
What is WP Configurator for WooCommerce?
WP Configurator is a powerful plugin that helps businesses offer unique and personalized products to their customers. You can easily create product configurations with unlimited options, views, and layers. Thus, it becomes easier to offer highly personalized products that meet the specific needs of each customer.
The plugin comes with six pre-designed skins or templates that you can use to customize your product configurations without the need for any additional design work and advanced coding knowledge. With WP Configurator for WooCommerce, you can also offer multiple options for each product, including switch view options, duplicate configurators, and built-in WooCommerce support.
The key features of WP Configurator

WP Configurator offers a wide range of features and customization options. It integrates well with WooCommerce. So it's easy to manage your inventory, process orders, and track shipments. This streamlined process can help you provide a hassle-free shopping experience to your customers and encourage them to keep coming back for more. Here is the list of top features of WP Configurator.
Unlimited configurations: This allows users to create an unlimited number of product configurations or customizations.
Unlimited numbers of layers: Users can add an unlimited number of layers to their product configurations, including text, images, colors, and other design elements.
Unlimited numbers of views: Users can create multiple views or perspectives of their product configurations, such as front, back, side, or top-down views.
Six skins: WP Configurator allows users to choose from 6 different design skins or templates for their product configurations.
Import and export configurators: This allows users to easily import or export their product configurations to other websites.
Contact 7 support: Users can integrate the Contact Form 7 plugin with their product configurations.
Inspiration, share & download: This feature allows users to share or download their product configurations and get inspiration from other user-created configurations.
Duplicate configurators: Users can duplicate their product configurations to create variations or different versions.
Built-in WooCommerce support: This feature allows users to integrate their product configurations with the WooCommerce plugin.
Also read: Dokan Review – Top Features of the Best WooCommerce Marketplace Plugin
Who should use the WP Configurator plugin?
If you're selling products through a WordPress website and WooCommerce, WP Configurator is the right choice for you. This plugin is ideal for businesses that sell products requiring customization. For example, you can easily create custom t-shirt designs or offer custom options for furniture, like fabric type, color, and cushion firmness.
This powerful and versatile tool offers a range of features and customization options for businesses that want to sell personalized products on their website. With its user-friendly interface and built-in WooCommerce support, this plugin is a great solution for businesses of all sizes. If you want to create customizable products that sell like hotcakes and provide a unique shopping experience to your customers, WP Configurator is the perfect solution for your business.
A 5-step guide to using WP Configurator Pro
WP Configurator Pro is an excellent tool for creating highly customizable products for your WooCommerce store. With a few simple steps, you can create personalized products that meet the specific needs of your customers.
Here's a step-by-step guide on how to get started with WP Configurator Pro:
1. Purchase and install WP Configurator Pro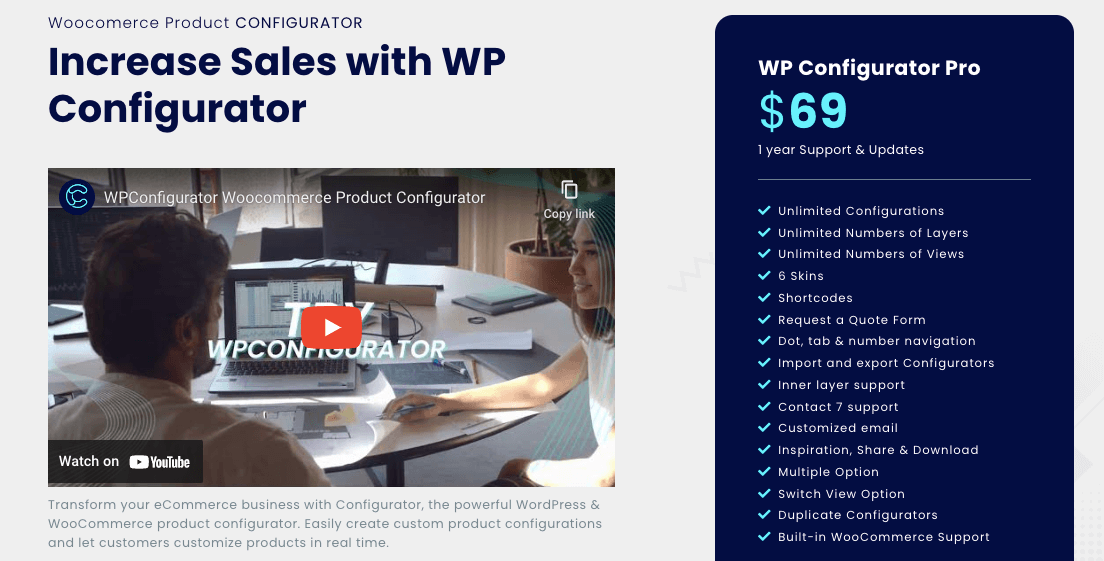 We assume that you have a WordPress online shop made with WooCommerce. Now, you have to purchase WP Configurator Pro and install it on your WooCommerce website. The plugin is easy to install and can be done by following the prompts provided in the installation wizard. You can visit the WP Configurator pricing page and buy the plan that suits your business needs.
Then, download your pro plugin and activate it on the WordPress website. Go to your WordPress dashboard and simply navigate to Plugins > Add New > Upload Plugin. Then choose the downloaded ZIP file from your computer to install it. If you need a detailed guide, follow this article written on how to install a WordPress plugin.
2. Create your product configurations
Once you have installed WP Configurator Pro, the next step is to create your product configurations. To do this, navigate to the "Configurator" tab in your WordPress dashboard and select "New Configurator". Follow the prompts to create your product configurations, including selecting the product, adding layers and views, and setting the options.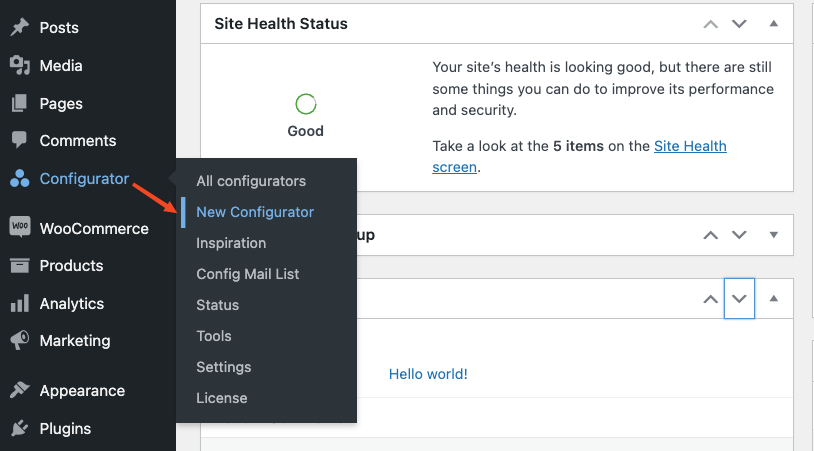 3. Customize your configurator
The new configurator wizard will take you to the customization page where you'll get all setting options including layers, control settings, view settings, and other settings. Choose the layer that best suits your needs and customize it to match your brand.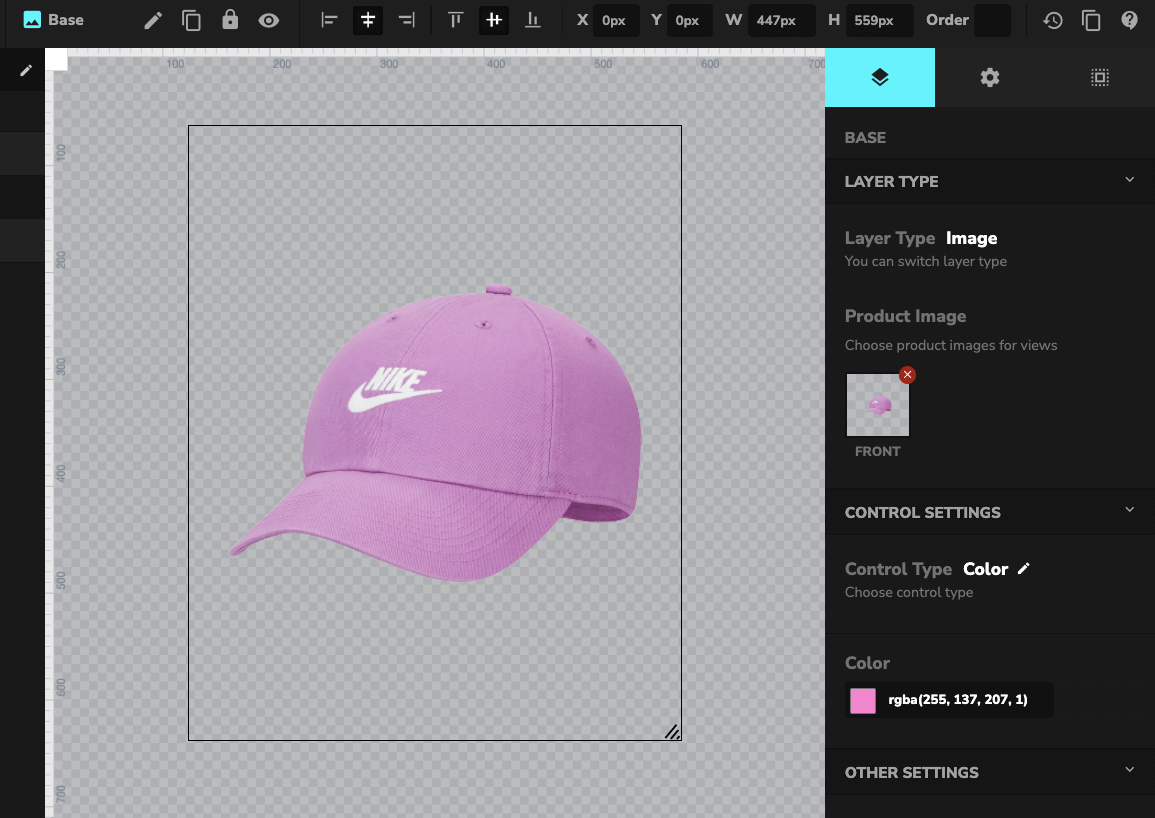 You can watch this YouTube video to learn more about creating a configurable product using the WP Configurator plugin. All the images, color options, etc have to be pre-built in Photoshop or an equivalent solution in the exact size and location to overlay over the original product image to work correctly.
4. Add your configurator to your product
After creating and customizing your product configurator, the next step is to add it to your product. To do this, navigate to the product in your WooCommerce dashboard, select the "Configurator" tab, and choose the configurator you created.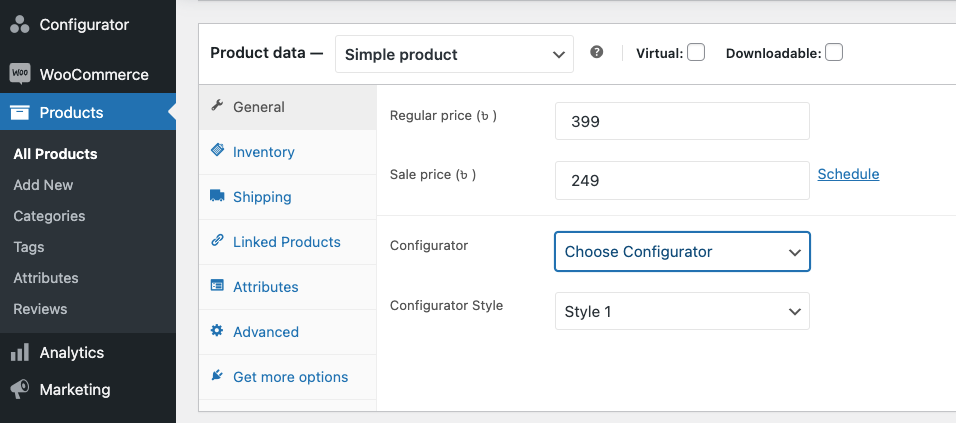 5. Test your products and publish them
A well-configured product will let your users customize their products in many ways. Look at the following image as an example. This Smart Watch has four customizable options such as case, strap, buckle, and interior. I've chosen white color for the CASE, leather color for the STRAP, black for the BUCKLE, and sky blue for the INTERIOR. Thus, the customer finds it very convenient to configure the item to their needs.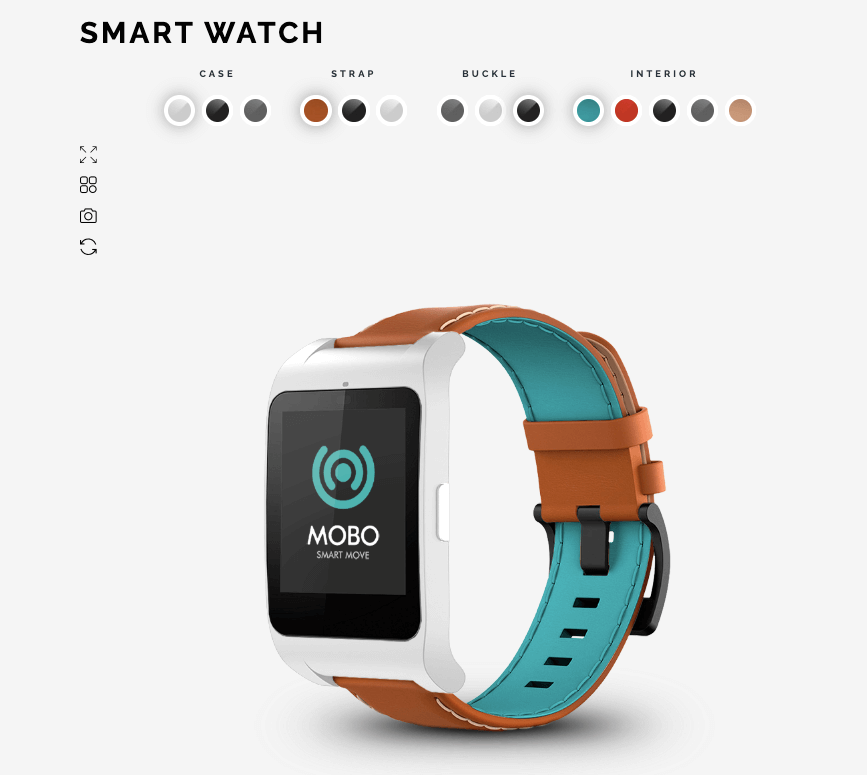 If your product appears as you intended, it's finally time to publish your product. Test it thoroughly to ensure it's functioning properly. Your customers can now use the configurator to customize their products to meet their specific needs. And, they can make a purchase using the functionality provided by WooCommerce.
Buy WP Configurator to elevate your online business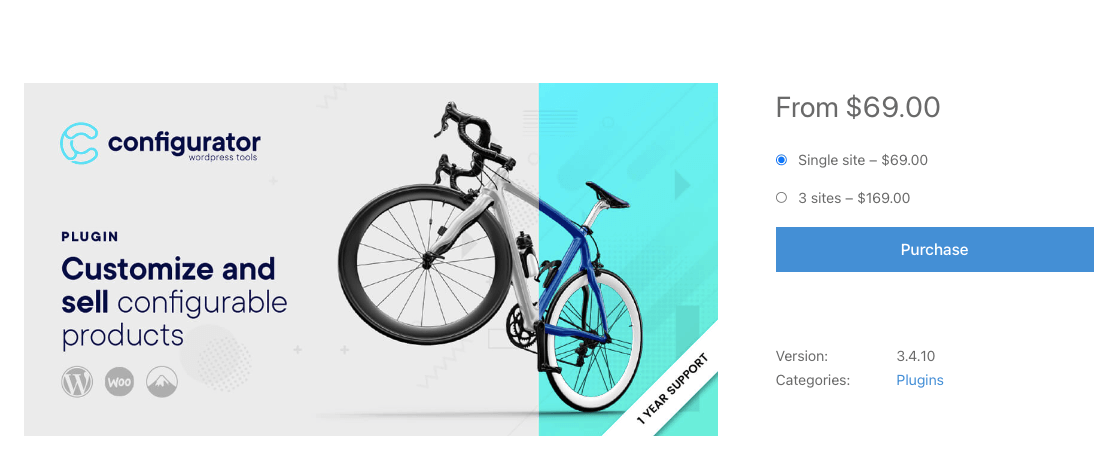 It is essential to understand that WP Configurator is not the only solution available to enhance an online business. Therefore, businesses must evaluate their particular requirements and objectives before investing in this plugin or any other tool. WP Configurator enables you to develop personalized product configurators for your online store.
WP Configurator offers flexible pricing plans to cater to the varying needs of its users. The basic plan starts at $69 for a single site, while the advanced plan for up to three sites costs $169. Additionally, you can expand the capabilities of the plugin by purchasing add-ons tailored to your business requirements. The available add-ons include:
Shortcodes for Elementor
Shortcodes for WP Bakery
Conditional Logic
Custom Image Upload
Custom Text
More add-ons are coming for the users. The bottom line is- using WP Configurator can enhance customer experience by providing a more interactive and engaging way to shop online. It gives customers more control over the customization process. Thus businesses can increase customer satisfaction and improve sales.

https://wphive.com/reviews/wp-configurator-review/
Tanvir Faisal
Md. Tanvir Faisal is a Content Writer at WP Hive with 4 years plus experience in Content Writing, Copywriting, Proofreading, and Editing. He focuses on writing informative content that draws social media attention and enhances search engine visibility. To date, he has successfully developed useful content for many websites across all formats.

Subscribe To Our Newsletter