7 Ways to Fix Duplicate Contents in WordPress and Grow Faster (2023)

Google is not a human. When indexing thousands of web pages through the Google Search algorithm, Google often finds the same content of different pages of your website. Duplicate content is harmful to your SEO. It can lower the rank of your website.
Duplicate content issue gets worse when people interlink different versions of the same content
As you all probably know, internal links are a healthy way to build authenticity of your website. However, when you interlink different versions of your website pages that have the same content, you lose the hard-earned respect from Google. Google takes action, and your website will rank lower than before.
What is Duplicate Content
Same content – different URLs
As the name suggests, duplicate content means the same material in two different URLs. It doesn't matter if the URL is under the same domain or not. For example, if yourdomain.com/a and example.com/b have the exact same content, then it will be discovered as Duplicate Content by Google.
How Duplicate Content can Impact Your Website
Your website will rank lower.
Bad User Experience
If you are having a separate mobile subdomain of your website, then the number of duplicate contents will be twice.


4. What about duplicate content on a different domain?
Everyone writes from one's mindset. However, if Google finds that two websites have the same content, they will mark it as duplicate content. Now there might be a question that how Google understands who copied whom? Well, they have advanced algorithm techniques that allow them to interpret this situation correctly.
Google has said, again and again. Google doesn't give you any credit for duplicate content. There is zero reason to show your site in the Search Engine Result Pages (SERPs). If someone else has already published that content, Google will prefer the other website. Google will give better ranks to another site in their Search Engine Result Pages (SERPs)
4. Can affect domain authority
5. Duplicate contents may have future implications. Although there is no Google penalty for duplicate content.
6. Can reduce regular traffic.
7. Creating confusion between articles.
What Google says about Duplication Issue
Google has a separate blog post on Duplication issues. If you want to know in-depth about duplication issues from Google, read this article and support links.
Source: Google
How to Eliminate Duplicate Contents [2023]
Many new SEO tools have the functionality to check duplicate contents on your website. Once you find out your duplicate content, there are a few ways to eliminate those content so that you don't have a duplicate content issue.
1. Noindex Category Pages
Categories are a great way to organize your website. However, when you index categories you can be a victim of duplicate content. You may be thinking yourself, "How?"
For example, suppose you have post indexed on Google named WordPress Security Guide. The post has a category. In this case, the category is Security. So when I am navigating to the "Security" category, it will show the same post in the list with title and excerpt. So if we index both the article page and category page, there will be a duplicate content issue.
In this example, you can see there are two different URLs having the same content. This is can affect your website.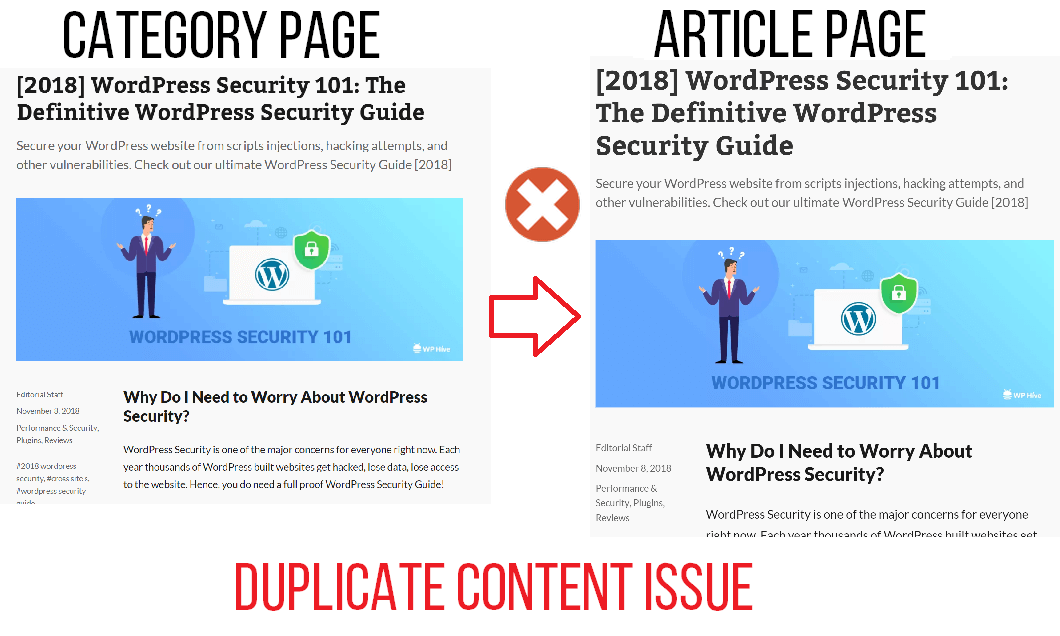 However, as the duplication issue is happening for a small portion (about 100-150) words, many SEO experts suggest that it is not much of an issue.
2. No Index Tags Pages
Tags are a great way to organize your website. However, indexing tag has been proven to be a bad practice.
Google wants quality web links from your website
However, when you enable tags indexing, a lot of bad quality links gets indexed on Google. This is bad practice because tags do not contain anything useful. That means your site will have more than 200-300 links in Google Search that does not contain anything useful.
It is certainly not recommended. You can solve the issue by noindexing tags pages. As we mentioned in the best WordPress plugins list, you need an SEO plugin for your website. Most SEO plugins have the option to noindex tags pages.
Noindex tags in Yoast SEO
After installing Yoast SEO, go to Search Appearance.
Navigate to Taxonomies
Select No like the following image.
Noindex tags in SEO framework
SEO Framework is also a very popular plugin nowadays for SEO. You can disable tags indexing using this plugin.
Step 1: Go to the SEO framework's settings menu and navigate to Canonical

Step 2: Scroll down until you find Robots Meta Settings >> Indexing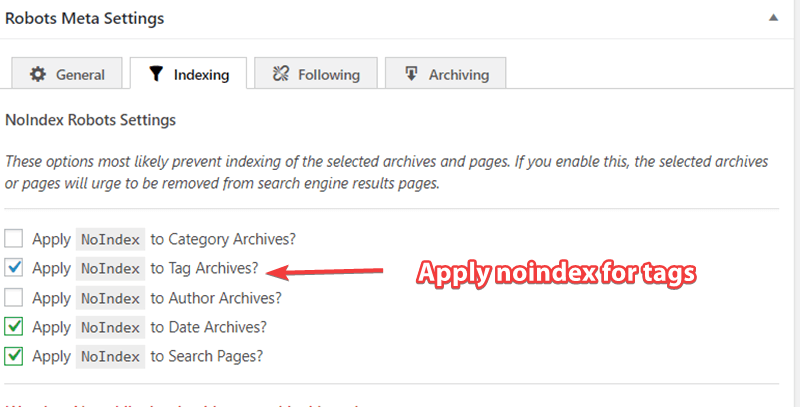 Step 3: Check the second option and save.
Other Ways to Fix Duplicate Content
WordPress make life easy, however other issues can emerge which can create duplicate contents. You have to analyze your duplicate content reason first to fix that issue.
Duplicate Content issues can happen when creating PDF versions of content for printing that are also indexable, or quotes which can be bad for short posts.
Also, you might have an RSS feed that posts content pages instead of snippets. They can also create some sort of duplicate content.
Summary – Eliminating Duplicating Content
Overall, most of these WordPress duplicate content issues are straightforward to identify and solve using the approaches above. By eliminating your duplicate content you can get the organic search rankings you want.
Eliminating duplicate content is easy if you are proactive.
It is also important to properly do SEO on your website to have better rankings. WordPress site speed is one of the main factors behind your rankings. Check the following post to learn more about WordPress speedup techniques.
Also, check our coverage of the best WordPress plugins of 2023 to make the best use of WordPress
Follow us on Facebook and Twitter for more beginner-friendly WordPress tutorials and reviews.
https://wphive.com/seo/7-ways-duplicate-content-will-impact-your-seo-2019/
Saif Hassan
Product Manager by passion & profession. Lead Product Manager at weDevs, former PM @ Poptin. Passionate about writing & tech. He's an advocate of Human-Centered Design and believes that websites and the tools used to build them should be well crafted, intuitive, and accessible. Cyclist. Reader. A WordPress ninja 🥷, HCI expert & a design thinker 💡

Subscribe To Our Newsletter